Christmas dinner is arguably the central event of the festive period. It's all about bringing family and friends together over delicious food that's been lovingly prepared over hours and perhaps even days.
But, tradition doesn't mean turkey has to be the party piece of your festive spread. "Turkey has become really ubiquitous with Christmas, but it's a fairly modern thing and people have only really been eating it since the 1950s," Jemima Marks, from Somerset's Coombe Farm Organic reminds us.
Turkey's popularity is linked to the post-war boom; a time after rationing when people started to have more money and relished the opportunity to be able to feed 20 people with just one bird. "It was more about quantity over quality then," says Jemima.
However, times are changing. People are increasingly becoming aware of the reality of intensive farming, the ethics behind rearing meat, and are looking for more sustainable options.
At Christmas, we often eat a lot of meat as this time of year is synonymous with rich and indulgent food. But, there's plenty of meat that fits the bill other than turkey. Gamey meats, for example, tick the exciting flavour box. They are also typically more sustainable than mass-produced supermarket turkeys as the animals live longer and better lives.
So, why not consider trying some alternatives to Christmas turkey this year? Here, we're going to explain why ethically-reared goose, venison and duck might be more than worthy options to take centre stage on your Christmas table…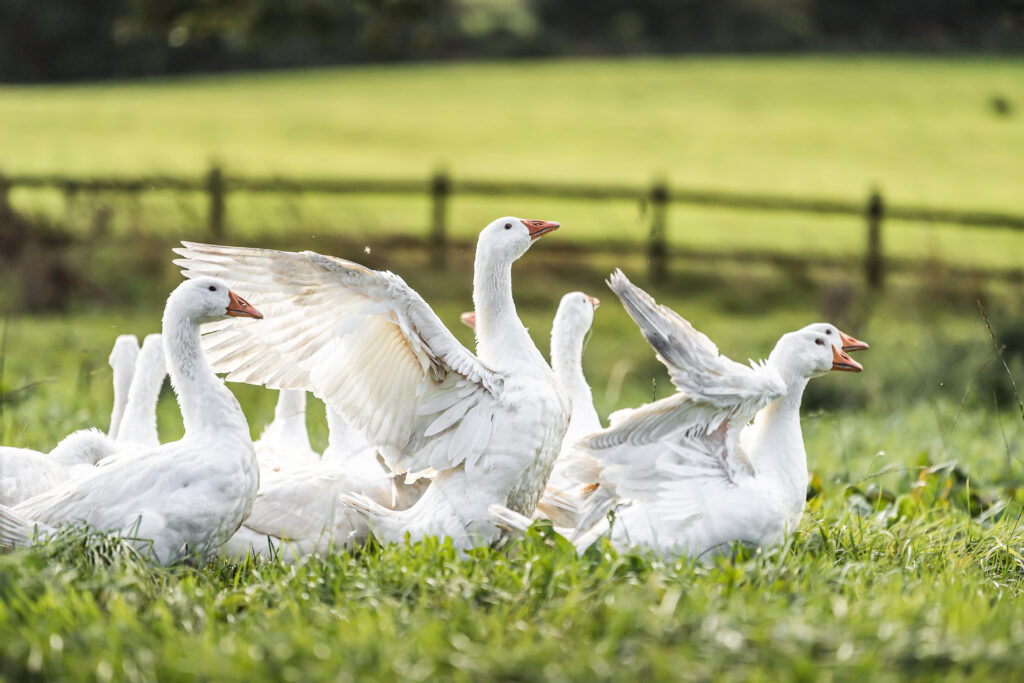 Why goose is a good alternative to Christmas turkey
Goose is a wonderfully juicy, rich and earthy meat which is naturally fatty (to keep the goose warm when paddling in cold water), making it one of the best alternatives to Christmas turkey.
"It's the fat that makes them so delicious," says Jemima. And Coombe Farm Organic should know what makes a good goose, as they're selling faster than turkeys this year. This is the second year Coombe has reared geese on its farm, and the team put the goose's popularity down to its three-star Taste Award. So coveted is this award that only 1.5% of entrants actually achieve this top holy grail status.
It's quite hard to find goose, as you're unlikely to see it on your weekly supermarket shop, but it certainly has a cult following. "We get people who ring up to ask if we have goose, and they're really relieved when they've found one," says Jemima.
How goose is ethically reared at Coombe Farm
The farm's geese are all organic, free range and farmed to Soil Association standards: "The whole process is organic, so the parent flock laying the egg is organic, too," explains Ryan Sloman-Brown, farm manager at Coombe Farm.

"The geese have access to running water, so they can paddle. They like short, tight grass to nibble at. They'll eat other bugs in the grass and pick up bits of grits in the soil, which help with digestion," Ryan adds.
The birds are given a fresh allocation of new grass every few days using the process of strip grazing, which means moving a fence to access fresh grass.
They're prepped for the Christmas table from early November, which means some geese are sold frozen. Coombe's taste tests reveal there's no difference in taste or quality between frozen and fresh birds. Instead, it's really more about convenience and whether you've got freezer space for one at the start of December, or if you'd prefer a fresh one in the run-up to Christmas. Frozen birds are more popular with those who like to plan ahead – and some people really like to plan ahead. Some of Coombe's customers have already received their entire Christmas orders!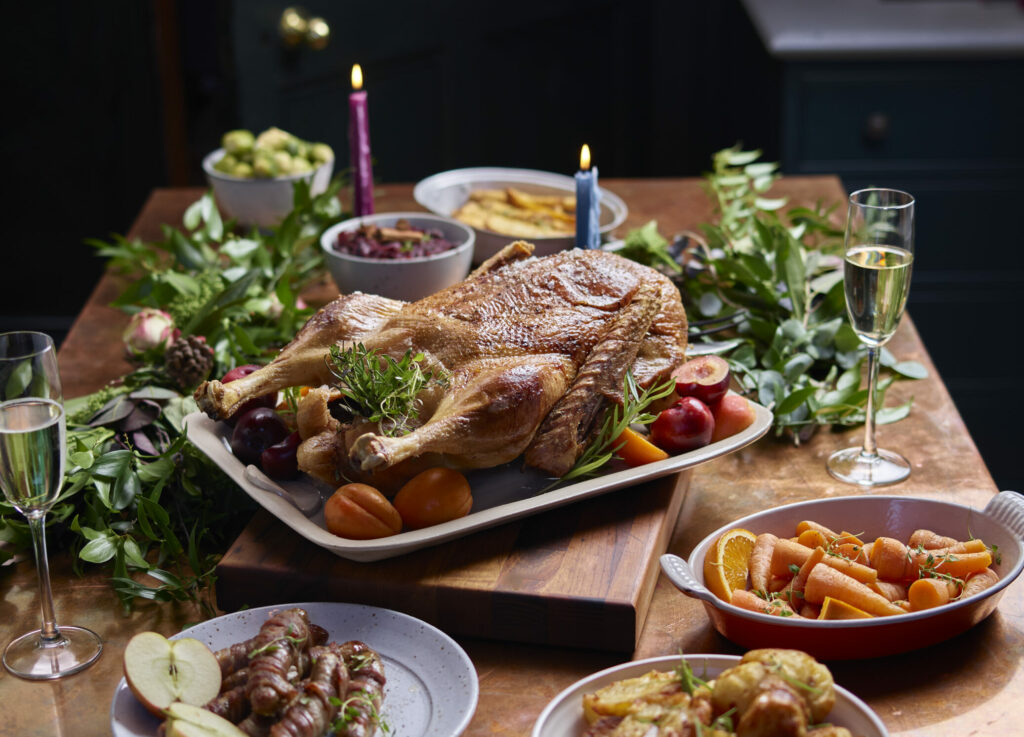 How to cook goose: top tips
When it comes to cooking goose, Coombe's butcher advises that it's best to roast the whole bird. First, you'll need to pierce the fatty lumps below the wings to allow the fat to run out. Then place them on the oven bars to cook, and place a pan underneath to catch the fat. Every 20 minutes, the fat will need to be drained. Although this isn't wasted of course, as it's the not-so-secret ingredient to ace your roast potatoes (and you'll have enough to last for the next few months).
Serving tips for goose
Goose has quite a strong flavour, so it's nicely complemented by festive spices like star anise, fennel, saffron and cinnamon, as it can match them. Try putting an onion and an orange in the neck cavity to give extra flavour during cooking. Then serve with a cranberry or a redcurrant jelly, which is a bit sweeter.
Live Frankly recommends…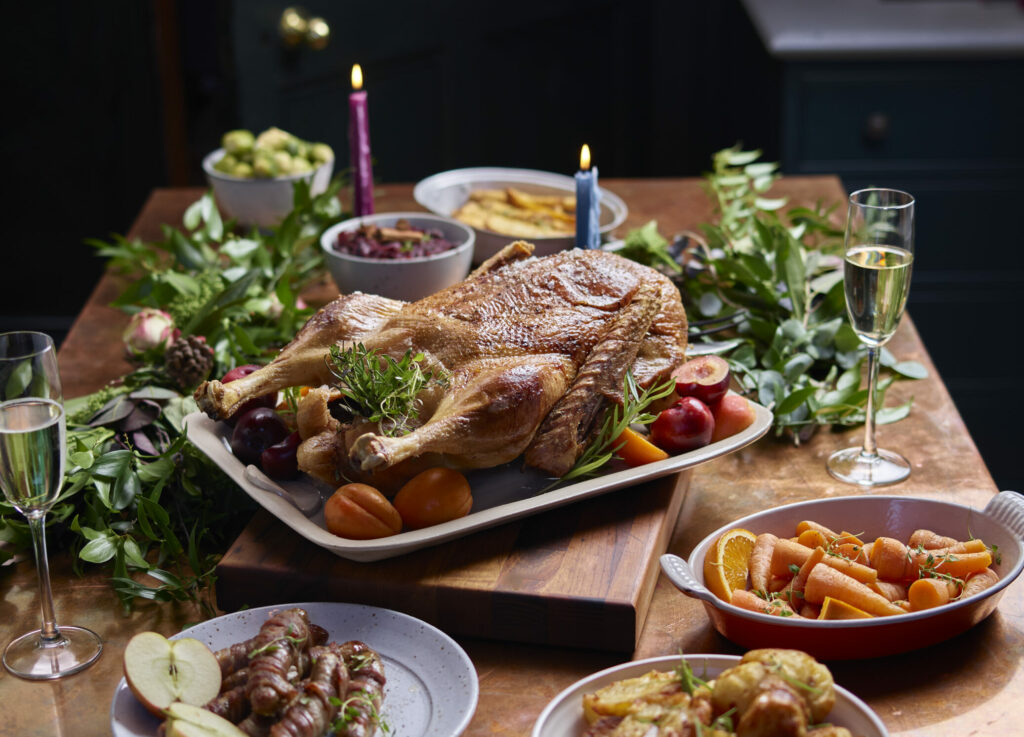 Fresh Organic Whole Goose
£117.95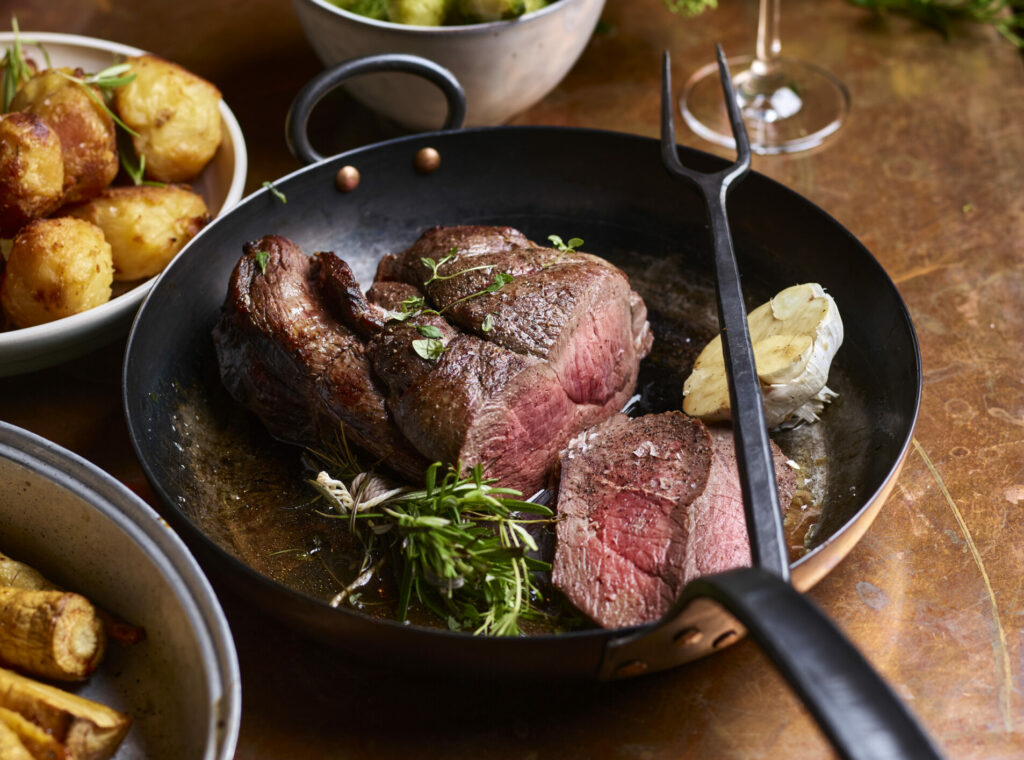 Organic Haunch of Venison
£28.45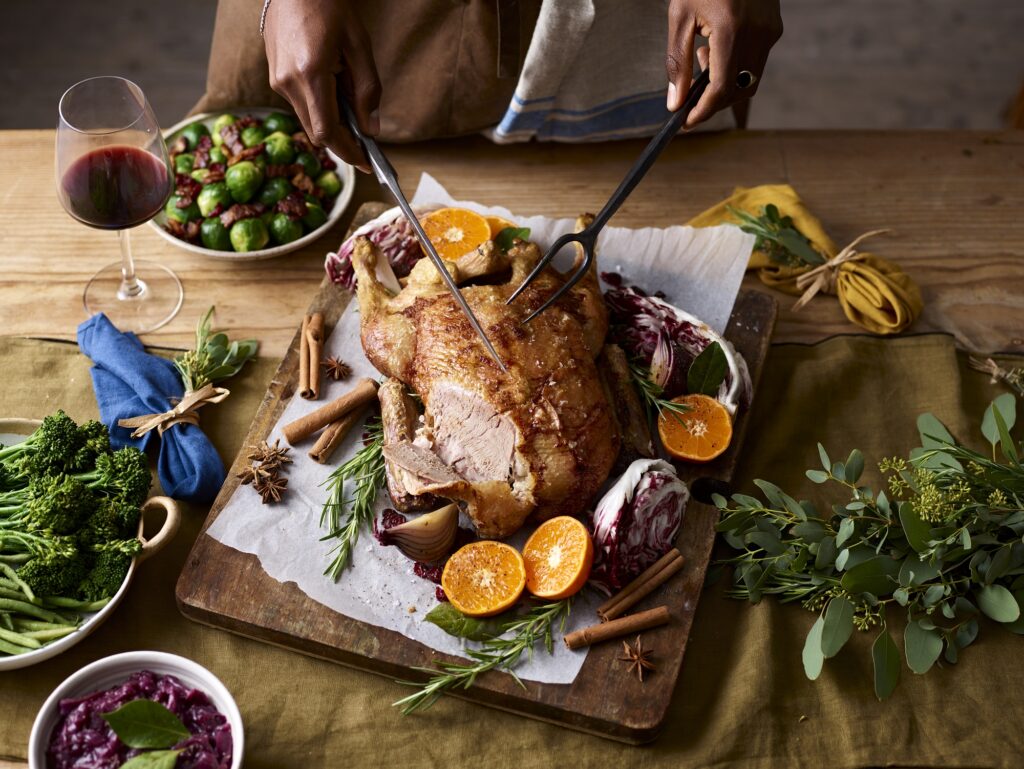 Organic Duck & Trimmings Box
£64.25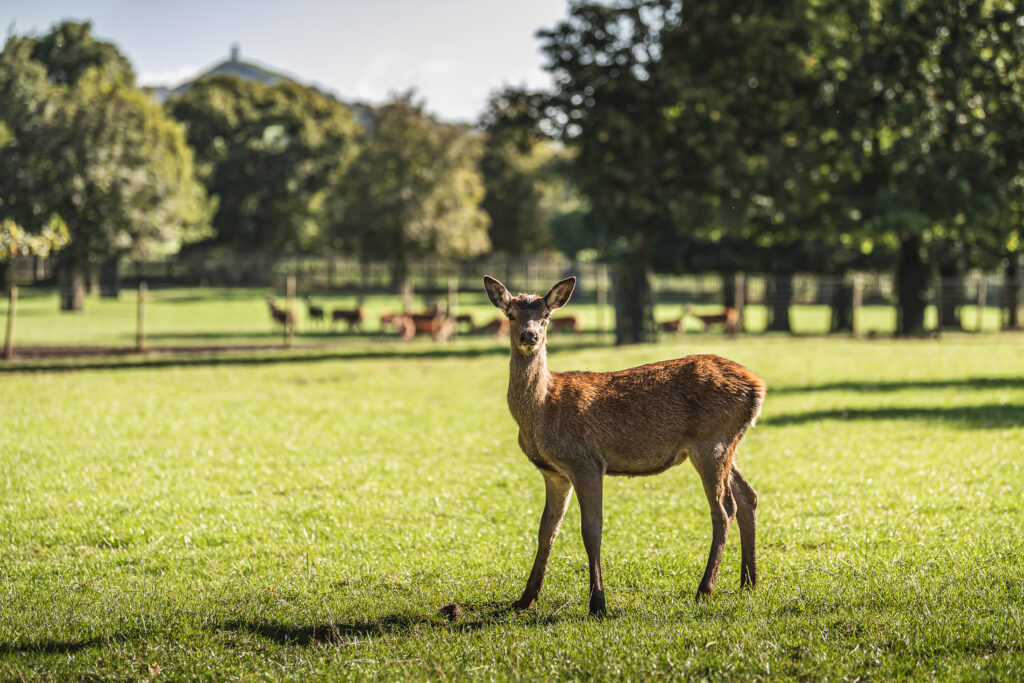 Why venison is a good alternative to Christmas turkey
Another of Coombe Farm's recommended alternatives to Christmas turkey is venison. This rich and dark gamey deer meat is such a good celebration meat, especially in winter. Coombe Farm gets its venison from one of only seven certified organic deer farms in the UK. "It's really rare to find organic venison," says Jemima proudly.
How venison is ethically reared
As it's organic, this means the venison is technically farmed. But, the red deer roam a very large estate. It's not farming in the same sense that pigs, sheep and cattle are farmed, at all. Instead, the deer have very little human interaction. They're naturally extremely timid and keep their wildness.
One benefit of venison being farmed this way is that everything the deer eat is organic too, so they're not grazing grass that potentially has been treated with chemicals.
Although the deer are mainly grass-fed, they also eat spelt bran which is a by-product of the estate they live on. This gives them extra fibre. As well as this, the red deer naturally eat tree leaves, sweet chestnuts and apples, which adds a subtle flavour to the meat.
"It's incredibly lean meat, and it is very sustainable. You don't get intensive deer farms, it's either shot in the wild, or reared organically," explains Jemima.
The red deer are shot in the field by a skilled marksman using non-toxic bullets, instead of travelling to a slaughterhouse. This way, there's little-to-no stress endured by the animal.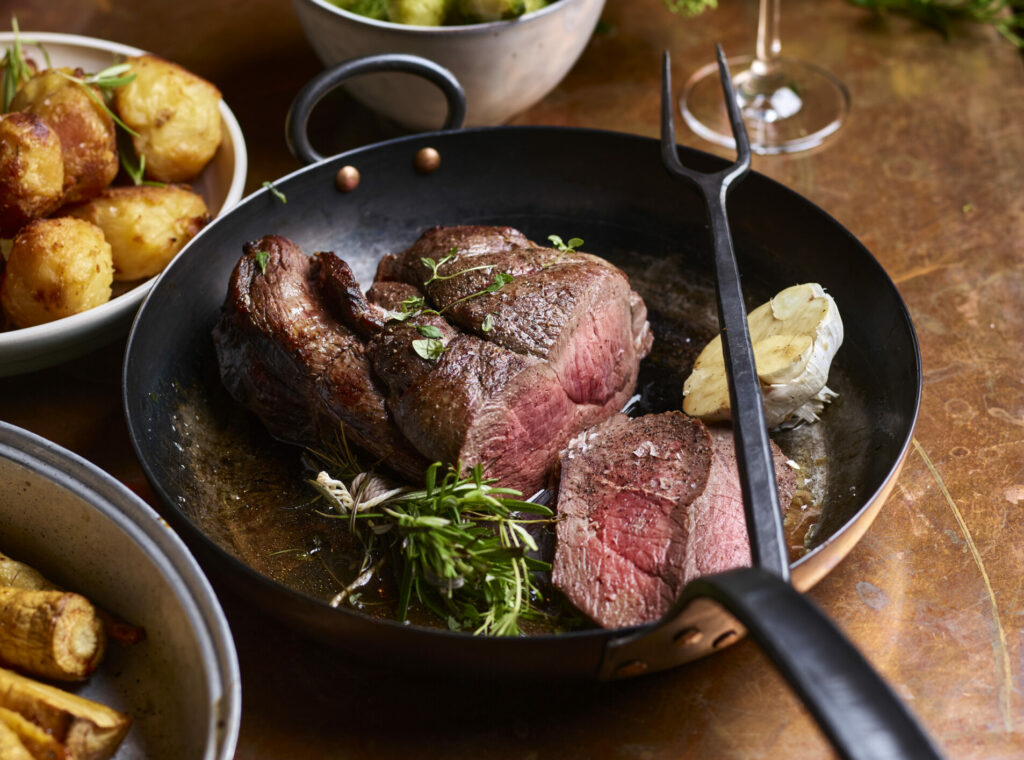 How to cook venison
The best way to make venison really special is to serve the haunch cut. This is ideal for small parties as it's about 1.1kg and feeds four people. This cut of meat is very lean and it barely has an inch of fat on it, making it great for a Wellington dish. "Treat that like you would a rare roast beef. Put it in the oven for 40 minutes, and then let it rest," suggests Jemima. She adds: "for someone who wants a hassle-free Christmas dinner, this is it".
Serving tips for venison
Venison should be served medium rare, and the haunch works well with aromatic spices such as cinnamon and juniper, as well as redcurrants, blackberries and quince. Just like goose, it's a rich meat and can take a lot of flavour, too.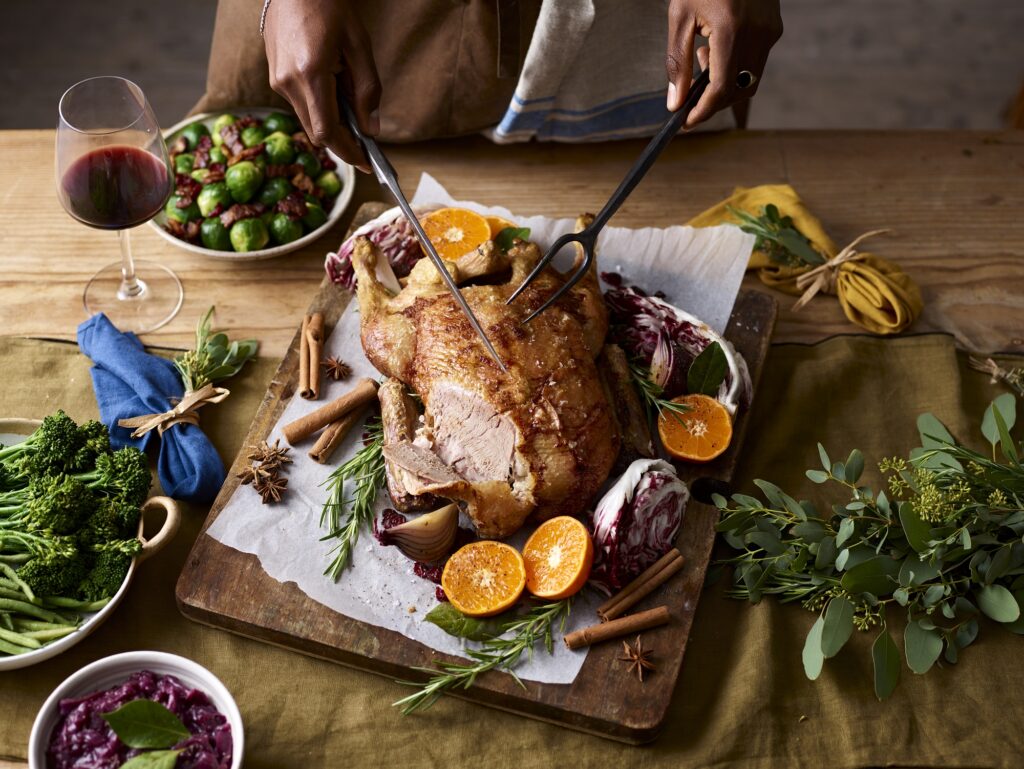 Why duck is a good alternative to Christmas turkey
As far as alternatives to Christmas turkey go, duck is also a great option. Duck is far more than the few classic dishes it's known for. It's a deliciously rich, tender and indulgent meat that's surprisingly versatile. Its flavour is really elevated when it's paired with Christmas flavours like clove and cinnamon, as well as oranges. It can also take a lot of sweetness too, which helps cut through the fat. Just make sure to crisp the skin (see tip below).
Of all three meats, duck is the most affordable at Coombe Farm, which also has a well-earned two-star Great Taste Award. Especially when compared to goose, duck makes the most cost-efficient option. The cheapest goose is £106.95 (serves six to eight), compared to £22.65 for duck (which serves three). "One reason behind this is the fact a goose is reared for longer than a duck. Plus, there's currently a scarcity of geese," explains Jemima.
How duck is ethically reared
The ducks are reared much like the geese. They're organically reared by Otter Valley in Devon by a specialist who has 40 years experience running a Soil Associated certified farm. Here, they live in a high welfare system, spending most of their time roaming around outside, where they have access to sheds for safety at night – like most poultry. They're able to paddle about in water and preen their feathers, too. This is how they'd naturally behave in the wild, meaning they're active and healthy. Ducks do graze, but not at the same rate as geese, and they forage for insects as well as being fed organic pellets too.
How to cook duck
To get the best results, "definitely cook the whole bird, as then you'll get the benefit of getting all the fat mingling with everything else," Jemima advises. As soon as you start portioning it off, you run the risk of having drier meat, whereas the whole bird keeps all the moisture in.
Serving tips for duck
Coombe Farm's butcher suggests to achieve perfectly crispy skin, "smother it in a spiced glaze, like sticky honey and different spices" which should be added near the end of the cooking time. Just remember not to put it on too early, as honey burns very easily. Serve with a red wine sauce.
Coombe Farm Organic's Christmas dinner recipes: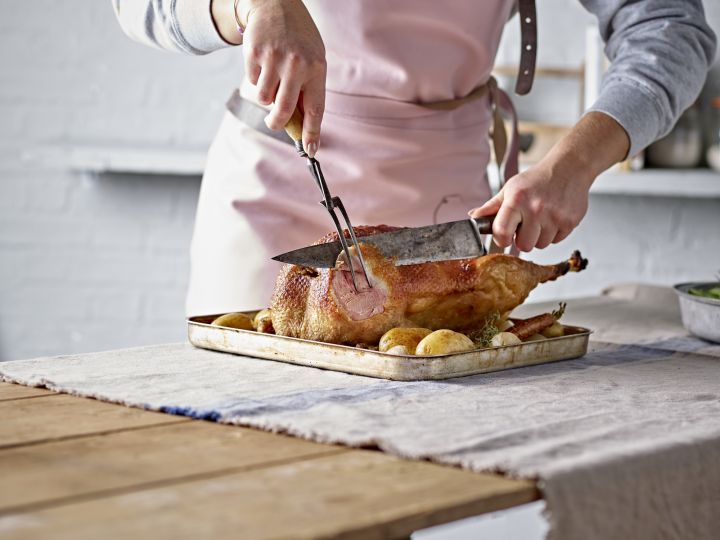 Spice Roasted Organic Goose
Serves: 4
Prepare: 15m
Cook: 1hr30m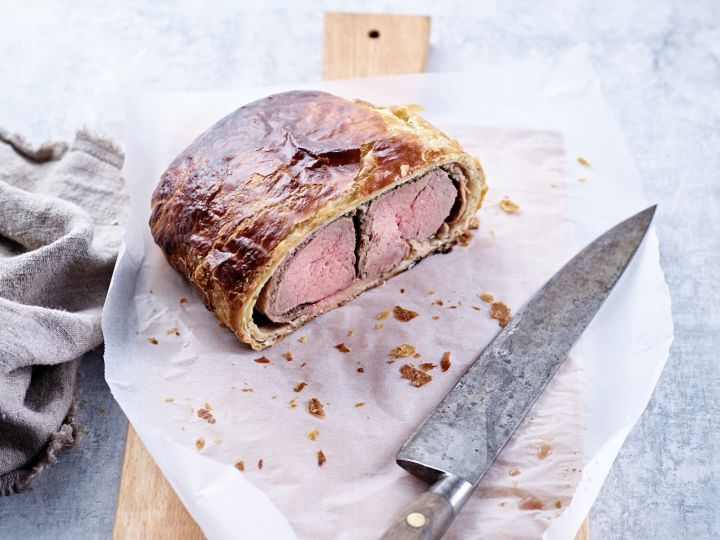 Venison Wellington
Serves: 5
Prepare: 20m
Cook: 50m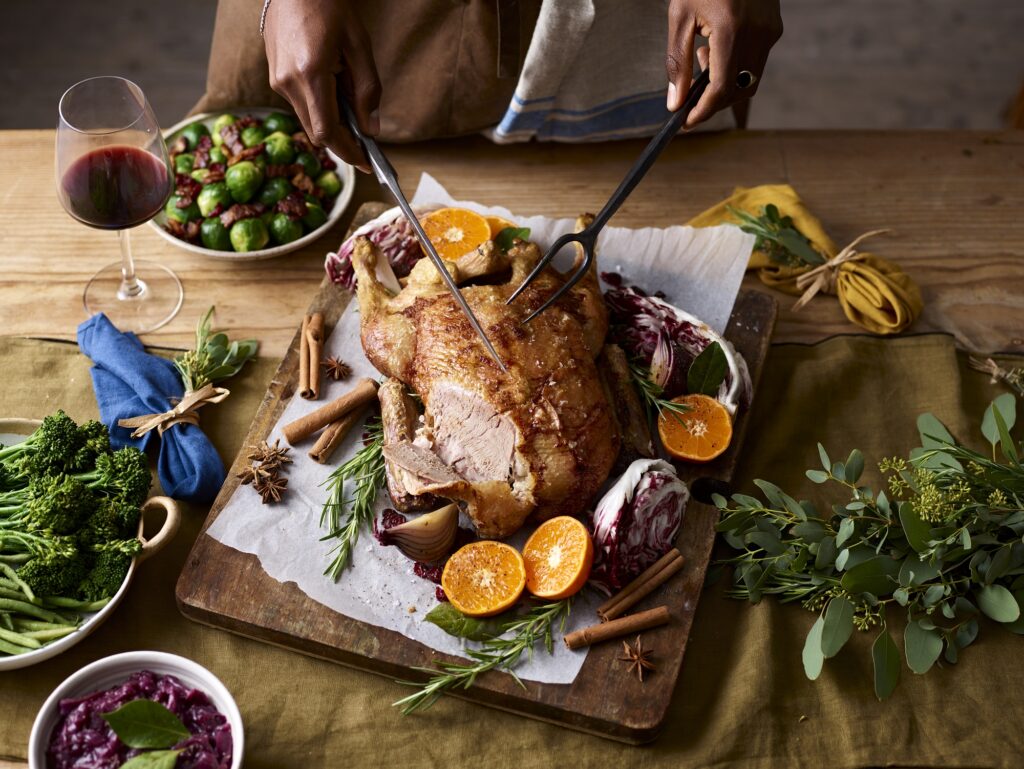 Roasted whole duck
Serves: 4
Prepare: 5m
Cook: 1hr30m