Written in collaboration with Neem London

Ever wondered about the process that goes into making a piece of sustainable clothing? Well, the short answer is a lot of persistence and hard work.
Certainly, the process of sourcing eco-friendly materials and finding ethical suppliers and manufacturers isn't the easiest of missions.
Producing slow fashion means going the extra mile ‒ paying extra attention to the details that mean clothes will stand the test of time. Importantly, it also means no shortcuts or cheap tricks such as not paying workers fair wages or using low-cost synthetic materials.
So, how do brands do it? Where do you even start with making a sustainable item of clothing that is good quality, looks great and is not going to harm the planet?
We sat down with Nick Reed, founder of new sustainable menswear brand Neem London, to find out about their journey of making an organic, circular, eco-friendly shirt.
He shares his successes, failures and learnings along the way…
NICK REED: 8 STEPS TO MAKING A SUSTAINABLE SHIRT NEEM-STYLE
Step 1: Set clear goals
Our first step was to clearly outline our mission and goals. Brands have to ask themselves: 'What are we trying to achieve by developing this piece of clothing?'
At Neem, our goal was to create a circular model of slow fashion and 'close the loop'. That's why we set out to develop a stylish, low-emitting shirt that can be recycled. We focused our attention on developing a men's shirt that is made up of 100% cotton ‒ 50% recycled cotton and 50% organic cotton. Being made from only one type of fibre would allow the shirt to be recycled.
Of course, it was equally important that the shirt is stylish, soft and comfortable, too (no one wants a scratchy shirt, no matter how ethically made).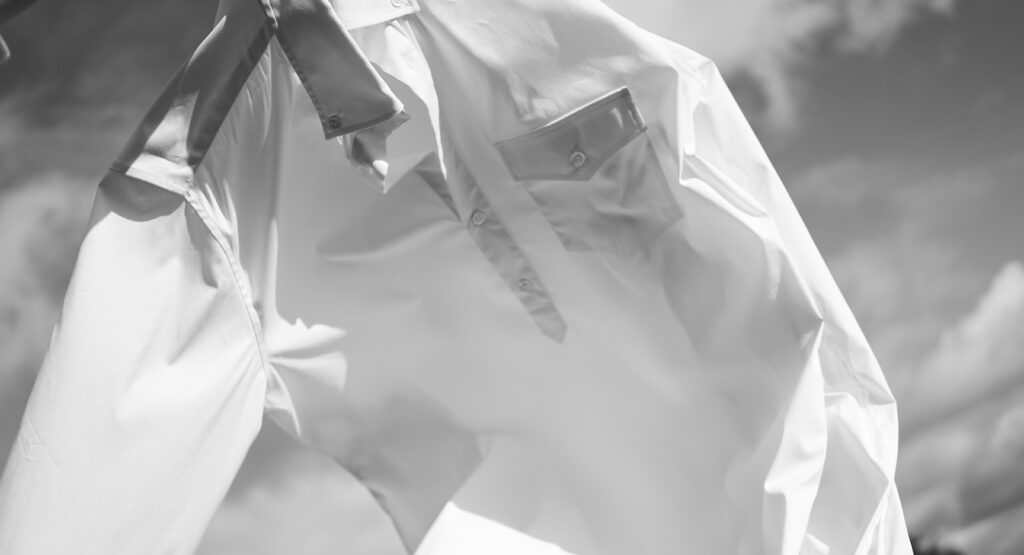 Step 2: Work with trusted collaborators with like-minded goals
A well-known saying is: 'you are only as good as the company you keep'. Well, if you ask us, a brand is only as good as the suppliers and manufacturers it works with.
If you stand for sustainability this needs to be reflected all the way down the supply chain.
That's why it is important that we work with familiar and trusted collaborators. They not only share our values and ethics, but truly believe in what we are trying to do at Neem.
We teamed up with textile designer Canclini, who if you ask me is the best in the business. I've known them for many years – I even taught Mauro Canclini how to play cricket on the beaches of Puglia. Canclini believes in our approach, despite knowing the market is not truly following our mission yet. It has been a long, educational journey and they have stood by us and with us the whole way."
We also work closely with a family-owned shirt maker who was introduced to us through a long-standing friend.
Then there is Anna Poletti, the mastermind behind our shirt patterns. She really understands what we are trying to build.
Working with suppliers and manufacturers who a) are trustworthy and b) share ethical and sustainable values is crucial to ensuring our final product reflects our brand's values, and that we aren't greenwashing.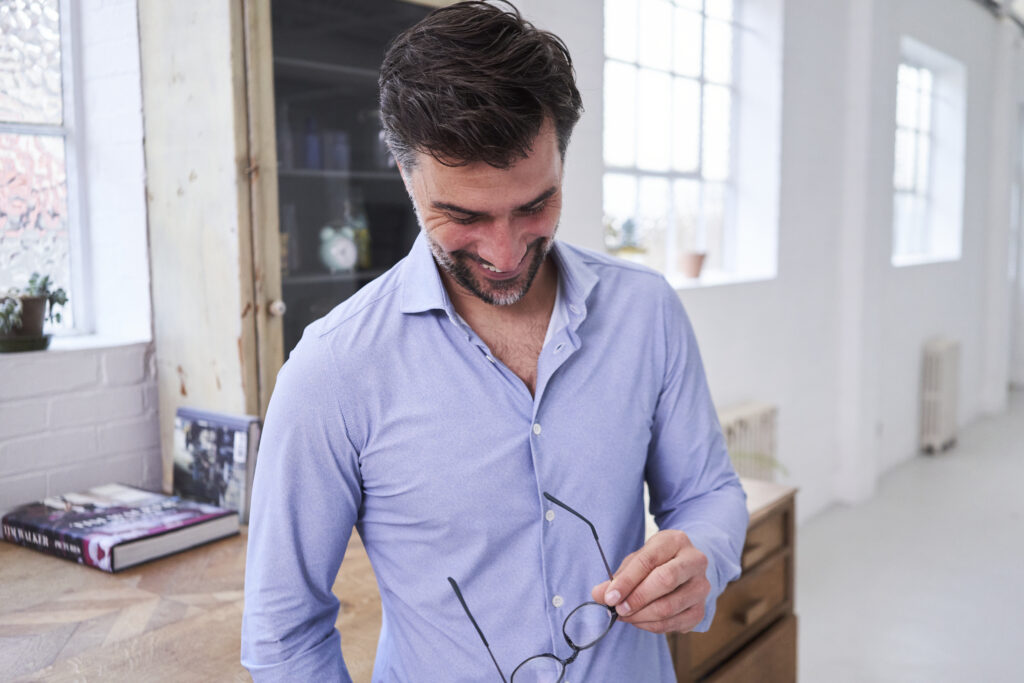 Step 3: Try, try, and try again
Developing the perfect, sustainable shirt, unfortunately, doesn't occur overnight (how many problems would be solved if it did?). It can take years of trial and error to "perfect" the design, fabric and sustainable footprint, as was the case for us.
We went through various iterations of the product and learnt from our mistakes along the way.
For instance, from our experiments, we found that recycled cotton is coarse and a very short staple fibre so is better suited to t-shirts, sweatshirts and casual clothing.
As a solution to this, we decided to look at knits, which arrived at a softer, more comfortable product. However, we then faced shrinkage challenges, so had to consider new finishes to avoid this while still achieving the desired softness.
To develop the yarn into a more luxurious and smarter product was not easy and quite frankly something we are still perfecting.
Step 4: Work with an independent company to get accurate data on lifestyle assessments
While following your gut can sometimes prove helpful, when it comes to developing a sustainable product it's nearly always a good idea to get some sound scientific advice.
Throughout the experiment stage, we worked with Green Story, an independent company that measures products' carbon footprint, to run a life cycle assessment of our shirt. This involved collecting data, tracking a cradle-to-gate comparative life cycle inventory study and answering lots of questions.
We had meetings after meetings, as we were annoyingly curious about the analytics behind the data.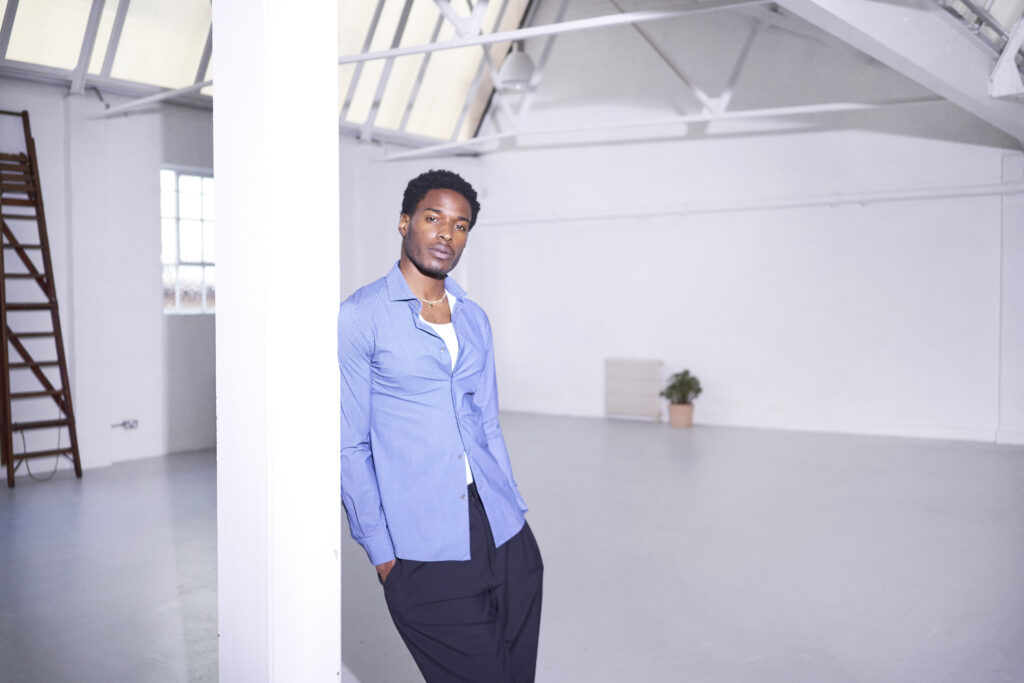 Step 5: Keep challenging yourself and your collaborators
The key to developing a sustainable piece of clothing is to always be asking the tough questions.
It's important that we don't just accept the information being shared with us at face value, we demand transparency.
We constantly push our suppliers to go one step further. If we keep on challenging our makers to develop a higher quality recycled content, the emissions of all products will reduce.
We're currently reviewing this as well as the dyeing process (which is where the most carbon is emitted) with Canclini. Both Canclini and Ferre/Recovertex/Nurel operate on 100% hydroelectric energy. So, we're confident we can reduce emissions of a single shirt down further.
Step 6: The devil is in the detail
What makes sustainable clothing truly a cut above the rest is the level of detail that goes into making each garment.
We wanted a recycled label, recycled thread, recycled buttons, and zero packaging.
The hardest two areas were a 100% recycled thread and fusing (the stuff inside the collar that gives it stability and structure). Even now, we are intent on moving to a thread that is not just recycled because, in our mind, that's not good enough. Currently, it's 100% recycled polyester. We want to find one that's 100% recycled cotton. This is because cotton biodegrades and polyester doesn't. Ultimately, we want to create a garment that can be recycled or can biodegrade.
"It's important that we don't just accept the information being shared with us at face value, we demand transparency."
Step 7: Be stubborn
We were patient and determined, but most importantly, we were stubborn and refused to compromise our standards.
For instance, when it came down to the buttons, which are typically 100% polyester, we steadfastly refused to use them. The normal alternative is mother of pearl but we didn't trust the transparency of this material. So, we decided to work with an Italian button supplier Gruppo Uniesse to develop a button that is 40% recycled mother of pearl, which is obtained by recycling mother of pearl waste.
We want to increase this recycled percentage and are now trialling new compositions.
Step 8: Proudly share your story
The last and most exciting step is to arrive at a product that you can boast about, loud and proud.
I can now say that our shirt, which has been years in the making, is a truly great, circular product. We couldn't be prouder!
Our shirt is made up of:
50% recycled cotton
50% GOTS (Global Organic Textile Standard) certified organic cotton
100% recycled collar fusing
100% recycled stitching thread
40% recycled buttons
100% recycled label
The best part? It can be recycled and made new again.

To help make that possible, at Neem we operate a "wear-well" system. This means you can send us any of your unwanted 100% cotton items to be recycled back into new shirts. Not only will you get the satisfaction of doing a good deed, but you'll also receive £30 Neem credit to spend on your first order over £50.
Shop Neem's range of sustainable menswear online at: neemlondon.com