For those opting for a more flexitarian diet for environmental reasons, the question is: how can I eat meat sustainably? Eat less and eat better meat is the mantra of the day. But, what does that mean in reality?
How to eat meat sustainably: 'Eat less'
Well, that's still up for debate. A few years ago, a group of 37 scientists from around the world, recommended 300g a week (14g a day of red meat and 29g a day of chicken), as part of the EAT-Lancet commission.
But, there was more than a little uproar around this report and the conversation has evolved since then.
For one thing, organic and regenerative meat farmers are adamant their livestock are not quite the culprits of the climate crisis they have been painted out to be. In fact, they argue they are part of the solution.
And that's where eating less comes into play. Intensively farmed meat, such as a £3.29 bacon roll delivered on a hangover; a quick supermarket chicken sandwich for lunch; or meat with a takeaway when you don't know which farm it's from – are unquestionably out.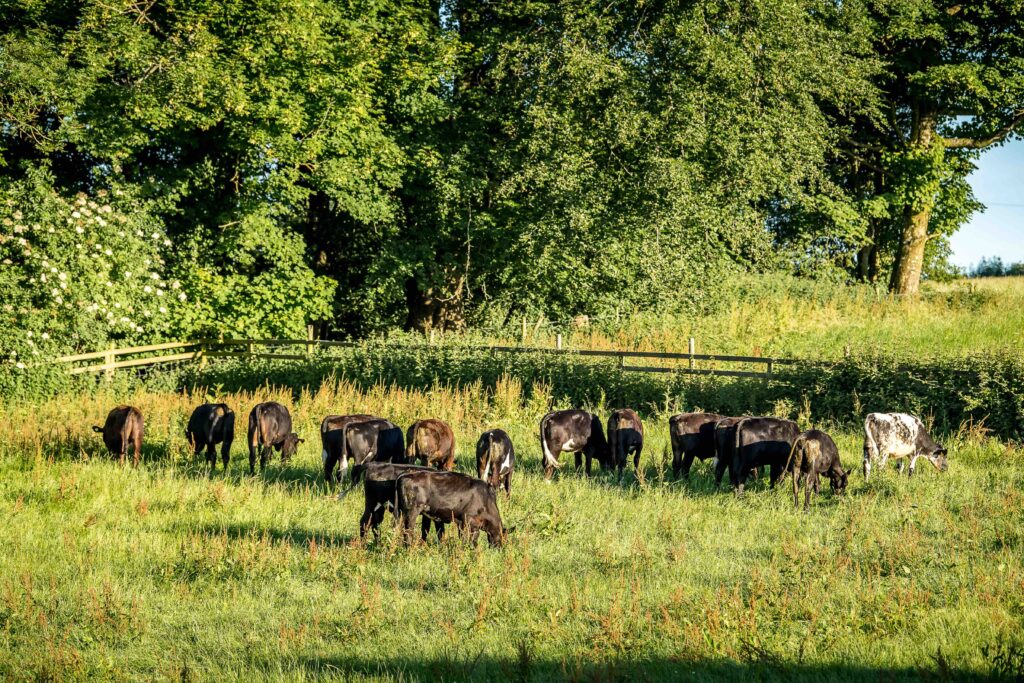 How to eat meat sustainably: 'Eat better'
Meanwhile, enjoying a home-cooked or restaurant-cooked meal with meat that has been farmed organically or regeneratively, is in.
"If you're buying from a good local butcher they will be proud to tell you everything there is to know about that piece of meat. They should have signs up in the shop saying where everything is from. They'll be able to tell you the name of the farmer," says head butcher of Coombe Farm Organic, Lee Hughes.
"But, when it comes to sustainable meat eating, have you ever considered how many animals it takes to serve six people a hanger steak each?" he asks?
"People rave about it, especially if a chef has recently cooked it on the telly. But, hanger steaks are from the top of the diaphragm, so you're only going to get two or three steaks per animal," he explains.
"Rather than only buying hanger steaks, consider serving a variety of cuts – the sirloin, ribeye, chuck steak, frying steak… It's a much more sustainable way to eat when you consider what you get from a whole carcass."
And therein lies the inspiration for the "Coombe Farm Organic Balancing Meat Box", which offers around 3kg of meat, discounted by up to 15%.
What is carcass balancing?
Carcass balancing is a strange phrase. Butchers use it to talk about cuts of meat that outsell others. For example, there's only one heart. Or people buy ribeye steaks more than silverside. So, butchers try to 'balance' (use) the whole carcass.
Coombe Farm Organic's idea is to inspire people to try different cuts of meat. This helps to ensure we use the whole animal and minimises waste.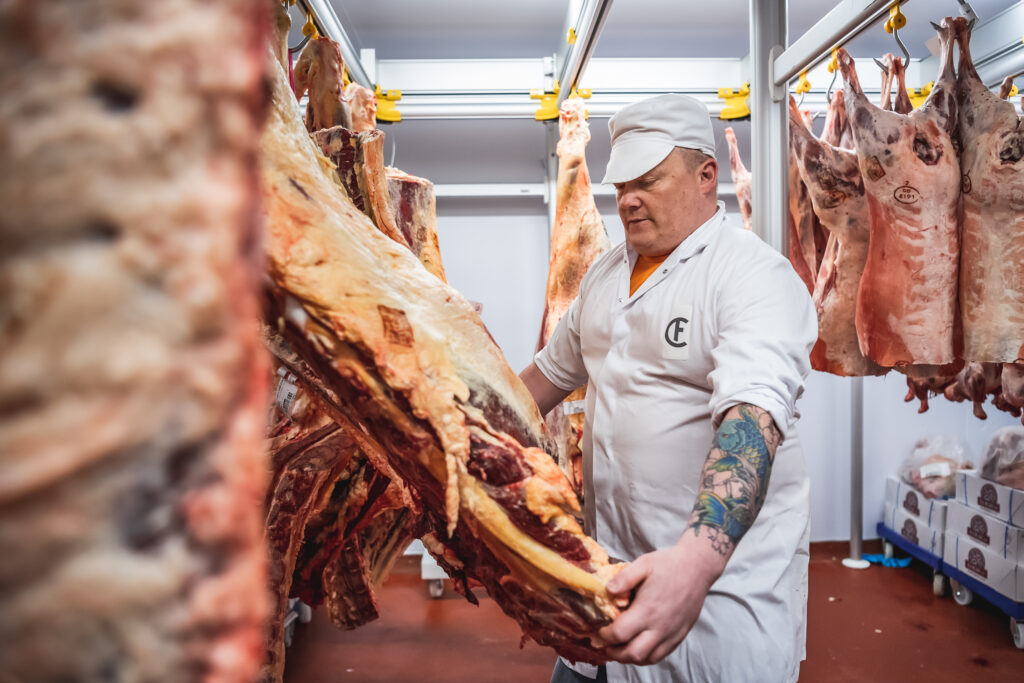 How to eat meat sustainably: the best cuts of beef, lamb and pork
Think of the balancing box as a little bit like the special's board outside of the butcher's shop – you know, the pig with a neckerchief and the specials chalked on.
Now, you may think the box would include things like offal, oxtail and bone marrow. But, you'd be mistaken.
Those parts of the animal are also limited in terms of how much you get from a carcass – and in high demand with Coombe Farm Organic's foodie customers.
"Our lamb scrag ends sell really well. They're the bone neck rings. Braise them slowly and you have the best of both worlds, really – the flavour of the bones and meat that just falls off it," says Lee.
"I mean, they're not a premium cut and are called scrag ends for a reason. But, they're not going to go in our balancing box, because they're really popular. So, in terms of what you'd usually consider to be popular, it is a bit upside down for us compared with what people buy in the supermarket."
So, what are the underappreciated cuts of meat?
Well, that depends on the season. Typically, we eat beef stews in the winter and chicken salads in the summer, for example.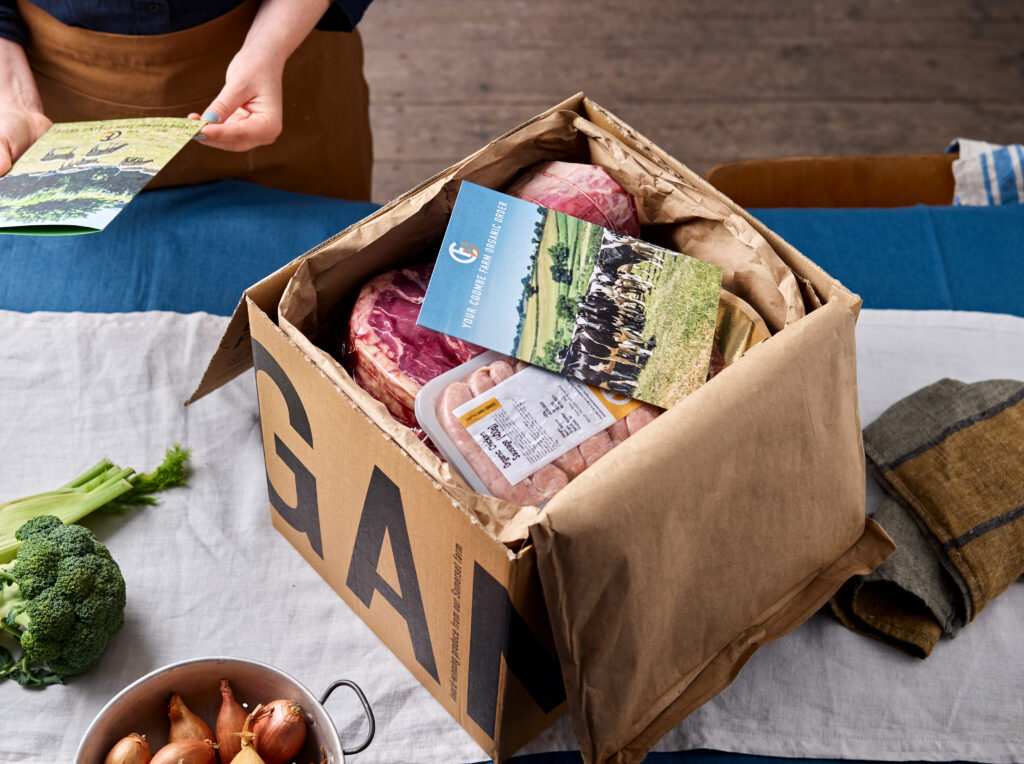 How to eat meat sustainably: Coombe Farm Balancing Meat Box
This winter, the balancing box includes premium cuts such as organic pork tenderloin, a prize cut from the pork carcass. It's lean, delicately flavoured and – as the name suggests – has a buttery, tender, texture. Lee advises to cook it whole or slice into medallions.
There's also organic breast of lamb on the bone. It's a long, thin piece of meat that Lee says is succulent when cooked low and slow, braised or roasted. Keep it on the bone, to add even more flavour while cooking.
Then there's organic chicken legs, which include both the thigh and the drumstick, making them a substantial choice that's both meaty and flavoursome.
And, finally, two beef offerings.
For your Sunday roast, Lee sends the 1kg organic beef silverside wrapped in fat, because there's no internal marbling. This ensures that the silverside stays juicy when roasted, with the flavours from the fat permeating through the meat as it cooks. Plus, there's two organic retired dairy beef rump steaks – what Coombe Farm call "the product of time and patience". These steaks come from the retired cows from the dairy herd and are best cooked slowly, allowing the fat to break down and permeate through the meat.
Not a bad selection for £56.00.
"We take around 10 to 15% off of the total price, because we're asking our customers to do us a favour by opting for cuts they are not so familiar with," explains Coombe Farm's marketing and sales manager, Jemima Marks.
"We're saying 'Can you help us?'. So, there has to be incentive on both sides. And we try to be as transparent about that as possible."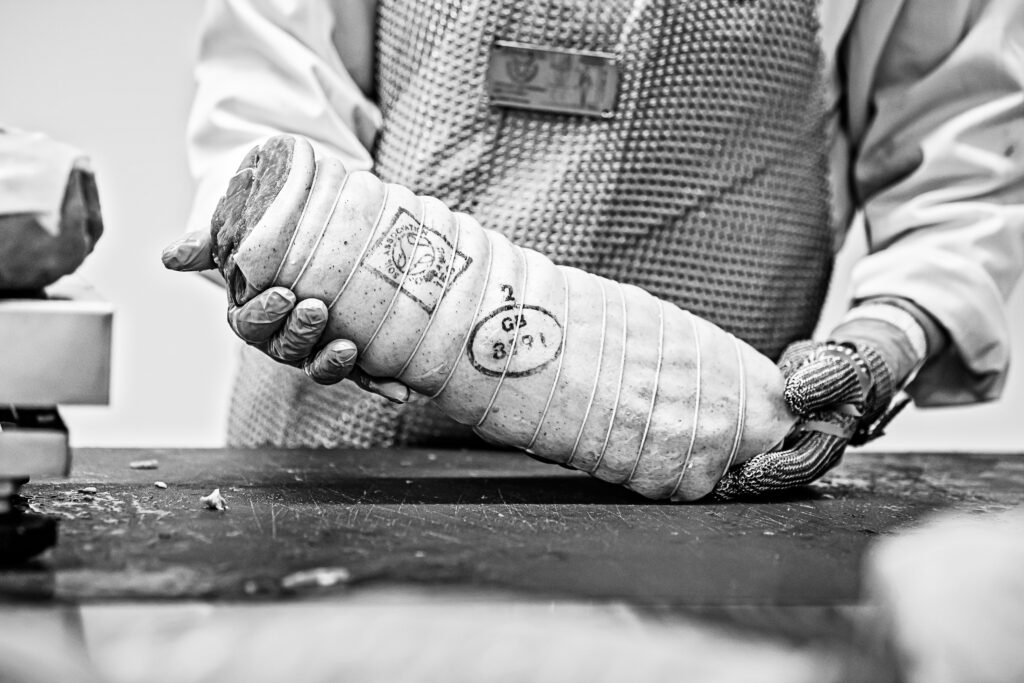 How to eat meat sustainably: butcher's choice
So, what are the most underappreciated cuts of meat in a butcher's professional opinion?
"We're conditioned to think that fat is bad and it gets cut off a lot of meat sold in a supermarket. But, actually, for us, we treasure it because that's what's giving the flavour," says Lee.
"So, if it's a piece of beef it'll be the Boneless Rib of Beef or if I'm feeling a bit flush a piece of Beef Rib on the Bone. The boneless rib is cut from the chuck, it's got just the right amount of fat running through it. Roast it at 180C and it's just lovely."
He adds: "If you want to try a different steak – try a Pavé steak. It looks like a fillet but has the bite and texture of a rump, it's just a nice thing to eat."
When it comes to lamb, Lee recommends the neck fillet, which is a bit like the equivalent of a sirloin steak, but more fatty and less well-known.
They're good for barbecues and you can use them in a curry, too. It's already tender so cooking it slowly would be a waste, it's not a stewing lamb." It's got great internal marbling that makes it succulent and versatile. Cook it quickly and the marbling mingles with the meat to make it super moist and sweetly flavoured.
And, finally, with pork Lee suggests the belly. "You've got the flavour of the bone on one side and the flavour of the fat coming from the other side," he says.
"Don't be put off by the amount of fat as its sweet and mostly melts away when cooking. This cut is an indulgent treat and will be so tender if you cook it slowly.
"Also, traditional breeds and heritage breeds are slower to grow and carry more fat and more flavour. So, buy meat with fat on it, cook it with the fat for flavour – and then cut it off if you don't want to eat it."
The Balancing Meat Box is available all year round. Contents may vary. You can check what's currently included here.
Coombe Farm Organic is based across 2,500 acres of land in Somerset. They rear their own award-winning beef, lamb and pork. They also work with other farmers to produce a broader range of Soil Association certified organic meat that is skilfully trimmed by their on-farm butchers, before being delivered straight to your door.