Got game? These places definitely do, serving everything from venison to pheasant. In fact, they these meats so well that they've made our handpicked list of the best restaurants serving game. But first things first. What are the ethics of eating game meat? And what do you need to know?
Eating game vs eating farmed meat
Game could be said to be the most ethical way to eat meat because it has lived a free-range life. Take pheasant vs chicken, for example. Both birds originate in Asia, yet, unless it's organic, the majority of chickens sold in the UK are reared in barns and barely live to five weeks old, by which time they can hardly walk and are slaughtered unceremoniously.
Although there are questions surrounding the rearing of pheasants (see below), most importantly, it has lived. This is one of the main reasons we recommend game over intensively farmed meat. The other is that some pheasant aside, most game has not been pumped full of antibiotics. It has also eaten a largely foraged and natural diet, so it's more healthy than factory reared meat.
Wild duck tastes completely different to the indoor ducks we're used to eating, which are reared in barns without access to ponds. It's half the size, lean, has little fat and a more intense flavour.
What you need to know about Pheasant
Shooting is becoming an increasingly popular 'sport'. But there's a problem: it's not very sporting. You might imagine on a shoot you walk across the countryside, enjoying convivial conversation and make the odd shot.
And after that you share your hull and take a couple of birds home to be plucked and hung until ready for eating. But this isn't necessarily the case.
The real problem comes with the rise in those who are all about the kill, paying £25,000 or more to shoot upwards of 600 pheasants in a day. Let's repeat that – a day.
The Game and Wildlife Conservation Trust estimates that 35 million pheasants are reared and released for shoots, each year. As we don't really eat game in this country, the majority of these birds are unceremoniously disposed of.
This isn't in the spirit of shooting for the purposes of countryside management or to put food on the table. Oversupply also means pheasant prices have gone through the floor.
Its only real value is what people are prepared to pay to kill them – around £50 a shot. In the countryside they give pheasant away for free or sell the breasts to local restaurants for around 50p.
When to eat game
Most game is seasonal. You can only shoot them at certain times of the year, to allow the birds to breed and migrate. Here's a quick run down of when game is in season in England and Wales:
Red grouse
12 August – 10 December
Black grouse
10 August – 10 December
Grey and red-legged partridge
1 September – 1 February
Duck and goose
1 September – 31 January
Pheasant
1 October – 1 February
Another big concern is that the export market for pheasant is shrinking. Partly because the birds are being overmedicated with antibiotics to prevent the spread of disease because they are now bred in such close confinement. So choose your bird wisely.
The most ethical game to eat
If you want to eat game bird that's completely ethical, opt for rabbit, squirrel and pigeon, advises Louise Gray, author of The Ethical Carnivore.
These are all shot to manage the countryside rather than for sport.
Restaurants serving game in London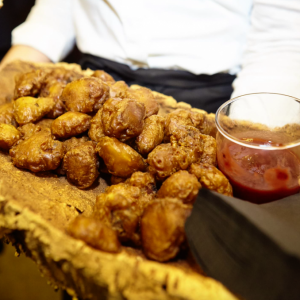 Mac and Wild**
Fitzrovia and the City
You have to call shot gun if you want game bird at either London restaurant. Their 'Shotgun Special' includes Seasonal wild bird served with game chips, red currant gravy & watercress salad.
BOOK NOW
The Jugged Hare
Barbican
The Jugged Hare prides itself on specialising in game, and its signature dish is indeed Jugged Hare, served with creamed mashed potatoes, Savoy cabbage and bacon. They also have guinea fowl and streaky bacon Kiev, with wilted spinach and creamed mashed potatoes on the menu.
BOOK NOW
Trullo
Islington
Head chef Tim Siadatan holds an annual game feast at this fabulous north London restaurant that offers a British take on an Italian menu.
BOOK NOW
ROVI*
Fitzrovia
The highlight at Ottolenghi's Fitzrovia restaurant has to be the crispy mallard duck dish with rye pancakes and a beetroot and apple sauce.
BOOK NOW
Rabbit* **
Chelsea
Head to Rabbit if you like the sound of game dishes including Partridge popcorn with spiced apple sauce and grouse with pickled shitake and berries.
BOOK NOW
The Harwood Arms**
Fulham
Currently the only Michelin-starred pub in London. Also has a focus on game and wild food.
BOOK NOW
Holborn Dining Room*
Holborn
You have to opt for the signature game pie in the main restaurant at Holborn Dining Room.
BOOK NOW
Restaurants serving game meat across the UK
The Kitchin
Edinburgh
Serving British cuisine influenced by French cooking techniques, the Kitchin's philosophy is from nature to plate.
BOOK NOW
The Jack Russell Inn**
Hampshire
The Jack Russell Inn relies on natural wildlife and the many fruits of the forest in their surrounding four thousand acres.
Game birds such as pheasant, partridge and pigeon are all on the menu, and more seasonally duck and woodcock.
BOOK NOW
The Wild Rabbit
Cotswolds
This modern, British inn has a passion for seasonal, local produce.
Get your meal off to a great start with the rabbit and duck liver terrine, served with pickled mustard seeds, Agen prunes and fruit bread croutons.
BOOK NOW
The Ox Barn at Thyme**
Cotswolds
Guinea Fowl, Braised Beans, raddichio and celery is a typical season dish you will find at this 'village within a village' in the Cotswolds.
BOOK NOW
*These restaurants source their game from the British Game Alliance. It is an assurance scheme to self-regulate shooting. We are finding out more about this scheme and will update the article when we have more information on this.
**The restaurants in the running for the Eat Game Awards.

Main image: Holborn Dining Room Pie Hole
Image credit: John Carey