When it comes to cooking the tastiest vegan Christmas dinner, there's not many chefs we would trust more than Kirk Haworth, co-founder and chef of Plates, one of London's most innovative vegan restaurants.
Kirk has spent 16 years perfecting his craft in Michelin-starred restaurants around the world including three Michelin-starred The French Laundry, Restaurant Sat Bains, The Square and Quay in Sydney, to name but a few.
In 2016, a diagnosis with Lyme Disease led Kirk to overhaul his lifestyle and explore a plant-based diet in pursuit of health. After discovering that an anti-inflammatory diet without meat, gluten, refined sugar or dairy impacted the intensity of his symptoms, the Plates food ethos was born.
"Plates follows my personal journey in food, a chef's journey into 100% plant-based eating and cooking."
His unique perspective delivers plant-based creativity at the highest level, and he proudly also nurtures a rare working environment for his team that focuses on balance and well-being, without compromising on taste or drive for success. Taking all that nature has to offer, Kirk delivers modern, plant-based food with Michelin standard execution. And his vegan Christmas dinner is no exception.
"Plant- and vegetable-led cookery can be hearty and warming just as much as a roast turkey," he says. "To wow people through plant creativity at such a special time of year is something that is truly humbling and rewarding. The best thing is to excite and make people happy through cooking."
Kirk's plant-based, vegan Christmas dinner menu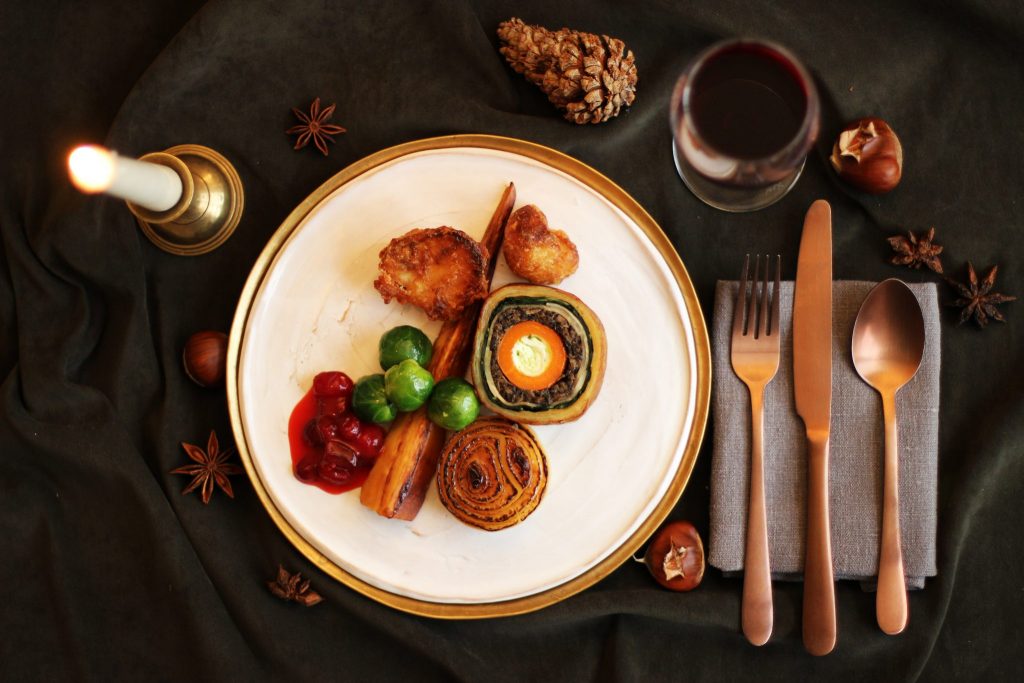 Starter
Christmas Spiced English Crumpet, Heritage Beetroots,
Whipped Avocado and Red Currants
Main
Layered Root Vegetable Wellington
All the trimmings:
Roast Potatoes and Organic Coconut Oil
Brussel Sprouts cooked in Roast Chestnut "Butter" and Black Truffle
Juniper Roasted Parsnips
Smoked New Season Onions
Cranberry and Rosehip Sauce
Nutmeg and Oatmilk Bread Pudding
Onion and Kombu Gravy
Dessert
Warm Vanilla Rice Pudding, Sweet and Sour Clementine, Pine and Candied Parsnip
Kirk's top plant-based Christmas dinner tips for cooking at home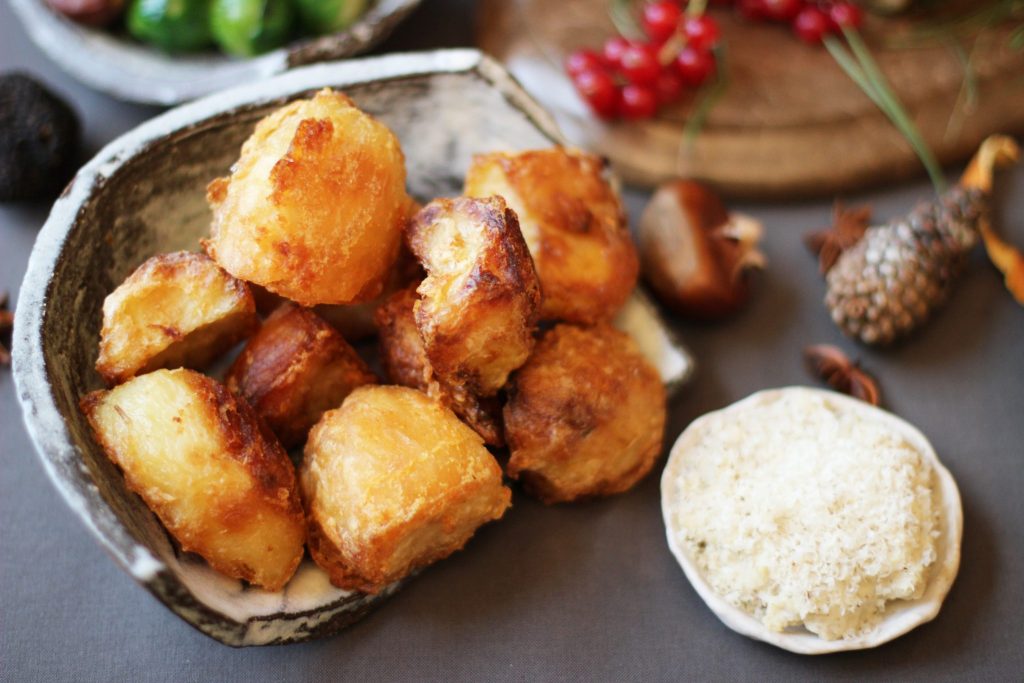 Sadly, there won't be any Christmas miracles that will turn us into a Michelin-starred chef before Jesus's big day, but at least we can learn something from Kirk. Here are his simple and effective vegan Christmas dinner tricks to elevate your sides from acceptable to exceptional:
1. The first rule of cooking a fantastic plant-based Christmas dinner
The most important thing is to keep things stress-free by prepping as much as you can the day before. Play to your strengths and keep things as simple as you need them to be.
2. Making Brussels sprouts sexy (without pancetta)
To keep people coming back for more brussels sprouts, simply mix in some roast chestnuts, truffle oil and a good pinch of Maldon Sea Salt.
3. Crispy and fluffy roast potatoes
If possible, use Maris Piper potatoes. Bring your potatoes up gently from cold water with a pinch of salt.
Place a deep roasting tray with 100g of organic coconut oil in the oven at 180℃.
Cook until al dente, drain the water, put the lid back on the pan and shake aggressively until fluffy around the outside.
Place potatoes onto the hot tray and roast until golden brown for 45 to 60 minutes, turning the potatoes every 15 minutes.
Recipe: Festive Cacao Hot Chocolate for all the family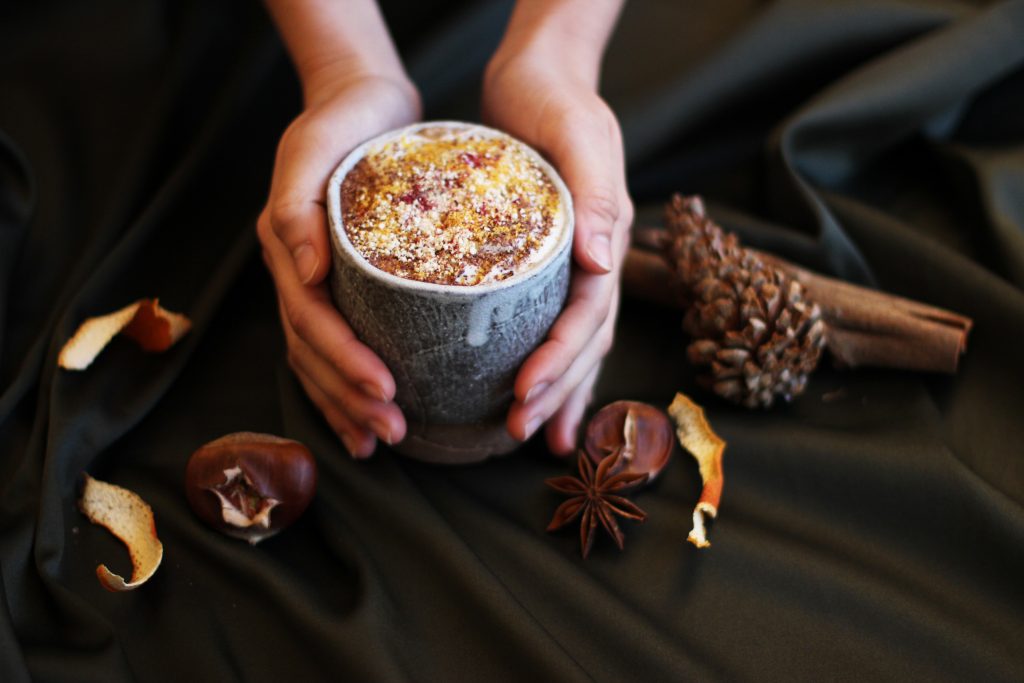 There's hot chocolate and then there's hot chocolate. This is a wonderful recipe for making Christmas Eve feel that little bit more special.
Ingredients:
300 ml oat milk
1 tbsp cacao powder (100% organic, natch)
2 tbsp agave Syrup
1 star anise
1 pinch of cinammon
Method:
1. Whisk all the ingredients together in a pan over medium heat for 3-5 minutes.
2. Remove star anise before serving.
Main image: Plates London