Are you considering cooking a Vegan Christmas dinner for family or friends this year? Or looking to serve knockout vegan sides at the Christmas table?
Thanks to the rise in popularity of plant-based diets in recent years, turkey alternatives have come a long way from just a dry nut roast.
Over the past few years, we've spoken to top UK chefs and mixologists, who have shared their top tips for a decadent plant-based Christmas. From celebratory pre-dinner snacks and cocktails to visually stunning main courses, and even a wind-down festive hot-choc to take you to bed, here's some of our favourite tips, tricks and recipes to inspire you this festive season – and they are as easy as they are delicious.
A VEGAN CHRISTMAS DINNER: PREP IS IMPORTANT
When it comes to cooking the tastiest vegan Christmas dinner, there's not many chefs we would trust more than Kirk Haworth, co-founder and chef of Plates, one of London's most innovative vegan restaurants and cook schools.
Having spent almost two decades perfecting his craft in Michelin-starred restaurants around the world, Kirk's unique perspective delivers plant-based creativity at the highest level. Taking all that nature has to offer, Kirk delivers modern, plant-based food with Michelin standard execution. And his vegan Christmas dinner ideas are no exception.
"Plant- and vegetable-led cookery can be hearty and warming just as much as a roast turkey," he says. "To wow people through plant creativity at such a special time of year is truly humbling and rewarding."
Before we get down to the cooking, Kirk reminds us the first and most important rule of cooking a fantastic plant-based Christmas dinner is to PREP.
Stay stress-free by prepping as much as you can the day before, play to your strengths and keep things as simple as need be.
A VEGAN CHRISTMAS DINNER: CANAPÉS AND APPETISERS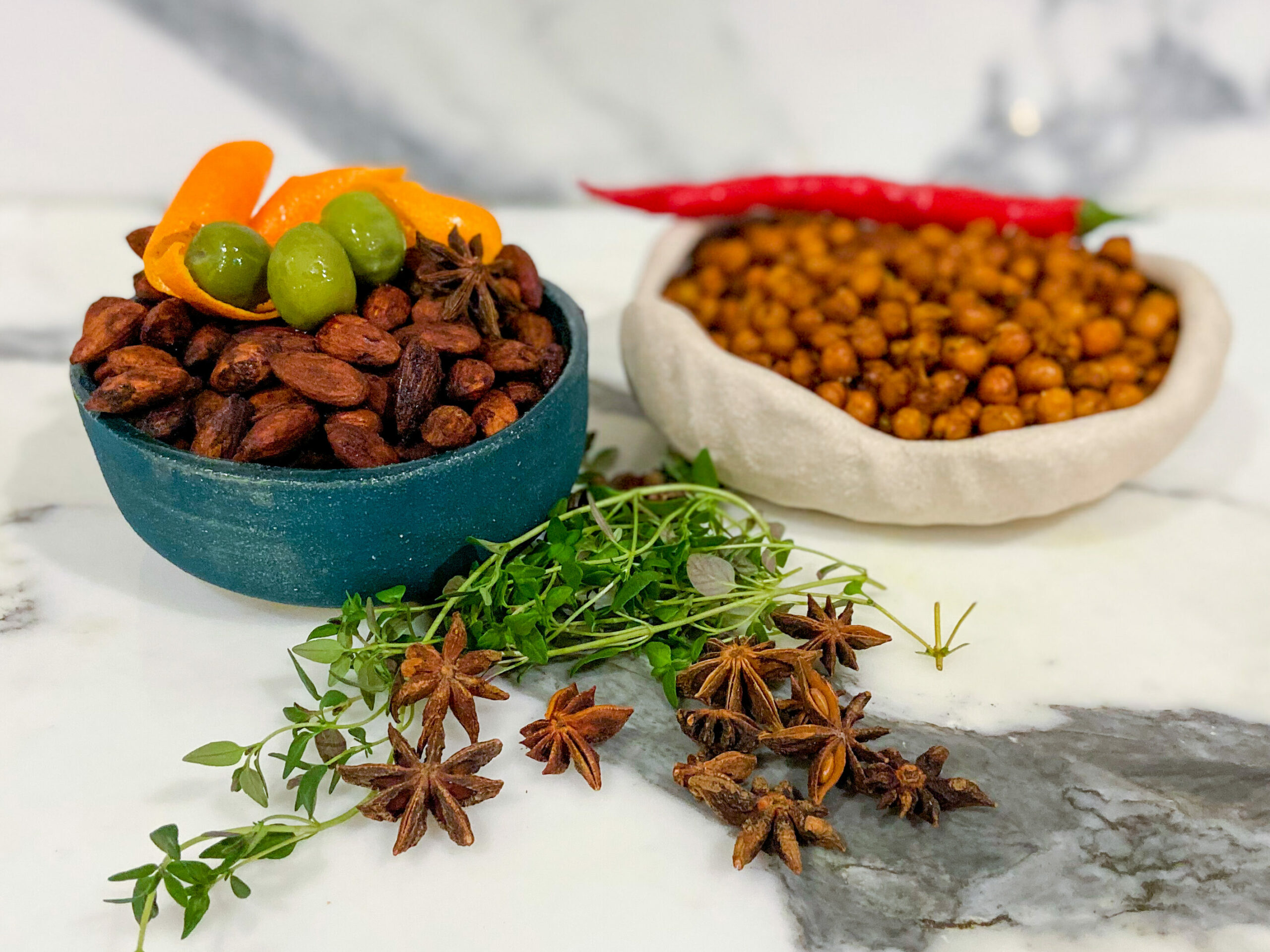 When it comes to entertaining guests over the festive period, Kirk shares his go-to recipes for party canapés.
OVEN-ROAST CHILLI CHICKPEAS
Ingredients:
2 cans chickpeas
2 tbsp olive oil
1½ tsp chilli powder
1 tsp black pepper
1 tsp cumin
½ tsp smoked paprika
¾ tsp kosher salt.

Method:
1. Preheat the oven to 180C.
2. Rinse and drain the chickpeas. Keep the brine in a separate bowl.
3. Place the chickpeas on a towel and pat gently to dry. Place another towel on top, then use your hands to rub the chickpeas and remove as many of the chickpea skins as possible. Do this once or twice; it should only take a few minutes and it's not necessary to remove all of the skins.
4. In a medium bowl, stir together chickpeas with the olive oil, chilli powder, black pepper, cumin, smoked paprika, and kosher salt.
5. Pour chickpeas onto a parchment-lined baking sheet and spread them into a single layer. Bake for about 45 to 60 mins until crispy and dry, shaking the pan every 15 mins. The exact bake time varies, so watch closely in the final minutes, taste test, and remove when the chickpeas are browned but before they become very dark and hard.
6. Allow to cool for about 10 mins before storing; the chickpeas will crisp up even more as they cool. Stored in an airtight container in a dry cupboard, the chickpeas will last for up to one week.
SMOKEY GLAZED ALMONDS
Ingredients
450g almonds
⅓ cup sugar
½ tbsp salt
⅛ tsp white pepper
1 tsp chilli powder
¼ tsp cayenne pepper
1 tsp Spanish-style smoked paprika
1 tbsp garlic powder
½ tsp ground cumin seed
50g chickpea brine
1 tbsp water
3 dashes of tabasco sauce
½ tsp Worcestershire sauce.

Method:
1. In a mixing bowl add all the dry ingredients and mix. Add the almonds and the rest of the ingredients and mix thoroughly.
2. Spread out on a tray and bake at 180C for 10-15 mins until golden.
A VEGAN CHRISTMAS DINNER: MAIN COURSE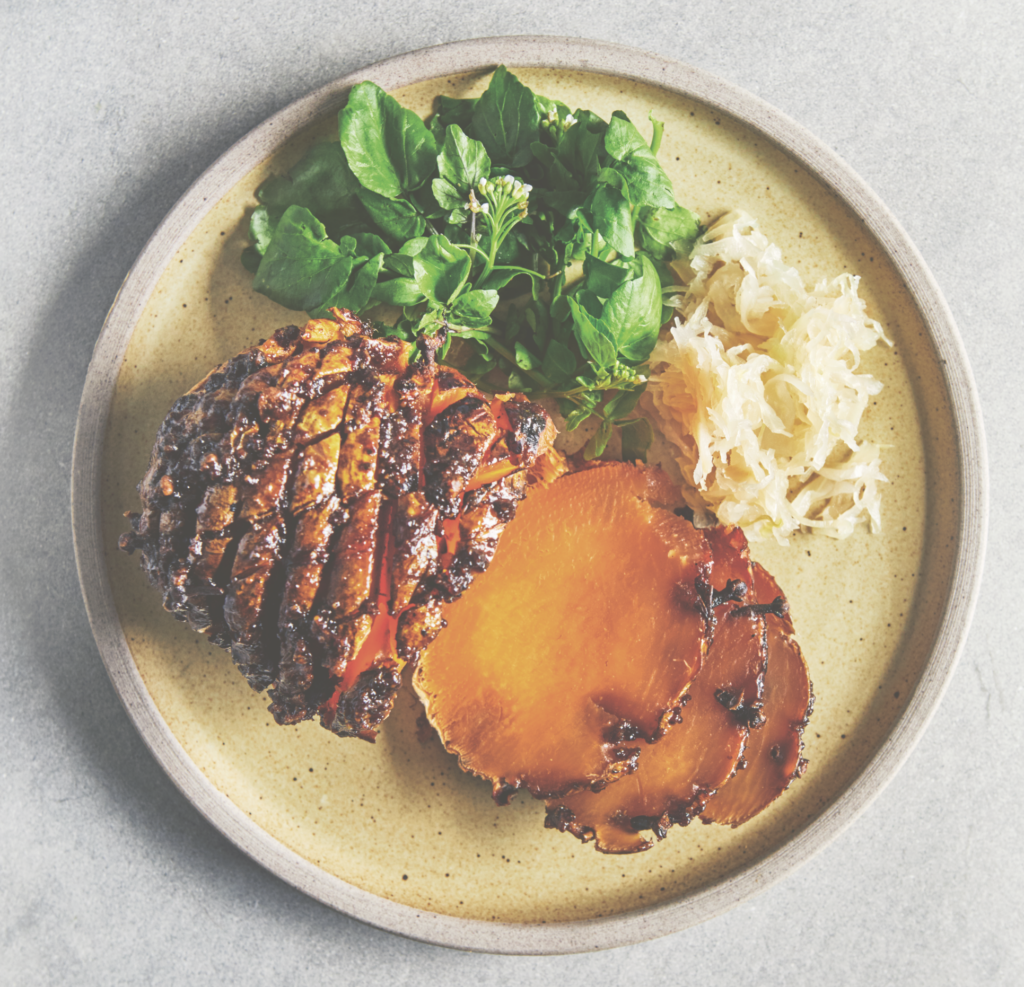 A SWEDE PRETENDING TO BE A HAM
Of course, a vegan option doesn't have to imitate a meat one, as award-winning chef and climate change campaigner Tom Hunt is fully aware. But this recipe from his book Eating for Pleasure, People & Planet is a fabulously festive Christmas dish.
"Swede is scrumptious roasted whole, however, coating it with sugar and mustard makes it irresistible, tipping the level of satisfaction to the extreme," says Hunt. "This dish makes a great centrepiece for any table and is perfect served hot or even cold the next day… I love it sandwiched between two thick slices of bread with extra mustard and plenty of watercress."
Ingredients:
(serves 4-6)
1 swede, about 500g
12 cloves
glug of extra virgin olive oil
30g unrefined sugar
20g mustard
To serve: sauerkraut; watercress

Method:
1. Preheat the oven to 180C/350F/Gas Mark 4.
2. Score the swede all over with a knife, cutting about 1cm into the flesh in a criss-cross pattern.
3. Stud the top with cloves, arranging them evenly over the surface. Drizzle with oil and sprinkle lightly with salt.
4. Wrap the swede in a large sheet of unbleached parchment paper and place in a small ovenproof dish. Roast in the oven for 1 hour, then remove the parchment and return to the oven for a further 30-60 mins, or until the swede is well cooked.
5. At this point, remove the swede from the oven and turn down the temperature to 120C/250F/Gas Mark 1.
6. Mix the sugar and mustard together in a small bowl and coat the swede all over with the mixture. Return to the oven and cook for 20-30 mins.
7. Carve at the table and serve with sauerkraut and watercress, or set aside to cool and serve sliced in sandwiches.
A VEGAN CHRISTMAS DINNER: VEGAN SIDE DISHES
What's a main without all the trimmings? Here are Kirk Hayworth's simple and effective tips to elevate your sides from acceptable to exceptional.
CRISPY AND FLUFFY ROAST POTATOES:
If possible, use Maris Piper potatoes.
Bring your potatoes up to a boil gently from cold water with a pinch of salt.
Place a deep roasting tray with 100g of organic coconut oil in the oven at 180℃.
Cook until al dente, drain the water, put the lid back on the pan and shake aggressively until fluffy around the outside.
Place potatoes onto the hot tray and roast until golden brown for 45 to 60 minutes, turning the potatoes every 15 minutes.

SEXY VEGAN BRUSSELS SPROUTS:
To keep people coming back for more brussels sprouts, simply mix in some roast chestnuts, truffle oil and a good pinch of Maldon Sea Salt.

OTHER SIDE IDEAS:
Juniper Roasted Parsnips
Smoked New Season Onions
Cranberry and Rosehip Sauce
Nutmeg and Oatmilk Bread Pudding
Onion and Kombu Gravy
It's as simple as that!
Live Frankly recommends:
If you're looking to make cooking your vegan Christmas dinner a little simpler, we recommend these quick and easy options below…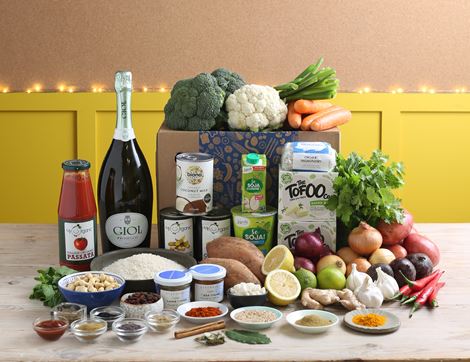 Abel & Cole Vegan Christmas Feast Box
Available to Abel & Cole food box delivery subscribers.
£105.00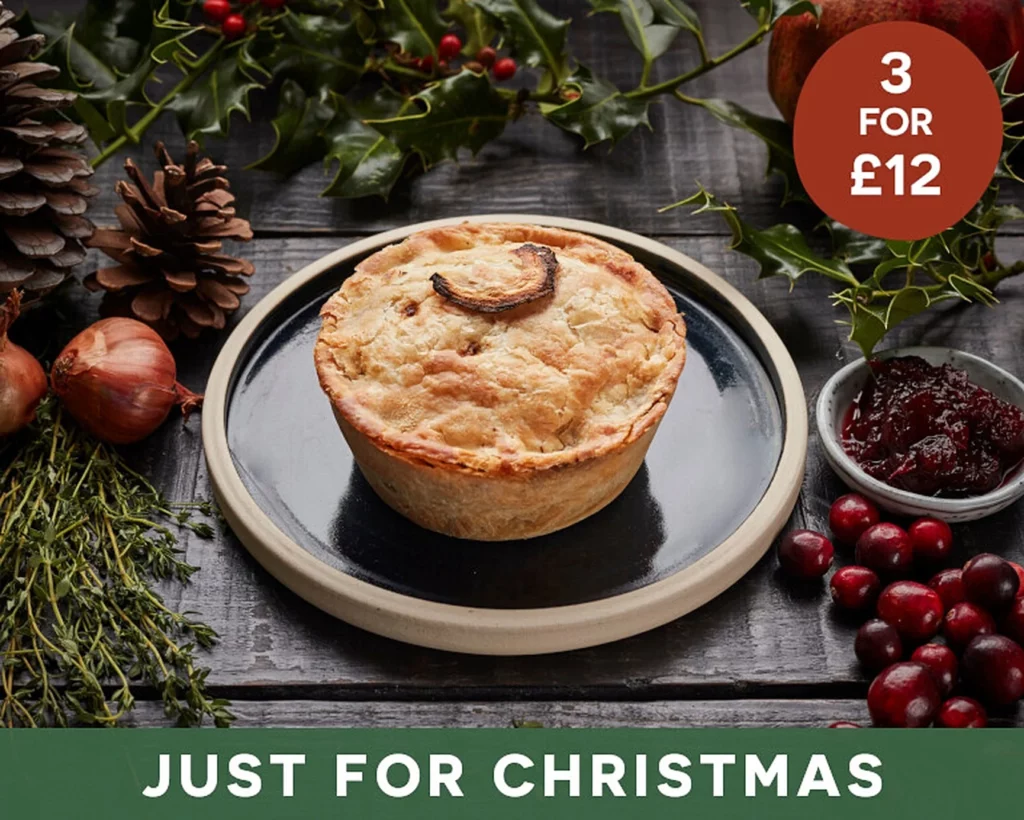 field&flower Vegan Turkey Pie
Available to field&flower food box delivery subscribers.
£4.98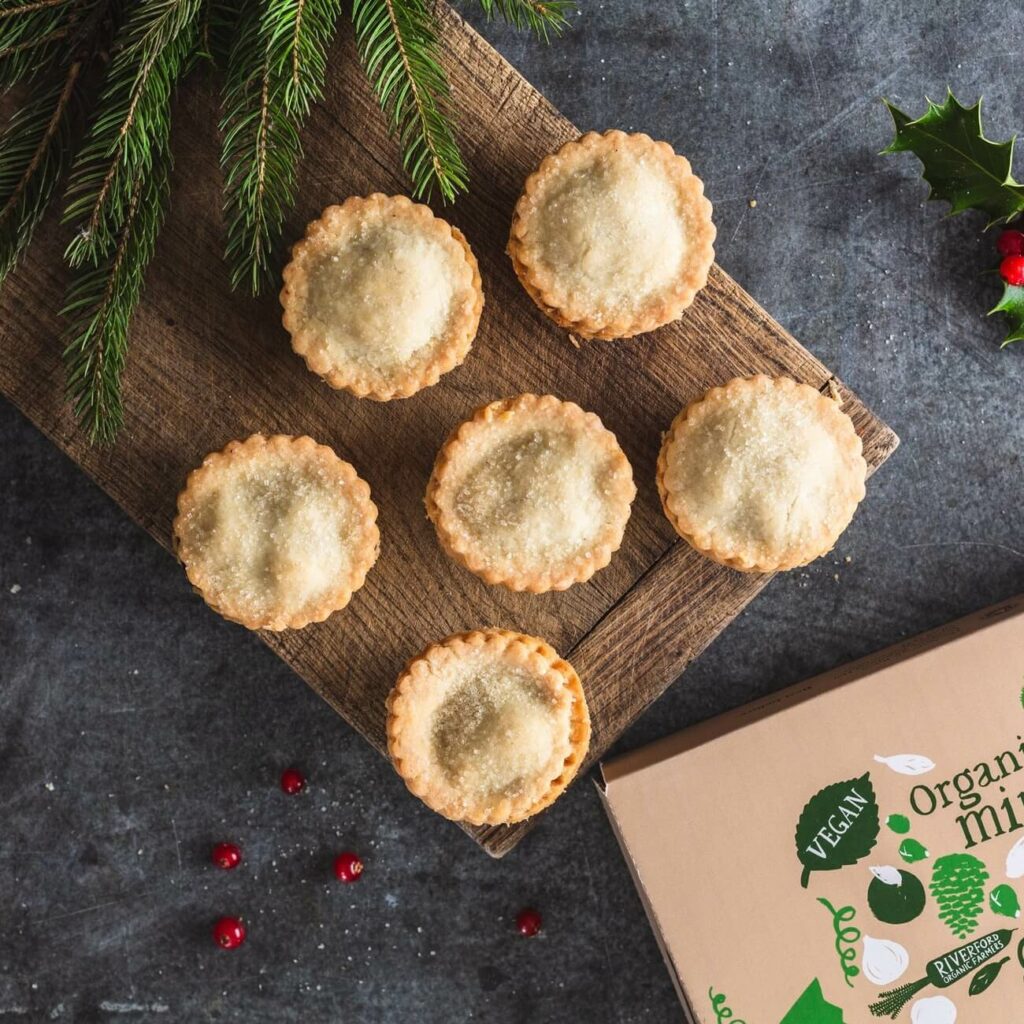 Riverford Vegan Mince Pies
Available to Riverford food box delivery subscribers.

£6.25
A VEGAN CHRISTMAS DINNER: DESSERTS AND HOT CHOCOLATE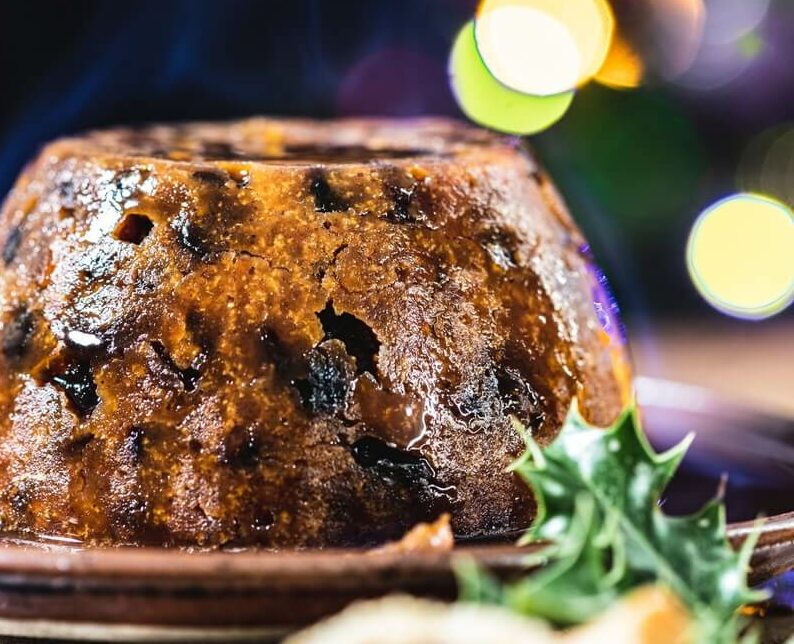 RIVERFORD'S VEGAN CHRISTMAS PUDDING
Christmas wouldn't be complete without a classic sweet treat like Christmas pudding.
Riverford's plump and fruity vegan Christmas pudding recipe is the perfect finale to a show-stopping vegan Christmas dinner.
Ingredients:
100g sultanas
100g currants
100g dried figs (roughly chopped)
50g prunes (roughly chopped)
50g dried apricots (roughly chopped)
50g glacé cherries (not the bright red ones), sliced
50g candied peel
100ml dark stout
100ml brandy or Calvados
150g vegan suet
150g light muscovado sugar
100g ground almonds
1 apple, grated
juice and zest of 1 orange
1 tsp mixed spice
120g self-raising flour
vegetable oil for greasing

Method:
1. Put the sultanas, currants, figs, prunes, apricots, cherries, and candied peel into a mixing bowl with the stout and brandy. Stir together and leave somewhere cool overnight.
2. The next day, add the suet, sugar, almonds, apples, orange zest, and mixed spice. Mix well, until thoroughly combined. Now sieve in the flour, and fold it in firmly, but without overmixing; stop once there are no more visible signs of dry flour.
3. Grease the inside of the pudding basin with a little oil. Add the mixture and level it with the back of a spoon. Top with a pleated circle of baking parchment and pop on the lid; if you're using a ceramic basin, create the lid with a double layer of pleated foil, tied tightly to the basin rim with string.
4. Steam for 4 hours (see cook's notes). Cool completely. Cover with a fresh circle of baking parchment and a clean lid. Store in an airtight container, somewhere dark and cool, until Christmas. To reheat on Christmas Day, steam for 3 hours.
RIVERFORD'S VEGAN CASHEW BRANDY BUTTER.
Enjoy Riverford's vegan Christmas pudding with some vegan cashew brandy butter.
Ingredients:
1. 150g raw unsalted cashew nuts
2. 2 tbsp brandy
3. 1 tbsp maple syrup
Method:
1. Put the cashew nuts in a bowl and cover them with plenty of cold water. Leave them in the fridge overnight.
2. The next day, drain the water away from the cashews. Place them in a blender with the brandy, maple syrup, and 80ml of fresh cold water. Blend until thick and creamy. Take the lid off and try a dab; if it's still a little gritty, blend for longer. You can add a dash more water to make the consistency more cream-like if you prefer.
3. Keep in the fridge until needed.
KIRK HAYWORTH'S FESTIVE CACAO HOT CHOCOLATE: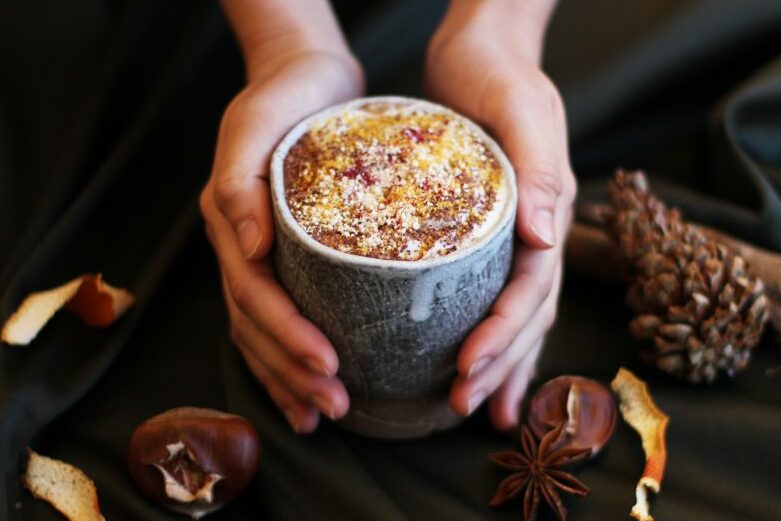 There's hot chocolate and then there's hot chocolate. This is a wonderful recipe for making Christmas feel that little bit more special.
Ingredients:
300 ml oat milk
1 tbsp cacao powder (100% organic, natch)
2 tbsp agave Syrup
1 star anise
1 pinch of cinnamon

Method:
1. Whisk all the ingredients together in a pan over medium heat for 3-5 minutes.
2. Remove star anise before serving.
A VEGAN CHRISTMAS DINNER: WINES AND COCKTAILS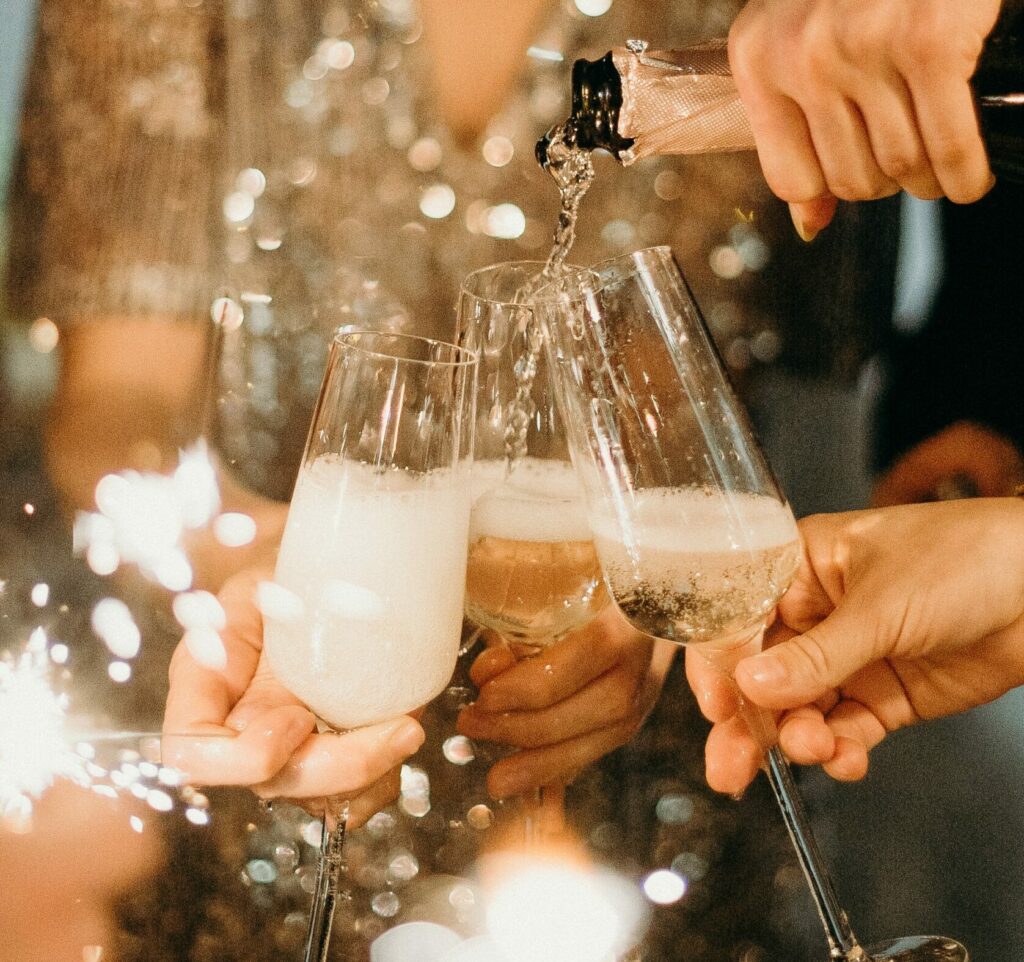 What better way to ring in the festive season than with a bottle of wine – or two? Needless to say, over the Christmas period it's handy to always have a bottle of something in the fridge to serve guests, or to take with you if you're visiting someone else.
A word of warning, check whether your wines are vegan – Pale Fox Prosecco and Moet & Chandon Brut Imperial are two sparkling recommendations from Kirk Haworth.
If you want to make something a little fancy, here's a recipe from Ryan Chetiyawardana, aka Mr Lyan, who has won an incredible amount of awards for his innovation in the international bar scene.
He says: "Having drinks prepared for the season or even having pre-made liqueurs, can mean there's always a perfect drink to quickly knock up for friends dropping in. Drinks lengthened with bubbles also provide the perfect feeling of celebration!"
BOTTLED ST CLEMENTS
Ingredients:
400ml VSOP cognac
100ml Merlet Triple Sec
150ml Lillet Blanc
5ml Angostura bitters.

Method:
1. Mix all together and then bottle.
2. To serve, chill and serve over ice or serve in a highball over ice and top with chilled ginger ale.
3. Garnish with an orange wedge studded with cloves.