This piece is part of the Exploits series, from Wicked Leeks and Live Frankly, aiming to highlight the systemic poor conditions faced by people working in food and fashion. Find out more here.
Outraged Lioness supporters have succeeded in their mission to get Nike to agree to make England goalkeeper Mary Earps' jersey available for fans to buy.
Fans demands for Earps' shirt became louder following the dramatic World Cup, which saw the goalkeeper win a Golden Glove for her performance throughout the tournament. Incredibly, the Change.org petition calling for the shirt be made, reached over 150,000 signatures.
But, there's another, much less well documented campaign, happening on the other side of the world and it involves the women who could be making those shirts.
"We call on the organisations and athletes that carry Nike's message of empowerment to stand with us"

Noah Dobin-Berstein, Fight the Heist organiser
Fight the Heist
The 'Fight The Heist' campaign is demanding Nike pays back the alleged "stolen wages" of factory workers, dating back to 2020.
During the pandemic, global fashion brands – including Nike – cancelled or paused orders already placed with factories as coronavirus lock-downed high streets globally. This was not illegal, despite the fact that many of the clothes had already been made, because of a clause in the contract that means brands don't pay for orders until they've shipped.
But, that doesn't mean it wasn't wrong.
A coalition of 50 labour unions and organisations from across Asia and the USA maintain that the vast majority of garment workers, who lost on average 22% of their normal wages in 2020, have received no payback. They report that these workers remain in permanent crisis, with many factories continuing to steal overtime pay or pay sub-minimum wages. 
Worse still, online sales of athleisure rocketed during lockdowns. In 2021 Nike announced record profits and continues to do so. Last December, the corporate giant reported its best quarterly revenue growth in a decade.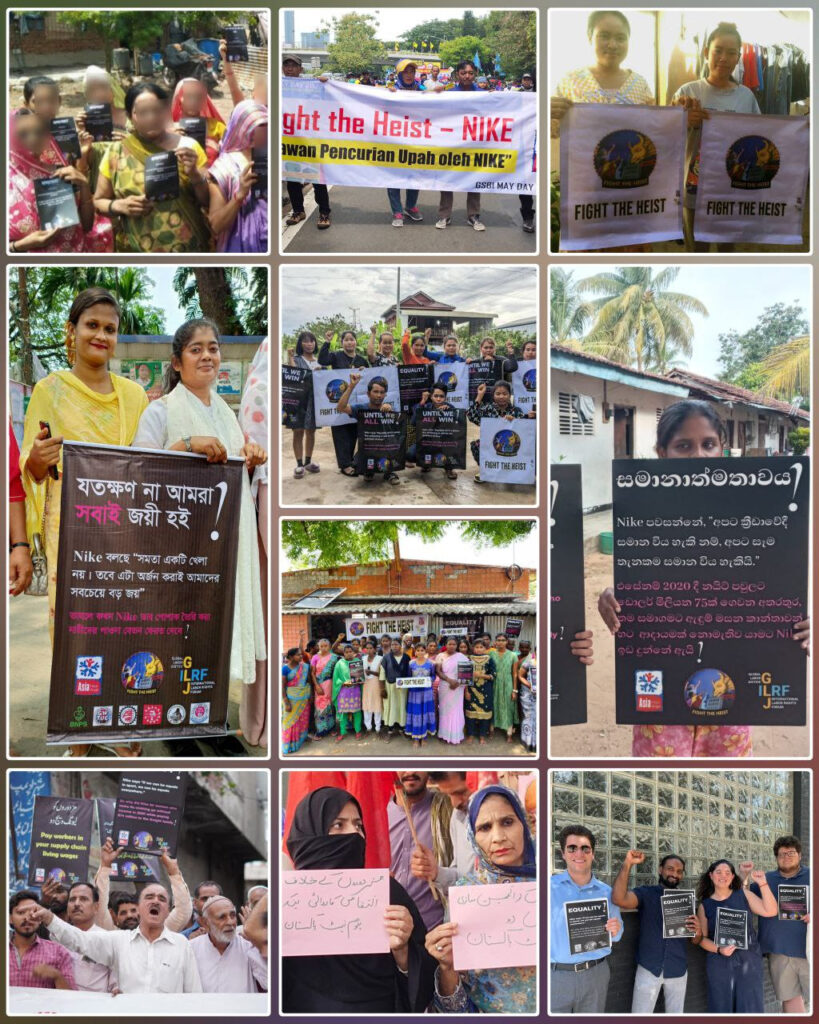 Until we all win?
"Nike preaches equality in sports, but what about for the women who put their blood, sweat and tears into making its sportswear?" asks Abiramy Sivalogananthan from labour organisation Asia Floor Wage Alliance.
She adds: "1.2 million workers power Nike's supply chain, with 70 percent being women. In our latest report, we recorded how the Knight family – Nike's billionaire family owners and a top shareholder – pocketed USD $74 million in dividends by the Spring of 2020 in the first months of the pandemic, while garment workers in Asian countries suffered pay cuts, mass layoffs, and worked hours overtime without pay."
Nike has a strapline: 'Until we all win'. Its website reads: "Nike believes in the power of sport to unite and inspire people to take action in their communities. Equality isn't a game. But achieving it will be our greatest victory. Until we all win."
"Nike talks a lot in its advertising about empowering women and girls," says Noah Dobin-Berstein, lead organiser for the Global Labor Justice – International Labor Rights Forum (GLJ-ILRF). "We call on the organisations and athletes that carry Nike's message of empowerment to stand with us and demand that Nike pay back its women workers for the massive wage losses they experienced during the pandemic."
Exploits contacted Nike for their statement but didn't receive a response.
Main image: Mary Earps Instagram