To celebrate this year's International Women's Day, Live Frankly is shining a light on the inspiring women in our network who are helping to empower other women.
We are proud to partner with so many pioneering female-led and female-driven brands who are paving the way for a more inclusive, ethical and sustainable world.
We spoke with six of the amazing women behind these trailblazing brands to discover what inspires, empowers and motivates them, and how they continue to pay their successes forward.⁠..
Lora Nikolaev Gene, founder of trailblazing womenswear label, Lora GENE
"I don't think women need to be empowered. We are already quite powerful… I believe the power of women is often found in our incredible empathy, softness, creativity, and even our vulnerability."
Lora GENE is a forward-thinking, London-based luxury womenswear label. Founder Lora Nikolaev Gene is outspoken about how the fashion industry needs to change. Read the brilliant article she penned for Live Frankly: Enough talk. Let's start the Fashion Revolution.
Lora Gene's collection aspires to help women to look and feel like the best versions of themselves. They say:
"Lora GENE's signature styles and silhouettes allow every woman to be independent, powerful, reinvent herself, and not be afraid to take a sartorial challenge."
Lora GENE is proving a more inclusive, ethical and sustainable fashion industry is possible.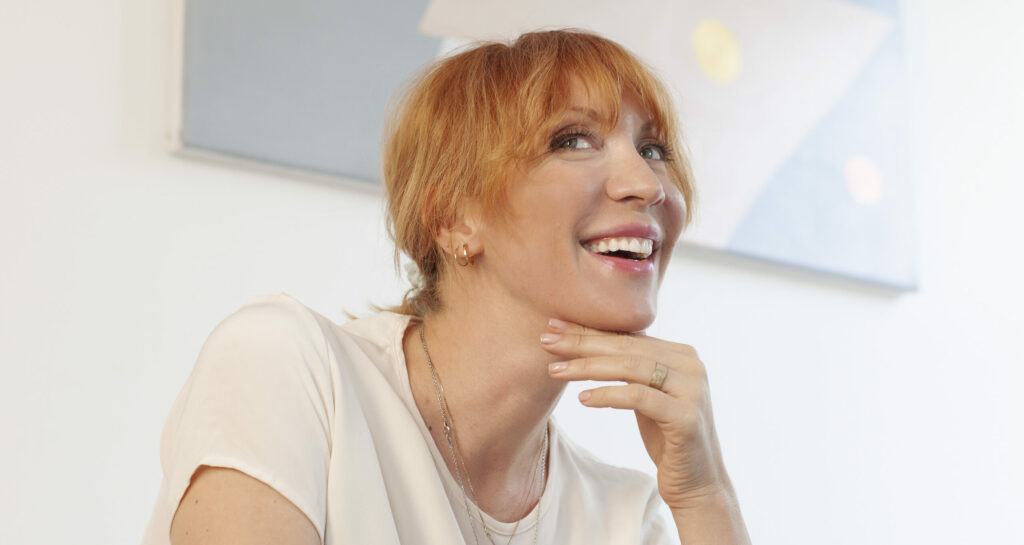 What does International Women's Day mean to you?
I've always put a lot of focus on IWD, to me it's a very important date and in many ways I think we still need it.
Weirdly in Bulgaria, where I was raised, this date is quite connected to the communist regime and times of repression. So, a lot of women within our network and organisation are naturally not very drawn to celebrate it, because it reminds them of those times.
I don't share those sentiments, because I'm from a later generation. For me personally, it's a good reminder that women have fought for my privilege and the ability to express myself freely.
What has been your experience as a female founder?
Interesting…
It's difficult to fight stereotypes and unfortunately, female entrepreneurs still face quite a lot of these on a daily basis.
A theme for this year's International Women's Day is #BreakTheBias. How do you Break The Bias at Lora GENE?
In this industry most of the workforce are women, but a lot of managerial positions are held by men, so that needs to balance out.
That said, out of the six factories we work with, five are led by women. In Bulgaria, where our manufacturing facilities are, we have some of the highest representations of women in leading positions and in politics. It's very much related to the mentality and the culture, I think.
However, we are still working on improving wages in the fashion and there is certainly a lot to be done in the industry as a whole, despite being irrelevant to our own organisation.
I sometimes fear I might have a bias towards hiring only women, and thus I've checked myself on several occasions.
Who are the women behind Lora GENE?
There are quite a few women, as I've outlined above, and we've put in a lot of effort to represent them over the past two years. You can meet them on videos, stories, and blog pieces on our website and social media.
There are far too many to mention them all, here. Antonia Krasteva is my partner in the beauty brand; Anita Kuzarova is our customer service manager and also a great contemporary artist; Kate Caric is my brilliant social media manager; Andrea Varga is our PR; Mariana Miteva is our main technologist; Stefka Venkova leads one of our biggest factories, and Ani Drumeva is our incredible knitter…
How do you empower them?
I don't know if there is anything particular that I do to empower them, but to me treating women with respect is an everyday exercise.
If I'm honest, I don't think women need to be empowered. We are already quite powerful, we just don't embrace these powers enough. I think our modern world has a problem with our perception of what power is.
I believe the power of women is often found in our incredible empathy, softness, creativity, and even our vulnerability.
How do they empower you?
In all kinds of ways! I find women very inspirational – those real, unedited women you wouldn't see on your screens.
In the spirit of #BreakTheBias, what's one other bias you would like to see addressed?
I would like to see more women from notoriously underpaid industries like fashion, in better financial positions.
I would really like to see garment professionals lifted and valued equally to creative directors.
What women have inspired you lately?
My main technologist lost her husband in November. A few days later she said: "I need my work, I need to put this extra love I've got somewhere.''
Have you read/watched/listened to anything inspiring recently?
Inspirational article: I love reading pretty much everything from Ijeoma Oluo.
Film/tv show: I thought Maid was amazing, that's what I feel the power of women is.
Instagram account: @words_of_women