Ethica Diamonds: What is it?
Ethica Diamonds is an award-winning ethical jewellers specialising in truly meaningful fine jewellery.
Their widespread collection includes everything from elegant everyday pieces – stud earrings, dainty bracelets and standout pendant necklaces – to a variety of intricate and eye-catching engagement rings.
Ethica Diamonds work hard to help you find the perfect piece for you or someone you love. So, they also offer a bespoke service, where you're able to design your own piece of jewellery from scratch or put your own stamp on an existing design.
And the best part? This luxury jewellery doesn't come at a steep cost – to you, or the earth – because the brand prioritises both fair pricing and fair production.
Elaine Reffell, who founded Ethica Diamonds back in 2010 and now runs the company alongside her daughter, explains:
"While I was drawn to the imaginative possibilities of creating meaningful jewellery for people, I was also disillusioned by industry standards that turned a blind eye to the harmful, widespread effects of diamond mining. So, in 2010, I committed to doing things better — for the earth, our customers, and in turn, our business."
Ethica Diamonds' best-sellers: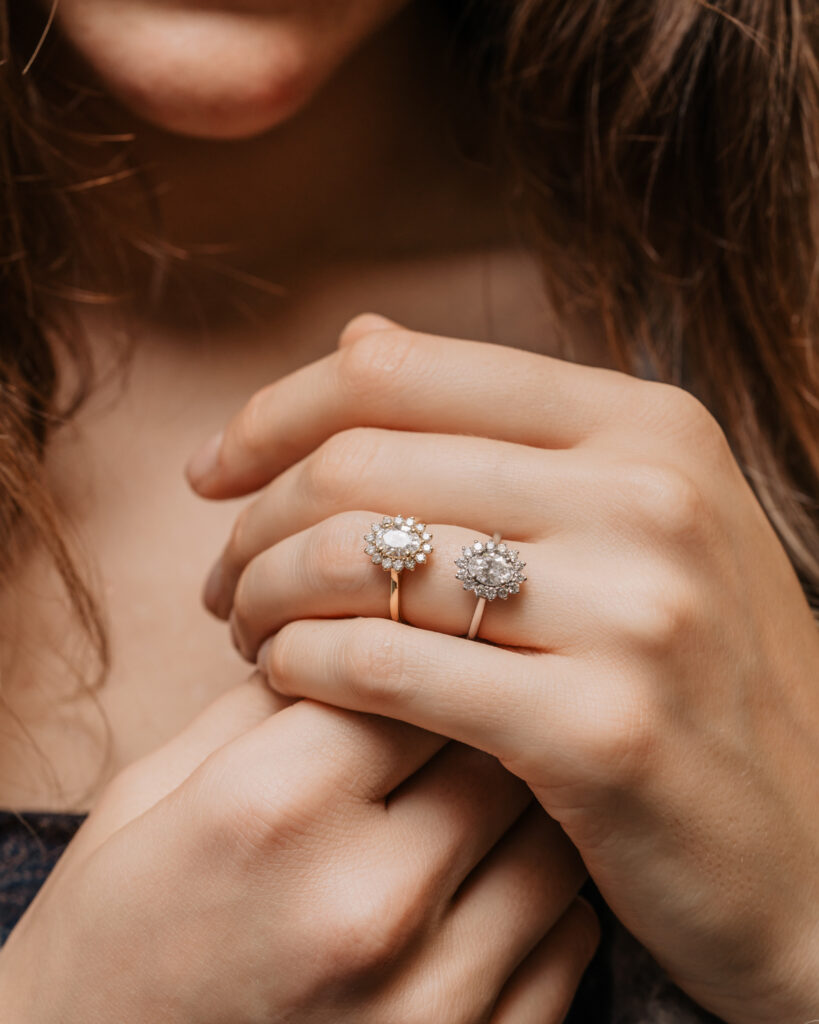 Mina
Oval Halo Engagement Ring
£1970 – £2050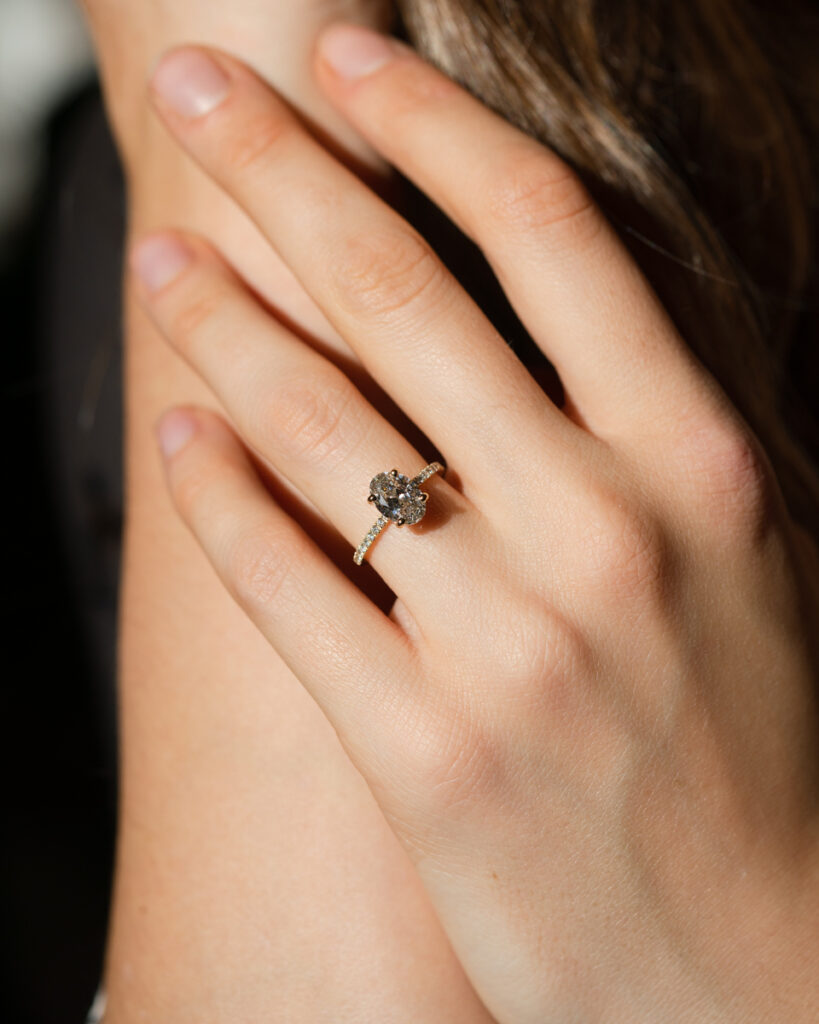 Aesa
Oval Thin Shoulder Diamond Engagement Ring
£1510 – £1600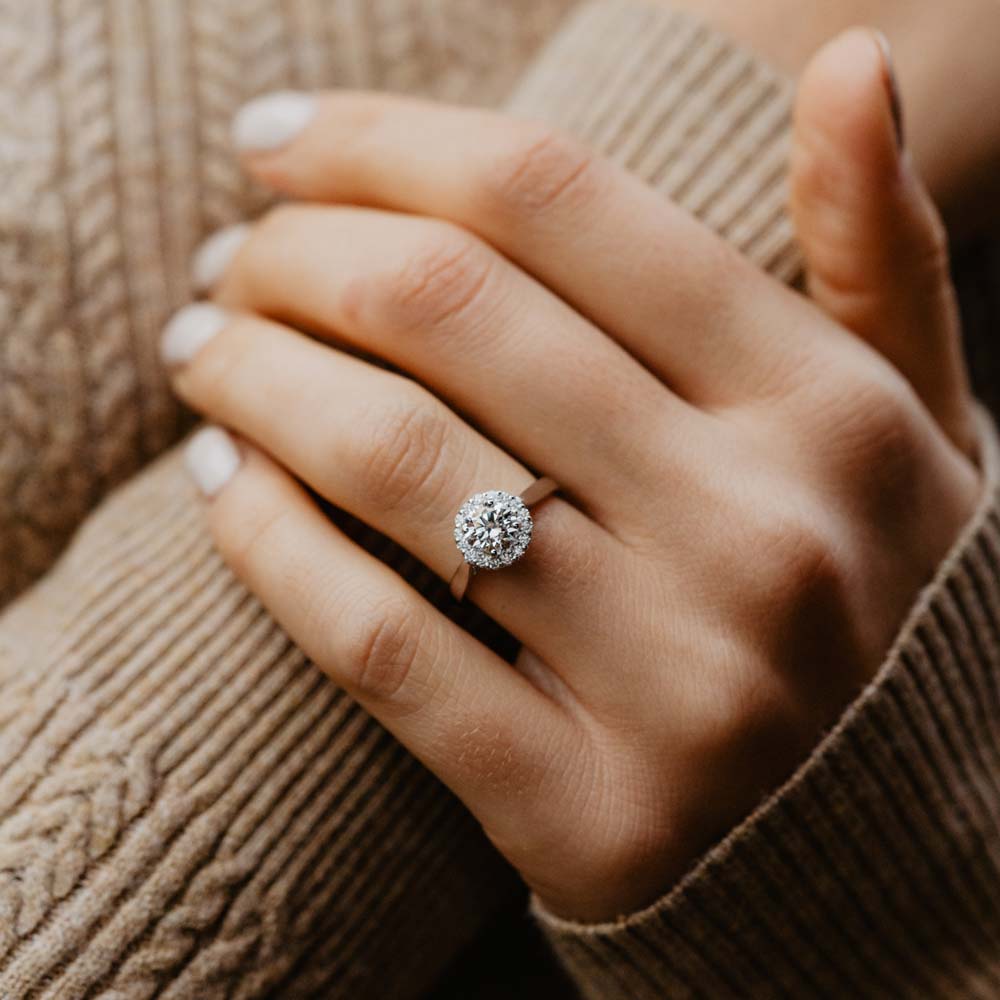 Posey
Round Vintage Halo Engagement Ring
£1710 – £1790
Ethica Diamonds: How sustainable is it?
It's no secret that the mining trade of gems and precious metals is rooted in exploitation and environmental harm (read more, here).
But, Ethica Diamonds proves things can be done differently – you can create beautiful jewellery that can be worn proudly. 
Their mantra is "kind, not mined." Meaning all of their materials are sustainably sourced, including their precious metals and stones. They use only high-quality diamonds and gemstones which are lab-grown by trusted partners in Belgium, India, USA and Antwerp. While lab-grown diamonds are both visually and chemically identical to natural diamonds, they bypass the harm caused by mining. 
They also only source precious metals from recycled sources and 100% recycled metals are used whenever possible. Their Gold and Platinum products always come from SCS (Services of Corporate Sustainability) Certified refineries, and all gold is certified as 100% recycled.
Their jewellery is manufactured in both the UK and India. Ethica Diamonds' works with manufacturers who match their principles of social and environmental responsibility, meaning:
They do not use mined materials, conflict metals and materials from questionable or illegal sources. 

They utilise renewable or sustainable energy for their manufacturing processes.

They actively support local benefaction and protection of the local habitat and community.

Child labour is forbidden.

There are safe and fair working conditions.

Ethica Diamonds annually visit their manufacturers to ensure they are upholding their standards of kind, fair and sustainable practice.
They hold various accreditations, including Fairtrade Gold label and SCS certification which carries out third party audits. They are also members of 1% for the Planet: they have pledged 1% of sales to the preservation and restoration of the natural environment.
Ethica Diamonds are members of the fair living wage organisation and pay everyone in their small, close-knit UK team above national minimum wage, with an annual bonus.
They were even recently ranked top place in The Good Shopping Guide's Ethical Jewellery Ratings Table which scores 18 popular jewellery brands according to their practices towards the Environment, Animals and People. 
Ethica Diamonds: Where can I buy it?
Online via their website: ethica.diamonds
Visit Ethica Diamonds