GUNG HO: WHAT IS IT?
Gung Ho is a fun and flirty brand with depth. Founder Sophie Dunster is incredibly creative and fabulously collaborative. She works to raise women up with both her warm and engaging spirit and her feminine and contemporary clothing.  
Take a quick glance as Gung Ho's bold clothing and you might think it's beautifully illustrated. But look a little more closely and each design contains a hidden message of environmental activism. 
Each year, the brand chooses a different issue to bring to our attention. This year, The Worldwide Tribe collection showcases the issues surrounding displacement and, importantly, focuses on the human stories behind the stats.
The Climate Change collection highlights extreme weather, endangered species and the everyday actions we can take to make a difference. Then there's Precious Insects, shedding light on the use of harmful insecticides used within agriculture and the declining bee population. And elsewhere, in the Food for Thought collection, jumpsuits cleverly showcase food seasonality.
Dunster's idea is that the next time someone compliments you on what you're wearing you'll have a little more to say than just 'thanks'. 
The collections include feminine wrap skirts that flow out from the hip, adjustable tie dresses with stand out jumpsuits, unisex tees and embroidered sweatshirts. This is a brand that knows how to marry old-school romance with contemporary style.
Gung Ho's best-sellers: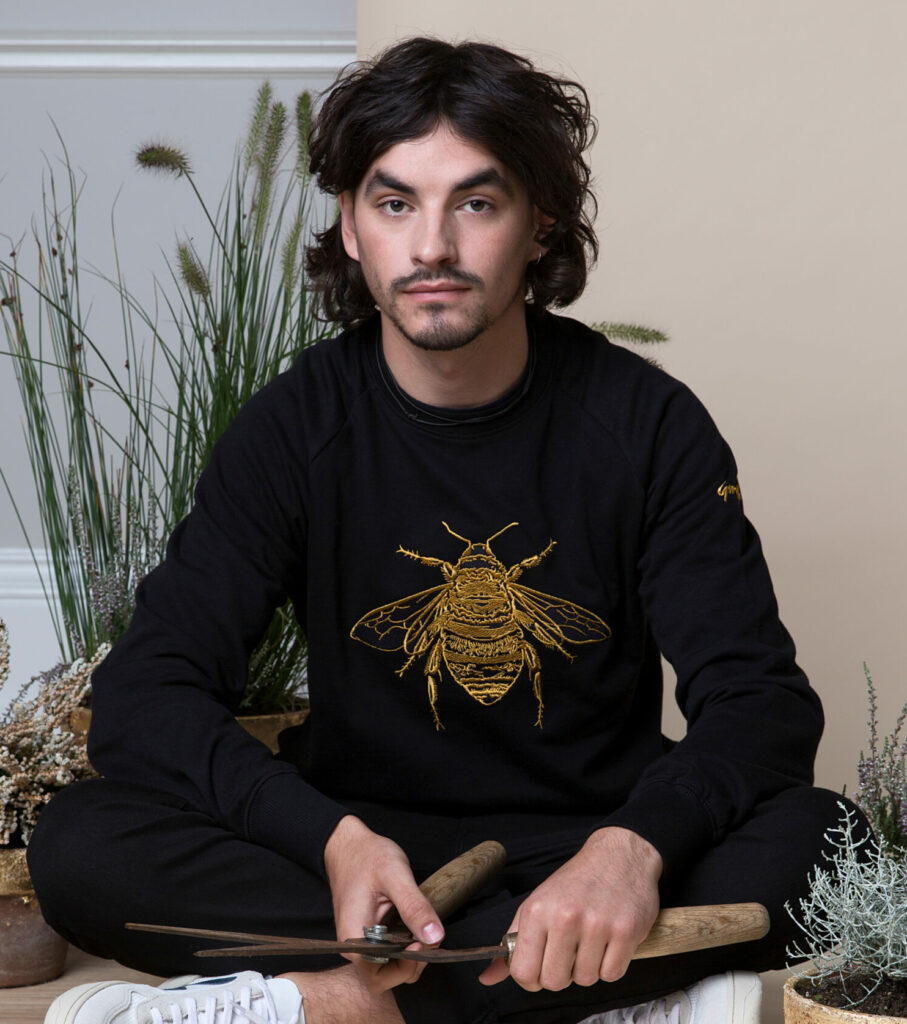 Signature Bee Embroidered Sweatshirt
Made from organic cotton.
£120.00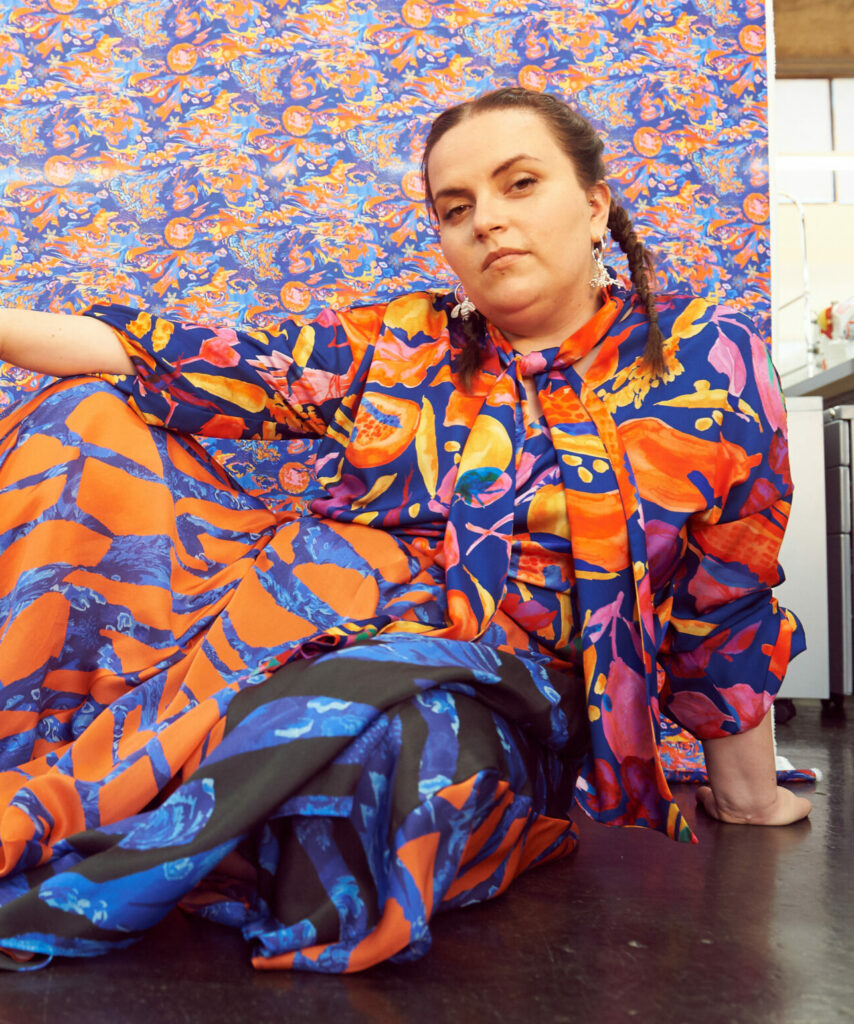 Bespoke Blouse in Regenesis
Made bespoke. Pick the size and print you want.
£225.00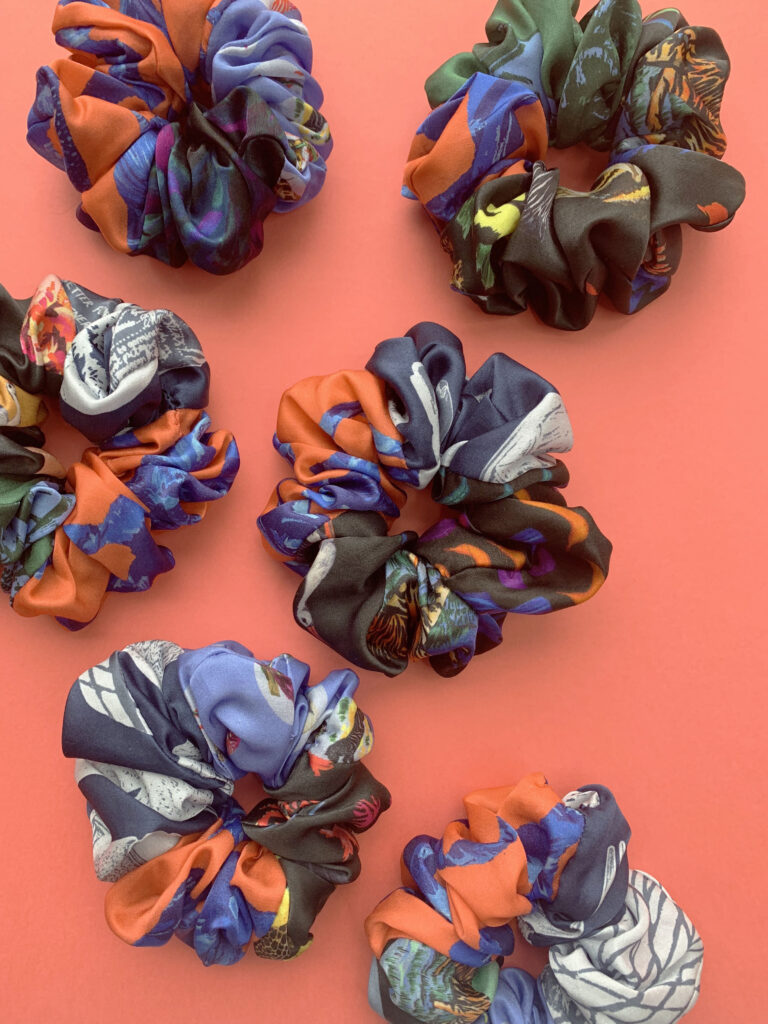 Zero Zero Waste Scrunchie
Made from Silk Tencel fabric offcuts.
£15.00
GUNG HO: HOW SUSTAINABLE IS IT?
From Tottenham Hale to Oxford, the majority of Gung Ho's manufacturing takes places in the UK because Dunster loves to champion British producers.
The printed pieces are hand-sewn together in a small factory in Tottenham Hale, London. Sourcing from British manufacturers is also brilliant because it keeps the transportation carbon footprint low. What's more, it means founder Sophie Dunster visits the factories regularly, thereby ensuring workers receive fair wages and benefits like maternity leave.
The only pieces manufactured outside England are the unisex sweatshirts and tees. These pieces are manufactured in a Bangladesh factory certified by Fair Wear Foundation, which ensures high working standards and fair pay. Sweatshirts/tees are then embroidered or silk screen printed in Oxford.
Gung Ho's collection is made from a variety of sustainably sourced materials, including GOTS certified organic cotton which means the cotton crops aren't treated with harmful pesticides or fertilisers. Another fabric is Tencel, a sustainable fibre made from wood pulp which requires less water than cotton yet is softer than silk.
Gung Ho also source their buttons from the last surviving British button factory, Courtney and Co. They use corozo nuts to make the buttons because it means each one is 100% natural and biodegradable. The factory sources its nuts from a sustainable source in Ecuador.
10% of their profits are donated to a selected charity that works with the issue represented in the collection. You can not only look good, but do good too.
If that weren't enough, Gung Ho has launched a Bee perfume with a deliciously refreshing unisex aroma evoking nectar-rich floral fields and orchards. It's entirely pesticide-free, so you're buying something that's good for our buzzy little friends that have given the perfume its name.
Visit Gung Ho London