Peachaus: What is it?
Peachaus is an all-round fab women's lifestyle brand that sells cute and comfy everyday leisurewear, sleepwear and underwear in an array of understated soft colours.
From chic matching PJs, light lingerie, smooth activewear and soft joggers, their garments are consciously crafted from responsibly sourced fabrics.
Their collections' effortless, comfortable and contemporary feminine style is perfect for leisurely mornings in bed, chilled evenings on the sofa, or popping out for coffee with friends – our kinda vibe.
Peachaus' innovative simple sized system means their garments are designed to have an enhanced, fluid fit – making it easier for women to dress for how they want to feel.
But our reasons to love Peachaus stretch beyond their fabulous garments to their bright mission to build a better fashion system.
Founder and CEO, Gillian Ridley Whittle, says: 
"With the right caretakers, the fashion industry can be a space full of humanity and hope. So, we're creating a platform and retail experience that centres on connection, collaboration and positivity."
Peachaus' best-sellers: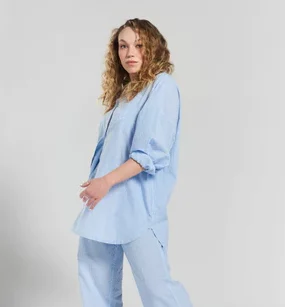 Yew striped ethical-cotton pyjama shirt
£55.00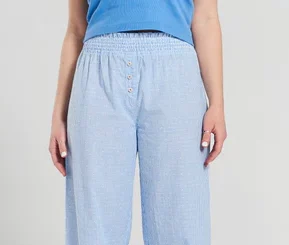 Striped cotton pyjama trousers
£55.00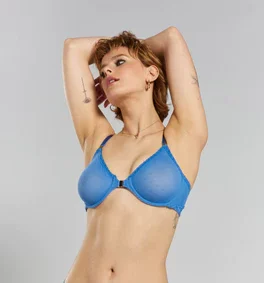 Sakura front-close underwire bra
£50.00
Peachaus: How sustainable is it?
Peachaus' supply chain consists of three certified, regularly audited manufacturers in Portugal as well as one manufacturer in India. Each demonstrates a commitment to sustainable production, minimising their environmental impact, and producing high-quality products made to last.
The factories in Portugal even use solar energy which, sunny days permitted, can generate enough electricity to be entirely self sufficient.
Having only recently launched the brand in April 2022, founder Gillian plans to visit their supply factories in December 2022. They are starting a journey to dig deeper into their whole supply chain, not stopping at secondary suppliers but going to yarn suppliers etc, with the help of Think Circular.
All employees in the Peachaus team and further supply chain are paid a living wage.
Roughly 75% of their materials are sustainably sourced. This includes fabrics such as IIuna green label lace, cotton and Cellulose fibre (Tencel, Seacell, Lyocell etc.). Their packaging is recycled and recyclable.
Peachaus care for the planet is equal to their care for people. Peachaus are all about giving back to communities. Founder and CEO, Gillian, enjoys mentoring young creatives in her spare time. From January 2023 Gillian will be visiting schools monthly to shed light on the harm being done by the fashion industry and to help inspire young people to make better choices.
Peachaus: Where can I buy it?
Via their website: peachaus.com
Or online at Finsu and Generous Ape.
Visit Peachaus