Soaps have never been more important. Not the TV kind – although did you know in their infancy they were quite literally created by soap companies for advertising purposes? Ingenious. But, we digress…
Washing our hands more often and thoroughly than ever before essential to helping to minimise the spread of Covid-19. Anecdotally, it's even leading to longer queues for gents toilets because men are now actually washing their hands. Lovely!
Our increased attention to hygiene has led to huge spikes in hand sanitiser – Unilever reported sales soared by 255% in February, alone – antibacterial wipes, and bottles upon bottles of liquified soap.
This is very much at odds with our increased consciousness of our impact on the planet and, more specifically, our plastic consumption. *Sigh* and the fight against plastics was going so well!
But, the good news is that we don't have to choose between the planet and our health.
Well, that's not strictly true. Human health depends on the health of the planet (do you read anything we write!?).
Let's start that again: The good news is we can have both a healthy planet and ensure we have the utmost hygiene levels. This is the rare example of a genuine win-win.
Three things that make a stellar eco-friendly soap:
1. A solid bar
2. Preferably organic
3. Vegan
Three things to avoid:
1. Palm oil
2. Tested on animals
3. Plastic packaging
We've partnered with Ethical Consumer to provide you with this definitive guide for the most eco-friendly soap bars, liquid soaps and handwash.
The dirty work (aka research) was done by Jane Turner and can be found in full here.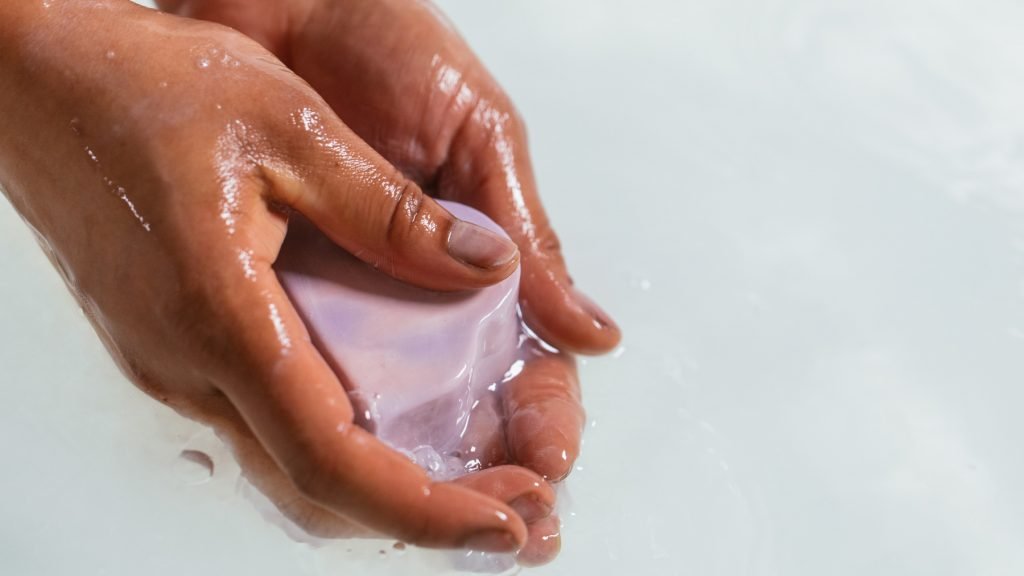 COVID-19 and soap: the facts
1. Liquid soap and bar soap are equally as efficient when washing our hands
The NHS, World Health Organisation, and Centres for Disease Control do not stipulate whether to use a bar or liquid soap.
Granted, a common-sense approach to bar soap is to keep it dry and not let it lie in a puddle of germ-loving sludge.
2. Bars of soap are more eco friendly
As well as the plastic packaging, liquid soaps contain lots of water so are likely to be heavier, resulting in a higher carbon footprint for transportation.
Then there's the small matter of petroleum – many shower gels and body washes are made of petroleum-derived synthetic detergents and need emulsifying agents and stabilisers to maintain their consistency. How are you feeling about rubbing those sexy suds all over your body now?
But, it's not just our bodies we're coating in the petroleum-stuff. This ends up in the water system and can bioaccumulate in sea life.
3. Antibacterial soap is not more effective than 'normal' soap when it comes to Covid
Antibacterial soap is regular soap (detergent) with some additional ingredients which are targeted at killing bacteria – it's in the name right? Antibacterial soap.
For removing viruses, the soap element is the most effective part.
Not only that, but the overuse of antibacterial soaps can potentially add to the problem of antibiotic resistance in bacteria, so it's possibly best avoided anyway. Huh.
4. Soap is better than hand sanitiser
Hand sanitiser does not kill as many kinds of bacteria and viruses as soap.
More worryingly, sanitisers may "damage your natural microbiome" with persistent use, according to Dr Jenna Macciochi, an immunologist based at Sussex University. It's also possible that other microbes like bacteria may start to become resistant.
"Sanitisers may damage your natural microbiome with persistent use"
To be blunt, there is no eco friendly option. And soap and water are more effective. But, if you're going down the sanitiser route then opt for one with 60% alcohol, as recommended by the NHS and Centers for Disease Control.
Four of the best eco-friendly liquid handwashes
OK, so we haven't quite persuaded you to switch to liquid handwash yet. But, we're not totally uncompromising. In fact, we like to think we're pretty breezy people, just presenting the facts for you to make your own choices – even if we think they're the wrong ones. Ha!
Anyway, back to liquid handwash. According to Ethical Consumer, the best options… drumroll please… are refillable!
1. ALTER/NATIVE
2. Ecoleaf
3. Faith in Nature 
4. Bio D
Eco-friendly plastic-free soap brands
So, plastic packaging is an easy one to avoid. Opt for a naked bar of soap, or one packaged in cardboard, as opposed to liquid soap.
Buuuuuuuut, more than 500 microbeads or microplastic ingredients can be found in the personal care products themselves.
In 2018, the UK government banned the use of microbeads in 'rinse-off' products such as soaps, but they didn't ban liquid plastics.
Brands committed to being liquid-plastic-free are marked (Pf) in the '10 of the best bars of soap' box.
Eco-friendly vegan and cruelty free soaps
Vegan soaps? Aren't all soaps vegan, you cry? Animal products in soaps… whatever next! Well… err… No animal fats in soaps, ideally.
10 of the best bars of eco-friendly soap, according to Ethical Consumer:
Lucy Bee (F,O,Vg*, Pf, Po)
Odylique (O, Vg, PO)
Friendly Soap (Vg*, Pf, Po)
Bio-D (Vg*, Pf)
Bentley Organics (O,Vg)
Caurnie (Vg*, Po)
ALTER/NATIVE (Vg, Pf, Po)
Neal's Yard (O, Vg, Pf)
Little Soap Company (Vg*, Pf, Po)
Did you know?
The UK's soap, bath and shower gel market is dominated by just three major brands – Carex (owned by PZ Cussons) and Dove and Radox (owned by Unilever).
By opting for some the brands listed above you can spread the love while containing the germs.
A common ingredient in bars of soap is sodium tallowate, which is made from rendered animal fat. Stearic acid and glycerin may also be animal derived.
Then there's potentially also honey, lanolin (from wool) and milk, which you may or may not find acceptable depending on where you sit with these ingredients.
Brands that offer vegan products are marked (Vg) in the '10 of the best bars of soap' box above, totally vegan brands are marked (Vg*).
Cruelty-free is a complex area because although the testing of cosmetics on animals has been banned in the EU, new REACH legislation has complicated things. It requires all chemicals used in the EU to be (re)tested for safety, stating that companies should avoid animal testing where possible – and we all know what 'where possible' means.
Brands can buy the rights to use the safety testing data gathered by other companies, to distance themselves from any potential animal testing but, by licensing the REACH registration number, they are still financially contributing to the companies who have commissioned the tests.
See, complicated. If you want more info, you can read more here.
Right now, the simplest way to ensure you're buying cruelty-free is to make sure the company has a clear stance against animal testing and, ideally, has a Leaping Bunny logo.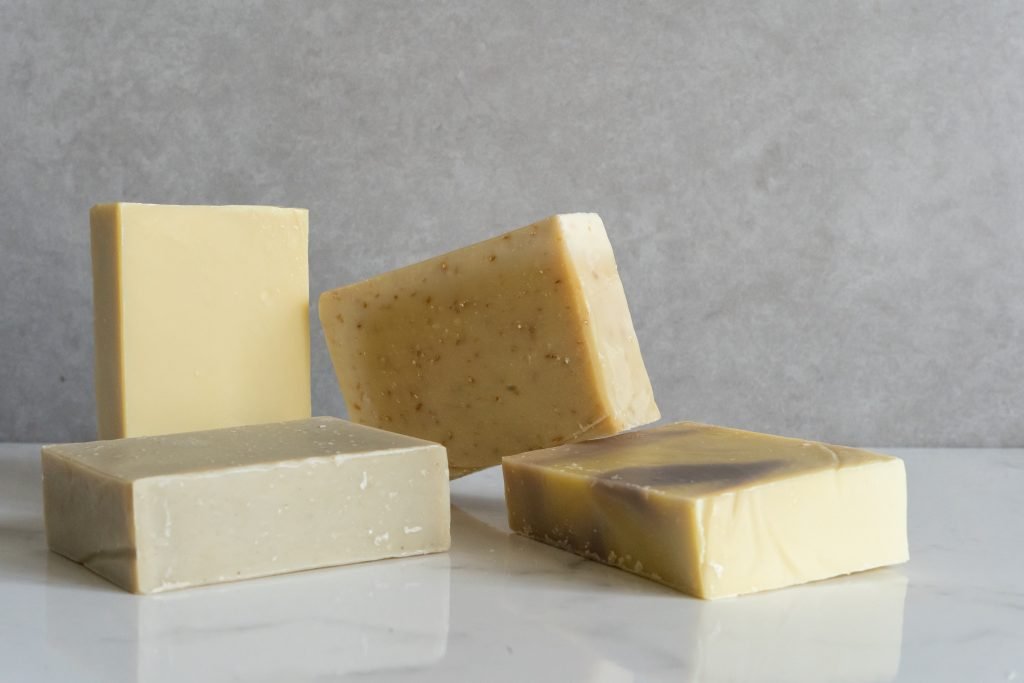 Non-toxic soaps
First there was clean eating and now clean (clean) soap – as in, non-toxic.
There are three main toxins to avoid:
Parabens:
Often found in liquid soaps and used as a preservative. They are linked to hormone disruption, reproductive toxicity, immunotoxicity, neurotoxicity and skin irritation. You might see methylparaben, propylparaben, and butylparaben in the ingredients list.
Phthalates:
May be used in synthetic fragrances. Linked to early puberty in girls, a risk factor for later-life breast cancer. Avoid products listed with 'fragrance' or 'parfum' in the ingredients list – or opt for products labelled fragrance-free.
Triclosan:
Used in liquid soaps (triclocarban is the ingredient in soap bars). It's classified as a pesticide and can affect the body's hormone systems. In the Ethical Consumer soap guide, Dettol hand soap was the only product that contained triclocarban.
There is one more to be aware of, especially if you have sensitive skin:
SLS and SLES
These are foaming agents in shampoos and liquid soap products can be a skin irritant. Many greener products are SLS-free.
Ethical Consumer have more info, here.
Palm oil-free soaps
There are huge, massive, gigantic issues with palm oil, which is linked to rainforest destruction. This has been widely reported on, so we won't go into the details here.
When it comes to soap, Palm oil is commonly used because it is a fat that is hard at room temperature.
Palm Oil and its derivatives can come under many name, including:

Vegetable Oil, Vegetable Fat, Palm Kernel, Palm Kernel Oil, Palm Fruit Oil, Palmate, Palmitate, Palmolein, Glyceryl, Stearate, Stearic Acid, Elaeis Guineensis, Palmitic Acid, Palm Stearine, Palmitoyl Oxostearamide, Palmitoyl Tetrapeptide-3, Sodium Laureth Sulfate, Sodium Lauryl Sulfate, Sodium Kernelate, Sodium Palm Kernelate, Sodium Lauryl Lactylate/Sulphate, Hydrated Palm Glycerides, Etyl Palmitate, Octyl Palmitate, Palmityl Alcohol *
…Yup.
The brands marked (Po) in the '10 of the best bars of soap' box above either don't use Palm oil or commit to using sustainable palm oil.
Ethical Consumer ranked 58 brands of soap. Subscribers can access their full report here.
Main image by Zena Demir from Pixabay