Selling premium bottles of cognac to rappers on the southside of Chicago who could barely afford their rent made Alexandre Koiransky realise he wanted to combine his love of spirits with a more worthwhile cause, so he decided to create the world's first and only Fairtrade certified spirits brand and in April 2009 he founded FAIR.
The idea was a simple one, producing premium spirits targeted at 'lucky' people who like the idea of having a good time while giving back to co-operatives in the third world.
The execution, however, was not so simple. First, Alexandre had to find a Fairtrade certified product he could make vodka with, which took him all the way to Bolivia in search of quinoa. Then, being French, he was determined to find someone from the Cognac region who would distill it for him. He packed up his car drove from distillery to distillery – where nine out of 10 turned him away.
Eventually, he found a micro-distillery who were willing to give it a try. But they needed to make a beer before they could turn it into a vodka. Nine years later and there are now nine spirits and liqueurs under the FAIR. branding, sold across 34 countries…
L: The first question has to be, why quinoa?
A: Potatoes don't exist with Fairtrade certification otherwise I would have done a potato vodka for sure. That was my first hurdle.
What was your second hurdle?
I couldn't imagine how much time it would take. I thought it would take a few weeks but I was totally dreaming, it took six months – not only finding the distillery but also creating a great-tasting vodka.
Why was the Fairtrade certification so important to you?
In the spirits industry the margins are big, but the producers get a really small piece of the pie. Our idea is simply for the guys at the base of the product to get a fair wage – that's really the only message we want to convey.
How's that working out so far?
I go to Bolivia once a year because quinoa is by far the product we buy the most, so we try to focus on having a real impact there. Their businesses are growing in a sustainable way – it's slow but very solid growth. They're becoming more independent and depending less on big companies. It's great to see.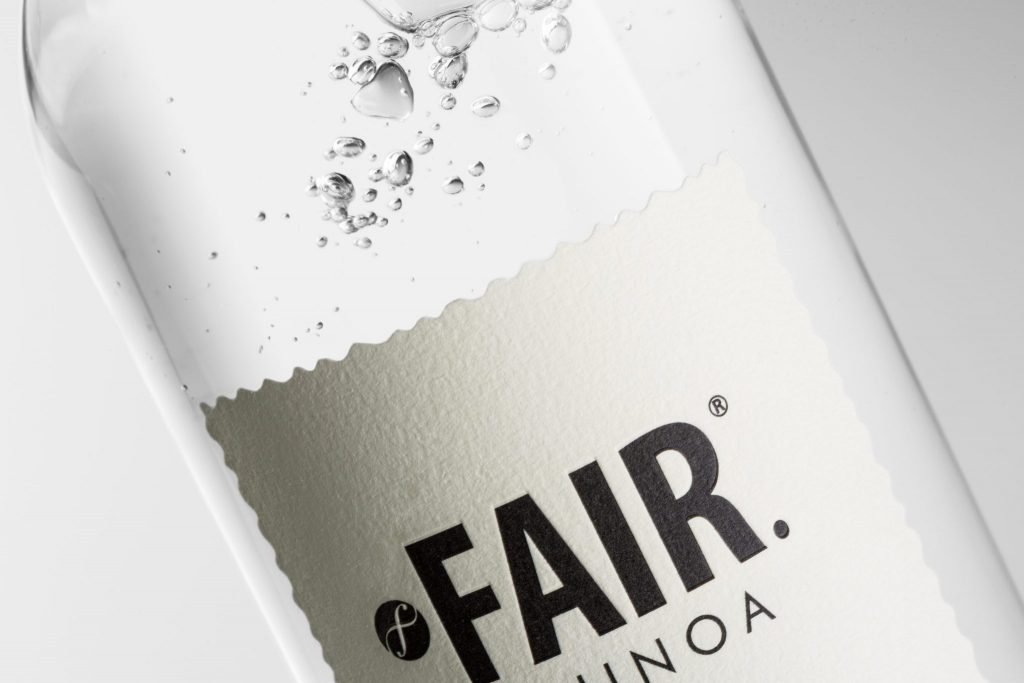 What are challenges?
It's a patience exercise, that's for sure. In business, Europeans and Americans tend to respond exceptionally quickly and anticipate everything, but the producers have different approach to time and don't really forward plan. It can be stressful. Also, You can't really make plans over phone or email, you have to go there – but that's cool.
You went to Uzbekistan recently, too. Tell me about that…
I went to Uzbekistan because that's where we source the juniper berries for our gin.
We went to do the harvest with the guys, it was fun and we built trust. Before we used talk over Skype, but now we have a real relationship with them.
Culturally, it's very interesting because the silk road is right there so there's a lot of history, trade and business. But it was also a big cultural shock – people still have to walk a few miles to access water and they work hard but still can struggle to make a decent living.
There's also less equality between men and women than there is in France or the UK. I believe Fairtrade can have an impact on that too, because the more we spread the wealth the more openness we will create in the world.
How do consumers respond to the Fairtrade message?
The UK has a culture of charity and the Fairtrade movement is really strong in London. People understand straight away that part of the revenues go back to the farmer and they like it.
In France, where the company is based, people aren't big believers in Fairtrade because we have an agricultural background. People don't always understand why we are helping people in other parts of the world when we could help farmers closer to home. For them there is a conflict there, so they buy our spirits and liqueurs because they look and taste good – but they don't buy them because of the philosophy.
Practically, how does the Fairtrade side of your business work?
When we buy the ingredients from the co-op we buy them on average 15% higher than the market price. When we sell the products we give back 2.5 per cent of our revenue to the Fairtrade certification. So, when we buy it's straight into the pockets of the producer and when we sell it's for the movement.
Do you think Fairtrade goes far enough?
I think the philosophy is fantastic, it's a real Robin Hood philosophy and I believe in that. But I think to make it sustainable and stronger we need to have more high-end products really commit to it.
There is a lot of room to pay for Fairtrade in premium products, even more so than there is in coffee.
What keeps you going?
We are in a crazy world where so many people have nothing but the people at the top are also accumulating more, and quickly, so there is huge leverage there to support the Fairtrade movement – and we have to do that.
We see the long term picture and know that we can make a big impact. You just need perseverance. Building a high-end brand takes time, that's no secret.