When the sun is shining, it means one thing: it's time for a great British BBQ. Ideally with jacket potatoes and beautifully coloured salads. But, first and foremost, you'll want to find the best quality meat and we believe the best way to find this is not in a supermarket, but with one of these BBQ delivery boxes…
Here, we recommend some of our favourite summer BBQ boxes from farms that produce high-quality, delicious produce. And they do so through high-welfare and nature-friendly approaches, whether they farm organically, free-range and/or regeneratively.
It's worth noting that each supplier offers a whole range of produce, not just what we've picked out or mentioned. So, if you like the sound of one box, we recommend exploring the brand's website to find what else they have on offer.
Now, without further ado, here are our top picks for the best BBQ delivery boxes in the UK in no particular order – they're all brilliant in their unique ways, so you really can't go wrong!
Pipers Farm
Devon-based Pipers Farm is a 50-acre family farm working in tune with nature. They partner with 25 other family farms in the surrounding areas – and they butcher onsite.
Tasty is the keyword here. Their organic, free-range and grass-fed selection of meat has a depth of flavour you will have forgotten it could have.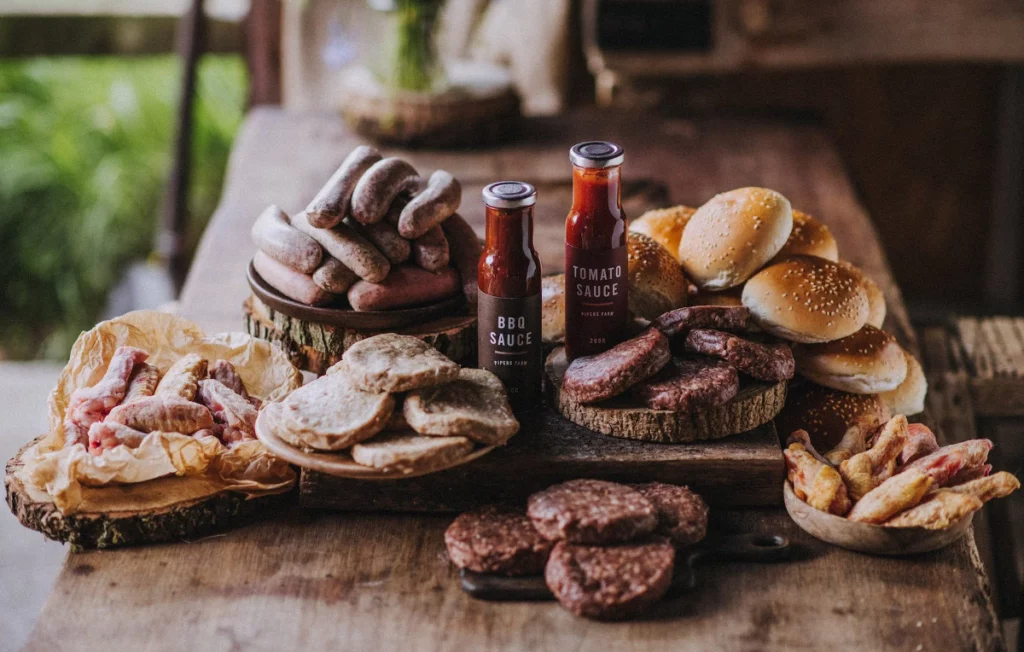 Large BBQ Meat Box
If you've got any larger gatherings on the horizon, this Large BBQ Meat Box from Pipers Farm is a sure way to feed a hungry crowd.
It features all the best BBQ cuts you could need, from grass-fed beef burgers, Cumberland sausages to free-range chicken wings.
Contents:
16 Ultimate Burger Buns
8 Grass Fed Beef Steak Burgers
8 Properly Free Range Chicken Burgers
12 Cumberland Sausages
1kg Properly Free Range Chicken Wings
1 x Handmade Tomato Sauce
1 x Handmade BBQ Sauce

£60.00 | SHOP NOW
Coombe Farm
Coombe Farm Organic offer an organic meat box delivery service based across 2,500 acres of land in Somerset where they rear their award-winning beef, lamb and pork.
They also partner with other farmers to produce a broader range of Soil Association certified organic meat that is skilfully trimmed by their on-farm butchers, before being delivered straight to your door.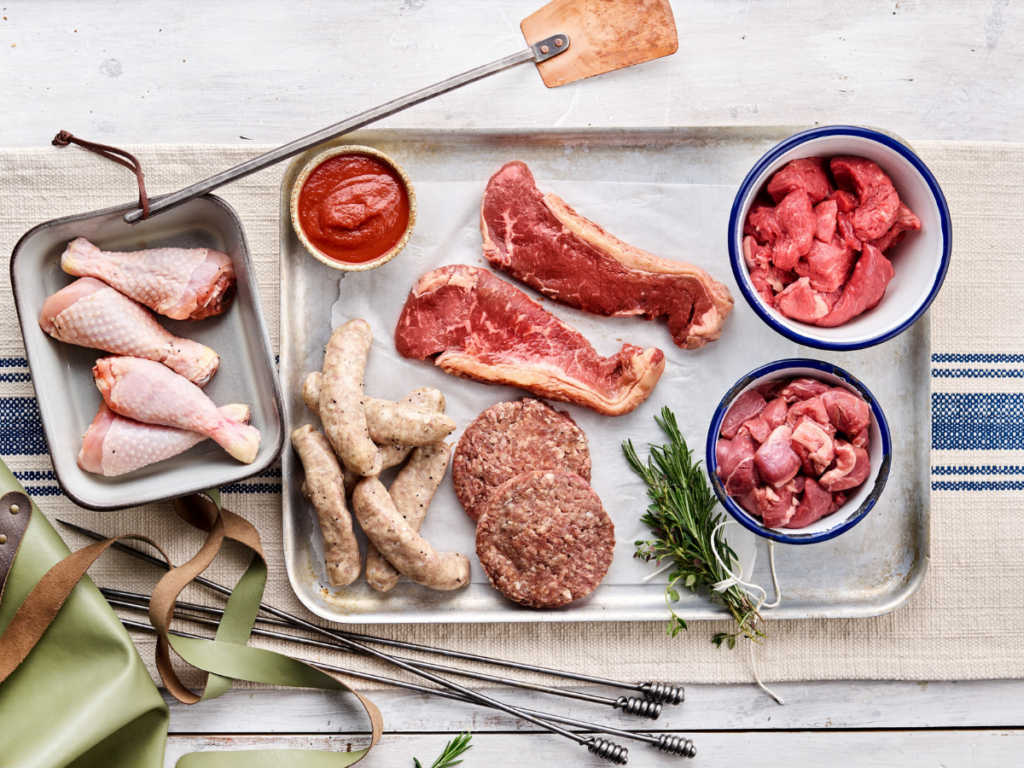 The Small Organic Barbecue Box
The Small Organic Barbecue Box from Coombe Farm Organic is perfect for those of us who like to barbecue up a bit of everything.
Featuring sausages, burgers, steaks, skewers AND chicken drumsticks, this box includes a brilliant selection of delicious organic meat as well as award-winning organic tomato ketchup. And it even has a 5% built in discount – what more could you want?
Contents:
2 x 130g Organic Beef Burgers
2 x 225g Organic Beef Sirloin Steaks
1 x 270ml Organic Ketchup
6 x 66g Organic Pork Sausages
600-900g Organic Chicken Drumsticks

Check out their entire Barbecue range, here.
£53.30 | SHOP NOW
The Slow Farming Company
The Slow Farming Company is a small family-run business selling sustainable meat, pantry essentials and homewares produced by small-scale British farmers and craftspeople.
The family sells their own pasture-fed beef and pork reared on their regenerative farm in Somerset. And it tastes as good as it sounds.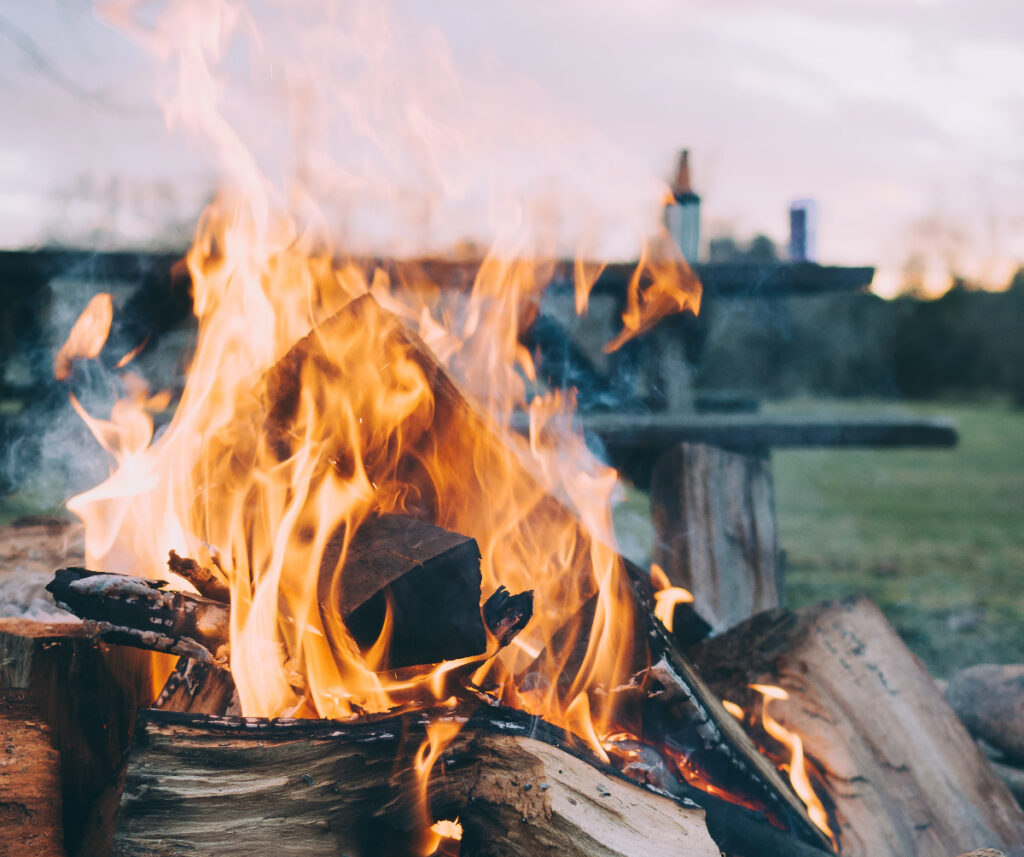 BBQ Box
If a good ol' grilled steak is more your speed, this is the BBQ box for you…
The Slow Farming Company's BBQ box is certainly good bang for your buck… This box is packed with premium grass-fed Rump Steaks, grass-fed Minute Steaks, grass-fed beef mince meat (to make up your own home-cooked burgers) and some classic smokey sweet rub.
Contents:
1 x Pack of two Rump Steaks (approx. 400-500g)
2 x Packs of two Minute Steaks (approx. 250g each)
2 x Packs of grass-fed Beef Mince (approx. 500g each)
1 x Tub of Smokey Sweet Rub
If you need some cooking inspo, check out their Burger of Dreams recipe and their Chimichurri recipe (word on the street is that it goes brilliantly with the flash-fried Minute Steaks).
£50 | SHOP NOW
Helen Browning's Organic
Helen Browning's Organic is a pioneering farm named after farmer Helen Browning, who has been a pioneer in organic farming since 1986.
Helen Browning's offer a range of meat bundles featuring premium organic beef and pork products, perfect for a BBQ, from their free-ranging, dairy-bred, grass-fed animals.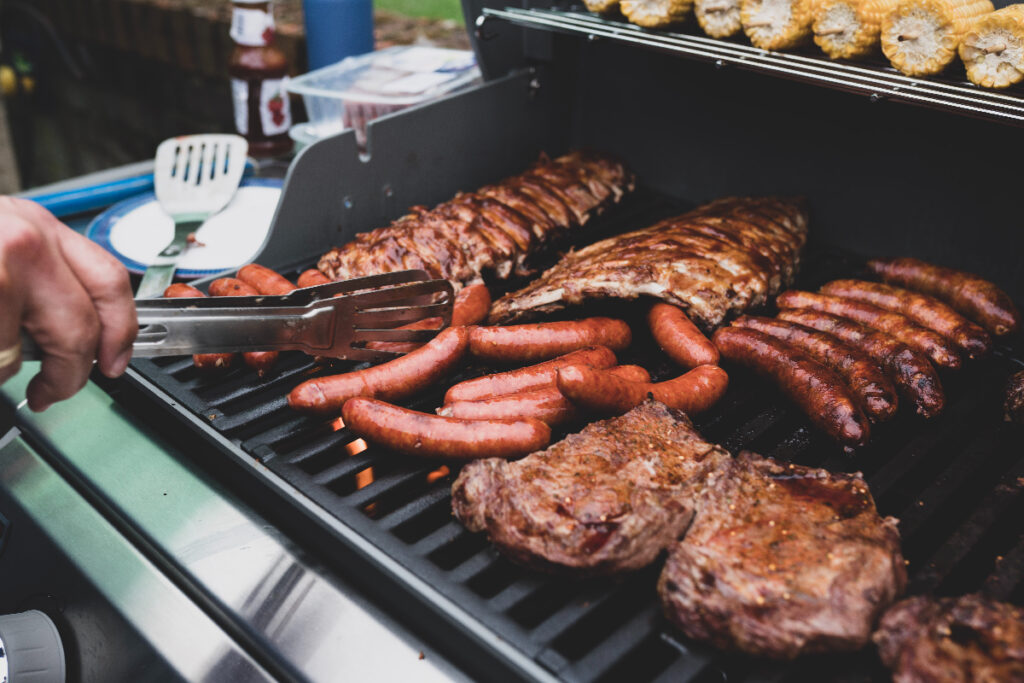 BBQ Box No.2
Helen Browning's BBQ Box No.2 is perfect for a classic no-fuss family-friendly feast on a hot summer's day. It features a selection of their most popular all organic BBQ items at an affordable discounted price.
From organic burgers and sausages to grass-fed beef steak and even organic pulled pork, this box is all you need for a sizzling good time in the garden.
Contents:
1 x Organic Seasoned Beef Burgers OR Organic Seasoned Pork Burgers
1 x Organic Hot Dogs
1 x Organic Steak Seasoning OR Organic Sweet and Smokey Rub
1 x Organic Rump Steak
1 × Organic Pulled Pork with BBQ Spice

Helen Browning's also have a small BBQ Box no.1 and a large BBQ Box no.3, depending on how many hungry mouths you have to feed.
£45 | SHOP NOW
Eversfield Organic
Eversfield Organic is a family-run farm in Devon that has transformed commercial farmland into organic pasture-filled trees, hedgerows and wildlife. Their meat is organic and grass-fed, and you can taste the difference.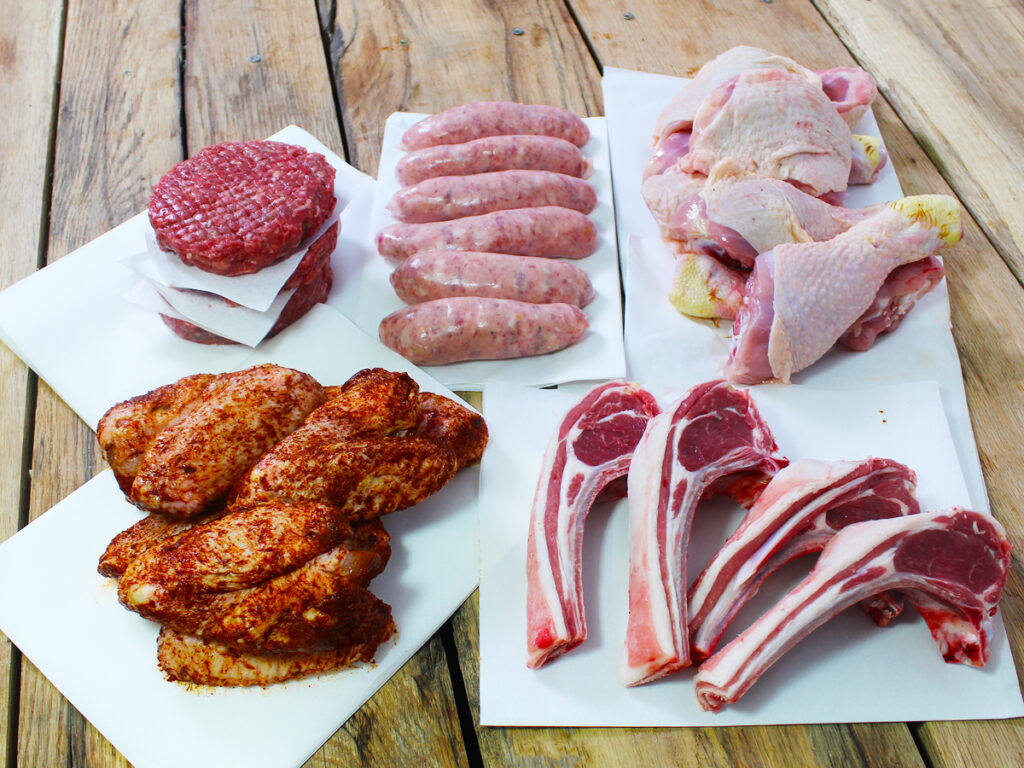 Traditional BBQ Box
Eversfield's Traditional BBQ Box is sure to satisfy the whole family. Bursting with a variety of organic, grass-fed and free-range meat, from classic grass-fed Beef Burgers and organic Pork Sausages, to getting experimental with grass-fed Lamb and Hot & Smoky Chicken Wings, this box will set your summer alight.
Contents:
Beef Steak Burgers (460g)
Traditional Pork Sausages (400g)
Chicken Thighs and Drumsticks, Family Pack (1.1kg)
Beef Chipolatas with Cracked Black pepper (340g)
Piri Piri Chicken Wings (620g)

And if this number of cuts doesn't cut it for a larger gathering, rest assured there's more where this box comes from… Amp things up with their Mega BBQ Box for £85.
£39.95 | SHOP NOW
Abel & Cole
One of the pioneering food box schemes, Abel & Cole started with organic vegetables more than 30 years ago. Their ethics are still strong, with a family feel in their HQ and suppliers extolling the values of working with them.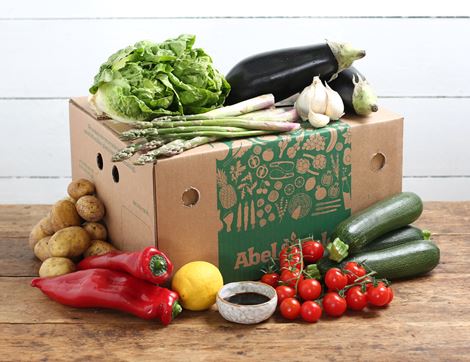 Summer BBQ Salad & Veg Box
What would a BBQ in the garden be without a good ol' summer salad?
Abel & Cole's organic Summer BBQ Salad & Veg Box features a changing, weekly selection of seasonal grillable veggies and side salad ingredients to round out any BBQ feast.
This carefully curated selection of fresh veg from Abel & Cole's trusted farmers is paired with a selection of ingredients to make up a zesty marinade or salad dressing.
Brilliantly, for each box sold Abel & Cole will donate a portion of fresh, nutritious fruit and veg to one of their food charity partners: the Felix Project, Dons Local Action Group and School Food Matters.
Contents (at time of writing):
Bakers Potatoes
Cherry Vine Tomatoes
Courgettes
Portobello Mushrooms
Red Onions
Sweet Mix Salad
Yellow Pepper
Barbecue Flavour Kit: Lemon, Garlic, Basil Flavoured Oil

If you're looking for stock veggies for the barbie, they also have an organic BBQ Veg Bundle for just £10.50.
£19.95 | SHOP NOW
Main image: Pipers Farm