Oh chocolate, how do we love thee? Let us count the ways. Whether you like yours smooth and sweet or dark and sophisticated, there's no two ways about it: many of us are in the middle of a red-hot love affair with the stuff. But – much like passionate affairs – your little pick-me-up can be naughty in more ways than one.
Like just about anything out there, it all boils down to the way it's made and who makes it. And while we hate to be the bearer of bad news, and we firmly believe we all deserve our treats, the cocoa industry isn't as sweet as you might think.
Much of the world's cocoa is farmed in West Africa – 60% of the world's cocoa is produced in Ghana and the Ivory Coast – where the tropical conditions are ideal for growing the cocoa tree. But, that doesn't mean that growing cocoa is easy.
The margins on the crop are tiny, and most of West Africa's 2.5 million smallholder cocoa farmers live in abject poverty, meaning they are often unable to put food on the table or buy medicine, according to the Fairtrade Foundation.
Until very recently, in money terms, male cocoa farmers earned around 75p a day on average, less than the extreme poverty line. Female farmers earned around 23p per day. That's a hell of a lot less than that bar of chocolate you've got hidden in your cupboard.
In October this year, the Ivory Coast raised the fixed farmgate price paid to cocoa farmers around 20% to bring them in line with a price rise announced by neighbouring Ghana in September, going a small way to addressing this poverty.
Like many other commodities, the cocoa industry has its roots in colonialisation and exploitation. As Michael Gidney, CEO of the Fairtrade Foundation puts it: "The commodity trade is a hangover from the days of slavery and colonialism. We're going to have to decolonise trade if we want to make it fair." And even beyond the economic issues, for these communities cocoa has gone from being a sacred crop to being mass-produced.
So, how can we start taking steps towards decolonising the cocoa trade, and making sure the people making our favourite snack are earning a fair wage?
Fairtrade chocolate: the facts
What does it mean if chocolate brand is Fairtrade?
The Fairtrade Foundation assures farmers of a guaranteed minimum price for their cocoa beans, to ensure all costs of production are covered.
Companies that buy Fairtrade also pay an extra $240 per tonne (£185) of cocoa beans to the co-operatives with the member farmers deciding how to use it to spend it in their community, whether that's by investing in schools or hospitals. In 2018, nearly £34 million of Fairtrade premium payments were made to cocoa farming communities across the world.
The Fairtrade Foundation is one organisation working to improve the livelihoods of cocoa farmers. See the box to understand exactly how they're doing it.
And now you know why you should eat Fairtrade chocolate, here are the best Fairtrade chocolate brands to buy from – and the bars you need to try.
5 Fairtrade chocolate brands you should buy from
Divine Chocolate
LF favourite: São Tomé Organic Lemon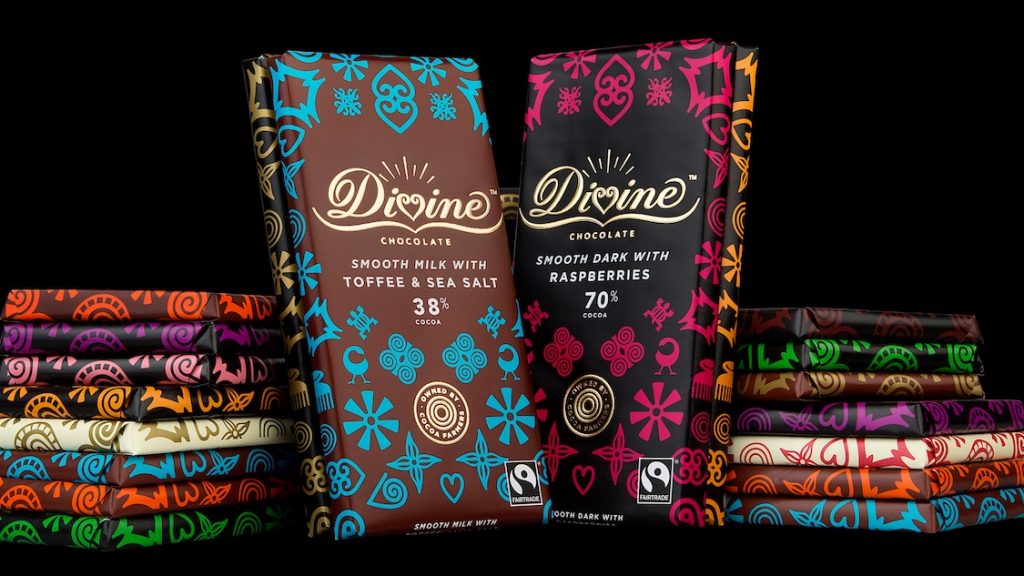 Divine is the OG of Fairtrade chocolate brands – it began in 1998, way before any of this stuff was cool, when it was set up by a co-operative of cocoa farmers in Ghana, Kuapa Kokoo, who voted to set up a chocolate company. Today, 44% of the company is still owned by the co-operative (which consists of 100,000 cocoa farmers), who share in its profits, and it's also co-owned by Fairtrade. Kuapa Kokoo decides how to invest the Fairtrade Premium (check our handy boxout top right) with priority given to access to clean water, gender inequality, education, healthcare and sanitation, as well as individual bonuses. Beyond the social initiatives, the bars are organic, and they come wrapped in a clear biodegradable film, and the packaging is completely plastic free.
Seed & Bean
LF favourite: Lemon and cardamom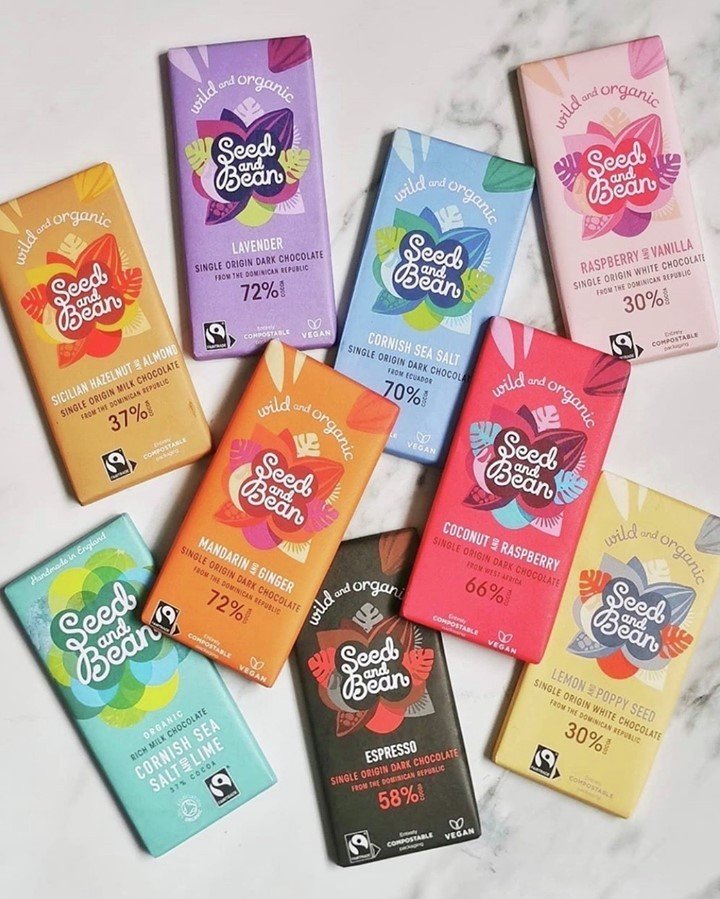 Seed & Bean have had organic Fairtrade principles at their core since they started in 2005, and it shows – today, they're one of the best-known ethical chocolate brands out there. Their motto is wild and organic; wild refers their wild flavours and organic is for, well, you know the drill there. They've got flavours like mandarin and ginger extra dark; lavender extra dark; Sicilian hazelnut; sweet orange and thyme; lemon and cardamom… *puts five bars in cart*.
In fact, we'd go so far as to describe Seed & Bean as the thinking foodie's chocolate bar of choice. And their approach to flavour is more than backed up with their approach to production. Many of their bars are single origin (which mean the cacao beans used to make it came from one region); Fairtrade; vegan; palm oil free; and the outer wrapper is recyclable, while the inner foil is home compostable. Tick, tick and tick.
Chocolate and Love
LF favourite: 50% milk chocolate with caramelised hazelnuts and sea salt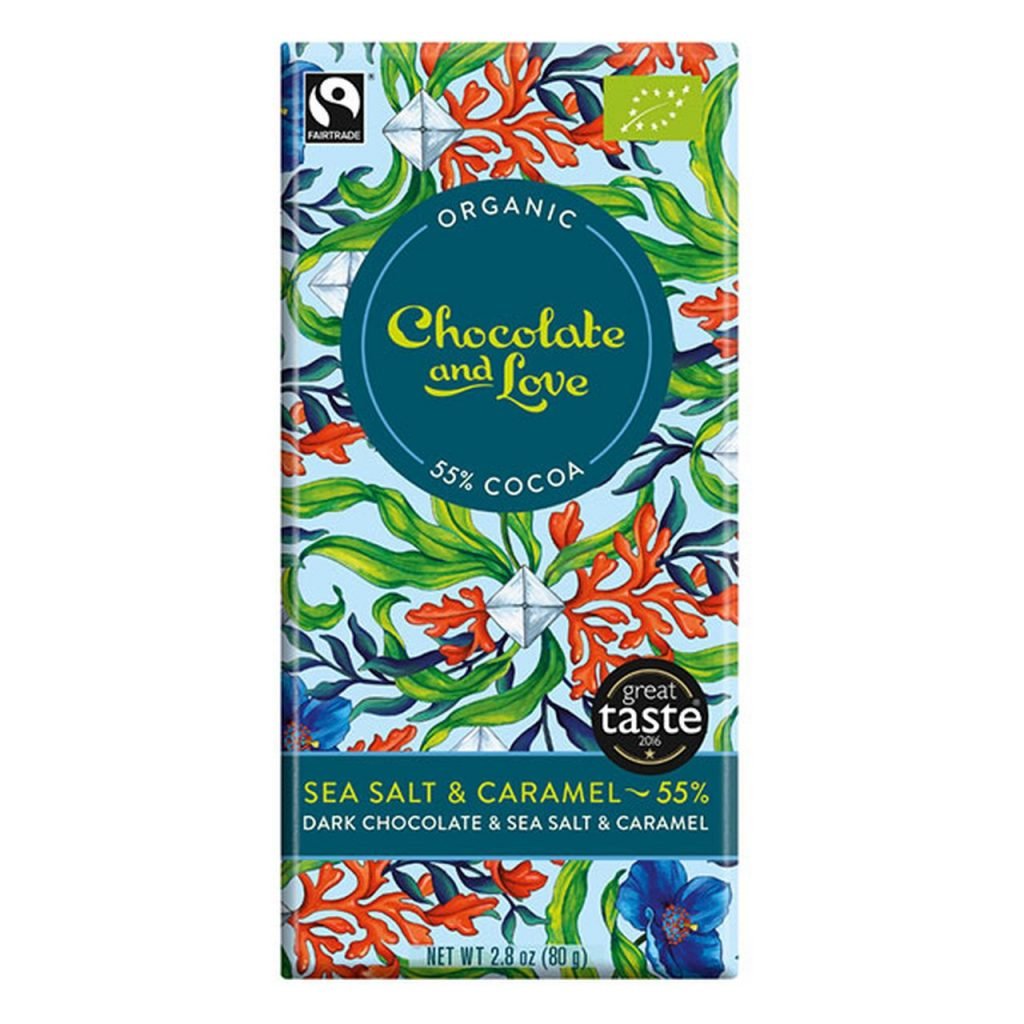 Chocolate and Love's beautifully packaged bars are a whisker harder to come by if you're a supermarket shopper – the brand tends to be stocked in independents you need to track down through their website, although you can find them all around the world, should a craving strike while you're on holiday. And the chase is worth it, because this chocolate is some of the tastiest around.
No matter how dark you go (the 71% Peru and Dominican Republic is a winner, just saying), the chocolate is still mouthcoatingly creamy. Don't just take our word for it – Chocolate and Love has won a whopping 46 Great Taste Awards.
The chocolate brand is Fairtrade (natch), uses certified organic ingredients, and collaborates with an innovative reforestation organisation called Weforest.org. And did we mention the hand-painted designs on the wrapping?
They're so nice we wouldn't mind using them as wallpaper, you know. And, even better, the outer wrappers are made of FSC-certified paper from responsibly managed forests, and the silver inner wrappers are biodegradable and will dissolve in a couple of months if you put it in your compost heap. Elsewhere, six of the nine flavours are suitable for vegans. Chocolate and Love, we love you.
Rawr Chocolate
LF favourite: Lucuma Cacao Bar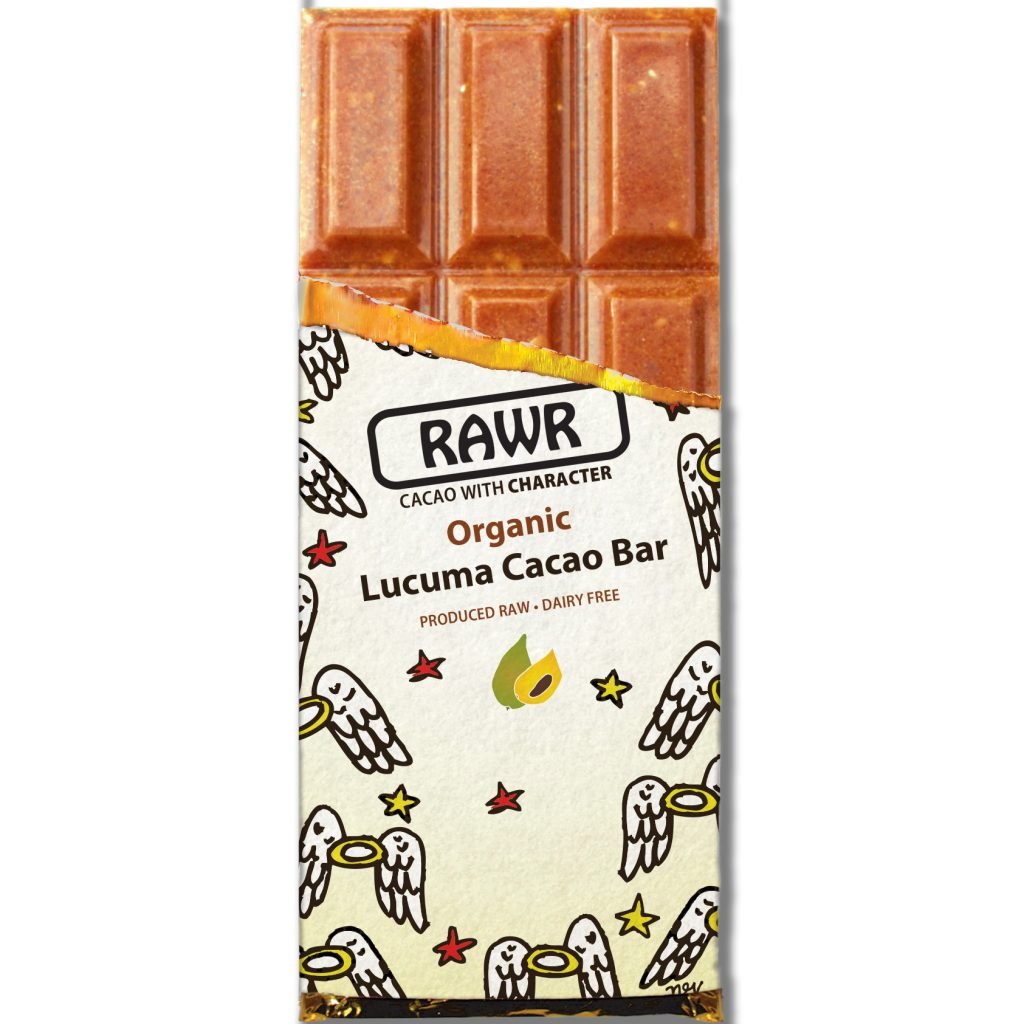 Healthy chocolate? Isn't that a bit of a paradox? Not in the hands of Rawr, who specialise in – you guessed it – raw chocolate. That means the cocoa and other ingredients are processed at 45°C or less to preserve their goodness (and their natural flavour), the sugar is unrefined, the bars are vegan and gluten-free, the ingredients are certified by the Soil Association, and everything is sourced as ethically as possible, with no additives, emulsifiers hydrogenated oils or preservatives. Basically, this chocolate is as good for you as chocolate can be. Amen to that. Elsewhere, the outer packaging is 100% recycled (and it's 10% recycled cocoa shell, which is the kind of full circle we like). The foil is recyclable, too. You'll have to buy it wholesale through their online shop, though. Bulk buying it is.
Lidl Way To Go!
LF favourite: caramelised almonds and sea salt
Yes, that's right! In amongst your hipster brands there's a Fairtrade chocolate bar from none other than Lidl. Not only is the almond and sea salt flavour good enough to give Tony's a run for their money, but Lidl sources the cocoa from the Kuapa Kokoo Cooperative – the one that owns Divine – and that's a serious tick in our books. Lidl claims it's the first supermarket-label choc to contain 100% traceable cocoa. Not only that, but Lidl offers farmers an additional premium that goes directly towards training farmers to diversify and improve their crops, supporting a sustainable future for farmers and their families. As they say, every Lidl helps. Did we mention the caramelised almond and sea salt bar tastes rudely good?
Written in collaboration with The Fairtrade Foundation
Main image: Cocoa farmer from the Ivory Coast. Chris Terry.