There are many ways we can think to describe Christmas – fun, merry, overwhelming, busy… – but a 'sustainable Christmas', ain't one and it doesn't exactly feel anyone with anticipatory glee.
We get that. We quite possibly love Christmas more than the next person. But, as wonderful as the Christmas period is, we all have to acknowledge it's slightly (OK… extremely) wasteful.
Did you know each household's waste increases by 30 per cent over the Christmas period, across the UK? We throw out around 300,000 tonnes of card packaging each year. Plus, somewhere in the region of one billion cards and enough tin foil to cover Suffolk. That's not including the unopened shower gel/moisturiser combo forgotten at the back of the cupboard. Or the seven million Christmas trees.
So, how can we make this Christmas one to remember? With all of the fun and all of the impact in the good sense, and less of an impact on the planet? Well, we've done the research and here's some simple ideas as the festive season descends upon us, from sustainable Christmas trees to present giving and that all important Christmas dinner…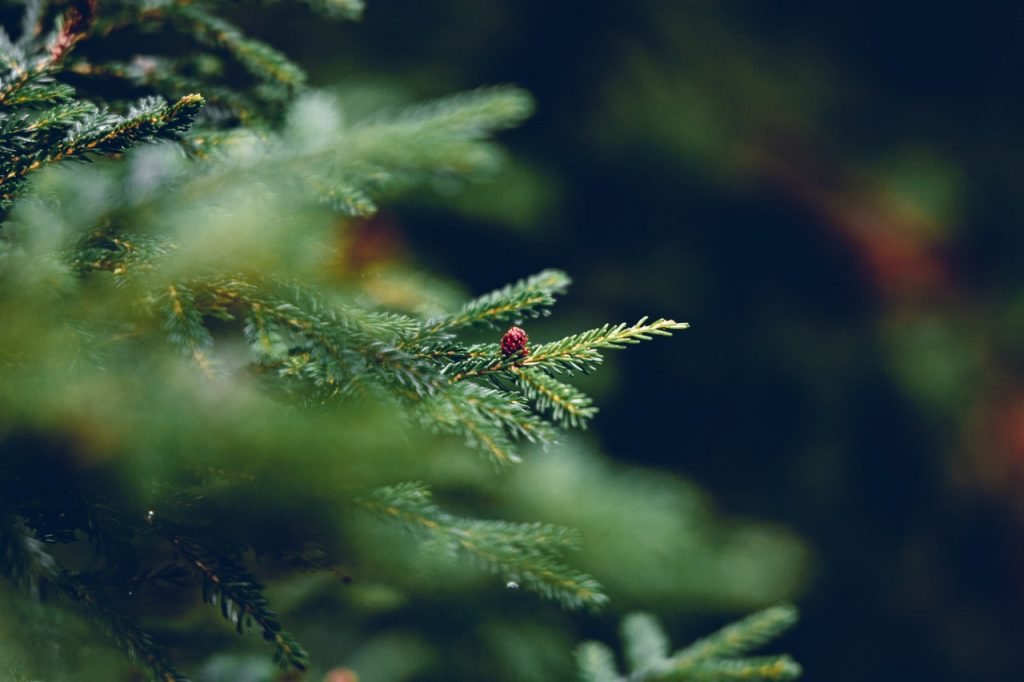 SUSTAINABLE CHRISTMAS TREES
The topic of sustainable Christmas trees comes up every year: is there such a thing as a sustainable Christmas tree? Are you better off getting an artificial Christmas tree? What are the alternatives?
Here's the basic breakdown:
REAL CHRISTMAS TREES
The good news is Christmas trees are essentially a crop that we harvest. A six-foot tree typically takes about nine years to grow, during which time they provide a habitat for wildlife, consume carbon dioxide and create oxygen – so they are generally carbon positive.
The issues come with transportation and then disposal. We buy around seven million trees in the UK each year. Then, once the Christmas season is over, we send a huge number to landfill. Here, they take years to decompose and release methane, which experts say have 25 times the potency of carbon dioxide.
If you're buying a real Christmas tree, see if there are any organic ones available to you. The benefits of farming Christmas trees organically are that there are no chemical residues in the product, it helps to conserve and build soil health, has a smaller carbon footprint, and promotes a diverse variety of wildlife.
Organic Christmas tree, or not, you really need to check your local council's website to find out how it can be recycled it into wood chippings.
POTTED REAL CHRISTMAS TREES
A good option is to buy a potted Christmas tree that can be replanted year-after-year. Buy it as locally as possible to reduce the carbon footprint of transportation.
RENT A REAL CHRISTMAS TREE
Another option is to rent a real Christmas tree. This service allows you to order a potted sustainable Christmas tree too your door and then send it back to be re-planted after the festive period.
Not only is this a great no-fuss option, it's a brilliant way to cut down on your Christmas waste.
ARTIFICIAL TREES
Half of the Christmas trees sold each year are fake. Most artificial trees are made in China. Their negative impact on the environment comes from the fact they are made from plastic, PVC and metal. And then they are shipped overseas. Need we say more?
If you're buying an artificial tree, the general advice is that you need to use it for at least 11 years to offset the oil the plastic is made from, according to the Carbon Trust. However, most of us only keep them for an average of four years.
For more information and links read our Sustainable Christmas Trees article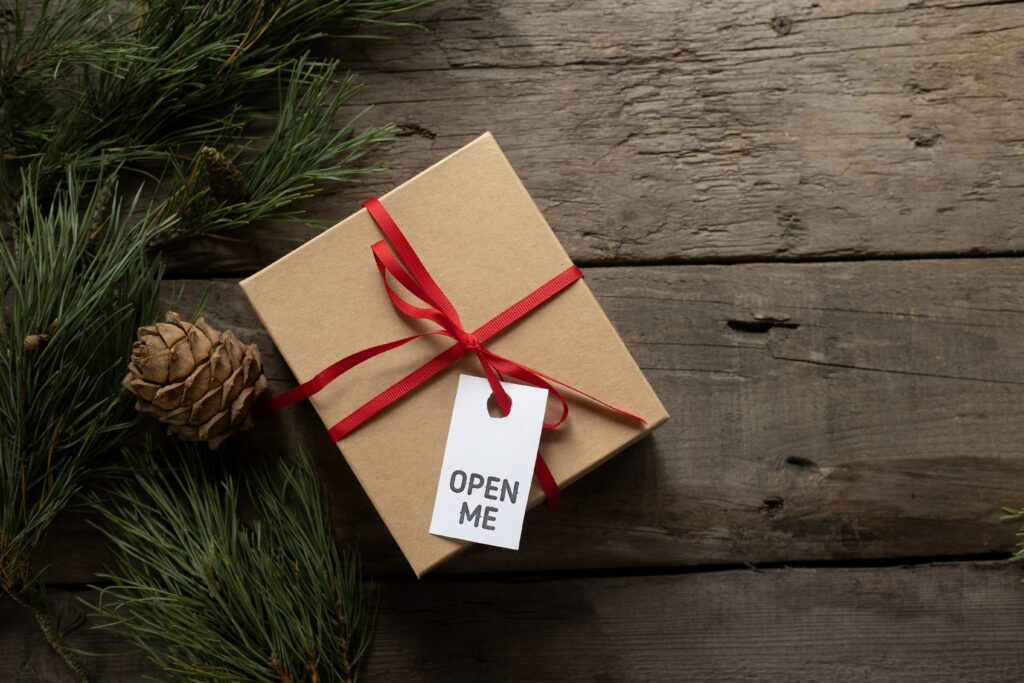 SUSTAINABLE CHRISTMAS GIFT IDEAS
Perhaps the most daunting task of all – shopping for sustainable Christmas presents.
Things can get a little bit confusing when it comes to sustainable Christmas gifts. Really, we know we shouldn't be buying each other extra stuff we don't need. But, we have become accustomed to showing people we care by giving presents. And, after the Christmas we had last year, spreading love and joy this festive season is more important than ever!
Whether you're trying to be more sustainable yourself or you have friends who are trying to be more conscious, socially and environmentally responsible can be the gifts that keep on giving.
There's way too many ideas to list here, so read our full article for our top picks of ethical and sustainable Christmas gifts for friends and family, little ones and even the dog…
The Sustainable Christmas gift list 2022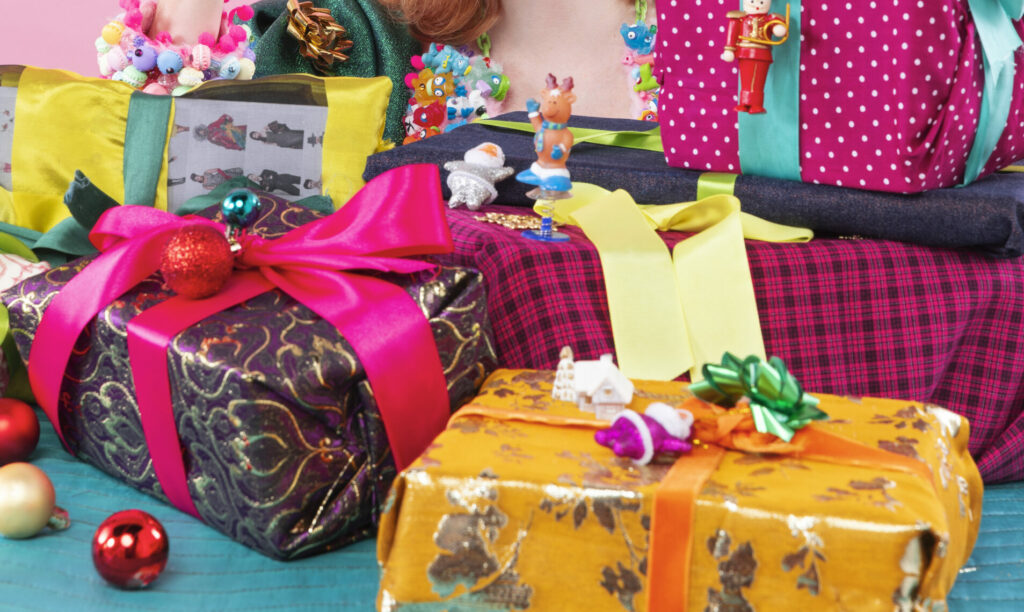 SUSTAINABLE CHRISTMAS GIFT WRAP
Once we've bought all our gifts, we're then faced with having to wrap them all.
Unsurprisingly, we're not very good at sustainable wrapping paper in the UK. In fact, we throw away enough rolls of wrapping paper to circle the globe a staggering nine times every Christmas.
While all the shiny metallic wrapping paper and glitter gift wrap may look nice and sparkly, they can't be recycled. This can be determined through the simple 'scrunch test': if paper holds its shape when scrunched then it is recyclable; if paper springs back, it's heading straight for landfill.
But, there's no need to deprive ourselves of the joy and excitement of unwrapping a present. There just must be a better way. And there is…
CLASSIC BROWN PAPER:
Brown paper makes for understated and chic statement wrapping. Make sure the brown paper is 100% recycled and recyclable. To create that on-trend festive feel, you can spruce up your presents with DIY decoration – all you need is twine, orange slices and some cinnamon sticks.
FABRIC GIFT WRAP:
Happywrap sells reusable fabric for gift-wrapping. Just aim for organic materials that have been dyed with non-toxic dyes. Perhaps even more importantly, impress on the person that you're giving it to that it needs to be used again, and then again…
For more inventive tips, read our full article: Sustainable Gift Wrap ideas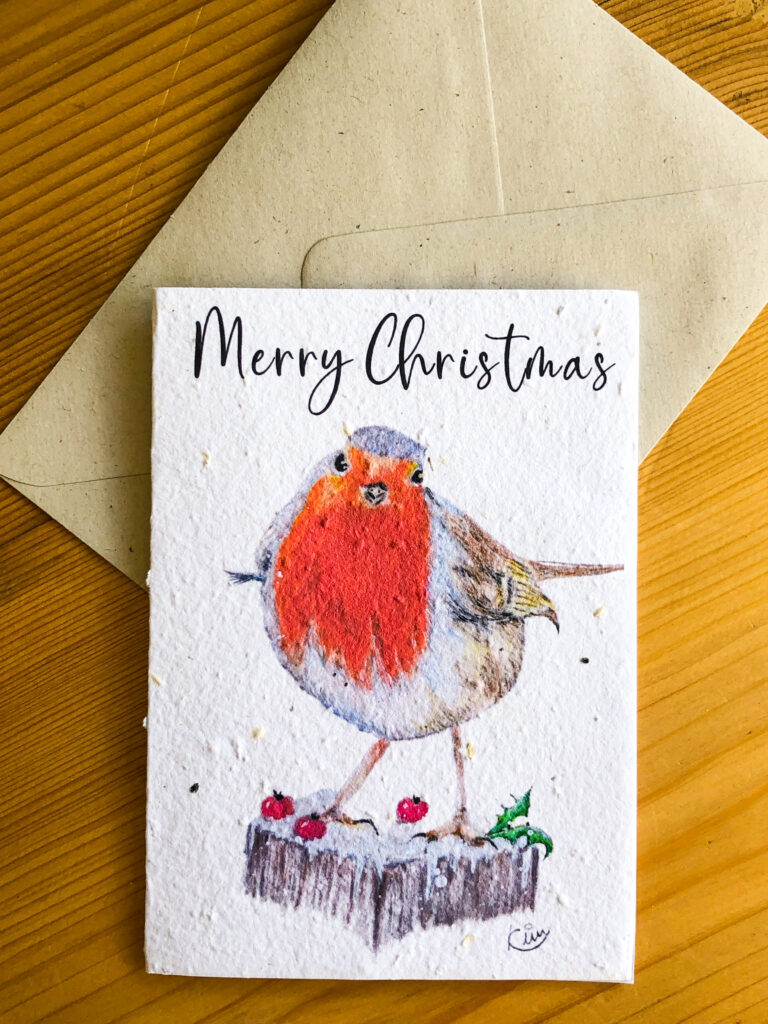 SUSTAINABLE CHRISTMAS CARDS
And of course where there's a Christmas present, a Christmas card is always in tow. It's estimated that around one billion Christmas cards are sold in the UK each year – the equivalent of 33 million trees.
After hearing that, we're inclined to question whether it's really necessary to send out cards to everyone we know… Though, we appreciate that a handwritten card goes a long way with Nan.
For any cards you might receive this year, make sure to remove any embellishments before you put them in your household recycling. But before this, consider ways you can repurpose them: turn them into gift tags, decorations for next year, calendars or thank you cards, or even little boxes to gift small treats or jewellery in.
If you plan on sending any cards this year, stay clear of cards with glitter and other unrecyclable embellishments.
Nowadays, there's lots of plastic-free, recycled and recyclable cards on the market, so why not opt for one of those instead…
For more ideas, read more about Sustainable Christmas cards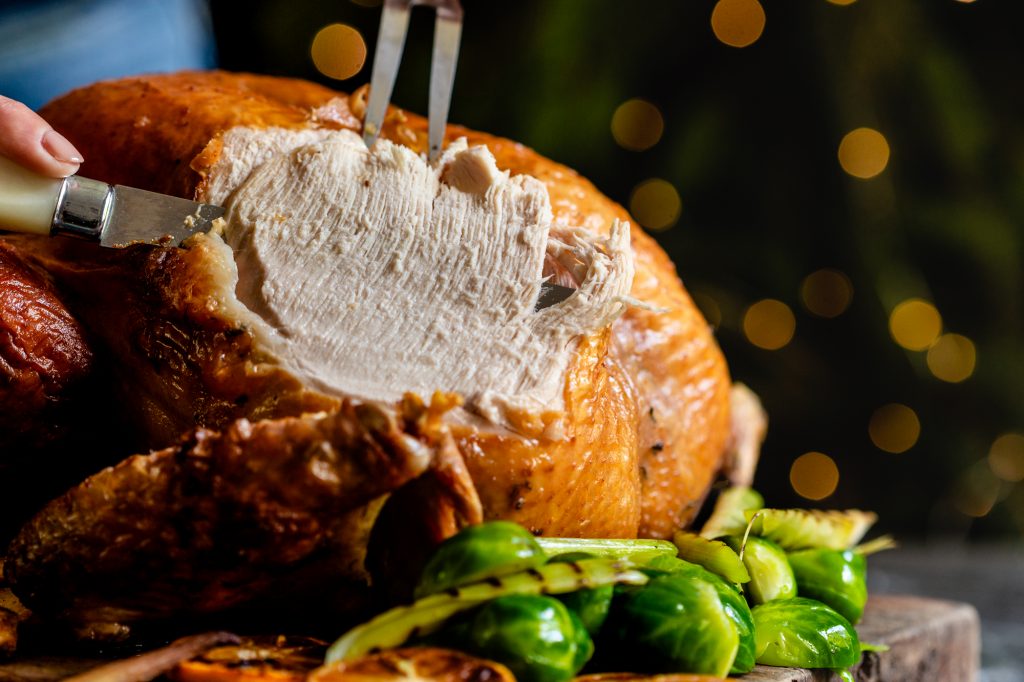 SUSTAINABLE CHRISTMAS FOOD TO FEED THE FAMILY
HOW TO BUY THE BEST TASTING TURKEY
The turkey is the centrepiece of many Christmas day dinners.
Not all turkeys are created equal. Well, they may have been. But, they certainly don't all taste the same. That's not all down to our cooking skills – it's because of the huge disparity in how they are farmed.
A staggering 90 per cent of the UK's 10 million turkeys are now intensively farmed, according to the Soil Association. But, turkeys weren't traditionally reared like this – and nor should they be.
As we've discovered, the best-tasting turkey – one that has depth of flavour, is juicy and tender but also has structure – needs to be slow grown for around six months. It also needs to be hung for a good couple of weeks before you buy it.
Opting for an organic or genuinely free-range slower-growing breed, such as a Norfolk Black, Bronze or Bourbon Red, that has been grown to full maturity creates a completely different eating experience.
Here's where to buy some of the best tasting turkeys this Christmas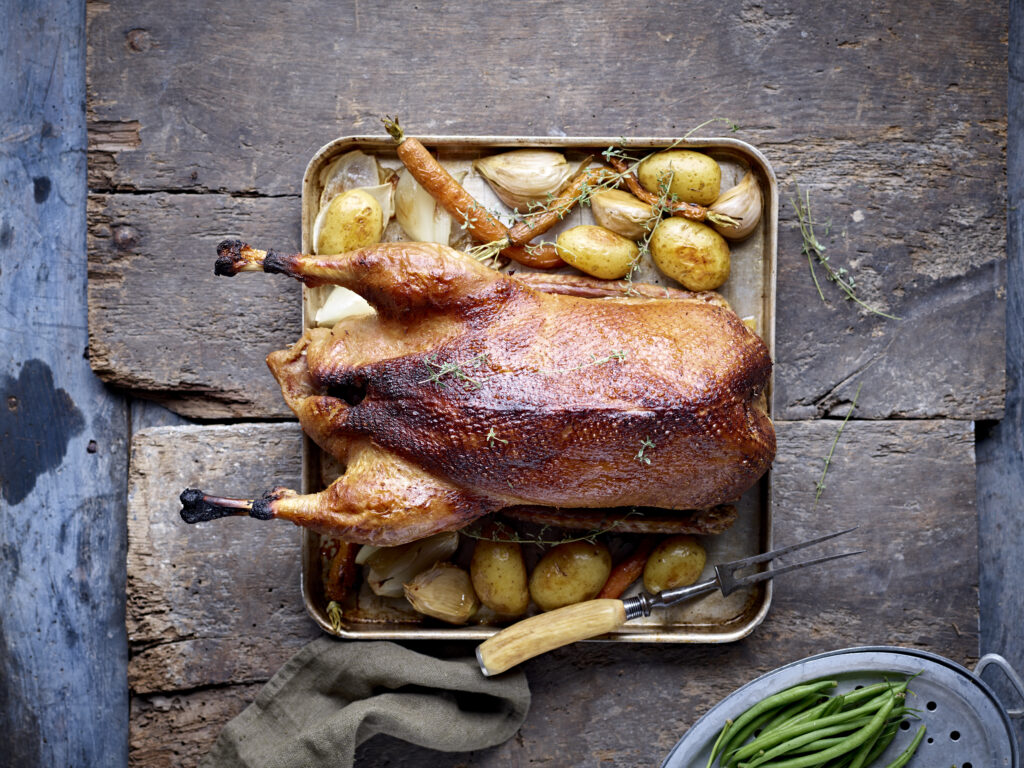 ALTERNATIVES TO TURKEY
Of course, Turkey isn't for everyone. And when there's so many delicious alternatives out there, from venison wellington to goose, we embrace the idea of switching things up.
Catering for everyone's different Christmas dinner demands can be a challenge. So if you're looking to make cooking Christmas dinner for the family a little less stressful this year, Christmas food box deliveries – delivering the freshest produce straight from the farm to your door – are the way to go.
We've asked some of our favourite farmers what's on offer this year from their either 100 percent grass-fed, and/or organic, and/or genuinely free-range animals. From some you can order meat centrepieces, from others you can order full on feasts completed with cranberry sauce and wine, with potential for lots of leftovers.
The food boxes arrive chilled or frozen. They will stay that way all day, so you don't even need to be home to receive it.
While order dates take you right up to Christmas, we recommend you order as early as possible to get what you truly want on the Christmas table.
Food delivery boxes for Christmas
SUSTAINABLE CHRISTMAS CRACKERS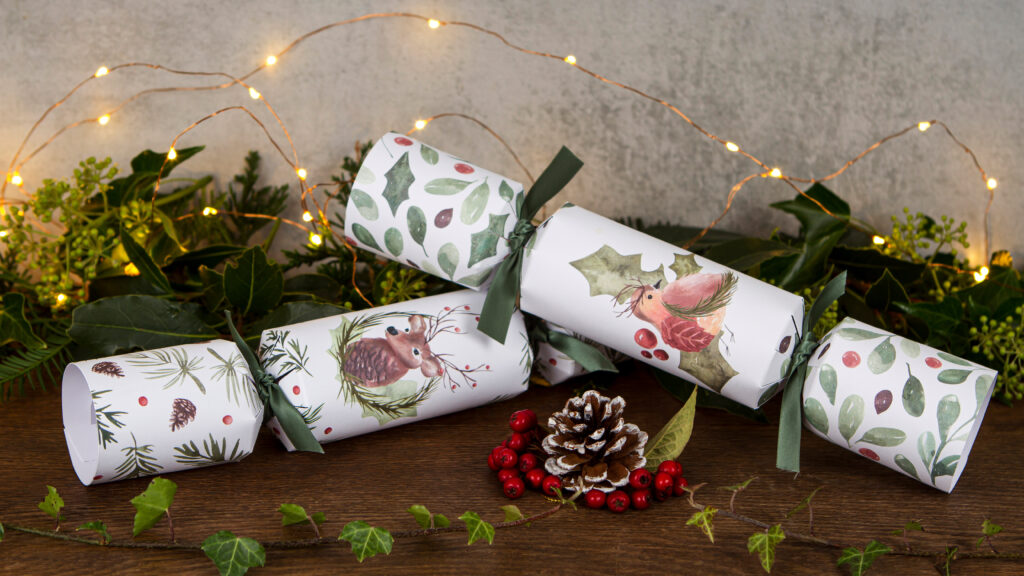 A Christmas cracker is a Christmas staple. But, when the bad jokes are the best thing about them, you know something's not quite right and it's time to upgrade.
If you feel like no Christmas table is complete without a cracker and a bang then we've found some great eco-friendly alternatives to the supermarket classic – and they don't come with a useless plastic toy.
One option is to buy crackers made from recycled and recyclable materials like these Seed Christmas Crackers from My Green Christmas. Another idea is to opt for reusable crackers to stay with you year-after-year, like these beautifully Embroidered Reusable Crackers made by Kate Spronston.
For more options, read our Eco-Friendly Christmas Cracker guide
ZERO-WASTE CHRISTMAS
You would think that the zero-waste movement is the antithesis of Christmas – this time of huge consumption and over-indulgence. But, far from being the Seasonal Scrooge, being conscious at Christmas means all of the joy of the feast without the guilt of chucking huge amounts of leftovers in the (compost) bin and adding to the mountains of rubbish once celebrations are over.
The restriction sounds extreme, but a more considered Christmas does not necessarily require going cold turkey. If we all make small changes each year it could create a big impact.
We've collected some tips from the zero-waste experts to get started, starting with the all important Christmas meal, all the way down to wrapping up your gifts.
To find out more read our eco-friendly Christmas guide
Main image: Plates London, Kirk Haworth, vegan Christmas dinner