This probably won't come as a surprise to you, but we're not very good at sustainable wrapping paper in the UK. In fact, we throw away enough rolls of wrapping paper to circle the globe a staggering nine times every Christmas.
Approximately 11.8 million kilos of carbon dioxide are emitted each year just manufacturing Christmas wrapping paper, according to carbon footprint tool Giki. Ditching single use wrapping this Christmas would equate to taking around 5,000 cars off the road, and this does not count additional emissions to transport or dispose of it.
But, who doesn't love the anticipation of Christmas gifts under the Christmas tree, and with it the excitement of unwrapping a present?
There must be a better way. And thankfully, there are many better options for beautifully-wrapped presents that look good and do good, from reusable gift wrap to eco-friendly gift bags and many other inventive ideas.
So, without further ado, here are some easy eco-friendly Christmas gift wrap options to consider…
Sustainable Christmas wrapping paper and cards: the basics
As a first step, avoid shiny metallic wrapping paper and gift wrap with glitter (sorry!). They sure are sparkly, but they can't be recycled. The same goes for Christmas cards. The simple 'scrunch test' determines whether paper can be recycled; if it holds its shape when scrunched then it is recyclable. If paper springs back, it is not.
Another step is to minimise your use of sticky tape as it can't be recycled, or even better, avoid it altogether if you can.
Understated brown paper makes for stylish statement wrapping – it gives your gift a certain je ne sais quoi, as it were. Though to be as eco-friendly as possible, it is important to make sure the brown paper is 100% recycled and recyclable. You can readily come by rolls in stores like WH Smith or purchase them online from places like Etsy.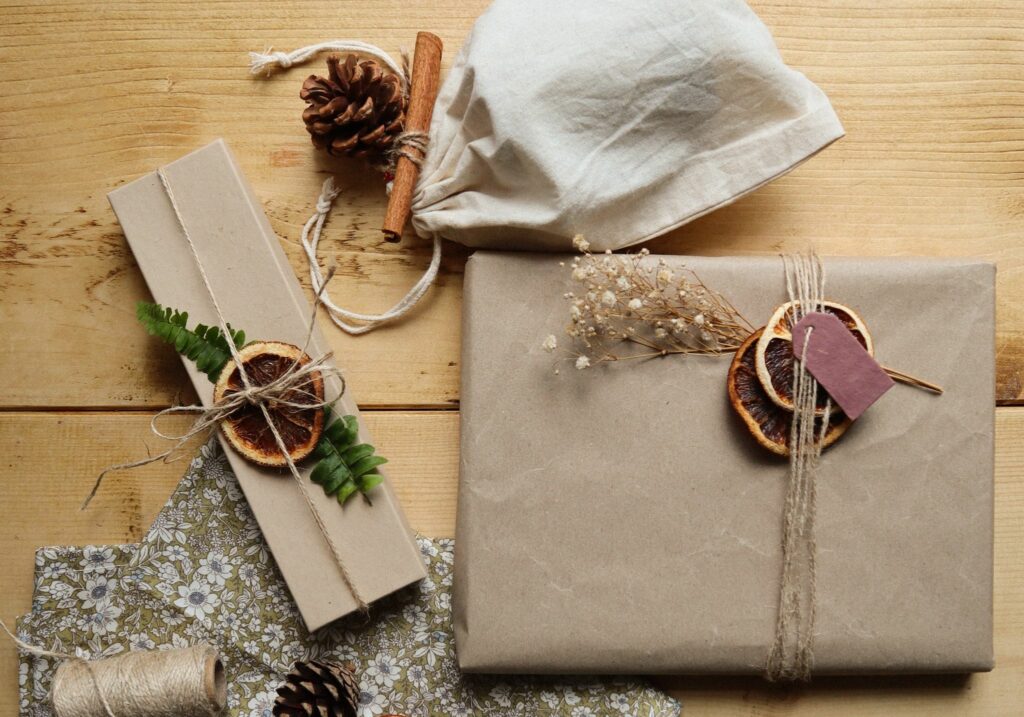 For an even more on-trend festive feel, you can spruce up your presents with DIY decoration – all you need is twine, orange slices and cinnamon. Sprinkle slices of orange with cinnamon and place them on a cooling rack in the oven at about 120°C for a few hours. Make a few extra and you have sustainable Christmas tree decorations and/or spices for mulled wine. Alternatively, decorate with some herbs or foliage, such as holly or rosemary.
If you're looking for something brighter, you can find wrapping paper made from 100% recycled unbleached paper with vegetable inks from £1.30 per sheet on re-wrapped.co.uk.
Also, handmade paper with strong eco credentials starts from around £3.70 a sheet on happywrap.co.uk.
Sustainable wrapping ideas: fabric gift wrap
Happywrap also sells reusable fabric for gift-wrapping. There are two key rules to buying this from a sustainability point of view.
1. Buy organic or sustainable materials that have been dyed with non-toxic dyes.
2. Impress on the person that you're giving it to that it needs to be used again. And then again, by the next recipient. A bit like the Sisterhood of the Travelling Pants. Otherwise the fabric takes more energy and resources to create and is hardly better than wrapping the present in single-use plastic.
If you want some serious inspo, look up furoshiki – the Japanese art-form of wrapping gifts in fabric.
Search for #Furoshiki on Instagram or Youtube (be warned, you might lose hours of your life here) and learn from the masters how to wrap gifts in anything from scarves to pillowcases.
To get you started, here's a post from writer and podcaster Amma Aburam. You can also watch this easy-to-follow video:
Another good idea is to use some (organic cotton) tea-towels. These can be a great shape for wrapping and are useful, too. Or for beautiful fabrics try FabRap, a website offering absolutely gorgeous GOTS-certified organic cotton materials in an array of festive prints.
DIY Christmas wrapping paper – the most sustainable option of all
Doug McMaster, head chef of London's zero-waste restaurant Silo, says: "Not buying new wrapping paper forces creativity and that's a wonderful thing." And we have to agree!
Yesterday's newspaper isn't only good for chip-shop chips. Both McMaster and eco-chef Tom Hunt collect images from newspapers, and use butchers twine rather than sellotape. Add a sprig of green for a festive touch, or use some dried orange slices, as mentioned above.
But choose your images and text carefully… Zero-waste guru Kate Arnell's mum once wrapped her gift in a headline that said: "I'd rather have £250 than spend Christmas with the family". WHOOPS.
A really cool ideas comes from Maggie Woodley, who makes gift bows using old comics. Here's a video tutorial:
We don't know about you, but at this point we have tote bags coming out of our ears! A pretty nifty idea could be to upcycle some of those you have lying into gift bags: you could dye them Forest Green or Rosewood Red, for example. This will give your tote bags a new life, and hopefully your recipient will go on to reuse them too. (Note to reader: we are experimenting with this idea at the moment and will let you know how it goes…).
You could also save yourself some money by upcycling old biscuit/chocolate tins (which we tend to get lots of this time of year). Once you've cleaned out all the crumbs, they make an effective gift box – just line them with old tissue paper or simply leave them bare.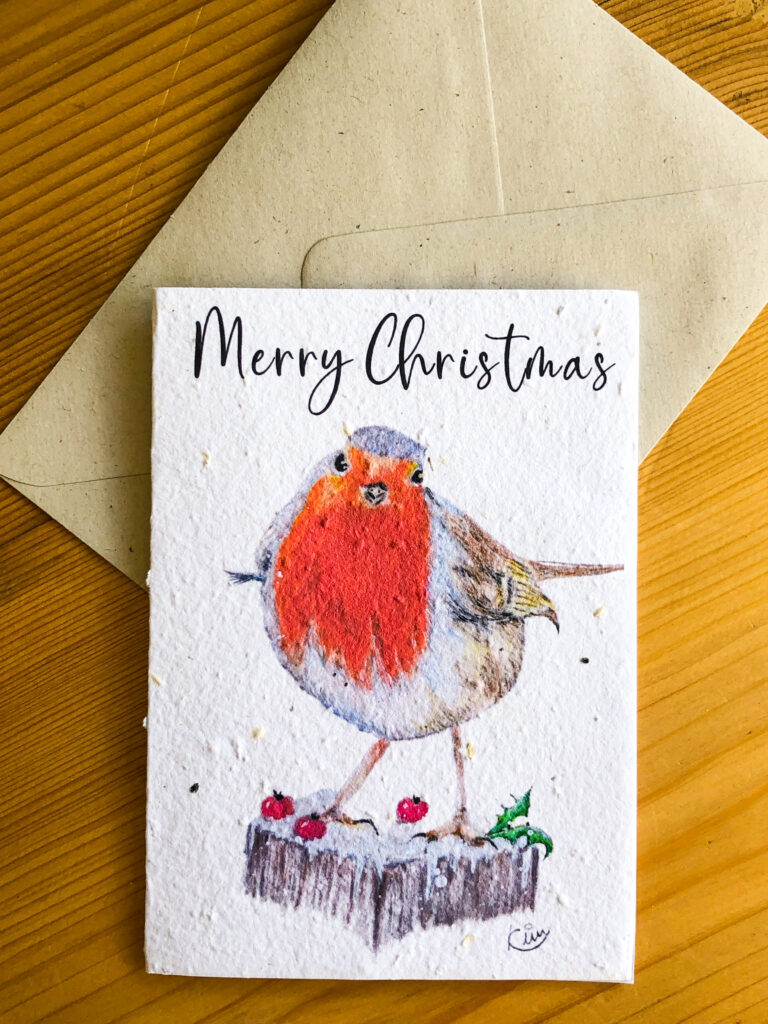 Sustainable Christmas cards
Of course where there's a Christmas present, a Christmas card is usually in tow.
It's estimated that around one billion Christmas cards are sold in the UK each year – the equivalent of 33 million trees. EEK. That's where all those trees planted as offsets are going!
If you're trying to make more sustainable choices this festive season, our first question would be is there really a need to buy everyone you know a Christmas card? Or could you just get one for your Nan?
If you're inclined to send out cards this year, like with wrapping paper, stay clear of cards with glitter and other unrecyclable embellishments. Nowadays, there's lots of plastic-free, recycled and recyclable cards on the market – there's even these gorgeous plantable Christmas cards from Blooming Heck.
Made from 100% handmade with recycled paper and embedded with botanical seeds, you can actually plant the seed paper card itself and watch your message turn into wildflowers – Nan is sure to love that!
Blooming Heck also uses recycled and recyclable envelopes, and protective compostable vegetable starch cellophane bags which will break down in home or commercial compositing.
As for the Christmas cards you receive, make sure to remove any embellishments before you pop them in your household recycling. Before this, however, why not consider other ways you can repurpose your cards? Turn them into gift tags, decorations for next year, calendars or thank you cards, or even little boxes to gift small treats or jewellery in.
Maggie Woodley, Amma Aburam and Sophie Cochevelou are working with North London Waste Authority as part of their 'Rethink Wrapping' campaign.
Main image: Fabric wrapping with Sophie Cochevelou – Credit Anthony Lycett