Embracing a sustainable Christmas doesn't mean sacrificing the joy and charm that a beautifully adorned Christmas tree can bring to your home.
In this comprehensive guide, we ask the question, are fake Christmas trees better for the environment?
We delve into the options available in the UK for your Christmas tree. Whether you opt for a real, potted or artificial tree, or embrace the rising trend of renting a Christmas tree, there are clear choices you can make to ensure that your festive season is more eco-conscious.
How sustainable are real Christmas trees?
Not much compares to the scent of a pine Christmas tree wafting through the house – even when you have to sweep up the needles every time you, the dog and your guests brush past.
The good news is Christmas trees are essentially a crop that we harvest. A six-foot tree typically takes about nine years to grow, during which time they provide a habitat for wildlife, consume carbon dioxide and create oxygen – so they are generally carbon positive. Good.
You don't need to worry about deforestation when buying a real tree. Most Christmas trees are a horticultural crop, so growers do not fell them from pre-existing forests. Very good.
And now for the not-so-good (Sorry!). When we stop to think about it, isn't it a little crazy to grow something for nine years just to cut it down and dress it up for a few weeks only to throw it away? Talk about consumer culture.
Then there's the carbon footprint issue that comes with their transportation and then disposal. We buy around seven million trees in the UK each year. Then, once the Christmas season is over, we send a huge number to landfill. Here, they take years to decompose and release methane, which experts say has 25 times the potency of carbon dioxide.
But, if you're still convinced you need a Christmas tree – and we don't deny we love them ourselves – what's the most eco-friendly way to get one?

Why do we have Christmas trees?
There have been many predecessors to the modern-day Christmas Tree. The Romans used fir trees in their temples when honouring Saturn, the God of Agriculture. In Northern Europe, they put up Evergreen Trees during the winter solstice to keep away evil spirits and illness.
Our Christmas Tree tradition is thought to date back to the 1830s. German theologian Martin Luther is said to have started the craze after being inspired to bring the outdoors in on a night's walk through the forest.
In 1841 Prince Albert set up a tree in Windsor Castle. In 1846 the Royal family was sketched in front of their Christmas tree. From here the Christmas tree trend swiftly took off.
What are the best real Christmas tree options?
Option 1. Sustainable real potted Christmas trees: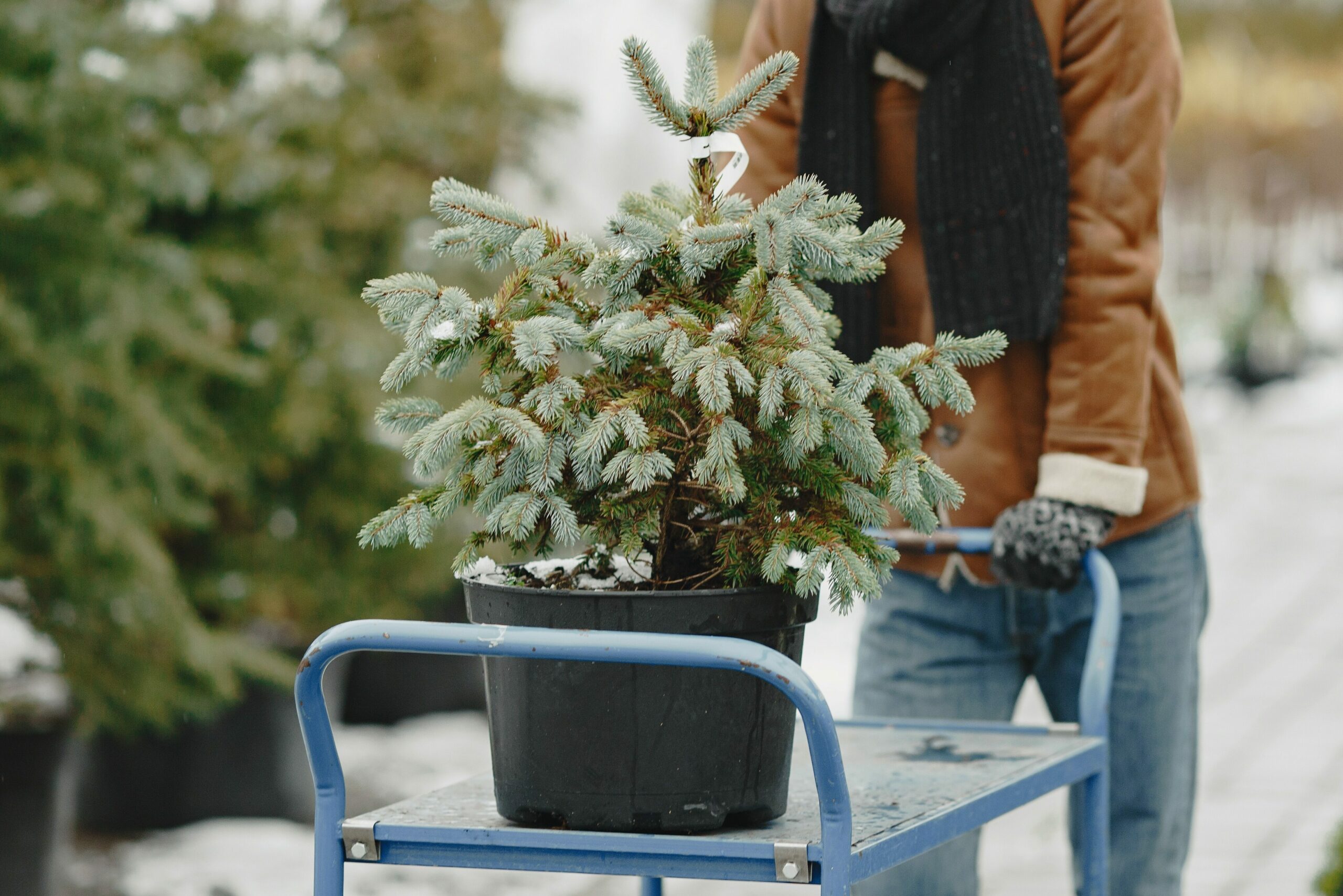 Sustainably-speaking, the best option is to buy a potted Christmas tree that can be replanted year after year.
Bonus points if you buy it as locally as possible to reduce the transportation carbon footprint.
Option 2. Sustainable organic Christmas trees: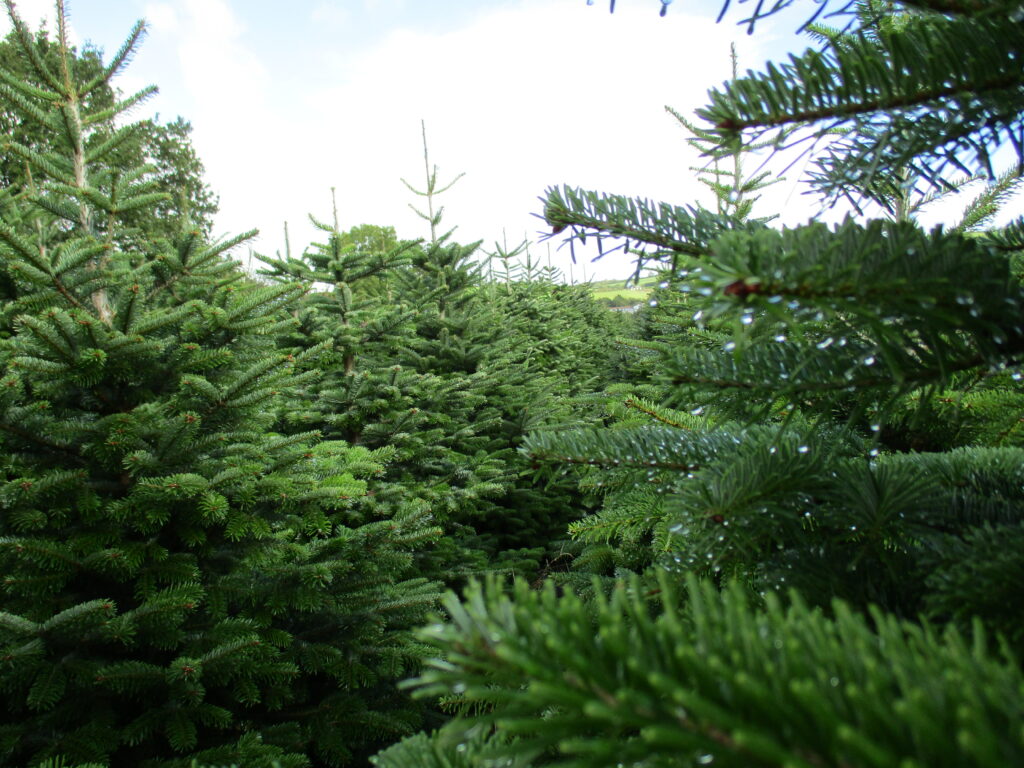 If potted isn't for you, it's good to arm yourself with the knowledge that non-potted trees can be recycled into wood chippings, if you're welling to do a little research. A good place to start is to check your local council's website to find out how their free recycling service operates.
Also, did you know that there are organic Christmas trees?
The benefits of organic Christmas tree farming are that there are no chemical residues in the product. It also helps to conserve and build soil health, has a smaller carbon footprint, promotes a diverse variety of wildlife, and allows for animals like deer to enjoy snacking on the trees' bark.
Not so bad, after all.
Peach Hayne Organics, a UK family-run organic farm in the heart of Devon, is the only farm in the UK that is registered and certified to sell Organically grown Christmas Trees. Their trees are cultivated pesticide free and with lots of TLC.
Kimberley Vick, Peach Hayne Organics' tree farmer, says:
"It's much harder to grow organic Christmas trees. You've got to really persevere because you can't spray them so they are slower to grow and you have to tackle weeds that grow quicker than the actual trees themselves. So there's a lot of labour that goes into it."
This year, they are offering a nationwide UK delivery service.
If you live locally you can enjoy the fun of choosing your own or they deliver to local postcodes. You can also visit Daylesford in the Cotswolds to pick up a tree there.
Option 3: Rent a Christmas tree: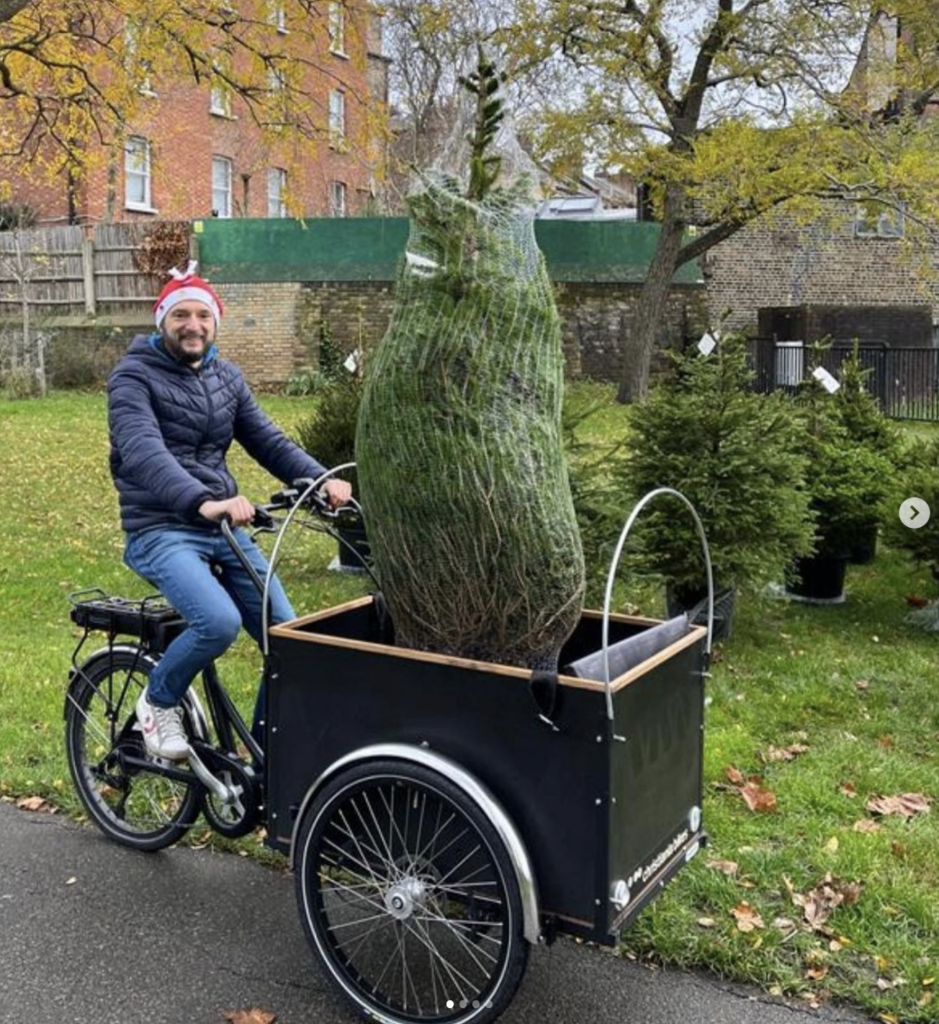 Another option is to rent a real pot-grown Christmas tree. There appears to be a number of options for this across the country, so Google options in your area.
We checked out how the London Christmas Tree Rental works. Essentially, this service allows you to buy a potted sustainable Christmas tree and then send it back to be re-planted after the festive period. You can start a new family tradition and request the same one year after year. You can even name your tree, if you're so inclined.
Not only is this a great no-fuss option, where you avoid the guilt of failing to keep your tree alive, but it's also a brilliant way to cut down on your Christmas waste.
They currently have hubs in Barnes, Dulwich, or Orpington where you can collect your tree, and they're looking to expand these, so are inviting you to get in touch with suggested locations.
Are fake Christmas trees better for the environment?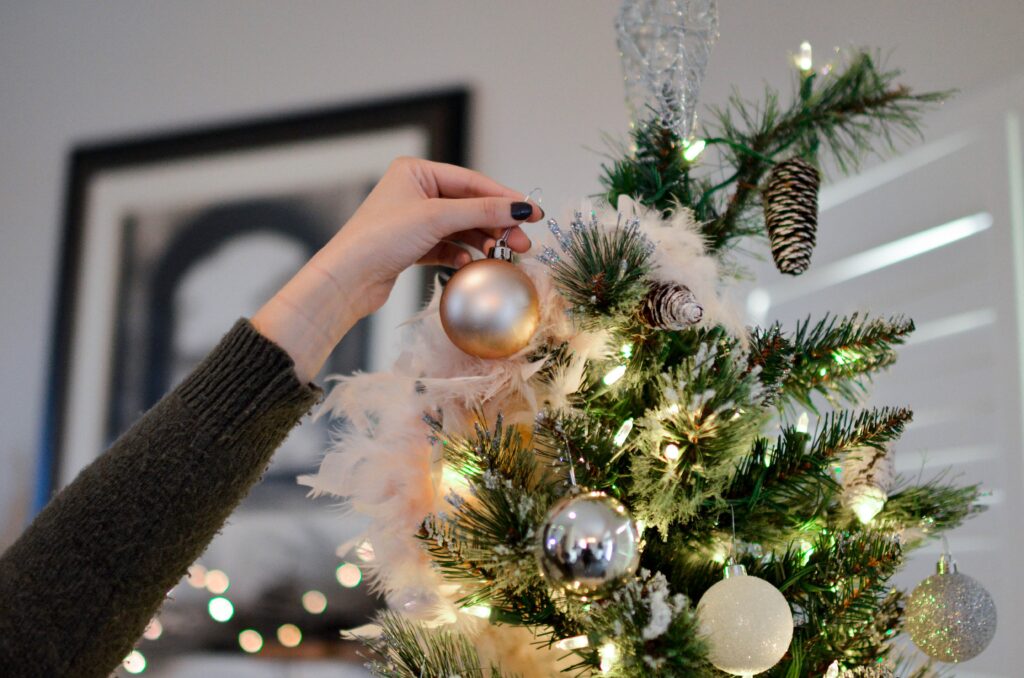 If you're buying an artificial tree, the general advice is that you need to use it for at least 11 years to offset the oil the plastic is made from, according to the Carbon Trust.
However, most of us have commitment issues when it comes to fake Christmas trees. We keep them for an average of four years.
So, our general advice is that unless you're willing to enter into a long-term committed relationship with your tree, it's best to steer clear of fake ones.
Hopefully this goes without saying – if you already have a fake tree in storage, don't chuck it away for an upgrade. Get as much use out of it as possible.
You can find alternative, more eco-friendly trees made from reclaimed wood online. Try online shops such as Not On The High Street or Etsy. Again, you need to love these enough to reuse them year-after-year to make it a truly sustainable option.
You can also find good quality second-hand trees on eBay. Forgive us for labouring this point, but buying a tree and then selling it to buy a new one after a few years is not in-keeping with the true spirit of Christmas sustainability.
Sustainable Christmas tree alternatives: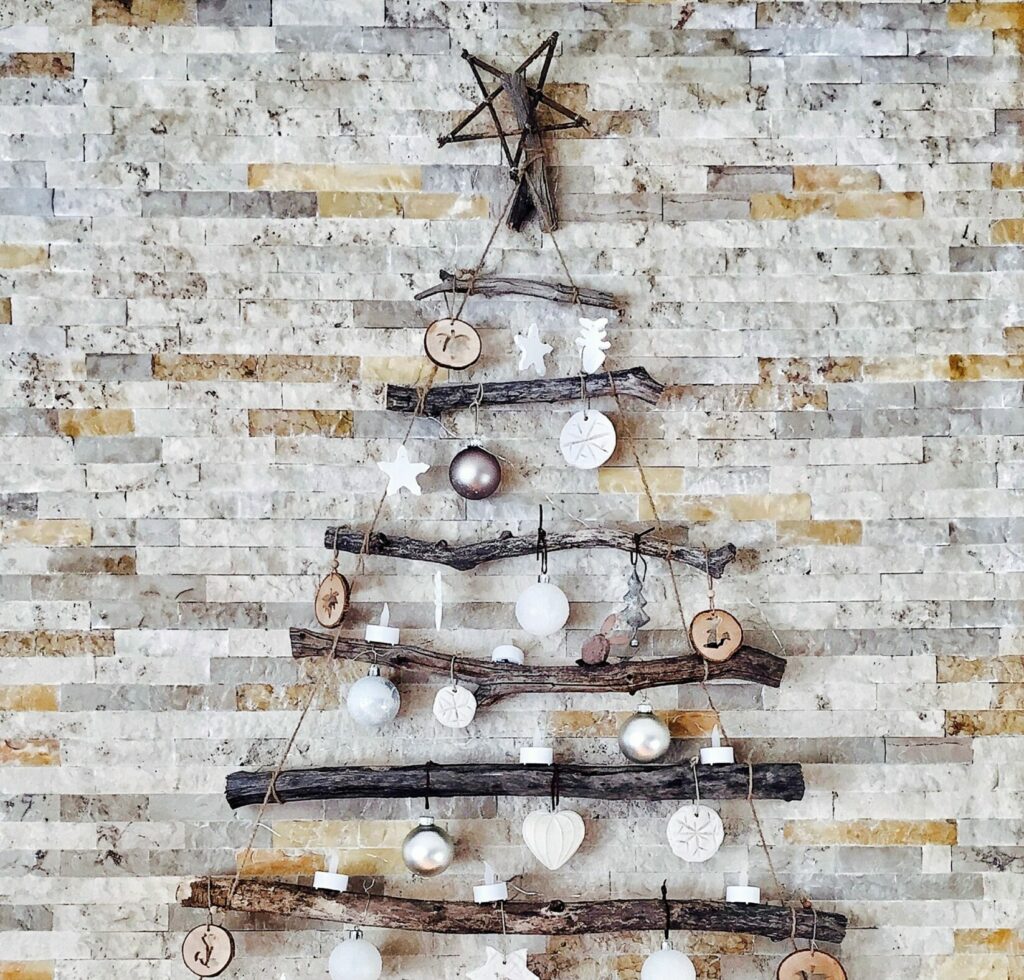 If you're willing to forgo the traditional tree look and branch out (pun intended), one great alternative is to get creative and decorate plants you already have around your home with lights and baubles.
Or, another popular idea is to collect branches from the park or forest and tie them together using twine. This is surprisingly easy to do, is a fun day out and looks great hung off a wall (see above). It has bonus of being space-saving, too.
Main image: George Bakos on Unsplash