In our series, Changemakers, we interview people who have shifted their work to focus on sustainable and ethical issues. We ask what was the 'lightbulb' moment that inspired them to make the leap and what their biggest successes and challenges have been along the way…
Listed as one of Vogue's Top 25 Powerhouse Women defining – and redefining Britain – in 2023, Victoria Jenkins is the founder of Unhidden, an adaptive fashion brand that embodies inclusivity. She is also a designer and co-presenter on Channel 4's Unique Boutique: a show where "inclusive fashionistas and designers dare to do what the high street doesn't: create fabulously bespoke and beautiful outfits for every body in their custom-built shop".
Unhidden's entire collection – from shirts to trousers to dresses – is designed to be body inclusive, size inclusive and customisable for people with disabilities.
Its inspiring messaging has just as powerful a story behind it. Jenkins is a garment technologist with 14 years experience in the fashion industry who became disabled in her 20s. Unhidden was born from Victoria's own challenges of suddenly having to adjust to dressing with her disability, and recognising the similar, unaddressed struggle of others within the disability community.
Live Frankly: Let's set the scene. What do you do now?
Victoria Jenkins: I'm the founder of Unhidden which is a socially-responsible adaptive fashion brand.
Unhidden was borne from my personal journey with disability and my background in fashion. Now, I'm channelling those skills for a better cause.
What does a typical day look like for you?
In start-up life, you do everything.
This means I do all the things you'd expect – I source fabrics, visit the factory and sample rooms, meet with machinists and pattern cutters. We've kept a very small supply chain so I liaise directly with everyone.
I also lead our open investor round, which involves networking, pitching, talking with accountants and lawyers and sorting out all the paperwork that comes with investment.
Obviously, there's the matter of PR and marketing outreach. I find I usually spend at least a couple of hours a day on some kind of networking call or interview. I'm almost always pitching ideas to magazines or reaching out to people I want to work with.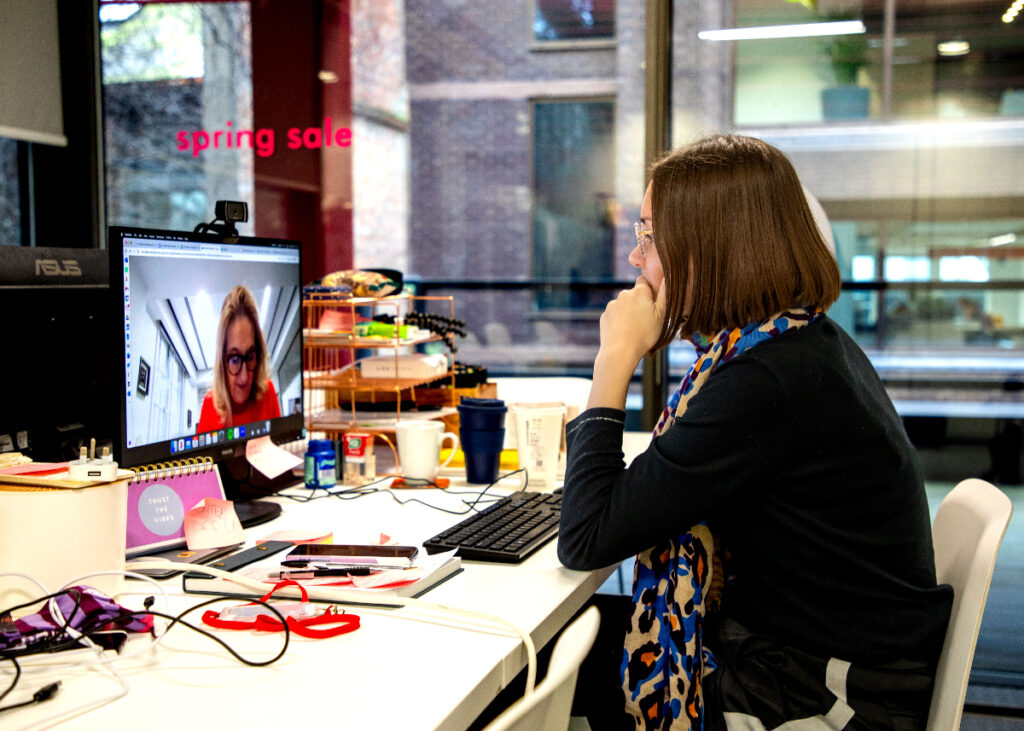 Can you tell us a bit more about your career before Unhidden?
I graduated from Istituto Marangoni in 2008 and started out interning for a really creative and experimental designer called Inbar Spector.
My first 'real' job was as a pattern cutter for an E-commerce company and then I went on to work for a supplier to brands like Tesco, Sainsbury's, Primark, Long Tall Sally and M&Co.
It was at this time in 2012, when I had a brush with death that started me on my journey with disability. Back then, work became more about surviving rather than career progression.
I went on to work for another supplier where my main accounts were Phase Eight and the Jacques Vert group. Then I worked at Jack Wills and All Saints, and finally Victoria Beckham.
Ultimately, I decided to go freelance to manage my health, but also so that I could pursue something new where I could use my skills for something better.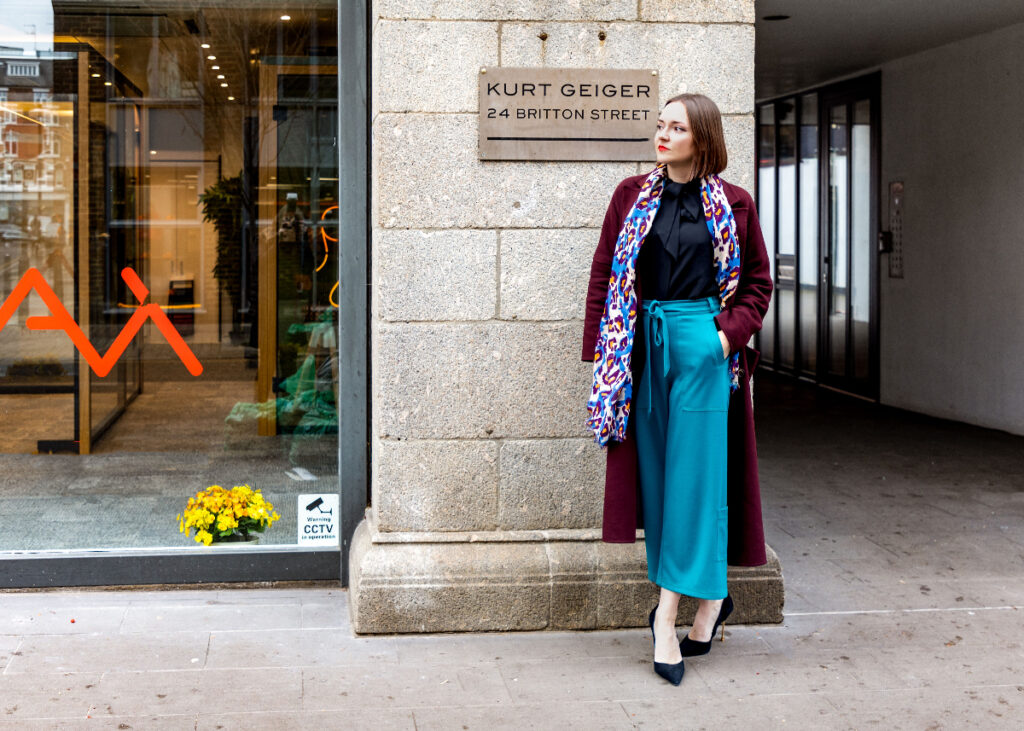 What did you love about your work before?
The fit sessions and fittings were always my favourite thing to do, because they're really interactive. It felt like creative problem solving with a garment. Obviously this was very helpful practice considering what I now do.
It gave me a good understanding of how things are made, and therefore how to make them properly and well, versus how to cheat the consumer.
When did you start to feel you needed to change and why?
Many disabled people end up working for themselves, because businesses are not prepared to accommodate us.
When I was at Jack Wills I had an hour commute each way. A traditional nine-to-five, five days a week wasn't going to work for me. I knew something had to change.
I needed remote working, but it wasn't until the pandemic that this proved possible. Obviously, the pandemic was awful in many ways, but it has helped in terms of remote access.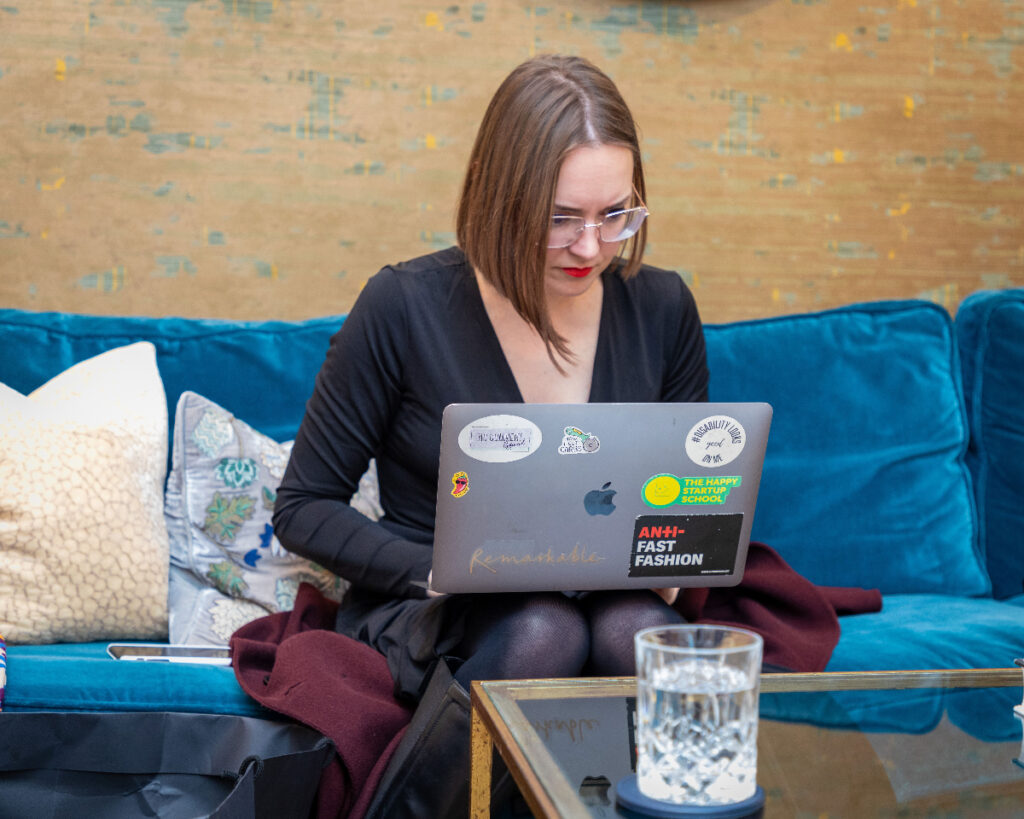 What was your lightbulb moment?
In 2016, while I was still working at All Saints, I had a chance encounter with another patient in hospital.
I shared a ward with a woman who had survived ovarian cancer and went on to set up a charity supporting other people through it. She also had two stomas and was donating any spare stoma bags she or anyone else had to countries like Africa that don't have free access to them. So, she was a really inspiring woman.
Medically speaking, she had lots going on. Every time the doctors came around, and there were always lots of them, she had to take all her clothes off. Hospitals are dehumanising enough without then having to expose yourself constantly.
This led to a conversation about how difficult it was for her to dress for her job. The solution to this issue felt really obvious to me. I thought someone had to be solving this already.
We had a look and everything at the time was very medical looking, designed from a point of care of dressing someone who was elderly or disabled, not from the patient or the disabled person's point of view. And there wasn't really anything aimed at younger people.
I realised how many different things people need that they just aren't getting and I developed a slow burning anger about this. I was even annoyed at myself that I hadn't considered what I needed. For instance, when I was recovering from surgeries I wouldn't go out or I'd shoehorn myself into a wildly uncomfortable outfit, and then have to leave early because it was painful.
Just looking and realising what was (and wasn't) out there planted that seed of thought that maybe I can do this.
What did you do next?
I didn't even start sketching, I just started asking people about the need for adaptive fashion.
Whenever I was in hospital I would ask doctors and nurses, and then started building up the confidence to approach people and put out cold calls on social media.
I'd also look to see what the few competitors in this space were doing. What was the feedback? What were people saying they needed or wanted to see?
I went on endless forums, webinars and online events, trying to absorb all the different things people said. Then I would sit back and think, if I couldn't move, how would I expect to get in my clothing? I'm not a wheelchair user, but what hurts me and therefore must hurt people that have to sit down all day?
I collated all of that, and then started to sketch and develop designs. I'd had samples made and was trying to move it forward but saw it more as a long-term, part-time passion project. Then lockdown happened and I thought well, why not actually try and make this happen?
Why did you decide to make Unhidden a sustainable company?
The word sustainable wasn't really a thing in 2016. But, I had a friend who was very environmentally-focused and so we would talk about these issues a lot.
There were also big events like Rana Plaza that raised my awareness.
I didn't want to be part of the problem. And I thought, if my ultimate goal is to be a big brand, I can't make the same mistakes that today's bigger brands have made. I can't do that.
So I try to find ways to solve rather than contribute to the problems, which is why I only use deadstock fabric and either recycled or organic materials.
What have you found surprising along the way?
I find it surprising that the biggest thing you have to do as a small business is network all the time. No one tells you that is how you can make things happen.
I have to talk so much that there's a lot of days where I don't actually get to do the work I want to do – the designing.
I've been talking about social responsibility since 2016 and no one wanted to listen back then. Even since 2020, the diversity conversation has changed. There's demand for it.
What's a challenge you're currently facing?
Our target customer is a community that's 50% more likely to live in poverty. So, it's a hard sell.
But, obviously we believe everyone in our supply chain should be paid living wages and use better materials, that means the costs are more expensive than fast fashion.
It's a really tough balancing act.
Has anything turned out better than you expected?
In February, the coverage for our Runway show was amazing. I was approached by Vogue business, The One Show, Reuters, and Channel 4. For once, I hadn't had to go out and chase anything.
So, that level of interest from a media perspective was surprising to me because it wasn't there before. It's gotten a lot better. And it has led to a lot of incredible other things, it creates a snowball effect of opportunities. I've got to meet people and go down roads I hadn't thought possible.
Final question. What's next?
There's a lot of partnerships in the works.
We've got the rights to Paw Patrol and Spongebob so we're developing kids adaptive clothing, which is really needed. Again, everything is being designed to be universal so non-disabled kids can also enjoy responsibly made garments.
We're working with Lucy & Yak as well as Will Perry, a paraolympic swimmer with Dwarfism, on a short stature tailoring.
I'm talking with high street brands and some other small independent brands about partnerships to help get adaptive fashion onto the high street and to increase our reach.
I'm also working with We Are We Wear on adaptive on lingerie and swimwear. Outerwear is also in the works for September. I really want to look into shoes and occasionwear, too.
I want to expand our product offering while still trying to keep to our model of slow fashion. I'm not going to suddenly have 100 items on the website. That's not part of our ethos. But I do want Unhidden to grow.
For September Fashion Week we're doing our second runway show. I am showing in the Models of Diversity show in June, but I'm not making anything new for it. I'm restyling the pieces that we put down the runway in February, because that's what slow fashion needs to be.
All images: Deb Burrows