Last month marked the anniversary of the Bangladesh Rana Plaza factory collapse in which 1,138 garment workers died, many of them women sewing clothes for fast fashion brands.
This month, the Bangladesh Accord, that was set up within weeks to ensure better worker safety in regards to fire, building collapses or other preventable accidents, expires.
And reports indicate fashion brands are dragging their heels in signing up to a new one, and are using the opportunity to 'negotiate' more agreeable terms.
"Many brands and retailers seem to want to turn their backs on a much-needed, and previously promised, international expansion of the accord that would protect workers in other countries from death-trap factories," says Paul Roeland, transparency lead for The Clean Clothes Campaign.
"Instead, brands want to limit it only to Bangladesh, and to a new non-binding programme in which worker representatives hold only a third instead of half the governance seats."
This begs the question, what has really changed over the past eight years?
As sustainable fashion designer Lora Gene, puts it:
"There is an overwhelming amount of beautifully crafted information about the treatment and insulting pay levels of garment workers; well-articulated talks about the importance of recycling; emotionally charged infographics calling out greenwashing…
For all the talk, has anything actually changed? Are garment workers safer, better-protected, richer?"
The reality is concerns for the 75 million garment workers worldwide, three-quarters of which are women, go beyond the safety of factory building…
Eight years after Rana Plaza: Garment worker safety
The Bangladesh Accord, although nowhere near perfect, is widely agreed to have been successful in improving safety standards in factories in Bangladesh. More than 122,000 safety violations were identified, 90% of which were reported or verified as fixed between 2013 and 2018.
However, it has had little impact beyond Bangladesh.
So far this year, 28 people have died following heavy flooding in a sweatshop in Tangier, Morocco.
Also, at least eight garment workers died in Egypt when a building housing a garment factory collapsed on them.
And these are the stories that, just about, make it onto our radar.
Eight years after Rana Plaza: Justice for Jeyasre
It's unlikely you have read about Jeyasre Kathiravel, whose murder on New Year's day this year, has gone largely unreported.
Kathiravel's body was found in a wasteland far from her family home, four days after she was called in to work at the factory, owned by one of India's largest garment manufacturers, Eastman Exports Global Clothing.
Kathiravel was a Dalit, belonging to the lowest caste, from Tamil Nadu, in southern India. She was the first person in her village to go to college. Her job at the H&M supplier factory called Natchi Apparel had helped to fund her studies.
Her supervisor, Thangadurai, is said to have confessed to authorities that he raped and killed Kathiravel and is in police custody.
"For this one case, we had a lot of evidence. But, there have been rapes and murders that we haven't had enough evidence for. That doesn't mean they don't exist."
Seven workers have testified that Kathiravel's murder came after months of ongoing and escalating sexual harassment she experienced at the at the factory at the hands of Thangadurai, according the Asia Floor Wage Alliance and Tamil Nadu Textile and Common Labour Union (TTCU) .
They claim the supervisor had a history of sexually harassing women workers. Since Kathiravel's murder, more than 25 women have come forward to report harassment and sexual abuse at Natachi Apparel.
Nandita Shivakumar, India Coordinator for the Asia Floor Wage Alliance, says:
"We've lost too many women because of gender-based violence in this industry. For this one case, we had a lot of evidence. But, there have been rapes and murders that we haven't had enough evidence for. That doesn't mean they don't exist."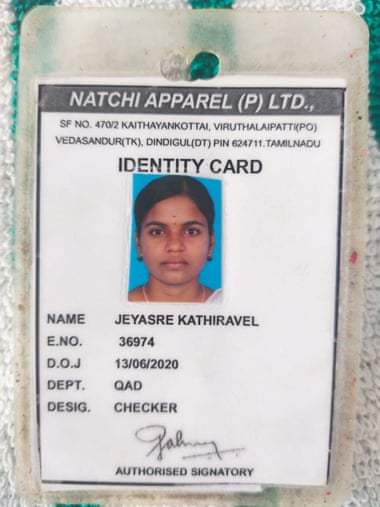 Shivakumar spells out how the system is set up to allow women to be treated in this way: the factory had a hiring policy where the supervisors, 90% male, come from a dominant caste while the garment workers, 90% female, are typically from the lowest caste. Though there was significant documentation proving worker harassment, the factory owners did not take the complaints seriously.
Even after Kathiravel's murder, her family were said to be facing intense pressure and violent threats from factory management who wanted to resolve the case without accepting liability and agreeing a minimum financial settlement.
Due to the fact that the murder took place outside of the factory and work hours, Eastman Exports Global Clothing denies any links to the crime. It also denies all allegations of pressuring the family or harassment within their factory and says: "No negative incident was reported to [the] relevant committees or factory management… [about] Thangadurai in connection with any of [our] employees."
Thanks to the involvement from unions and support from global fashion activists, the factory agreed an undisclosed compensation package in April.
A H&M spokesperson said in a statement:
"Our position is very clear, the fashion industry – and individual brands – should actively support and take actions, together with trade unions and experts on gender equality, to drive positive change within the global textile industry."
Eight years after Rana Plaza: Wage theft
The violence against women in garment supply chains is also economic, with factories paying poverty wages. Typical earnings in the industry range from 12 cents an hour in Ethiopia and 50 cents an hour in Bangladesh, to $1.00 to $1.50 an hour in higher wage countries like El Salvador and Indonesia, reports the Workers Rights Consortium (WRC).
The situation for unprotected garment workers across the world has become more perilous during the pandemic with reports of 'wage theft'.
At least $500 (£360) million severance pay is estimated to be owed to the millions of garment workers who lost their jobs due to the pandemic across the globe, according to the 'Fired, Then Robbed' report, published by the Workers Rights Consortium (WRC). This equates to an average of $1,000 (£720) per garment worker – equivalent to five months' wages. And the pandemic isn't over yet.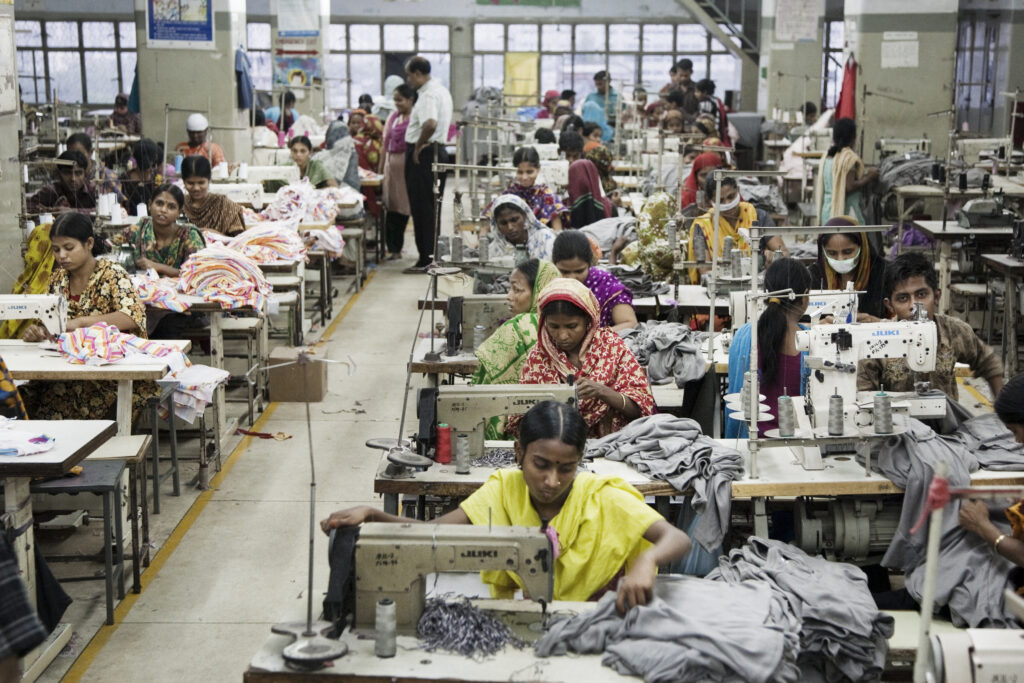 As a result, the WRC reports that more than two-thirds of workers or members of their household skip meals or reduce their quality. One worker from Indonesia, who sews clothes for Nike, said she is forced to choose between going hungry and going deeper into debt.
Other brands implicated in this 'wage theft' include Adidas, Amazon, H&M and Inditex. These are all companies that the WRC report have made profits during the pandemic. The global fashion industry market size was estimated to be more than $1 trillion in 2020.
So, what's the solution?
Unions and labour rights organisations maintain the best way forward is for global apparel brands to sign up to enforceable brand agreements for building safety, wages and gender-based violence.
These are different to the voluntary 'codes of conduct' brands like to put in place because they are legally-binding, and importantly, represent all stakeholders – brand, factory and worker representatives. Also key to their success is that brands pay into a central fund to pay for independent arbiters rather than commissioning their own audits.
There are examples already in place. For example, The Lesotho agreement on Gender Based Violence that involves Levi's, the Children's Place and Kontoor Brands (Wrangler, Lee), was established in 2019.
The Clean Clothes Campaign's Roeland says:
"Decades of vague promises and voluntary efforts, on wages, safety and gender-based violence have proven ineffective. The women and men that make our clothes, and generate the industry's trillion-dollar plus annual revenue, deserve concrete and binding actions to live in dignity and security."
Main image: Tamil Nadu, Freedom Fund