London-based fashion brand, Gung Ho, has collaborated with The Worldwide Tribe to release their much anticipated latest collection – now available for pre-order.
It's a stunning collection of illustrative prints in bold colourways that, upon closer inspection, showcase the issues surrounding displacement and, importantly, focuses on the human stories behind the stats.
The garments allow you to wear not only what you love, but also what you believe in. The designs highlight three important areas of displacement: the fact 1/10 people will be displaced by 2050, the reasons for this displacement and the lived experience being displaced.
We asked designer, Sophie Dunster, to talk us through the designs…
Inspiration for The Worldwide Tribe collection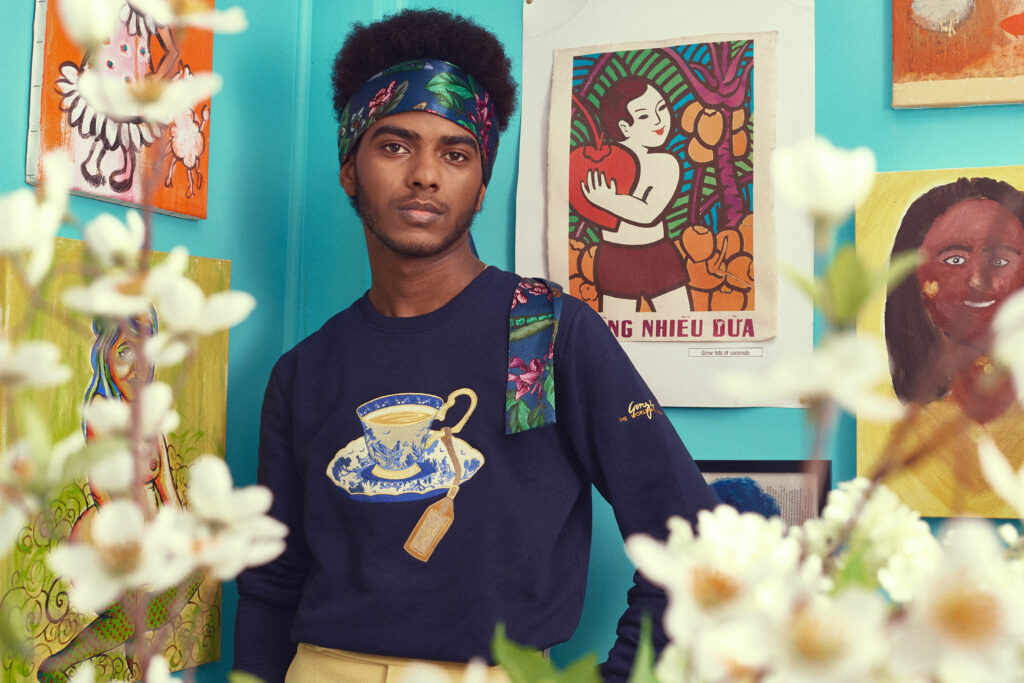 "Gung Ho's last collection focused on Climate Change, and it really hit home how much of an impact this is having on people all over the world. Initially, I started researching the issues that lead to people becoming climate refugees. But this led me to learn about so many other reasons humans are displaced. Campaigning around social issues, not just environmental, is new for me and I am learning a lot.
Gung Ho's goal is to spread awareness through fashion, so we partner with the experts in the issues our designs are created around. This helps us to pinpoint the most important aspects of the crises, which are often not the ones you would think about, at first.
For this collection, a lot of our research came from reports published by the UN Refugee Agency and the Internal Displacement Global Report, as well as talking to individuals who have experienced displacement first hand. From the moment I was introduced to Jaz O'Hara, founder of The Worldwide Tribe, a charity raises awareness about the human stories behind the refugee crisis, I knew they were the right partners and that together we could create something incredible. Joining forces has been incredibly moving and powerful."
Gung Ho x The Worldwide Tribe: Flag jumpsuit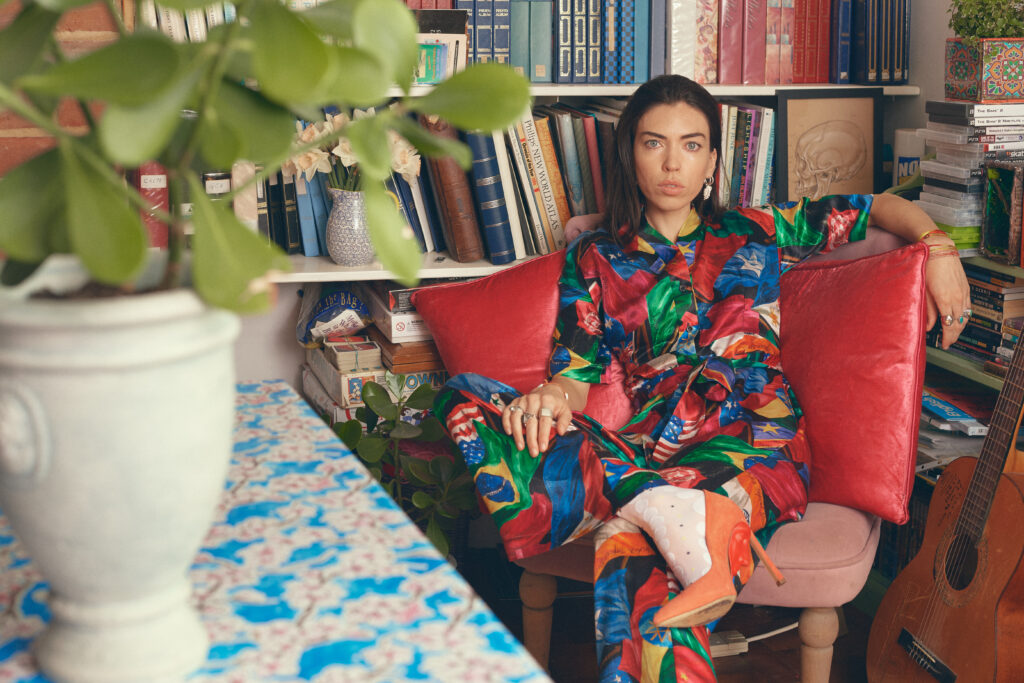 "This mesmerising flag print represents the countries people are fleeing from and why; it relates directly to the inspiration for the collection. Learning that so many reasons for displacement are climate related was really eye-opening. There are a lot of crossovers between issues, but hopefully wearing this print, people remember that we are all in this together and to be open and welcoming to people who have had to move – whatever the reason. "
Syria – conflict; Dem. Republic of Congo – conflict; Somalia – flooding; Ethiopia – flooding; South Sudan – conflict; Afghanistan – conflict; India – tropical storms; Philippines – natural disasters; Bangladesh – flooding; China – flooding; Brazil – flooding; Samoa – tropical storms; Australia – WildFires; USA – Wildfires. (Source: internal-displacement.org)
Gung Ho x The Worldwide Tribe: We are all human sweatshirt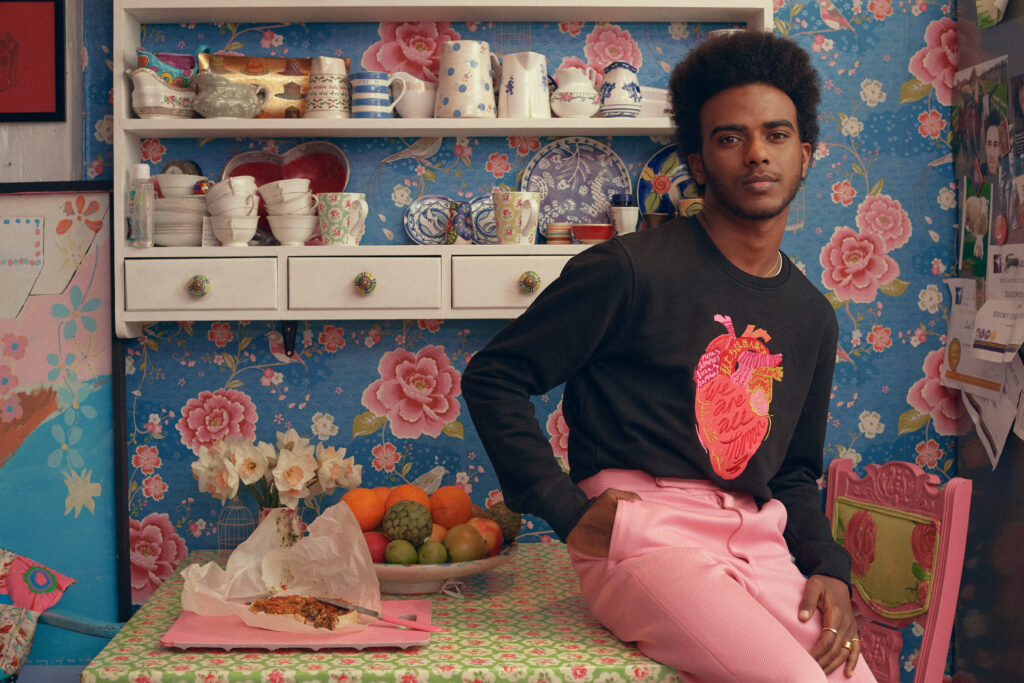 "We are all human, and we all have a heart – let's act like it. This striking embroidered heart embodies that message in many different languages. Languages are beautiful. But, language can be a big barrier for many who are displaced. When you strip it back it is important to remember we are all the same, no matter what language we speak."
Gung Ho x The Worldwide Tribe: 1/10 blouse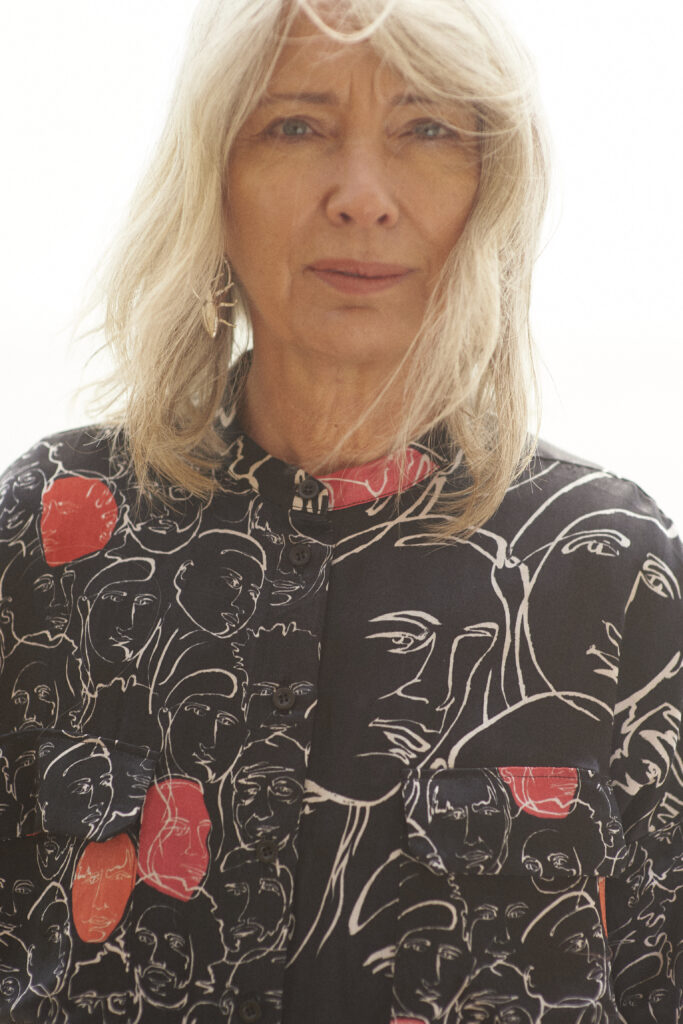 "1/10 people will be displaced by 2050. This print features 10 individuals that have lived experience of displacement and are friends of The Worldwide Tribe podcast. Every 10th portrait is highlighted so you can visually see the impact of how many people will be affected.
This design is a personal favourite. Having listened to the podcast episodes and spoken directly with some of the individuals, it's a testament to their individual strength. Farida Khalaf is a Yazidi genocide surviver who was imprisoned, raped and sold in slave markets at the hands of ISIS; Yusra Mardini is a Syrian athlete who went from swimming for his life to swimming in the Rio Olympics; Gulwali Passarlay, author of The Lightless Sky, fled life under the Taliban in Afghanistan, finding safety in the UK as a 12 year old child refugee; Alf Dubs fled the Nazis and is now a Lord.
I hope this design really makes people realise that displacement will impact so many. This won't evenly impact 1/10 of us; developing countries will be hit hardest. Of course, as the climate crisis escalates we will face challenges in the UK, but it is essential to start thinking differently about displacement, that's for sure."
Gung Ho x The Worldwide Tribe: Stories dress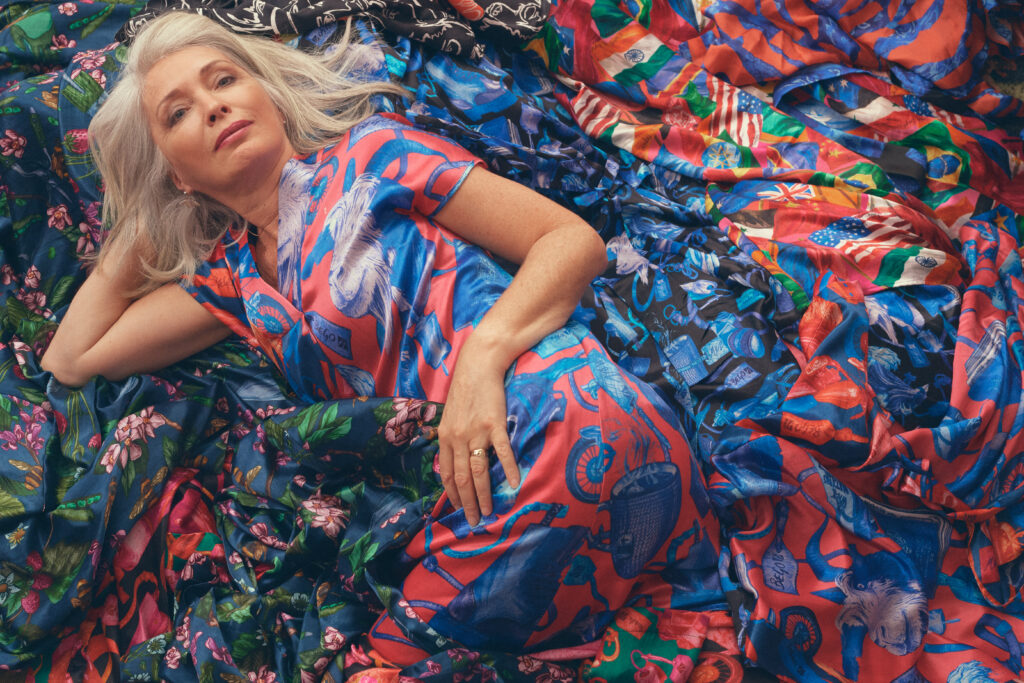 "This print weaves together the human story of displacement. When you hear about people being displaced all across the world, the numbers are so large it can be hard to remember each person not a statistic. I hope this print acts as a reminder.
Each individual chose two objects; something that represents their previous home, and something that represents their life now. Mez, Jaz's foster brother, who had to cross the Sahara, the sea and live in the Calais Jungle at 13 years old, chose two things that remind him of his two homes. The first is a donkey from when his job was driving a Karosa (a donkey-led cart) back home in Eritrea. The second is a cup of tea that represents his life in the UK now, where he has learnt to chill out and take a moment to reflect– something he didn't have in his former home. This really resonated with me. Whenever I have a cup of tea now I feel grateful. 
Sarah Mardini jumped into the waves with her sister, Yusra, and and swam for three-and-a-half-hours in open water to stop their dinghy capsizing on their journey, saving the lives of 20 people. She was jailed in Greece on charges of people-smuggling. Her first object is a wave, which represents her affinity with water. Her second is her Doc Martin boot, Sarah is passionate about fashion and wants to be a designer. She is is never not wearing her signature boot. This boot represents a lot for Sarah, most importantly the freedom from having to campaign for her rights to follow her dreams into fashion.
Out of all the prints, personally I found this was one of the most challenging but inspiring designs. I was taken aback by how kind, relaxed and giving the people talking to me were. Listening to what was symbolic for them was incredibly thought-provoking."
10% of the profits from this collection will go back to The Worldwide Tribe.

Written by Sophie Dunster, founder of Gung Ho. Modelled by Jaz O'Hara, founder of The Worldwide Tribe, her mother Oeda O'Hara and her two foster refugee brothers Mez and Bego. This shoot brings together their journey and is shot at their home – where it all started – as well as the seafront in Hastings, along the stretch of coastline where many refugees end up when crossing over from France.