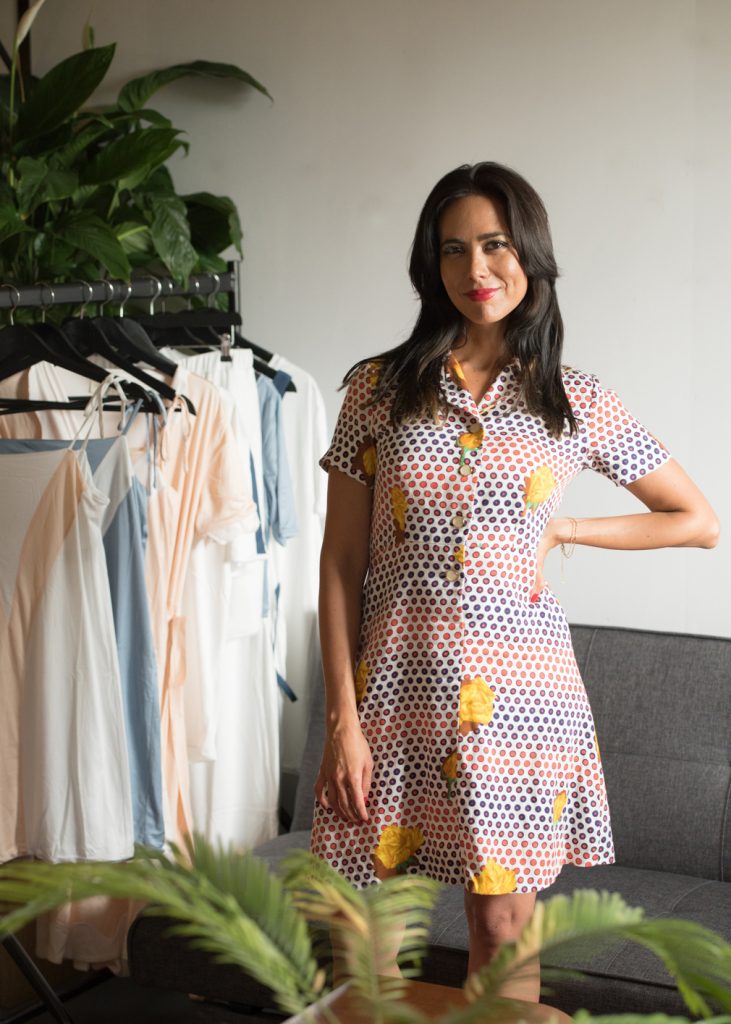 With the world now facing an unprecedented slowdown of the economy due to the COVID-19 outbreak, we're all having to learn to adapt to a new pace of life. We've stopped spending on unnecessary items – that we previously saw as essential – and are starting to come to terms with a reality where our favourite products are no longer so readily available.
Wasn't this the way our grandparents used to live? They were used to a much slower pace of life. They stopped to ponder before purchasing something.
My grandmother was a seamstress, so she used to make our pyjamas and my ballet costumes.
From a really young age we learnt how special it was to reuse and adapt something that had a story behind it.
But those stories seemed confined to the past. Until recently when the world as we know it stopped and people took to their sewing machines to make masks, and to make art.
The rise of fast fashion
As online shopping took off in the late 1990s and 2000s, fast fashion changed our shopping habits completely. People started to buy cheap clothing made from low quality materials and discard them with little regard.
The constant speed of – and demand for – fast fashion has a huge impact on our environment because around 300,000 tonnes of clothes are dumped into landfill each year.
Cheap clothes are mostly made from non-organic agriculture, toxic chemicals and synthetic materials derived from fossil fuels – such as polyester – that in these vast numbers are a significant contributor to climate change.
For small companies like ours, competing with the speed of fast fashion is impossible. Mainstream fashion requires producing throwaway items for five seasons a year, creating and dismantling trends, so people forever feel they have to buy more.
From the very beginning, we made the decision to fit this fashion industry rhythm, to avoid waste and to ensure we don't overburden our teams.
Our brand is all about unleashing the power of sleep, relaxation and wellbeing; putting pressure on our teams and ateliers to make production faster would go against this principle.
The art of slow fashion
Moreover, we all know that many garment workers in the UK, Europe and further afield pay a high price to produce cheap clothes for the UK high street. Workers struggle to survive on extremely low wages and suffer appalling working conditions. We are determined this will never be a price our value garment workers pay.
Our atelier in Italy works to its own timings – our team of experienced ladies work skilfully and we appreciate that their craft takes longer.
Creating art and an entire collection in this way takes time.
Our sleepwear and loungewear are made with natural and certified fabrics, so at times we've had to wait for 'mother nature' to produce more cotton or seaweed.
We use natural dyes and this takes longer for colours to be absorbed into the yarn.
There's clearly a societal shift happening during this period of self-isolation and quarantine. Hopefully, as we work together to come out of this, we will continue to be more mindful about what we buy and more aware about the pressure our fast-paced lives put on people and the environment. Hopefully, slightly less and slightly slower is here to stay.
– Leticia Credidio, founder of Leticia Credidio. This piece is part of our ongoing series speaking to the people at the forefront of sustainability, pioneering a new approach to business.