We meet award-winning mixologist Ryan Chetiyawardana – aka Mr Lyan – to get the lowdown on Cub, his restaurant that's garnered attention for its revolutionary approach to both food and drink.
The collaboration with top chef Doug McMaster of Silo London fame, pushes the boundaries of what you would expect from food, drink and dining out, in the most inviting way.
Cub replaced Chetiyawardana's first bar, White Lyan, which was the first cocktail bar globally to use no perishables – no fruit and no ice. It's little wonder Mr Lyan has been voted world's most influential bar personality and person of the decade.
His group of bars now extends to Super Lyan in Amsterdam, Silver Lyan in Washington D.C, Lyaness at the Mondrian, overlooking the Thames on Southbank, where the team can make upwards of a thousand cocktails a night.
We meet to discuss the art of creating a drinking and dining experience that is all about luxury but has serious sustainability credentials at its core…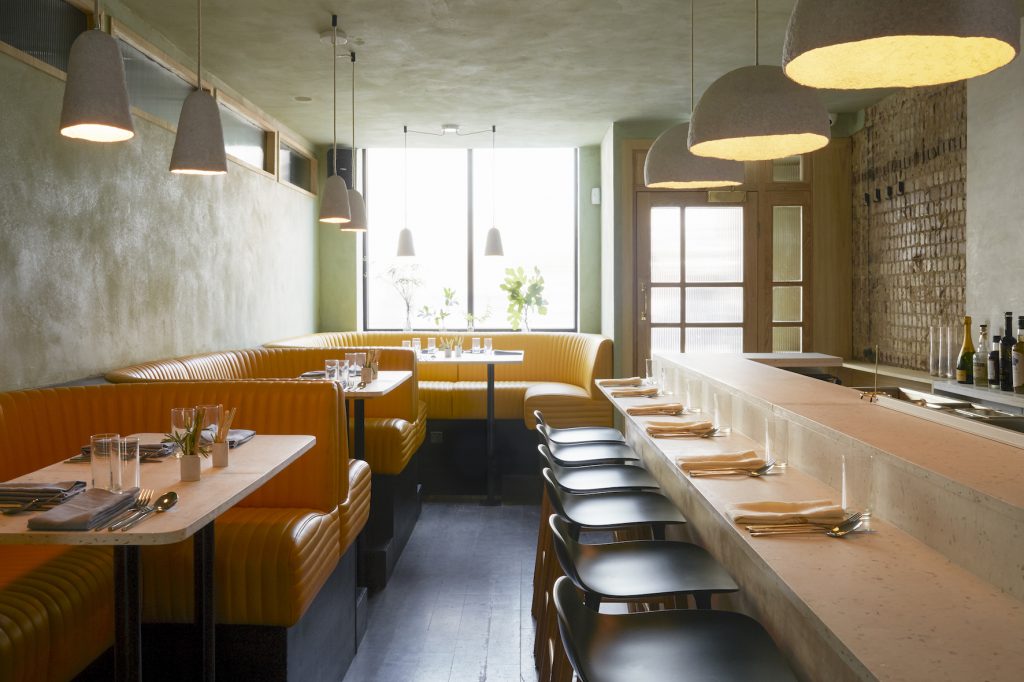 Tell us about Cub, your restaurant in Hoxton
Ryan Chetiyawardana: The identity of Cub is in its name. It's precious and it's our little baby. The ethos is that you're coming into our house and we'll take care of everything.
The premise of Cub is set menu that weaves you through courses of food, drink, and a fusion of both. How does that work?
RC: We seem to have put up this weird separation between food and drink. But we can order as many ingredients for our cocktails as a Michelin-starred kitchen and the creation process is actually very similar. I'm also a big believer in collaboration. More interesting and positive change comes out of bringing minds together, and a big partner in this is Doug [McMaster] who has a brilliant mind.
"Very few people want to watch the world burn, nobody wants to be an arsehole about it."
You're both big on innovation and sustainability, did that form the basis of your collaboration?
RC: Doug is so enthusiastic and creative, that's what brought us together. We gave a talk at MAD's Symposium in Copenhagen about how the food system has been hijacked and we need to reinvigorate the dialogue between farmers and consumers – and that forms the basic idea.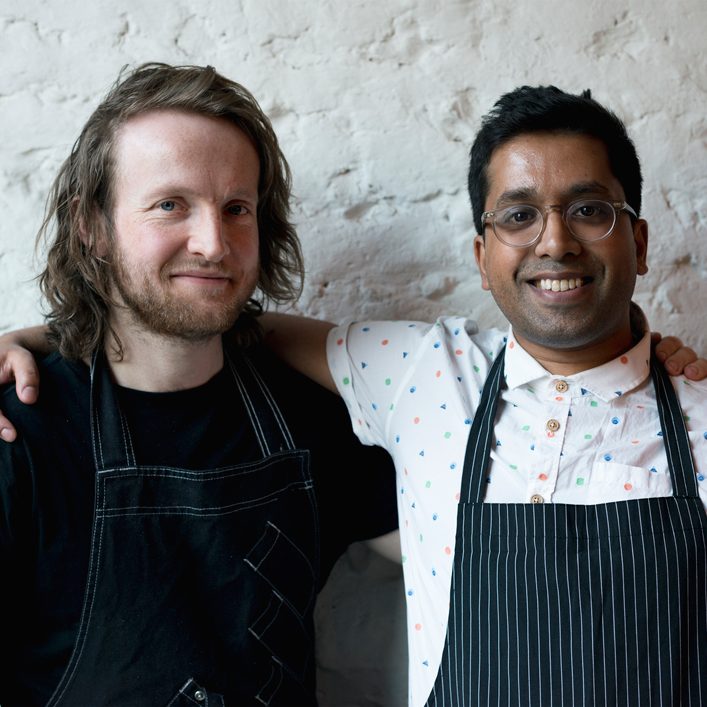 It's not about sacrifice and it's not about overhaul. It's simply about empowering people to make the choice to do the right thing. Instead of people going: 'I want to have what I want at the detriment of everything that surrounds it'.
We don't always connect the dots between our buying choices and the food chain…
RC: Very few people want to watch the world burn, nobody wants to be an arsehole about it. People have a massive influence but they don't make the choices to empower that. We wanted Cub, as, a restaurant, to be a conversation starter and it's a bit of a playground, as well. With our bars we've created plenty of room for exploration.
The design of Cub is very cool. Can you tell me more about that…
RC: I have two favourite parts. One is the walls, they're an amazing mottled slightly mossy green so they have texture and they're made from recycled breathable clay so filter the air. People ask about it simply because it looks beautiful and when you give that information they're like "Holy shit, that's amazing!"
The other thing I like are the table tops and bar, which are made from recycled yoghurt pots. Plastic is the stuff of science fiction. It's light, it's durable, it's sanitary. It's the only thing that will never perish and we throw it away instantly. Elevating it to luxury status was really exciting.
"A tiny group of restaurants with weird and wonderful ingredients is not going to save the planet. If you create something that cascades and shifts mass habit – that will."
Why do you constantly strive to mix luxury and sustainability?
RC: I think a lot of people feel sustainability is about sacrifice and uncomfortableness and it's really not. The idea that they are opposite things is so far removed from the truth.
How you approach designing a menu?
RC: It is, but I never want to make it about the science because ultimately I think you go to a bar to have fun. What we don't do is just throw stuff together and go "these are tasty things in a glass". There's plenty out there that already do that.
Does the sustainability ethos enhance or hinder this creativity?
RC: We literally have the best bar team in the world and we have a nice shiny plate to prove it. Give any of the team amazing ingredients and of course they're going to come up with an amazing drink – they can do that with their eyes closed.
But if you go, "this is a really young fruit, it's green, tannic and uncomfortable" they have to take themselves out of their comfort zone. As a result, you're empowering really wonderful creative people to come up with new solutions, which is key for any business. Everyone can learn from that methodology. It's an incredible creative tool to use sustainability in that way.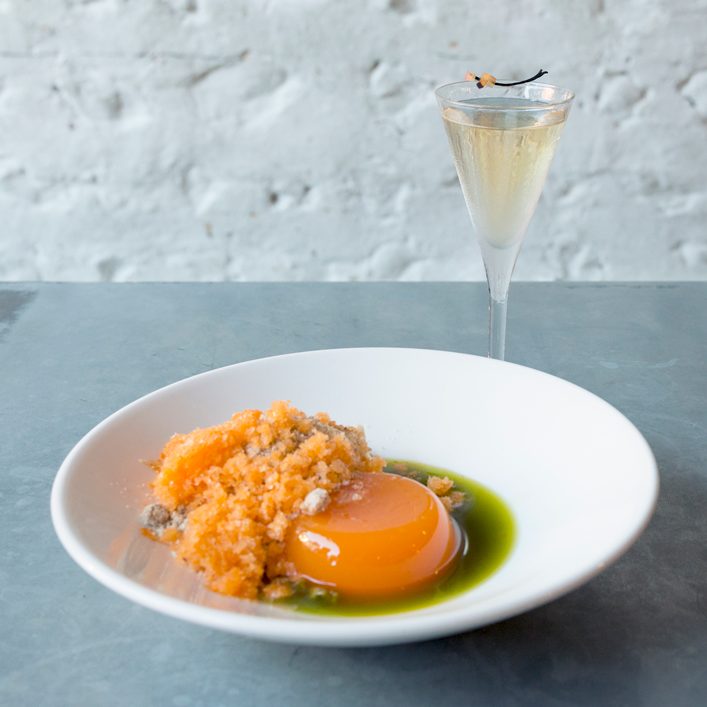 You've studied art and science and have a Masters in political philosophy. You're at the forefront of sustainability. Out of everything you could specialise in, why cocktails?
RC: I really believe in a cocktail being an amazing way of people coming together. It suits a kind of mood and you can change the direction of somebody's night more with a cocktail than you can with anything else because you can tailor everything.
What makes people want to drink with you?
RC: I don't think anybody in any of our venues puts a cocktail up on a pedestal and says, "that's what it's all about". Obviously, we care about it and want it to be excellent. But the defining factor is that the service is very human.
Cub's only open Thursday, Friday and Saturday. What's the reason for that?
RC: Doug's style of cooking and our style of making drinks is prep intensive so we wanted to make sure the team had a few days off. Cub is a really tight space and I would confidently say the team are handling more covers per person than any other restaurant.
Saying it's like going to war sounds negative… but you build up to it then you rock it out on the night and it's really satisfying. But, if you're doing that five to seven nights a week it loses its sheen and you start to hurt a bit. There's some horrific stuff in our industry. Human sustainability is so crucial and so often overlooked, particularly in an industry that can be very close to vices.
What's the ultimate goal?
RC: Fashion has a wonderful way of influencing mass. We fuck the world if we make it all about foraging – not that it's bad. It's great for education – but a tiny group of restaurants with weird and wonderful ingredients is not going to save the planet. If you create something that cascades and shifts mass habit – that will.
How has the concept been received?
RC: I've never been part of anything that's been so universally well received. I feel a bit giddy about that.
Cub, 153 Hoxton Street, N1 6PJ
www.lyancub.com
Main image: Mr Lyan taken by Xavier Buendia