If you're looking for the best sustainable restaurants in London then you've come to the right place. These are our favourite places for everything from mid-week meals to special-occasion dinners, and the food is made all the more delicious because created with sustainability and ethics in mind.
So you can leave your dinner a little smug that you've helped to make the world a little bit of a better place simply by choosing to dine at one of these independent restaurants.
All the head chefs have a commitment to sustainable, seasonal ingredients. The restaurants are conscious of their carbon 'foodprint' and single-use plastic. They treat their staff with respect and pay them properly.
If you're looking for sustainable restaurants in London and fully plant-based menus, then let us redirect you to our pick of our favourite vegan hotspots.
Best sustainable restaurants in London: West London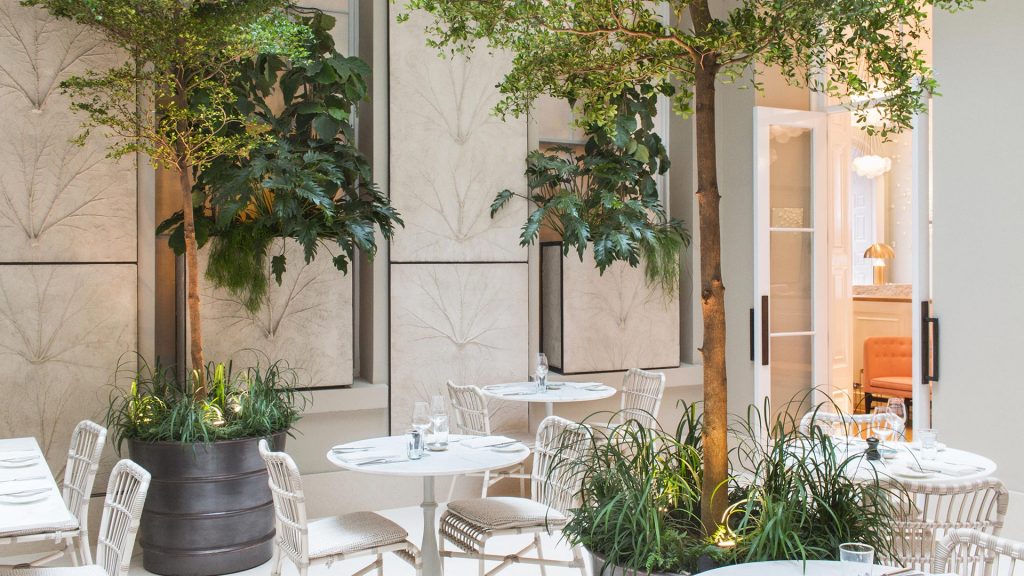 Spring
Somerset House, New Wing, Lancaster Place, WC2R 1LA
If you're looking to splash out on a special occasion, you don't get much more refined than chef Syke Gyngell's Spring, at Somerset House. LINK
From dish to décor, this whole place is so good-looking it hurts. Plus, the restaurant holds the gold standard when it comes to offering a seasonal menu.
The menu revolves around sharing plates of elegant dishes and a 'respect for beautiful ingredients'. Plus, Gyngell is a champion on food waste and issues such as single-use plastics.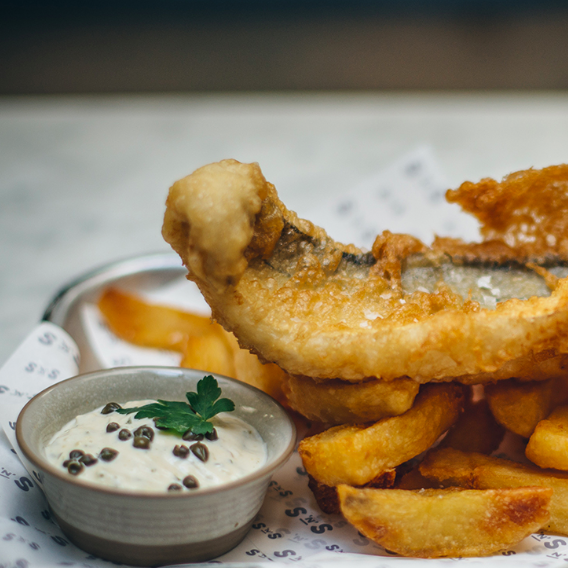 Bonnie Gull
22 Bateman Street Soho W1D 3AN
The simple idea behind Bonnie Gull is to bring fresh British seafood to the city. Co-founder Alex Hunter, from Edinburgh, wanted to recreate some of Scotland's finest seafood restaurants serving high-quality food with a casual and fun vibe. Bonnie Gull's menus change every day.
The cocktail menus are as just as fresh and change with the seasons. Bonnie Gull may be giving the customer what they want but they stuck to its guns on its sourcing policy – only buying British fish, largely caught by more sustainable dayboats.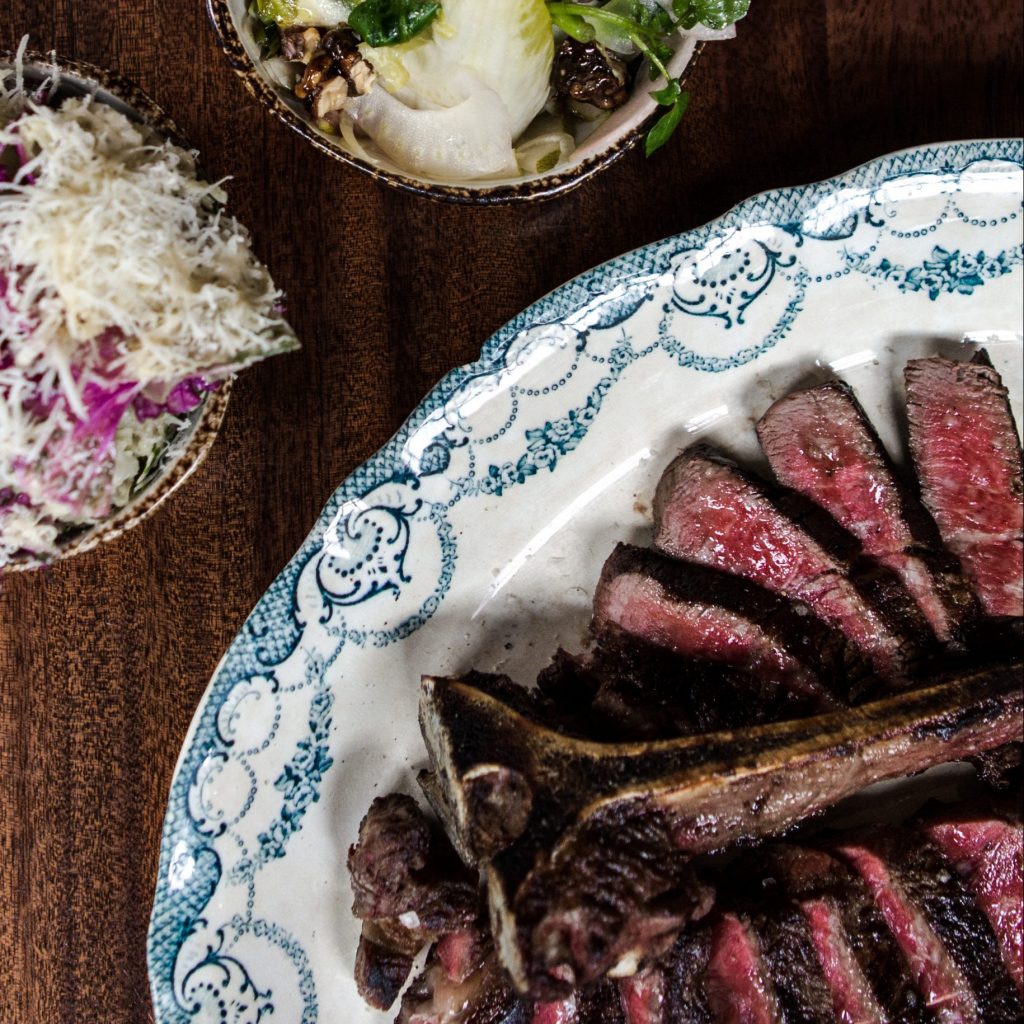 Blacklock
24 Great Windmill St Soho, W1D 7LG
A British chophouse, with meat from rare and native breeds cooked over charcoal. The Blacklock team are as serious about their sides as they are their chops – offering the like of 10-hour ash roasted sweet potato and beef dripping chips. Blacklock buy their meat from Warren's Butchers and buy the whole animal sharing the prime and lesser cuts with like-minded restaurants to make sure there is no wastage.
For example, they will take the the chops and Smoking Goat will take the lamb belly. Their wine flows on tap from kegs, which reduces throw away glass and carbon footprint from shipping.
The group now has three restaurants, one in Soho, one in the City and one in Shoreditch.
Blacklock offer 'Butcher price Mondays' (big chops at butcher prices) and some cocktails for a fiver.
Best sustainable restaurants in London: North London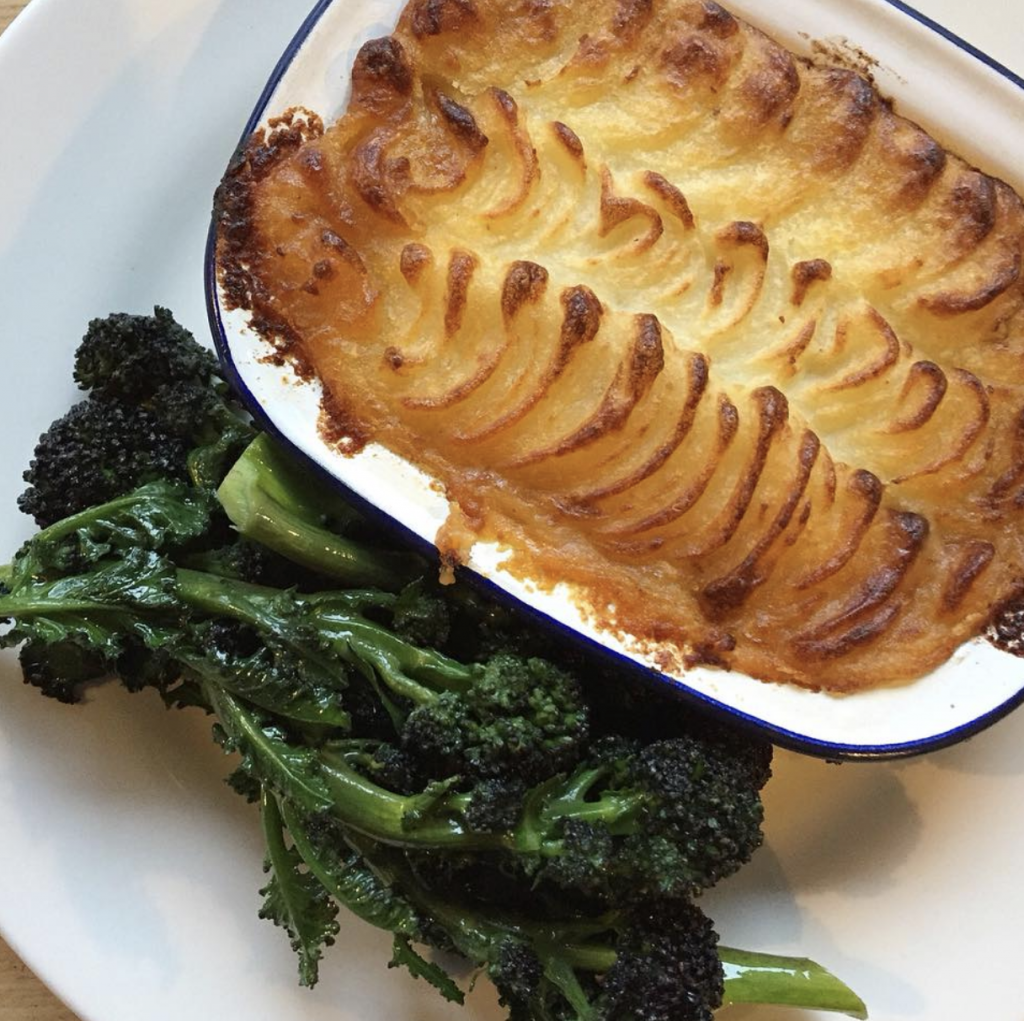 The Duke of Cambridge
30 St Peters Street, Islington, N1 8JT
Being the first – and only – certified organic pub in London is no small feat. The best organic vegetables are used from their partner farm, Riverford, in Devon. So, menus change seasonally.
They also celebrate small independent breweries and independent wine merchants at the bar.
The Duke of Cambridge's attitude to traceability is consistent with all their produce: their fish is sourced from Fish by Kernosashimi in Cornwall, whilst their Venison, pork and game is from Rhug Estates. Even the furniture which you sit on is either second hand, repurposed or recycled and their (minimal) food waste is collected for generating energy.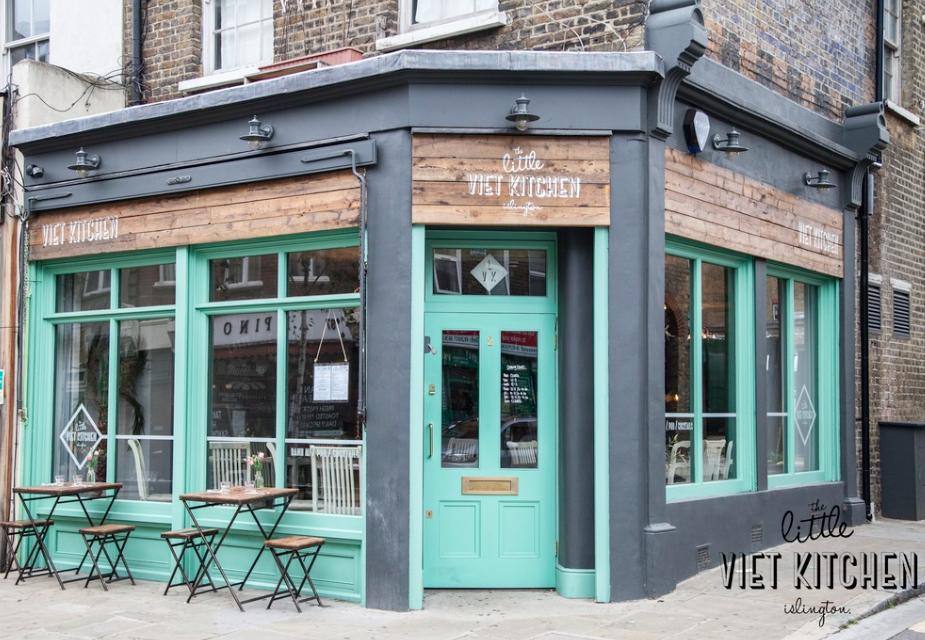 Little Viet Kitchen
2 Chapel Market, Islington, N1 9EZ
The Little Viet Kitchen is a pure passion project and it shines through every dish – and cocktail – you are served. The Little Viet Kitchen was founded by chef Thuy, who was born in a small village in the south of Vietnam and grew up with a huge respect for the freshest produce, and her husband Dave who looks after the bar and restaurant.
Thuy holds herself to the highest standard, that of her mum's. They source their meat from H G Walter, one of our favourite butchers. But not only ours, H G Walter provide free-range and organic meat for some of the top sustainable restaurants in the UK.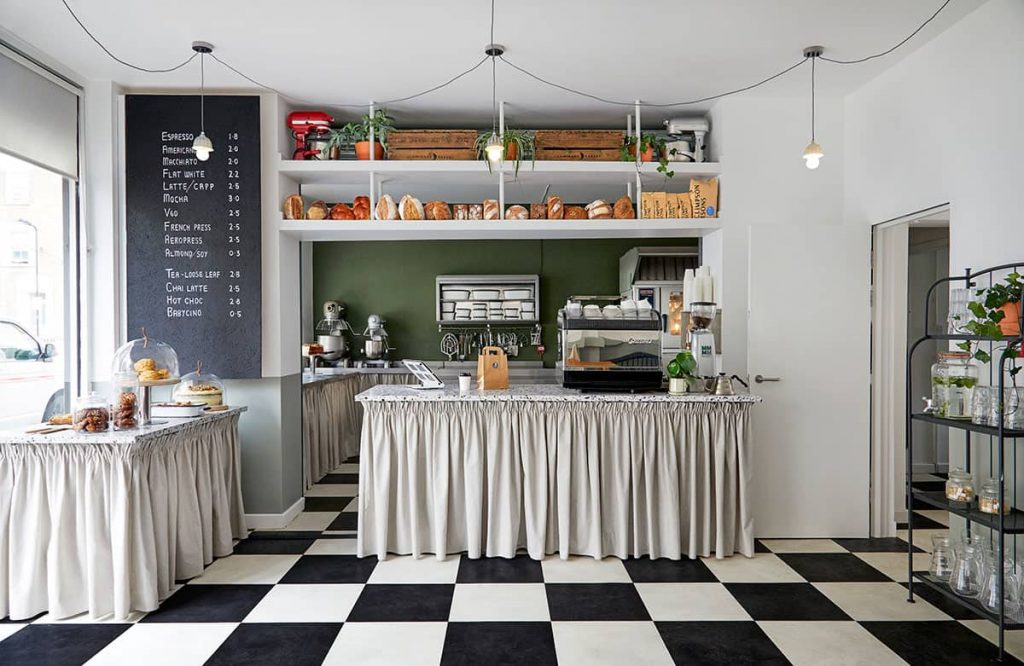 Luminary Bakery
71-73 Allen Road, Stoke Newington, N16 8RY
Not technically a restaurant, more a delicious bakery/café. But the most incredible thing about Luminary Bakery is its whole reason for being.
It was set up break generational cycles of abuse, prostitution, criminal activity and poverty, by giving vulnerable women an opportunity to learn how to be an employable baker.
'Employable' being a key word, as the aim is to get every woman who passes through the six-month course a job or help them to set up their own enterprise.
Best sustainable restaurants in London: South London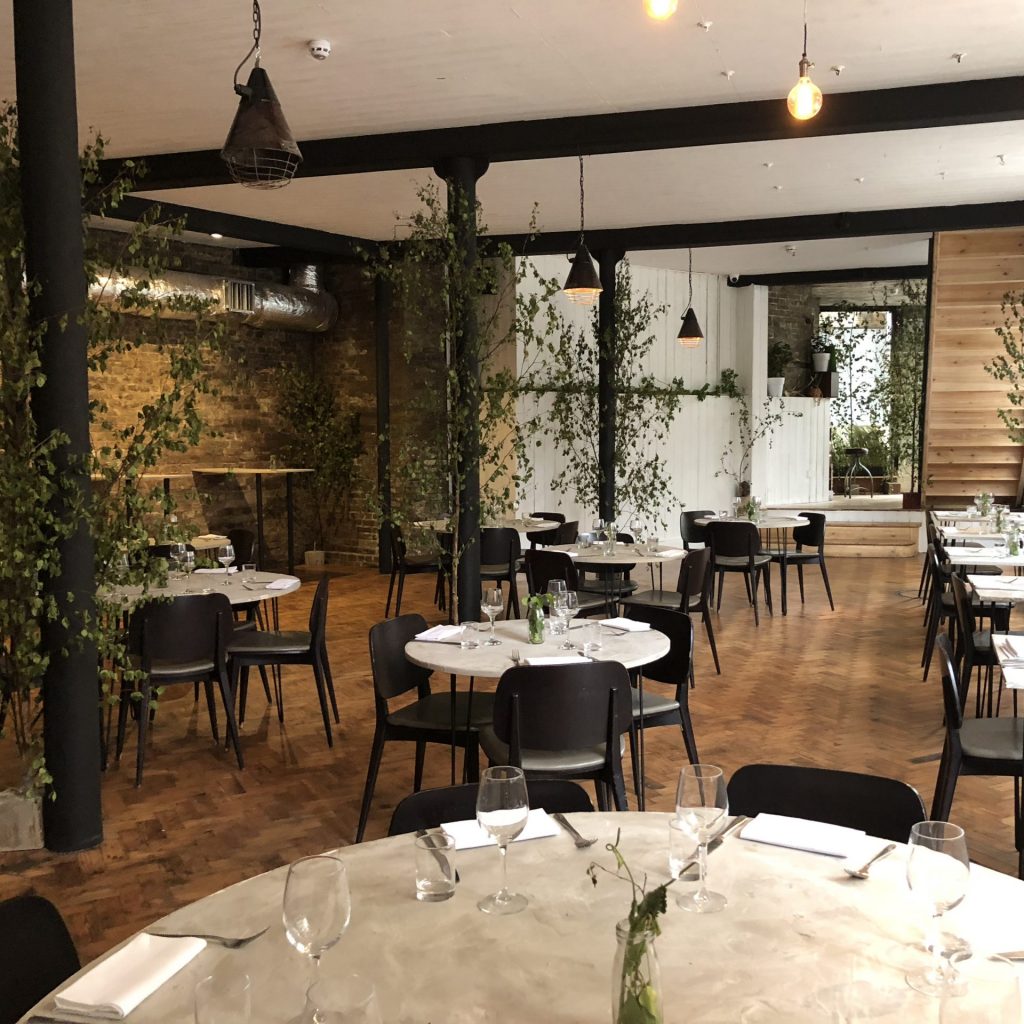 Native
32 Southwark Street, London Bridge, SE1 1TU
Native offers a seasonal British eating experience that is so fresh and wild they warn you might even find a piece of shot on your plate. Native's founders have strong links to the Great British Outdoors, one of the founders started at River Cottage HQ so has a passion for natural produce, and the other has turned her hand from falconry to wild food.
There's a 'wasting menu', which is made up of amuse bouche used with bits and bobs left over in the kitchen. And even the drinks menu is seasonal.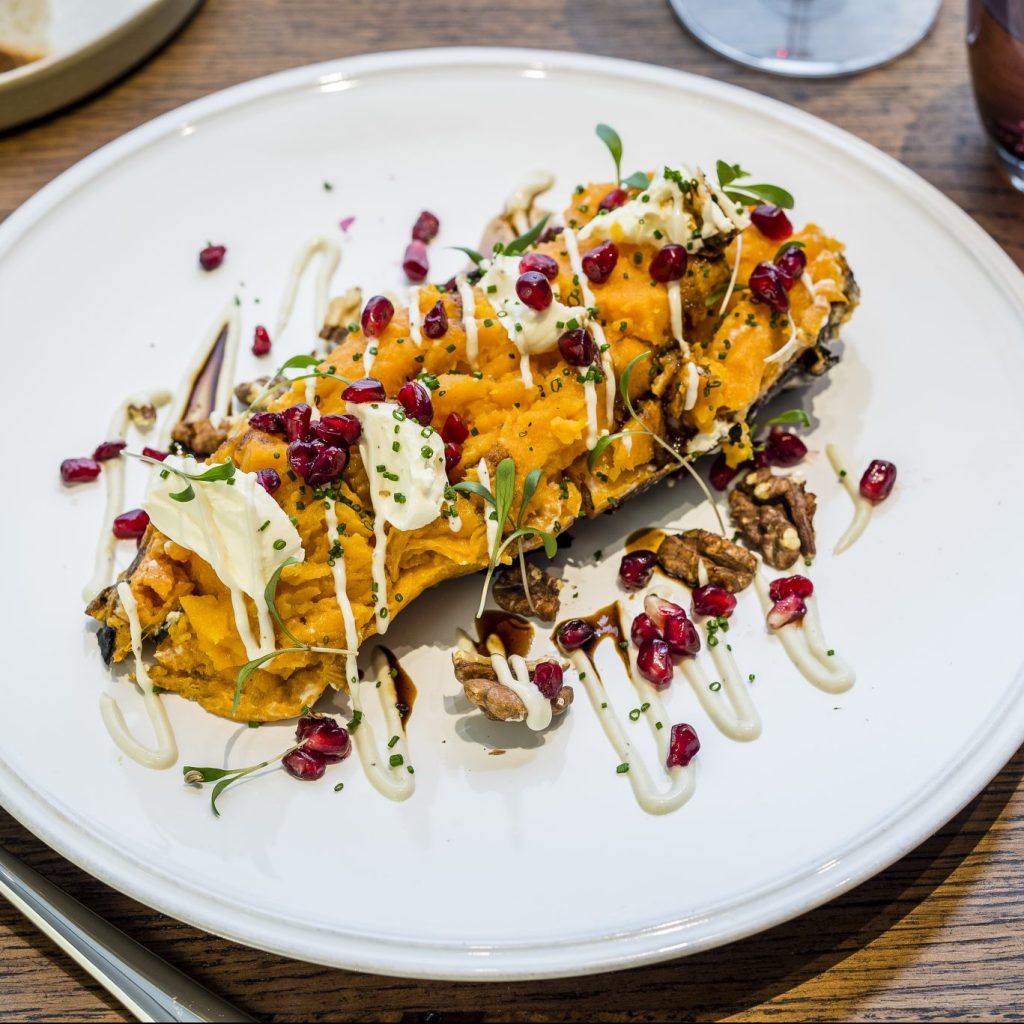 Brigade Bar & Kitchen
139 Tooley St, London Bridge, SE1 2HZ
Brigade Bar + Kitchen offers reliably delicious food at reasonable prices in a central location.
Head chef Pete Denhart deploys a wood fire and chargrill to utterly irresistible effect. And whether you're slathering it on the housemade sourdough or daubing it onto roasted celeriac, don't miss the butters – there's everything from herby to chilli to a mysterious butter of the day. There's so much to love about Brigade that it's hard to know where to start.
One of our favourite things is that it was set up by chef Simon Boyle, who also founded Beyond Food, a foundation that works to help people experiencing or at risk of homelessness back into work.
Each January, the Freshlife programme welcomes applicants into the kitchen, teaching them how to cook, helping them to find somewhere to live, and offering them support over the course of five weeks.
Mercato Metropolitano
42 Newington Causeway, Elephant and Castle, SE1 6DR
Mercato Metropolitano has everything you're looking for when it comes to eating out: variety, indoor and outdoor seating, a gin bar and backyard cinema.
The idea behind Mercato Metropolitano is to get people to re-engage people with how food should really taste so the dishes bring out the best flavours of the ingredients grown by small-scale farmers.
This urban street food hub offers predominantly Italian food, but you'll find pockets of gastronomic delights from all across the globe, from Turkish mezze to German Kraft beer.
They have plenty of room for events and music nights and always host a sociable atmosphere. The focus is on sustainable produce. The pop-up – and therefore temporary nature of some the stalls – means you need to speak to the people behind the food to find out more specific sourcing details.
As this space is all about connecting farmers, chefs and consumers you'll be hard pushed to find a street food market where people are more willing to engage with you.
Another of their goal is to contribute to economic development and aid the regeneration of declining urban areas. It achieves this by its very existence. And also by hosting events for everyone from school children to elderly people.
Best sustainable restaurants in London: East London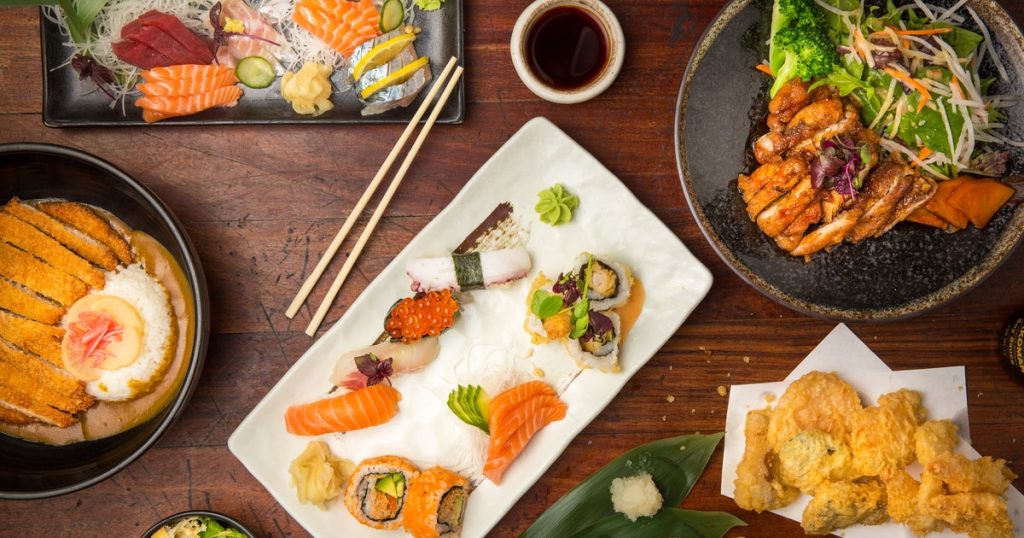 Moshi Moshi
Unit 24, Liverpool Street Station, EC2M 7QH
Established in 1994, Moshi Moshi is one of the pioneering Japanese conveyor belt restaurants in the UK. It's a wonderful, unexpected surprise overlooking platform one – the perfect place to escape station chaos. The sushi is top-quality, using genuinely ethically and locally-sourced fish. Founder Caroline Bennett is at the forefront of campaigns to protect fish stocks.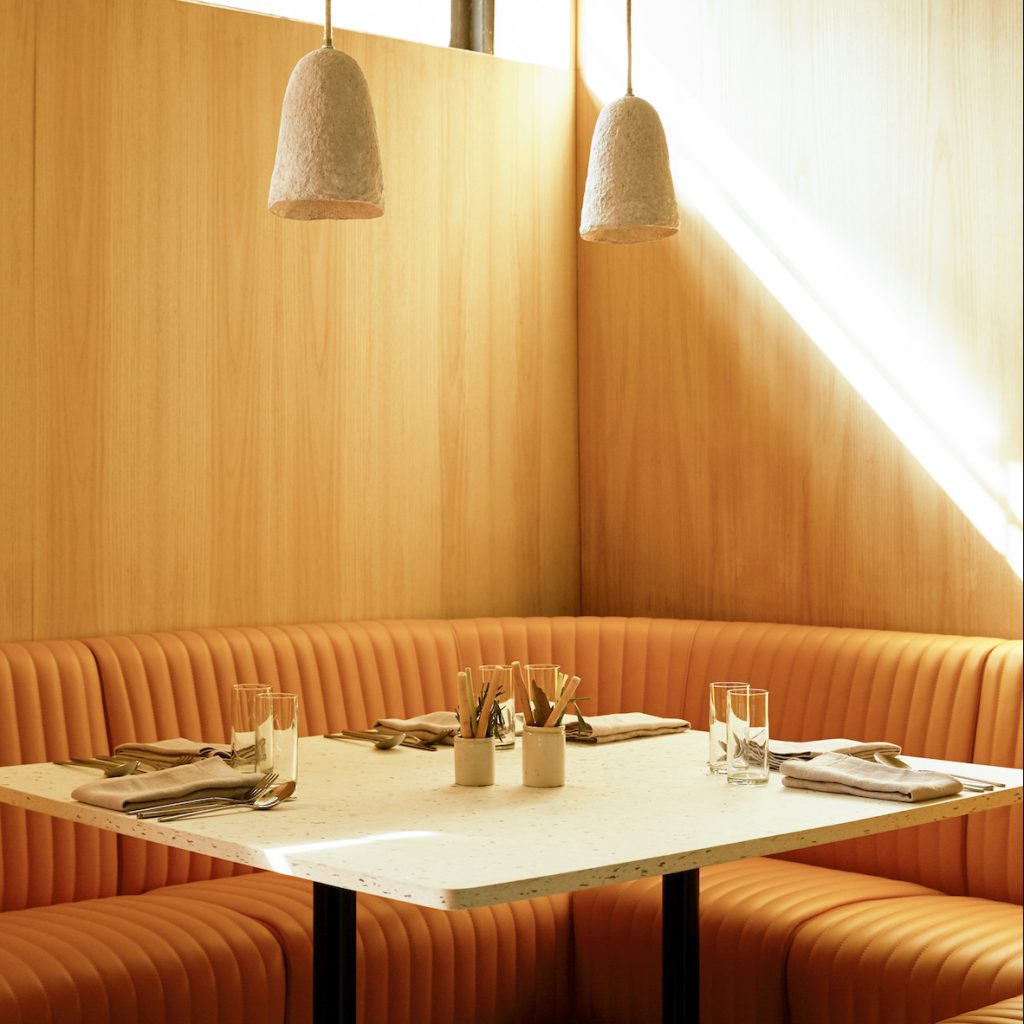 Cub
153 Hoxton Street, Hoxton, N1 6PJ
Cub is a collaboration between the internationally, multi-award winning drinks supremo Ryan Chetiyawardana and the multi-award winning chef Douglas McMaster from zero-waste restaurant, Silo. The highly seasonal set menu is prepared in possibly the smallest open kitchen in London, by 'one-and-a-half' chefs – one chef, one bartender and one person who works on both the food and drinks.
The ethics of Cub are some of the highest you'll find in London; the food is from sustainable sources and the design is as eco-friendly as it gets – the walls are breathable clay that filters the air and the table tops are made from recycled yoghurt pots.
Main image: Cub, Kim Lightbody