To celebrate this year's International Women's Day, Live Frankly is shining a light on the inspiring women in our network who are helping to empower other women.
We are proud to partner with so many pioneering female-led and female-driven brands who are paving the way for a more inclusive, ethical and sustainable world.
We spoke with six of the amazing women behind these trailblazing brands to discover what inspires, empowers and motivates them, and how they continue to pay their successes forward.⁠..
Sophie Dunster, founder of bold and beautiful activist brand, Gung Ho
"Being female has enabled me to create stronger bonds with other female founders. There is definitely a sense of being part of a community and the support we give each other is something special."
Sophie Dunster is the founder of Gung Ho, a bold and beautiful brand with depth. She works to raise women up with her warm and engaging spirit and her feminine and powerful clothing designs, which feature hidden messages of environmental and humanitarian activism.
Each year, the brand chooses a different cause to champion. Her latest The Worldwide Tribe collection showcases the issues surrounding displacement and, importantly, focuses on the human refugee stories behind the stats.
10% of Gung Ho's profits from this collection are donated to The Worldwide Tribe.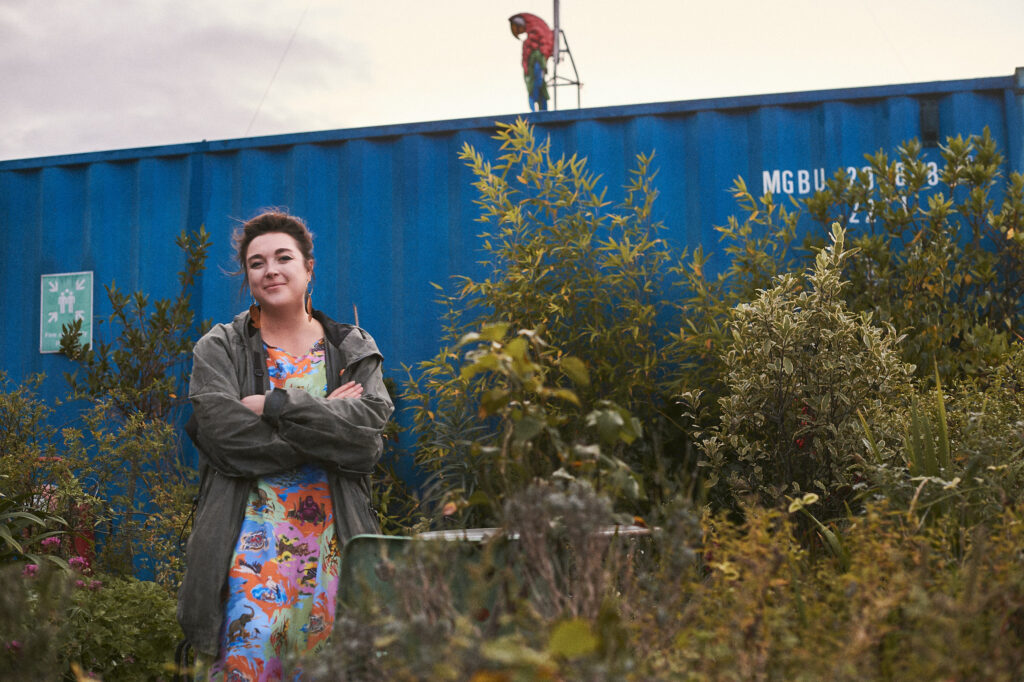 What does International Women's Day mean to you?
It's a day to feel supported and also to show your support. It's a tough world (especially right now) and to share the love is never a bad thing.
What has been your experience as a female founder?
Being female has enabled me to create stronger bonds with other female founders. There is definitely a sense of being part of a community and the support we give each other is something special.
Being part of a community of like-minded people that have sustainability at their core, consider the bigger picture, and work together – rather than competing against each other – is important.
A theme for this year's International Women's Day is #BreakTheBias. How do you Break The Bias at Gung Ho?
Gung Ho is a brand with strong core values and we use our designs to #BreakTheBias and get people talking about issues. We want to give our customers support so they can talk about issues and help them to feel empowered to create change.
Who are the women behind Gung Ho?
As well as being a woman-run business we proudly make the majority of our products in London, at Maes – a company also female-owned. We partner up with different charities depending on the cause we are campaigning about. This past year we've been focused on displacement, so we've been working closely with Jaz O'Hara, founder of The Worldwide Tribe. Their mission is to highlight the humanity behind world issues, inspire global community and leave a legacy of positive, social change.
We've found partnering with other female owned organisations comes naturally, as we have very similar visions of change. From the designer, makers, inspiring community and people that make everything happen, it's almost all-female, actually!
How do you empower the women in your network?
We pay our makers fairly and we give back to charities. We empower our customers with garments that align with their values, beliefs and passions.
How do they empower you?
The more we support each other and the more success we have, the more issues we can campaign on – educating and inspiring the change that is needed. Empowering full-circle!
In the spirit of #BreakTheBias, what's one other bias you would like to see addressed?
Incredibly timely, how people view displaced people and those who are having to rebuild their lives. The last thing they need is to be judged negatively after all they have gone through.
What women have inspired you lately?
We asked our Gung Ho community if any of them wanted to model the new system we are changing to, where we make clothes bespoke to order (so we don't create anything that isn't wanted). We were totally taken aback by how many people signed-up. When asked them what was their motivation, many replied that they want to support something they believe in. I'm in awe of each one. It's nice to know there are a whole bunch of women willing to take act in line with their beliefs, given the opportunity.
Have you read/watched/listened to anything inspiring recently?
Inspirational article: Passage Through the Zagros
Book: The New Nomads
Film/tv show: 2040
Podcast: Asylum Speakers (The Worldwide Tribe's podcast)
Instagram account: @emilygarthwaite
Best advice you've been given?
If a job's worth doing, it's worth doing properly.
Main image: Gung Ho X The Worldwide Tribe Collection