'How sustainable is Zara?' is a question we get asked a lot. It's an understandable one. Big fashion giants like Zara, H&M and ASOS are notorious for making grand sweeping claims and "commitments" to more sustainable action.
How sustainable is Zara: What Zara say…
Here are a few commitments made by Zara on their website:
In 2022, Zara promised to use 100% renewable energy in their own operations.
In 2023 they promise to eliminate single-use plastics for customers.
By 2025 they plan to introduce more sustainable 100% linen and sustainable or recycled polyester.
By 2040 they promise to have zero net emissions.
"At Zara we are working to integrate sustainability in daily decision making to create a positive impact on people and reduce our environmental footprint. The sustainability department continuously collaborates with all areas of the company to establish the strategic directions from our action plan, developing specific projects and setting the goals."

Zara's sustainability strategy
"[We will continue to] embed sustainability into all our processes and decisions, striving to do business in an even cleaner, kinder and fairer way. With that in mind, we have made ambitious sustainability commitments and we are working to deliver them as soon as possible."

Oscar García Maceiras, Inditex CEO | CEO Statement
It sounds brilliant, doesn't it? They have just about every sustainability question sewn up.
If we're honest with ourselves, really honest, as customers we welcome these commitments. It means we can continue to shop as we were before. Only now we can shop with a clear conscience, too. For, they're moving in the right direction and we need to shop there to support them on that journey, right?
But, we're asking can we really?
If you have FOFO (Fear Of Finding Out) when it comes to Zara, then we advise you to look away now. We're about to reveal the reality behind the bold statements and once you know, you can't un-know…
How sustainable is Zara: Zara in numbers
Founded: 1975
Parent company: Inditex
Sister Brands: 7 (Pull&Bear, Massimo Dutti, Bershka, Stradivarius, Oysho, Zara Home and Uterqüe)
Inditex Sales: over £28.6 billion in 2022 (up 17.5 per cent on 2021), 73% from Zara
Zara Brand Valuation: £12 billion
Number of stores: 2,000 worldwide (+500 Zara Home stores)
Number of garments produced: 450 million annually, 20,000 new styles each year
Founder Net Worth: Amancio Ortega ranks #14 on Forbes Rich list, with an estimated net worth of $80.8 billion and earnings of $400 million in dividends a year.
Deciphering Zara's website:
The Zara website is designed to make you feel good about shopping with them. We picked this trench coat (pictured) at random.
Each clothing item profile on Zara's website features a sidebar disclaimer on composition, care and origin.
COMPOSITION
Under 'Composition', the text reads:
"We work with monitoring programmes to ensure compliance with our social, environmental, and health and safety standards for our garments. To assess compliance, we have developed a programme of audits and continuous improvement plans."
But, what is this actually telling you? Can you answer any of the following questions:
How good are the standards they hold themselves to?
What are their social standards? i.e. Is everyone paid a living wage, if not, why not?
What are their environmental standards? (Ones that still enable the use of polyester, clearly.)
What are their health and safety standards? i.e. How do they keep their workers and local communities healthy and safe from toxins and pollutants?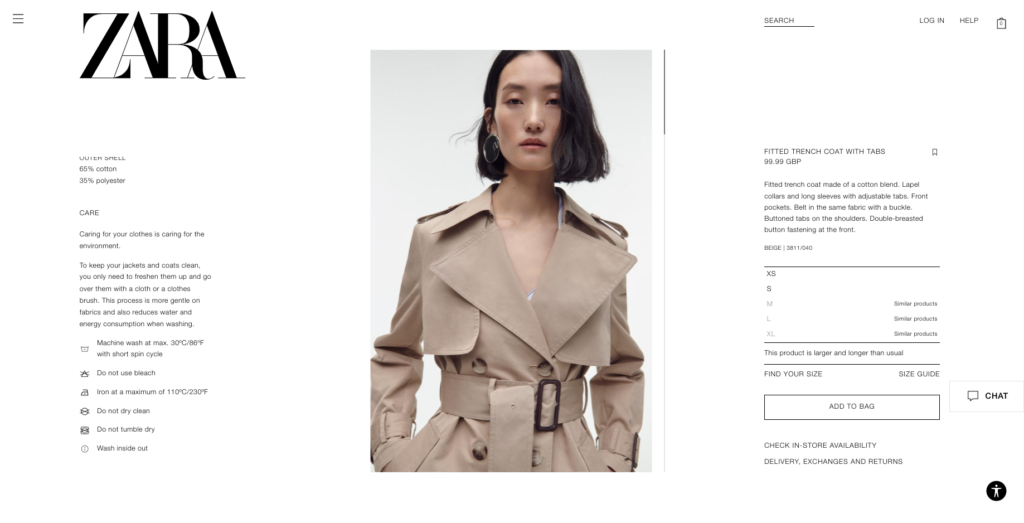 CARE
Under 'Care', the text reads:
"Caring for your clothes is caring for the environment. To keep your jackets and coats clean, you only need to freshen them up and go over them with a cloth or a clothes brush. This process is more gentle on fabrics and also reduces water and energy consumption when washing."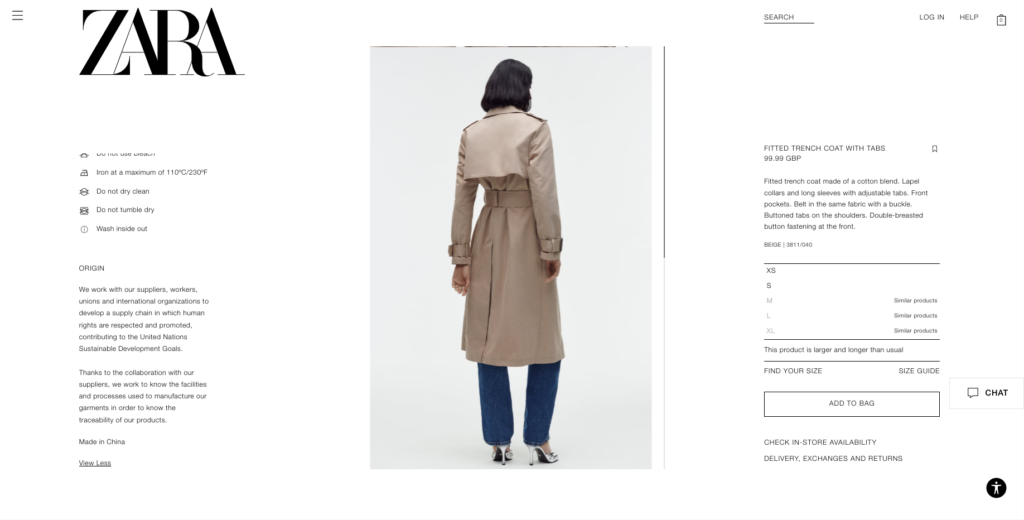 ORIGIN
Again, on the left sidebar, under 'Origin' Zara say:
"We work with our suppliers, workers, unions and international organizations to develop a supply chain in which human rights are respected and promoted, contributing to the United Nations Sustainable Development Goals.

Thanks to the collaboration with our suppliers, we work to know the facilities and processes used to manufacture our garments in order to know the traceability of our products.

Made in China"
What is this actually telling us? If they have true traceability they could answer the following questions: Are all workers in the supply chain paid a fair wage? Are they free from sexual exploitation? Made where in China and under what conditions?
So, how does what Zara tells us compare with reports from NGOs, workers' unions etc?
HOW SUSTAINABLE IS ZARA: PEOPLE
Zara works with around 1,800 suppliers in more than 8,700 factories.
What Zara say:
"The protection and development of people is our priority, placing them in the center of our decisions. Our socially responsible strategy seeks to guarantee workplaces where human and labor rights are respected and promoted, developing programs to identify the needs of workers and the communities in the areas where we operate."

Zara website
What Zara do:
Fashionchecker, an online database giving consumers access to real data from the supply chains of the worlds' biggest brands, graded Zara an E (the lowest rating) for 'living wage paid'. This means the brand fails to use an established method to set a living wage and monitor if it is enforced.
Fashionchecker also rated Zara's supply chain a paltry one out of five stars for transparency meaning Zara does not disclose any information about its suppliers. They also highlight that Zara doesn't use an established method to calculate labour costs and separate them from other production costs to ensure suppliers can pay workers.
Similarly, Fashion Revolution, the world's largest fashion activism movement, gave Zara a score of 90% for Policies & Commitments, but only 1% for Traceability in their annual Fashion Transparency Index report. Something doesn't quite add up…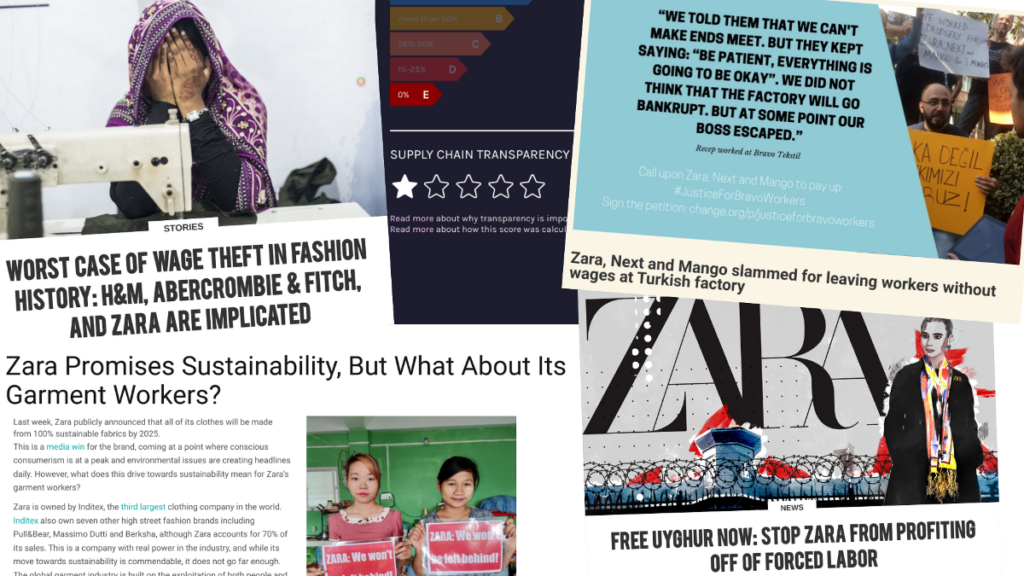 Indetex's Global footprint and key data in 2021 report states that 76% of their 165,000+ employees are women.
This is by design. "Gender discrimination runs deep throughout all of the countries in which garments are currently produced. Women are frequently subjected to verbal and physical abuse and sexual harassment," reports the Clean Clothes Campaign.
Here's just a snapshot of some of the headlines concerning Zara:
Labour Behind the Label:
Stolen wages in India and Pakistan mean workers owed millions.
"International brands including Zara, M&S, Nike and H&M underpaid garment workers in Karnataka India as estimated £41m last year."
Remake:
Free Uyghur Now: Stop Zara from Profiting Off of Forced Labor
Worst Case of Wage Theft in Fashion History: H&M, Abercrombie & Fitch, and Zara Are Implicated
Cleanclothes.org:
Deadly safety hazards in Pakistani factories supplying H&M, C&A, Bestseller, and Zara
"The global pandemic exposed the massive structural inequalities in garment supply chains that have widened the disparity between fashion companies' profits and garment workers' wages. Data obtained from 119 surveyed factories, including some which ZARA sources from proves the rampant wage theft workers faced during the Covid-19 crisis and resulting recession. This included sudden layoffs, forced unpaid overtime, reduction in wages or cancellation of contracts to deny workers social benefits. Three years after the pandemic, ZARA is nowhere close to resolving these cases, and continues to neglect the well-being of garment workers in their supply chain."

Abiramy Sivalogananthan, South Asia Coordinator, Asia Floor Wage Alliance (AFWA)
Would you like your mum to work in a clothing factory for the likes of Zara? Or your sister? Your daughter? Your friend?
If you're hesitating you need to consider why it's OK for other women to do this.
HOW SUSTAINABLE IS ZARA: PRODUCTION
What Zara say:
"We are working on the different stages of our value chain with a holistic focus, from how we design our products, choose the materials or produce the garments, as well as logistics or the design and management of our warehouses and stores. All this is advancing toward a circular economy model that permits lengthening the life cycle of our products, through programs for repair, resale, and donation of used clothing."

Zara website
What Zara do:
Supply chains are purposefully murky so that brands can deny accountability.
Some stats suggest Zara releases 24 trend-led collections every year, 500 designs a week and almost 20,000 per year. Other estimates put its production levels at 450 million garments a year. Considering the size of Zara and that globally, we produce an estimated 100 billion garments and buy 56 million tonnes of clothing a year, these don't seem unrealistic numbers.
As a result of this, the equivalent of a rubbish truck full of clothes is burnt or buried in landfill every second. Less than 1% of used clothing gets recycled into new garments.
The reality is, this scale of production can never never be sustainable. The business model is still based on designing clothes to be worn a handful of times and then discarded.
How is Zara's business model trying to really change any of this when it still operates on over-consumption? And though Zara has set targets to reduce its greenhouse gas emissions and implement more eco-friendly processes in its production, such as transitioning in 2022 to 100% renewable energy, fashion ethics comparison app Good On You reports: there is no evidence to indicate if its on track with meeting its targets.
HOW SUSTAINABLE IS ZARA: MATERIALS
1. Zara's Join Life programme
What Zara say:
Zara's Join Life programme promises "a traceable and auditable system for producing garments with more sustainable materials [such as organic cotton, TENCEL™ or recycled polyester] and processes."
What Zara do:
Note the crucial word 'more'. 'More sustainable' doesn't mean sustainable.
Zara claim that in 2022 more than 50% of their collection was made according to the Join Life requirements.
This means more than 50% of their collection is 'more' sustainable. But, not necessarily sustainable.
And what about the other 50%? That's still hundreds of millions of garments produced unsustainably, last year alone.
Let's take the Trench coat, for example. For starters, the website only lists its outer shell which is 65% cotton – 35% polyester. But, a trench coat that is blended with cotton and polyester is not sustainable. Or recyclable. So much for 'closing the loop'.
2. Zara's Pre-Owned Programme

What Zara say:
In November 2022 Zara launched the ZARA PRE-OWNED platform to allow UK customers to repair, resell or donate their used clothing, helping them extend the life of their Zara garments.
What Zara do:
Currently there are no reports available to indicate how this programme is performing. So, it's yet unclear whether this is a genuine act of sustainable progress or a PR exercise that has little substance.
3. Zara Packaging

What Zara say:
The brand uses recycled paper packaging. In 2023, Zara promises to introduce "100% redesigned packages to facilitate their reuse and recycling" and to enforce "100% eliminate of single use customer plastics."
What Zara do:
Consider this: doesn't it make you feel better about the garment inside when it arrives in recycled packaging? Potentially making you feel better about buying more?
Remember: It is what's inside that packaging that has the biggest impact.
So, can I shop at Zara with a clean conscience?
Unfortunately, now you've reached this point in the article, you can't say 'I thought they were trying' or 'I didn't know'.
Zara is a huge global player in the fashion industry. The likelihood there is sexual exploitation in their supply chain is high. The likelihood they don't pay a fair wage is high. And the likelihood their manufacturing methods pollute rivers and oceans is high.
At the very least, you'd be buying from a brand that continues to profit from an inherently unsustainable business model rooted in overconsumption and shrouded in a lack of transparency.
As Frankie Leach in an article for euronews.green puts it:
"Rather than addressing this crisis of over-consumption, by limiting how much they produce and encouraging shoppers to buy fewer items, Zara is simply using the guise of sustainability to shift more products and protect the guilty conscience of their consumers."
Enough with 'how ethical is Zara?' We all know it isn't.
Zara: Why greenwashing is so harmful
The fundamental issue is this:
Small gestures of good don't balance all the harm continuing to be done.
One 'sustainable' collection isn't enough to negate the negative impact of the rest of their supply chain.
Claiming to be 'more' sustainable is problematic for a number of reasons, not least that it redirects business away from genuinely purpose-driven brands that are impacting real change and who desperately need support to do so.
Meanwhile, a few brand owners are making huge profits while millions of workers earn poverty wages and are at risk of sexual abuse every day.
So, what do you do with this knowledge? To shop or not:
Instead of buying from Zara, buy from brands who are genuinely working to effect change. Shop from brands whose business models are designed with the planet and people in mind. Support brands who are transparent in what they do, who pay their makers living wages, whose focus is on circularity, reducing waste and using truly eco-friendly materials…
Don't know where to find such incredible brands?
Check out our ethical directory!
Shop sustainable fashion…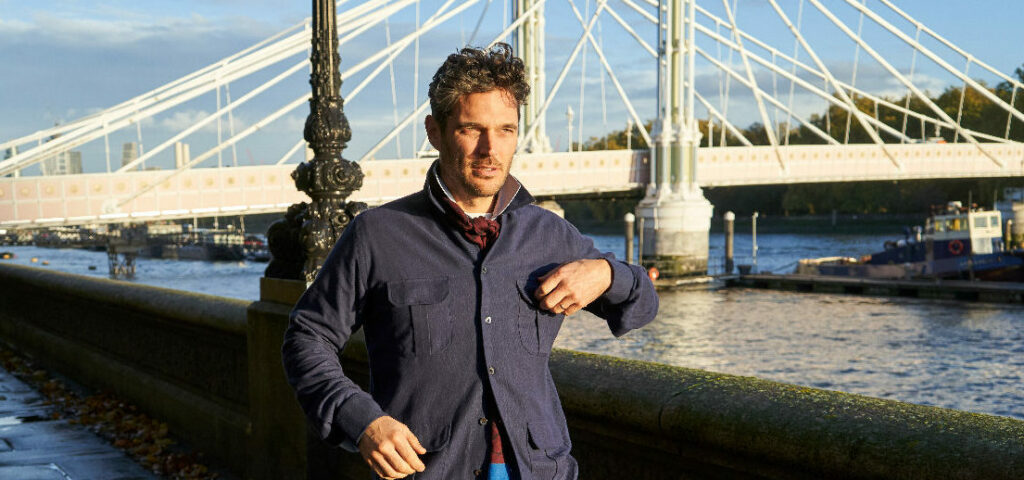 Ethical menswear
The best ethical menswear brands…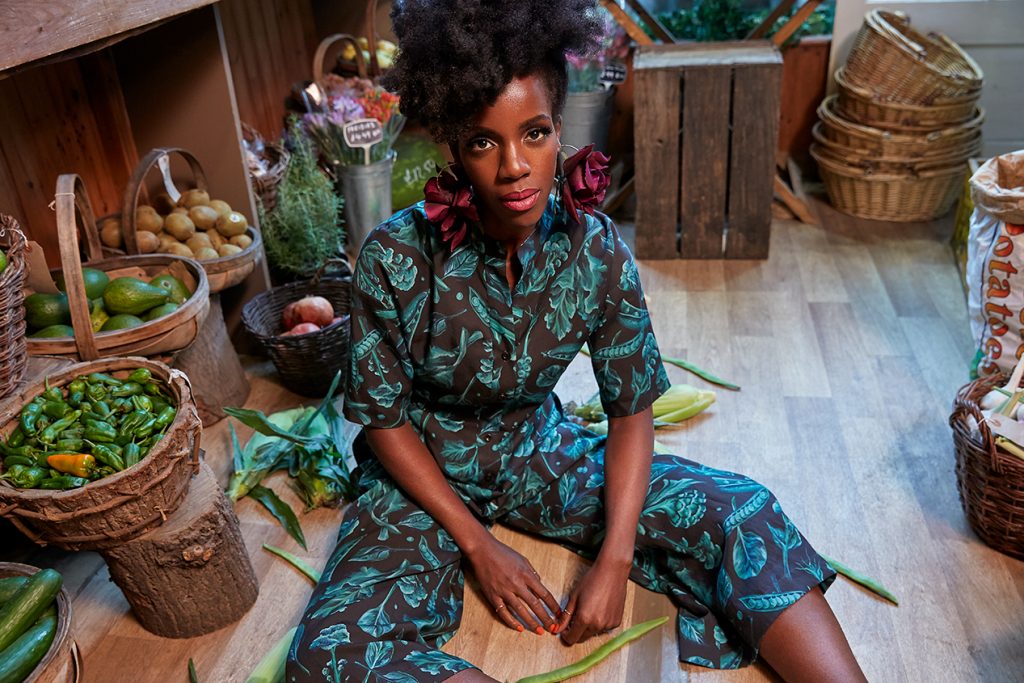 Ethical womenswear
The best ethical womenswear brands…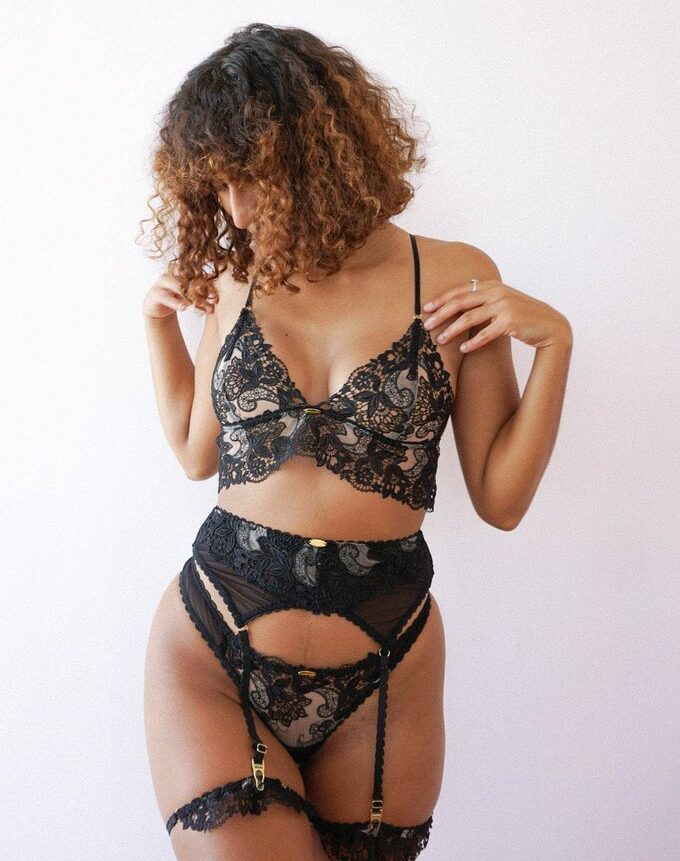 Ethical underwear
The best ethical underwear brands…
List of tools to see for yourself how sustainable a brand is:
Of course, the burden of sussing out whether a brand is genuine or greenwashing shouldn't fall to the individual conscious consumer.
But unfortunately, profit-driven fashion giants like Zara clearly can't be trusted to be transparent about how they treat their workers and their impact on the environment.
Sorting through the facts, figures and fibs is no easy feat. That's why we've done the research – to help you get a better picture of the real story behind your clothes.
But don't just take our word for it. Below we've listed five brilliant organisations whose work has informed this article and who we highly recommend you check out! These organisations go above and beyond to hold brands accountable, unveil the injustices in the fashion industry and campaign for change.
Main image: Photo by Content Pixie