To celebrate this year's International Women's Day, Live Frankly is shining a light on the inspiring women in our network who are helping to empower other women.
We are proud to partner with so many pioneering female-led and female-driven brands who are paving the way for a more inclusive, ethical and sustainable world.
We spoke with six of the amazing women behind these trailblazing brands to discover what inspires, empowers and motivates them, and how they continue to pay their successes forward.⁠..
Helen Browning, pioneering organic female farmer and founder of Helen Browning's Organic
"Farming has in the past been seen as a very masculine sector. It's not that there weren't women, but that they were too often behind the scenes, and not taking credit for their valuable input."
Helen Browning's Organic is named after farmer Helen Browning, who switched to farming organically at the family-run Eastbrook Farm in Wiltshire in 1986 – way before organic farming was trendy.
As one of the UK's few female farmers, Helen has always gone against the grain in pursuit of a better way of farming and in doing so has helped to shape organic farming across the UK.
Helen is Chief Executive of the Soil Association, a trustee of the RSPB and a Commissioner for the Food Farming and Countryside Commission. Helen sits on the BBC's Rural Affairs Advisory Committee and was a member of the National Food Strategy Advisory Panel… but remains first and foremost a farmer, and was awarded an OBE in 1998 for services to organic farming.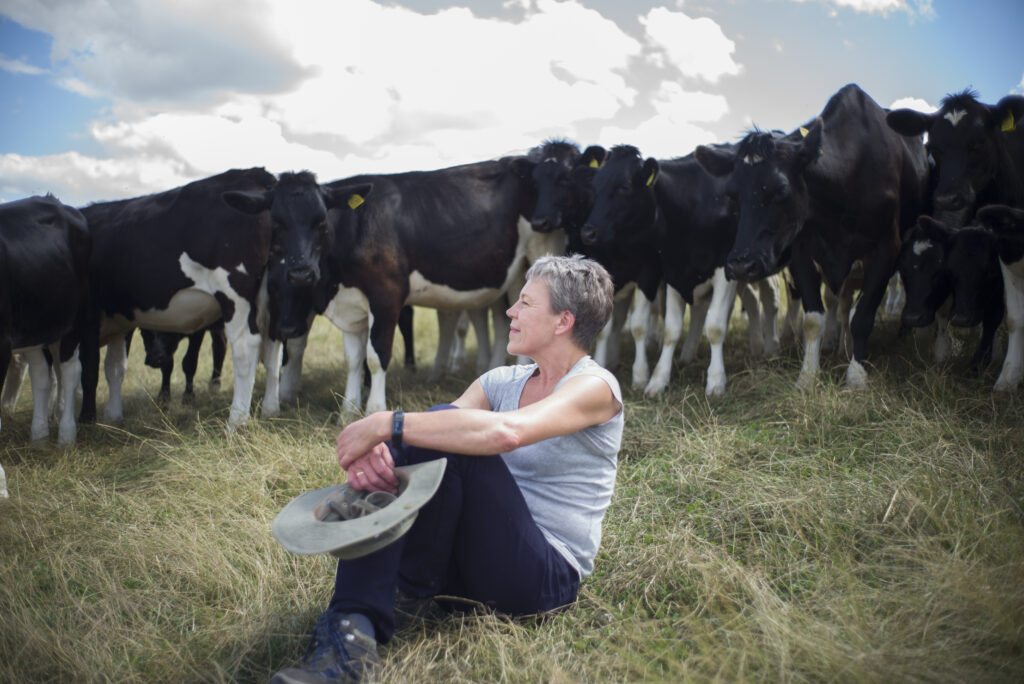 What does International Women's Day mean to you?
International Women's Day is a great opportunity to celebrate the contribution of women in all walks of life, but especially where they are under-represented or facing barriers to entry and progression.
What has been your experience as an organic female farmer?
When I started my farming career 35 years ago, I was certainly thought of as unusual, both for being female and for converting our farm to organic methods. Going organic caused more consternation from fellow farmers than my gender, though. It was taken as an implicit criticism of the increasingly industrial and chemical-based approach that farming was taking.
I have to say, being female did lead to all sorts of opportunities, though, as everyone wanted to improve their gender balance in what is still a very male dominated profession. For that reason, I found a warm welcome almost everywhere, even from those who fundamentally disagreed with me.
A theme for this year's IWD is #BreakTheBias? How do you #BreakTheBias within your industry?
Farming has in the past been seen as a very masculine sector. It's not that there weren't women, but that they were too often behind the scenes, and not taking credit for their valuable input.
In my early days of farming, I felt it was very important to be clear that I was in business in my own right and not as the 'farmer's wife', to encourage other women (and their fathers!) to see it as an attractive career option.
One of the reasons that I loved the organic movement and my work with the Soil Association so much was that there were so many more women involved. Organic farming seemed to attract not only more women, but also the kind of men who valued their partners as equals in their businesses.
Today, the challenge is ethnic diversity in farming, so it's important to spotlight those who have made it their calling, and to find ways to make it possible for new, diverse entrants to have the opportunity to live from and on the land.
Who are the women behind your brand?
The brand is under my name, but there are loads of brilliant women involved.
Vicky McNicholas heads up the marketing business, ably supported by Claire Bailey, Carolyn and Sally. Sue runs the farm office. We have a higher than usual number of women on the farm too, from Lily-Rose who milks the cows, and Rachel who cares for calves and pigs. In our mini hotel and pub, Jo Rake leads the team. And of course, my wonderful daughter, Sophie Wilson, runs one of the dairy herds with her husband, while also leading a vet practice and being a new mum.
How do you empower them? How do they empower you?
I hope that I provide a space and support for them all to thrive and succeed. They certainly return any support I give them in spades!
We all work seamlessly together as a team, supporting and uplifting one another. Everyone is happy to put in the hard work and lend a helping hand.
What women have inspired you lately?
My original role-models were my four great aunts, who lived together, farmed together and seemingly had loads of fun – at a time when most of the women around me were leading far more conventional lives!
These days, I'm inspired and impressed by so many of my colleagues leading other environmental charities, like Hilary Mc Grady at the National Trust, Tanya Steel at WWF, Sue Pritchard at the Food, Farming and Countryside Commission and Becky Speight at RSPB. My former boss and great friend Dame Fiona Reynolds, who is now Chair of National Audit Office, is another amazing role model.
To be honest, there are so many it seems unfair to mention just a few!
Have you read/watched/listened to anything inspiring lately?
Article: I'm always inspired by Resurgence magazine, especially articles by the wonderful Satish Kumar. It's a beautiful publication too – just handling it makes me feel good!
Book: There are so many, where to start?!
Recent highlights include Sitopia by Carolyn Steel; Hope in Hell by Jonathon Porritt; 21 lessons for the 21st Century by Yuval Noah Harari; The Meat Paradox by Rob Percival.
Film/TV show: I enjoy many – mostly for light relief, though admittedly Channel 4 news is becoming a bit of a regular as the world spins into chaos.
Podcast: I've enjoyed (and learned a lot) from Dr Christine Watson's webcasts on soil biology.
What is the best advice you've been given?
To ask myself, when deciding whether to panic or fret: "Will it matter in five years time?"
And (from my father): "You can never have too much hay in the barn!".