It was a remarkable summer, don't you think?
It arrived early in the UK, around May if my memory serves me right – which I'm confident it does. I distinctly recall standing on the balcony of our hotel watching the rain pour from the skies in Spain, while news reports revealed it was positively Mediterranean in London.
However, what we were experiencing in Malaga was minor compared to the unprecedented rainfall that was hitting northern Italy at the same time. It caused rivers to burst their banks, displacing tens of thousands of people and tragically causing multiple deaths.
The rest of our British summer didn't seem to mirror the extraordinary weather events happening in other parts of the northern hemisphere where overall, it was the hottest summer ever recorded.
That meant wildfires broke out in Portugal, Spain, Turkey, and Greece. Typhoons wreaked havoc in Japan and warm seas drove coral reef species in the Florida Keys to near-extinction. 'Extreme heat tourism' became a phenomenon across the globe, from America's Grand Canyon to China's Flaming Mountains.
What is causing extreme summer heatwaves?
Scientists have spelled it out for us:
"The human-caused climate crisis was undeniably to blame for the deadly heatwaves that struck Europe and the US in July. Both would have been virtually impossible without the global heating driven by burning fossil fuels."
Let me emphasise:
"The human-caused climate crisis was undeniably to blame."
How can we reduce our impact on the climate?
So, what can we do?
Well, we have the power to put pressure on our governments to stop issuing licences to extract new fossil fuels and invest more in renewables. Please sign this Business Declares petition to do just that if you haven't already.
We also have the choice to significantly reduce our own contributions to fossil fuel consumption by intentionally reducing the number of unnecessary flights we take.
Did you know:
Taking a flight is one of the worst things we can do for the environment, as an individual. Reducing the amount we fly is more impactful than any other actions we might be taking – such as recycling, cutting down on meat consumption or buying second-hand clothes (although these are also important actions, in other ways).
Now we might say: 'But, everyone else is flying, what difference does my little bum make?'
The truth is, not all of us are flying – especially not frequently.
In the UK, for instance, 70% of all flights are taken by just 15% of the population —frequent flyers, defined as those who take three return flights annually.
A recent study revealed just 1% of the population worldwide caused half of all aviation carbon emissions in 2018.
While we may believe that everyone is constantly on the move, in reality, only 4% of the world's population travels internationally in any given year.
That used to be me. It's likely to be you.
Beyond holiday weather
The heatwaves affected our holidays this year, with many reporting it was too hot to enjoy holidays as we got further into summer.
Perhaps you are one of the travellers considering holidaying in the off-season next year – the cool of early spring or milder warmth of early autumn?
But, this message goes beyond discussing inconvenient holiday weather.
Recent stats reveal that more than 61,000 people died in the European heatwaves of 2022, including more than 3,000 in the UK.
"The human-caused climate crisis was undeniably to blame."
We can choose to ignore the impact of luxury flights (I use 'luxury' in the sense of 'it's a luxury to take a holiday', not the experience of travelling on a low-cost airline amidst airport chaos – another subject for another time!).
Or we can take an honest look at the choices we make and reimagine how might travel with less impact.
If this is possible for Helen Coffey, the The Independent's travel editor, surely it must be for us, too?
We can still enjoy rest and relaxation, explore different cultures, and savour delicious cuisine — all while opting for train travel over air travel.
And, surely, that goes a long way to being a win-win solution for us all?
Main image: Amy Lister, Unsplash.
For how long can we bury our heads in the water?
THE LIVE FRANKLY SUSTAINABLE TRAVEL HUB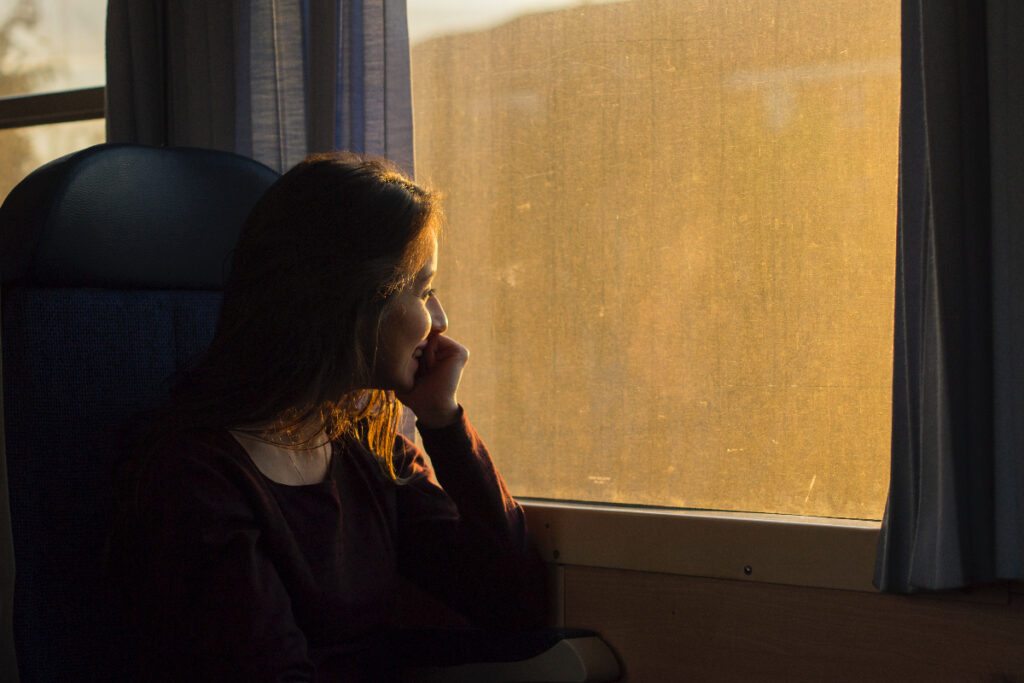 The Live Frankly Sustainable Travel Hub is sponsored by Byway Travel. But, this is an independent article written by Live Frankly.
Byway Travel offer flight free holidays, and A to B journeys, that optimise for enjoyment rather than speed or cost.
​​The benefits of booking with Byway Travel include: Full customisation of your trip; Flexible tickets so it's easy to change your plans while you're away; Covid-19 refund guarantee with full financial protection from ABTA and on-demand support when travelling.