We know many wonderful women who truly deserve it all. But, when it comes to buying sustainable gifts for her, it can be difficult to know where to start, this Christmas…
We've taken the time to search for the best ethical gifts for her. Featuring exclusively sustainably made items, from cosy knitwear to sexy underwear, luxury slippers to relaxing candles, you're sure to find just the gift for that special someone…
SUSTAINABLE CHRISTMAS GIFTS FOR HER: COSY KNITWEAR
Cashmere Knitwear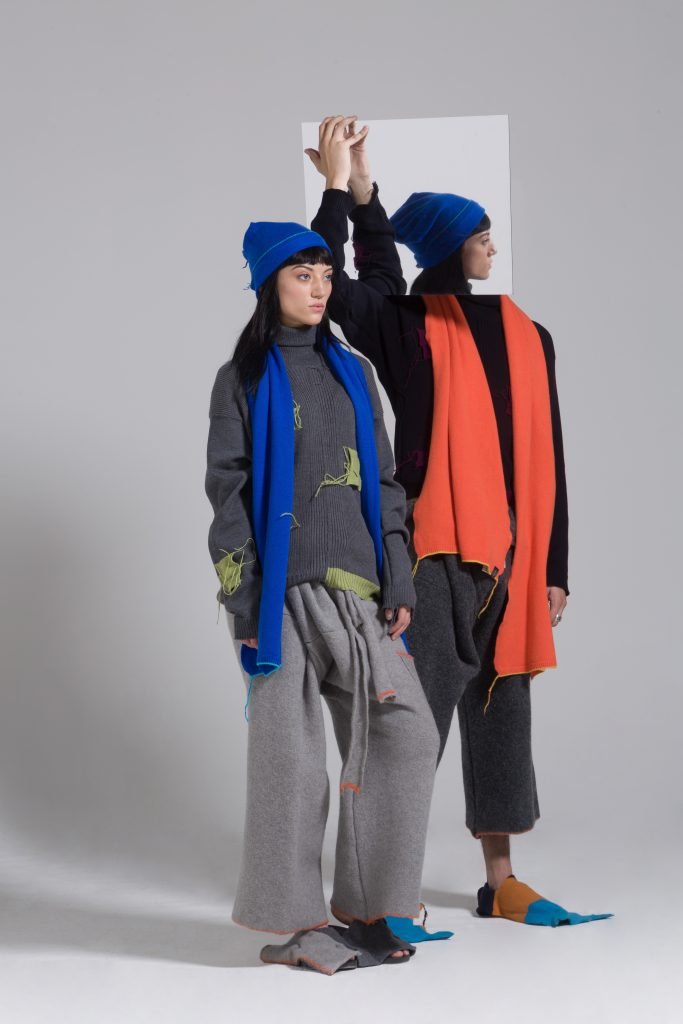 If you want to wrap someone in a bundle of love, then Valentina Karellas' Danvers knitwear are the perfect gift to do just that.
The matching beanie, mittens and scarf are available in stunning orange or blue and are made of beautifully soft and bright (surplus) cashmere, which is incredibly limited stock. When this yarn is gone, it's gone…
Each row is accountable and treasured by hand, and made to order on a vintage industrial knitting machine.
Super light and stylish, these pieces are all about quality and attention to detail, featuring a contrast stripe hem detail.
From £50, Valentina Karellas
SHOP NOW
Yarn Accessories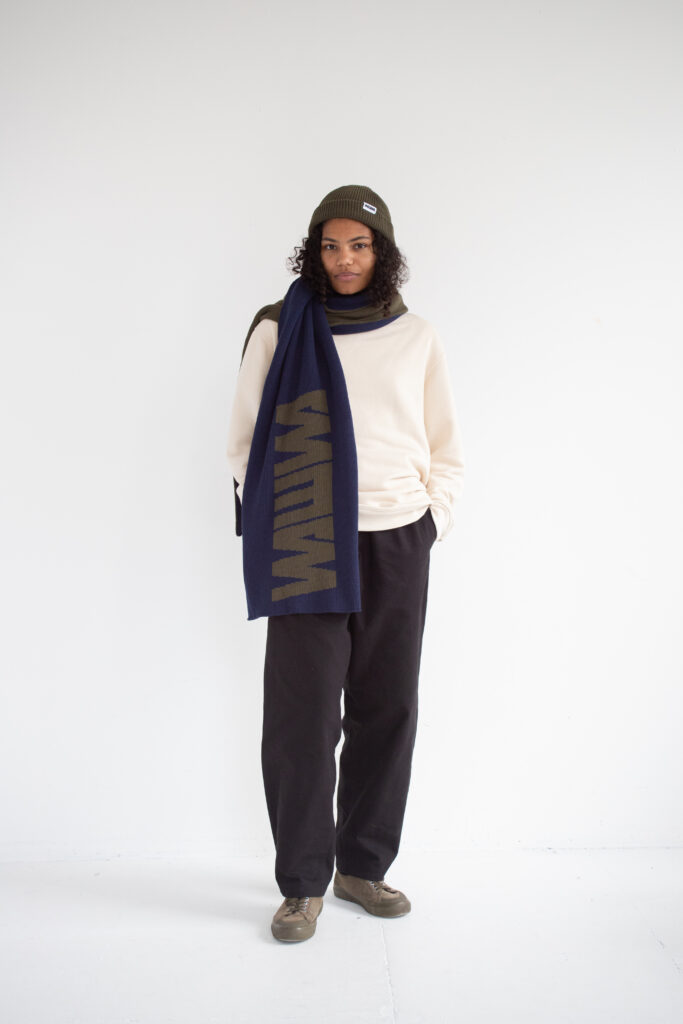 For cool Christmas gifts, WAWWA's collection of 100% Recycled Yarn warm winter accessories has you covered (figuratively and literally). It includes their Recycled Fisher Beanie Hat, which is available in nine different colours. There's the Heather and Stone Scarf, that's also available in Rust and Amber. Plus, our personal favourite piece, this snug Recycled Blanket to cosy up in by the fire.
All products are produced in a local Manchester factory using GRS (Global Recycle Standard) approved recycled yarn. It's made from 50% recycled cotton and 50% recycled PET. The yarn is spun in a Spanish factory that is powered by solar energy, the cotton proportion is taken from pre-consumer waste and the polyester from recycled plastic bottles. All these items are part of WAWWA's continued 1+1 collection that sees a product donated to the homeless for every hat, scarf, t-shirt or pair of socks bought from the range.
Cashmere-wool Scarf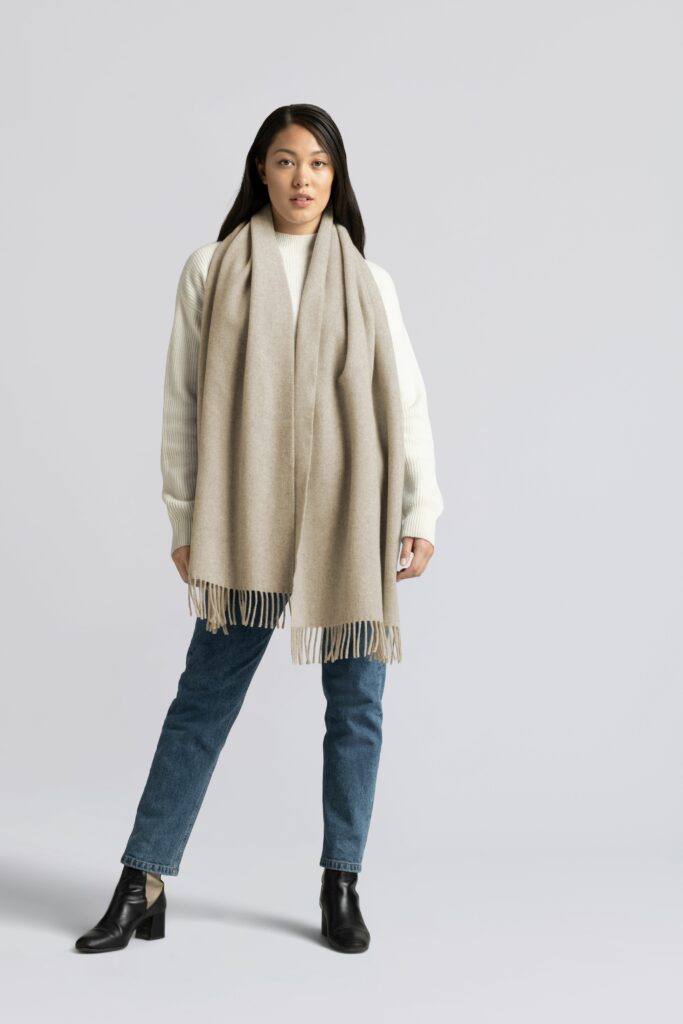 Since we're on the topic of knitwear, how about this gorgeous unisex Cashmere-Wool Scarf from ASKET? This classic fall-winter accessory is timelessly chic, perfect for staying warm on your way to festive celebrations. A mix of Cashmere and Merino wool, It's as soft and cosy as it is gentler on the planet: it's woven from 100% recycled wool.
This scarf is available in 2 sizes: Classic size 185 cm x 37 cm for £70 and Oversized 200cm x 50cm for £85. It also comes in a variety of staple neutral colours.
£70, ASKET
SHOP NOW
SUSTAINABLE CHRISTMAS GIFTS FOR HER: CLOTHING
Disco Sweatshirt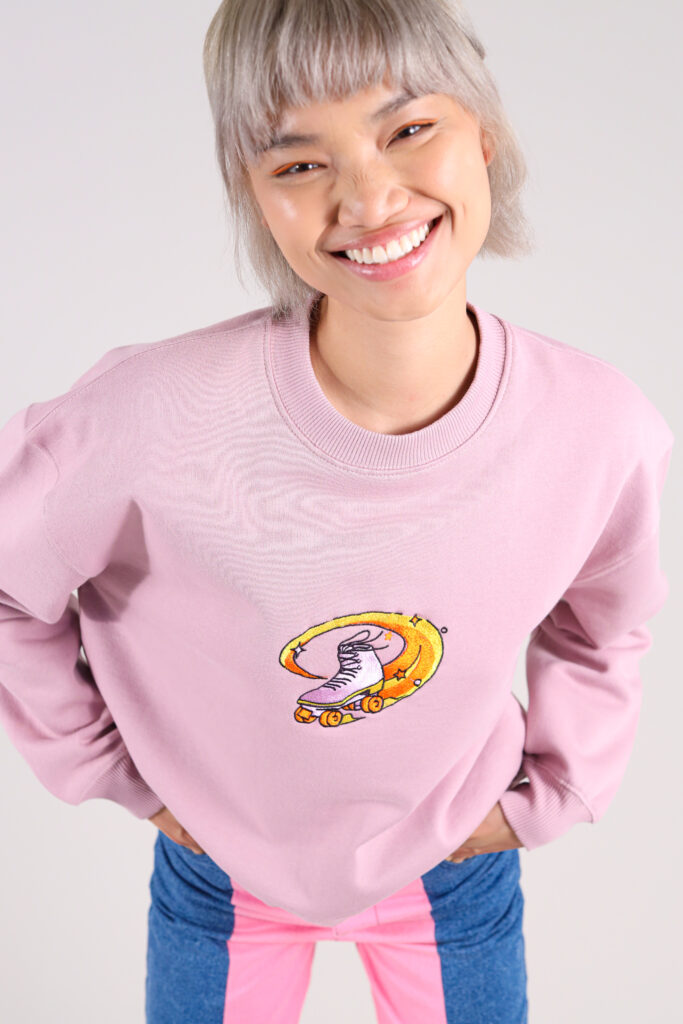 Unsure what to buy a fun and playful fashionista? This Funky Disco Organic Sweatshirt from Blonde Gone Rogue might be exactly what you're looking for! Cute, cosy and comfortable, this sweatshirt, available in ash pink or turquoise, is a great winter gift. It's made from 100% GOTS-certified organic cotton so it feels as good as it looks.
£68, Blonde Gone Rogue
SHOP NOW
Climate Sweatshirt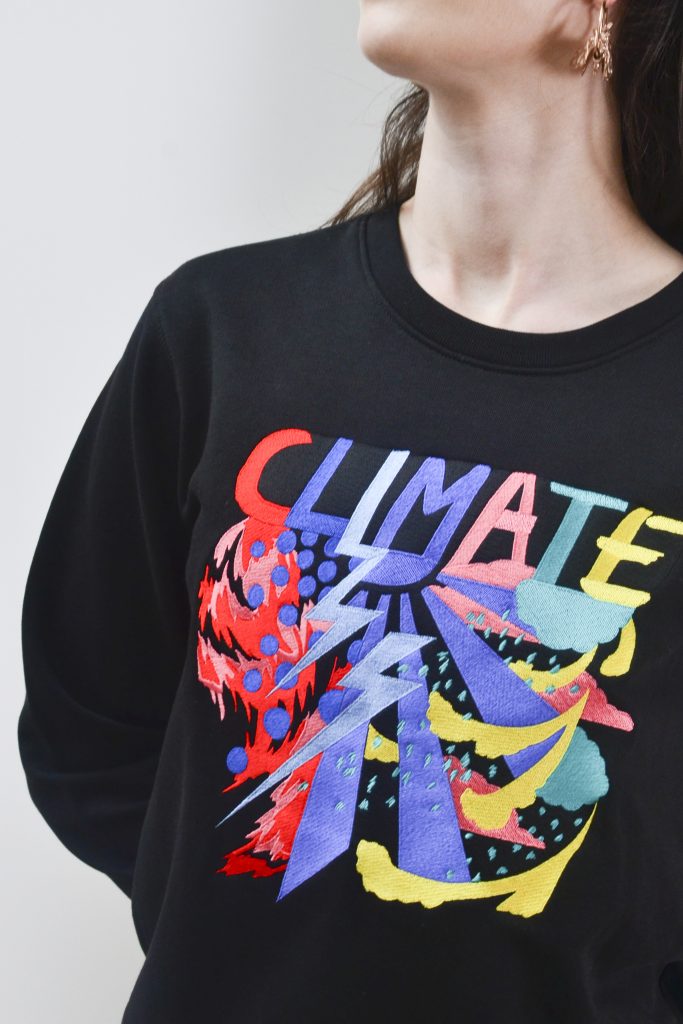 What is Christmas without a little small talk about the weather and politics – family and global – thrown in?
Hopefully, most of us are on the same page with the climate crisis by now, but as we all eat and drink to excess, this beautifully designed and embroidered Climate Sweatshirt also has the potential to be a nice conversation starter about the clashing weather conditions that will become ever more frequent and ever more extreme as temperatures rise.
We advise buying true to size if you're pairing with jeans or your favourite mini skirt for festive outings and one size larger if you're looking for super-cosy loungewear.
As well as being a brand that pays huge attention to ethics and sustainability, Gung Ho gives 10% of its profits back to a charity that works with that issue you're wearing – in this case Friends of the Earth.
£120, Gung Ho
SHOP NOW
Pure linen dress by Aja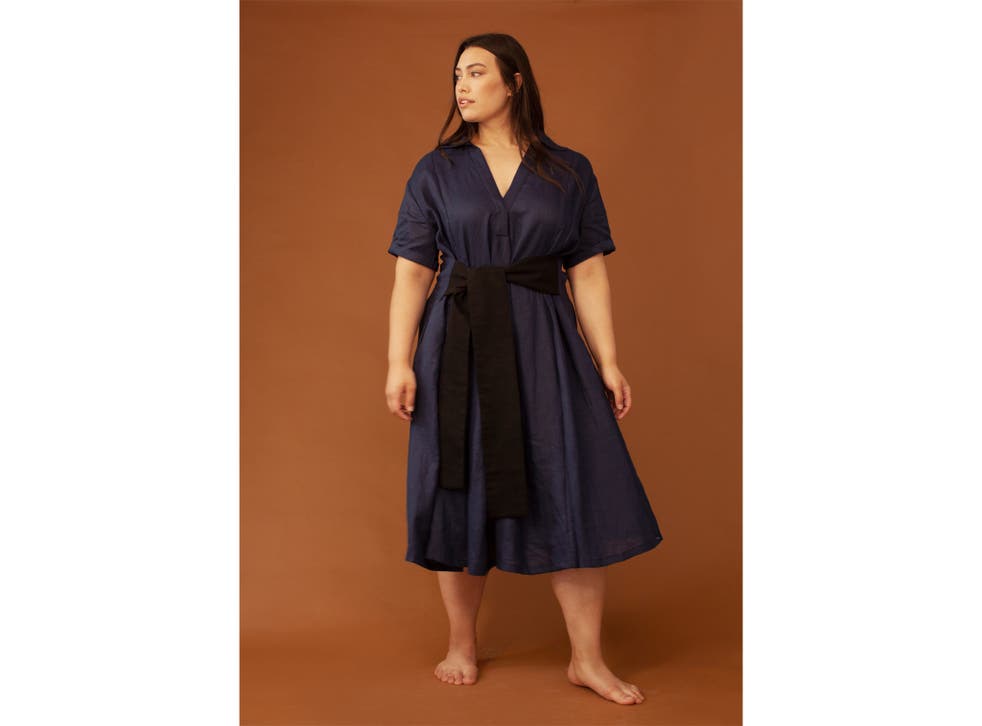 This dress was a collaboration between designer Lora Gene and activist, writer and fashion consultant Aja Barber. Purposefully designed to flatter most body shapes, the beauty of this dress is also in its versatility – as you change size this dress will adjust with you. You can turn the belt into a bow or just leave it loose in the front or at the back. There's also a small hidden snap inside the neck line, so if you feel it's revealing too much chest you can close it. There are hidden pockets! Who doesn't love these?
It's made-to-order by women paid a living wage, from linen and available in a range of colours. Order by 10 December to receive it in time for Christmas.
£109, Lora Gene
SHOP NOW
Iriomote dress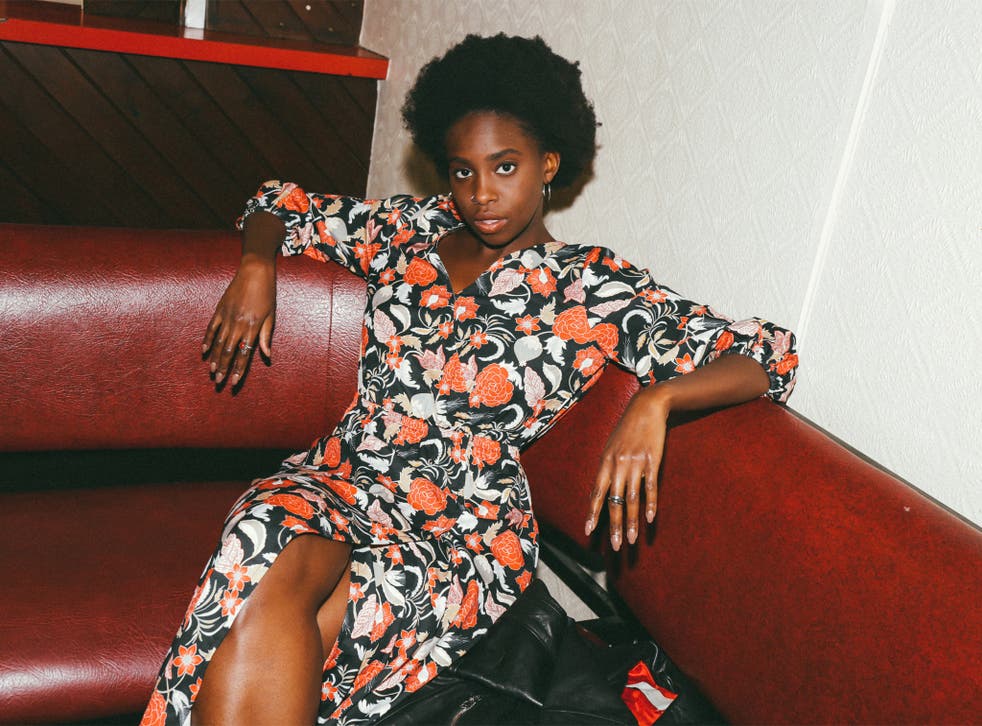 This bright and bold dress works equally for nights out, small socials and family gatherings. Featuring a (fairly) deep v-neck, the faux-wrap style couldn't be easier to slip into and it has an elasticated waist, which will be very welcome come any post-festive feasts. Made from 100 per cent recycled fibres, it is incredibly soft with a buttery feel on the inside. The print is also digitally printed, saving both water and energy.
As a brand, Vildnis holds itself accountable to a triple bottom line that includes social, environmental and economical factors.
£125, Vildnis
SHOP NOW
Golden winged cacique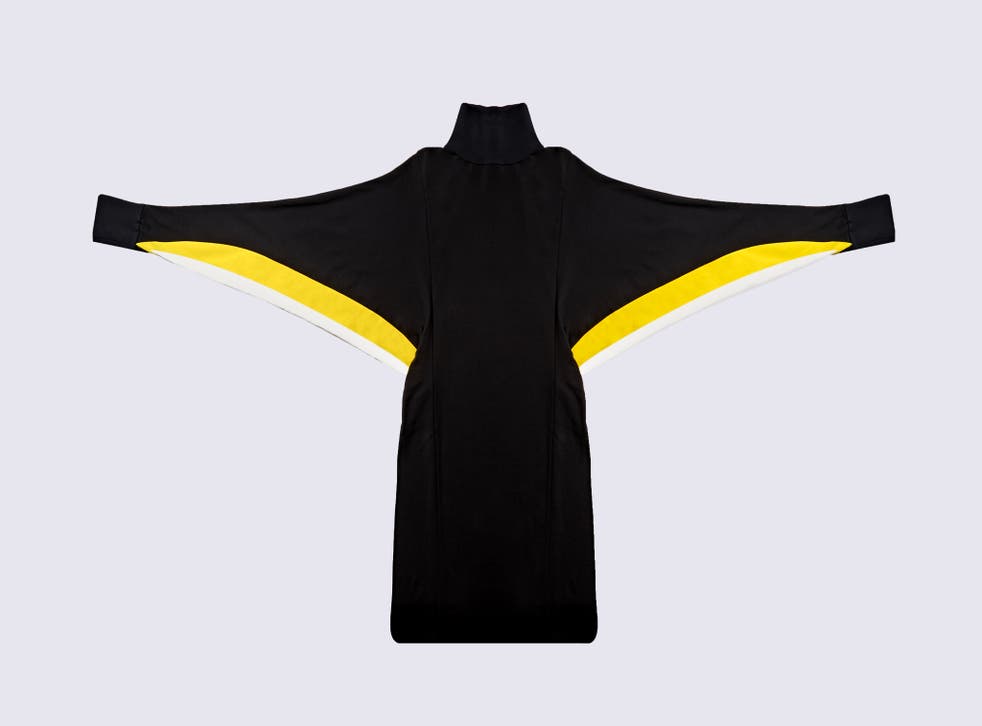 This is technically sleepwear, and definitely loungewear, but it's too fabulous to be confined to the bedroom. Super-comfortable and stretchy, the golden winged cacique is perfect for hosting at home. The winged sleeves offer glimpses of bright yellow, creating a striking design. The dress is made in Italy by a family-run atelier, from GOTS (organic certified) jersey and is organically dyed.
Leticia has worked at the intersection of design and social change for more than 14 years, and her brand champions taking time to rest, to embrace comfort, and being present in the now.
£150, Leticia Credidio
SHOP NOW
Organic denim jumpsuit
With wide-cut arms and legs, pleat details to the front and a waist tie this jumpsuit is designed to flatter. Plus, it has pockets and a concealed side zip for maximum wearability. It's thick and a good heavy, feeling a bit like a protective layer.
Birdsong creates original clothing staples that are ethical and sustainable, made by expert women makers facing barriers to employment in the UK. They've generated more than £100k in revenue for women's organisations and the low income women they support, since they were established in 2014.
Note: This product is made to order. Order by 2 December to guarantee Christmas delivery in the UK (and email them if you miss this cut-off date).
£240, Birdsong
SHOP NOW
Sahar mini slip dress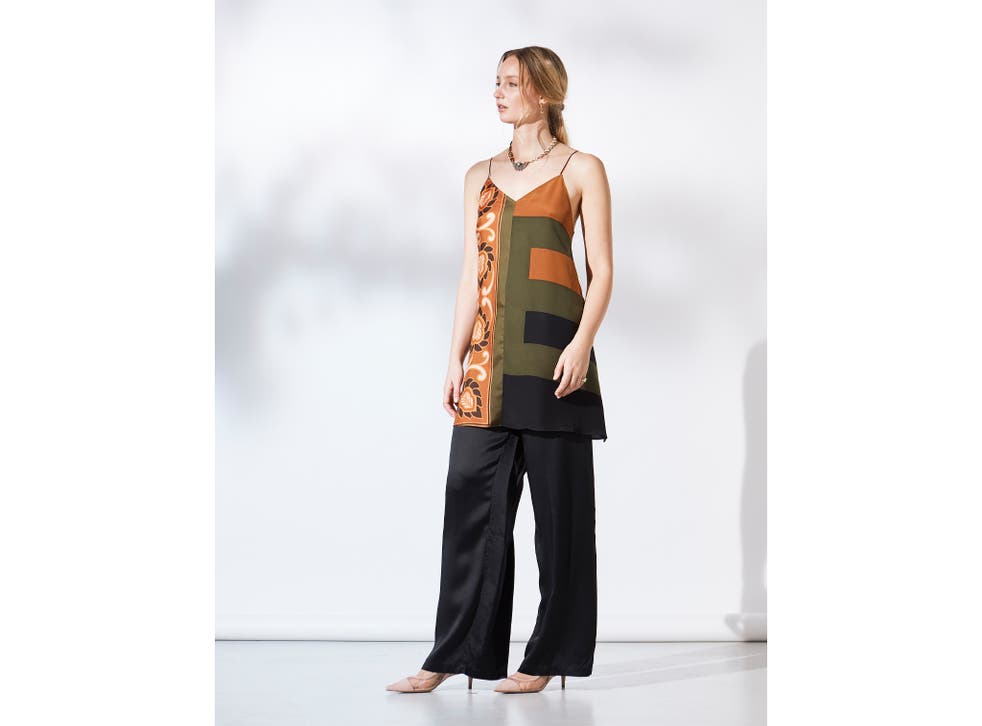 This easy-fitting, mini length dress doubles as an easy-fitting long spaghetti-strapped top, making it a great choice for the Christmas period. Unrestricted but elegant, it feels very feminine to wear. This design has a warmth in colour that layers well over black.
All of We-Resonate designs are made from vintage silk scarves, sourced by former Alexander McQueen designer, and We-Resonate founder, Lizzie Clark. They are hand-stitched by a highly skilled seamstress in London, so each one is totally unique.
£230, We-Resonate
SHOP NOW
Vegan Reclaimed Fur Slippers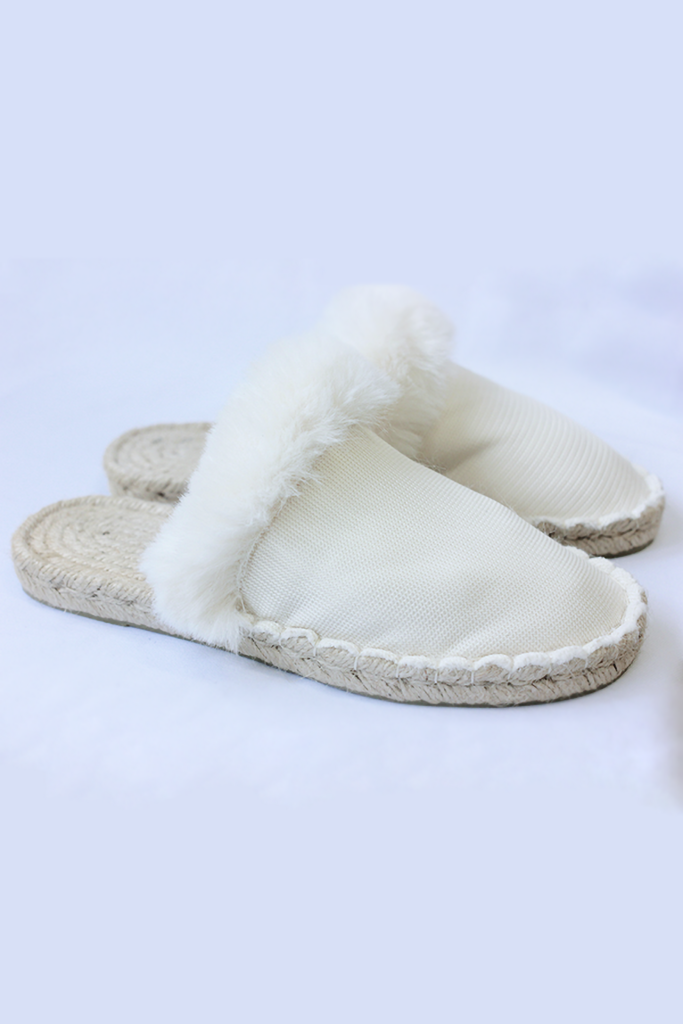 At the risk of sounding dramatic, a good pair of slippers is essential to surviving the cold winter months! These gorgeous Vegan Reclaimed Fur Open Slippers from Birdsong are the definition of winter chic.
Hand-crafted in London from high quality, reclaimed materials, these soft slippers are perfect for traipsing around the house! The soles are also designed to mould to your feet for ultimate comfort and support.
But, the best part of these slippers is that they're made by women who are facing barriers to employment in Bethnal Green, East London, for a London Living wage.
It's worth noting that these are made to order with up to a 3 week wait, so best get your order in quickly!
£69, Birdsong
SHOP NOW
Glitter Socks
Where there are slippers, there's socks (at least, we hope there are…)
The Stella Glitter Socks made by Swedish Stockings – a pantihose brand that makes sustainable tights using recycled yarn – perfectly encapsulates the fun spirit of Christmas and New Year.
Available in black, grey, pink and blue, these semi opaque sparkly ribbed socks are knitted from recycled yarn in a zero-waste, emission free facility in Italy.
I can't think of a better stocking filler, than a pair of actual stockings.
£14.28, Project Cece
SHOP NOW
SUSTAINABLE CHRISTMAS GIFTS FOR HER: UNDERWEAR
Luxury Lingerie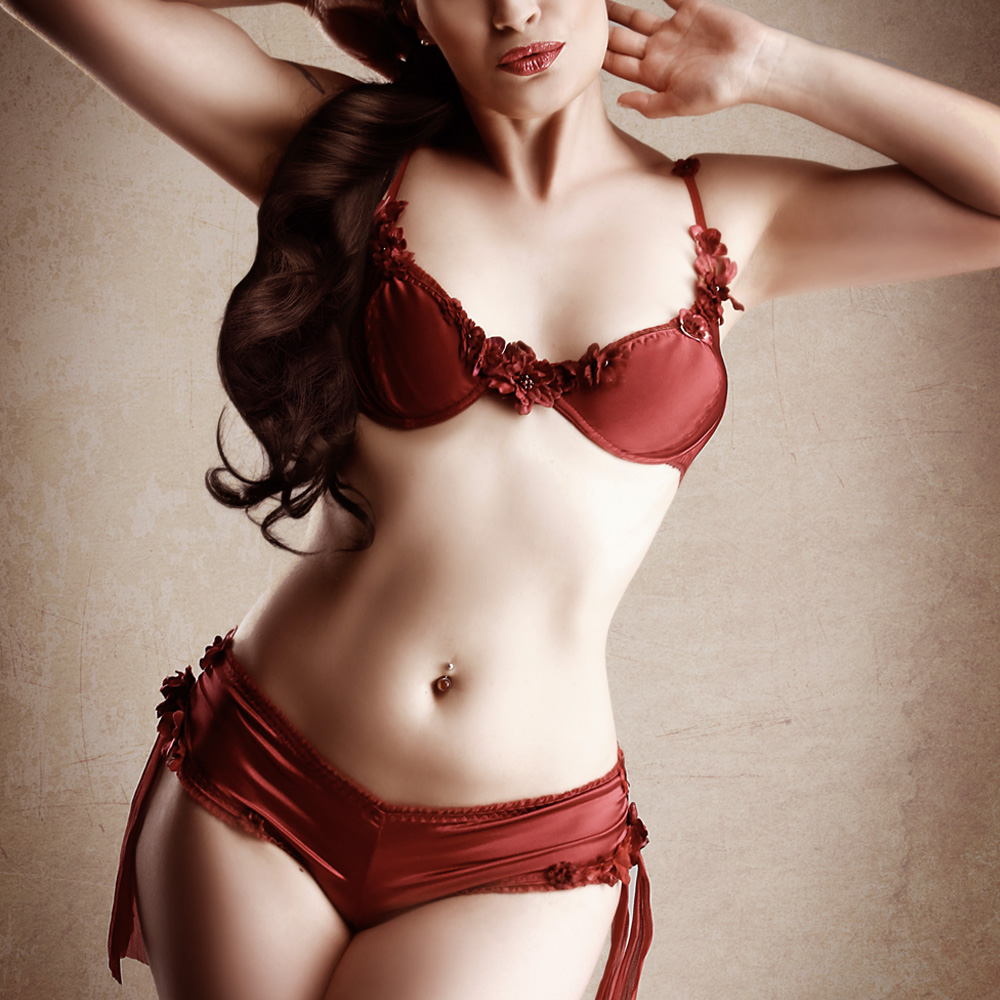 Make someone feel like a million bucks this Christmas with this gorgeous Rosie Lee Silk Bra and matching Rosie Lee silk flowers knickers from Buttress & Snatch, a small independent Hackney-based artisanal lingerie specialist.
Made using luxurious deep red silk satin and hand finished with vintage velvet flowers, silk tulle detail and beads, this stunning statement set will be treasured for life!
Everything is made in their Hackney workroom, predominantly by founder Rachel, with occasional assistance. Any helpers are highly skilled specialists and, as such, are paid above the London Living wage. Roughly 80% of their materials are sustainably sourced, often vintage fabrics, 40% of which comes from dead stock and industry waste.
£250, Buttress & Snatch
SHOP NOW
Gingham Knickers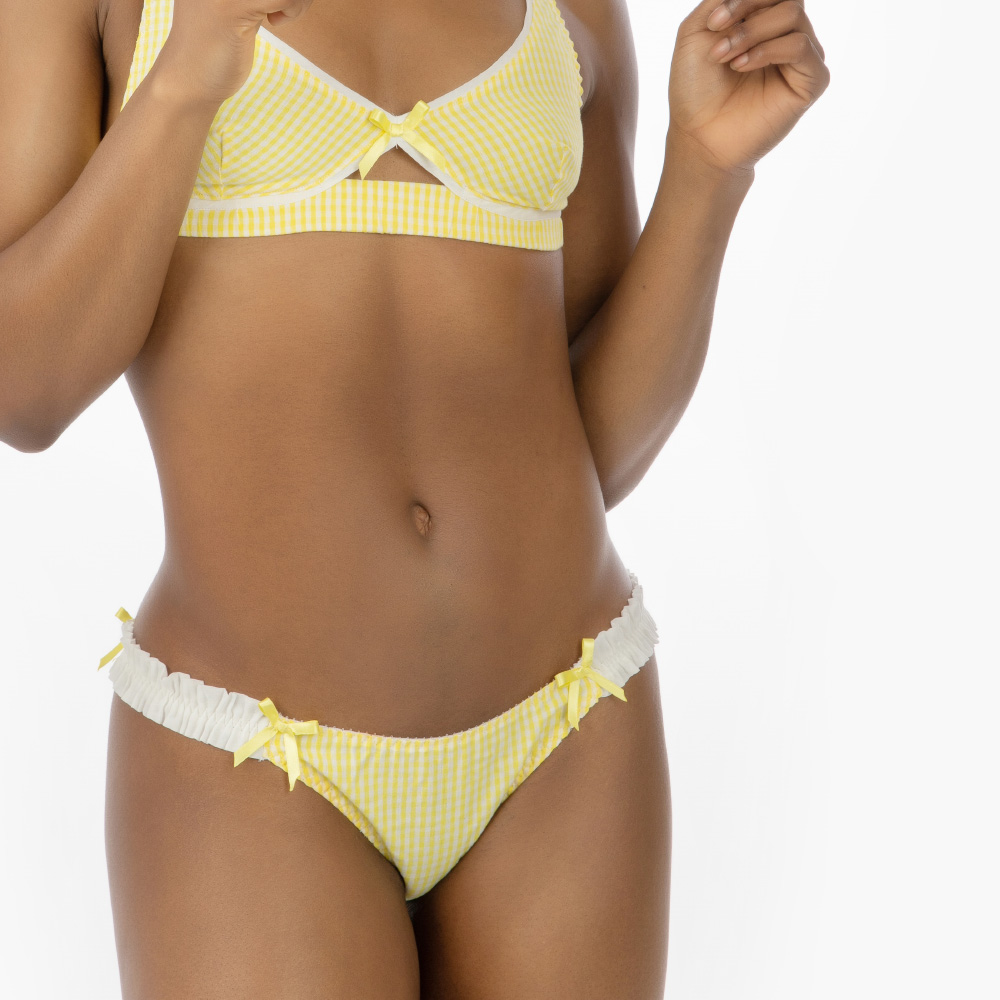 It's always a nice surprise to find a pair of pants within your stocking. These lovely Gingham Knickers from Buttress & Snatch are made from organic cotton which is hand dyed and hand woven on household looms in Kerala. They are also made with all natural rubber and sewn using cotton thread. They are available in Rose, Daisy or Bluebell shades and are hand made in Hackney.
£32, Buttress & Snatch
SHOP NOW
Shirt cut gift service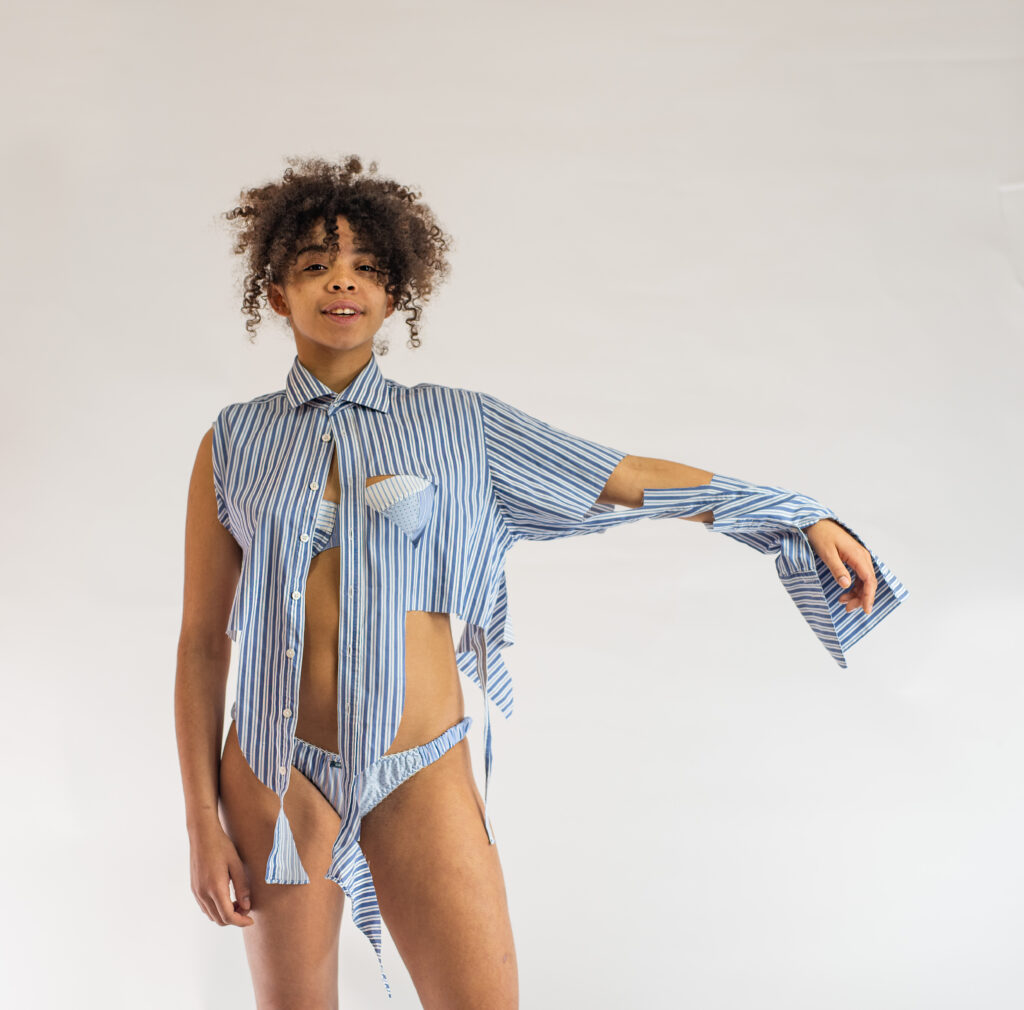 Another great gift idea from Buttress & Snatch, they offer a gift service where you send in an old shirt and they'll recycle it into a unique pair of knickers or boxers, which they'll then send back to you in a box with the bits and snips.
As designer Rachel points out, there's potential for a good joke in there somewhere: 'Hohoho darling, look what I did with your favourite shirt…'
£64, Buttress & Snatch
SHOP NOW
SUSTAINABLE CHRISTMAS GIFTS FOR HER: JEWELLERY AND ACCESSORIES
Mini Solar Watch Gift Set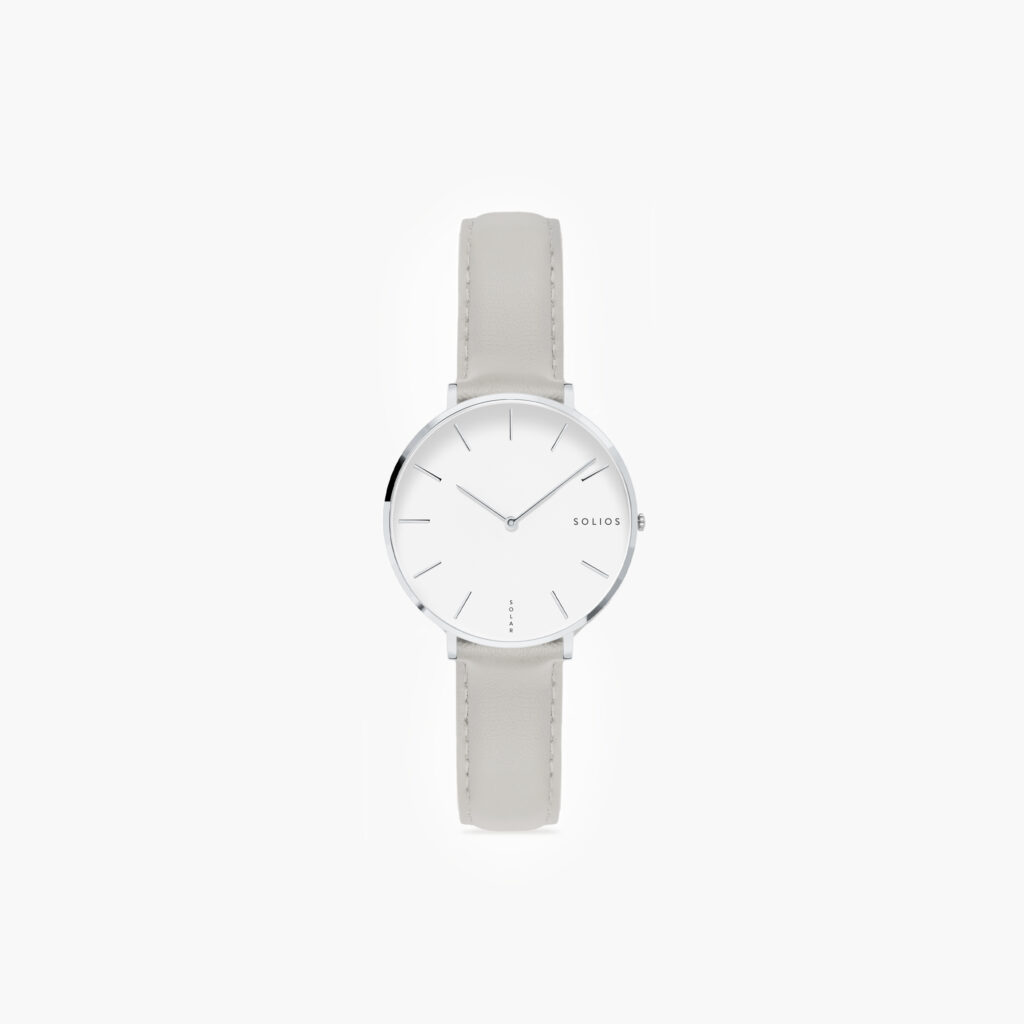 Solios Watches has recently launched their new 'Mini Solar' watch of a smaller, even sleeker design.
It features interchangeable straps made from vegan leather or recycled stainless steel, available in an array of colours. Powered by clean, renewable energy (solar) and built with environmentally-friendly components and materials, these watches are a great gift for the stylish and sustainably conscious.
A Mini Solar watch is available to purchase individually from £190, or in a Solios 'Mini Solar' Gift Set with two changeable straps from £217.00.
From £217, Solios Watches
SHOP NOW
Acorn Enamel Studs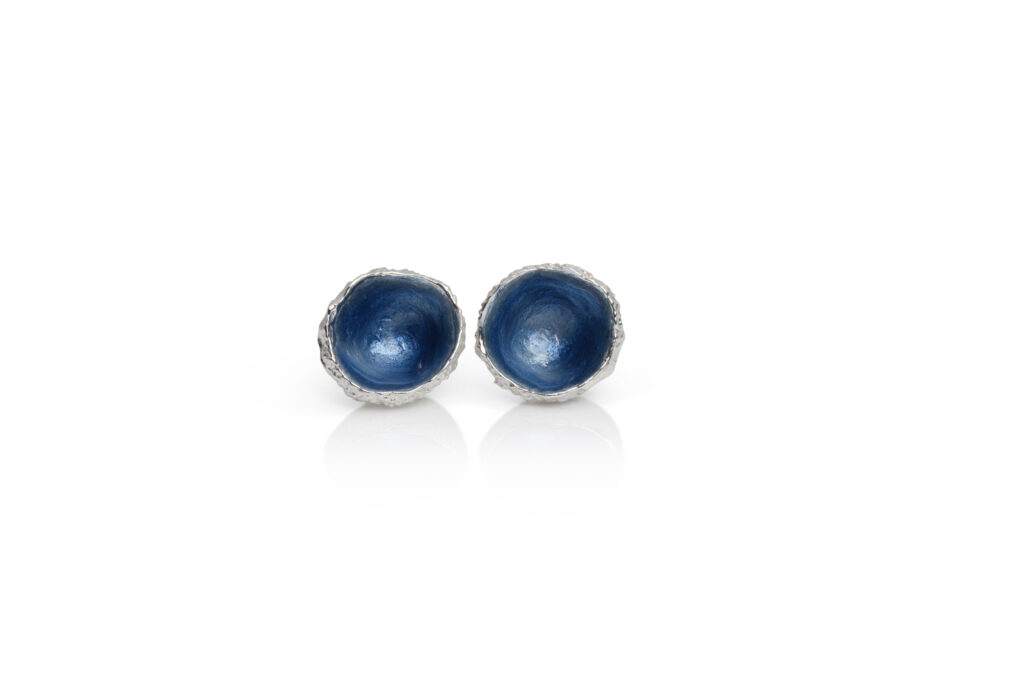 Looking for a truly unique and special gift? These mesmerising enamelled stud earrings by Eily O Connell are just that.
Where designer and goldsmith Eily O Connell is heavily inspired by the natural world, the studs feature a quirky acorn-inspired cup shape.
They are created in an array of stunningly frosty Wintry tones, including the pictured 'misty Sea', making these earrings a wonderful present for this chilly time of year.
Handmade, and enamelled by Eily in her Bristol based studio, these hand painted earrings are crafted in recycled solid silver and then the enamel has been carefully fired inside the acorn.
What makes Eily O Connell jewellery even more special is that it is made with sustainability in mind. O Connell prides herself on crafting her pieces using high quality, ethical and well sourced materials.
£105, Eily O Connell
SHOP NOW
Charm Pendant
This removable charm, which can be added to either hoop earrings or chain necklaces, is a lovely versatile gift for that special someone. Made from reconstituted Pearl and Gold, this stunning pendant is handmade by Pooja, Praniti, Asha, Vimla and Rekha, at a Living Wage jewellery making co-operative in Jaipur, India. The co-operative receives £10.49 per sale.
£42, Birdsong
SHOP NOW
Statement Seasonal Earrings
Know any veg lovers who would rock a pair of funky earrings? These cute and quirky Protein Charm Hoop Earrings by Gung Ho might just be the perfect find.
Made in collaboration with Charlotte Chalk, a Devon-based sustainable Jeweller, these dainty hoop earrings are hand-carved from recycled silver. With a gorgeous texture to the hoop itself, paired with the intricate details of these veggies, your lucky recipient will fall in love!
You can even mix and match to make your perfect pair: choose from a pea pod, broccoli, kale or brussel sprout (my favourite ironic pick for Christmas).
Even more reason to adore these vegtastic statement hoops, they were designed to inspire and remind people of how eating more plant based is one of the everyday changes we can take to lower our impact on this planet.
Plus, £5 of every purchase goes towards charity.
£120, Gung Ho
SHOP NOW
Star Necklace
This beautiful and affordable silver Little Star Necklace is made by Solitude the Label, an Amsterdam-based brand founded by two sustainably-minded sisters. What better way is there to show someone you think they're a star?
Made from recycled silver, it's sure to be adored by any recipient who actively cares for the planet.
The necklace is slightly adjustable so can be worn as a choker necklace or a little lower onto the chest, however your giftee likes it best.
£42.50, Project Cece
SHOP NOW
Hair Scrunchie
When it comes to stocking fillers, it's all about stocking up on the essentials: sweets, chocolate, funky socks, lip balm, nice smelling toiletries, and a trusty pack of hairbands (to replace the ones you've misplaced throughout the year). But, why not upgrade from the standard drugstore multi-pack?
Gung Ho's beautifully colourful scrunchies are the perfect hair accessory. Each one is one-of-a-kind and handmade in London from offcuts of patterned Silk Tencel. Their individual patterned fabric also highlights a difference social or environmental cause. Take their Action Scrunchie for instance, which is made from their 'Action print fabric' which illustrates the simple actions we can individually take to make a difference to the climate crisis.
£15.00, Gung Ho
SHOP NOW
SUSTAINABLE CHRISTMAS GIFTS FOR HER: HEALTH AND BEAUTY
Ben & Anna Gift Box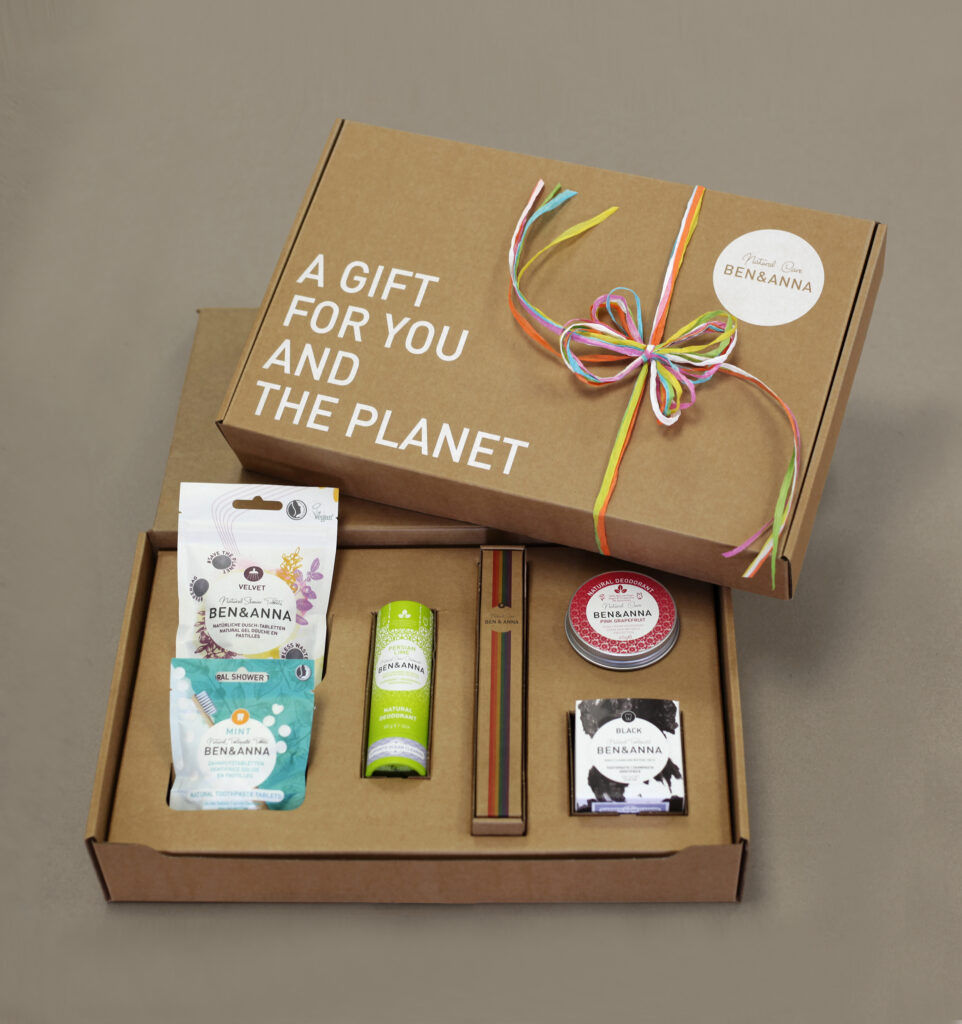 The Ben & Anna gift box is a sure-to-please great smelling pack, with a difference. For just £17, this sustainable goodie box includes six of Ben & Anna's best-selling all-natural vegan toiletries, including shower gel, deodorants, toothpastes and even a bamboo toothbrush. The items are perfect for travel in the new year.
There's also the option to curate your own bespoke gift box, picking and choosing your favourite bits.
£47, Ben & Anna
SHOP NOW
Beauty selection box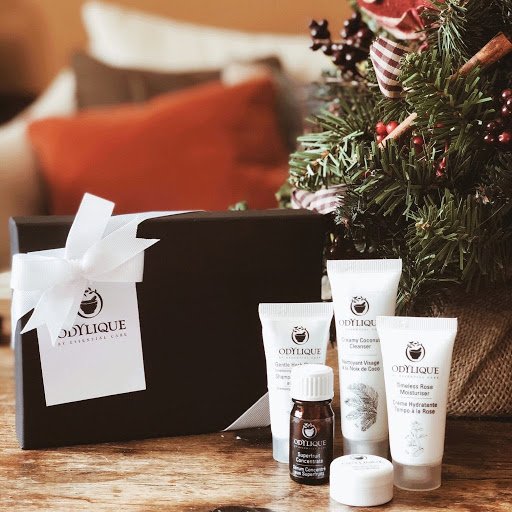 All the best bits from a Suffolk-based beauty brand that only uses fairly traded, cruelty-free organic ingredients, from the Calming Rose Super Tonic to the Gentle Herb Shampoo. And, extra bonus – all the packaging is recyclable, too.
£27, Odylique
SHOP NOW
Lavender Bath Truffles
When looking for stocking fillers, these amazing sounding Lavender Bath Truffles would be great. Made from 100% natural and/or Ecocert ingredients, including cocoa butter which softens and moisturises skin leaving it soft and velvety, coupled with lavender essential oil which calms and relaxes. This packet of six truffles is a real treat.
£14.88, Project Cece
SHOP NOW
Booster Bath Soak
Isn't Christmas (supposedly) all about kicking up your feet, switching off and clocking in time for some much needed relaxation? So why not help hard-working friends and family wind down this festive season with this luxury re-energising bath and foot soak to help restore the body back to its best. Made with 100% pure Dutch magnesium, sustainably cultivated seaweed and botanical oils, it eliminates toxins and restores vital minerals, leaving you refreshed and revitalised. Also, the chic glass bottle will look great in any bathroom!
£46.75, Project Cece
SHOP NOW
Organic CBD oil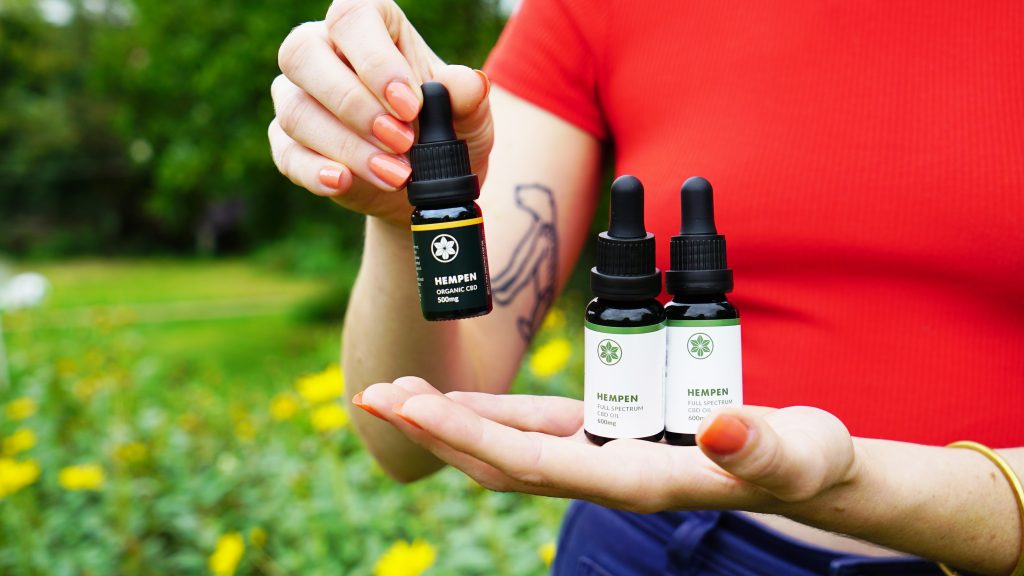 Know a friend who's been a little stressed out with work or family? This Organic CBD Oil could be a much appreciated present.
Full-spectrum CBD oil works with the endocannabinoid system, which works to balance your body. While its many effects are still being researched, studies have shown CBD can alleviate symptoms of inflammation, pain and anxiety amongst others. The CBD in Hempen's Refined CBD Oil is imported from an organic farm in Switzerland and blended with hemp seed oil from the UK, which offers additional benefits from omega fatty acids, antioxidants and phytonutrients.
Beauty Gift Box
After another wildly hectic year, we all deserve a bit of TLC, and for that, this Beauty Gift Box by Lora GENE is the perfect gift.
Help someone you love start their day in the best way with this luxury morning kit which includes: the Pristine Genie micelar water to hydrate your skin and leave it fresh and glowy; Jade or Rose Quarz face roller to improve blood circulation and blend your beauty products better; a silk scrunchie made with zero waste practises; and a silk protective mask that's good for your skin as well as offering protection from viruses.
All the products featured are sustainably sourced and placed in fully recyclable packaging.
£45, Lora Gene
SHOP NOW
SUSTAINABLE CHRISTMAS GIFTS FOR HER: HOME
Before Sleeping Candle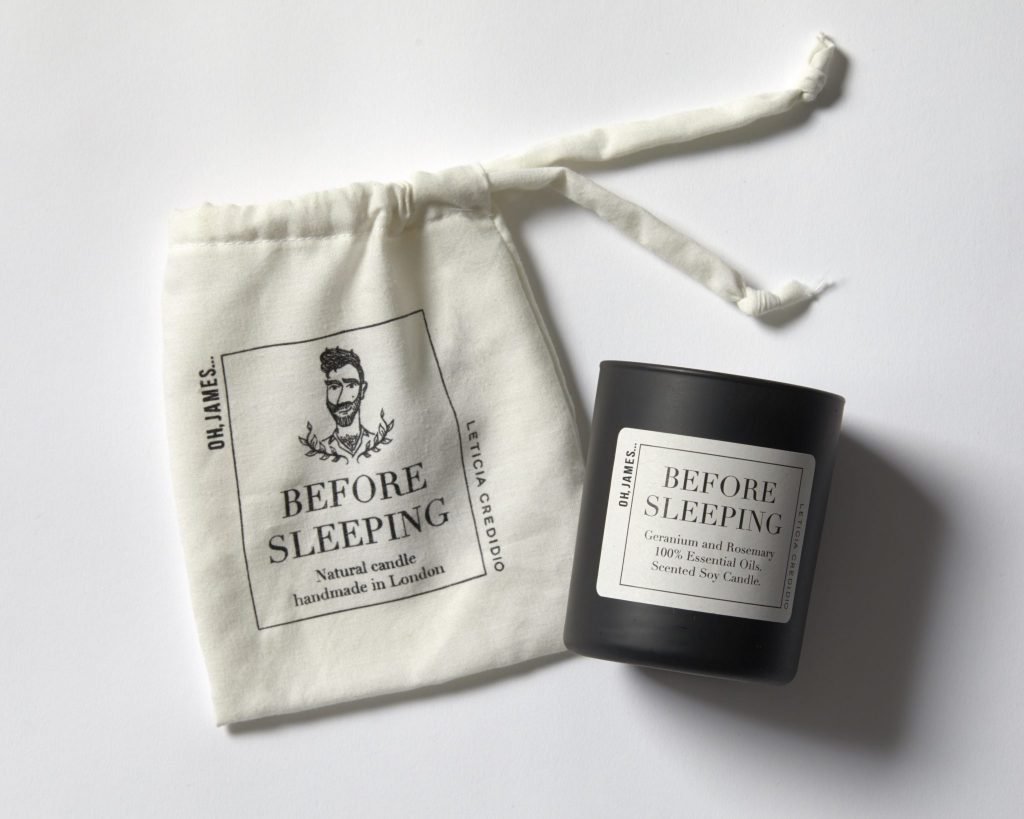 This gorgeous Before Sleeping Candle, a limited-edition blend of geranium and rosemary, is the ideal way to unwind before sleeping, and is the product of a collaboration between Oh, James – an East London brand that produces unique handmade candles – and sleepwear brand Leticia Credidio. Founder, Leticia, has worked at the intersection of design and social change for more than 14 years, and her brand champions taking time to rest, embracing comfort and being present in the now.
Each candle is made from soy wax and 100% essential oils, handsomely packaged in a hand-sewn, up-cycled fabric bag. Burn time is up to 40 hours. This candle is so good you'll want to keep it for yourself…
£25, Leticia Credidio
SHOP NOW
Denu scented rapeseed wax candle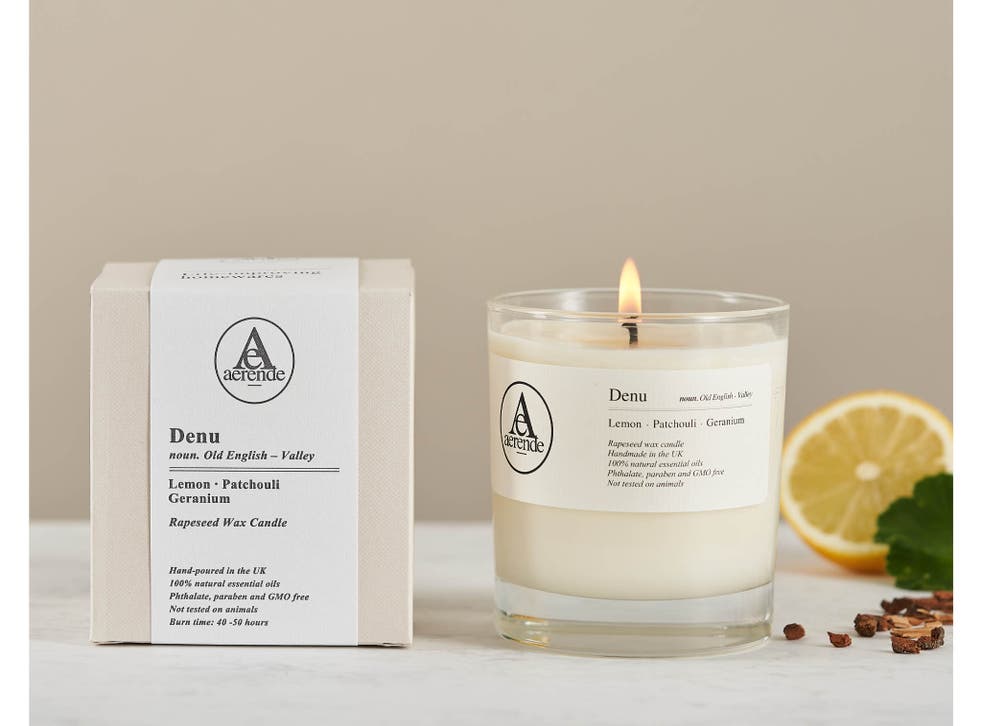 This stylish and beautifully scented candle inspired by British forests, meadows and valleys will undoubtedly be a very welcome present.
These are very possibly the most ethical and sustainable candles in the UK. They use rapeseed wax (GMO-free and sourced from Europe) rather than soya (linked to deforestation), are vegan-friendly, essential-oil-scented (so burn clean), and are handmade in the UK to provide employment and training opportunities for people with disabilities. Each one comes with the name of the maker written on it, which adds a lovely, personal touch.
£37.50, Aerende
SHOP NOW
Hand Me Down Book Club book bundles subscription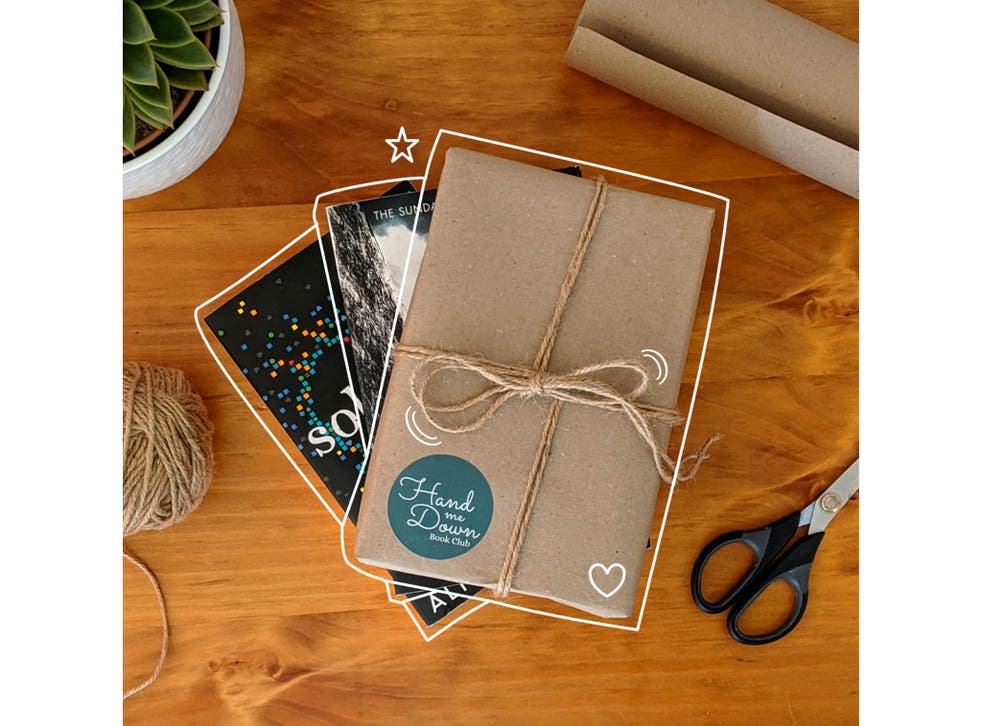 As book lovers, we couldn't think of a more beautiful gift. Hand Me Down Book Club was founded "to prevent books being sent to landfill while they still have great stories to tell". Essentially, this means you select your favourite genres and are sent a selection of second hand books, tied with string and, the lovely added touch of a Clipper tea bag.
£9.99, Hand Me Down Book Club
SHOP NOW
Coffee subscription box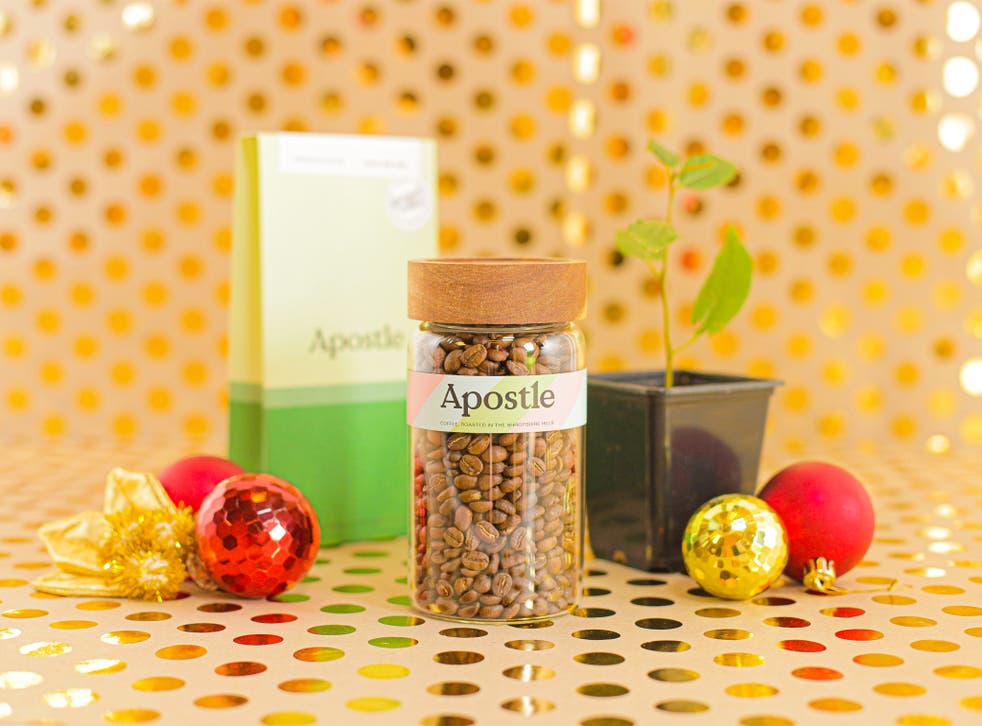 There's good coffee and then there's really good coffee. Coffee made from organic single origin Honduran beans, farmed to fair trade standards, roasted in an "off grid" roastery (in Shropshire) that's powered by wind, solar and natural gas, and delivered straight to your door in 100 per cent compostable letterbox-friendly packaging. Phew. Did you get all that? We've just had a cup.
In addition, each purchase comes with a certificate to show you have inset an entire ton of carbon, because Apostle has planted an endangered tree with a 40-year lifespan in the forest that surrounds the roastery. That's one to go on the fridge.
The cardboard can be recycled and the stickers and inner cellophane bag can be put in the general waste or go in your local council's compost collection if you have this service.
Artysan Cantuccini and Panettone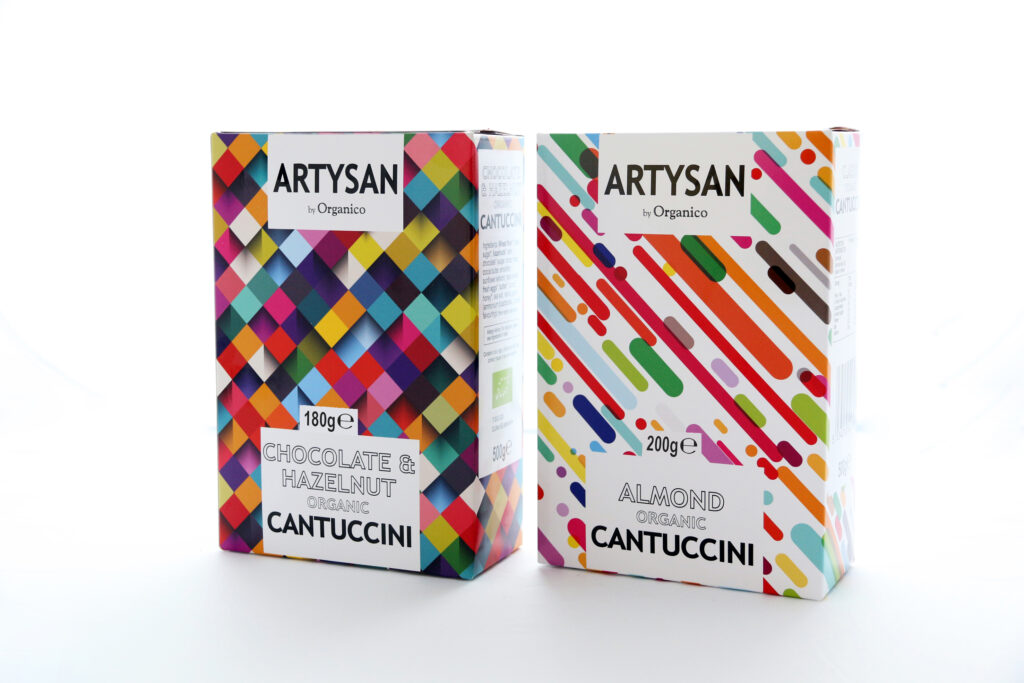 The way to anyone's heart is through their belly and when it comes to Christmas presents, sweet treats are real crowd pleasers. Because, who doesn't want to add to their mounting supply of chocolate and mince pies?
Organico's new Artysan range of festive goodies are the perfect go-to gift for family and friends.
From their selection of Panettone made in a family bakery in Venice, to the rich butter shortbread pastry of their Scottish mince pies, this range covers all the must-have festive desserts. And, you can be sure they've been baked using the best quality all-organic ingredients, and taste as delicious as they look.
From £3.75, Organico
SHOP NOW
Artisan Christmas Cheese Board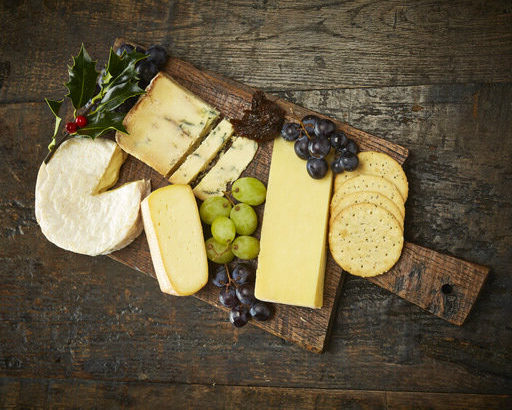 For more savoury palates, a cheeseboard is a Christmas classic. A household staple throughout the festive season, no Christmas feast is complete without over-indulging on a platter of cheeses…
So, it goes without saying that field&flower's Artisan Christmas Cheeseboard (800g) makes for a delightful gift! Featuring a weighty selection of traditionally made British cheeses – Baron Bigod, Cropwell Bishop Stilton, Highmoor, and Westcombe Cheddar – this platter is enough to feed 8-10 of your friends or family.
For smaller households of 4-6 people, they also have their Traditional Christmas Cheeseboard, and for larger dining parties of up to 14, there is their Luxury Christmas Cheeseboard.
And you can have it delivered straight to their door!
£24.27, field&flower
SHOP NOW
European wine gift box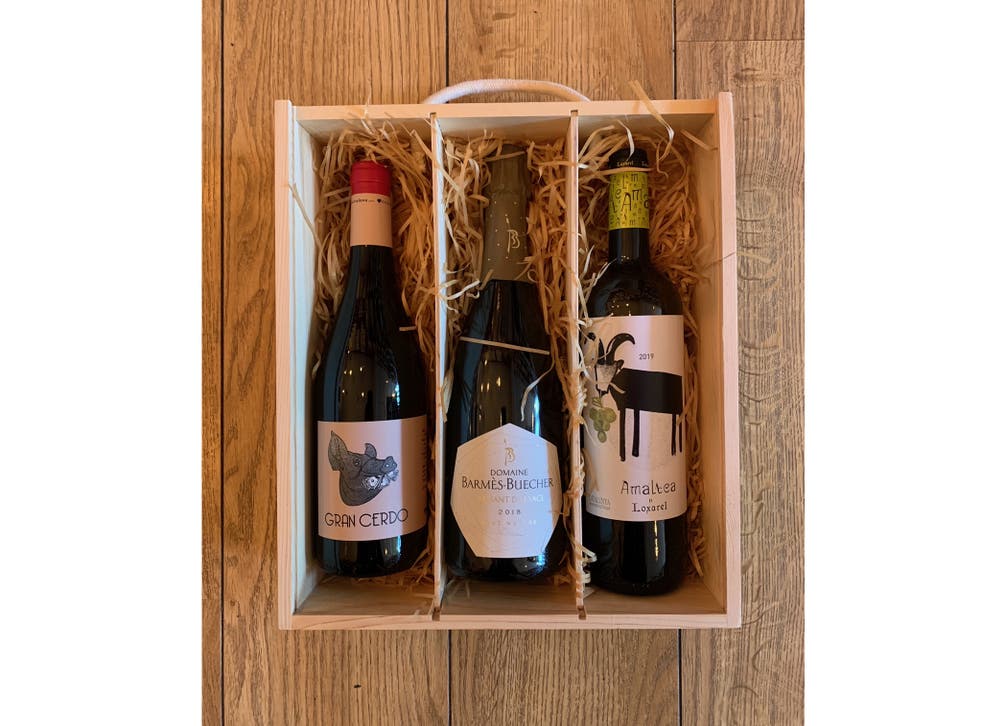 Travelling is still somewhat difficult at the moment, so why not give a taste of Europe? A favourite Christmas gift set is this trio from Vino Vero in Leigh-On-Sea. It includes the Barmes Buecher, a no-dosage sparkling wine designed to reflect pure terroir of Alsace in France; the "biodynamic" Loxarel Amaltea from the Penedes region of Spain and inspired by Greek mythology; and the Gran Cerdo Tinto made by cult winemaker Gonzalo Gonzalo in Rioja who has rejected all chemicals in the vineyard and ferments his wines in concrete tanks, so there is no oak influence.
£54.95, Vino Vero
SHOP NOW
Organic Hemp Seed Oil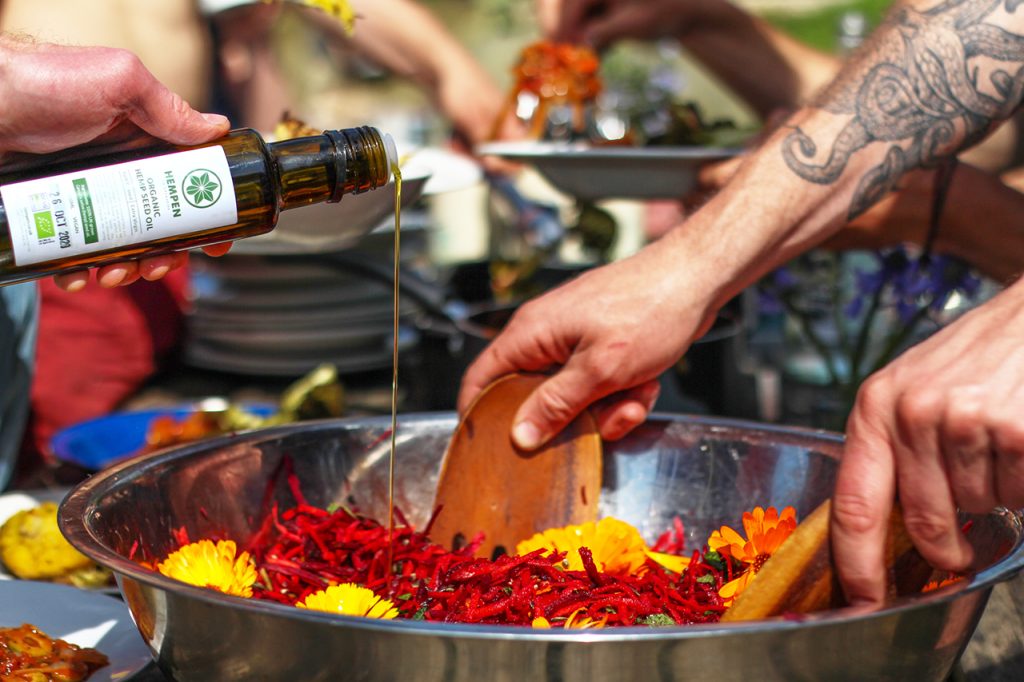 Hemp is very possibly the new superfood. Although, there's nothing new about it, really. Evidence suggests hemp was the first plant to ever be cultivated by man and its uses date back 10,000 years (give or take).

Hempen organic hemp seed oil contains more Omega 3 and 6 than the fish oil tablets some people take (Omega 3 helps maintain a healthy heart, brain and metabolism, and omega 6 provides energy for the body).
Hemp seed oil is packed with vitamins A, B, C and E, and carotene, an antioxidant and lower in saturated fat than other plant-based oils.
It's also a great alternative to olive oil, butter and spreads. It has a delicate texture and a distinctive nutty flavour similar to sunflower seeds.
£8, Hempen
SHOP NOW
SUSTAINABLE CHRISTMAS GIFTS FOR HER: FACE MASKS
Reusable silk face mask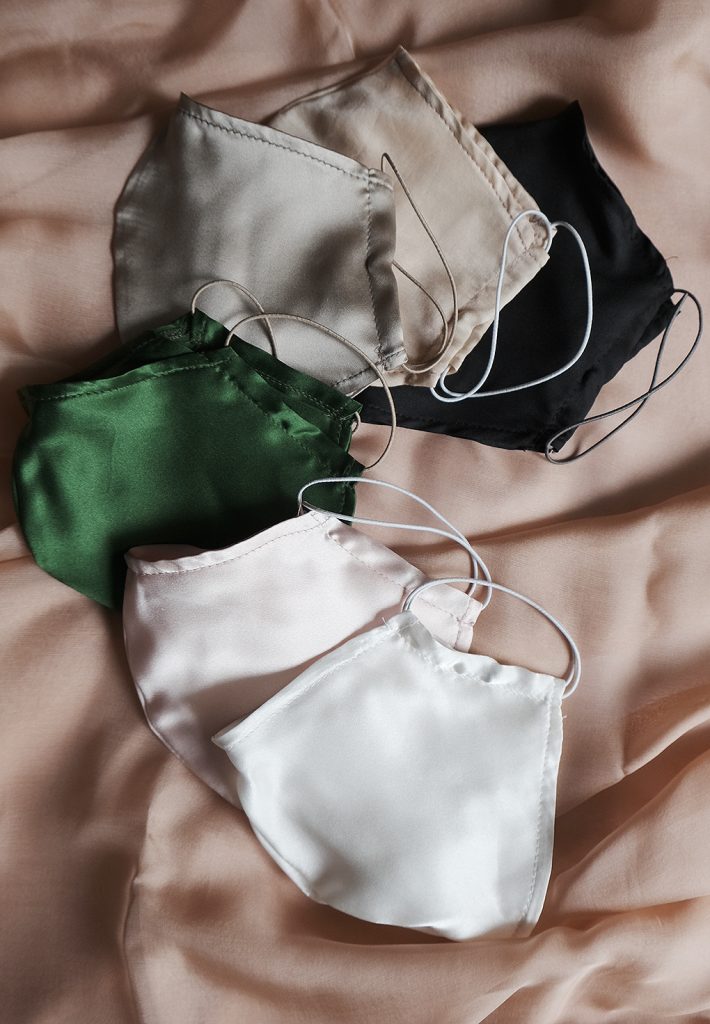 Luckily, face mask designs have come a long way since we first started having to wear them. They are not only more comfortable, but can be stylish and sustainable, too – and make a lovely practical gift. These luxurious Lora Gene masks are made from silk, which may help repel moisture droplets and reduce fabric wetting and thus maintain breathability and comfort. They also look really great, too.
Optimist reusable face mask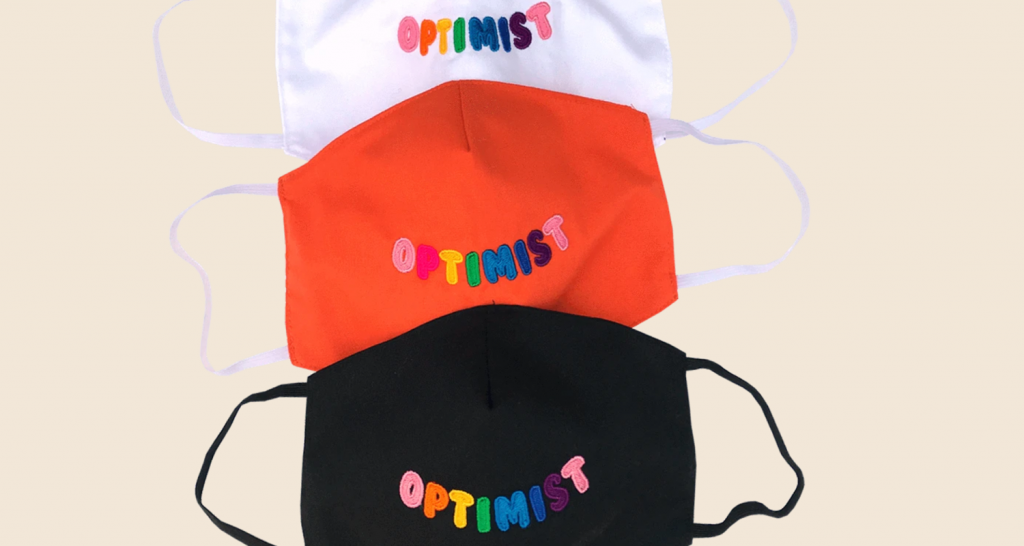 Bold, bright and seriously positive, Birdsong face masks will make you and everyone around you smile, even if you can't see it. These double-layered masks are made from end-of-roll cotton and printed with the word OPTIMIST in rainbow colours. Most importantly, though, whichever mask you buy, Birdsong makes sure its seamstresses receive the living wage.
£24, Birdsong
SHOP NOW
Face masks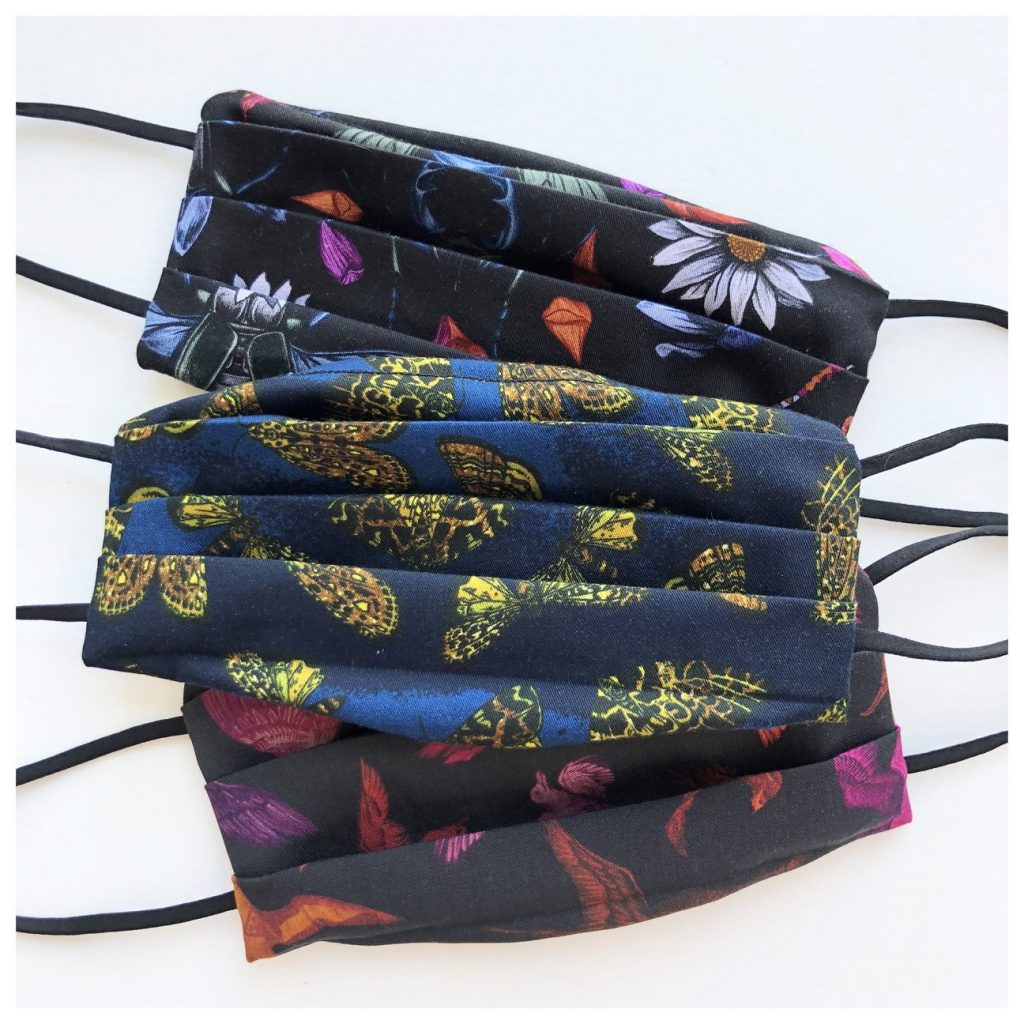 Gung Ho is another clothing brand with a focus on bold and bright designs – many containing hidden meanings. No less care has been taken when it comes to Gung Ho's face masks, which are made out of organic cotton and tencel offcuts, double layered with a filter you can replace.
£15, Gung Ho
SHOP NOW
SUSTAINABLE CHRISTMAS GIFTS FOR HER: ACTIVITIES
Family Farm Safari day out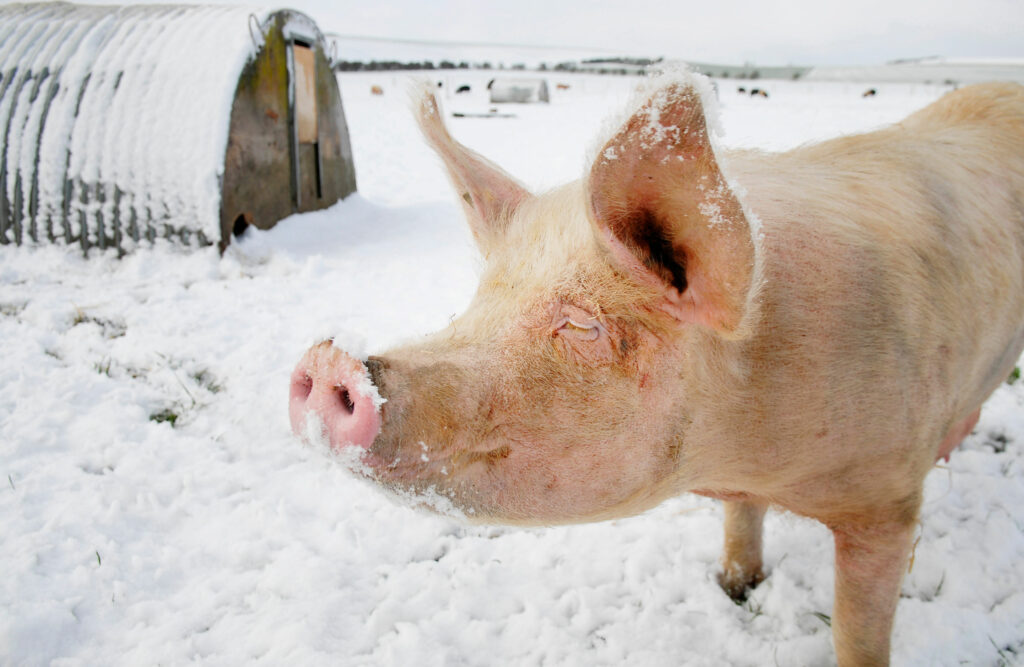 What better gift than quality time to spend with loved ones? Eastbrook Experiences offers the chance to enjoy some downtime with the family while exploring the beautiful Eastbrook Farm – an organic farmland set on the historic Ridgeway in Wiltshire.
If you're searching for the perfect gift for lovers of the countryside, a gift voucher to Eastbook Experiences' Farm Safari is a fun, thoughtful and family-friendly treat. They'll receive a guided tour around the 1,500 acres of land, where they will be shown the various wildlife they have and get a chance to get up close and personal with the pigs! Their safaris run all year round and can be booked via their website at your convenience.
Or, if you know of a couple deserving of some alone time, they also offer a Farm Safari Overnight bundle for 2, which, in addition to the safari tour, includes a one night stay in their lovely Royal Oak Hotel.
From £75, Helen Browning's
SHOP NOW
Unseen Tours, Walking tours of London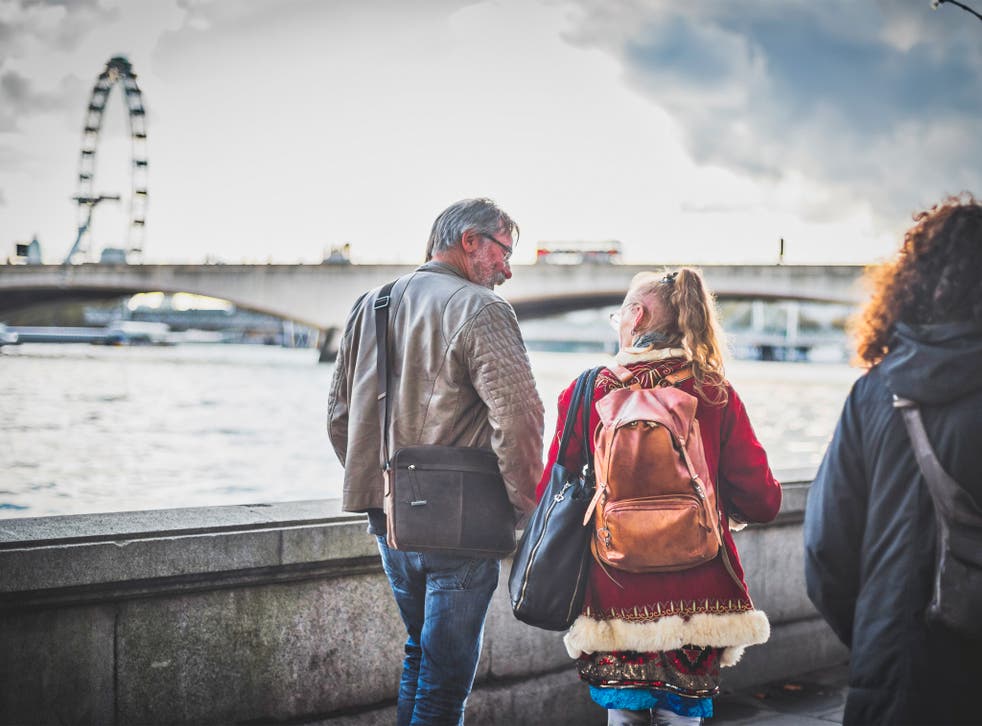 Its safe to say we all appreciate getting out and about now more than ever. So why not help someone you love reacquaint themselves with the city of London at the same time as discovering it in a whole new light?
Unseen tours are two-hour walking tours hosted by homeless, formerly homeless and vulnerably housed people. This means the historic facts are weaved together with the modern-day realities of what it means to live on the street. Our tour was led by the fabulous Viv, who guided us through the streets from Temple to Covent Garden.
It began on a bench that had been her bed for a year; took us past historic monuments, taught us quirky facts about the Savoy Hotel, made us "augh" with stories about her incredibly colourful life, and showed us the nicest places to use the toilet for free. You can't ask for much more than that. We both wore masks, and walking outside felt Covid-safe. If you want to donate to a Christmas charity this year, Crisis and Pathways are two recommendations from Viv.
£15, Urban Tours
SHOP NOW