Researching and trialling countless organic UK cosmetics and ethical beauty products to find ones that actually work and are genuinely ethical is a long process (trust us, we've been through it)…
There are a lot of beauty brands claiming to be natural out there. Shockingly, when it comes to marketing in the beauty industry, there is no regulation of the words "organic" or "natural".
This means brands can use the word organic, even if organic products make up just 1% of their product. They can also claim to be natural if just one ingredient comes from a plant, despite the bulk of the product being made up of petrochemicals.
As we wrote in our article on greenwashing in beauty for the Organic Trade Board, the only way to really tell if a brand is genuine, without visiting them yourself, is to look for certification from a respected third-party certifier that insists on audits.
We understand that's still a lot to ask of individuals. After all, isn't self-care meant to be relaxing? Well, that's why we've done the hard work for you. We've put together a list of our favourite tried and true natural and/or organic cosmetics brands available in the UK.
These brands all demonstrate a commitment to sustainability and transparency.
Each brand has completed a comprehensive questionnaire detailing their ethical standards, from their use of sustainable ingredients to the pay of workers in their supply chains.
This means you can shop with these brands happily, rest assured that the cosmetics you buy are better for you, the planet and people.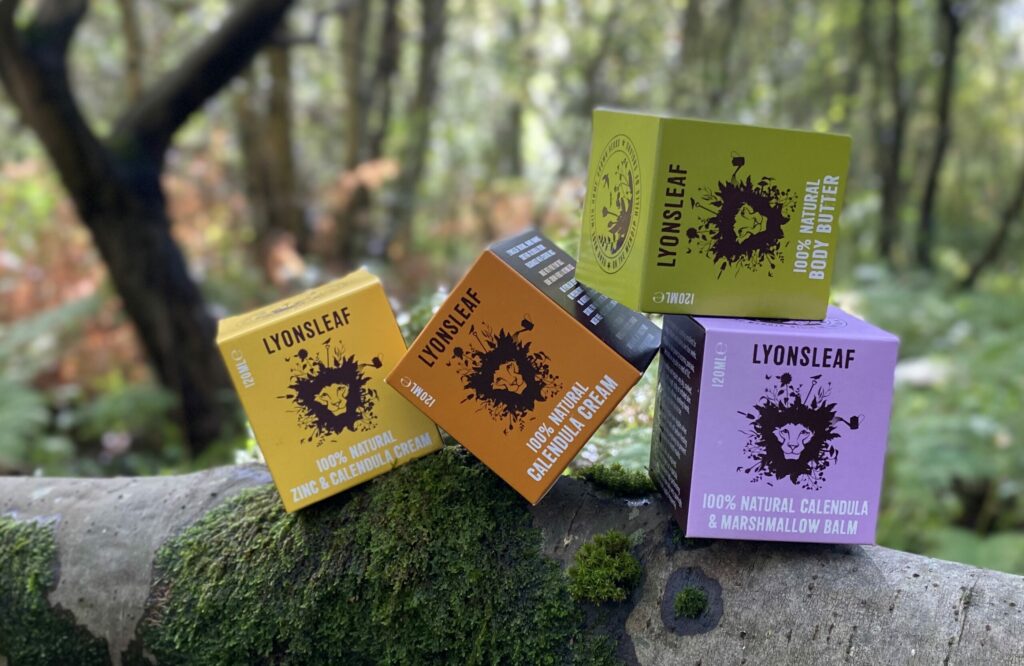 Lyonsleaf | water-free skincare for sensitive skin
Lyonsleaf's mission is to provide a skincare product that is suitable for all skin types – especially super-sensitive skin. From field to face, Lyonsleaf's are committed to affordability and a minimal environmental footprint.
Co-founder Vicky Lyons' passion for natural living merged with a desire to create skincare products that spoke to the soul. When Vicky, dealing with sensitive skin, found comfort in their homemade calendula moisturizer over harsh steroid creams, it sparked a natural skincare revolution.
Her revelation? Going water-free, ensuring their products are 100% natural.
This philosophy, which they call The Republic of Natural Skincare, guides Lyonsleaf, crafting their blends with home-grown herbs, nourishing plant oils, organic beeswax, minerals, and… nothing else!
Their products are predominately UK-grown and 100% UK-made.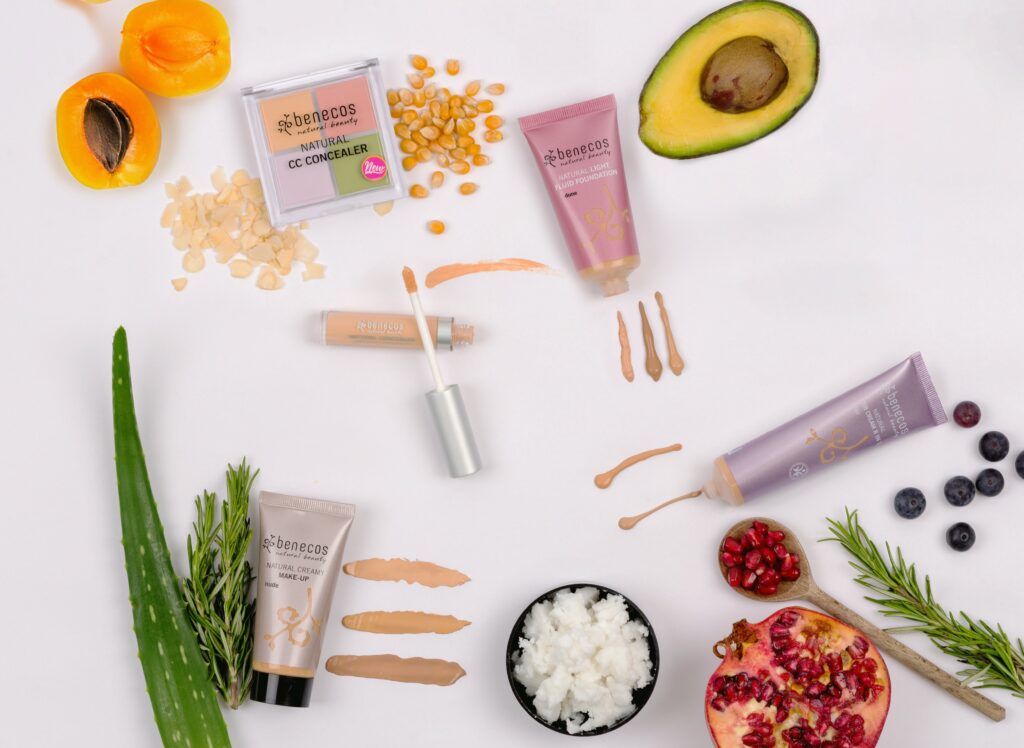 benecos | plant-based, cruelty-free makeup
Looking for natural plant-based and organic makeup that doesn't cost the earth? Well, look no further than benecos.
benecos offers a modern range of organic, plant-based and cruelty-free makeup at an affordable price. They pack them full of natural ingredients and, wherever possible, organically farmed raw materials that care for your skin. Plus, they steer clear of mineral oils, paraffins and silicones.
benecos hold certifications from BDIH COSMOS Organic and PETA cruelty-free. The Natural Care range is The Vegan Society certified.
We're huge fans of their innovative It-Pieces eyeshadow palettes. Their eye-shadows not only come in an array of beautiful colours to play with. Excitingly, they are also mix and match, which means you can personally curate your perfect palette. And that's not even the best part… The shadows are also refillable!
When you've run out of your favourite shade, there's no having to waste money, or packaging, on replacing the entire palette. You can simply replace the individual colour. Or, switch things up and swap it out for an entirely new shade. The options and potential make-up looks are endless…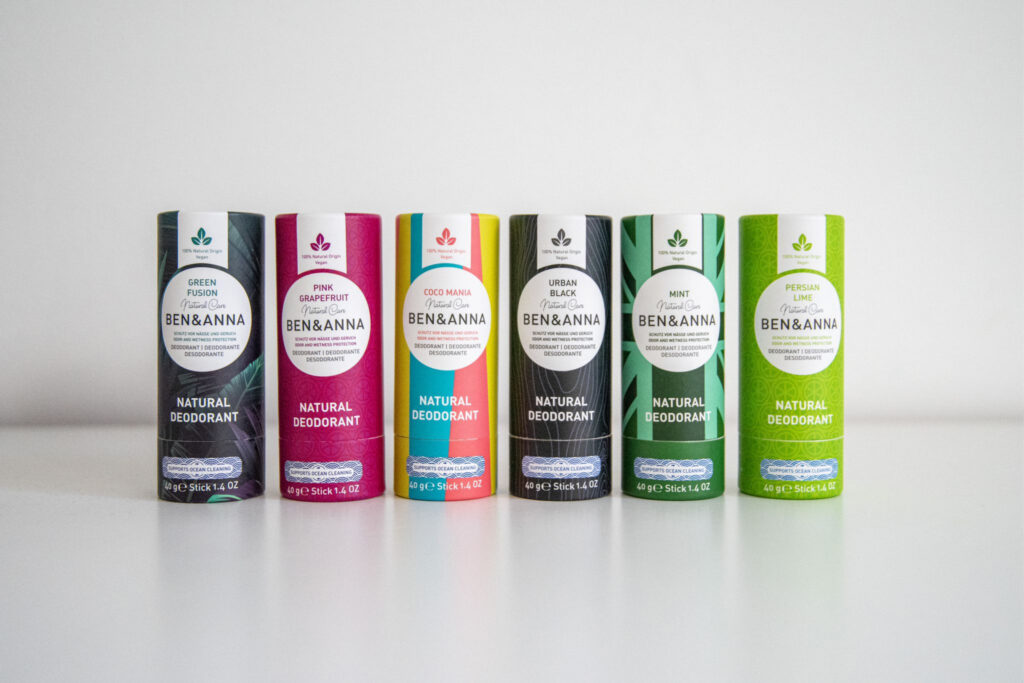 Ben & Anna | natural deodorants
Hurrah! We've found a natural and sustainable deodorant that actually works.
Well, a couple actually. When it comes to "natural" deodorants, we've tried them all… But we have to say, Ben & Anna's are right there at the top of ur faves.
Ben & Anna deodorants, as well as their other toiletry products, are certified by Natrue, registered by The Vegan Society and cruelty-free.
The deodorant is based on bicarbonate of soda, shea butter (organic) and coconut oil. All ingredients are responsibility-sourced, as demanded by their certifications. Their deodorants don't contain aluminium, Parabens, or Phthalates and their products are also microplastic-free.
So, now they've gained our trust on the big issue, we're making our way through trialling their natural soaps, shampoo, conditioner and toothpaste options, too. So far, so good!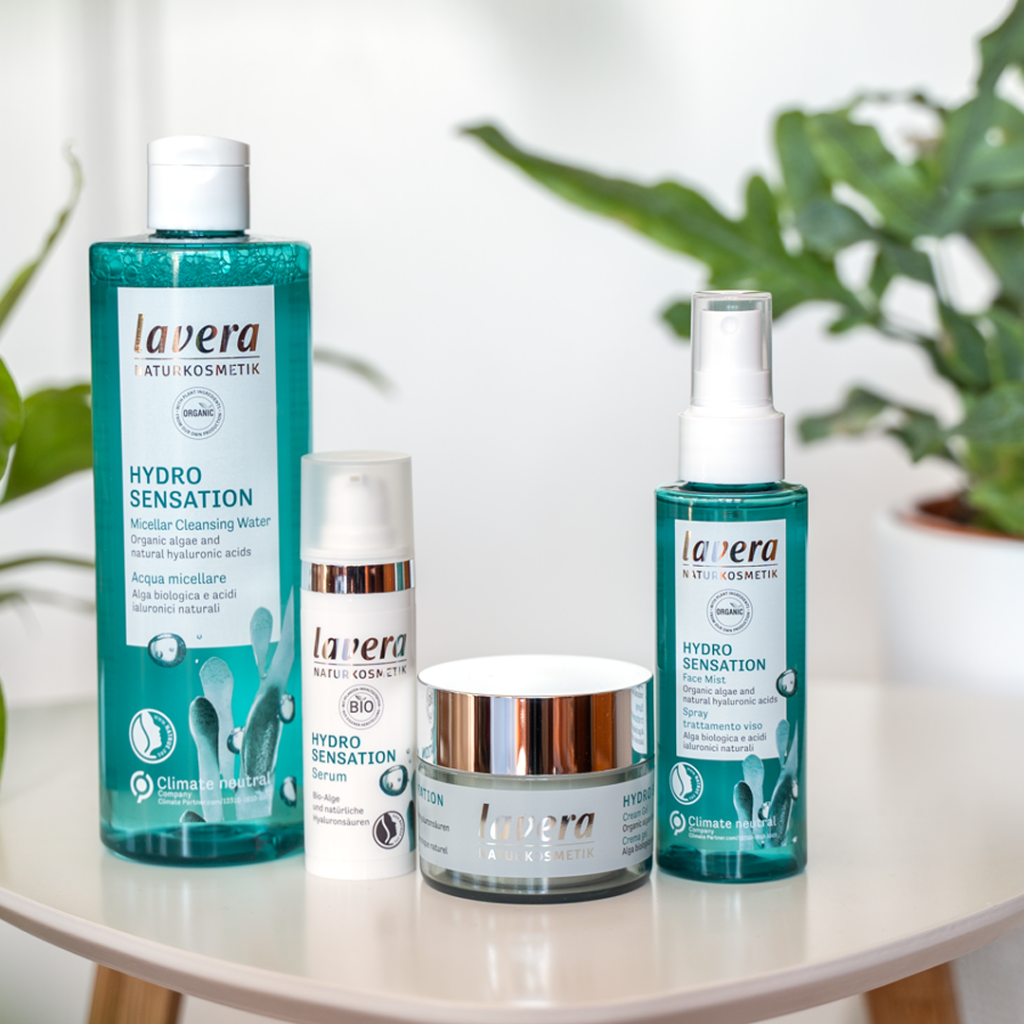 lavera | gentle skincare for sensitive skin
It's no coincidence the name lavera is derived from the Latin for 'truth'. lavera's vision is about making truly good natural skincare for everybody.
Alongside their holy grail lip balm (which is where it all started), they have a brilliant selection of 100% natural body lotions and moisturising creams for sensitive skin. They source natural and (where possible) certified organic raw plant ingredients that are inherently gentle and nourishing for the skin.
For more than three decades, lavera has prided itself on making the products themselves in Germany. Their range of more than 250 products – from skincare to haircare, cosmetics to oral care – are certified and audited by Natrue, Ecocert, COSMOS Organic, PETA cruelty-free, The Vegan Society, RSPO.
None of the products are tested on animals, nor do they contain parabens, SLS, phthalates, parraffinium, or petrochemicals.
lavera packaging is recyclable, and they have a refill option to help reduce waste. Brilliantly, they are a climate-neutral company.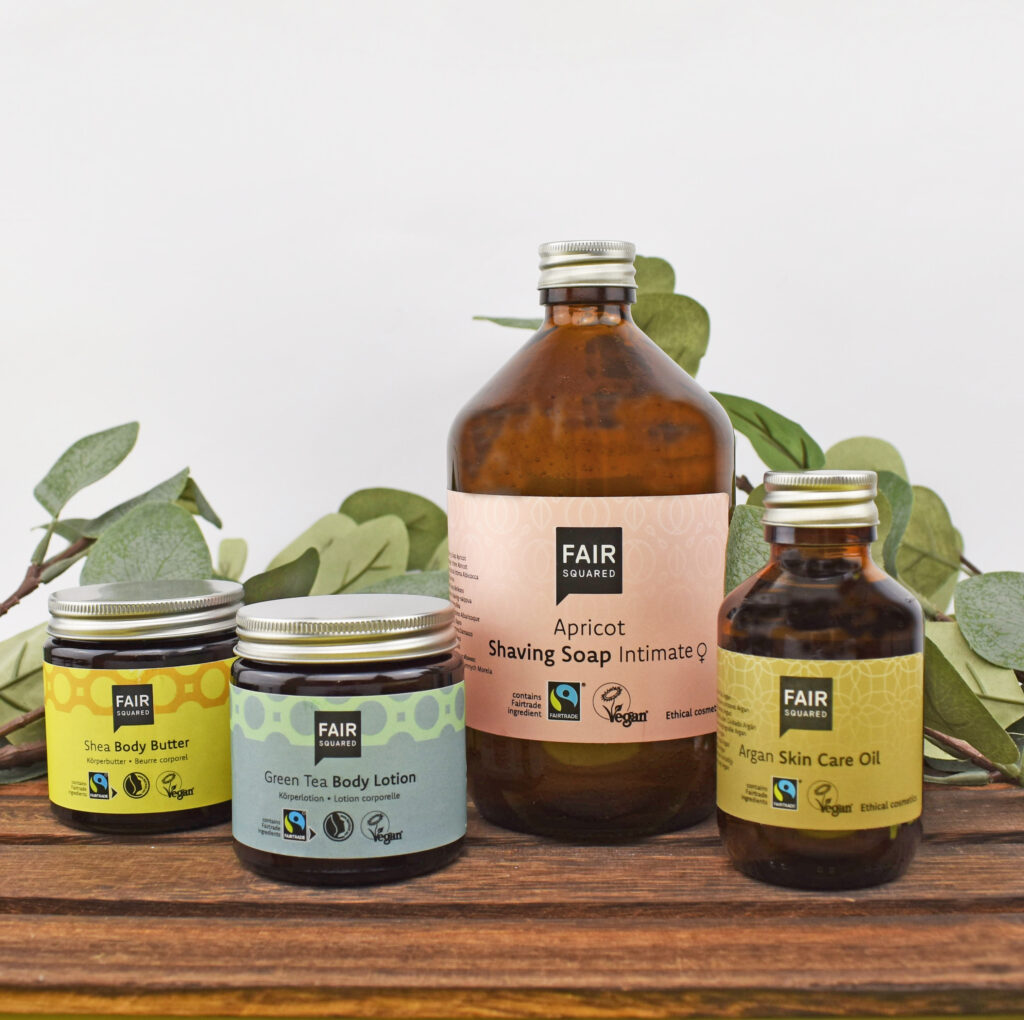 Fair Squared | intimate natural bodycare
If you're after natural and ethical intimate body care, FAIR SQUARED is your ultimate go-to shop.
Relying on the power of nature, FAIR SQUARED products are made with 100% natural and sustainably sourced ingredients from trusted, long-lasting trading partners. Their whole collection of products, from hair soaps to body lotion, is made completely vegan, cruelty-free, plastic-free and certified Fairtrade.
It's not just about what they are though, but about what they are not. All products are free from genetically modified substances, micro-plastics, palm oil, mineral oils, petrochemicals, synthetic fragrances and artificial preservatives.
Alongside Fairtrade, FAIR SQUARED are certified by Natrue and registered by The Vegan Society, Fair Rubber, FSC, and ClimatePartner. These certifying bodies audit their work processes and supply chains regularly.
We especially love their 'intimate' care product range. It includes menstrual cups (tried and approved by the Live Frankly team) and 100% vegan condoms (along with massage oil and a shea massage candle, if you're looking for a little romance).
Their shea deodorant is also brilliant, especially if you find that others can clog your pores.
FAIR SQUARED transports all products by sea and road. Their packaging is recyclable. They are now aiming to become 100% plastic-free and a zero-waste brand.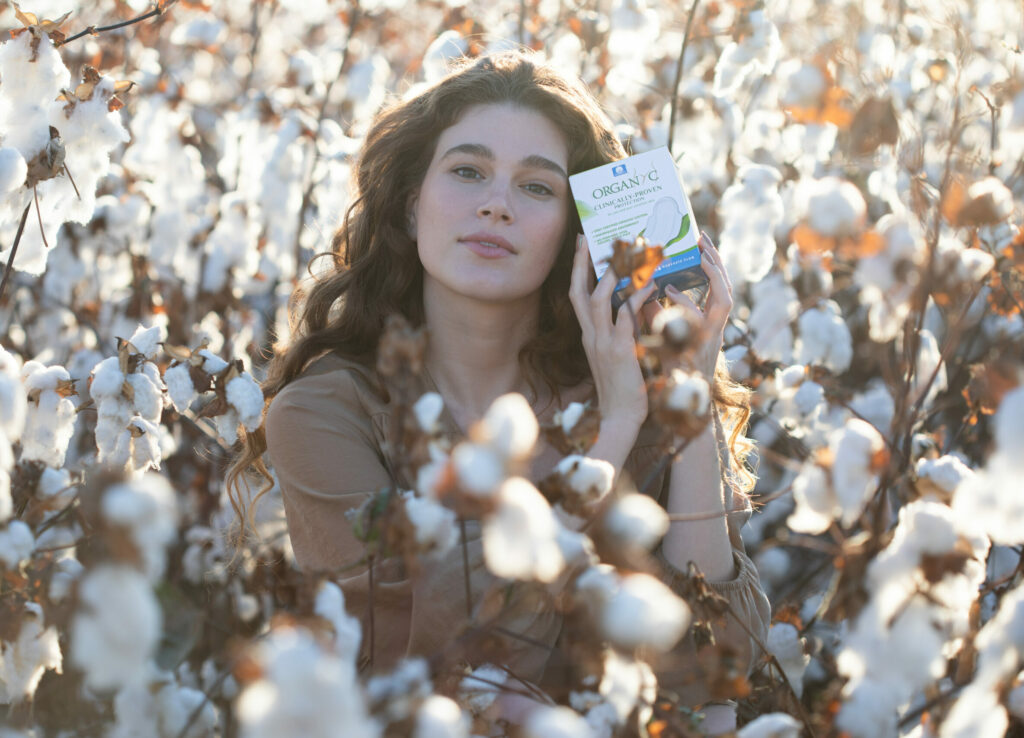 Organyc | organic period products
Organyc is a family-run business that has been pioneering organic period products for 15 years.
For those who prefer the comfort of using period pads or tampons, Organyc specialise in disposable period products that are gentle on your skin and the planet.
Did you know that standard menstrual pads can be made of up to 90% plastic? Or that they can contain traces of chemicals like pesticides and chlorine? We were shocked, too.
Organyc's products say goodbye to nasty toxins and synthetics and say hello to sustainably sourced, 100% certified organic cotton – 'no perfume, dyes and other junk'.
Organyc pads and tampons are soft on the skin, hypoallergenic, breathable, and absorbent by nature, and are clinically proven to reduce intimate skin irritations.
They use recycled and recyclable cardboard for their products' outer packaging. They wrap the individual products themselves in a biofilm derived from non-GMO cornstarch, which is biodegradable.
Organyc are certified by Soil Association, ICEA, Vegan OK, Ecocert, GOTS and Seal of Cotton.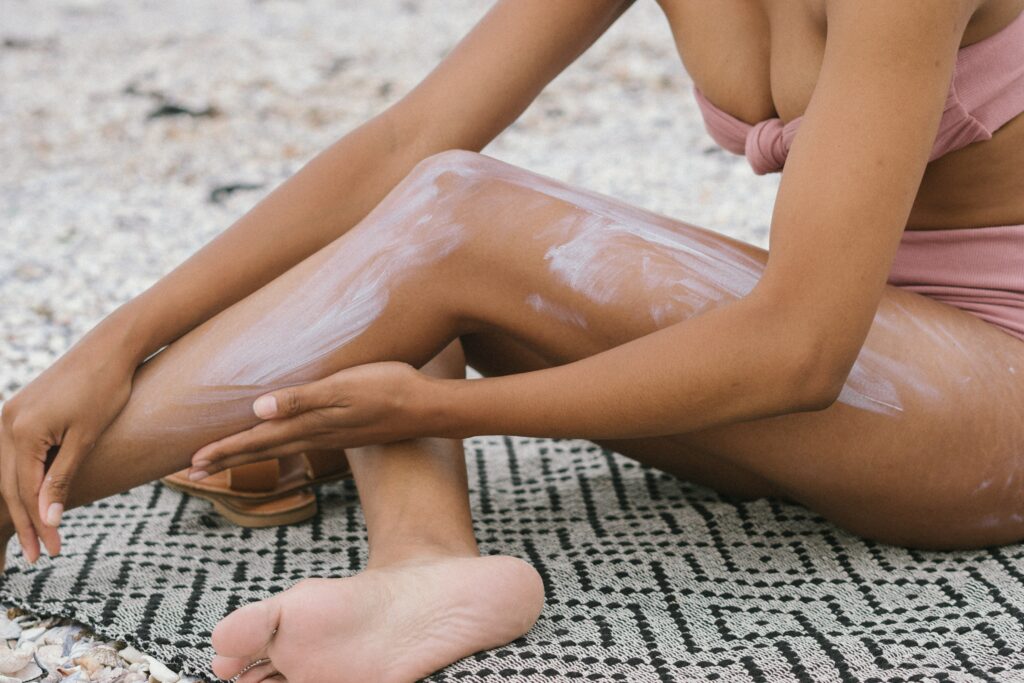 Organii | organic mineral sunscreen
Organii is the ultimate family-friendly skincare brand which offers great value, certified organic and natural products. Formulated for your skin's health, they contain only natural, vegan and cruelty-free raw ingredients sourced as sustainably as possible. The best part? Their products, from body care to baby care, actually work.
For us, the star of the show has to be their suncare range. Their sunscreen, which is available in SPF15, SPF20, SPF30, SPF50, is certified organic and 100% mineral-based. It helps to protects against UVA and UVB rays. It is also water-resistant. Brilliantly, it is free from chemicals that can harm marine life. For example, it is free from synthetic UV filters, silicone, paraffin, mineral oils, parabens and colourants. As an added bonus, it also contains natural plant oils which help to nourish and hydrate the skin.
Organii are certified by Soil Association, The Vegan Society, PETA cruelty-free and Natural Cosmetics Standard (NCS).
Roughly 95% of Organii's packaging is recyclable (except the pumps in their liquid soaps and sprays). They are working to make this 100% in 2022.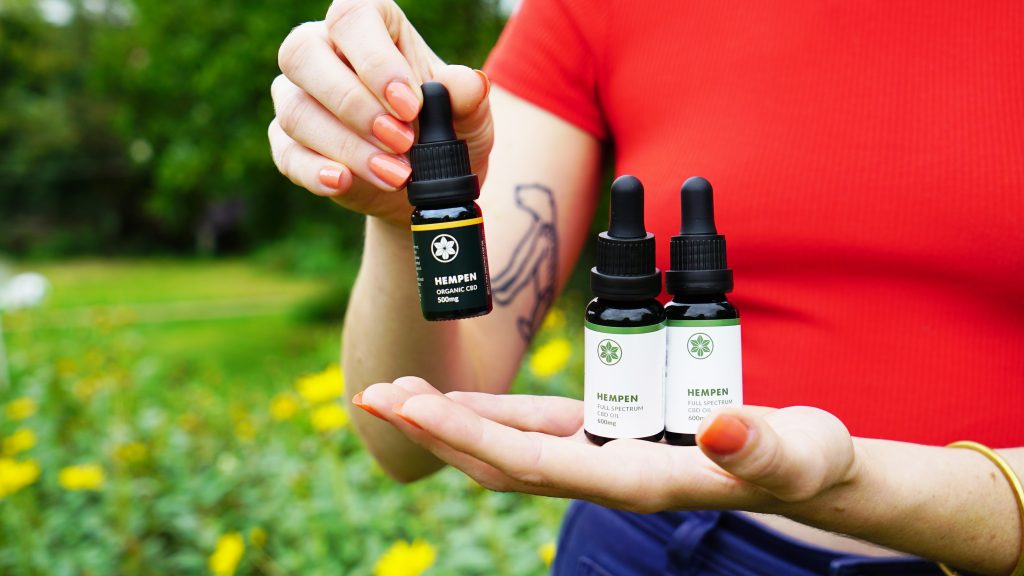 Hempen | organic CBD oil
Been feeling a little stressed out lately? Hempen's Organic CBD Oil could be just what you need…
Hempen is a co-operative that produces all-natural, all-friendly organic CBD and hemp products, in Oxfordshire.
For those starting their foray into CBD and hemp: hemp is the plant, officially called the Cannabis sativa; CBD is a chemical that is extracted from the flowers after the plant is harvested.
What you do need to know is CBD is thought to have many health benefits, like pain relief, aiding sleep and reducing anxiety or stress*. There's loads of info on the web about this, and our articles on Hemp and CBD are a great place to start (even if we do say so ourselves).
Full-spectrum CBD oil works with the endocannabinoid system, to balance your body. While its many effects are still being researched, studies have shown CBD can alleviate symptoms of inflammation, pain and anxiety. The CBD in Hempen's Refined CBD Oil is imported from an organic farm in Switzerland. It is then blended with hemp seed oil from the UK, which offers additional benefits from omega fatty acids, antioxidants and phytonutrients.
All of the ingredients in Hempen's products are Soil Association certified organic and as ethically and locally sourced and produced as possible.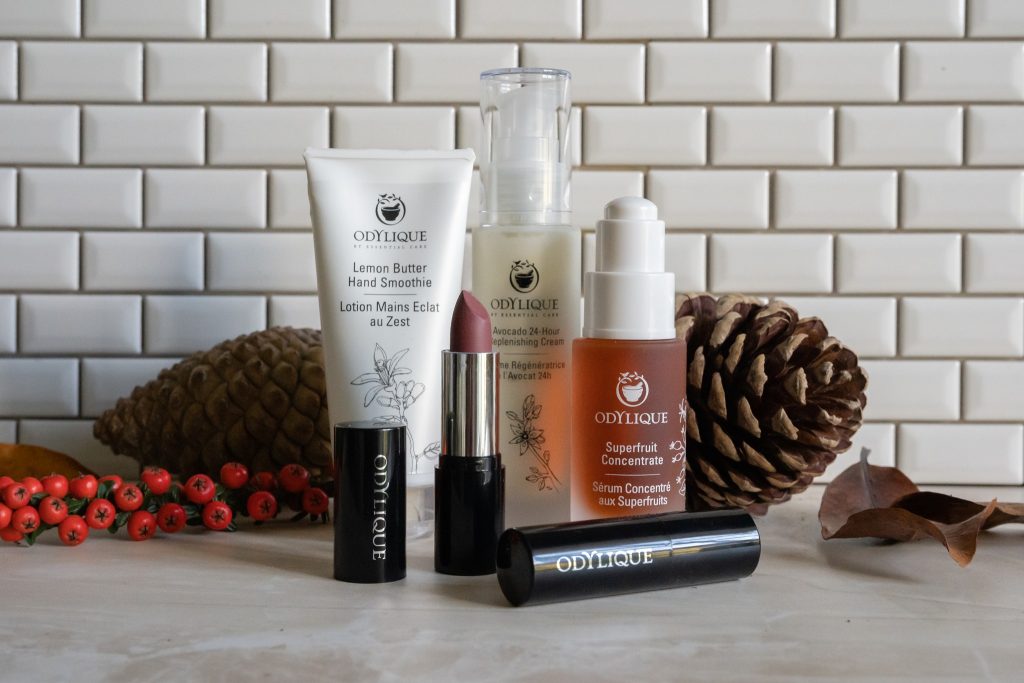 Odylique | Fairtrade organic lipsticks
Odylique's mission is to make therapeutic and healthy skincare without compromising on performance. All Odylique products are certified organic, cruelty-free, and free from artificial chemicals, common allergen nut oils, sorbates, benzoates, soy, wheat and dairy.
Their product range is all made in the company's renewable-energy powered headquarters near Cambridge, UK. All Odylique packaging is recyclable and much of it is made from recycled materials.
We're fans of Odylique's cruelty-free, 100% natural, 86% organic lipsticks which are bursting with botanical ingredients including raw shea butter that soothes and moisturises the most sensitive lips. They are the first lipsticks certified to Soil Association's organic and Fairtrade standards. They are available in a range of colours to suit every skin tone.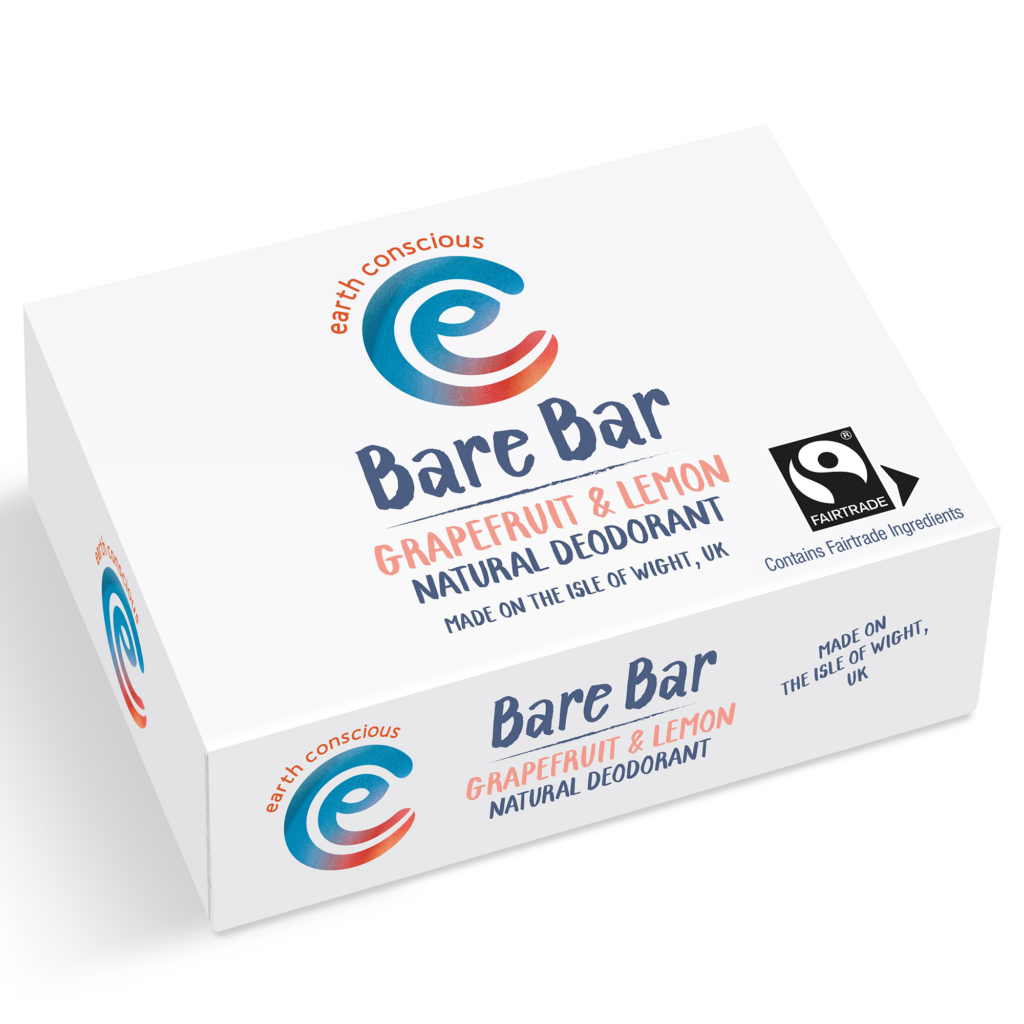 Earth Conscious | Fairtrade deodorants
Earth Concious is a small family business that make ALL GOOD plastic-free natural deodorants and baby balms in the UK. We're a fan of these deodorants, too.
Their products are made from only natural and, where possible, organic ingredients including Fairtrade Certified Coconut Oil and Shea Butter.
They are Vegan Approved by the Vegetarian Society and endorsed Cruelty-Free by the Leaping Bunny programme. They use plastic-free product and postal packaging. Brilliantly, 10p from every product sold is donated to the Marine Conservation Society, a UK charity protecting our seas, shores and wildlife.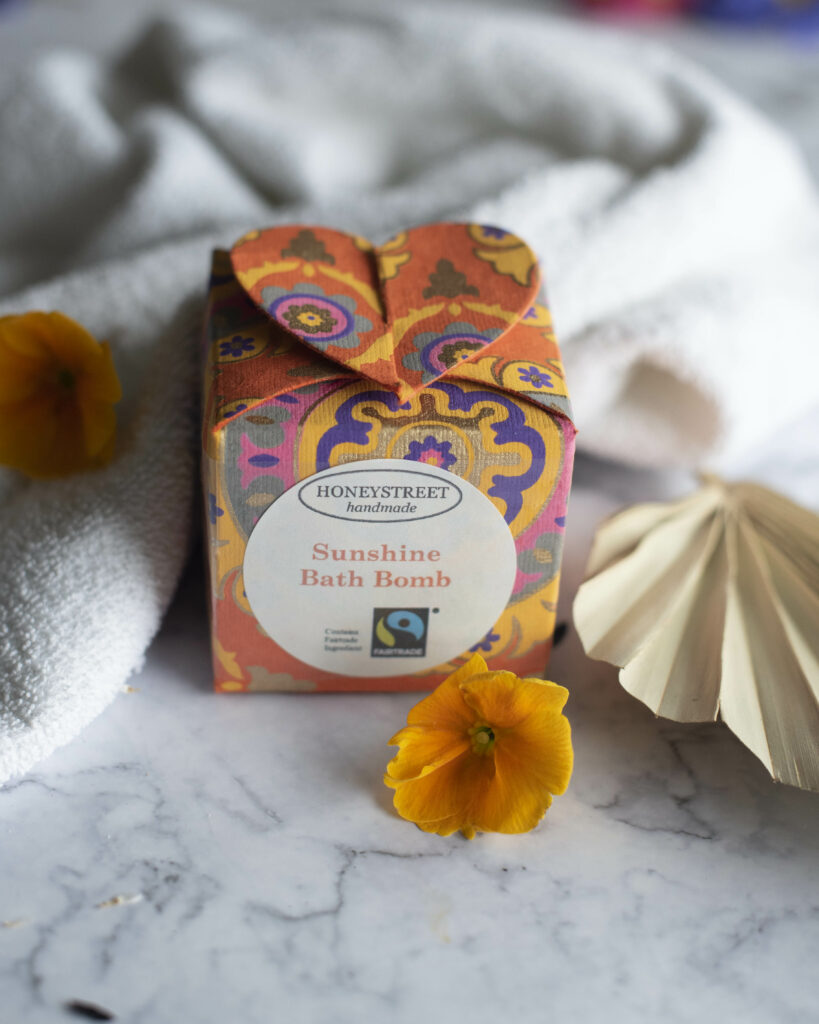 Honeystreet Handmade | Fairtrade bath products
Honeystreet Handmade sell a range of luxury Fairtrade bath and body products, locally made by a family company in the heart of the Wiltshire countryside.
They have over fifty products certified by Fairtrade and source brilliant Fairtrade ingredients from across the world.
They steer clear of nasty ingredients like parabens, sulphates, petrochemicals, palm oil, artificial colours or fragrances. The scent blends are all created using pure essential oils.
They have a lovely selection of bath bombs and oils that are just what we need to help us switch off and relax after a long day.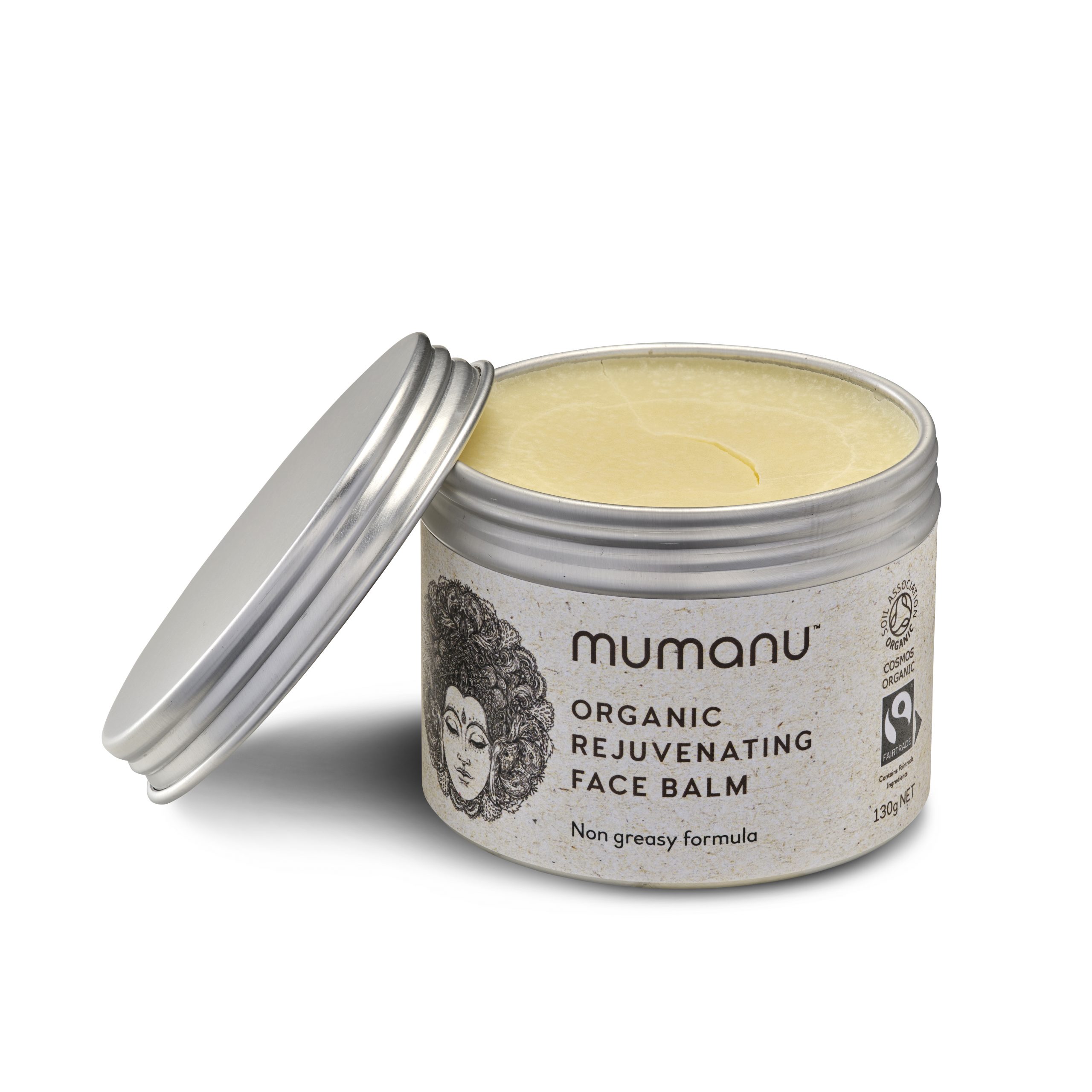 Mumanu | Organic body balms
If you're looking to pamper yourself, Mumanu is your brand.
Mumanu sell a wide range of soothing and nourishing certified organic and Fairtrade balms to lather yourself in head-to-toe. Literally. They have balms for everything, from your body, face, lips, feet, hands, beards, coughs and colds. Organic Lavender Massage and Body Balm? Don't mind if we do.
Mumanu are proud to make great quality, unique products that are both certified organic and contain Fairtrade ingredients.