Christmas turkey. Every year it's the same. We spend weeks planning a meal around it; we take hours discussing cooking techniques; do you brine it?; what do you stuff it with? But, one thing we forget when scouring the supermarket options for the best-tasting turkey is thinking about how it has been reared.
And this is possibly the most fundamental requirement for a top tasting bird.
Of course, since you're reading this on Live Frankly, you'll know we're big advocates for organic, truly free-range birds.
You may have already seen we've made our case for free-range and organic chicken.
Not all turkeys are created equal. Well, they may have been. But, they certainly don't all taste the same.
That's not all down to our cooking skills – it's because of the huge disparity in how they are farmed.
We've discovered that the best-tasting turkey – one that has a depth of flavour, is juicy and tender but also has structure – needs to be slow-grown for around six months. It also needs to be hung for a good couple of weeks before you buy it.
"That special moment at Christmas dinner, that quiet when you have the first mouthful and everyone thinks 'wow' – that's what we spend many months of every year trying to give people," says Peter Greig of Piper's Farm.
This moment can only be bought from certain farmers and butchers, who are committed to doing things the right way. The slow way.
Intensively farmed supermarket turkey
A staggering 90 percent of the UK's 10 million turkeys are now intensively farmed, according to the Soil Association.
This includes turkeys that are kept indoors, pumped with antibiotics to keep disease at bay, and fed a high-protein diet of genetically modified grains grown with the use of pesticides and chemical fertilisers, so they grow unnaturally quickly.
These birds have been bred to be so heavy they are no longer able to fly or mate naturally. Beak trimming is also commonplace. This stops them from pecking at each other because they live in in such close confinement. They are typically killed at around half the age of a genuinely free-range or organic turkey. So, that's how you could buy turkeys that were starting at £12 in supermarkets last year.
Free-range turkey
But, "the supermarket version of 'free-range' doesn't necessarily mean things are much better, as a majority of these birds are still raised in an industrial setting," says Greig.
"The stocking density is around half that of their battery counterparts, and while they are required to have access to the outdoors, the way they are raised and housed means that most will never venture outside."
In this system, birds that have the potential to grow to 15kg are only taken to 5kg. That's because this is a popular size for the Christmas table. They are processed before the bird reaches full maturity.
The result is a bird that has an immature tenderness, which in theory sounds good – who doesn't want tender meat?
But, in practice it can be very challenging for a chef because the turkey is also full of water that evaporates when cooking. When this happens the texture collapses creating that dry, tasteless sensation turkey is fast getting a reputation for.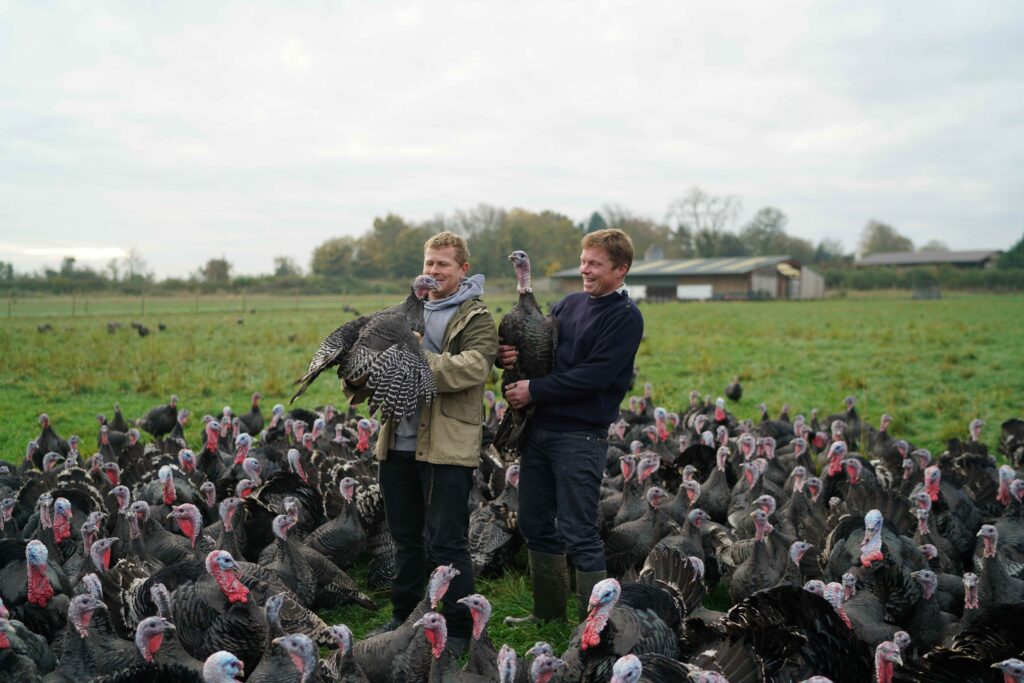 Organic and genuinely free-range turkey
But, turkey didn't traditionally taste like this – and nor should it. Opting for an organic or genuinely free-range slower-growing breed, such as a Norfolk Black, Bronze or Bourbon Red, that has been grown to full maturity creates a completely different eating experience.
These birds are encouraged to go outside from around six weeks old and can forage for clover and bugs to supplement their diet, which is much lower in protein.
This means the bird can naturally build up muscle, which can be quite tough and is one of the reasons hanging a turkey for around 10 days is such an essential part of the farm-to-plate process.
One butchered, hanging allows the muscle fibre to break down, creating a more tender bird that still has structure. Importantly, most of the water evaporates during the hanging process, leaving flavoursome meat juices.
"A major important factor is that a slow-grown bird develops a hard layer of fat under the skin," says Stuart Perkins from Castlemead poultry farm in Somerset.
"This not only improves the flavour and texture, but keeps the bird moist in the oven as the fat renders down as you cook it." The result is a succulent bird that reflects the way it was reared.
Four questions to ask to ensure you're buying top-quality turkey:
What breed is it? Opt for a heritage and slower-growing breed – a Norfolk Black, Bronze or Bourbon Red are some of the most common
How old was it when it was killed? 24 weeks allows a turkey to reach full maturity
How was it plucked? Only dry-plucked birds can be hung, so this is another assurance of quality
For how long was it hung? Ideally, you're looking for at least 10 days and up to three weeks
As Peter Greig says of their turkeys: "It's complex, it's deep, it's lingering. It's a taste of Devon".
And the same goes for wherever the turkey is reared.
If you want to make sure you're getting the best-tasting turkey possible, check out our article on where to buy the best ethical and sustainable turkey. All options deliver direct to your door.
Main image: Pipers Farm