This article showcases 10 different places to order Christmas food online. They're listed below with pretty much all the information you need to source everything you could possibly want for your festive feasts.
But, first, have you seen Riverford's campaign to Save British Family Farms?
They report that almost half (49%) of British fruit and veg farmers fear they will go out of business within the next 12 months. 75% report that supermarket behaviour is a leading factor.
They're calling on supermarkets to 'get fair about farming', which includes some pretty basic requests such as buy what you agreed to buy, pay the price you agreed to pay, and pay on time.
If Christmas isn't a time to show support for farmers, then I don't know when is. And what better way to show that support than by buying direct from farmers wherever possible?
Good for farmers and good for you: the benefits of buying your Christmas feast directly from farms
British farming, at its best, is renowned the world over. Farming in tune with nature creates thriving biodiverse landscapes and some of the healthiest, most nutritious and best tasting food.
Producers who lovingly grow veg and rear animals for these excellent boxes are masters of their crafts, which have been months in the making (and years in the perfecting). So, what better way to show your appreciation than buying directly from the best of them?
Of course, not all of us are lucky enough to live near farms or have easy access to good butchers or farmers' markets. Fortunately, farm-fresh produce is now being brought directly to our doors.
To make things even easier for you, the food boxes arrive chilled or frozen and thanks to clever packaging, they will stay that way all day. So, you don't even need to be home to receive your food box delivery.
How we curate our farms and test
Live Frankly is a place for exclusively ethical and sustainable farms. All the farms we feature go above-and-beyond in the work they do because they recognise the climate crisis, the injustices in their industries, and they know there's a better way. They're proving farming can be done differently.
Every farm fills out a form answering questions about the animal welfare, the people in their supply chains and their governance structures. We speak with them before adding them to the Live Frankly Directory, and we test the quality of their products.
We do the hard work in the background, so you can focus on buying top quality food for you and your loved-ones from smaller, independent farms who are true custodians of the land for future generations.
Here, we recommend some of our favourite organic, free-range and Pasture for Life farms and farming networks that deliver directly to your door. They're listed in no particular order, it just depends on what you're looking for. All are brilliant in their unique ways!
The Christmas food to order online for your festive feasts 2023
Riverford Organic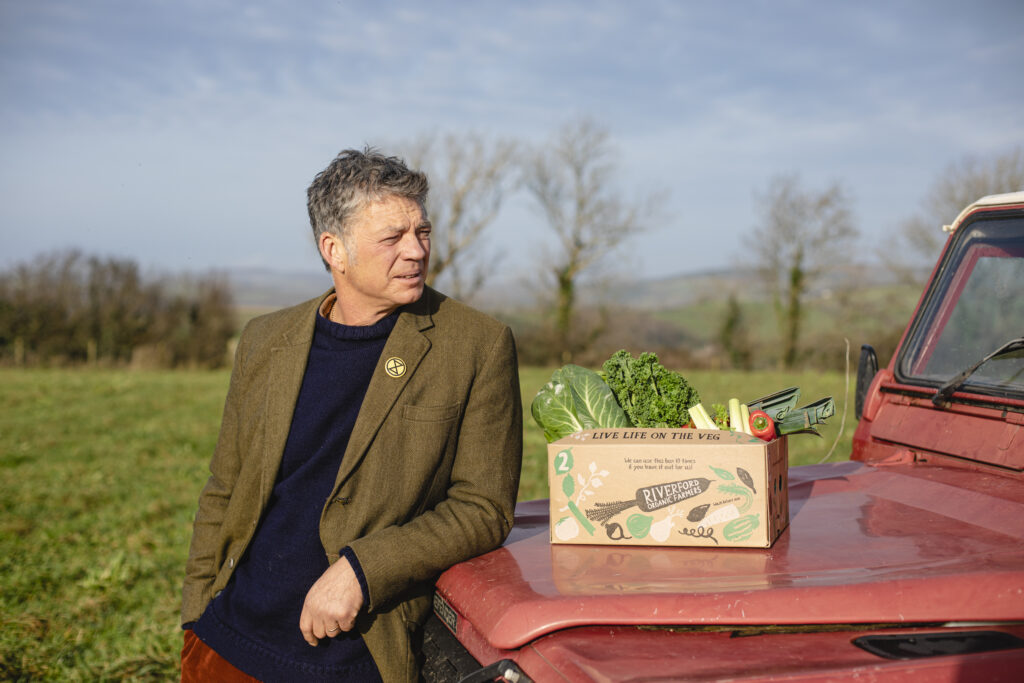 Why support Riverford?
The Riverford team in Devon have been paving the way in organic farming since 1986.
It only grows and supplies 100 per cent certified organic produce
It operates with very little food waste
It puts animal welfare at the forefront of everything it does
It supports small growers and producers
It has reduced its plastic packaging by 21 tonnes a year
It doesn't use air freight
It is one of the top 100 companies to work at in the UK
What to order from Riverford for your Christmas feast?
You'll be able to pre-order everything, from traditional Bronze turkeys and slow-grown winter veg, to unusual organic alcoholic drinks, farmhouse cheeses, and mince pies. They also offer festive cooking kits – helping you make your own fruity Christmas pudding, cake, and chutneys from scratch.
CHRISTMAS SHOP OPENING EARLY NOVEMBER
The Slow Farming Company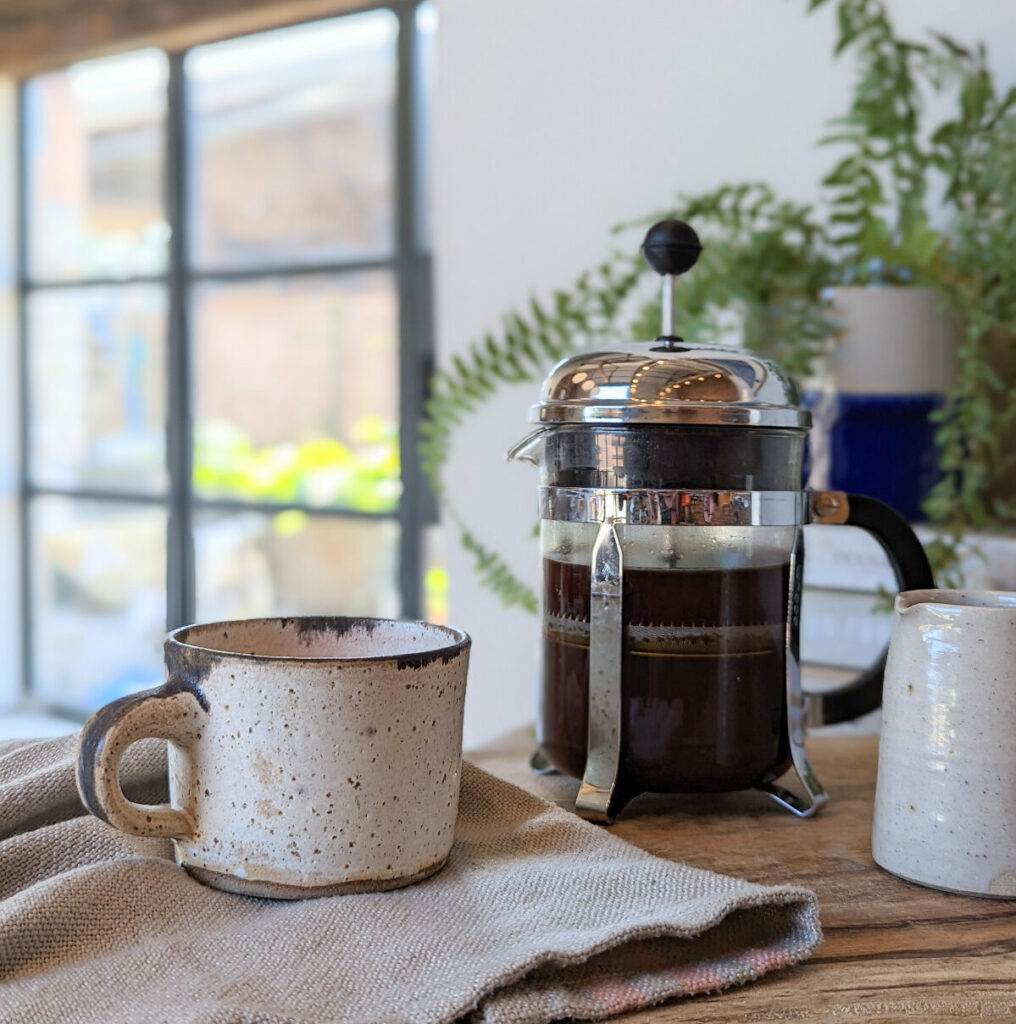 Why support The Slow Farming Company?
The Slow Farming Company is a family-run business, the antithesis to industrialised agriculture
Their farming practices are centred on nurturing and caring for their land and animals
Their farm has the following certifications: Organic, Animal Welfare approved, Pasture for Life, Grassfed and Non-GMO
What to order from The Slow Farming Company for your Christmas feast?
The family sells their own pasture-fed beef and pork reared on their regenerative farm in Somerset.
Their Smoked Back Bacon, Prime Gammon, and Sausages from slow-grown Saddleback Pork mean your trimmings will compete with the centrepiece. For which, 28-day dry-aged beef cuts from their grass-fed native breed cattle can provide a turkey alternative. 
In addition to selling meat, the Pantry shop features Solstice Hot Chocolate for cosy Christmas nights. Plus, their rustically chic collection of Homewares includes beautiful handcrafted Stoneware Mugs to drink it from.
field&flower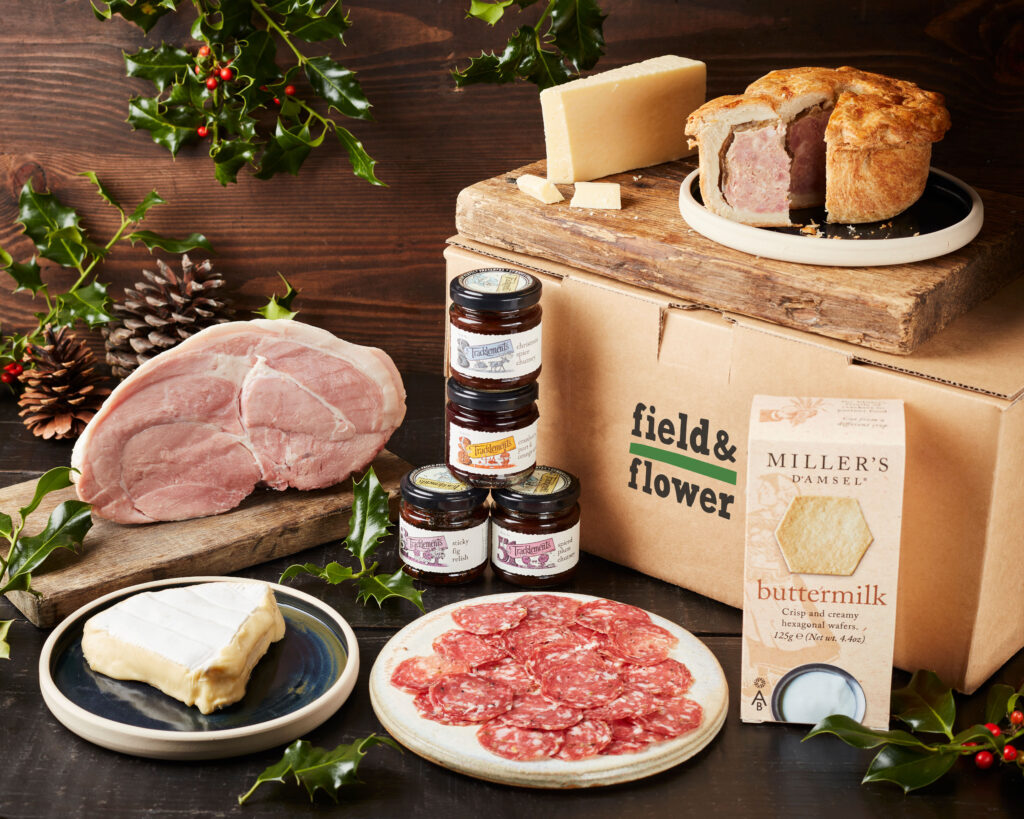 Why support field&flower?
Set up in 2010, field&flower's original mission was to supply consumers with grass-fed, top-quality beef, directly to their homes, instead of their produce being lost in the food chain.
The company now works with some of the best independent West Country farms and fishers who share their high animal welfare and sustainability values to offer a whole lot more choice.
As part of their 'Turkey Leg Up' campaign, they'll donate one pair of turkey legs for every Turkey Crown they sell this Christmas to support their charity partner FareShare South West. One pair of legs is enough to serve 2-3 vulnerable people who might not have access to a Christmas dinner.
What to order from field&flower for your Christmas feast?
Free-range, grass-fed and consciously reared turkey, pork, beef and lamb, venison and game. You're spoilt for choice, when it comes to meat.
As well as supporting British farmers, you can also support fishmongers, cheesemakers, charcutiers, and traditional pie makers with your festive feasting.
Piper's Farm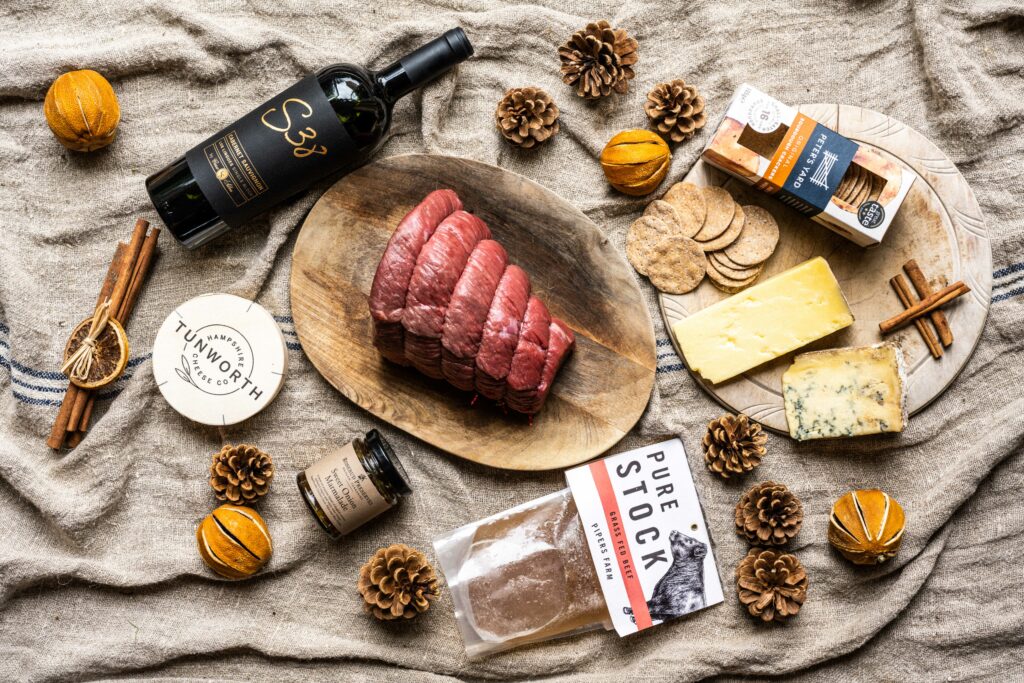 Why support Piper's Farm?
Pipers Farm is based in Devon, where the 50-acre family farm works in tune with nature and 40 other family farms in the surrounding areas
A frontrunner in sustainably produced meat for more than 30 years
Everyone at Piper's Farm is very vocal about what "genuinely" good farming looks like, and it puts its money where its mouth is
Piper's Farm uses its growing platform to offer other small farms access to the market and customers access to wholesome food that has been grown with a respect for nature
What to order from Piper's Farm for your Christmas feast?
Pipers Farm has won a whole host of accolades for its great-tasting meat.
They also offer delicious Christmas trimmings, Seafood, Cheese, Christmas tipples, Sweet treats and Gifts and Hampers.
Fosse Meadows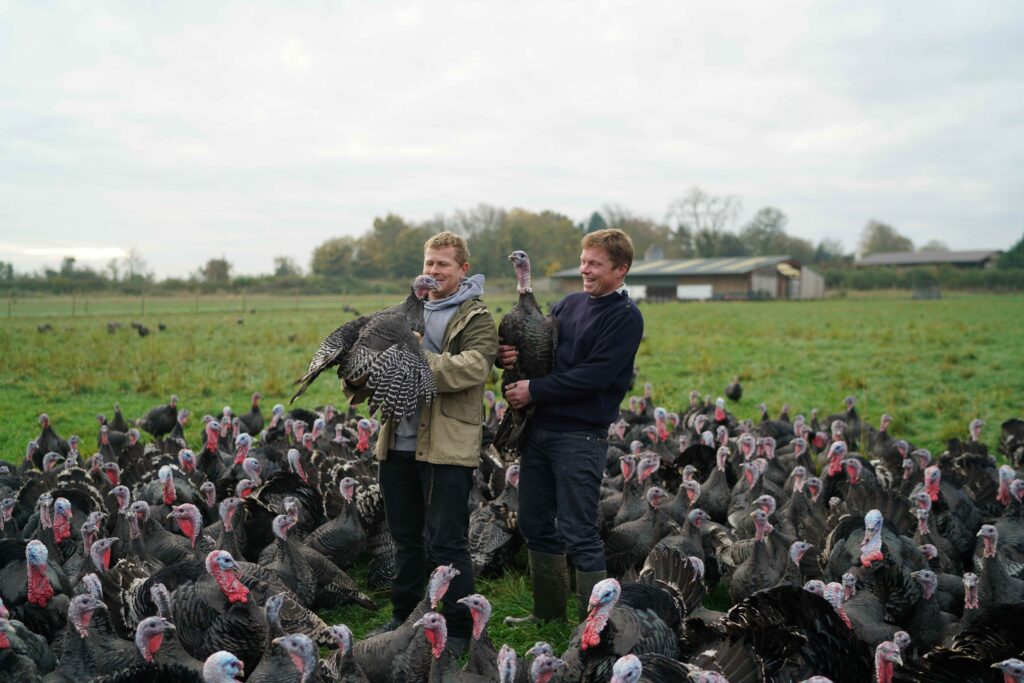 Why support Fosse Meadows?
Those firmly in the turkey for Christmas camp should look to Fosse Meadows
The organic farm in Leicestershire, which is now in its fourth generation, specialises in traditional free-range poultry that's very slow grown
Owners Nick and Jacob share a passion for genuinely brilliant food, both in flavour and quality
Their goal is to produce a bird of excellent flavour and succulence, and raised with compassion and artisanal farming standards
What to order from Fosse Meadows for your Christmas feast?
Naturally, turkey. But also do consider their cockerel, lamb or hogget and beef. Their pies and sausage rolls are not to be overlooked.
Helen Browning's Organic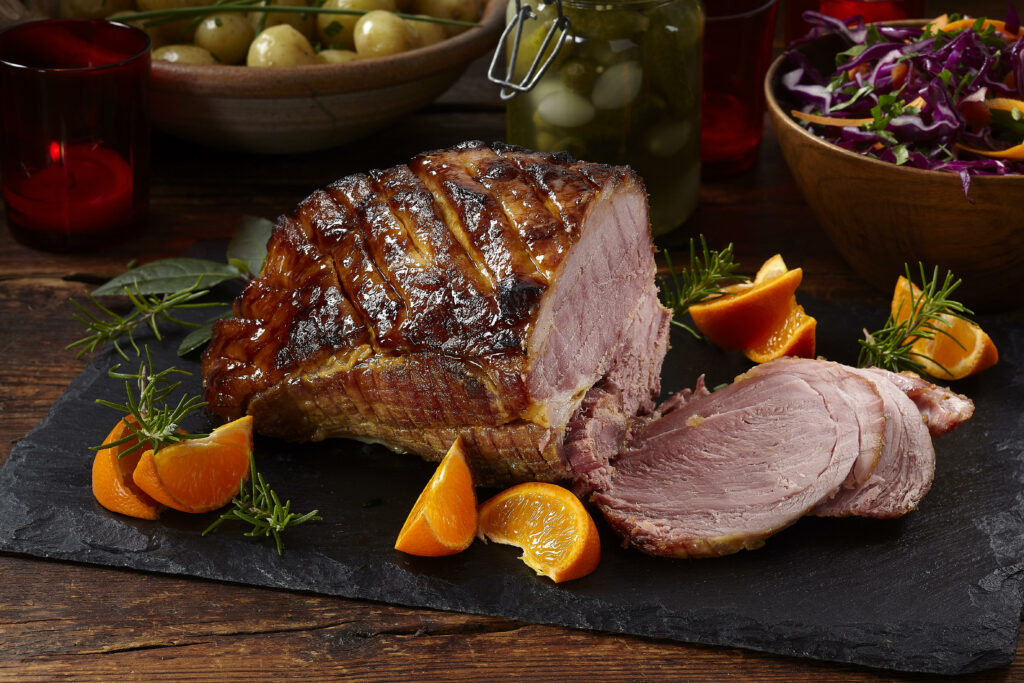 Why support Helen Browning's Organic?
Helen Browning is one of the UK's few female farmers
Helen has always pushed hard in pursuit of a better way of farming, and in doing so has helped to shape organic farming across the UK
Helen is Chief Executive of the Soil Association, a trustee of the RSPB and a Commissioner for the Food Farming and Countryside Commission. She sits on the BBC's Rural Affairs Advisory Committee and was a member of the National Food Strategy Advisory Panel…
Helen remains first and foremost a farmer, and was awarded an OBE in 1998 for services to organic farming
What to order from Helen Browning's Organic for your Christmas feast?
Best known for their free-range and organic pork, in 2020 Helen Browning introduced a range of ethically produced high-welfare, lower carbon 'good beef'.
This means you can order ready-to-cook Christmas gammon and beef from one place. Plus, you can add in the sausages and bacon for DIY pigs in blankets, too – which we couldn't get enough of and children will no doubt love getting involved with.
For their turkey, Helen Browning partners with The Walters family-run farm, who have specialised in traditional organic Christmas turkeys for 50 years.
Rosewood Farm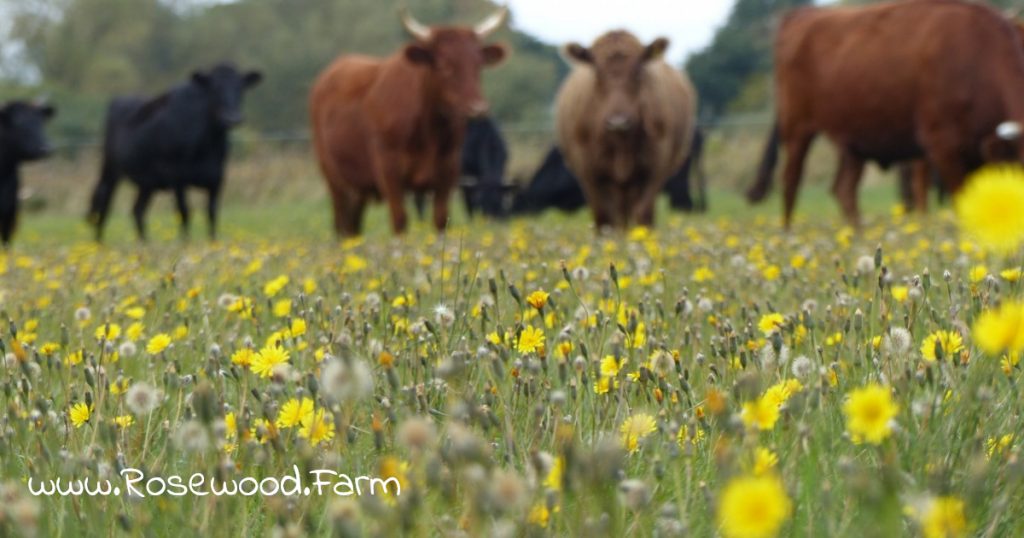 Why support Rosewood Farm?
Rosewood Farm specialises in conservation – its tagline is "food as a by-product of conservation".
It uses cattle for conservation grazing both on its own farm and for other landowners such as Natural England and the Yorkshire Wildlife Trust.
As such, Rosewood Farm's specialism is beef from 100 per cent grass-fed cows.
Interestingly, Rosewood Farm doesn't dry age its meat – a process that is widely practised by others to improve the meat's flavour and tenderness – because it says this makes little difference to the quality of the meat and maintains it is a waste of resources. Its customers agree, as do we and the Great Taste Awards. We encourage you to taste for yourself.
What to order from Rosewood Farm for your Christmas feast?
We think Rosewood Farm's steak night box is the way to go if you're staying in for new year. Their rolled brisket joint is also a solid choice.
Abel & Cole
Why support Abel & Cole?
Abel & Cole has been delivering organic food from farm-to-doors since the 1980s.
Its sustainability starts on the farm.
Its sustainability extends to the relationships it has with farmers and suppliers and its brilliant approach to doing business generally, it is transparent about gender pay, for example.
They offer a range of refillable options
They collect back any rubbish, including plastics
What to order from Abel & Cole for your Christmas feast?
What's not to order? Abel & Cole have Christmas covered with everything from seasonal wreath kits to Christmas gift hampers.
For your festive parties, they have Vegan and Veggie selections, Christmas drinks and Cheese and Antipasti.
For your Christmas dinner, they have turkey and other meat joints, fruit and veg boxes, Christmas trimmings, starters and dessert options.
Eversfield Organic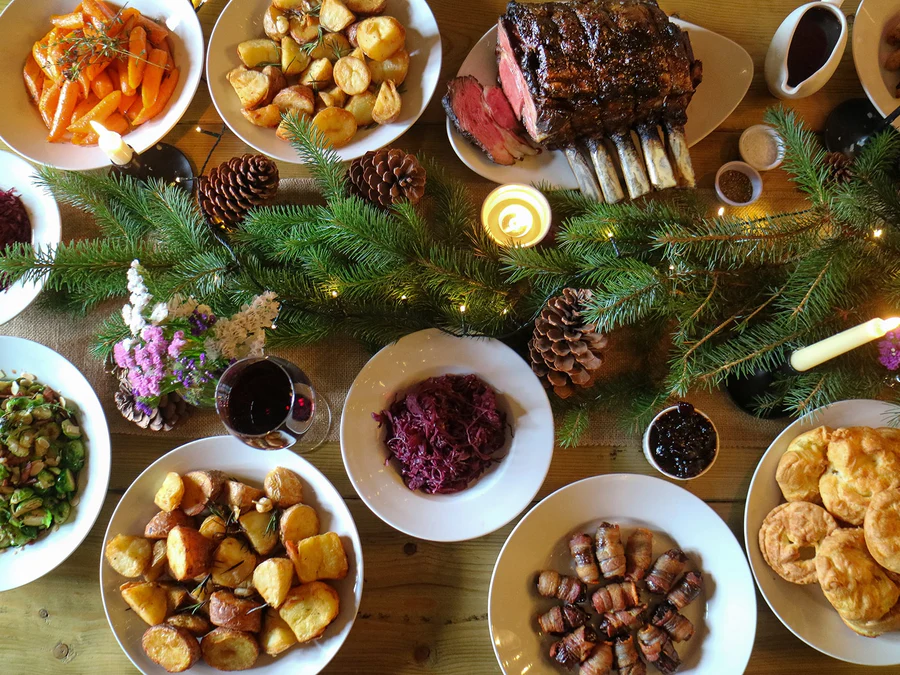 Why support Eversfield Organic?
Eversfield Organic are an award-winning family-run farm nestled on the edge of Dartmoor
They are certified both the Soil Association and the Pasture Fed Life Association
They run a local free fruit and veg stand for any "ugly or wonky" veg or fruit that is still delicious
What to order from Eversfield Organic for your Christmas feast?
Eversfield Organic offer a range of meat, including turkey, goose, duck and chicken, beef and pork, and venison and wild game.
You can also order Christmas fruit and vegetables, a selection of mince pies and puddings, and alcoholic and non-alcoholic drinks.
Their 'Christmas banquet boxes' are a great starting point for ordering a whole Christmas feast with festive treats.
Primrose Herd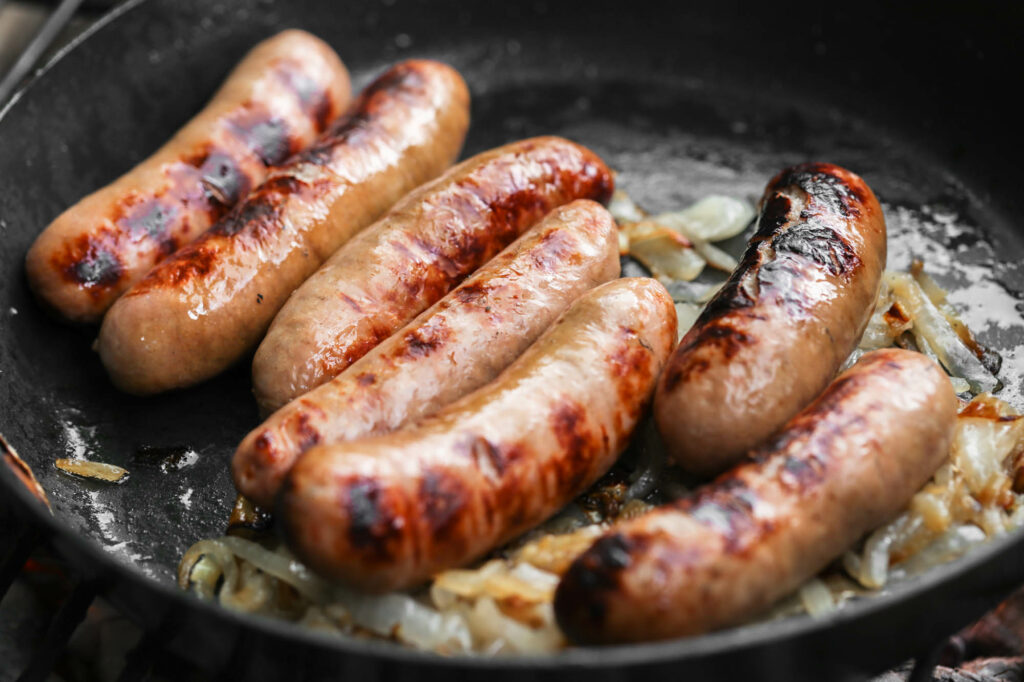 Why support Primrose Herd?
Pork is the speciality of this family-run Cornish farm that has been keeping traditional breed pigs for more than 20 years.
Their pigs are reared naturally outdoors, which is where they like to be.
Plus, there's no teeth clipping, tailing docking or castrating.
They are eight-10 months old by the time they are turned into meat, which is much slower growing than intensively-reared pigs.
What to order from Primrose Herd for your Christmas feast?
Primrose Herd have a nose-to-tail approach, so their cuts range from the classics like pork belly and Cumberland sausages to more non-traditional ones such as smoked ham hocks and heart. Their smoked bacon reminds us of how bacon used to taste (in the good ol' days!).
They also offer a variety of pork meat hampers, such as a Cornish Breakfast Pack for a classic English fry-up on Christmas morning.