What is Fashion Revolution Week?
This week marks the ninth anniversary of the hugely successful global movement Fashion Revolution.
No idea what we're talking about and still snapping up all those bargains on the Internet, albeit now possibly a bit more sheepishly?
First up, there's no judgement here. More importantly, this shows that despite its success, Fashion Revolution still has a lot to teach us, so, please, read on…
Fashion Revolution's call is simple: more transparency in the supply chain.
Its roots are one of tragedy. For nine years ago the Rana Plaza factory in Bangladesh collapsed, killing 1,138 garment factory workers and injuring a further 2,500 people, on 24th April 2013.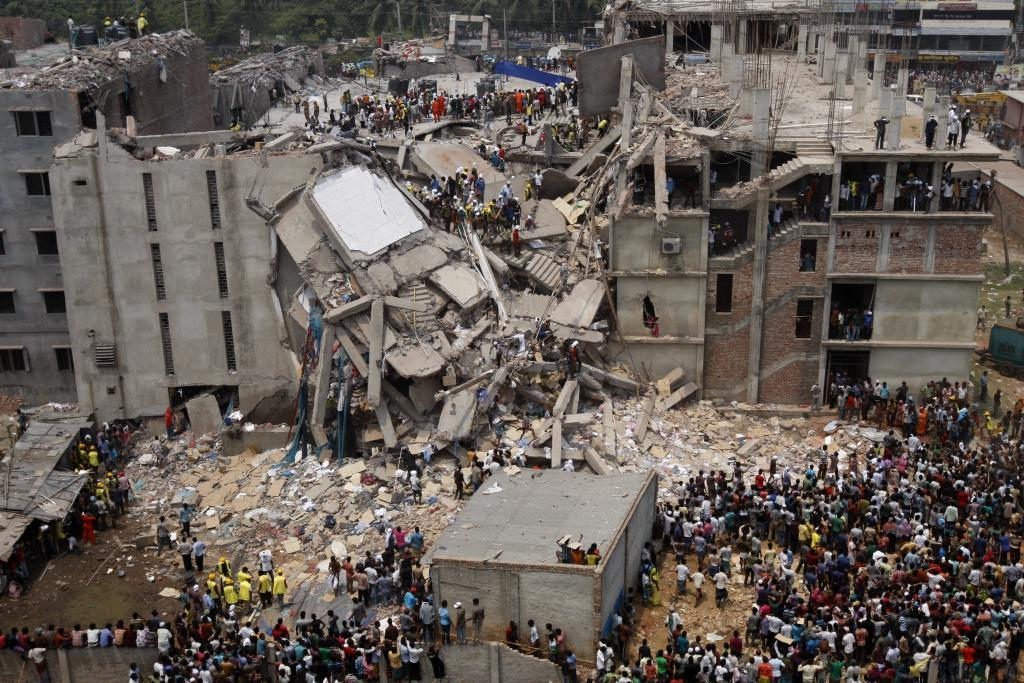 The collapse shed a spotlight on to the appalling conditions so many of our clothes are made in and spurred fashionstas into action to demand things like safer working conditions and a living wage for garment workers. Pretty basic asks, that were obviously met straight away, right? Not quite.
That's why Fashion Revolution still exists. It's a global movement demanding better conditions for garment workers across the globe, starting with more transparency of the fashion supply chain.
WHY WHO MADE MY CLOTHES?
Have you ever thought about the people who actually make our clothes? We mean have you really thought about who makes our clothes? Their working hours, their salary, their working conditions? There's no shame in saying no, but that's exactly why we need more transparency in the fashion industry.
More transparency will mean garment workers become more visible in our eyes – so we know when human rights abuses are taking place and we don't endorse (i.e. buy from) the brands who are enslaving humans.
"In the midst of this global pandemic… we have seen the devastating impact of brands' buying practices on some of the most vulnerable workers overseas." (Carry Somers)
That's why you'll be seeing #whomademyclothes selfies – tagging all kinds of brands – across your Twitter and Instagram feeds.
WHAT ARE THE PROBLEMS IN FASHION?
Around 75 million people, predominantly women, work in fashion and textiles across the globe.
IndustriALL Global Union report that 90% of these workers have no possibility of negotiating their wages or conditions. Many workers at the bottom of the chain are "subject to exploitation, verbal and physical abuse, working in unsafe conditions, with very little pay."
Meanwhile, globally the industry is worth more than £2 trillion annually and at least six of the world's top 20 richest people listed on Forbes billionaires' list are in retail – including Amancio Ortega from Zara and Bernard Arnault CEO of luxury goods conglomerate LMVH (Louis Vuitton).
WHAT DO WE MEAN BY TRANSPARENCY?
Transparency leads to better working practices because companies can't say "I didn't know".
Fashion supply chains are famously complex, with many different brands using the same factories – from Primark to those on Bond Street. Yup, really.
This works in the favour of brands who can claim ignorance or helplessness when faced with allegations of human rights abuses.
Human rights abuses and environmental degradation in fashion:
Research shows that garments are among the items most at risk of being produced through modern slavery. Sexual harassment, discrimination and gender-based violence against women is endemic in the global garment industry, where women comprise 80% of the global workforce. Global textiles production emits 1.2 billion tonnes of greenhouse gases annually, more than international flights and maritime shipping combined. We are producing 53 million tonnes of fibres to make clothes and textiles annually, only to landfill or burn 73% of those fibres.
Fashion Revolution, 2019
Brands post their brilliant-sounding Codes of Conduct on their websites, but these are rarely enforced.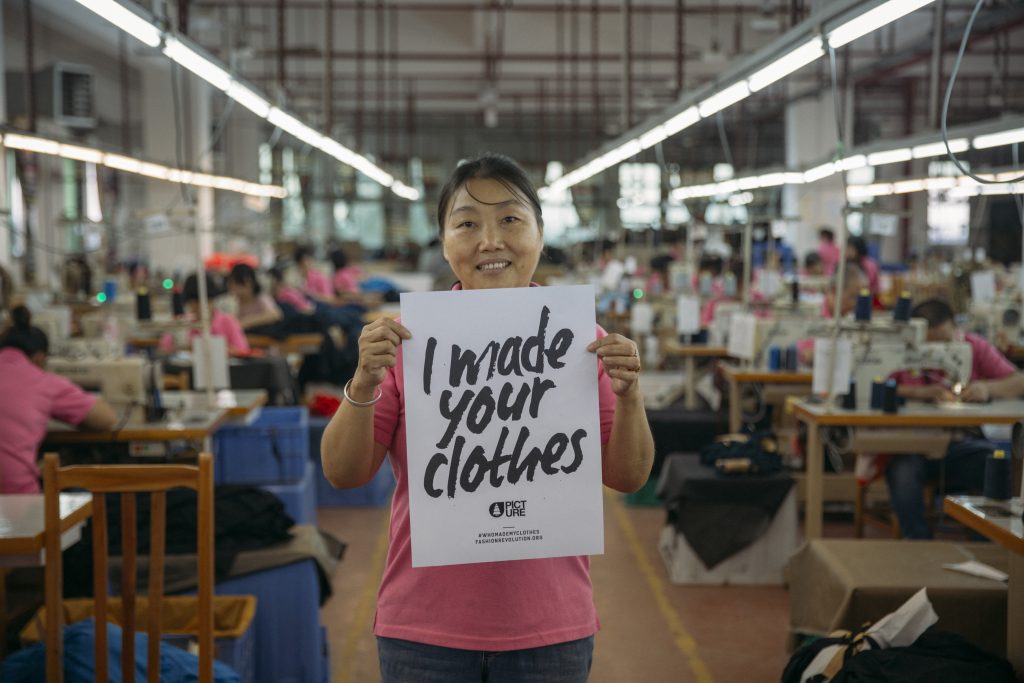 If you saw a video of a factory worker being abused, it would tug at your heartstrings but you wouldn't know what you could do.
If you could link that worker to Topshop or Marc Jacobs, for example, you might think twice about buying your clothes from them. And they might think twice about working with abusive suppliers.
This is why, as consumers, we have a lot of power to bring about change.
WHO FOUNDED FASHION REVOLUTION?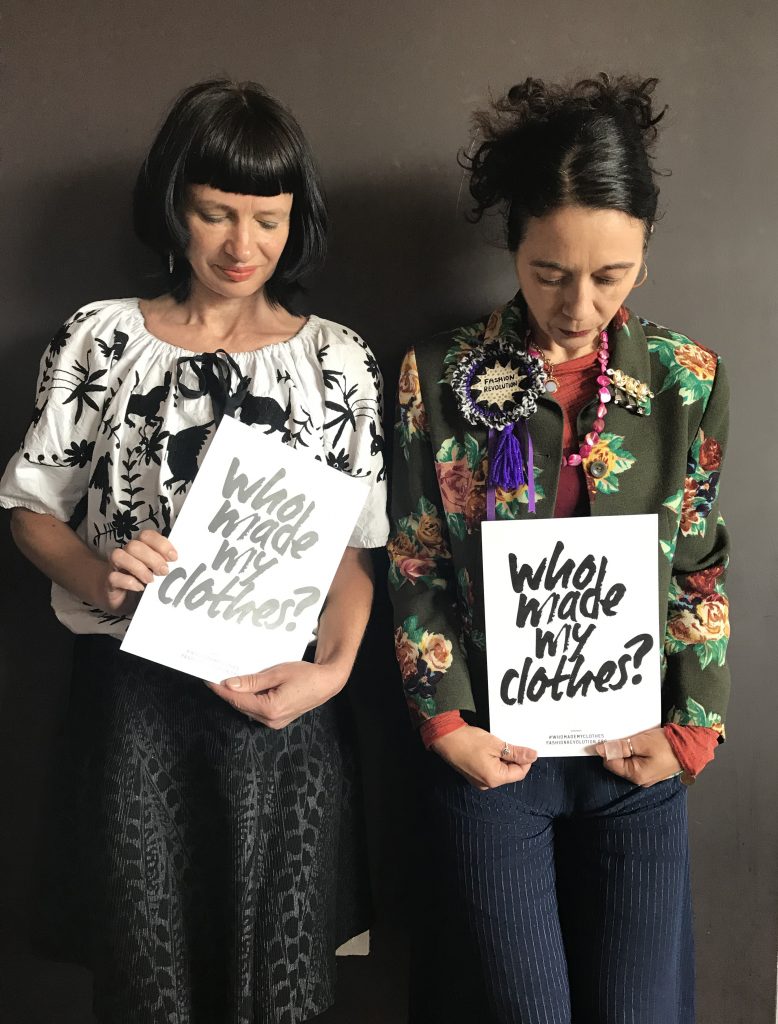 Brilliant fashion designers Carry Somers, founder of Fairtrade hat brand Pachacuti, and Orsola de Castro. Sarah Ditty was the Policy Director at Fashion Revolution, heading up the Fashion Transparency Index released every year.
WHO ELSE IS INVOLVED?
Who isn't involved? Loads of sustainable brands (like the ones in our fashion directory) respond with detailed information and even photos of their garment workers. However, even brands with largely unethical supply chains love to talk about transparency. It can be a huge signifier of greenwashing. Watch out for this.
But, genuinely, who isn't involved? Those who make loadzzza cash, including celebrities who get paid handsomely to wear the clothes borne from exploitation. (A bit harsh? Soz. But true.)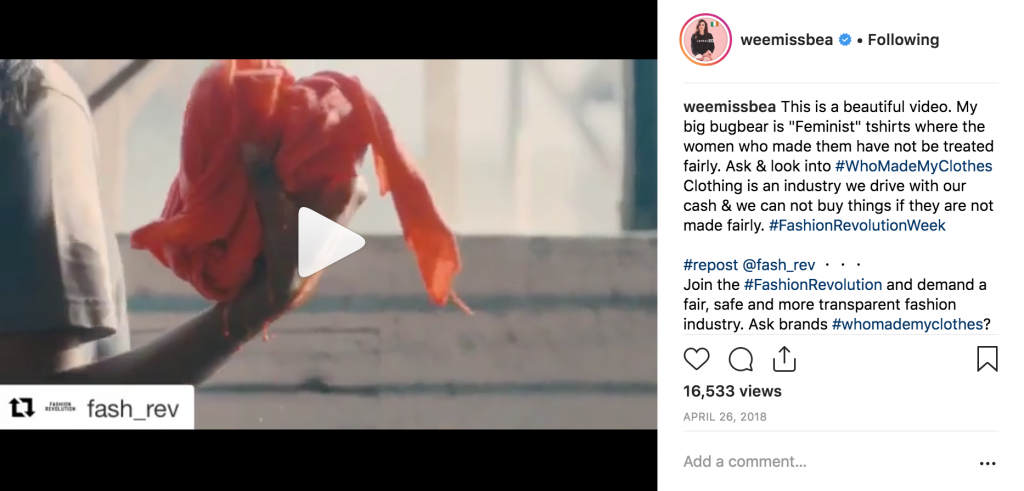 WHAT'S NEW THIS YEAR?
This year, the theme for Fashion Revolution Week is: MONEY FASHION POWER.
For all the talk of sustainable materials, the fact is there is no sustainable fashion without fair pay.
Even throughout the pandemic, fashion brands made billions, while the majority of workers in their supply chains remain trapped in poverty.
As Fashion Revolution puts it: "Brands are avoiding the realities of climate breakdown by continuing to pursue extractive business models and greenwashing their way to sustainability."
We need to stop this exploitation.
HOW CAN YOU TAKE PART?
Very simply, take a label selfie of you in your favourite top, and ask the brand #whomademyclothes on social media.
There is literally a whole calendar of (virtual) events taking place all week. You can sign up to the ones that take your fancy from this list.

Support some of the ethical fashion brands listed on our site by shopping their offering rather than buying from the high street.