There comes a time in all our lives when we're forced to face the inevitable: the devastating moment we realise one of our all-time-favourite-go-to pieces of clothing has one too many holes.
What is there to do when your pair of perfectly fitting jeans (the ones you'll never find again) have started to fall apart at the seams?
Well, you could throw them out. Or you could try to revive them with visible mending.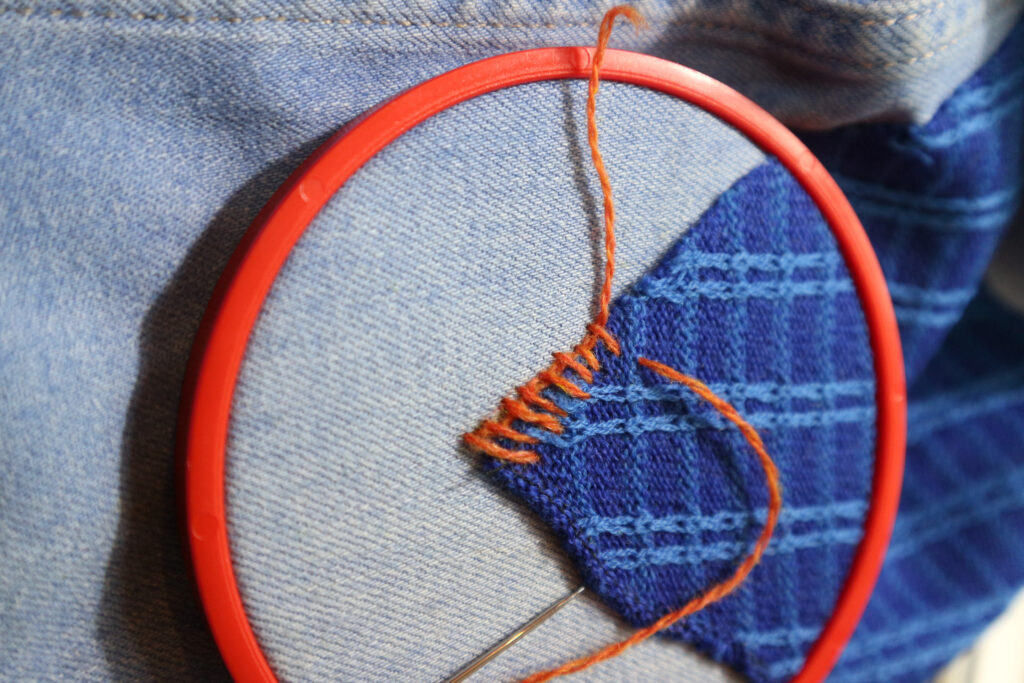 WHAT IS VISIBLE MENDING?
We're all buying secondhand and upcycled clothes now, from charity shops, ebay, and Vinted or Depop. Visible mending feels like the natural extension of this. It not only makes clothes last longer, but also gives them a whole new lease of life.
The concept is simple. It's essentially fixing up all those unforgiving stains or wear-and-tear wounds with a visible stitch here or a fabric patch there. Visible mending is a way to celebrate the life of the garment.
Visible mending is said to have is roots in the Japanese art of sashiko. What sets it apart from typical clothing repairs is that – as the term suggests – the mends are intentionally visible. People are encouraged to salvage their clothes in creative ways by using contrasting coloured stitches, embroidered motifs, and patchwork patterned fabrics.
So, instead of trying to subtly conceal damages with colour-matched thread, the purpose of visible mending is to embrace the scars of your garments by turning them into something colourful, eye-catching and beautiful.
It's a way of treasuring a piece of clothing, by inscribing your movements and memories through creative mends.
"The most sustainable garment is the one already in your wardrobe"

Orsola De Castro, Fashion Revolution
VISIBLE MENDING: WHY IT'S GREAT
Visible mending is making traction beyond the sustainable fashion movement and has even found itself on the (for now, digital) pages of Vogue.
Yes, it's a way to counteract fast fashion. "The most sustainable garment is the one already in your wardrobe," as Fashion Revolution's co-founder, Orsola De Castro, always says.
And it's definitely a motivation for knitwear and visible mending specialist Valentina Karellas.
Karellas explains: "With tonnes of garments being dumped into landfill due to multiple reasons, we all need to do our part in saving our garments. So many garments can be saved by simple solutions."
But, she insists it's also a way to express creativity and can be incredibly therapeutic.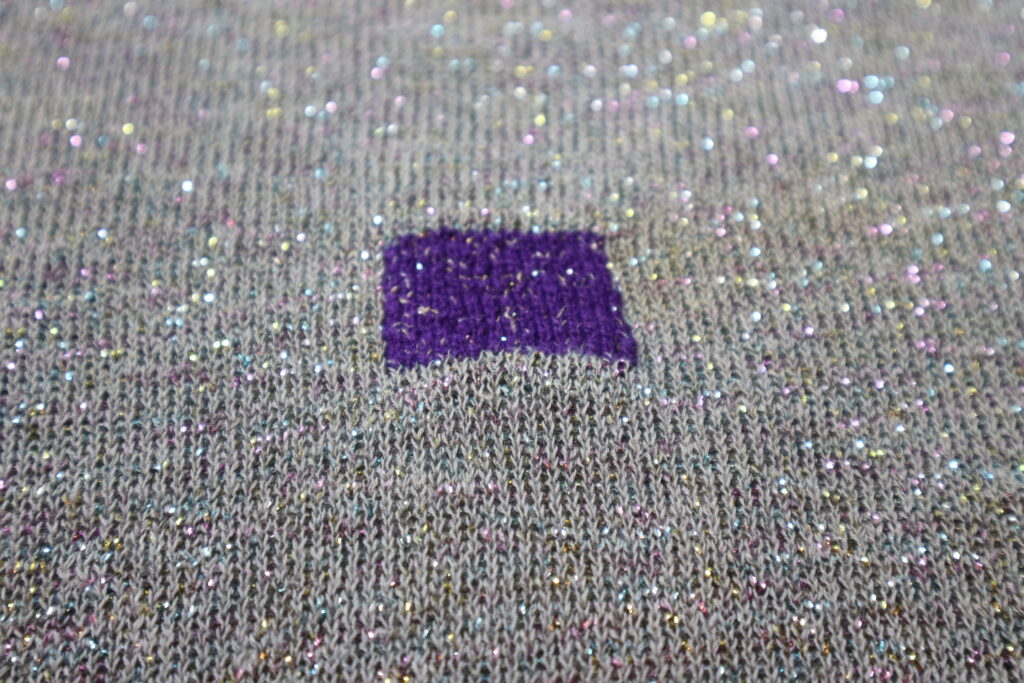 VISIBLE MENDING: VALENTINA KARELLAS BESPOKE SERVICE
On a one woman mission to reduce waste, Valentina's clothing brand uses surplus yarn to create beautiful, bold statement knitwear. Most of her intricate designs are made to order. It's no wonder she was recently voted in the list of Top 40 British Knitwear Designers by Make it British.
Taking this mission one step further, Valentina now offers a visible mending service for those of us who love the idea but are not-quite-comfortable with a thread and needle. She also offers workshops teaching us how to repair our clothes/knitwear ourselves (more of that below).
"As much as we encourage everyone to try to mend their knits themselves, we appreciate that not everyone enjoys doing so, or feels confident in carrying out this project. So, we offer our visible mending service on your beloved knitted pieces," says Karellas.
With prices starting from just £10, Valentina's bespoke mending service can revive your beloved garment.
She promises: "Each hole or damaged area will be repaired and celebrated, in varying ways, such as top stitch, runner stitch, lazy daisy, even personalised with initials."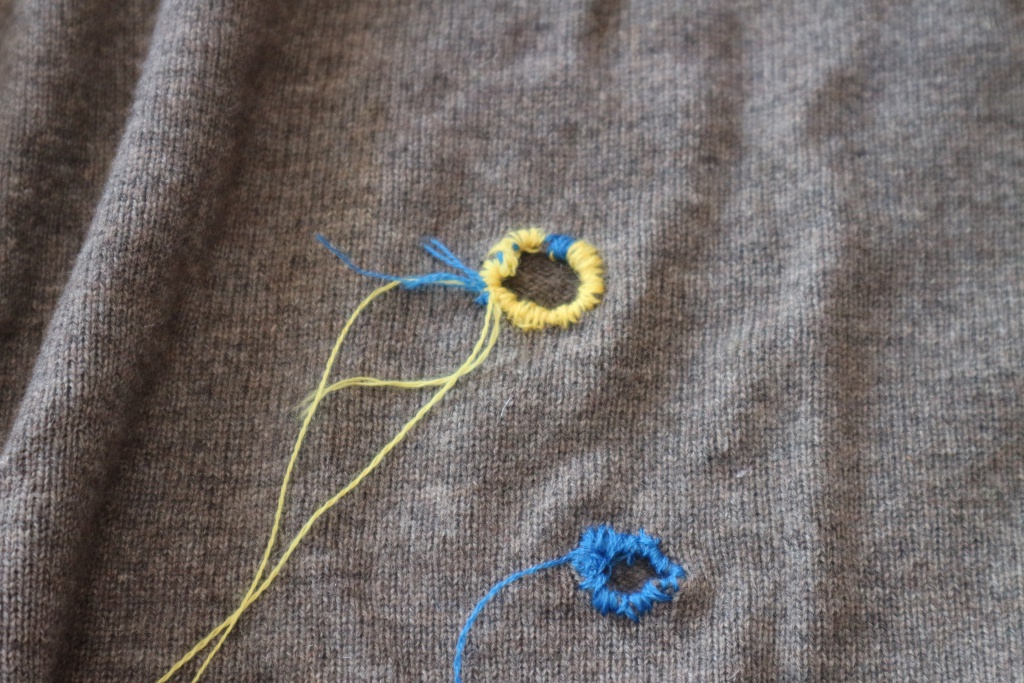 VISIBLE MENDING: HOW TO DIY
Even if you don't feel that you're a natural creative, Karellas is a firm believer that with a bit of guidance, anyone can learn how to do visible mending.
If you're inspired to give it a go yourself, her online visible mending guide shows you how. It explains, in simple terms, the various types of stitch techniques to try. There's the satin stitch to turn a hole into something fun; applique to mend large holes; darning for a neater, careful fix; and the more advanced duplicate stitch to conceal stains and worn fabric.
Karellas urges confidence: "Whatever technique you choose, it could be all of them if you like, it is important to just start and not be afraid that you will ruin your item. It's already damaged and it's worth experimenting. It will look so much better – even if you think you are bad at sewing. Remember, it can't look any worse!"