You've been preparing for this moment since March: London restaurant reopenings are finally happening, all with well-laid coronavirus policies to keep us hungry diners safe as we savour the delights of a professionally prepared meals. Here are some of our favourites.
What's your meal of lockdown? You know, the one you've made on repeat since the restaurants closed, with a few tiny alterations according to whatever you've got lurking at the back of the fridge. Cheese and mushroom omelette? Thai green curry? Fish finger sandwiches? Something featuring a tin of chickpeas?
Whatever it is, we bet you're sick to the back teeth of it. In fact – and you'll only hear us say this once – we're sick of cooking. Which is unusual, because you may have noticed we think about food a lot around here. How to get the tastiest cut of pork. How to absolutely nail a barbecue. Which are the best food delivery boxes supporting British farmers.
And if you're anything like us, you whacked 4th July in your diary as soon as the government announced pubs and restaurants could be allowed to reopen. You've been building up to this moment since March – it's a long old stretch.
So, without further ado, here are some of our favourite restaurants that are reopening. And because you're reading this on Live Frankly, you know they're all doing their bit, working with British suppliers, paying staff fairly and working to minimise their impact on the environment (not to mention making sure they're following the government's covid-19 guidelines). Check back regularly for more updates, but for now – on your marks, get set, GO.
London restaurant reopenings: the Live Frankly hit list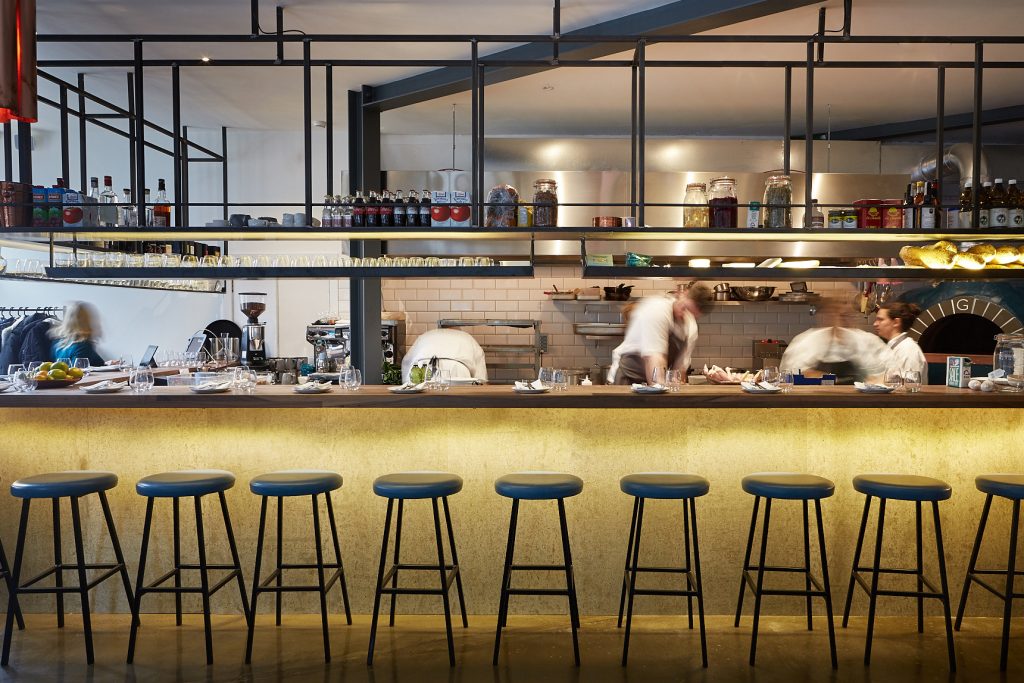 Oklava, Shoreditch and Oklava Bakery + Wine, Fitzrovia
Standout feature: Pomegranate-glazed lamb breast
Best for: Flavour-packed food
It's a bit harder than usual to get yourself to the Med these days, but we say go to Oklava in Shoreditch instead, where Selin Kiazim is cooking the kind of modern Turkish-Cypriot food that dreams are made of. There's pide breads stuffed with marinated octopus and curls of hard ricotta; there's sour cherry pearl barley, topped with crispy kale; there are gluggable wines from the Middle East. And from 17 July, you can eat it all in situ, preferably propped up against the counter.
Even more exciting is that Oklava Bakery + Wine will also reopening, the little sister restaurant on Charlotte Street where you can get flakey pastries stuffed with tahini. And wine. Although maybe not at the same time.
Reopening details:
Shoreditch
74 Luke Street, Shoreditch, London, EC2A 4PY; 020 7729 3032
Brunch: Saturday and Sunday, 9:30am – 3pm
Dinner: Wednesday to Saturday, 5-10pm
Fitzrovia
64 Grafton Way , Fitzrovia, W1T 5DP; 020 7383 3717
Brunch: Saturday and Sunday, 9:30am – 3pm
Dinner: Wednesday to Friday, 5-10pm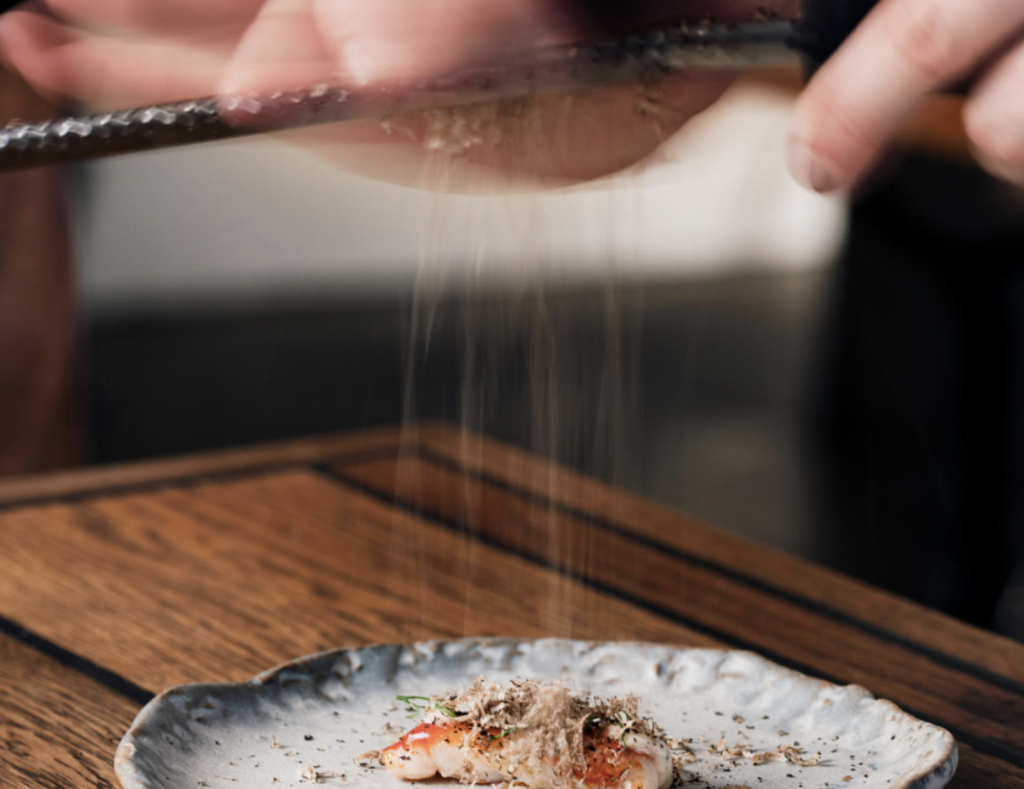 Anglo, Farringdon
Standout feature: Unique tasting menu experience
Best for: intimate lunch and dinner
Chef Mark Jarvis's Anglo prides itself on offering a modern British dining room experience, with exceptional food.
Covid may have shut Anglo down for three months, but social distancing means that when it reopens eating here will have an even more intimate feel, with a maximum of 18 diners at a time.
A five-course tasting menu is offered at lunch and dinner, with a focus on foraged and wild English produce. Pickled and fermented foods will feature heavily, offering a taste of spring with all the produce that would have otherwise gone to waste while Anglo was on hold. Usually £60 pp, this is just £35 on 'Development Tuesdays', where you can be the first to try the new dishes chefs are developing, and give your feedback.
Whatever you order, definitely start with the sourdough (it tastes nothing like the one you've been finessing at home, we can guarantee it) and wash it all down with a hay-infused Old Fashioned.
Reopening details:
Anglo is open Saturday from 4 July, but is already fully booked until Tuesday 14 July.
Tuesday to Saturday. Lunch 12 – 2:30pm; Dinner 6:30pm – 9:30pm
30 St Cross Street, Farringdon, London, EC1N 8UH; 0207 430 1503
anglorestaurant.com

Wright Bros, Borough and Battersea
Standout feature: Oysters
Best for: Summer seafood
The Wright Bros – or brothers-in-law, more accurately – started their thriving seafood restaurant empire thanks to a passion for oysters, which used to be a staple in British diets.
That's why their first restaurant, opened in Borough Market in 2012, paired oysters with Guinness rather than Champagne and chucked them humbly into delicious pies, like they used to in the good ol' days.
The Borough Market venue is still an (upscale) 'spit and sawdust' kinda place, but the rest of the restaurants across the capital – in Soho, Spitalfields, South Kensington and Battersea – focus more on seafood platters and catch of the day, served alongside a nice glass (or bottle) of sparkles.
Wright Bros run a wholesale fish operation that also provides London restaurants with all types of fish caught from sustainable dayboats and beamers with net systems that allow the smaller fish to escape, in the hope they will go on to become mature and breed.
Their menus change with the seasons. "It's not just about abundance, but also quality," says Robin.
Reopening details: Battersea and Borough Market are opening from Thursday 9 July and bookings are taken now
Borough:
Tue – Thurs: 6.30-10.30pm; Fri: 7.30-10.30pm; Sat: 6.30-10.30pm.
11 Stoney Street, Borough Market, London SE1 9AD; 020 7403 9554
thewrightbrothers.co.uk/restaurant/borough-market
Battersea:
Wed – Fri: 6-10.30pm; Sat: 12-10.30pm; Sun: 12-7pm.
Battersea Power Station, 26 Circus West Village, SW8 4NN; 020 7324 7734
thewrightbrothers.co.uk/restaurant/battersea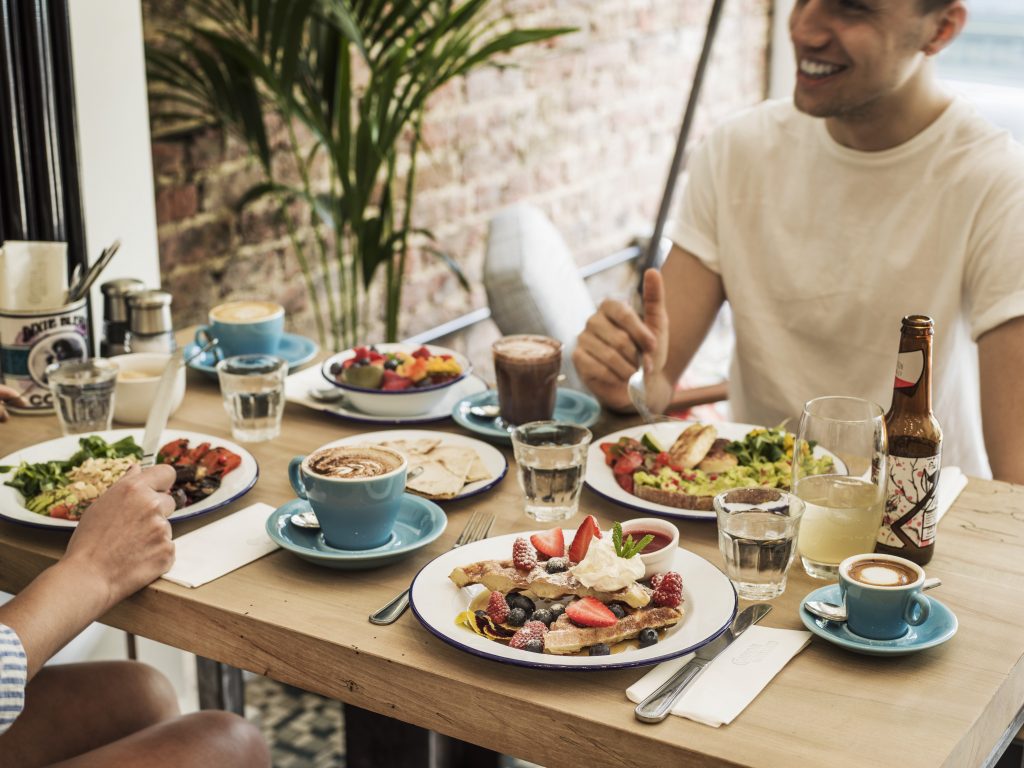 Common Ground, Finsbury Park
Standout feature: secret sunny garden
Best for: brunch and lunch
Common Ground is the neighbourhood coffee shop in Finsbury Park. They are loved so much they ran a successful crowdfunding campaign during lockdown that has enabled them to reopen. Woo!
They serve top quality coffee (Climpson and Sons, for those that want to know), good-sized brunches such as poached eggs on toast with chilli, and we have been known to time our afternoon trips to the shops around the time their brownies usually come out of the oven.
Their goal was to create a unique, vibrant and creative space and they have certainly achieved that. The space was an old butchers and they have retained the original tiled-floor and turned some of the old butchers blocks into tables. Others are made from an unhealthy Birch tree, that would have gone to waste. Plants fill the room and create a tranquil antidote to city life that extends into the newly-decorated back garden.
But we won't tell you too much about that because of social distancing and err… that's where we want to go.
Reopening details:
Opening from Saturday 4 July for both eat-in and takeaway; Mon-Fri: 8.30-4.30; Sat: 9.30-4.00; Sun: 10.00-4.00
49 Stroud Green Road London N4 3EF; 0207 686 918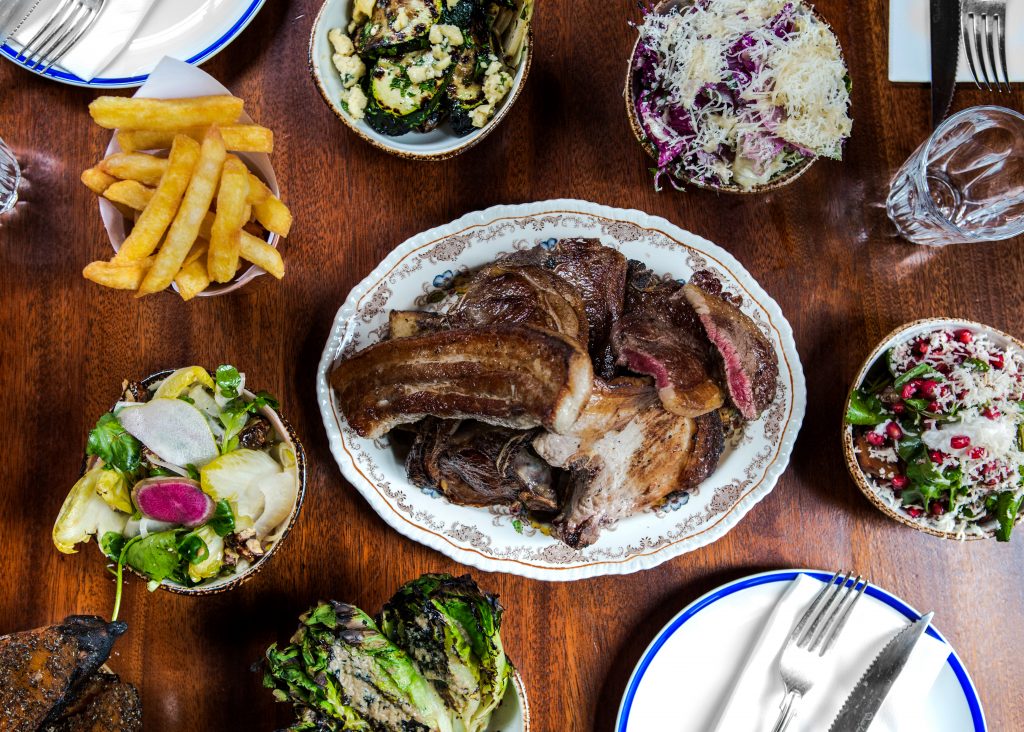 Blacklock
Standout feature: Chops
Best for: Group dining, remember that?
Blacklock fans have already been alerted to their opening plans, so good luck with getting a booking this side of Christmas. (We're joking… kind of…)
This is a great British chophouse, with meat from rare and native breeds cooked over charcoal on the famous Blacklock Foundry iron. But, it's about more than the animals – this is a place that's as serious about its sides as it is about its chops.
If you're here for lunch, the steak sarnie is incredibly good value at a tenner a pop. If you're here a little later, opt for all in: the bites, then a plate laden with beef, pork and lamb skinny chops – but we advise only doing this at dinner time, when you can immediately have a lie down straight after.
Blacklock's Sunday roast is the stuff of legend, but make sure you book (way, way) in advance… If you're still reading this, we're flattered, but are you paying attention? Why aren't you on the booking form already?
Reopening details: Dinner: everyday; Lunch on Friday and Saturdays; Sunday Roast.
Shoreditch: Thursday 9 July
28-30 Rivington St, Hackney, London EC2A 3DZ
020 7739 2148
Soho: Thursday 23 July
24 Great Windmill St, Soho, London W1D 7LG
020 3441 6996
City: Tuesday 1 September
13 Philpot Ln, Bridge, London EC3M 8AA
020 7998 7676
Top Cuvée, Highbury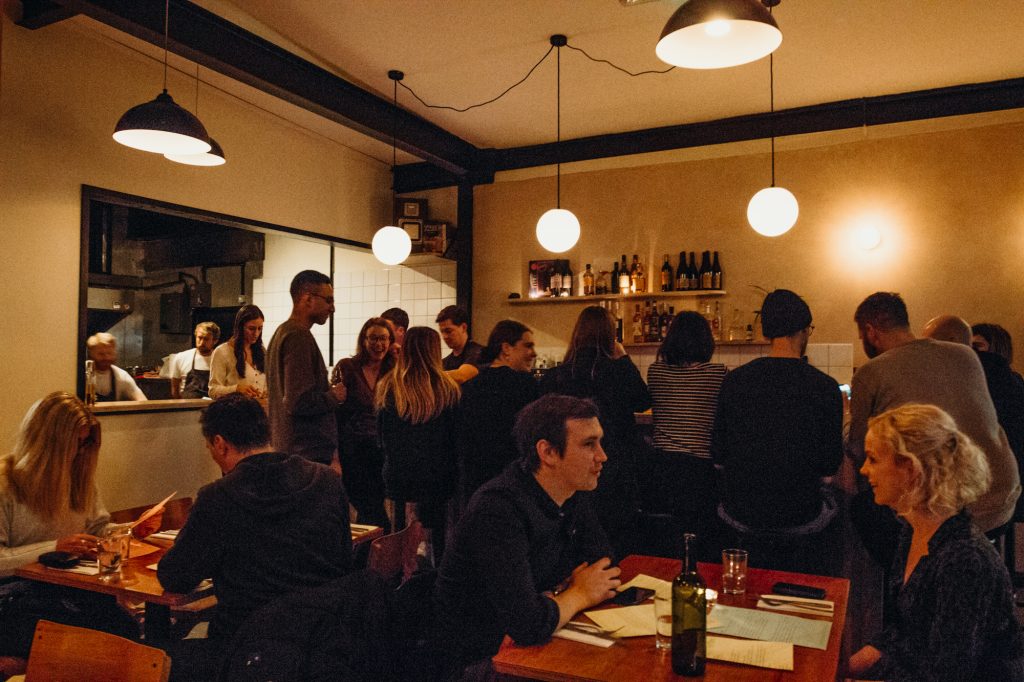 If you live in N5, it's highly likely you'll have been popping into Top Cuvée – temporarily converted into Shop Cuvée – for Icey Bois (iced coffees), Chin Chin vinho verde (the hipster's lockdown wine of choice), Tony's Chocolonely and all sorts of other treats to tickle your fancy. Or you may have got one of their home meals, a selection of small plates so good you could close your eyes and almost pretend you're sitting in prime position at the restaurant's counter. The shop is still operating, but come evening the space turns back into want it was originally intended to be: a brilliant neighbourhood restaurant serving natural wines and seasonal small plates. See you there.
Reopening details:
Mon: 12 – 9pm – Shop
Tue: 12pm – 9pm – Shop
Wed: 12pm – 9pm – Shop
Thu: 12pm – 9pm – Shop / Wine Bar (Kitchen 5pm – 9.30pm)
Fri: 4pm – 9pm – Shop / Wine Bar (Kitchen 5pm – 9.30pm)
Sat: 1pm – 9pm – Shop / Wine Bar (Kitchen 5pm – 9.30pm)
Sun: 1pm – 7pm – Shop
177B Blackstock Road, London, N5 2LL; topcuvee.com