If you're looking to make cooking Christmas dinner a little less stressful this year, Christmas food box deliveries – delivering the freshest produce straight from the farm to your door – are the way to go.
Christmas cooking is a labour of love. Growing the food you cook is also a labour of love farmers have been conducting for months. And what better way to show your appreciation than buying directly from the best of them?
And let's be honest, it's not just about doing a good thing. Yes, it's a great story to tell – how the meat comes from 100 percent grass-fed, and/or organic, and/or genuinely free-range animals. But, the quality and taste tells a story all of its own.
We've asked some of our favourite farmers what's on offer this year.
From some you can order meat centrepieces, from others you can order full on feasts completed with cranberry sauce and wine, with potential for lots of leftovers.
The food boxes arrive chilled or frozen. They will stay that way all day. So, you don't even need to be home to receive your food box delivery.
Two tips for you:
Firstly, each farm offers a whole range of different options, not just the box we've selected. So, if you like the sound of one then click on the link to find what else is available.
Secondly, and probably most importantly, order as early as possible. While order dates take you right up to Christmas, word on the farms is that slots are filling up fast.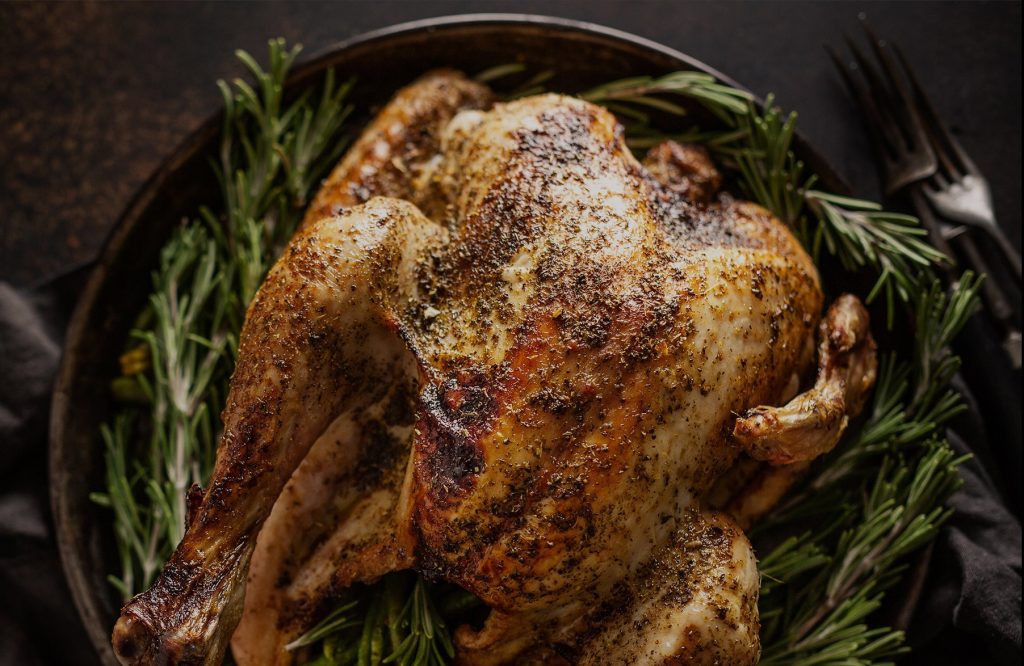 CHRISTMAS TURKEY
First up, of course, is the Christmas turkey. If you're a stickler for tradition (and why should you not be when these turkeys tastes so damn good), we have an entire article dedicated to how to get the best tasting turkey and the best places to order your showstopper bird from.
We won't repeat that info here, so we've focused on the turkey alternative boxes below…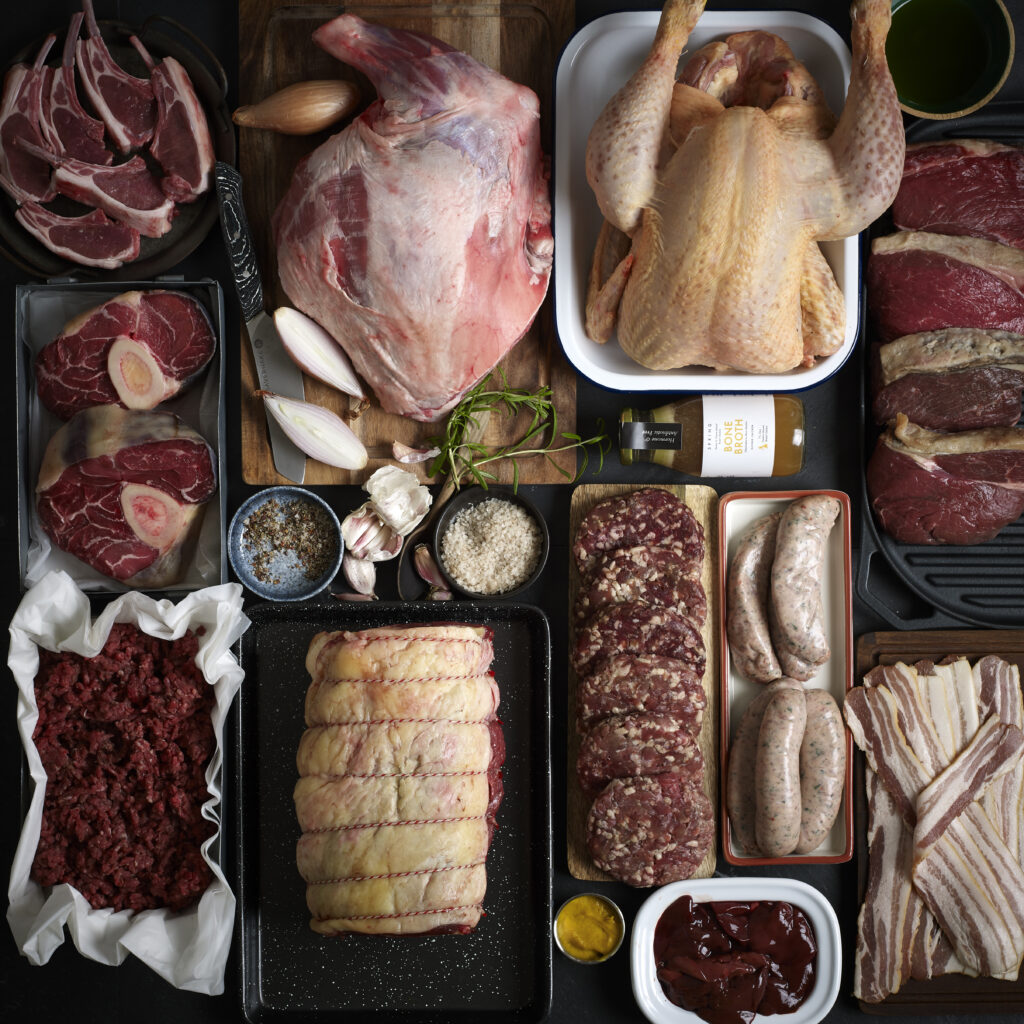 CHRISTMAS FAMILY HAMPER
Feeds: 10 people for five meals
Last order date: 15 December
If you're the type of person who likes to prepare for any eventuality then this is the box for you. One click will have your centrepieces sorted for the whole of the festive period. If used to its fullest potential (i.e. you're clever with leftovers) The Ethical Butcher team says it can provide the meat centrepiece for 50 meals.
This is a box of truly quality meat. Cook it as simply as possible and let the expert farming and butchery do all the talking. It even feels a waste to use condiments with the venison burgers and fresh herb sausages, which are so full of flavour.
The Ethical Butcher favours farmers who are using one or more forms of regenerative agriculture and some have taken measurements to prove they are running carbon-neutral – or even negative – operations. Their chickens are soy free. Their beef and lamb is Pasture For Life-certified as a minimum. And you truly can taste a difference.
Contents: 1 x large soy free chicken, 250g chicken livers. 1 x beef roasting joint 2-3kg – surprise selection (topside, silverside, sirloin), 1 x lamb shoulder (bone in), lamb cutlet x 6, 1 x chicken broth by SPRING broths, 6 x venison burger, 1kg minced beef, 4 x pasture raised beef steaks, 6 x fresh herb sausages, 2 x Beef shin steaks 500-600g each.
£180, The Ethical Butcher
SHOP NOW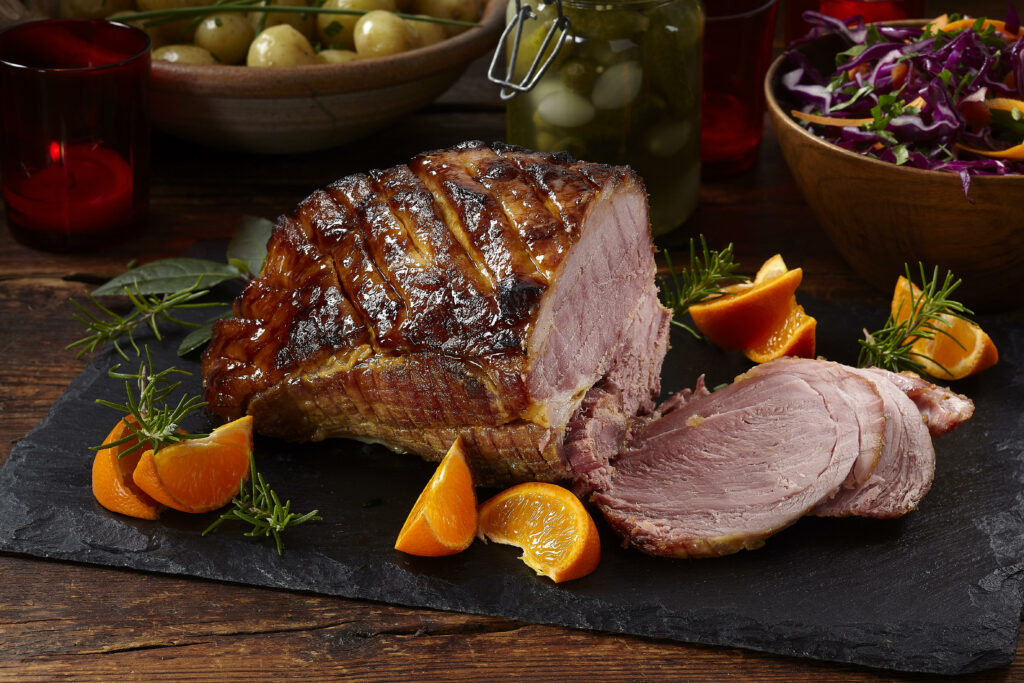 FLEXIBLE CHRISTMAS ESSENTIALS BOX
Feeds: Depends on how little or much you order
Last order date: 11 December
This is not a traditional food delivery box suggestion, in that Helen Browning invites you to build your own.
Mostly known for their high-welfare organic pork, in 2020 Helen Browning introduced a range of ethically produced high-welfare, lower carbon 'Good Beef'. So, they have your ready-to-cook Christmas gammon and beef sorted. Plus the sausages and bacon for 'home-made' pigs in blankets, too – which we couldn't get enough of.
As one of the UK's few female farmers, Helen has always gone against the grain in pursuit of a better way of farming and in doing so has helped to shape organic farming across the UK.
Contents: Pick and mix from: Organic Gammon Organic, Perfectly Pink Beef, Organic Classic Pork Sausagemeat, Organic Pork & Cranberry Sausagemeat, Organic Speedy Sausages, Organic Unsmoked Streaky Bacon, Organic Smoked Back Bacon
From £40 for gammon, £30 for beef, Helen Browning's
SHOP NOW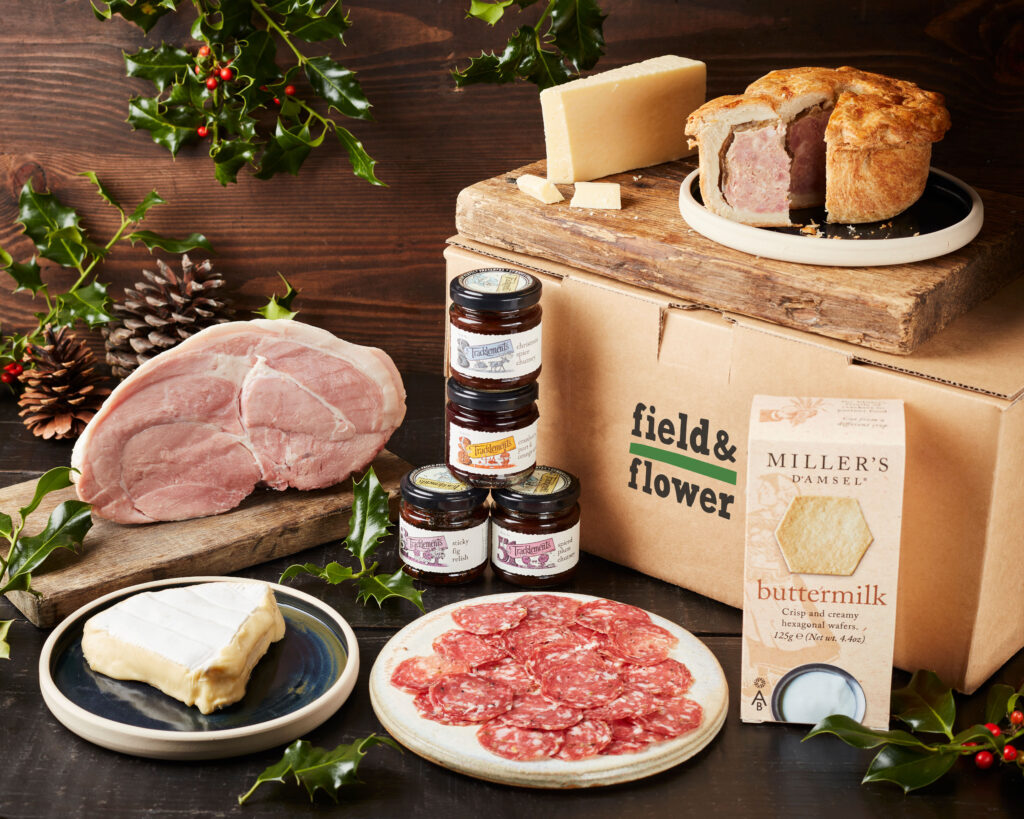 TRADITIONAL CHRISTMAS HAMPER
Feeds: 5 – 7 people
This hamper is a dream for those slow days between Christmas and New Year. It has the ham joint that you can cook up and keep coming back to, as you can with the mild cheeses and charcuterie. Big it may be, but when it's this delicious, the pork pie might not last so long…
Set up in 2010, field&flower's original mission was to supply consumers with grass-fed, best-quality beef, directly to their home. The company now works with some of the best independent West Country farms and fishers to offer a whole lot more.
Contents: 1kg Wiltshire Roasted Ham Joint, 1x Luxury Pork Pie (450g), 1x Barber's 1833 Vintage Cheddar (190g), 1x Somerset Brie (135g), 1x Pack of Sliced Fennel & Cider Salami (60g), 1x Pack of Miller's Damsel Buttermilk Biscuits (125g), 1x The Festive Four Tracklements Gift Pack
£49.00 (full price), currently listed with 12% off at £42.95, field&flower
SHOP NOW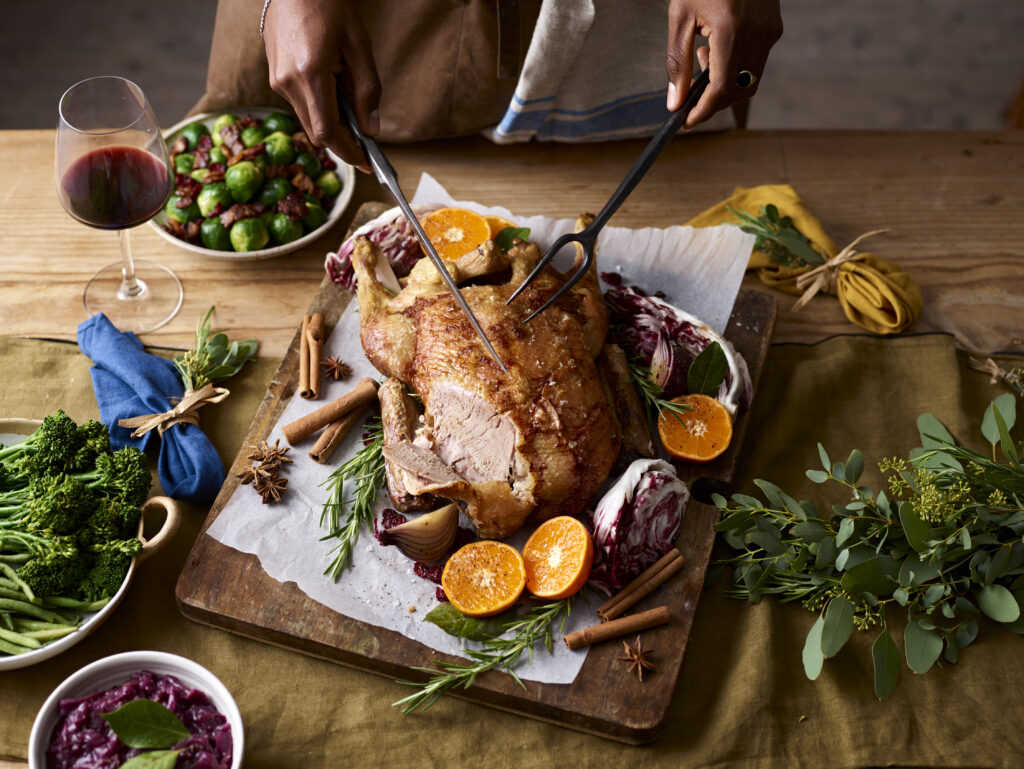 ORGANIC DUCK & TRIMMINGS BOX
Feeds: six people
Last order date: 19 December
If you're looking for an indulgent treat with a difference, this Duck and Trimmings Box is the way to go. Alongside a whole organic duck centrepiece, the box is filled with delicious organic trimmings, like pigs in blankets and apricot stuffing,.
The unique, rich flavour, tender texture and super-crispy skin of roast duck will make your Christmas dinner one for the history books. Just imagine how beautifully this meat pairs with warm spices and Christmas sauces.
All of Coombe Farm's ducks are reared in an organic system which feeds into the quality of their meat. The birds have a fit and healthy lifestyle, living off a natural diet and lots of exercise as they swim, dabble and preen, contributing to the meat's succulent tenderness and taste.
Coombe Farm Organic are an organic meat box delivery service, based across 2,500 acres of land in Somerset.
Contents: 2.8kg Organic Whole Duck, 400g Organic Apricot Sausagemeat Stuffing, 8 x 66g Organic Pigs In Blankets, 200g Organic Streaky Bacon, 500ml Organic Poultry Gravy, 1 x Jar Organic Cranberry Sauce
£59, Coombe Farm Organic 
SHOP NOW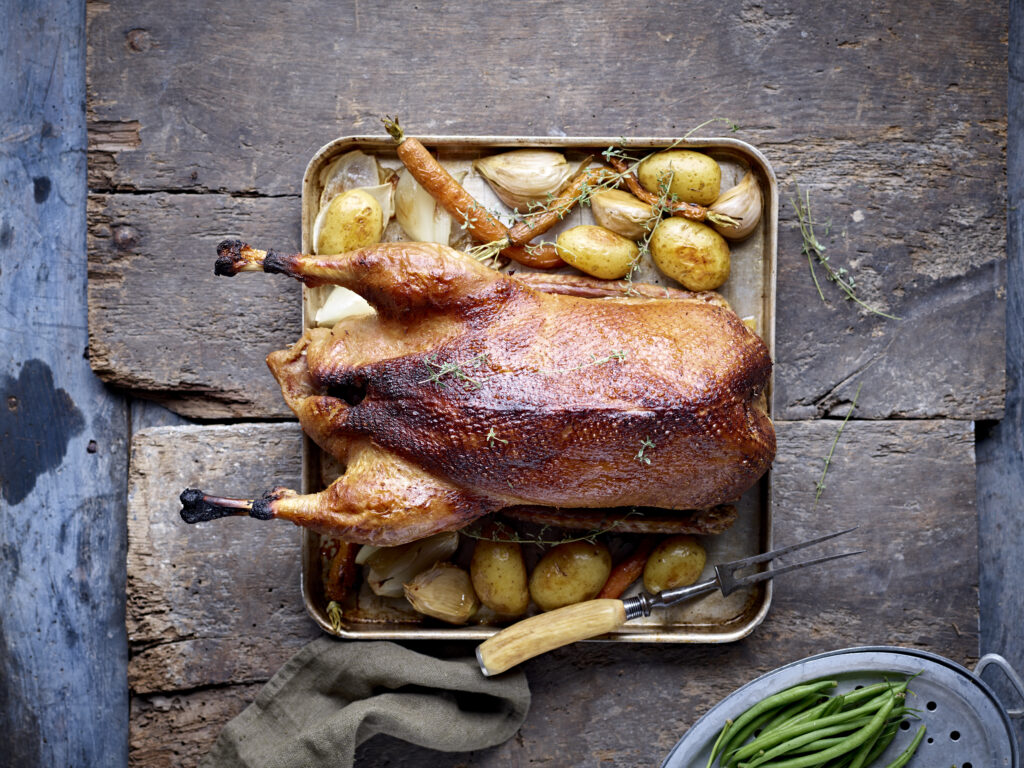 ORGANIC WHOLE GOOSE
Feeds: 6-8 people
Last order date: 19 December
The good old-fashioned goose is a highly underrated turkey alternative. With tender, dark meat and delicious crispy skin, a roast goose tastes of tradition.
As Coombe Farm explains: "Once upon a time, every smallholding would have kept a goose to do duty both as a guard bird (they can be quite mean and very noisy) and as Michaelmas or Christmas dinner. Because of the richness of their meat and the amount of fat they carry, geese never made it as commercial poultry. So these days, cooking a goose is really quite something special."
Coombe Farm Organic's fresh organic geese are slow grown for 24 weeks on open grass pastures which is critical to their taste, texture and finish. They are dry plucked and waxed, before being left to hang for 10 days, so the meat is relaxed. Any excess moisture evaporates when you come to cook your bird.
If you don't have any experience of cooking goose, fear not. Coombe Farm have a whole article explaining how to get the best out of your bird.

From £108.95, Coombe Farm Organic
SHOP NOW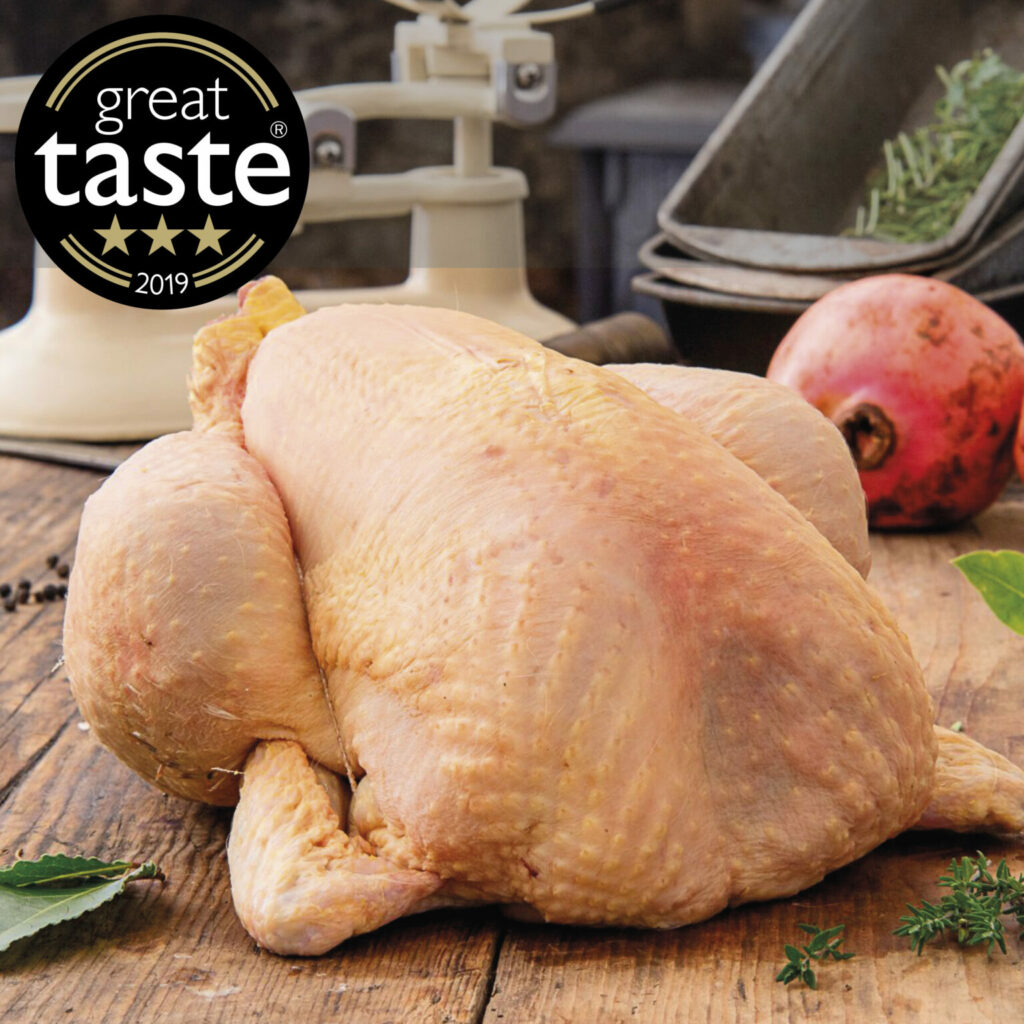 FREE RANGE CHRISTMAS COCKEREL
Feeds: 4-6 people
With the industrialisation of chicken, cockerel – more expensive and difficult to rear – largely became a thing of the past. But, these award-winning Fosse Meadows cockerels are making a comeback. And with good reason, they're just like chicken – only richer, with a more gamey flavour that's ideal for Christmas Dinner.
The Fosse cockerels are reared free range, foraging in meadows that aren't sprayed with fertilisers or pesticides, and are slow-grown to a maturity of 112–140 days fed on a natural soy-free cereal based diet.
You can't go wrong with this hearty seasonal centerpiece.
From £42, Fosse Meadows
SHOP NOW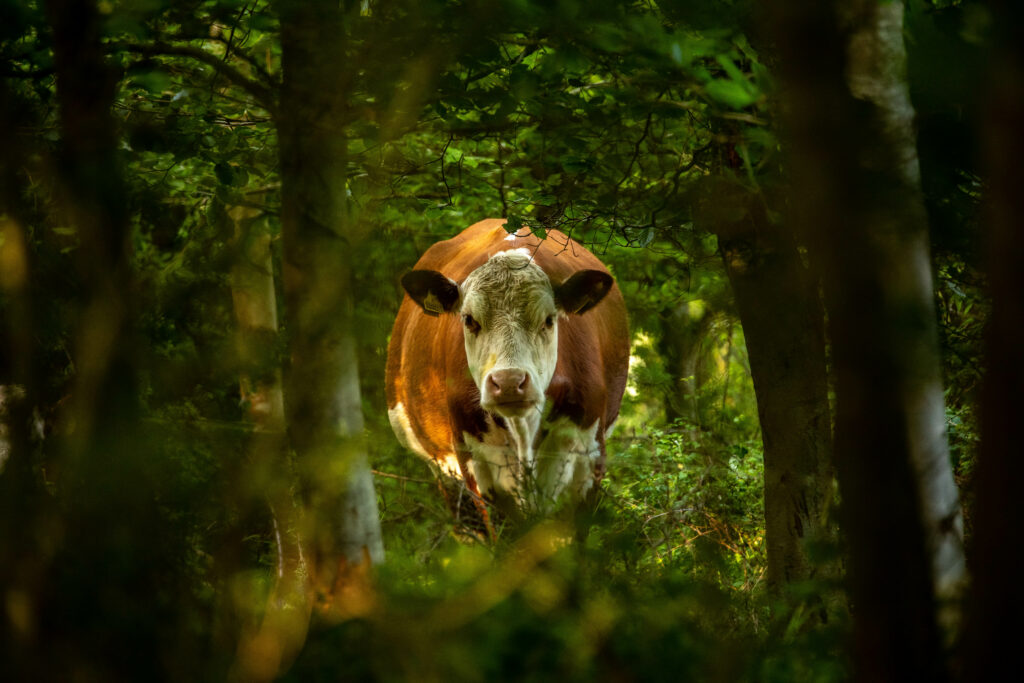 PASTURE-FED MIXED BEEF BOX
Anxiously anticipating the family storming your house over Christmas?
If so, this Mixed Beef Box from Cotswold Beef will certainly help to keep the masses well-fed and merry. Containing a selection of roasting joints, steaks, mince and slow cook cuts, this box is perfect for wholesome home-cooked family dinners in the lead up to Christmas.
Cotswold Beef is an award winning, conservation-led, family-run farm that produces top quality organic, certified Pasture for Life beef from their pedigree Hereford suckler herd.
Cotswold Beef are out to prove a slow-growing native breed of cattle can be beneficial for the environment – and biodiversity – if farmed in the right way. As such, their cows are mob-grazed on wild flower meadows, herbal leys and permanent pasture.
The resulting beef is nutrient dense and full of flavour and brilliantly tender, in part thanks to a 28-day dry-ageing process.
Their beef is "the way it should be", and it shows in the quality of their products.
Contents: 2 x Roasting Joints, 1 x Slow Roast Joint, 2 x Packets of Steak (Rump or Sirloin – 2 steak in each packet) approx 250gm each steak, 3 x 500g Packets of Mince, 1 x 500g Packet of Stewing steak, 1 x 500g Packet of Shin, 1 x 500g Packet of Braising
£125, Cotswold Beef
SHOP NOW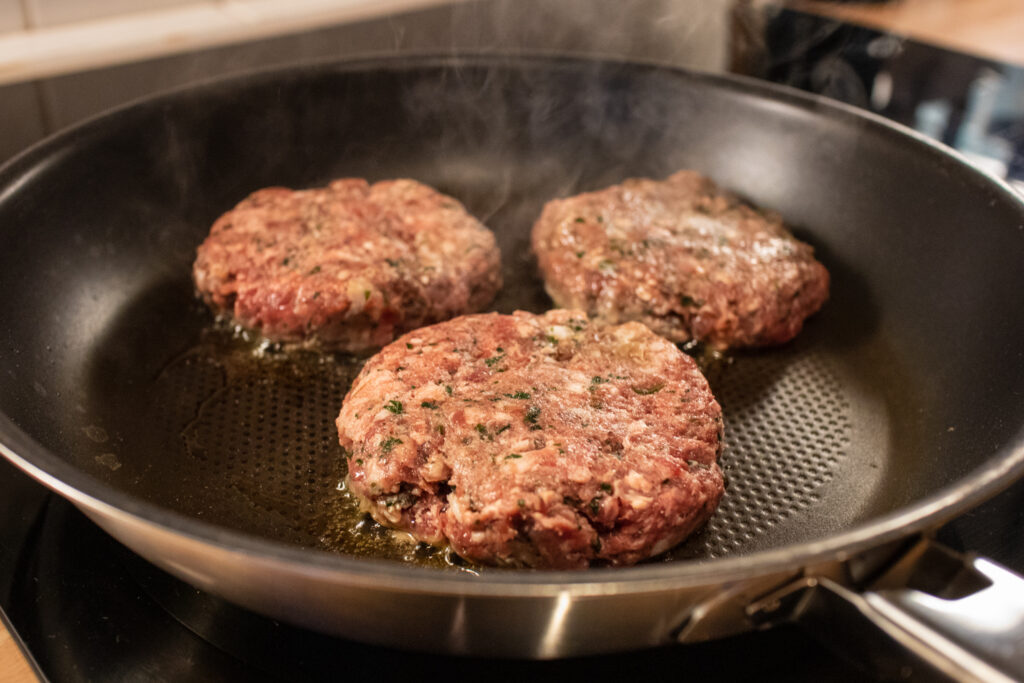 VENISON BOX
If you're hosting looking to wow your guests this, Wild Venison Taster Box from HFV Parkland & Wild is perfect for all manner of festive occasions, from family dinners to dinner parties with friends.
HFV produce award winning, prime quality, sustainable wild venison from deer reared naturally across their North Yorkshire farm and from traditional parks around the UK.
Elevate wholesome traditional meals and introducing your loved ones to the deliciousness of venison with this box of a various venison cuts, including Gluten Free venison sausages and burgers, venison mince, steaks and even a venison roasting joint. This selection is a guaranteed crowd-pleaser, and will carry your cooking throughout the Christmas period.
£50, HFV Parkland & Wild
SHOP NOW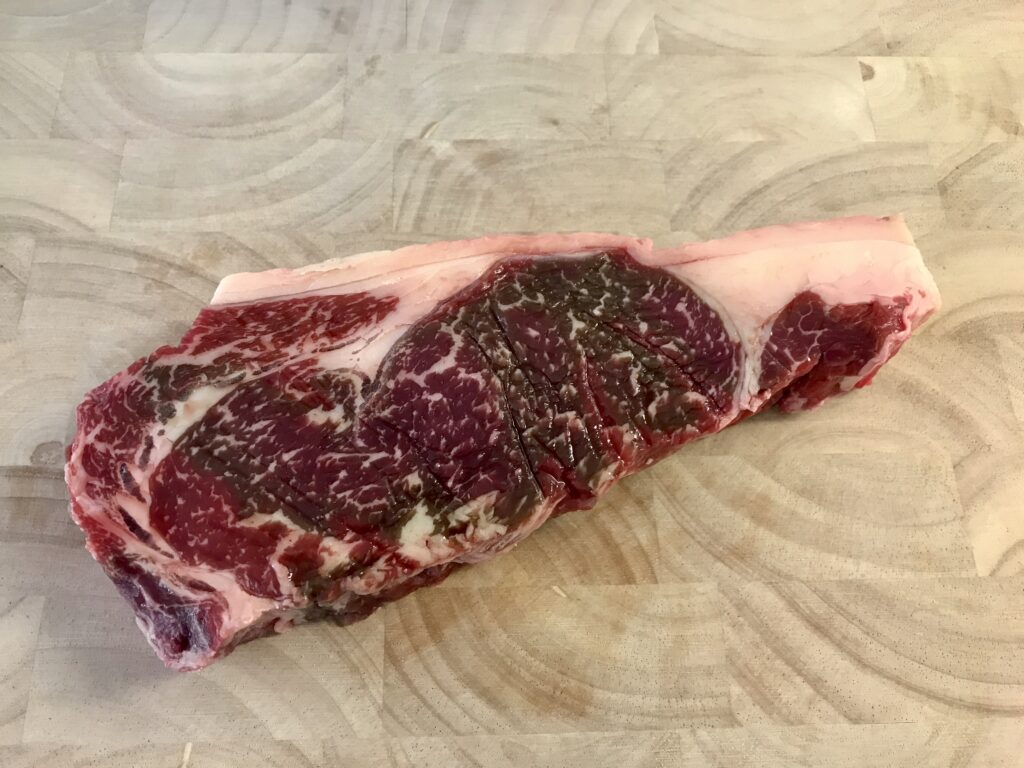 STEAK NIGHT DEXTER BEEF BOX
Need a recipe for a festive night with friends? How does a 5kg steak box, a fiery pan and a bottle of young cabernet sauvignon sound?
Featuring a selection of flat iron, rump and sirloin steaks, plus a picanha, 450g of whole fillet and extra virgin beef dripping, this Steak Night Dexter Beef Box from Rosewood Farm, is packed full of goodness. Though we have to say, the Picanha – taken from the top of the rump and surrounded by a thick layer of fat – is the star of the show.
Going against the grain, literally, Rosewood Farm's produce is 100 per cent grass-fed, resulting in the tenderness and rich, full flavour of their meat.
Unusually, they choose not to dry age their meat for any length of time. Dry-aging is a widely-practised process that is said to improve the meat's flavour and tenderness. However, because of the way Rosewood cattle are reared, they maintain it makes little difference to the quality of their grass-fed beef and, as such, dry-aging is a waste of resources.
Their customers agree, and so do we, as Rosewood beef is up there with some of our favourites when it comes to flavour and texture.
£130, Rosewood Farm
SHOP NOW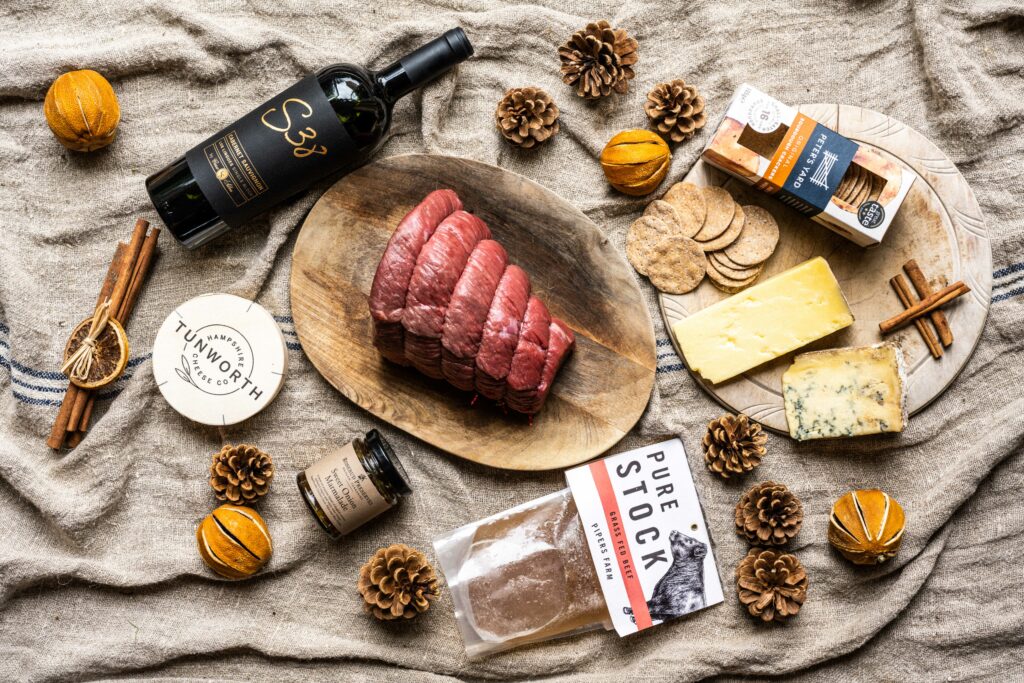 BOXING DAY FEAST BOX
Feeds: six people
Last order date: Pre-order from now. Delivery slots from 23 November – 23 December. You can add to your order, but can't remove any items after 1 December.
This box is a gift to those hosting on Boxing Day. And, in fact, would make a wonderful gift for anyone – if you're looking for ideas.
The 100% rolled beef sirloin is full of flavour on its own. Add the 100% beef stock and wow-factor is complete. The bottle of S38 Cabernet Sauvignon made for a lovely pairing, the cheese and crispbreads finished the meal nicely, and the marmalade stayed on the table throughout. This is simple cooking at it's finest!
Pipers Farm is based in Devon, the 50-acre family farm works in tune with nature and 40 other family farms in the surrounding areas. It is widely recognised for its succulent meats and creative cuts – and has won a whole host of accolades to prove it.
Contents: 1.5kg 100% Grass Fed Rolled Beef Sirloin, 1x Pure Grass Fed Beef Stock, 1x Rosebud Preserves Sweet Onion Marmalade, 1x Quickes Vintage Cheddar, 1x Tunworth, 1x Cropwell Bishop Stilton, 1x Original Sourdough Crispbread, 1x Bottle of S38 Cabernet Sauvignon
£110, Pipers Farm
SHOP NOW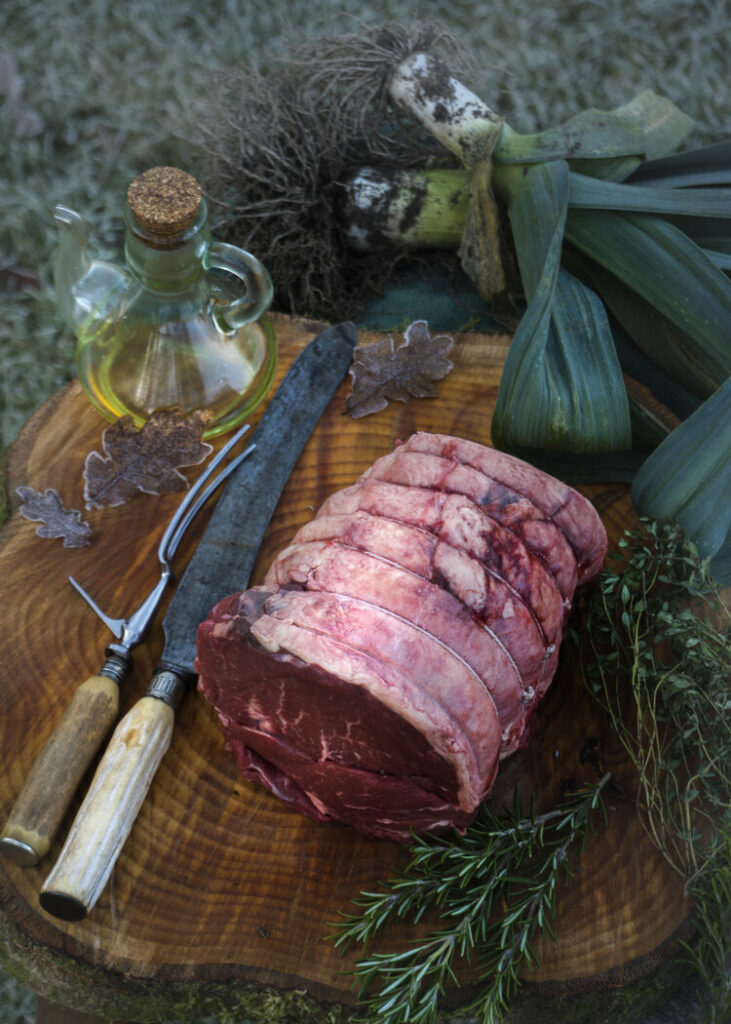 ROAST BEEF
Feeds: 3-4 people
This mouth-watering organic King Arthur's joint of beef comes from rewilded, pasture-fed cattle.
Cut from the forequarter with a tasty layer of rib fat, this roasting joint is deliciously succulent and juicy, and the perfect affordable treat for the family dining table.
Knepp Wild Range Meat comes from the pioneering 3,500-acre Knepp rewilding project, now one of the biggest biodiversity hotspots in the country. Multi-generational, free-roaming herds of old English longhorn cattle, Tamworth pigs, and red and fallow deer are the drivers of the project, creating new habitats for wildlife.
The animals eat what they choose from the diverse, natural landscape. This means they are exceptionally healthy, are able to self-medicate, and are naturally 'slow-grown' – i.e. not fattened on artificial supplements – so the meat is denser and richer, with that characteristic 'marbling' of fat which gives fantastic flavour..
From £14.40, Knepp Wild Range Meat
SHOP NOW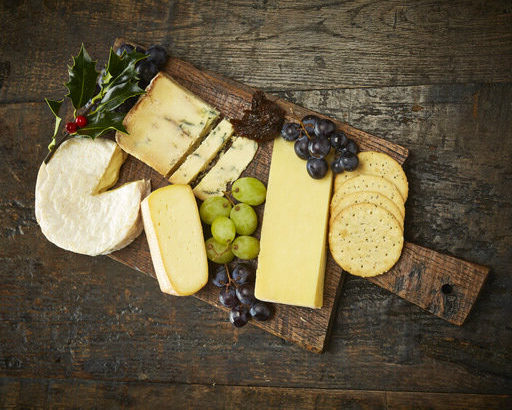 ARTISAN CHRISTMAS CHEESEBOARD
Feeds: 8-10 people
A cheeseboard is a Christmas classic. A household staple throughout the festive season, no Christmas feast is complete without overindulging on a platter of cheeses…
Field&flower's Artisan Christmas Cheeseboard (800g) makes a great addition for any festive occasion. Dinner-parties, Christmas Eve or, dare we say it, post-roast on Christmas day…
Featuring a weighty selection of traditionally made British cheeses – Baron Bigod, Cropwell Bishop Stilton, Highmoor, and Westcombe Cheddar – this platter is enough to feed 8-10 of your friends or family.
For smaller households of 4-6 people, they also have their Traditional Christmas Cheeseboard, and for larger dining parties of up to 14, there is their Luxury Christmas Cheeseboard.
£24.27, field&flower
SHOP NOW