Coombe Farm Organic: What is it?
Coombe Farm Organic offer an organic meat box delivery service, originally set up to sell beef as a by-product of their organic dairy business.
It's no surprise they are champions of Retired Dairy Beef and have a 'head-to-hoof' approach to production – offering offal, broths, pies and even tallow soaps – in addition to the more popular steaks and chicken breasts.
Based across 2,500 acres of land in Somerset, rearing their own award-winning beef, lamb and pork, Coombe Farm Organic now work with other farmers to produce a broader range of Soil Association certified organic meat that is skilfully trimmed by their on-farm butchers, before being delivered straight to your door.
Coombe Farm Organic's best-sellers: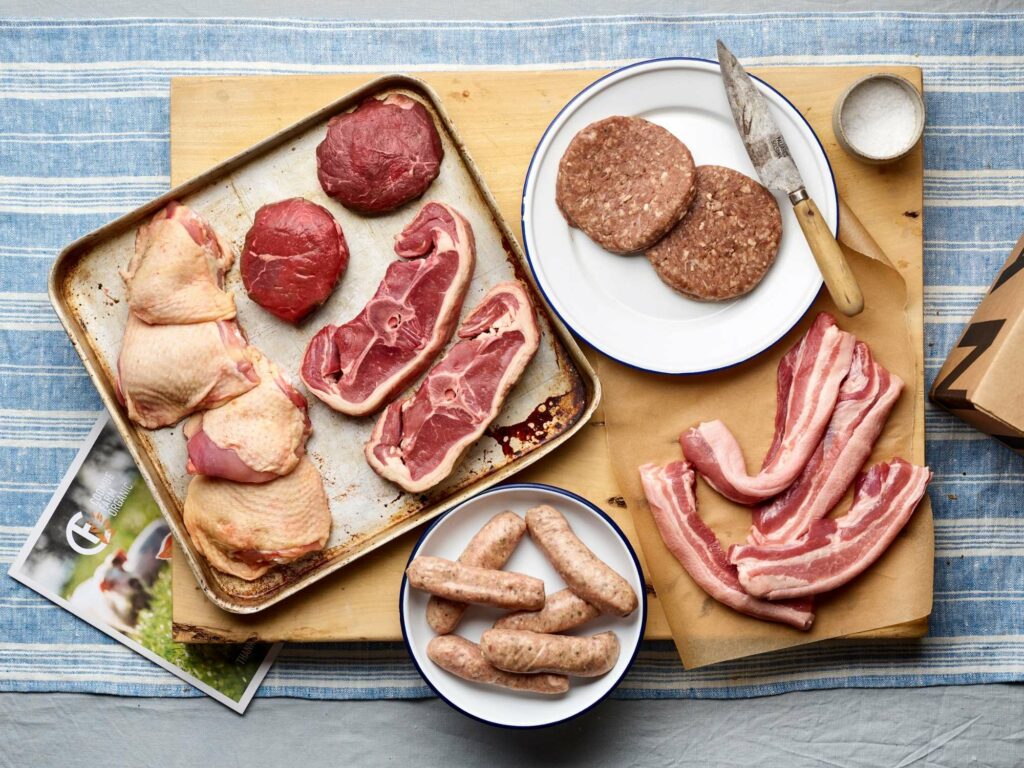 The Organic Butcher's Cuts Box
A curated selection of Coombe Farm Head Butcher Lee's favourite cuts.
£62.45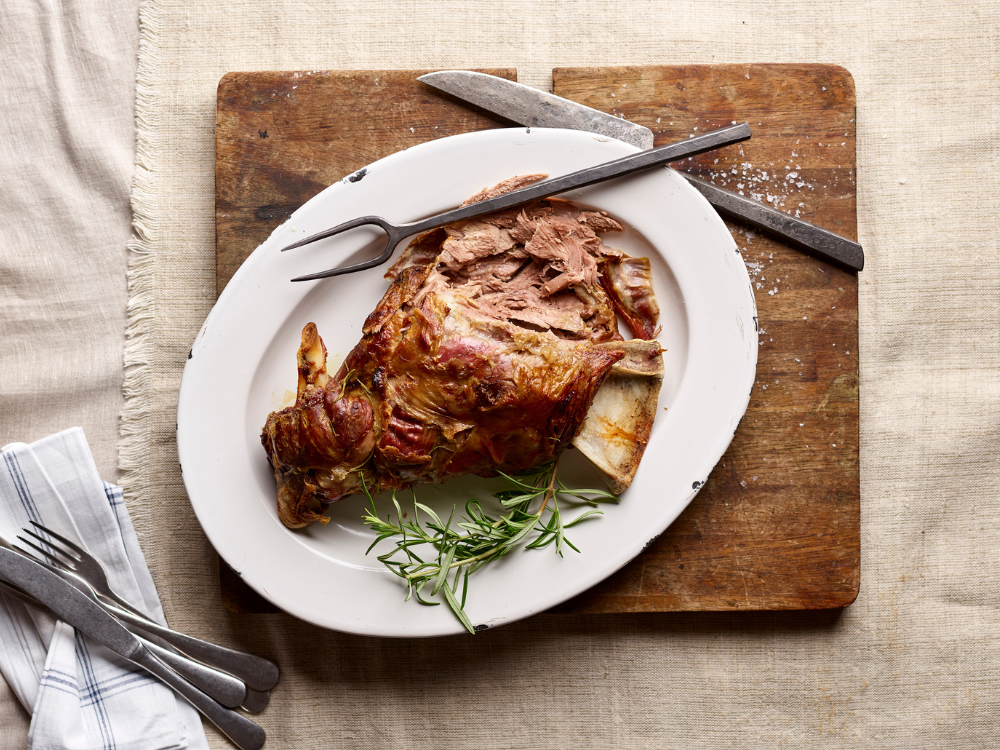 Organic Leg of Lamb (On The Bone)
3-Star Winner at the Great Taste Awards 2021.
£46.25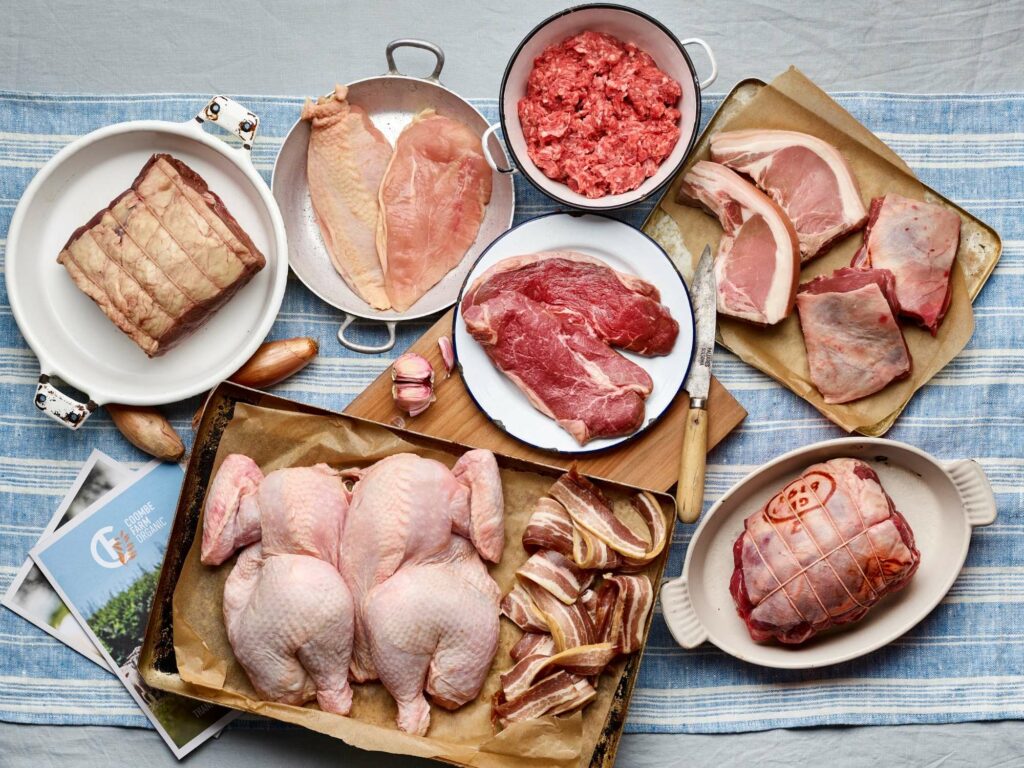 The Taste of Coombe Farm Organic Meat Box
Enjoy the full Coombe Farm Organic experience.
£128.55
Coombe Farm Organic: How sustainable is it?
Coombe Farm Organic cows are slow-grown and out to pasture for as long as the weather allows and have a predominantly grass fed diet (85%). This is supplemented with a blend of organic cereals, 96% of which are already grown on the farm.
Their sheep are also out to organic, clover-rich pasture year-round and enjoy a 100% grass-fed diet.
Coombe Farm Organic's chicken and pigs are truly free-range, having plenty of fresh air and space to allow them to express their natural behaviours and forage freely.
All abattoirs are on farm or within seven miles, which is best practice for animal welfare.
By farming organically, they work with nature rather than against it. The focus is on nourishing the soil and creating a natural balance between plants and animals, so they never need to rely on pesticides or artificial fertilisers.
Part of the AH Warren Trust, Coombe Farm also encourage biodiversity on their estate. Over the past few years they have planted trees and native hedgerows, increasing barn owl populations as well as rare species of plants and butterflies.
Coombe Farm Organic: Where can I buy it?
Coombe Farm Organic deliver nationwide, offering next day delivery to the UK mainland.
The minimum order is £40, plus a £3.95 delivery charge. But, orders of more than £100 receive free delivery.
The meat is delivered frozen but you don't have to be home to unpack it straight away – it's designed to stay that way for 40 hours.
The cardboard boxes, paper pulp packaging and the vacuum-packs the meat comes in are all curb-side recyclable.
The ice packs are filled with water or a non-toxic food-grade water-based polymer gel. You can reuse them by popping them in the freezer, or you can pour the filling away to put the plastic in your recycling bin.
Visit Coombe Farm Organic