Everyone dreams of a stress-free Christmas. So, forget any last minute panics of struggling to find a turkey big enough for your party, or worst yet, shops running out of brussels sprouts. Instead, let someone else do the shopping for you: enter Christmas food box deliveries, which arrive directly from the farms to your door.
Producers who lovingly grow veg and rear animals for these excellent boxes are masters of their crafts, which have been months in the making (and years in the perfecting). So, what better way to show your appreciation than buying directly from the best of them?
All of our selections are from a mix of organic and high welfare farms. They feature grass-fed and free- range produce from animals which have had a very good quality of life and taste better because of it, too.
To help us choose, we asked some of our favourite farmers what's on offer this year. There's impressive veggie centrepieces, simple turkey breast joints and vegan Indian-inspired feasts, which don't require much faff. We've listed them all below, along with useful information like the last order date and how many people they'll feed.
To make things even easier for you, the food boxes arrive chilled or frozen and thanks to clever packaging, they will stay that way all day. So, you don't even need to be home to receive your food box delivery.
Top tips for ordering your Christmas food box:
But before you get started with your order, remember that each farm has a whole range of options, not just the box we've selected. So, if you like the sound of one then click on the link to find what else is available.
Secondly, and probably most importantly, order as early as possible. While order dates take you right up to Christmas, word on the farms is that slots are filling up fast.
Traditional Christmas food box deliveries
Christmas turkey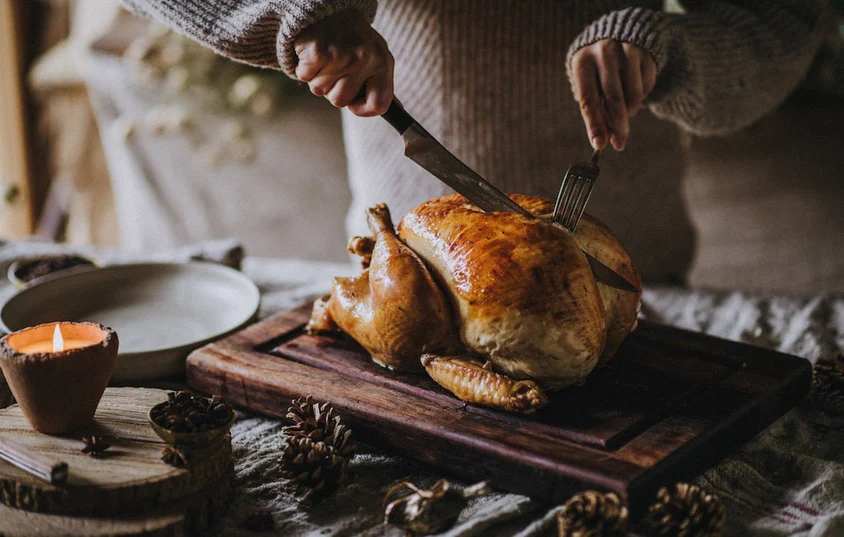 First up, of course, is the Christmas turkey. If you're a stickler for this tradition, then there are a lot of great options for you. In fact, there's so many we have an entire article dedicated to where and how to get the best tasting turkey. You're welcome.
If you're looking for more unconventional ideas to supplement, or even replace, your turkey centrepiece then read on…
Field & Flower Christmas Day Food Box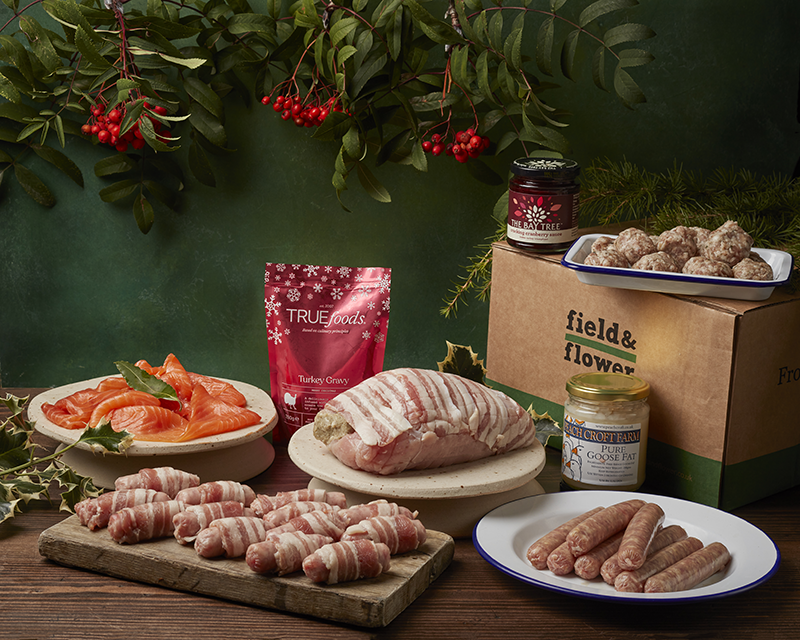 Feeds: 3-4
Last order date: Midnight on 11th December
For a one-stop-shop for an excellent traditional turkey lunch, this is it. The turkey breast joint means there's no need to spend time faffing with giblets, making for a stress-free dinner. Equally, it would be an excellent gift for your festive host, if you're not doing the cooking this year.
Set up in 2010, field&flower's original mission was to supply consumers with grass-fed, top-quality beef, directly to their homes, instead of their produce being lost in the food chain. The company now works with some of the best independent West Country farms and fishers who share their high animal welfare and sustainability values to offer a whole lot more.
Contents: 1x turkey breast joint with pork, sage and caramelised onion stuffing (1kg), 1x Scottish smoked salmon (200g), 1x pigs in blankets, pack of 12 (340g), 1x free range goose fat (200g), 1x pork, sage and caramelised onion stuffing balls, pack of 12 (340g), 1x three king chipolatas (340g), 1x turkey gravy (250g), 1x cranberry sauce (190g)
£69.48 with code XMASDAY, usually £77.20 | Field & Flower
Coombe Farm Organic Boxing Day Feast Box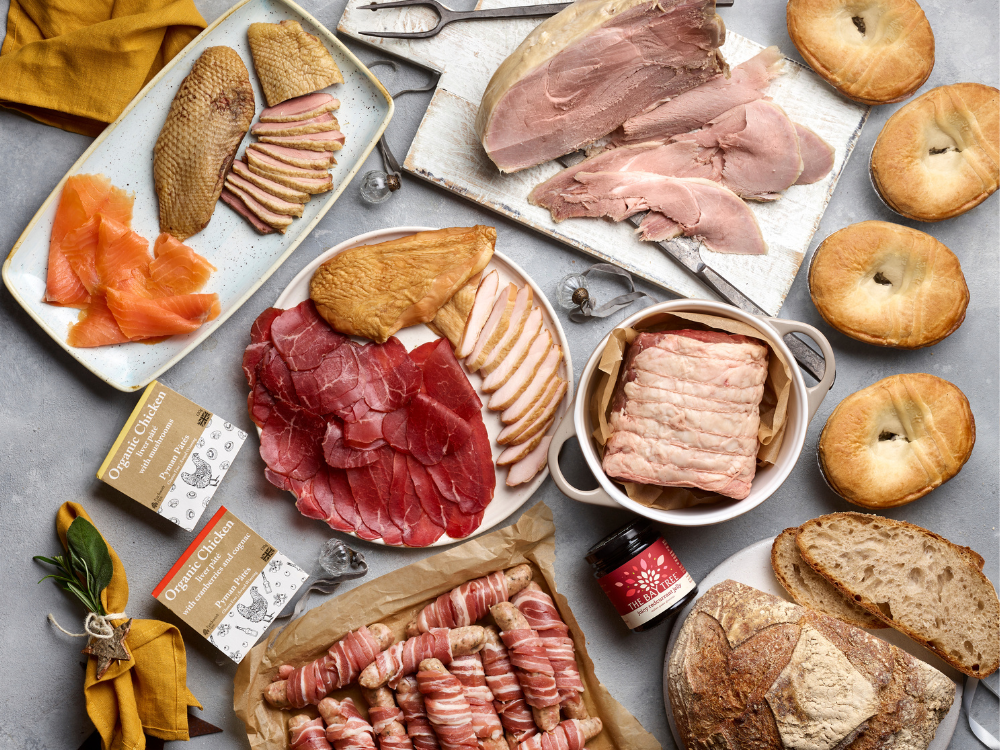 Feeds: Estimated 12-15 if served as a buffet
Last order date: 22nd December
The best day of the festive period (in our eyes, at least) is absolutely Boxing Day. It's more relaxed, there's less cooking (thanks to the leftovers from the day before) and generally it's a chilled day of constant grazing.
Coombe Farm's Boxing Day feast box has all of those exciting little bits you need to ensure your lunch on 26th December is a real hit. From cold cuts, to organic lamb and mint pies and of course, the ​​pièce de résistance of festive feasting, organic pigs in blankets, it's maximum output with minimal input from you. Other highlights include its Taste of the West award winning organic beef rump roast and organic beef bresaola cured meats.
All the meat from Coombe Farm is high welfare, and their organic meat boxes are made up of meat from across 2,500 acres of land in Somerset.
Contents: 12 x 75g organic pigs in blankets, 4 x organic lamb and mint pies, 1.5kg organic nitrate-free smoked ham, 100g organic smoked salmon, 1kg organic beef rump roast, 120g organic chicken liver pate, cranberries and cognac, 120g organic chicken liver pate with mushrooms, 2 x 70g organic beef bresaola, 810g organic sourdough, 227g juicy redcurrant jelly
£126 | Coombe Farm
Sage and Onion Simplest Turkey Christmas Food Box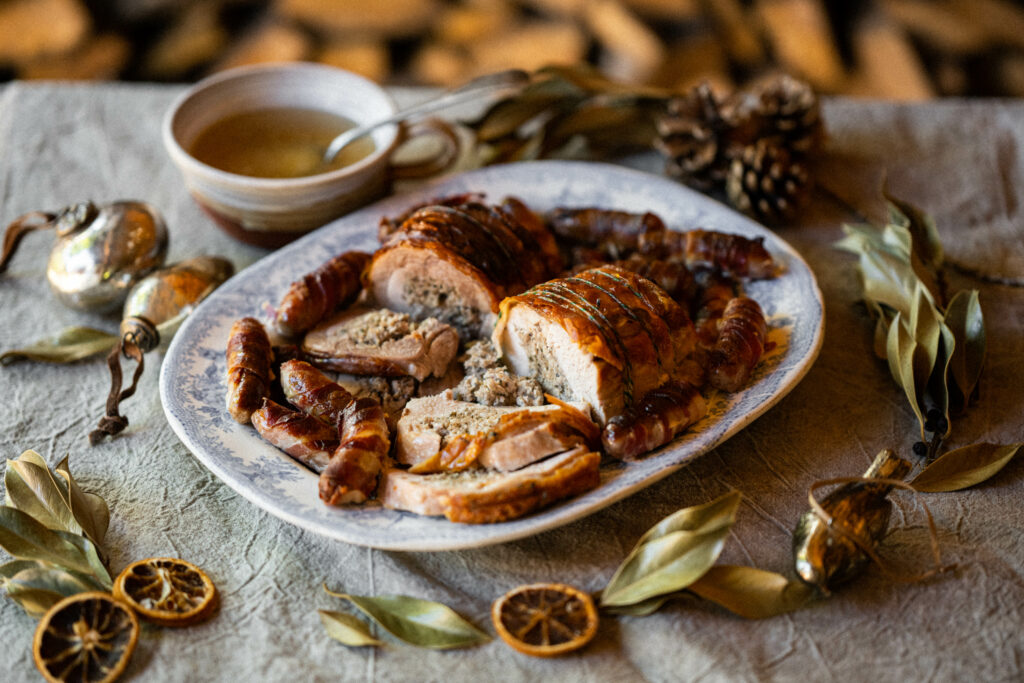 Feeds: 4-12 (depending on size chosen)
Last order date: 16 December, but sells out before so order by first week of December. You can add to your order up to 7 days before your delivery date
For the turkey purists out there who want an easy ride in the kitchen, Pipers Farm's aptly named "simplest turkey" offering will tick all the right boxes. The only decision to make is how many people to cater for, as boxes start from 4 portions, and increase up to 12, which helps to minimise waste. Then when it comes to cooking, all you'll need to do from scratch is the veg. The whole contents of the box can be cooked in the oven in one hour.
The turkey is free range, and includes breast and leg, so all parties (whichever cut your guests prefer) will be happily catered for. The sausage meat and pigs in blankets are made from the farm's famous native breed pigs.
Pipers Farm is based in Devon, where the 50-acre family farm works in tune with nature and 40 other family farms in the surrounding areas. It is widely recognised for its succulent meats and creative cuts – and has won a whole host of accolades to prove it.
Contents: Properly free range turkey breast stuffed with sage and onion sausagemeat stuffing, properly free range turkey leg stuffed with sage and onion sausagemeat stuffing, pigs in blankets (2 per person), pure free range turkey stock
From £42.60 for 4-person box | Pipers Farm
Fosse Meadows Free-range Chicken Box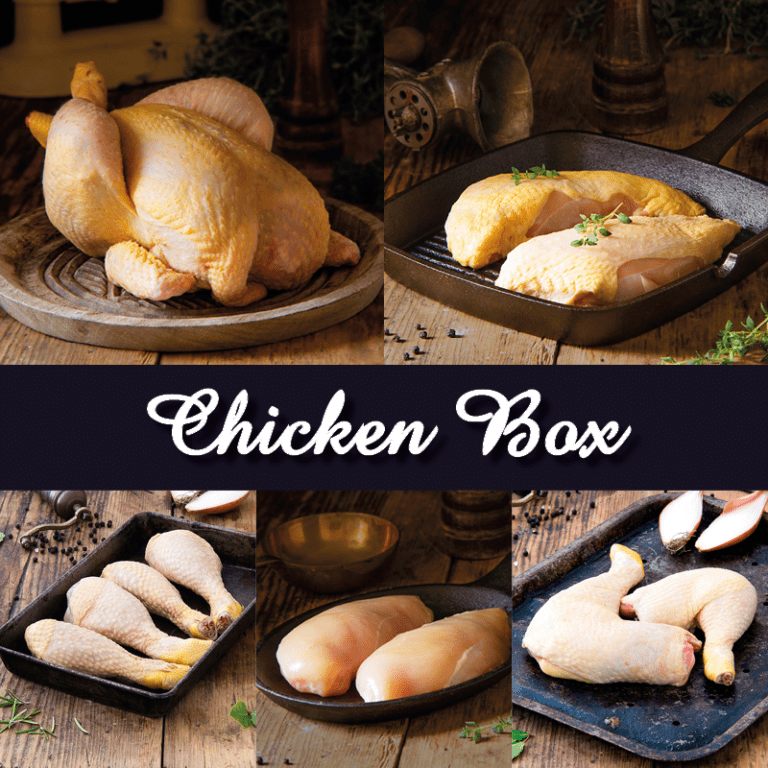 Feeds: Whole chicken feeds 4-5 people, plus other cuts
Last order date: 22 December
Turkey at Christmas isn't for everyone, and those firmly in the chicken camp should look to Fosse Meadows. The organic farm in Leicestershire, which is now in its fourth generation, specialises in traditional free range poultry that's very slow grown.
It proudly farms French breed chickens, which reach full maturity and freely roam with access to pasture and hedges, as it's a Pasture for Life certified farm. This results in really high quality meat with excellent flavour and the yellow tinge to its skin which is associated with organic chicken.
To avoid any arguments of who gets what, there's a pleasing mixture of cuts, including skin-on breasts, skinless breasts, drumsticks and legs. There's also a whole chicken too, if you like the presentation of a whole bird on the table to carve.
Contents: 1 x medium whole chicken (2kg typically), 1 x pack of skin-on chicken breast (2 breasts per pack), 1 x pack of skinless chicken breast (2 breasts per pack), 1 x pack of chicken drumsticks (4 drums per pack), 1 x pack of chicken legs (2 legs per pack)
£44.50 | Fosse Meadows
Helen Browning's Organic Christmas Essentials Box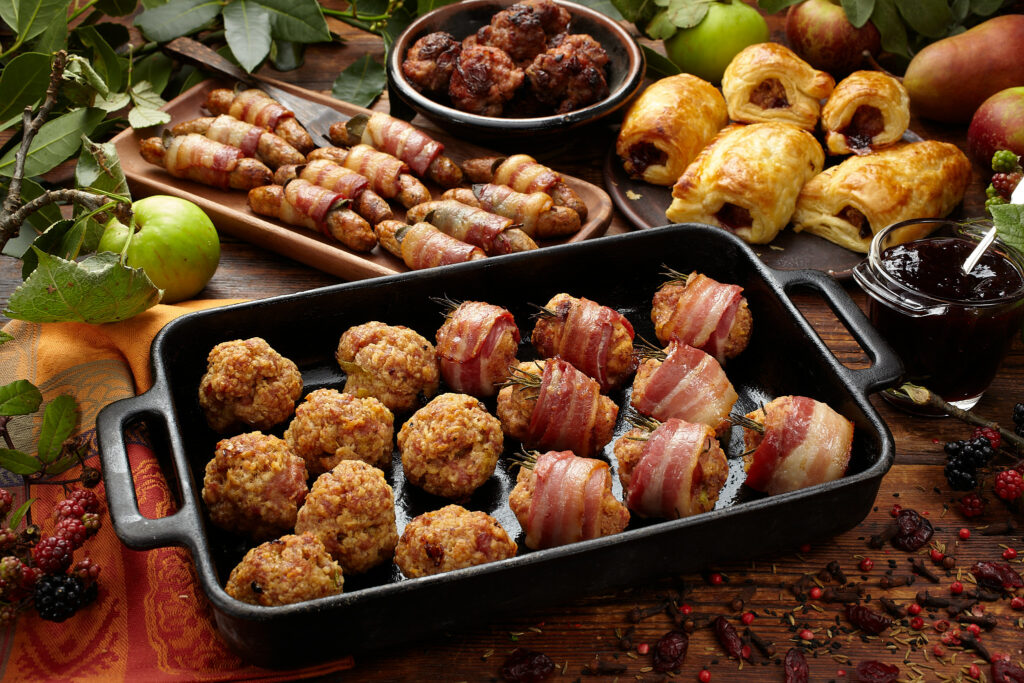 Feeds: Depends on what you order
Last order date: Available to pre-order now, which will be delivered shortly before Christmas. Available to collect from the Farm Shop too
This is not a traditional food delivery box, as Helen Browning invites you to build your own, which makes a perfect personalised gift for a host (or yourself).
Best known for their high-welfare organic pork, in 2020 Helen Browning's introduced a range of ethically produced high-welfare, lower carbon 'good beef'. This means you can order ready-to-cook Christmas gammon and beef from one place. Plus you can add in the sausages and bacon for DIY pigs in blankets, too – which we couldn't get enough of and children will no doubt love getting involved with.
As one of the UK's few female farmers, Helen has always pushed hard in pursuit of a better way of farming, and in doing so has helped to shape organic farming across the UK.
Contents: Pick and mix from: Organic gammon, organic perfectly pink beef, organic classic pork sausagemeat, organic pork and cranberry sausagemeat, organic speedy sausages, organic unsmoked streaky bacon, organic smoked back bacon
From £40 for gammon, £30 for beef, | Helen Browning's
Vegan and Vegetarian Christmas food box deliveries
Riverford Veggie Wellington Kit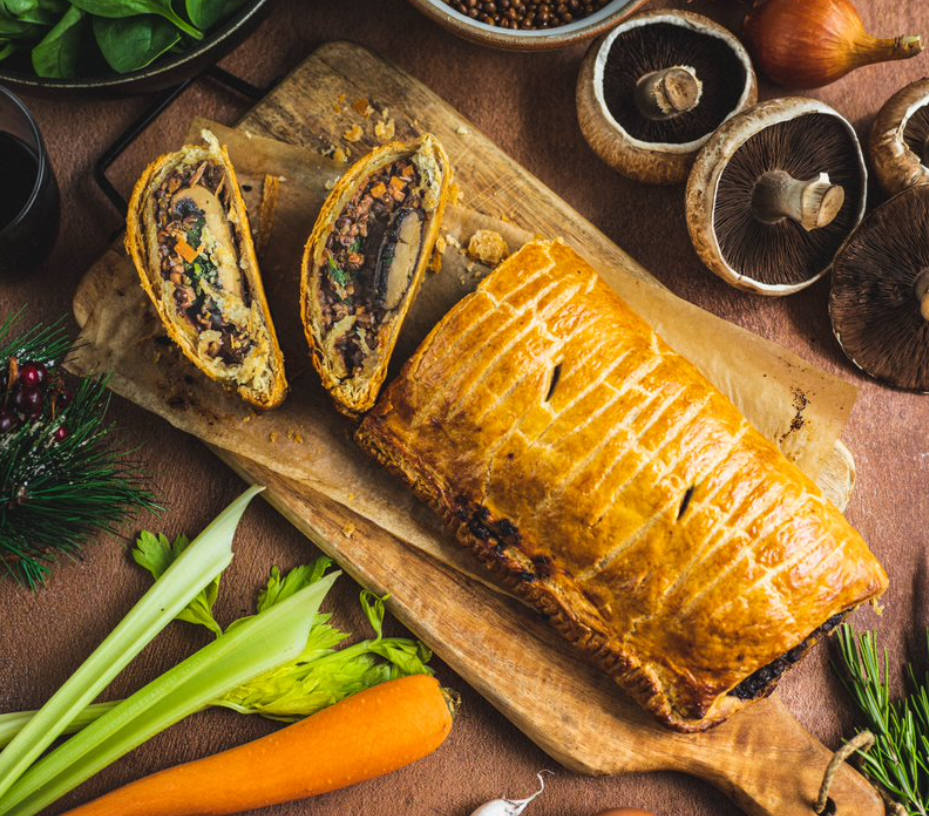 Feeds: 6
Last order date: 21 December
An indulgent wellington dish is usually associated with beef, but break with tradition and go veggie this year.
Riverford's organic veggie wellington is bursting with chunky portobello mushrooms and lentils in a decadent red sauce, and it will no doubt make an impressive centrepiece. The recipe box comes with all the ingredients, which have been lovingly grown on the farm, as well as an easy step by step guide. The only thing you need to add yourself is a healthy knob of butter.
Guy Singh and the Riverford team in Devon have been paving the way in organic farming since 1986. It also reduced its plastic packaging by 21 tonnes a year, doesn't use air freight, is one of the top 100 companies to work at in the UK.
Contents: Plain flour, wheat, tinned dark lentils, portobello mushrooms, baby spinach, carrot, celery, red wine, onion, egg, tamari, rosemary, garlic
£11.95 | Riverford
Abel & Cole Vegan Christmas Feast Box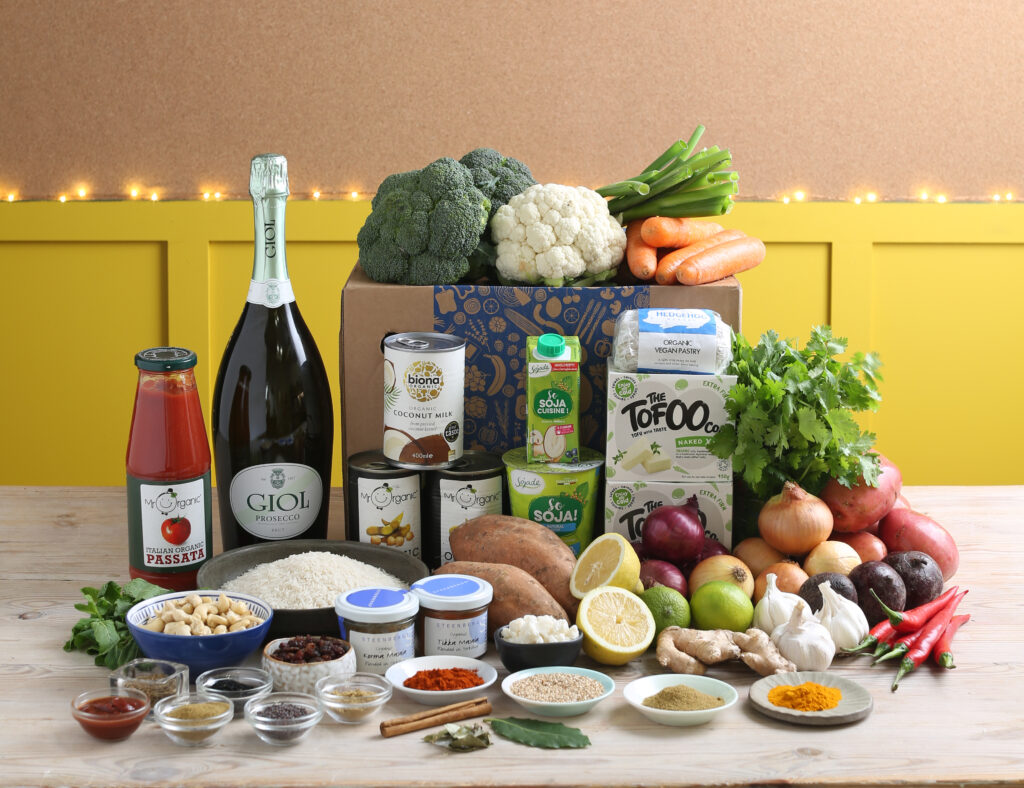 Feeds: 6-8 people
Last order date: Available to pre-order now and delivered on 24th December
Christmas food boxes are not all meat based, as Abel & Cole's excellent vegan offering proves. For those that need a little spice in their festive spread, and want something more fun than traditional meat-and-two-veg, this Indian-inspired plant based feast recipe box is just the ticket. The main dish is a golden chickpea and cauliflower biryani, while there's also classic dishes like tikka masala, korma and gunpowder roast potatoes.
A magnum of Prosecco will serve as a festive welcome drink for your guests, and Abel & Cole has even gone to the trouble of adding sprigs of mistletoe to the box, so you can decorate your festive table too.
Contents: Golden chickpea and cauliflower biryani, gunpowder roast potatoes, red onion salad, beetroot raita, tofu tikka masala, creamy vegetable korma, magnum of Giol Prosecco, sprigs of organic mistletoe for your table
£115 | Abel & Cole
Eversfield Organic Christmas Vegan Banquet Box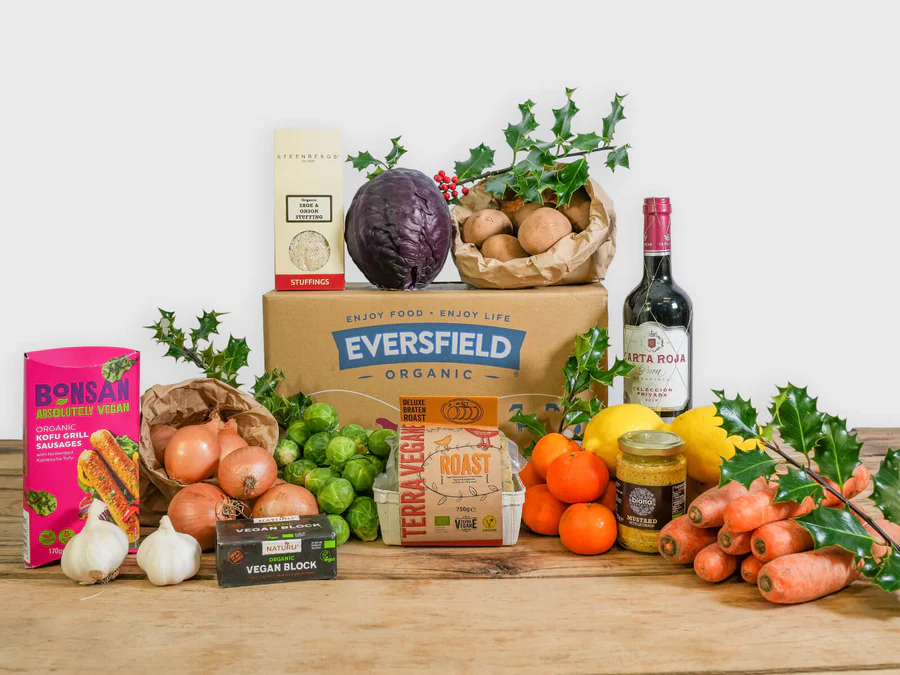 Feeds: 4-6 people
Last order date: Available to pre-order now and available for delivery from 20th – 23rd December
For a more traditional-style vegan-friendly Christmas meal, take a look at this organic Vegan Banquet Box from Eversfield Organic. Fill your festive dinner table with a plant-based winter roasting joint and all the meat-free trimmings, including a bottle of Carta Roja Pura Monstrell.
It also comes complete with reusable recipe cards to ensure you have a truly spectacular fuss-free Christmas dinner.
Contents: Vegan winter roast, gravy mix, white potatoes, garlic bulbs, rosemary, red cabbage, white onions, Naturli butter block, Bonsan Kofu grill sausages, Carta Roja Pura Monstrell, wholegrain mustard, carrots, clementines, brussel sprouts, Steenbergs sage and onion stuffing
£50 | Eversfield Organic
Alternative Christmas food box deliveries
Coombe Farm Organic The Sustainable Game Box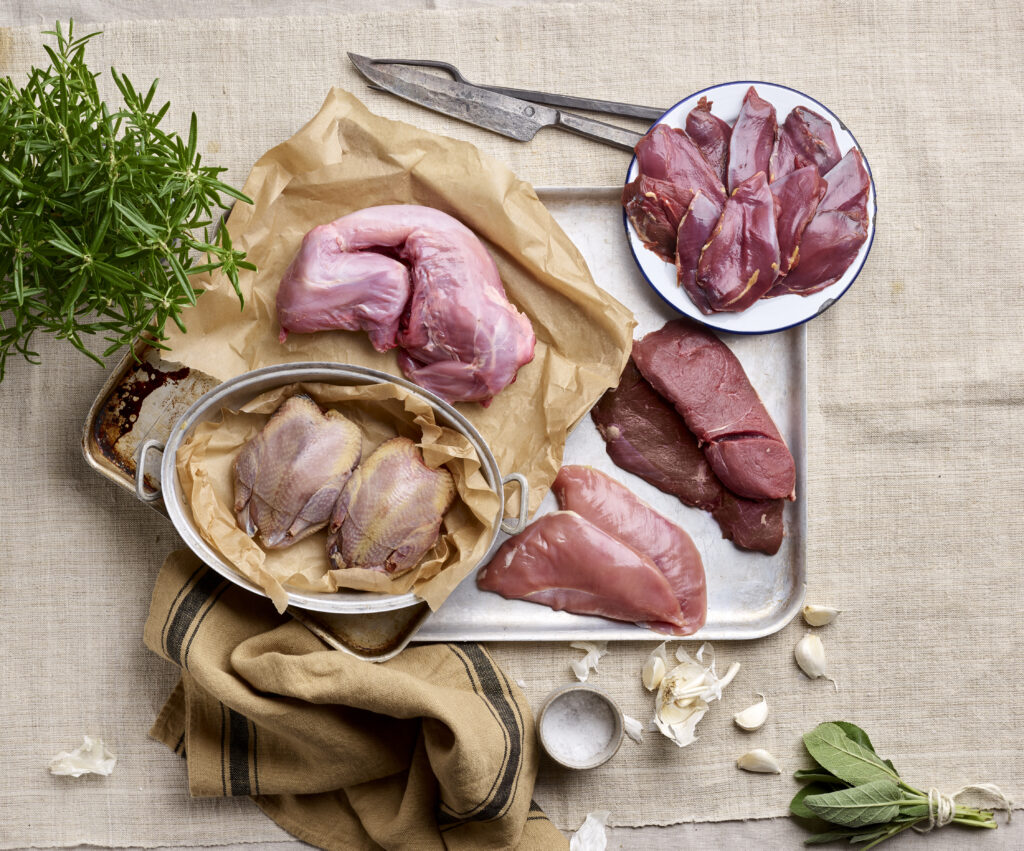 Feeds: 5 meals for 2 people
Last order date: 22nd December. Orders can't be amended after 16th December and any additions need to be at least 7 days ahead of delivery
No one wants to be eating their seventh turkey dinner by the time it comes to 25th December, so instead, dish up some wild and ethical game meat for a special dinner in the run up to Christmas.
The box includes pheasant and wood pigeon breasts, whole partridge and rabbit and venison too, which will certainly get you thinking out of your usual recipe repertoire box.
Coombe Farm's ethos of preventing food waste is harnessed with this offering, which makes sure game meat that's shot on nearby estates enters the food chain instead of going to waste. The juicy meat is lean and full of gamey, earthy flavours too, and is sure to impress your dinner guests.
Contents: 2 x wild pheasant breasts, 10 x wild wood pigeon breasts, 2 x 300-400g whole wild partridge, 600g organic venison neck rings, 800g-1kg whole wild rabbit
£49.50 (full price is £52.10) | Coombe Farm
Coombe Farm Organic Duck and Trimmings Box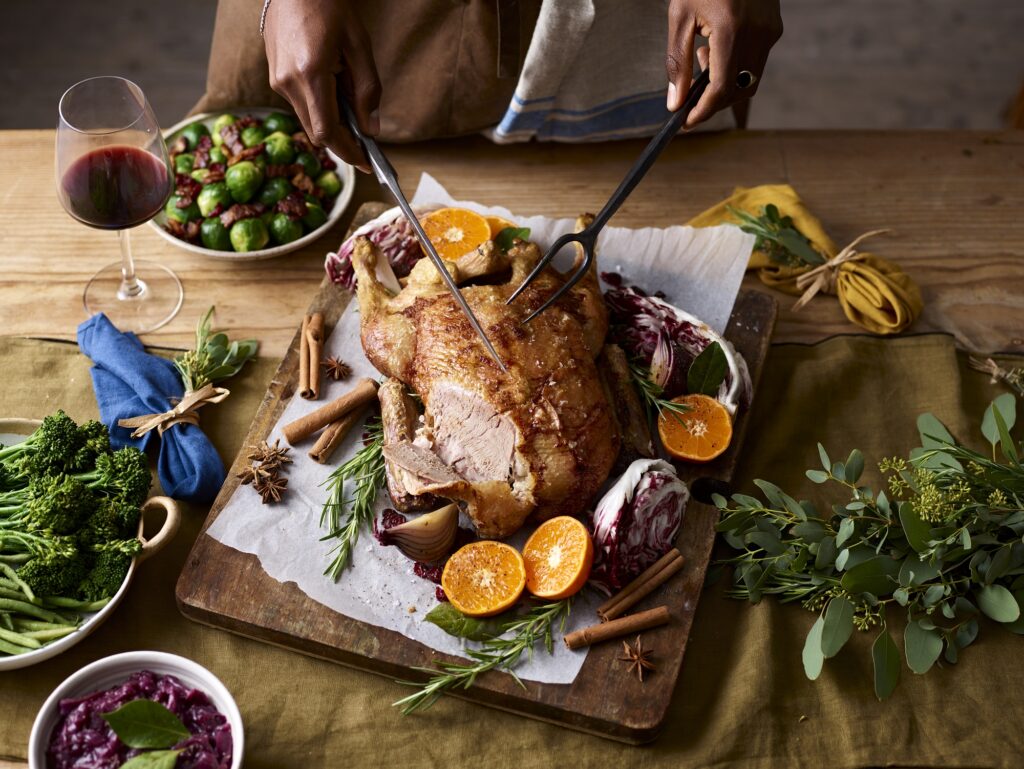 Feeds: 5
Last order date: 22nd December. Orders can't be amended after 16th December and any additions need to be at least 7 days ahead of delivery
We've already written about the alternative meats to eat this Christmas instead of turkey, and we really think duck is an absolutely worthy option. This trimmings box comes with the whole organic duck, organic stuffing, pigs in blankets and nitrate-free unsmoked streaky bacon, as well as sauces to make everything sing.
Coombe Farm's ducks are some of the best in the business, too and have rightly been awarded the Great Taste two stars for its great gamey flavour. They're reared to high welfare standards on a farm in Devon, where they've got access to water, and roam freely outside for most of their lives, living very similarly to how they would naturally.
Contents: 2.2 – 2.4kg organic whole duck, 400g organic apricot sausagemeat stuffing, 6 x 75g organic pigs in blankets, 200g organic nitrate-free unsmoked streaky bacon, 190g cracking cranberry sauce, 130g natural goose fat, 500ml organic poultry gravy
£61 | Coombe Farm
Eversfield Organic Christmas Beef Banquet Box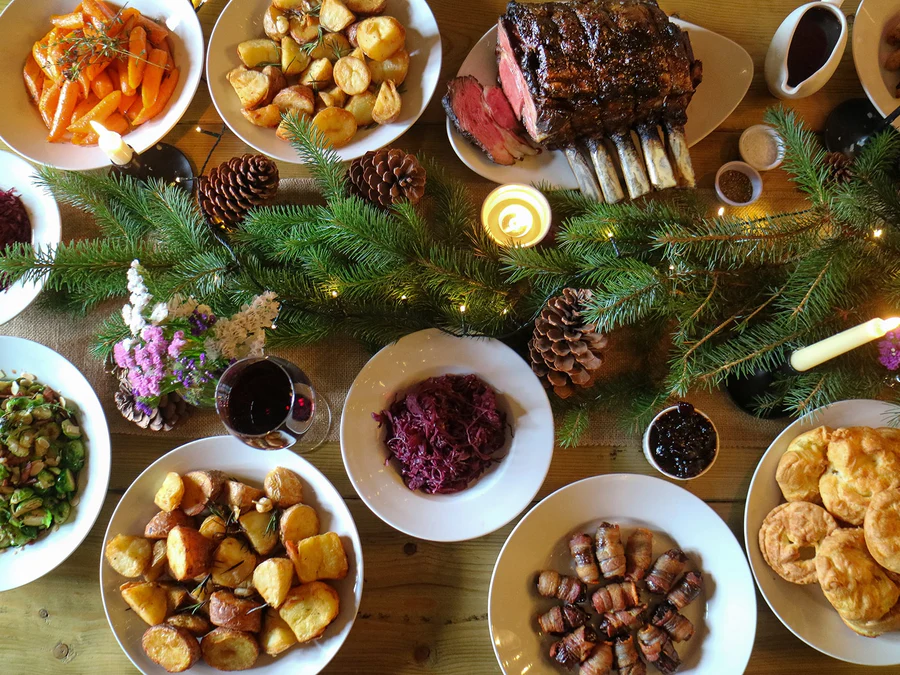 Last order date: Available to pre-order now and available for delivery from 20th – 23rd December
Eversfield Organic has everything you need for a deliciously meaty organic festive spread. This gorgeous roast rib of beef that's been dry aged for 28 days is a real showstopper centrepiece. Cook it alongside all the indulgent traditional trimmings, from honey smoked bacon to pork chipolatas and pancetta, and you'll be in for an unbeatable Christmas feast.
Complete with recipe cards and a bottle of Cahors Chateau de la Marjorie Tradition.
Contents: Dry aged rib of beef, Eversfield Organic Salted Butter, Biona wholegrain mustard, onions, potatoes, rosemary, red cabbage, pork chipolatas, Cahors Chateau de la Marjorie Tradition, carrots, garlic, clementimes, pancetta, Roam & Relish, honey smoked streaky bacon, bussels sprouts
£135 | Eversfield Organic
Rosewood Farm Steak Night Dexter Beef Box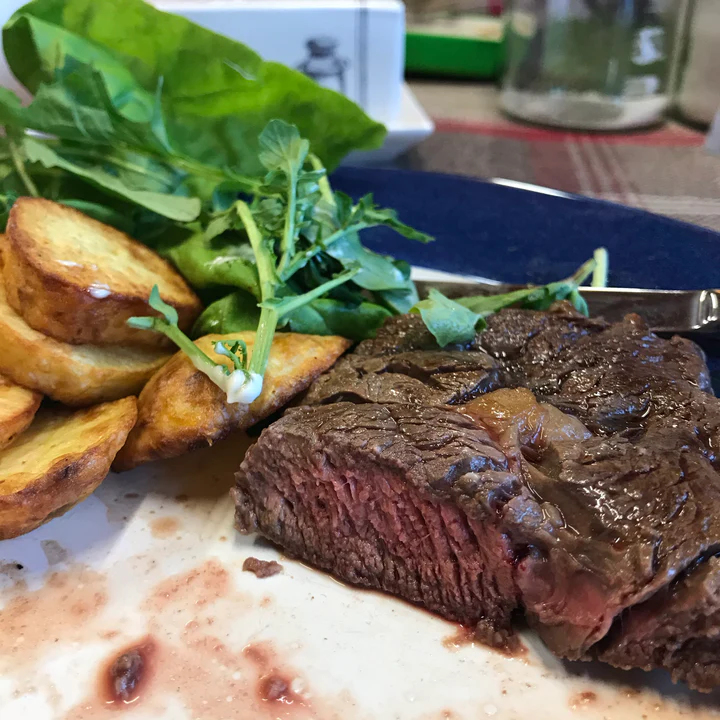 Feeds: 22 – 30 servings, depending on portion size
Last order date: 20 December
Need a centrepiece for a festive night with friends? This 5kg steak box is the answer. Featuring a selection of flat iron, rump and sirloin steaks, plus a picanha (a popular Brazilian cut that's often barbecued), 450g of whole fillet and grass-fed beef dripping, this steak night Dexter beef box from Rosewood Farm, is packed full of goodness. Though we have to say, the Picanha – taken from the top of the rump and surrounded by a thick layer of fat – is the star of the show.
Going against the grain, literally, Rosewood Farm's produce is 100 percent grass-fed, resulting in the tenderness and rich, full flavour of their meat.
Unusually, they choose not to dry age their meat for any length of time. Dry-ageing is a widely-practised process that is said to improve the meat's flavour and tenderness. However, because of the way Rosewood cattle are reared, they maintain it makes little difference to the quality of their grass-fed beef and, as such, dry-aging is a waste of resources.
Their customers agree, and so do we, as Rosewood beef is up there with some of our favourites when it comes to flavour and texture.
Contents: Fillet (500g), picanha (500g), flat iron (1kg), sirloin – packed in doubles unless specifically requested (1.5kg) rump (1.5kg). Though do note, the box is roughly split, and weights may change
£130 | Rosewood Farm
Christmas nibbles food box deliveries
Pipers Farm The Cheese Board Christmas Food Box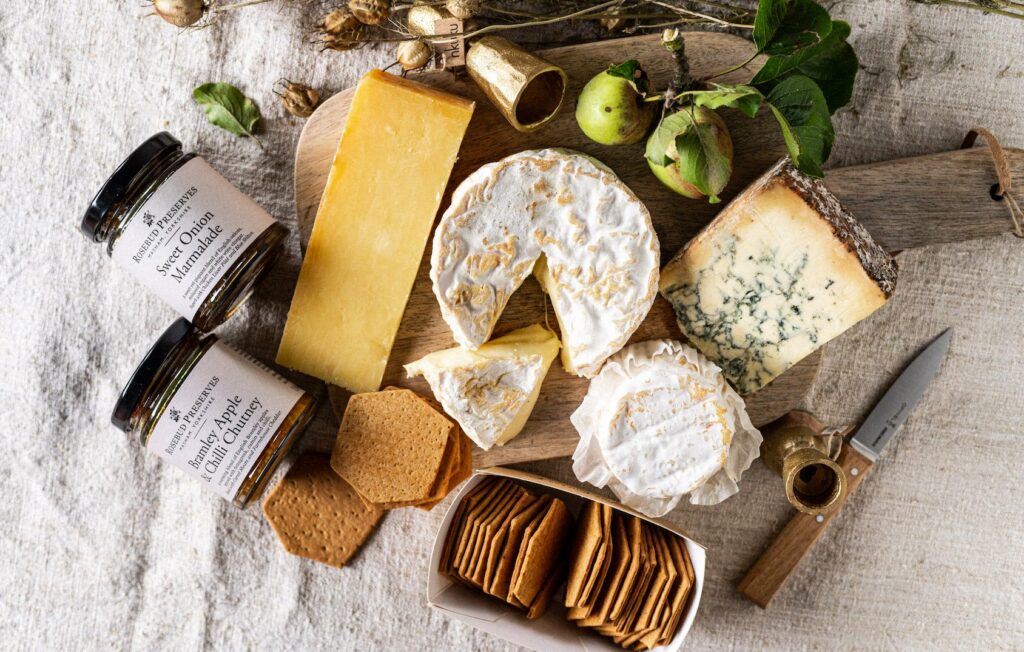 Feeds: 4
Last order date: 16 December, but sells out before so order by first week of December. You can add to your order up to 7 days before your delivery date
No festive spread is complete without a cheeseboard, whether you have it on Boxing Day, Christmas Eve, or wheel it out during Twixmas, or even Christmas Day evening, if you dare. But there's quite an art to a balanced cheeseboard.
Pipers Farm celebrates the best of British cheeses with this selection that's designed to be nibbled at over an evening with a glass (or two) of red. It offers everything you need, making it a great gift-choice if someone else is hosting.
Featuring some of our favourite cheeses too, such as Cropwell Bishop Stilton (a rich and creamy blue) and Tunworth (a Camembert style cheese) the whole offering is decadent and moorish. It's completed with two chutneys – sweet onion marmalade and hot apple chutney – and deliciously sweet fog crackers. The box is sure to make any turophile salivate at the sight of it.
Contents: Cropwell Bishop Stilton (200g), Quicke's vintage clothbound cheddar (200g), Tunworth (250g), Bix (100g), sweet onion marmalade, hot apple chutney, fig crackers
£39.95 | Pipers Farm
Riverford Large British Cheese Christmas Food Box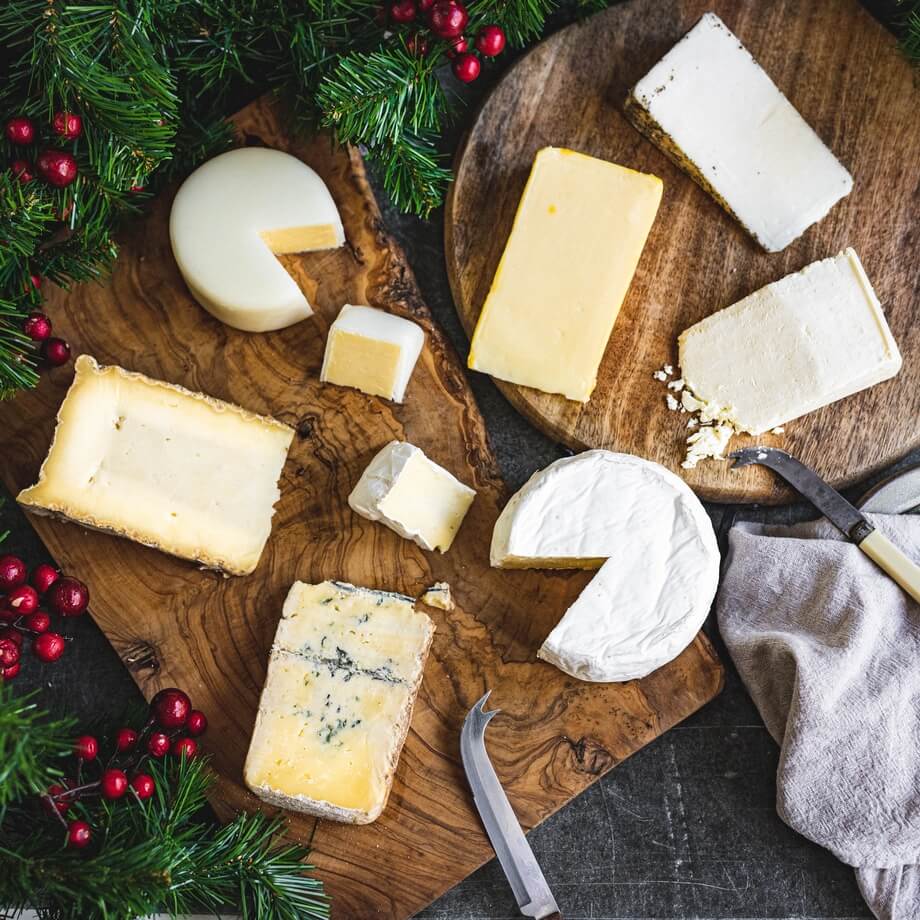 Feeds: 6+
Last order date: 21 December
Having a cheeseboard curated for you can be a great help for spreading the responsibilities of the festive feast. Riverford offers a larger selection, with this box of seven organic cheeses all handmade and from small dairies Riverford knows and trusts – what could be better?
In this box there's something for everyone, from a velvety Cotswold brie, to a Brighton blue, a classically crumbly Lancashire cheese, and not forgetting Gorwydd's multi award-winning caerphilly, to name just a few. All you need to do is bring out the biscuits and chutneys.
Contents: 1x High Weald Brighton blue cheese (150g), 1x High Weald Saint Giles (150g), 1x Crumbly Lancashire (150g), 1x Gorwydd caerphilly (200g), 1x Seven Sisters sheep's cheese (125g), 1x Caws Cenarth mature cheddar (200g), 1x Cotswold brie (240g)
£30.50 | Riverford