The recent Panorama documentary Sex for work: The True Cost of our Tea is a hard watch.
The 18-month undercover investigation reveals how women working on plantations producing tea for the likes of Unilever and James Finlay & Co, Lipton, Starbucks, Sainsbury's and Tesco are being pressured to have sex with their bosses in return for contracts.
But, this isn't a shocking story. Even the documentary reveals that Unilever was made aware of this problem a decade ago.
The measures Unilever introduced to stop it have not been effective, and that's not truly a surprise either.
This is because the measures do not address the root cause of the problem – paying women poverty wages on temporary contracts, which gives male managers extraordinary power.
The women's choices are as stark as consent to sex stay employed to feed their family or refuse and watch them starve. The documentary highlights how women that try to complain through official channels are ignored or fired. Worse than failing to protect them, this gives these sexual predators even more power by enabling them.
All the while, tea companies in the UK make considerable profit.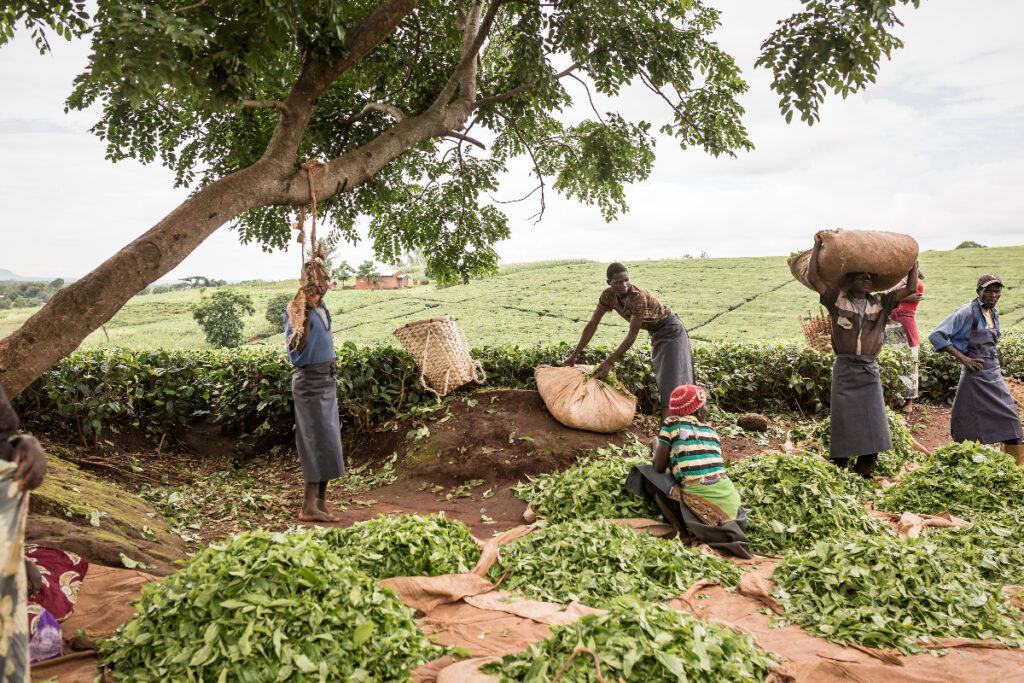 The experience of female Fairtrade farmers
Over the past eight years I've been on trips to Kenya, Malawi and Ghana with Fairtrade to learn about coffee, tea and cocoa farming. My trips have always had a gender lens.
Now, I would never presume to say that this problem couldn't exist in any Fairtrade estates, as the certifier works in extremely challenging supply chains. But, I have seen first-hand the difference it makes when you offer a woman the chance to thrive rather than merely survive.
At Sukambize Association Trust, a 5,600-acre tea estate in Malawi, each of the 9,000 smallholders owns an average of 0.75 acres of land. Here, 70 per cent of the farmers are women, because the land in this area is passed down through females, offering independence in a country where women are still largely expected to be subservient to men.
"I enjoy tea farming because it's my field and I can manage it how I want," 30-year-old farmer and mother of three, Mary Linyalo, told me.
The importance of sisterhood on this estate was clear. Mary explained: "The fields are where we can share knowledge as women. The elder women educate us on how to look after the children and our husbands."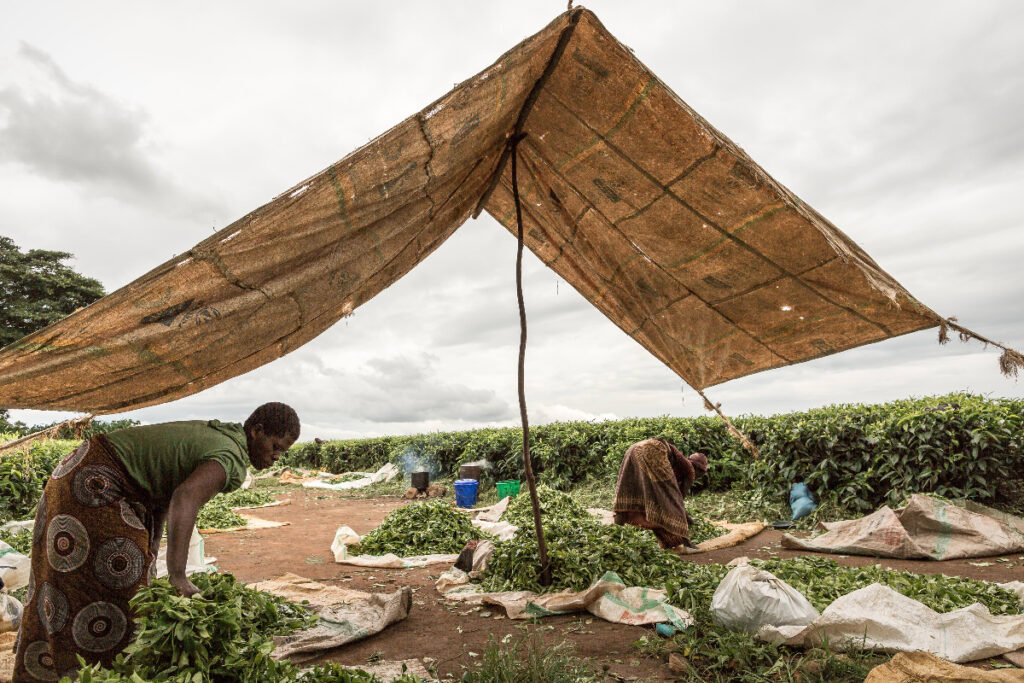 Women in Coffee
In 2018 I travelled to Kenya to learn about a new Fairtrade project called 'Zawadi'. Zawadi means gift in Swahili, and the name represents the coffee created from bushes 'gifted' to wives by their husbands as part of a pioneering Women in Coffee project.
"Women in Coffee has changed my status from beggar to planner," said Rhoda Biy, 50, mother to six children, from Kibukwo Farmers Cooperative Society (FCS).
The project was full of hope but it didn't change everything. It was hard to listen to the backstories of the women who had been given a proportion of their husbands coffee bushes so they could earn their own incomes rather than work for free in the home and the fields.
Even then, their days started around 5am and one confessed they didn't always end at 10pm once in bed, because she had a "responsibility to please their husband".
But at least now they had their own income and didn't have to beg for money.
"Money for what?," I asked.
For food for their children and school fees, was the most common response.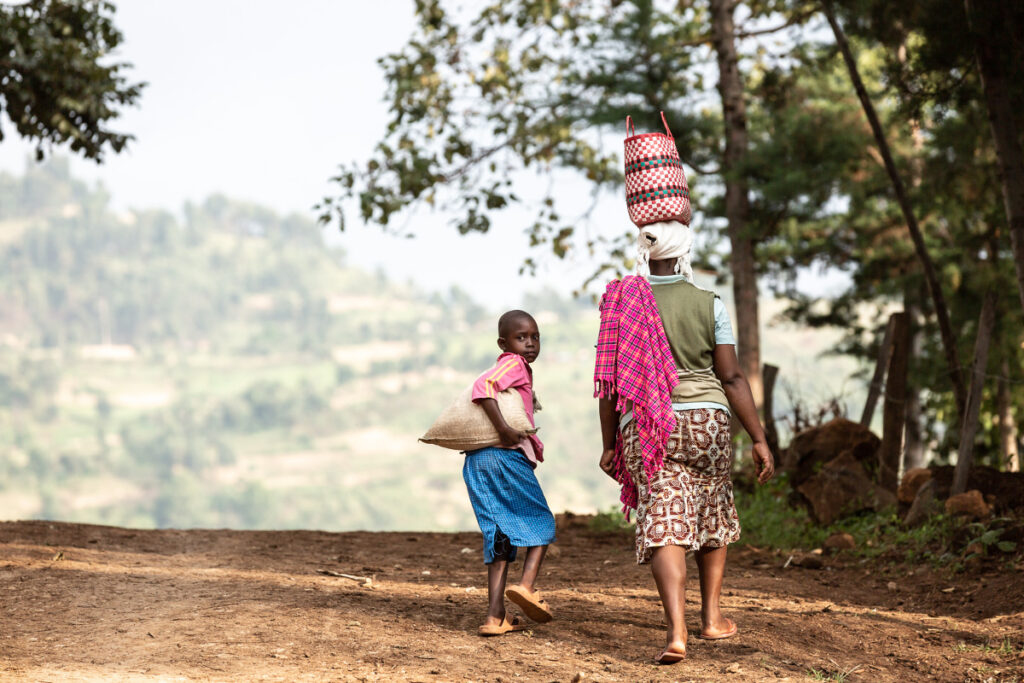 The Sankofa Project
In September last year, I was in Ghana learning about a new project called 'Sankofa', which is aimed at protecting the future of cocoa farming.
Sankofa broadly translates to 'going back for the good', because at its heart, it's farmers re-learning how their ancestors farmed – organically.
The initiative has been officially trialled by just 400 of the 100,000 farmers at the Kuapa Kokoo cooperative, the largest Fairtrade-certified co-operative in Ghana, that supplies chocolate to brands like Ben and Jerry's and Divine chocolate.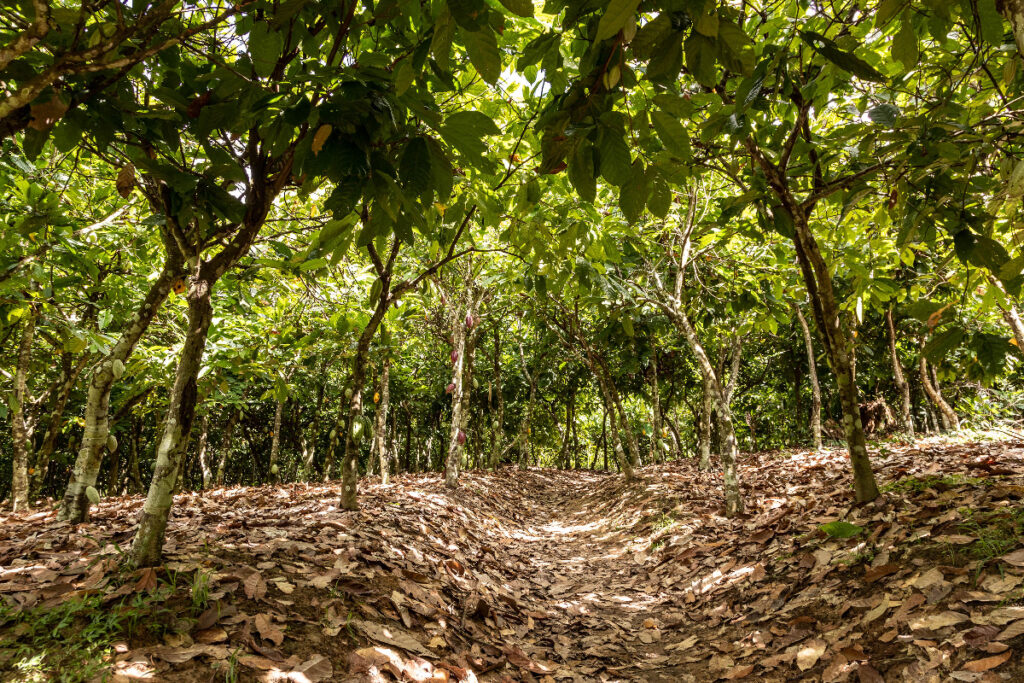 Lucy Twenewaa
Lucy Twenewaa, 52, and the other pioneering farmers took a huge leap of faith to join the project created in collaboration with six international organisations.
The condition was they had to dedicate one hectare of their land to planting a third less cocoa trees.
"'Why are you letting the white man destroy your farm?' my neighbours asked," says Lucy.
"I was sceptical, too. So, I gave them the poorest quality land to test," she adds, laughing at her ingenuity and because the risk paid off.
The Sankofa project is based on agroforestry, a style of farming that mimics the forest and is growing in popularity across the UK, Europe and America.
Now, Lucy won't even use "poison" (chemical herbicides and pesticides) she had already bought on her other farming land. She has used her learnings from Sankofa to create a thriving organic kitchen garden for her family.
"I find it difficult to eat food from other people's farms because they still use 'poison'," Lucy says.
Lucy says: "Since I've stopped spraying, myself and my kids have not gone to hospital." It's a story I hear again and again.
While this project is climate-focused, joined by men and women, once again I was seeing the opportunities seized by empowered women.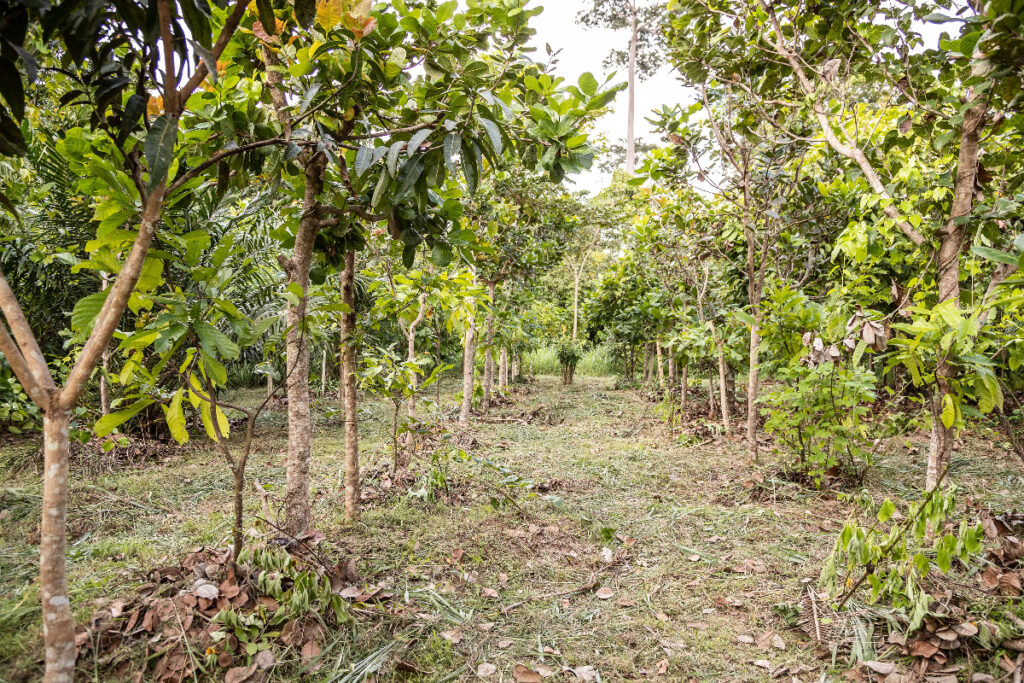 Emilia Debrah
"People can easily fall into hardship. Before I used to go to fetch water from the village tap and I would walk past it because I was consumed with worry," explains another cocoa farmer Emilia Debrah, 51, who joined the project in 2018.
Informal loans can have interest rates of up to 50% in Ghana and Emilia tells me how she got into debt twice trying to make ends meet, feeding and schooling four children.
She needed an opportunity to break out of the poverty cycle and when this project was presented, Emilia was the first woman farmer to join the project pilot. She persuaded her husband to join as well.
Whereas Emilia followed the advice to a tee, her husband was less dedicated, and her land outperforms his, she tells us beaming.
Her farm is used as an example farm to teach others. Again, she has extended her learnings to other crops she grows.
"Before they told us that we can't intercrop. So I had one field for yam, another for maize and another for tomatoes. Now I can grow them all on the same land and maximise production.
"Before I was sharecropping [a system of renting land] so I had to share the profits, now I can have just one plot instead of three and don't have to pay for labour and get to keep the profits."
Importantly for her, she earns enough to care for her extended family of 14 people and ensure that all her six grandchildren have lunch money when they go to school.
Lucy is a single mother. She is proud that four of her five children are pursuing education to university level; she even managed to send one daughter to study business management in Ukraine, before the war. And she is supporting four more children from her extended family through school.
That's the next generation of women educated and empowered and afforded more opportunity to say 'no'.
"Coming on board with Fairtrade catapulted me into being able to take care of my family." Lucy says.
"Please tell them," she asks me, referring to British consumers buying the products. "Please let them know it makes a difference."
Main image: Tea Farming | Satemwa Fairtrade Co-operative | Malawi | Photo by Chris Terry