Are you looking to order from the best home delivery food boxes in the UK? Fresh meat, fish and veg that tastes great, is better for you and good for the planet? This article has you covered.
Whether you're looking to make hearty meals throughout the week, fresh fish for Friday dinner, meat for Sunday lunch, or simply to top up on your organic cupboard staples, it's really never been easier. Nowadays you can order all the best produce online, with the click of a button.
The real challenge is finding the smaller, independent producers online to order from… and that's where we come in.
We're sussing out the best farms, fisheries and suppliers across the UK. And we're letting you in on our favourites.
Our selection exclusively features suppliers who produce high-quality and delicious food. And they do so through high-welfare and eco-friendly approaches. The people behind these food boxes are committed to production practices that are kinder to animals, the planet and to us as consumers. They are organic, and/or free-range and/or regenerative.
It's worth noting that each supplier offers a whole range of produce, not just what we've picked out or mentioned. So, if you like the sound of one then click on the link to find what else they have available.
Now, without further ado, here are our top-picks…
THE BEST ONLINE MEAT BOXES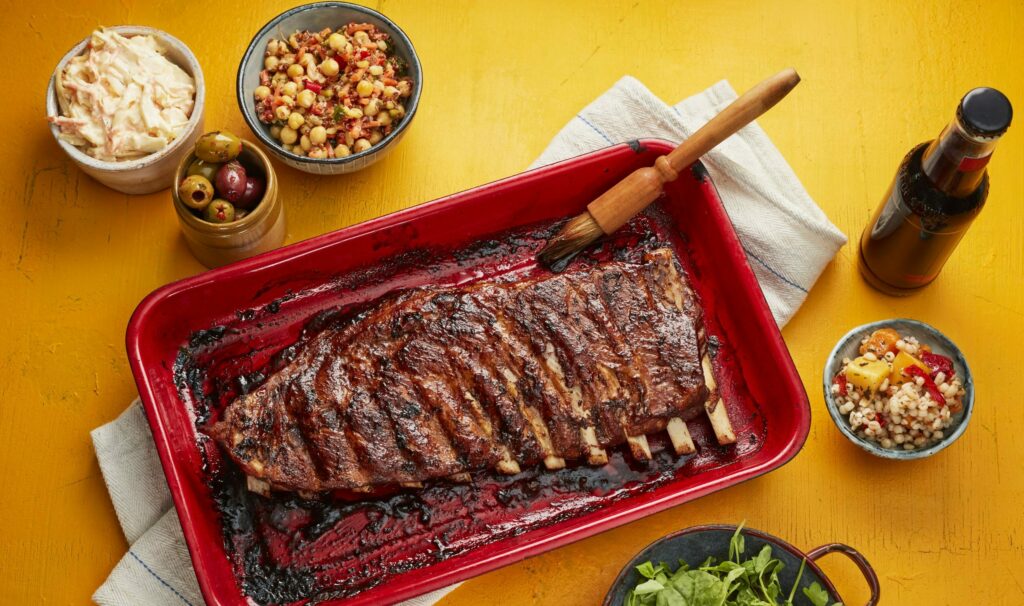 field&flower for the best subscription meat box
field&flower specialise in delivering free-range and/or grass-fed British meat and locally caught fish straight to your door.
It was co-founded by fifth generation farmer, James Field, and food-lover, James Flower (field&flower, geddit?). While Field assists in the farming of their own produce, Flower helps source and approve all other suppliers. field&flower partner with some of the best independent West Country farmers and fishermen who share their value of high animal welfare and sustainability.
Operating as a subscription service means field&flower are able to source to order. To minimise waste they ask their customers to confirm their order five days before delivery. If there is excess, this is sent to FareShare South West to provide meals for vulnerable people.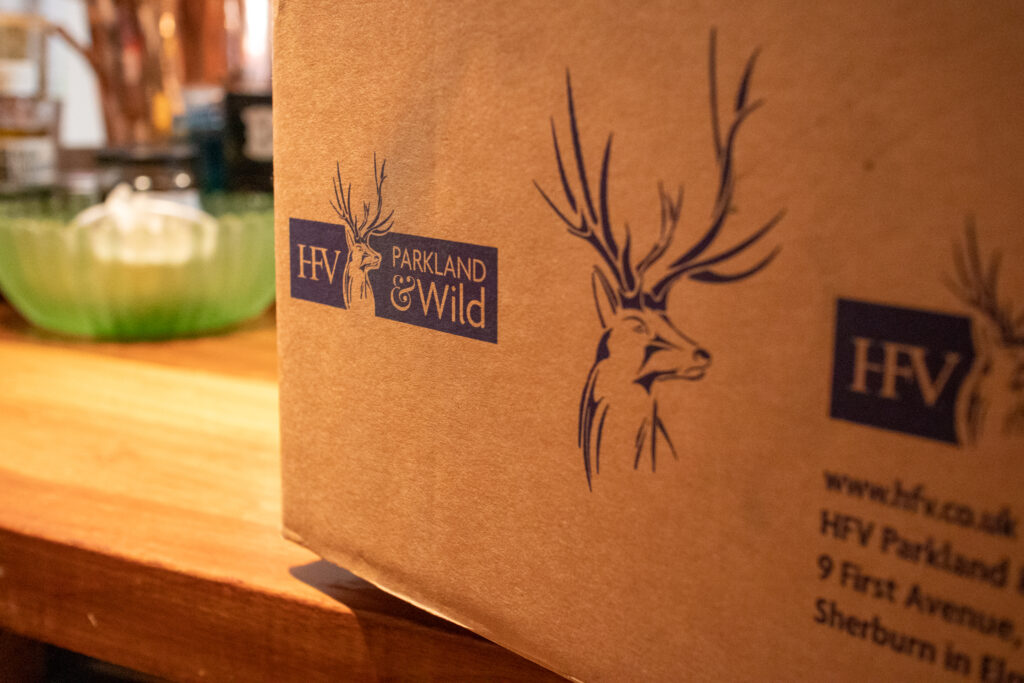 HFV Parkland & Wild for the best wild venison
Looking to try something different? How about HFV Parkland & Wild's (HFV) award-winning, prime quality venison.
They source roughly 90% of their meat from traceable UK wild and parkland reared deer, which spend year-long outside feeding on grass and the species rich countryside. Though their wild venison products are not officially certified, they are reared in keeping with the standards of organic. The remaining 10% of their products are farmed organically on their own farm in North Yorkshire.
Low in fat and high in protein, Venison is said to be one of the healthiest meats available. It's a complete source of protein as well as being high in B vitamins, Haem iron and zinc.
Venison is also extremely versatile and easy to cook. HFV's meat boxes feature a wide selection of venison cuts and products, including gluten free venison burgers and sausages, and even half a rack of ribs…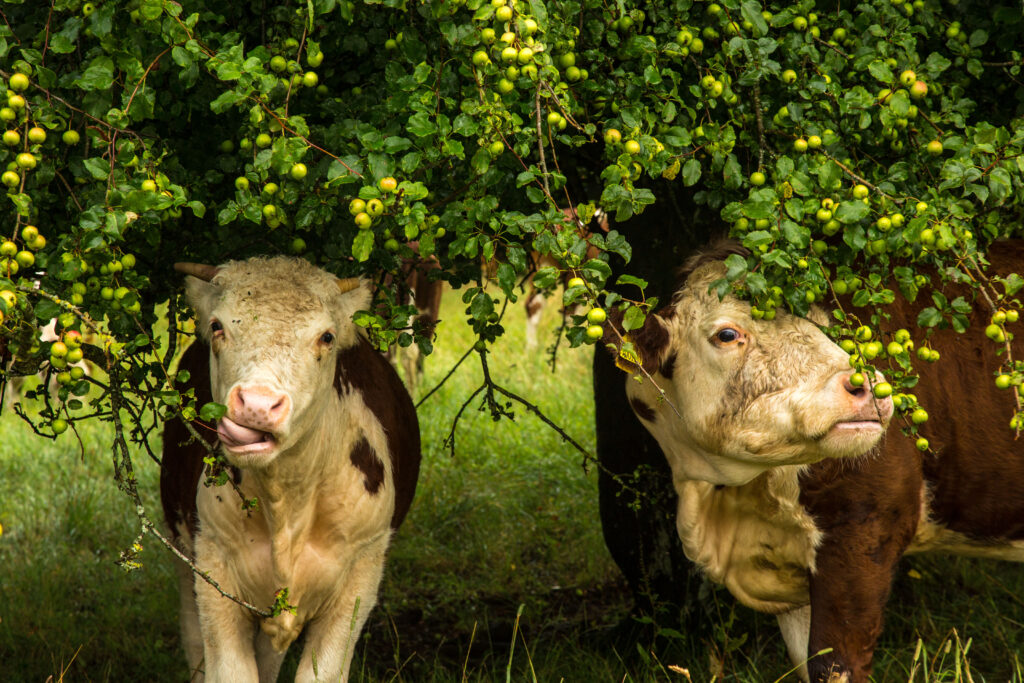 Cotswold Beef for the best pasture-fed beef cuts
Cotswold Beef is an award winning, conservation-led, family-run farm. They produce top-quality, organic, certified Pasture for Life beef from their pedigree Hereford suckler herd. Roaming together across a 700 acre farm in the beautiful rolling hills of the Cotswolds, these cattle graze on glorious wild flower meadows, herbal leys and permanent pasture.
The resulting beef is nutrient dense, full of flavour and brilliantly tender, in part thanks to a 28-day dry-ageing process.
Their beef is "the way it should be", and it shows in the quality of their products: a delectable range of beef boxes, including a 'Taster Beef Box' and 'Organic Beef Bone Broth Box'. All are sold directly from the farm and conveniently delivered to your doorstep. Customers are also able to make up bespoke boxes.
A far cry from the headlines which usually demonises beef production as a main cause of climate change, Cotswold Beef are out to prove a slow growing native breed of cattle can be beneficial for the environment – and biodiversity – if farmed in the right way. They use a Farm Carbon Cutting Tool kit to demonstrate how their farming sequesters carbon.
Their farming and dry-aging clearly captures flavour, too.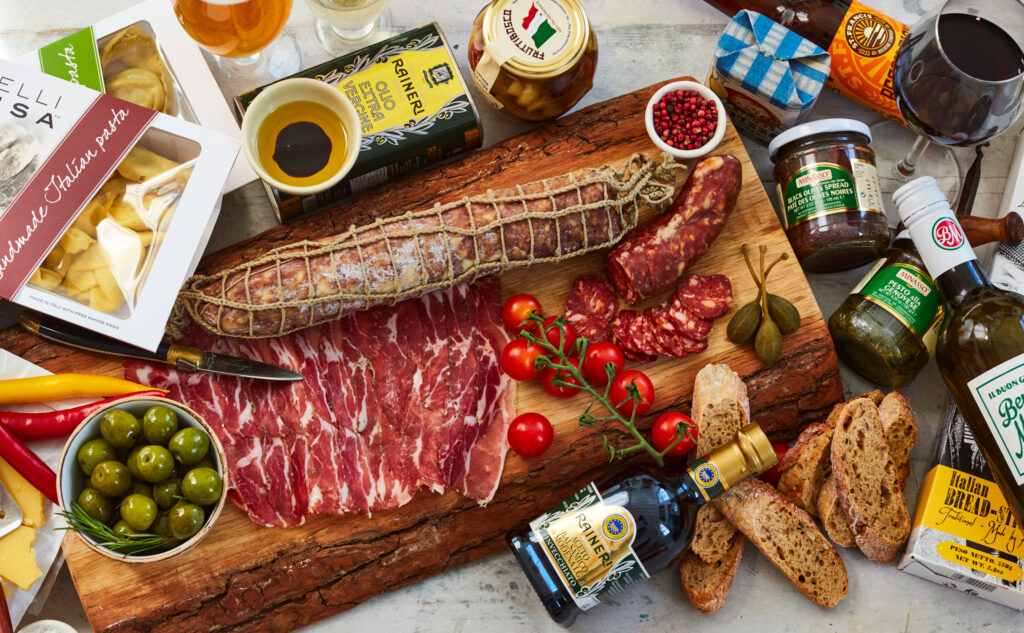 Real Food Hub for brilliant British produce
If you love authentically good British-grown produce, the Real Food Hub meat boxes could be just what you're looking for.
Real Food Hub brings together a network of brilliant British independent small scale suppliers in a one-stop-shop online marketplace.
They offer a variety of produce, such as regional farmhouse cheeses, sustainably sourced fish, handmade charcuterie, organic fruit and vegetables, artisan chocolates, plus craft beer, boutique wines and British Spirits.
But, the star of the show for the Real Food Hub is their prized high-welfare heritage-breed meat from trusted small-scale suppliers who are passionate about their livestock and the environment. If their suppliers are not certified organic they – as a minimum – farm sustainably with minimal or no (chemical) inputs.
Real Food Hub have a wide variety of food boxes available for home delivery, so we recommend having a good browse.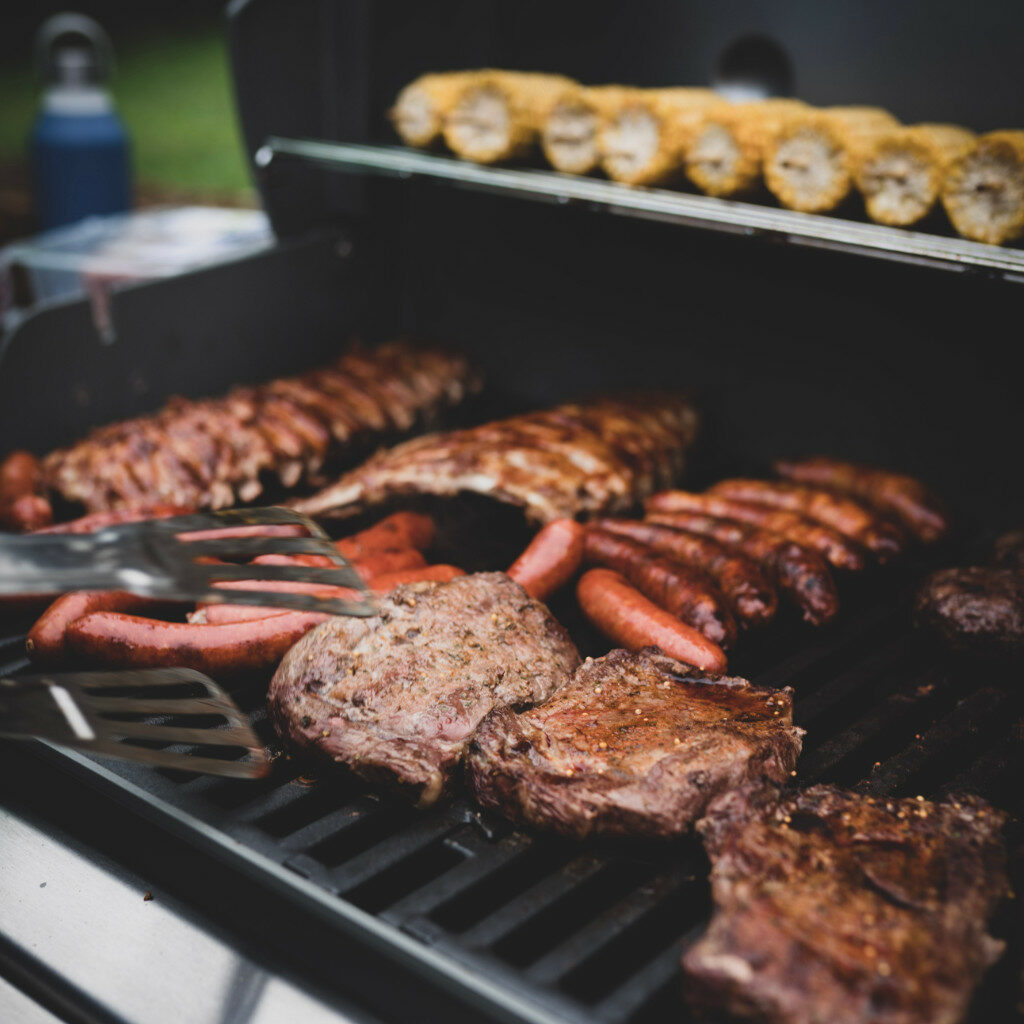 Helen Browning's for the best BBQ meat boxes
Helen Browning's Organic is named after farmer Helen Browning, who switched to farming organically at the family-run Eastbrook Farm in Wiltshire in 1986 – way before organic farming was trendy.
They offer a range of meat bundles featuring premium organic beef and pork products from their free-ranging, dairy-bred, grass-fed animals.
The farm and the meat produced is 100% Soil Association organic certified and Helen says:
"I see first-hand the difference farming my land organically makes – from more bees and hedgerows, to contented, healthy animals, to lots of people gainfully working here and enthusiastic customers."
We highly recommend trying one of their organic bundles, which start from £20.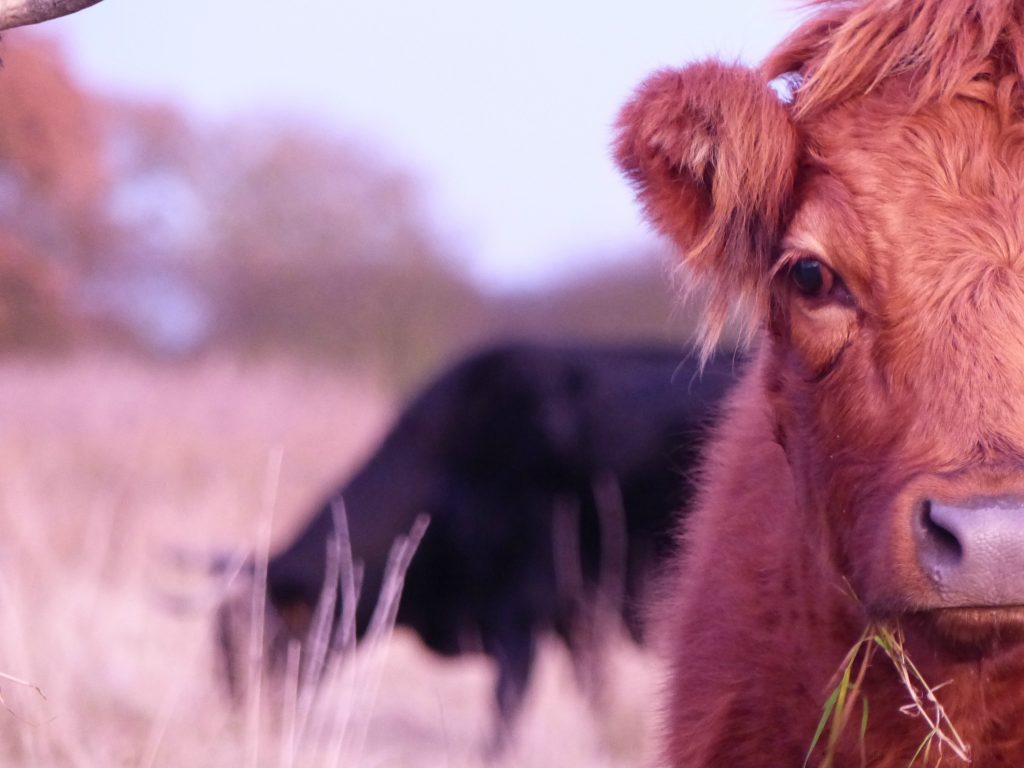 Rosewood Farm for the best steak box
Rosewood's approach to farming is refreshing, to say the least. Their tagline is 'food as a by-product of conservation'. They maintain their produce is a result of the work they do to improve the natural world.
Rosewood specialise in producing meat from their pasture-fed Pedigree Dexter cows and the resulting beef does not disappoint.
Interestingly, Rosewood choose not to dry age their meat for any length of time. This widely-practised process is said to improve the meat's flavour and tenderness. But, because of the way their cattle are reared, they maintain it makes little difference to the quality of their grass-fed beef and, as such, dry-aging is a waste of resources.
Their customers agree. And so do we. As Rosewood beef is up there with some of our favourites when it comes to flavour and texture.
Rosewood's organic meat delivery boxes are all about the beef. They represent very good value and include a variety of cuts that are representative of the whole animal to ensure none is wasted.
If you ask us, their steak night dexter beef box is a real winner.
What better recipe for a great evening than a 5kg steak box, a fiery pan and a bottle of young cabernet sauvignon?
The Ethical Butcher for the best family meat boxes
Founders Farshad Kazemian and Glen Burrows make a good team. Farshad is a veteran of the meat trade and Glen – a former vegetarian of 25 years – is uncompromising in his pursuit of genuinely good meat.
They are building up a network of farmers using regenerative agriculture, and they are working with them to prove they are running carbon neutral – or even carbon negative – systems that are good for the environment and biodiversity.
They are keen for their customers to taste the subtle difference in the quality of their meat. Everything you find in their organic meat delivery boxes has a rich and lingering flavour, and feels deeply satisfying to eat. Their boxes range from a classic breakfast essentials pack for your perfect Sunday fry-up to a convenient freezer box to make delicious meals throughout the week.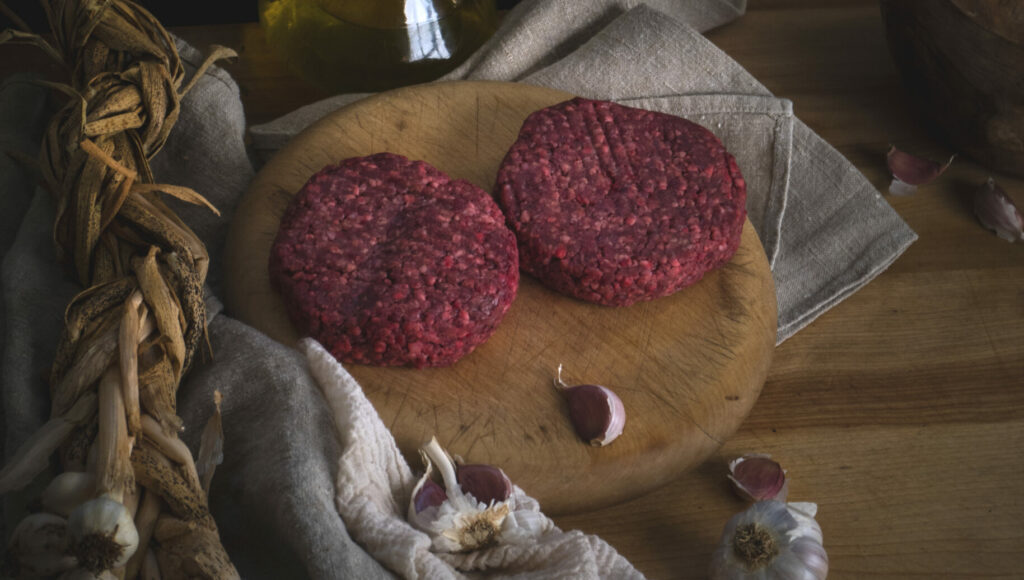 Knepp Wild Range for the best rewilded meat
The farmers behind Knepp Wild Range have bent the rules of conventional farming to create a system that is completely unrecognisable from modern day agriculture. Essentially, the 3,500 acre Knepp estate has been rewilded. This means a careful selection of animals were introduced onto the land and pretty much left to their own devices.
Our favourite fact is that their Tamworth pigs can hold their breath for up to two minutes while exploring for mussels at the bottom of the lake.
There are no natural predators on the land. So, the venison, cattle and pigs are culled once a year to produce every cut of "wild range meat" imaginable. This includes grassy-steaks, fragrant fennel sausages and bacon, which is beautifully marbled the whole way through.
The meat is as full of flavour as it is nutritionally rich. You have to taste it to believe it.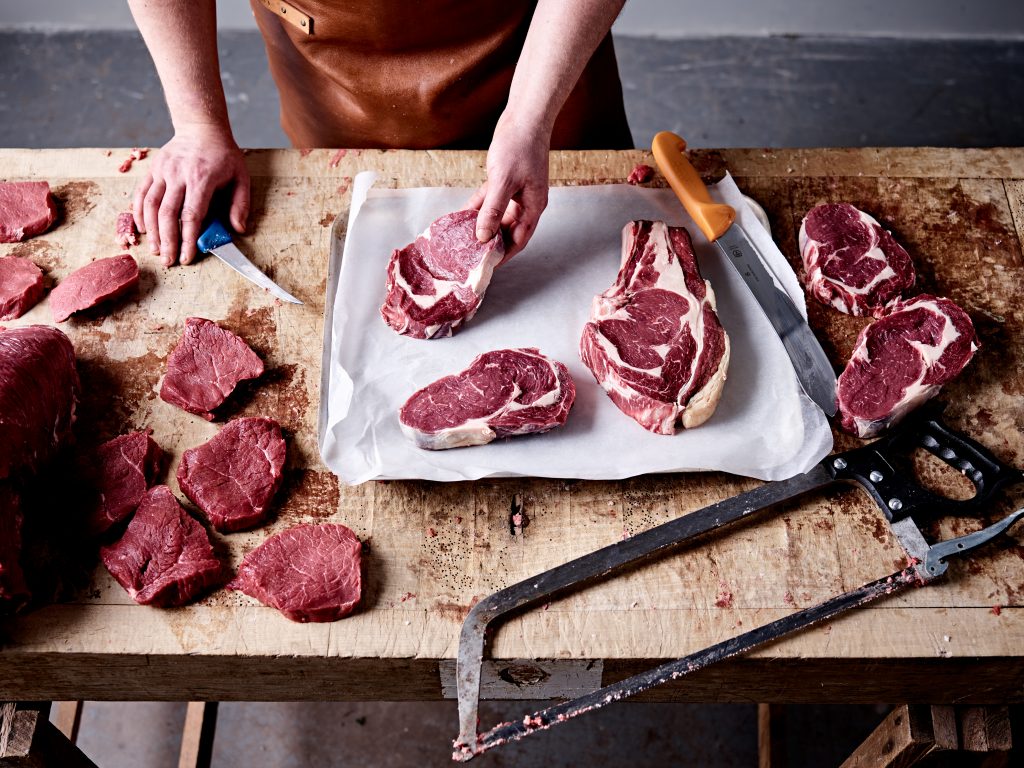 Coombe Farm Organic for the best retired dairy beef
Coombe Farm Organic offer an organic meat box delivery service.
They originally set up to sell beef as a by-product of their organic dairy business. So, it's no surprise they are champions of Retired Dairy Beef.
For all meat, they have a 'head-to-hoof' approach to production. They offer offal, broths, pies and even tallow soaps (not for eating!) – in addition to the more popular steaks and chicken breasts.
Based across 2,500 acres of land in Somerset, Coombe Farm Organic rear their own award-winning beef, lamb and pork. They now work with other farmers to produce a broader range of Soil Association certified organic meat that is skilfully trimmed by their on-farm butchers. Then delivered straight to your door.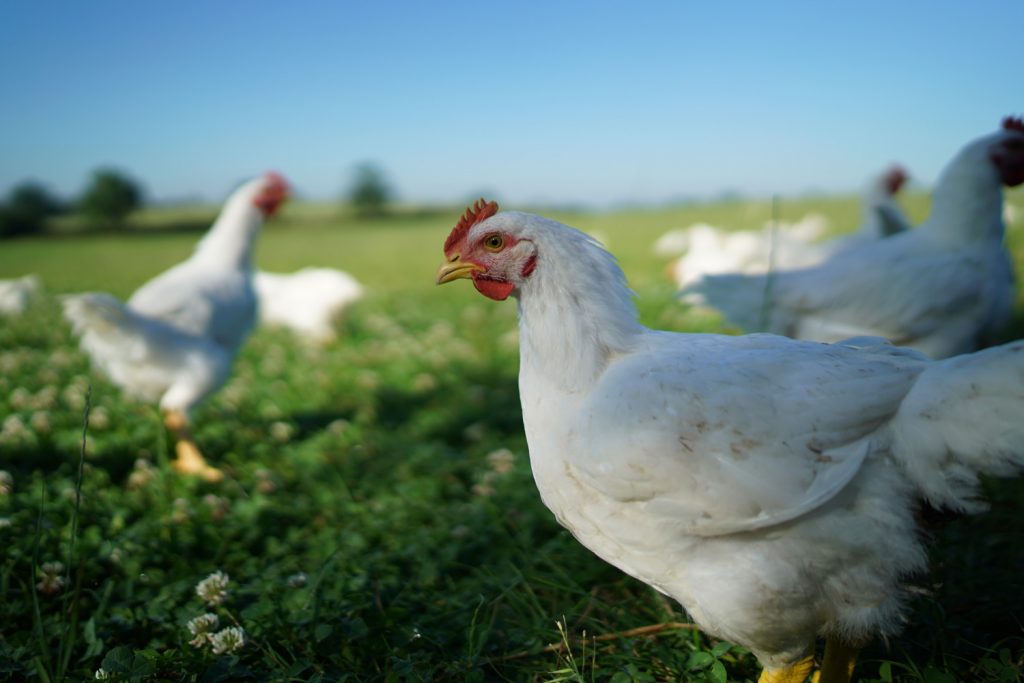 Fosse Meadows for the best slow-grown chicken
The USP of Fosse Meadows chicken is that they are grown to 81 days. Why is this significant? Well, an average supermarket chicken is grown to around 35 days, so a Fosse chicken lives more than twice as long.
This allows them to grow at a natural rate, antibiotic free. They are also free-ranging and foraging in meadows that aren't sprayed with fertilisers or pesticides.
When it comes to taste this means the chicken has a deeper flavour and firmer texture. It makes for a very satisfying and nutritious eating experience, indeed.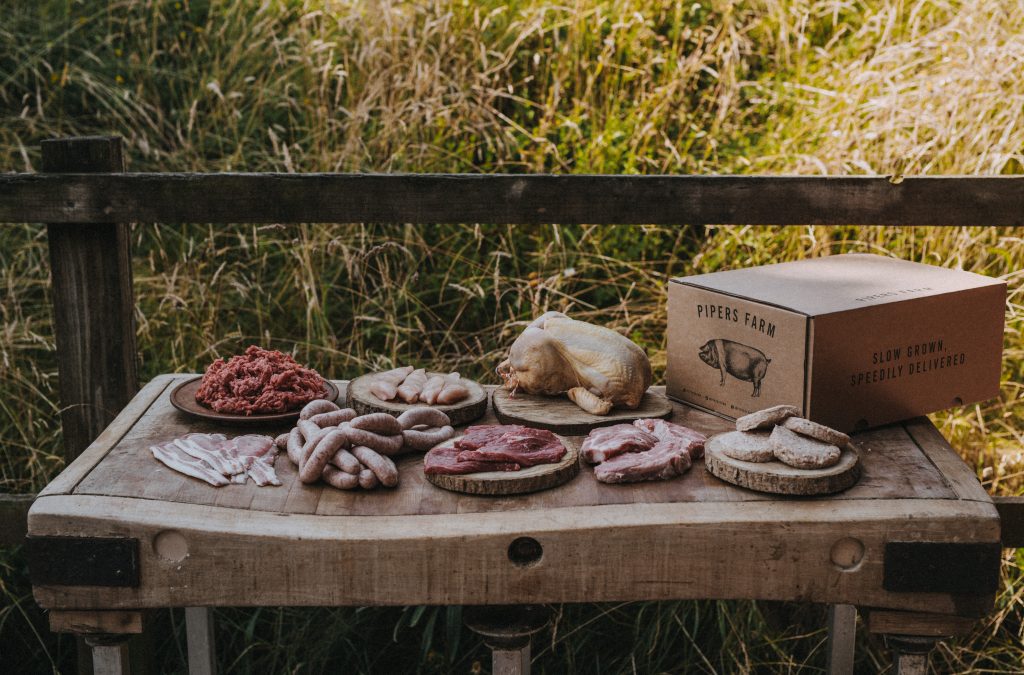 Pipers Farm for the best free-range chicken
Pipers Farm is widely recognised for its succulent meats and creative cuts – and has won a whole host of accolades to prove it, from Great Taste Awards to its Food Made Good accreditation.
Based in Devon, the 50-acre family farm has been a front-runner in sustainably produced meat for more than 30 years. They butcher all their meat on site. Plus, they work with 40 other family farms in the surrounding areas. The result? They offer a range of wholesome natural food that has been grown with a respect for nature.
One roast chicken from here will easily serve a family of four. Plus, you'll also have enough left over for a curry and to use the carcass to create a tasty soup or stock. And tasty is the word, because this genuinely free-range chicken has a depth of flavour you'll have forgotten they can have. This is the case across the board with everything the Pipers Farm has to offer.
THE BEST SEAFOOD DELIVERY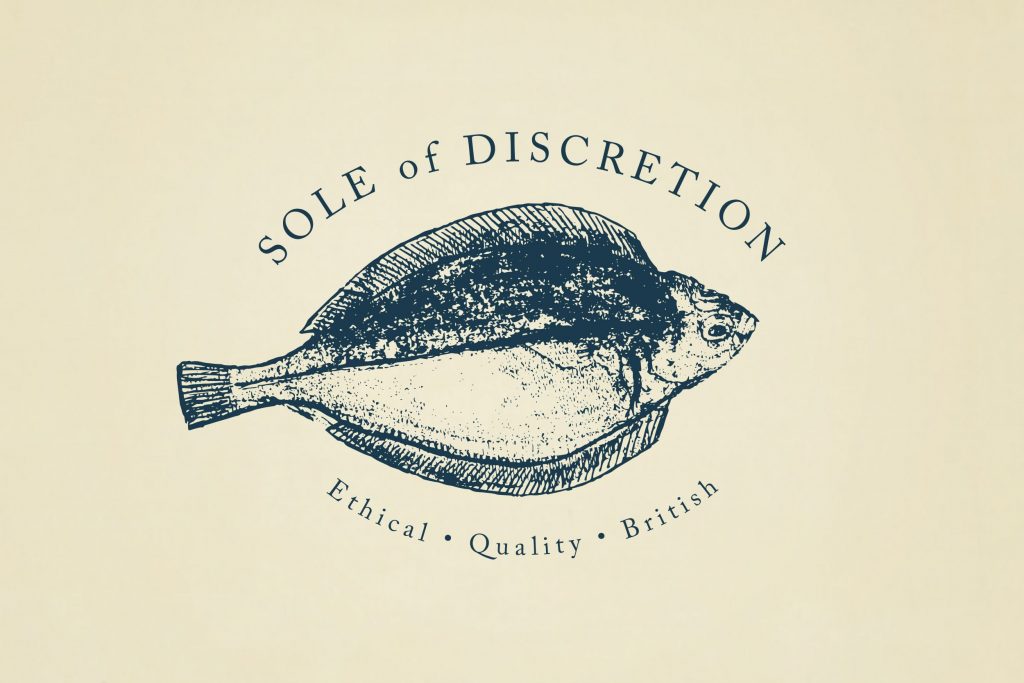 Sole of Discretion for the best fresh fish
Sole of Discretion is a collective of small-scale fishers fishing out of Plymouth harbour, delivering a range of high-quality and delicious fish to your door.
They exclusively employ sustainable fishing methods which minimise the damage done to the marine environment: pole and line, using size-specific static nets, or using lobster and crab pots.
They ensure everything that gets caught can be used or sold so that waste is minimal.
So you can choose from a whole range of beautiful species that aren't generally stocked in supermarkets. There's ling, pollack, pouting, ray, as well as crab meat and hand-dived scallops. Orders that come to more than £55 are delivered pretty much anywhere in the UK free of charge. You can also find the fish on Abel & Cole.
Straight from the sea and delivered to your door. You don't get much fresher than this.
THE BEST CUPBOARD STAPLES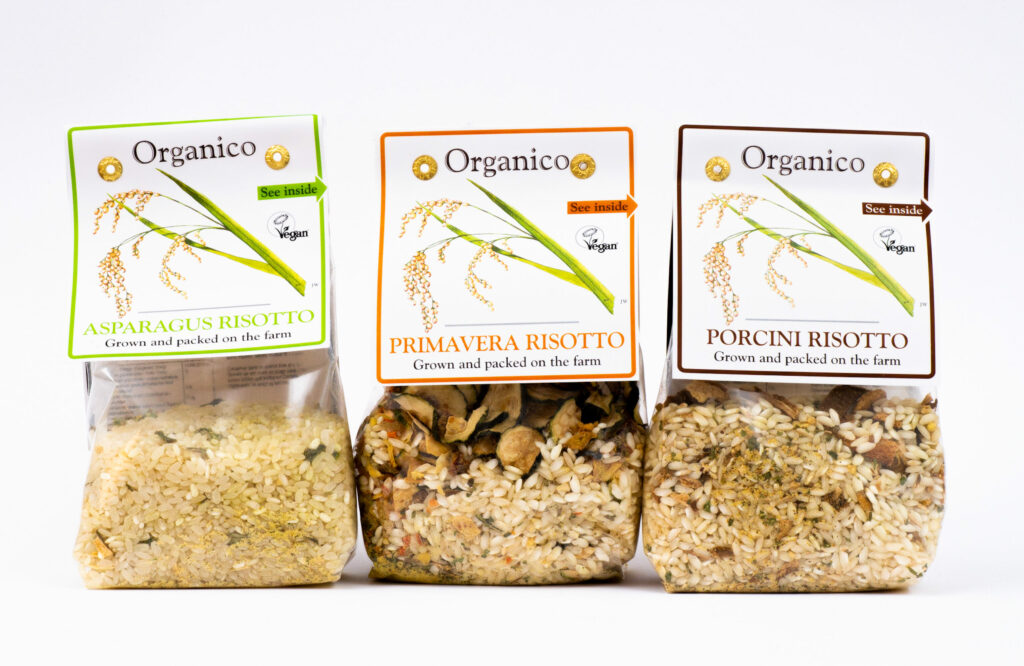 Organico for the best organic ingredients
There's organic and then there's Organico.
The foundations of so many delicious, wholesome and nutritious meals are pasta, rice and tin tomatoes. Organico know this, so find the farmers who are laser-focused on making the best staple ingredients.
Our go-to for all those trusty cupboard staples. Organico products are farmed in a way that nurtures the soil and communities they're produced in.
Often, these passionate farmers, local co-operatives and family businesses take control of the whole process, turning the seed in the field into the product you cook with. It's this grower-maker philosophy that makes Organico products different.
And, of course, it's a given that the products are all organic – it's right there in the name.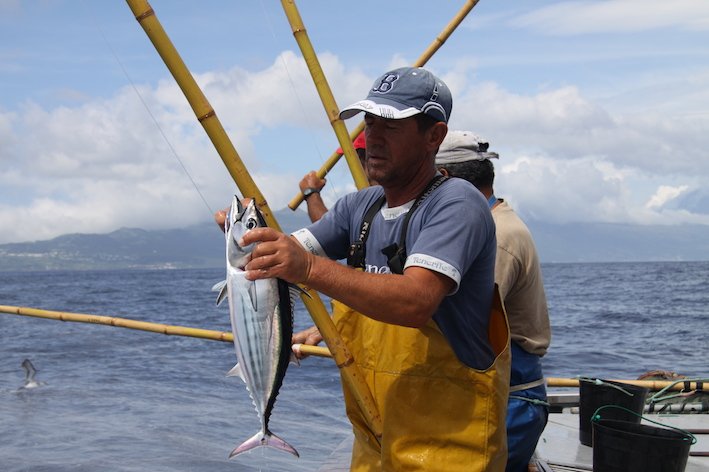 Fish4ever for the best tinned fish
Organico is also a provider of the UK's most sustainable tinned tuna, Fish4Ever.
For more than 20 years, Fish4Ever has brought the idea of organic values to fish sustainability (fish can't be certified organic because they're wild in the sea) with their truly ethical and sustainable canned fish.
Their strapline is: 'canned fish you can trust'. And their commitment to sustainability extends to land, people as well as the sea.
Fish4Ever use small boats (pole and line tuna vessels and small day boats), local fishers and very selective equipment. They operate in precise parts of the sea to take only what is needed. Their tuna is sourced from an Azores fishery, which has been described by the International Pole and Line Federation as the greenest fishery in the world.
Conscious of how intensive farming on land pollutes river systems and coastal waters, they are the only canned fish brand in the UK to insist on using organic land ingredients (i.e. olive oil) in their products. Kudos to that.
Main image: Coombe Farm Organic