Are you looking for thoughtful Valentine's Day gift ideas?
Valentine's Day is a day of love and, we hate to say it, rampant consumerism. As shops stock their shelves with glittery heart-shaped, well, everything, it's easy to fall into the trap of buying cheap, Valentine's-themed tack.
We all know we should be buying better, so we're making it easier for you.
Treat that special someone to something truly special: delicious dinners for two, a romantic getaway, some sexy lingerie… However you want to celebrate, here's our list of sustainable Valentine's Day gift ideas from brands that have ethics and sustainability at their heart. So, they might look good, taste good, make you feel good, and actually do good, too.
Romantic Valentine's Day gifts:
A cute and quiet getaway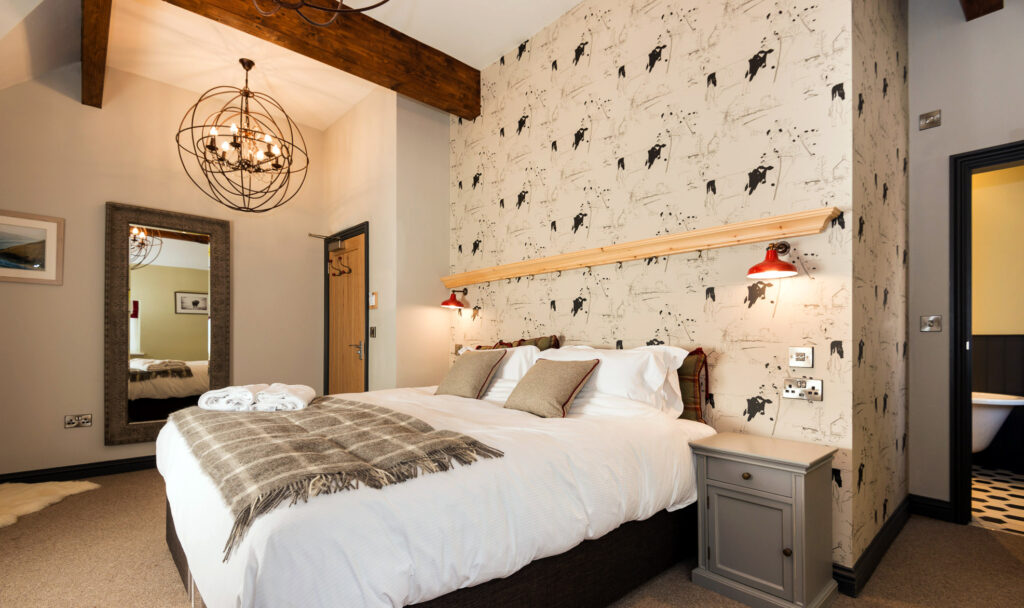 Farm Safari and overnight stay, Helen Browning's
Are you and your partner in need of some quality alone time? How about a quiet getaway, indulging in great organic food and long wildlife walks in the Wiltshire countryside?
Helen Browning's Farm Safari and Overnight Bundle for two includes a one night stay in their Royal Oak Hotel, complimentary breakfast and a two-hour farm safari around 1,500 acres of organic farmland.
Surprise your partner with the voucher on Valentine's Day and then book your stay online at your convenience – their safaris run all year round.
£200 | SHOP NOW
Migrateful's Refugee & Migrant-led Cookery Classes
Valentine's Day food and drink gifts: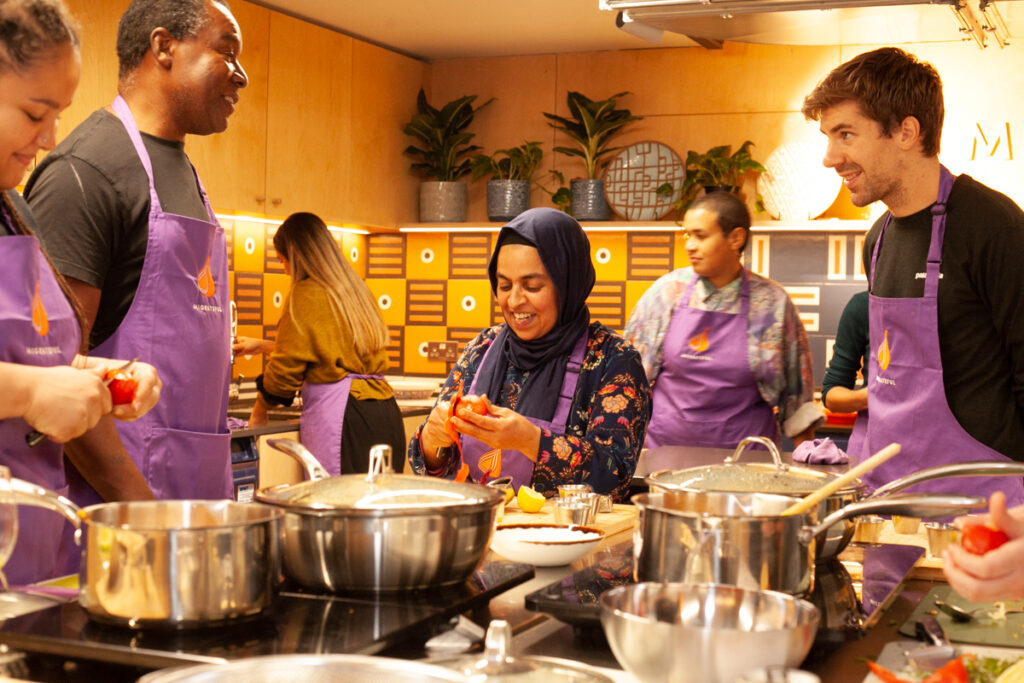 Why not mix things up this Valentine's Day and treat someone yourself and someone you love to a fun and rewarding experience?
Migrateful is an incredible award-winning charity supporting refugees and asylum seekers on their journey to integration by preparing them to run cookery classes.
Over the past 5 years, they have supported over 97 Migrateful chefs through more than 2000 classes. Its no wonder they have high profile supporters in Meghan Markle, Yotam Ottolenghi, Aisling Bea, and Jamie Oliver.
So, it goes without saying, a voucher for a Migrateful Refugee & Migrant-led Cookery Class is a wonderful, unique gift that truly spreads the love.
Online voucher, £25 | London, £45 – £70 | Brighton, Bristol, Canterbury & Margate, £35 | SHOP NOW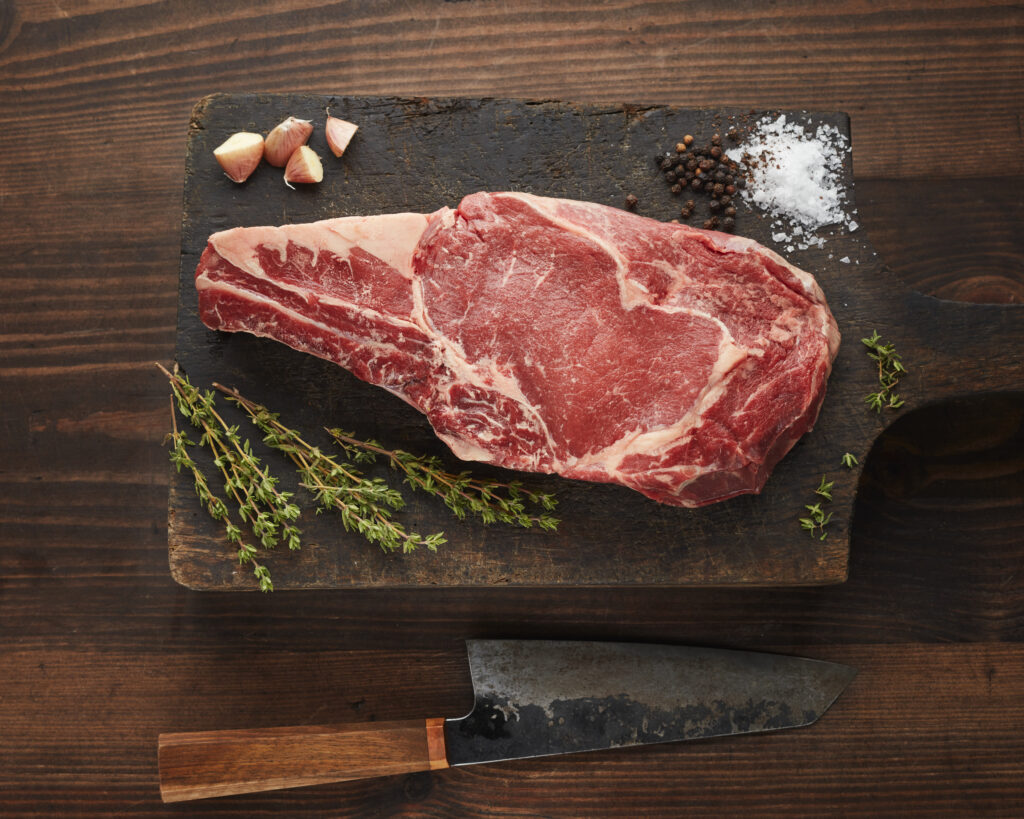 Sharing steak, field&flower
Planning a romantic home cooked meal? Push the boat out with this showstopper Salt-Aged Côte de Boeuf (737g) to share with your special someone.
The côte de boeuf has the bone in, is thick cut, and is French-trimmed by field&flower's head butcher. Cut from the fore rib, this grass-fed, free-range and high-welfare steak is well marbled, tender and full of flavour.
They recommend cooking the steak rare to medium-rare. Sear in a pan for 4 minutes on each side and transfer to a hot oven for 15-20 minutes to finish. Serve with a herb sauce like chimichurri or salsa verde.
£27.98 | SHOP NOW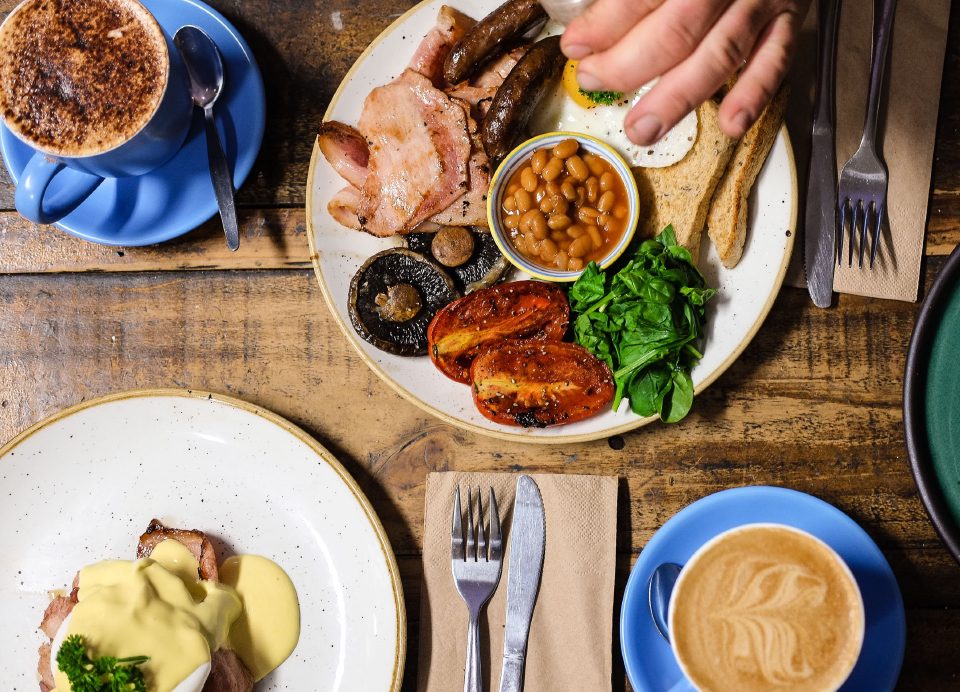 Full English Organic Breakfast Box
Start Valentine's Day right by cooking an organic, free-range fry-up with buttery scrambled eggs or a BEST sandwich made with award-winning bacon and sausages.
Helen Browning's Full English Breakfast Box includes two packs each of back and streaky bacon (smoked or unsmoked), two packs of quick-cook speedy sausages and a bottle of organic, gluten free brown or tomato sauce.
Treating your partner to breakfast in bed has never been easier!
£30 | SHOP NOW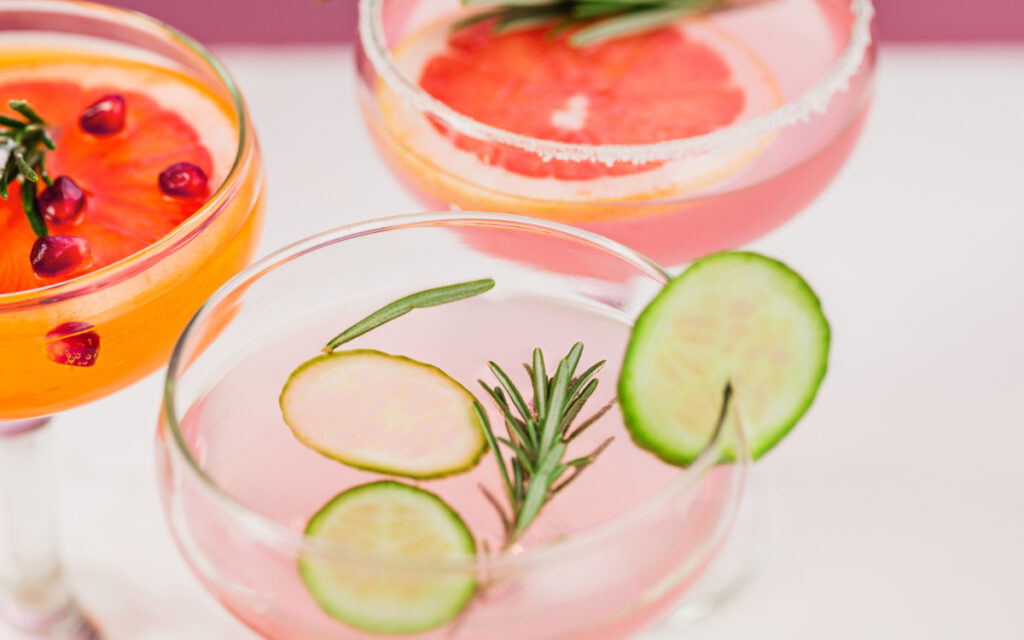 Organic London Dry Gin, Helen Browning's
Round off Valentines day with a cocktail, or two, made with Helen Browning's deliciously smooth and aromatic organic London Dry Gin.
Using key botanicals harvested from Helen Browning's pioneering agroforestry project, this gin has the delicate aroma of British wild flower meadows and orchards. Its distinct flavour profile is made up of Sea buckthorn, pear, fresh honey with herbal notes.
As if we weren't already sold, the bottle itself is made from recycled glass. Pouch refills are available to refill your gin bottle helping reduce carbon footprint and reuse the bottle. When finished, customers can post the refill pouch to the farm for recycling.
Helen Browning's recommend pairing it with your favourite citrus slice, fragrant rosemary and a dash of angostura bitters to add a gentle blush colour. Shake with ice straight up or add a mixer for the perfect serve.
£45 | SHOP NOW
Special Valentine's gifts:
Unique ideas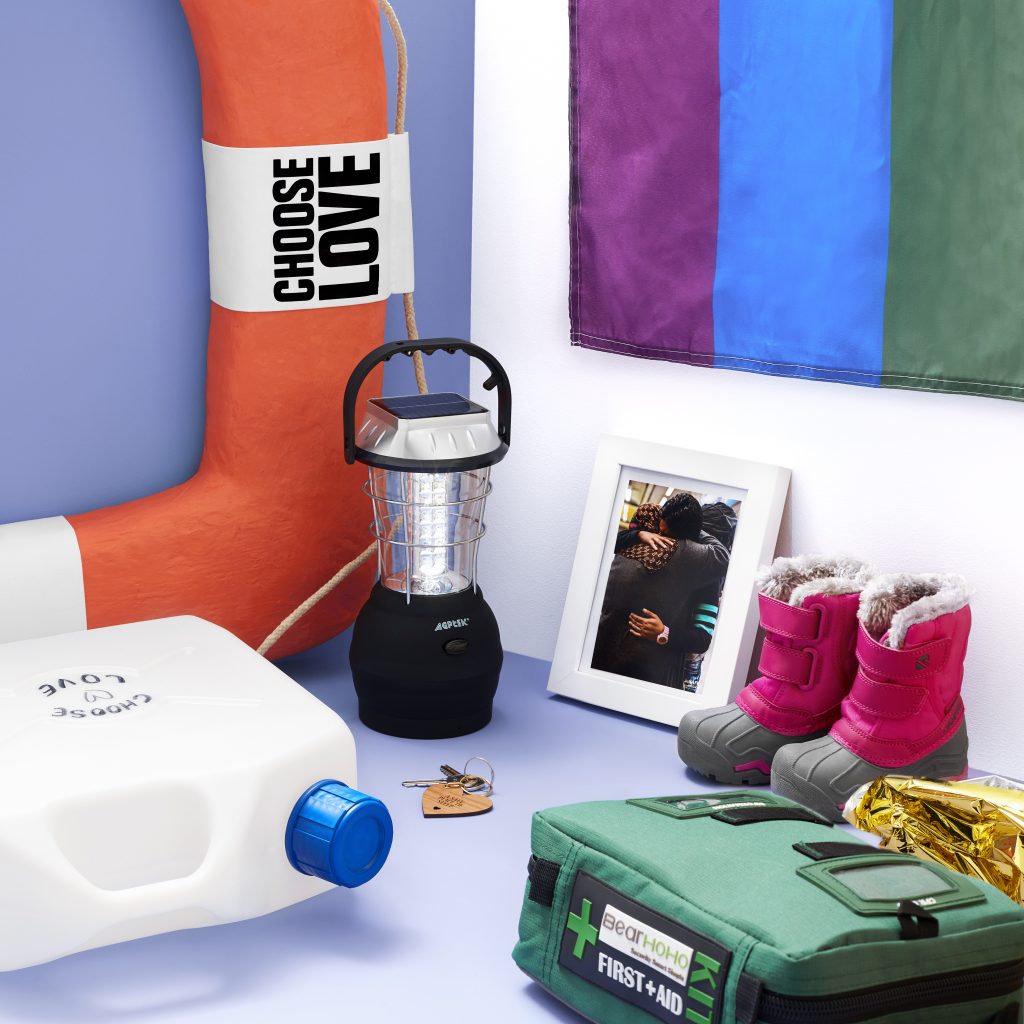 Choose Love
This Valentine's Day, lets do things a little differently and Choose Love!
At online shop Choose Love, you buy what you want and receive nothing. Zilch. Nada. This is a business does things a little bit differently: it sells gifts for refugees around the world.
Splash your cash on warm winter clothing (£15), a hot meal (£15), mental health support (£25) and more, and your gift gets sent directly to those who need it most. You can buy from yourself, or in the name of someone you love.
Items from £10 | SHOP NOW

Bespoke artwork, Gung Ho
If you're looking for a truly special and unique gift, you might be interested in Gung Ho Studios' bespoke artworks. Distill favourite memories or sentimental symbols into beautifully crafted objects, from pocket squares, silk scarves to framed art.
Founder, Sophie Dunster, hosts consultations in London (from £50) over cocktails where you discuss your vision, different artwork styles and colourways to make this the perfect personalised piece.
Consultations from £50 | SHOP NOW
The best Valentine's gifts:
Thoughtful jewellery
Visit our full ethical and sustainable jewellery guide, here.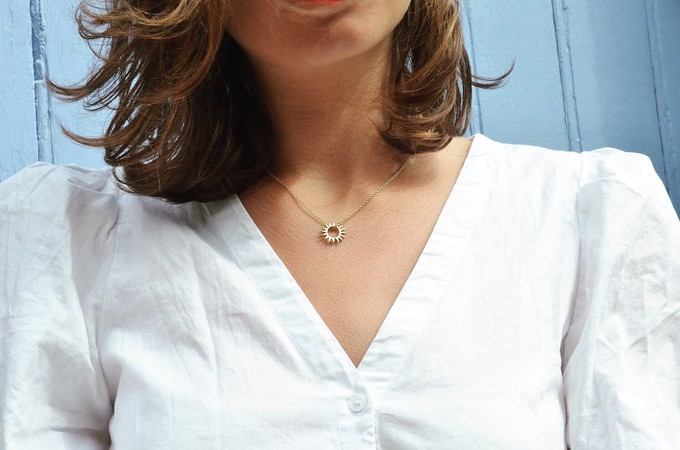 Sun necklace, Project Cece
Looking for a way to tell someone they're the light of your life? How about this beautiful sun necklace made by Solitude the Label, an Amsterdam-based brand founded by two sustainably-minded sisters.
Made from responsibly sourced, mostly recycled materials, it's sure to be adored by any recipient who actively cares for the planet.
It is available in 14K Gold and sterling silver.
£214.97 | SHOP NOW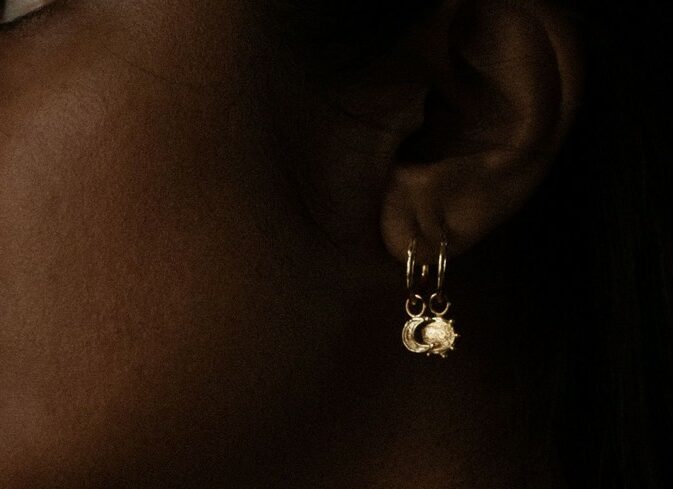 Tiny Sun and Moon Hoops, Project Cece
Make someone feel special with these cute 14mm hoops from Loft & Daughter which feature a radiant moon and sun charm.
They are designed to be stacked and can be mix and matched with other interchangeable charm earrings. The hoops can be worn with our without the charms making these a versatile addition to your jewellery box.
Loft & Daughter jewellery is fairly made in Jaipur, India. The organization is WFTO (Fair Trade) certified and provides training and employment opportunities to vulnerable or displaced artisans. All items are made by hand using slow, traditional craft techniques, not in large factories.
£47 | SHOP NOW
Sexy Valentine's Day gifts:
Luxury lingerie
Visit our full ethical and sustainable underwear guide, here.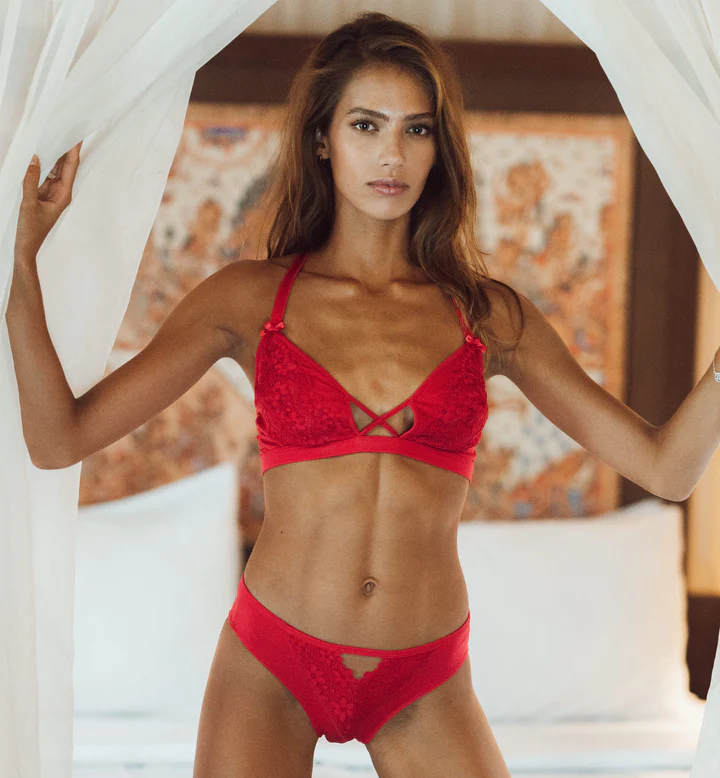 Passion Red Lace Cotton and Silk Set
Spice things up with this stunning Passion Red Lace Cotton and Silk lingerie set from Juliemay.
Juliemay is a brilliant brand that specialises in making ultra-soft, super breathable, naturally hypoallergenic bras and briefs. The brand is accredited by AllergyUK.
This supportive yet sexy set is made from sustainably sourced Organic Pima Cotton and silk with delicate lace and floral detailing.
Bralette £54 & Knickers £23.50 | SHOP NOW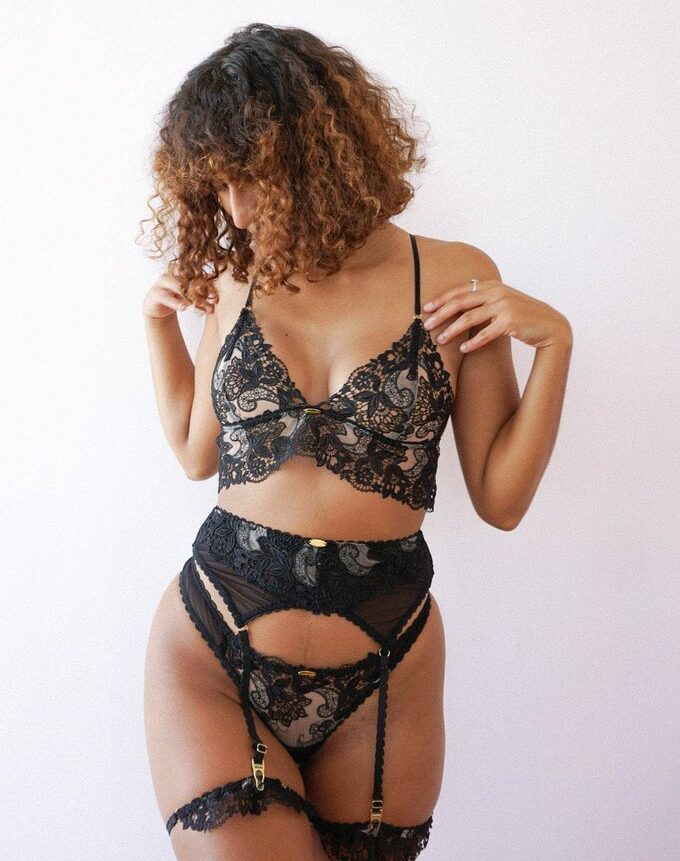 Troo Lingerie, Project Cece
If you're looking for a slinky set of underwear, another great collection to browse is Project Cece's curated selection of lingerie from Troo.
Troo is a beautiful, timeless, and sexy Swiss lingerie brand with roots in South Africa. Their products are all made ethically with responsibly sourced materials. Troo works with several like-minded labels that are all sustainable in their own way.
From £20 | SHOP NOW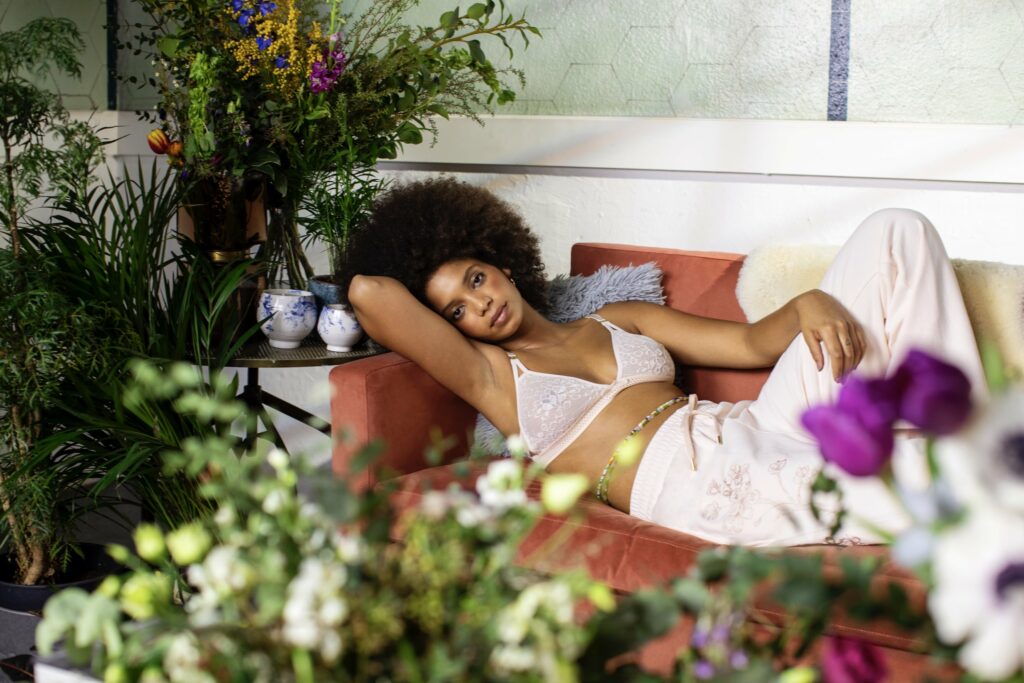 Underwear set, Peachaus
Whether you're treating yourself or someone you love to undies, you can't go wrong with a set from Peachaus.
Peachaus' range of delicate, contemporary underwear are consciously crafted from responsibly sourced fabrics. Their sets come in an array of feminine, pastel and neutral colours.
Peachaus' innovative simple sized system means their garments are designed to have an enhanced, fluid fit – making it easier for women to find their ideal bra size (hooray!).
Prices vary | SHOP NOW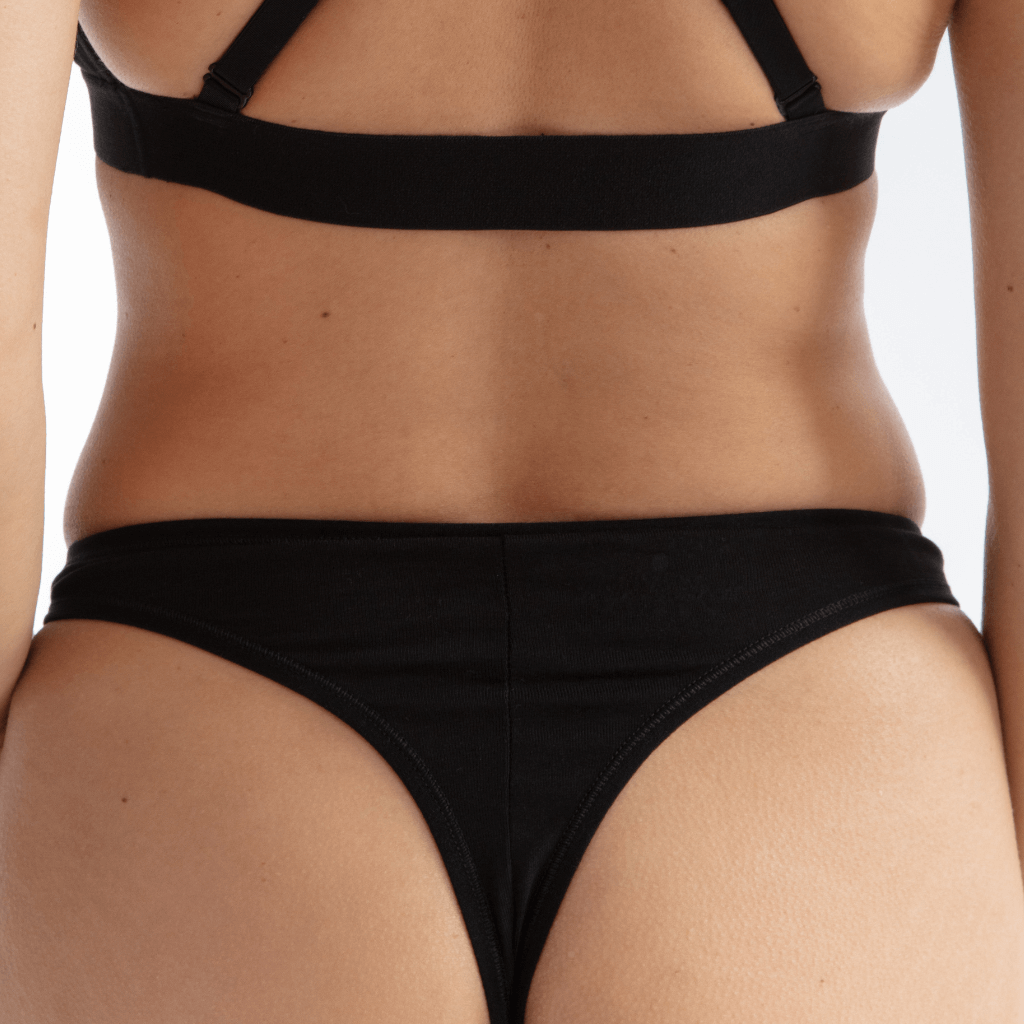 The Triangle Bra & High Leg Thong, Pantee
This modern triangle bra and high leg thong set from Pantee ticks all the right boxes: it's comfortable, stylish and sexy.
Pantee is an amazing new brand tackling clothing waste head on by upcyling deadstock fabrics into bras and knickers. So not only is this set super soft, breathable and buttery, but it's brilliantly made from reworked deadstock cotton, too.
Pantee's underwear is cut and sewn in a small-scale sample room in Bangladesh where workers are guaranteed safe working conditions and fair pay.
The set is available in various colours. You can mix and match between Pantee's range of bra and knicker styles, so we recommend having a browse.
There's also the option to treat someone to a Pantee gift card, starting from £10.
Bra £38, Thong £18 | SHOP NOW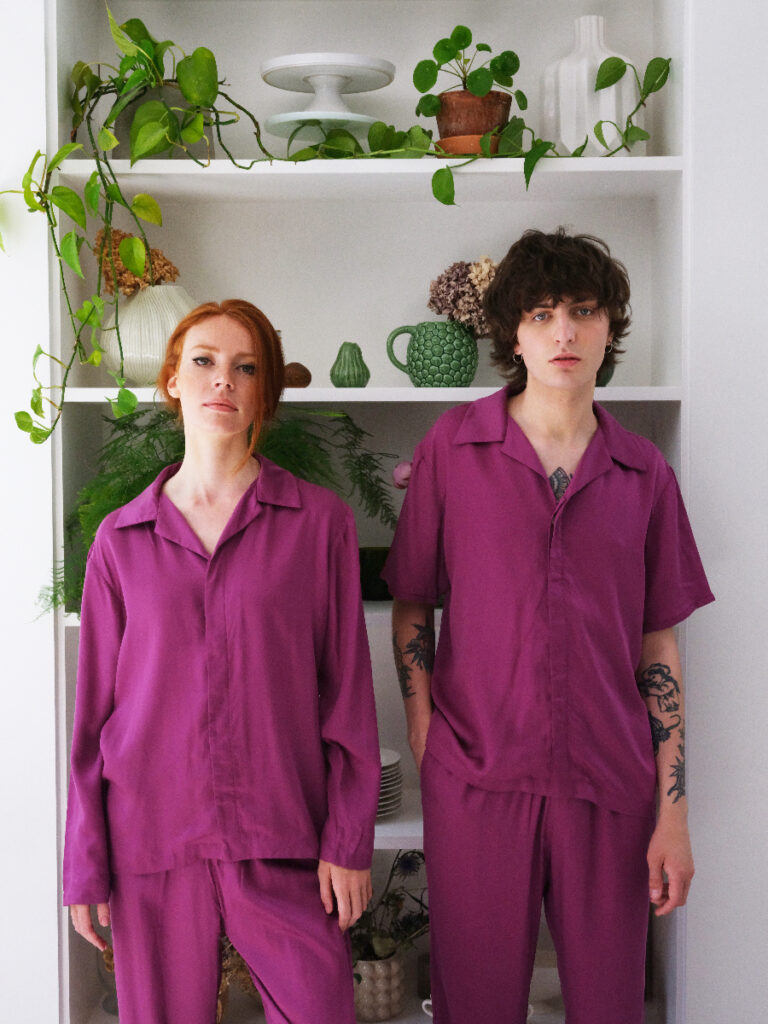 Couples lounge and sleepwear
How about some chic and sustainable matching couples PJ's, like this luxurious set from Leticia Credidio?
Leticia Credidio is an authentic luxury sleep/loungewear brand created by Italian-Japanese-Brazilian
designer of the same name, based in East London. Comfortable enough to sleep in, elegant enough to be awake in.
Her latest Sky collection, featuring this beautiful Sky Unisex Long Sleeve Matching Set (pictured), is hand-crafted with vegan silk that is woven from sustainable wood in Japan. The set is available in four colours: Sky Blue, Black Night, Sunset Purple and Cloudy.
£252 | SHOP NOW
Cute Valentine's Day gifts for her:
Pamper your partner
Massage Candle, Fair Squared
A natural, fairtrade shea massage candle? Yes, please.
Made from fair trade coconut oil and fair trade shea butter, this unique natural and vegan massage candle combines romantic candlelight with sensual massage in one product. The formula is easy to glide over skin and the ingredients leave your skin feeling supple and radiant.
Simply light the wick of the candle and let it burn until the burner plate liquefies. Extinguish the flame, wait a little and then gently massage in the warm massage oil ‒ it's as simple as that!
FAIR SQUARED's collection of truly good natural and ethical intimate body care is made completely vegan, cruelty-free, plastic-free and certified Fairtrade. They even sell Lube and Massage Gel Green Tea as well as 100% vegan condoms.
£15.25 | SHOP NOW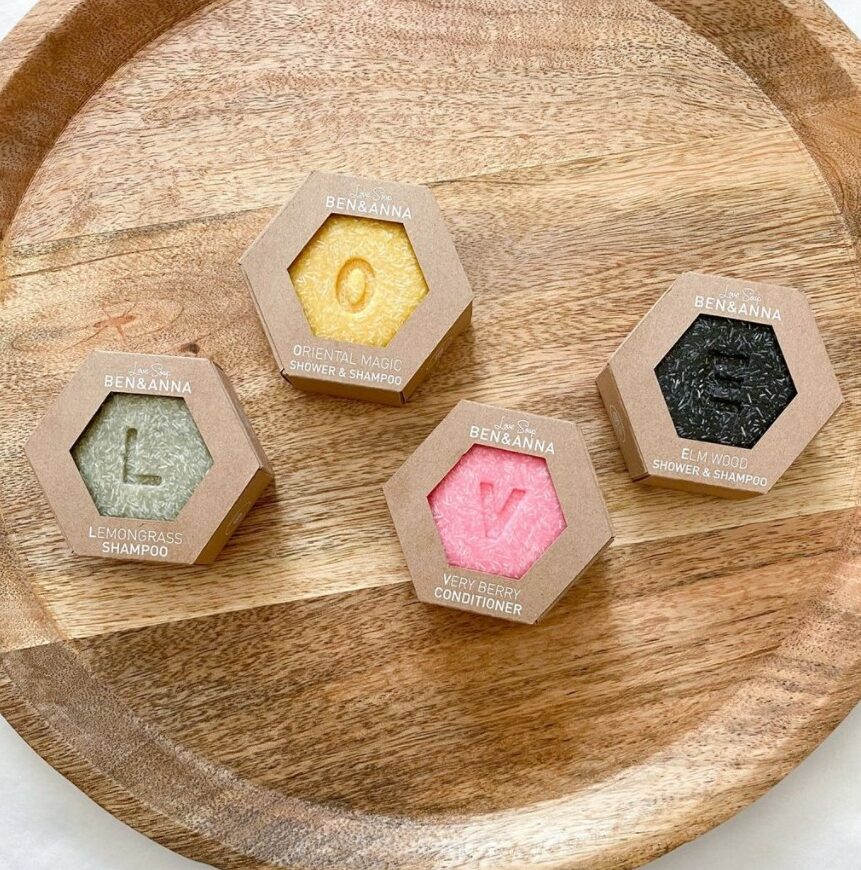 LOVE soaps, Ben & Anna
Sometimes it's just about the small things when it comes to showing someone you care.
If your Valentine's/Galentine's loves natural beauty products and good hair-care, these Ben & Anna LOVE soap bar shampoo and conditioners are a nice little treat.
After using Ben & Anna's shampoo and conditioners our hair felt softer and needed less and less product to tame the frizz post-shower. Win-win.
Ben & Anna products are certified by Ecocert. The brand is also certified by the Vegan Society and cruelty-free.
Note: at first wash you may think these shampoos don't work as well as your other products, but don't be so easily fooled. This is because most shampoos contain SLS (a foaming agent to make you feel like it's cleaning your hair) and conditioners that coat your hair in silicone (plastic) so you think it's soft, with hardly any replenishing action actually happening.
£6.95 each | SHOP NOW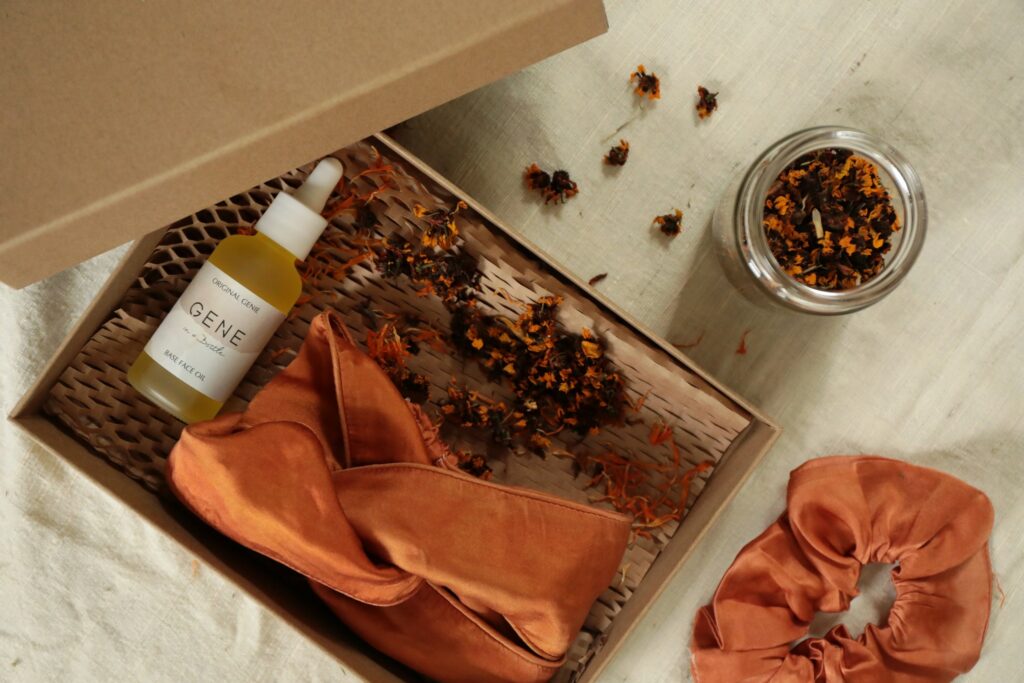 The Silken Box, Lora GENE
"I think Valentine's Day is a beautiful way to celebrate love. Though we should try and do it every day, it's a chance to pause and appreciate things a little better."

Lora Gene
This beauty box by Lora GENE features a hydrating face oil with authentic white rose Alba from the Bulgarian Rose valley and a gorgeous bright orange headband made from mulberry silk, in the UK and dyed with plant-based dyes by Katrina Wilde.
It's perfect for someone who like pampering and loves silk.
£55 | SHOP NOW
Good Valentine's Day gifts:
The perfect perfume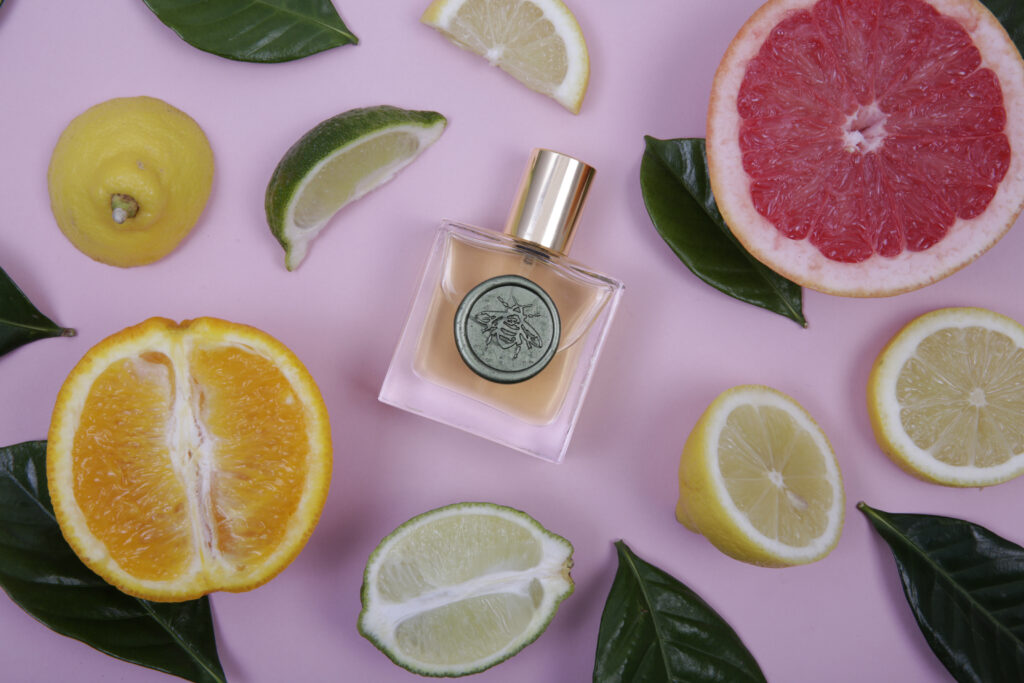 Organic Bee perfume, Gung Ho
When you're at a loss with what to buy your loved one, perfume is always a classic go-to gift. But, this isn't just any perfume…
This Organic Bee perfume from Gung Ho is 100% pesticide free and has a classic, refreshing, unisex natural scent.
Made in collaboration with ethical fragrance brand, Lovorika. This Dry Oil Parfum formula is non-greasy, long-lasting and hydrating for your skin. It's much gentler and healthier than the alcohol-based alternatives.
The perfume is made up of Soil Association certified organic essential oils and a natural EcoCert certified coconut oil emollient.
It's handmade in London and comes in a custom Gung Ho drawstring bag.
The perfume bottle itself is refillable. When you come to reorder, you can send it back and receive 10% off!
Top Notes: Bergamot, Sweet Orange, Lemon, Grapefruit and Mountain Pepper
Heart Notes: Egyptian Geranium, French Lavender
Base Notes: Cedar, Vetiver, Sandalwood, Coffee
£85 | SHOP NOW
Main image: Choose Love
P.S. We don't advocate buying roses for Valentine's Day. Here's why.