Finding activewear that is both practical and comfortable, all while making you feel and look good isn't easy at the best of times – let alone when you add the criteria of sustainability on top.
Whether you're after a new pair of leggings for yoga, a hoodie for the gym or perhaps a lightweight jacket for hiking, below we've compiled a list of some of our favourite sustainable activewear items for women that tick all the right boxes.
Each of the brands we feature offer better quality, longer-lasting and sleeker looking alternative apparel to the fast fashion sportswear industry. They prove that on-trend, stylish and functional design doesn't need to come at the cost of the earth.
They have all completed a comprehensive questionnaire about their ethical standards from workers in the supply chain to the materials.
Sustainable Activewear for Women: Tops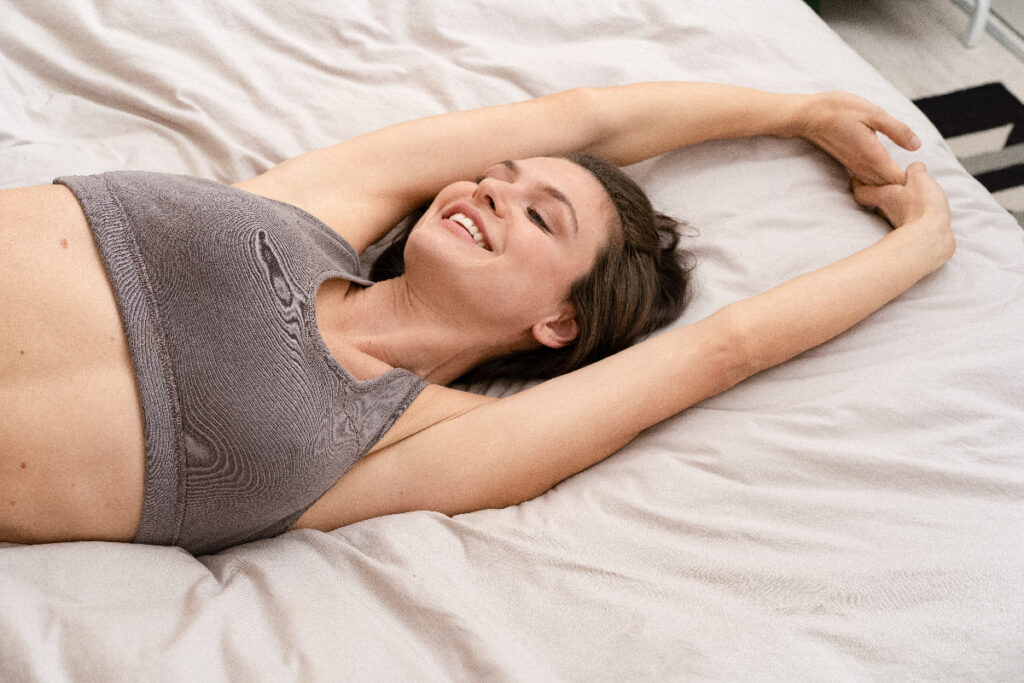 Women's Organic Pima Cotton Bralette
A comfortable sports bra is a must have. So if you still haven't found the perfect one, we recommend this classic sports bralette from AYA: super comfy, stylish, and perfect for all activities.
Its made from high-quality Organic Pima Cotton, so it's super gentle and soft on your skin. This material is also very durable, smooth and naturally hypoallergenic.
Available in seven colours, including three 100% plant dyed colours: Natural Gray, Natural Blue and Natural White.
£25 | SHOP NOW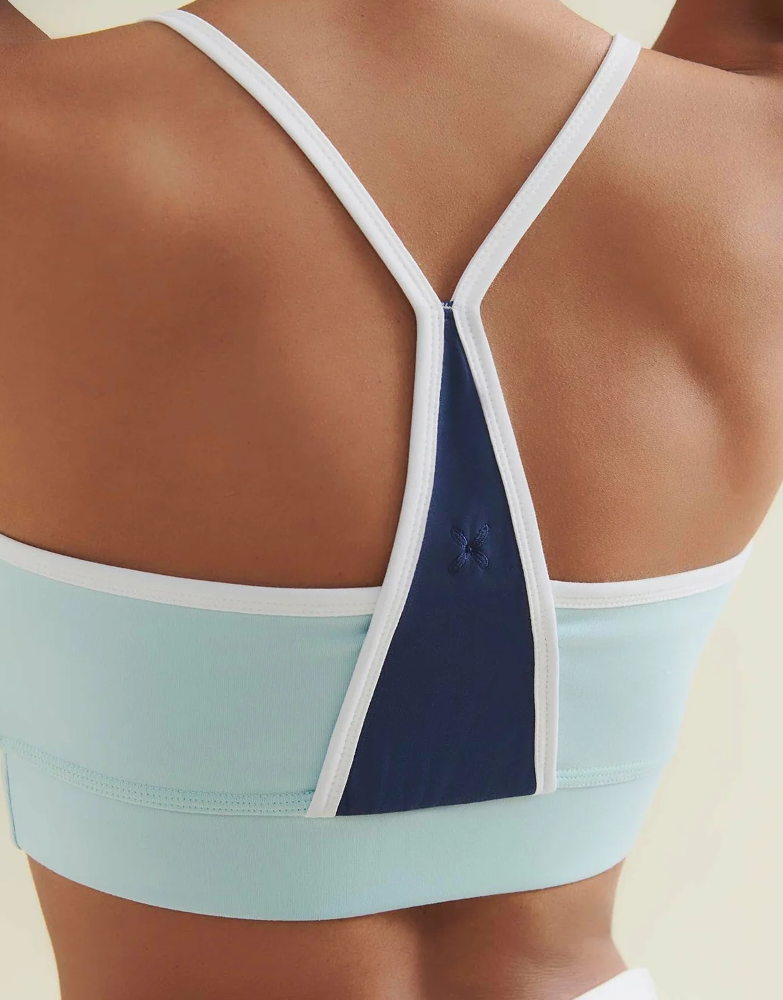 Fresher Cropped Tank
This Cradle to Cradle™ Certified cropped yoga tank from Wellicious is equally cute and comfy.
It has a stretchy, light support design for easy movement and a comfortable wide elastic hem band for extra security while stretching.
It is woven and made in Europe from organic cotton which is durable, yet soft and luxurious on your skin. And what's even cooler, this tank top is a circular product.
Pair it with Wellicious' best Yoga Pants in diamond white for the perfect pastel outfit.
£79 | SHOP NOW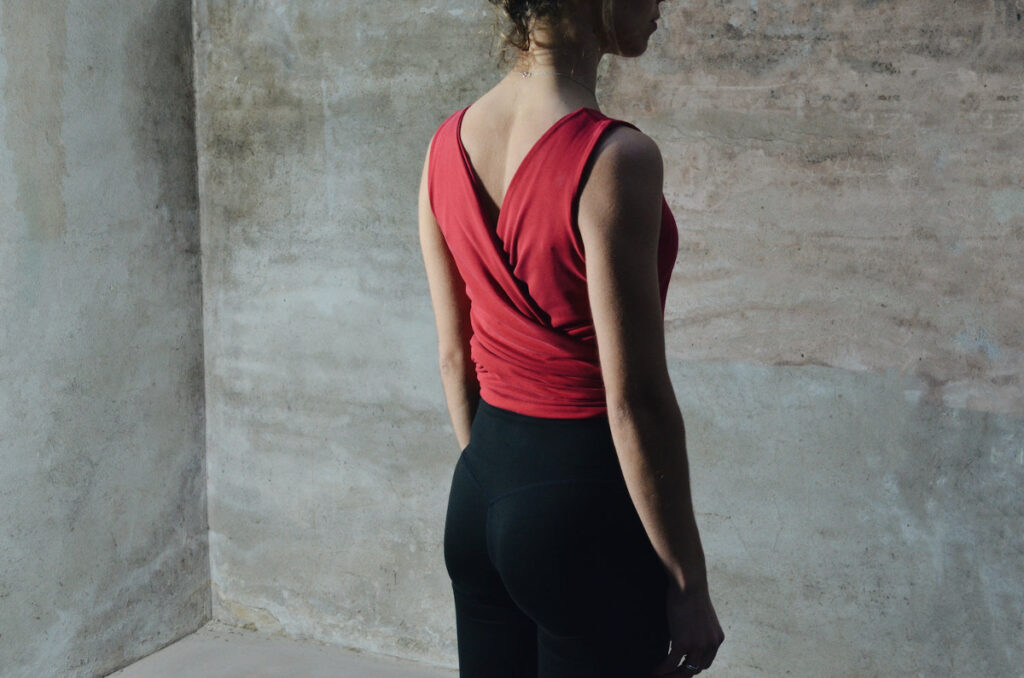 Reversible Knot Top
This gorgeous red Reversible Knot Top from Solitude the Label will elevate any workout look.
It has a unique versatile reversible design, so you can wear the v-neck at the front or back.
Solitude the Label is an Amsterdam-based brand founded by two sisters with sustainability at their heart. Their sportswear collection is made from Modal, a natural and sustainable material derived from wood fibres. They also send your your order in plastic-free packaging.
£60.72 | SHOP NOW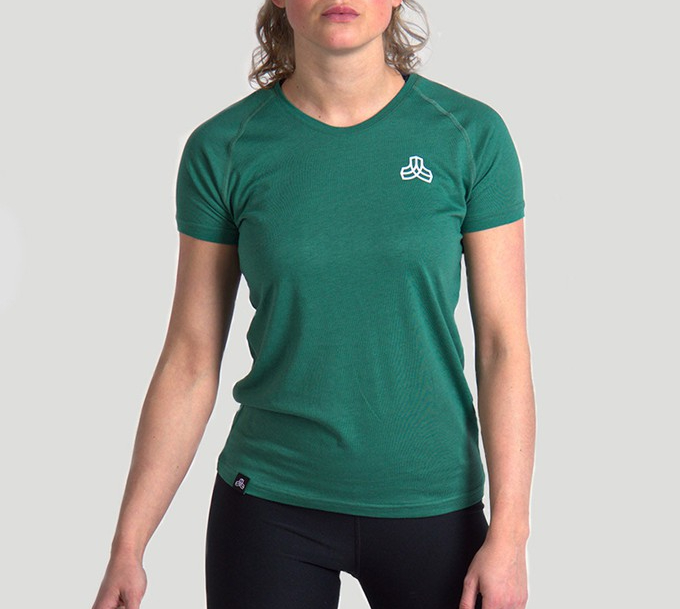 Beechwood Performance T-Shirt
If you're looking for a T-Shirt to workout in, you can't go wrong with this Beechwood Performance T-Shirt from Iron Roots.
Made from a mix of 50% TENCEL™ Modal and 50% organic cotton, this T-Shirt is soft, durable and breathable. What's more, the beechwood in this fabric mix gives it natural antibacterial properties.
And because it's made from natural materials, it doesn't need as intense cleaning as typical synthetic sportswear.
The fit is designed to allow for great freedom of movement while still being tailored around your arms.
It's available in a variety of colours. They also have a whole selection of apparel including different top styles for you to explore online.
£35.20 | SHOP NOW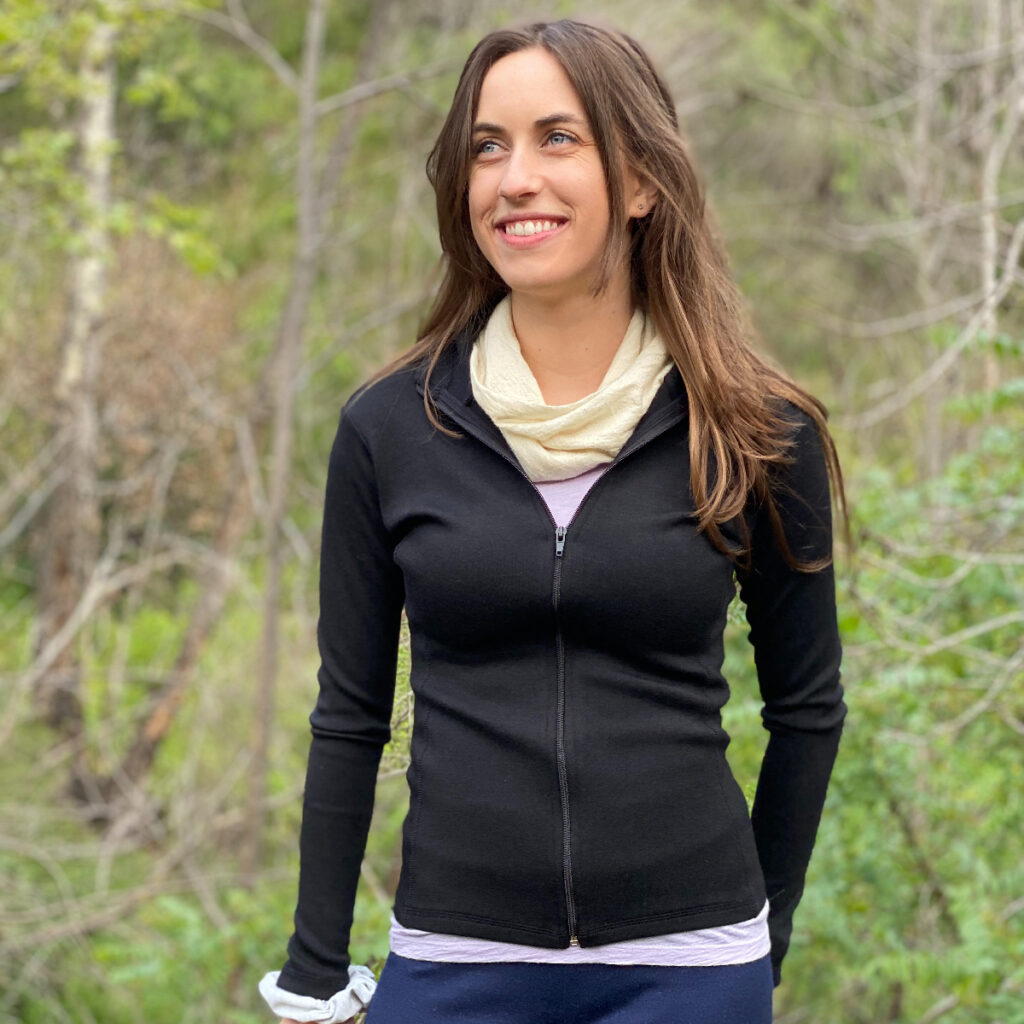 Arms of Andes Women's Alpaca Wool Jacket
This flattering form-fitting full zip jacket from Arms of Andes is the perfect light layer for outdoor adventures. It's made from alpaca wool which is naturally thermal and moisture-wicking, so it'll keep your body warm and protected in cold and extreme weather.
Alpaca wool is also lightweight, breathable, and sweat-resistant making this the perfect hiking jacket. It has naturally anti-bacterial and odour resistant fibers which help you and the jacket stay clean. And bonus point: it doesn't need frequent washing.
It is available in three staple colours: Navy Blue, Gray and Black – all low-impact dyes. From start to finish, their garments are ethically produced using sustainable materials in Peru.
If you'd prefer something with a little bit more coverage, they have a similar full-zip Alpaca Wool Hoodie Jacket.
£194 | SHOP NOW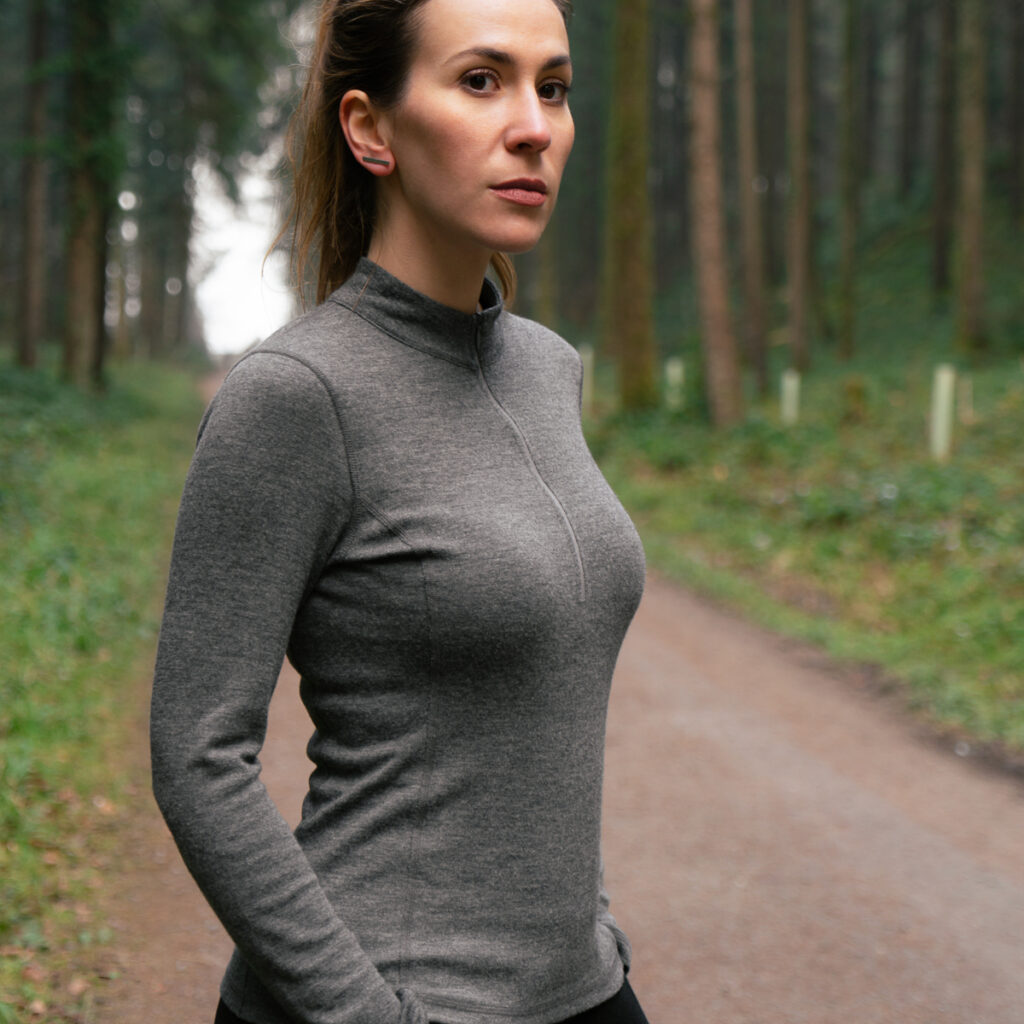 Arms of Andes Alpaca Wool Base Layer
This Arms of Andes half-zip fleece top is a brilliantly light thermal base layer ideal for activities like hiking or skiing.
When exploring, it's important to have a lightweight warm base layer that will wick moisture from your skin, so you stay comfortable all day.
Made from 100% Royal Alpaca Wool, it is moisture-wicking, naturally odour resistant and breathable keeping you protected, clean, and comfortable on your adventures.
It is available in Navy Blue, Gray and Black.
For a little extra coverage, check out their similar half-zip Alpaca Wool Hoodie.
£93 | SHOP NOW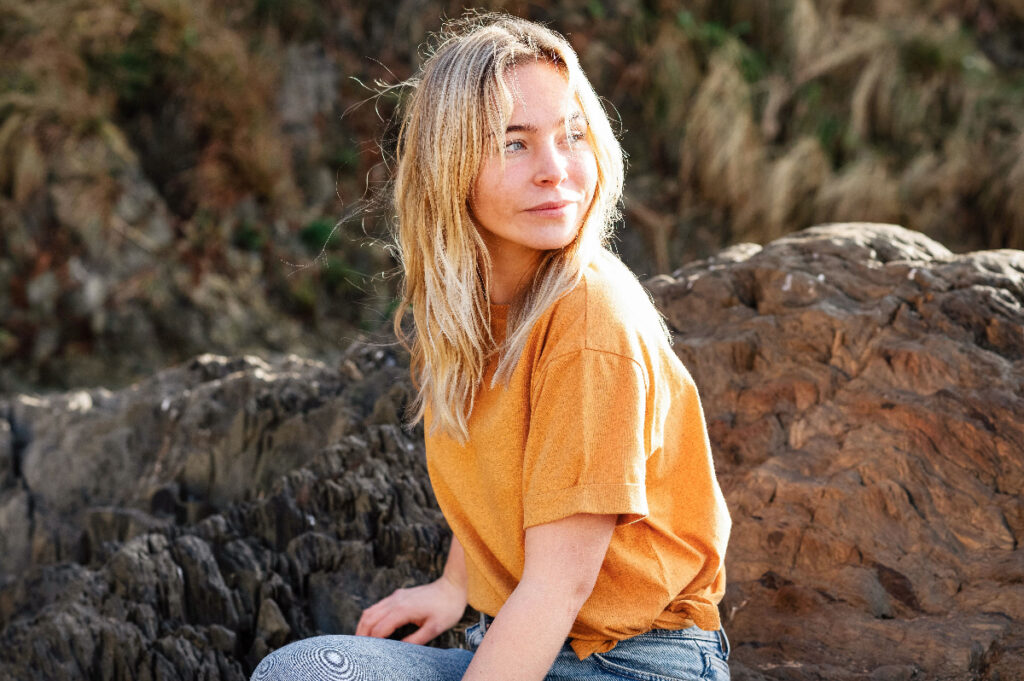 Recycled Relaxed Fit T-Shirt
This nifty t-shirt is great for light exercise: it has a loose fit, with handy side splits making it light and airy.
But what really makes this tee so special is that it is made with organic recycled material that would otherwise be waste, keeping it out of landfill.
So it's soft, sustainable and available in a range of new colours.
£20 | SHOP NOW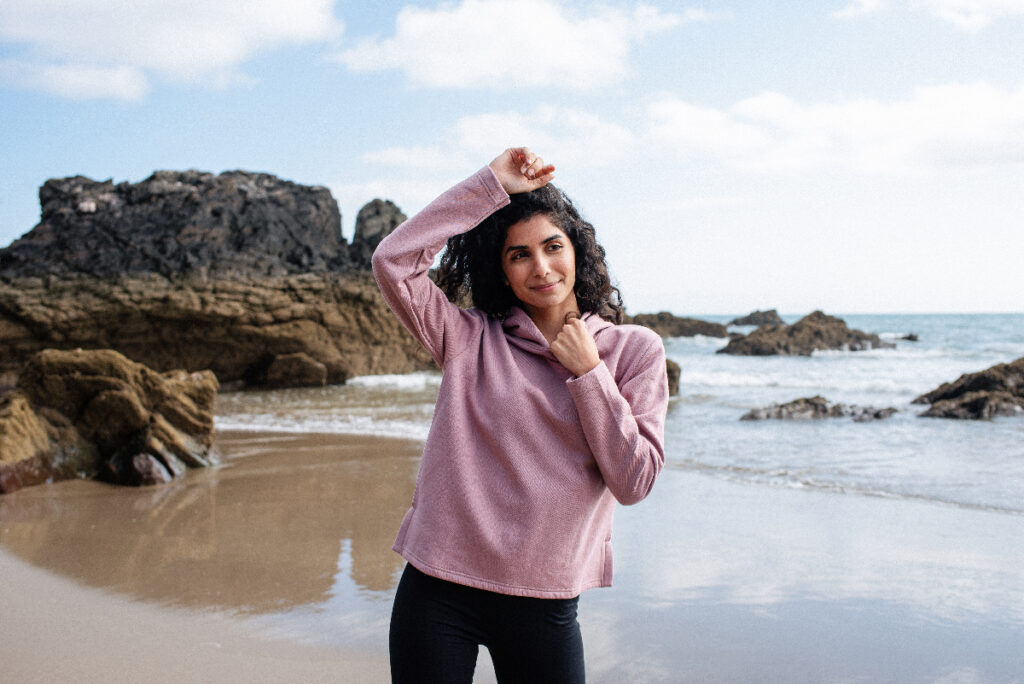 Recycled Relaxed Fit Hoodie
If you're in need of a warm layer for your next adventure, you can't go wrong with this chuck-on and go relaxed fit hoodie from Rapanui.
Brilliantly it is made with recovered organic material made by Rapanui's innovative circular Reemill business model and is made in a renewable energy powered factory. Every Remill hoodie has a unique blend of materials due to the Remill process, making every item unique.
It's available in five fun colours: seagrass green, sunset pink, sunflower yellow, ocean blue, and black.
£55 | SHOP NOW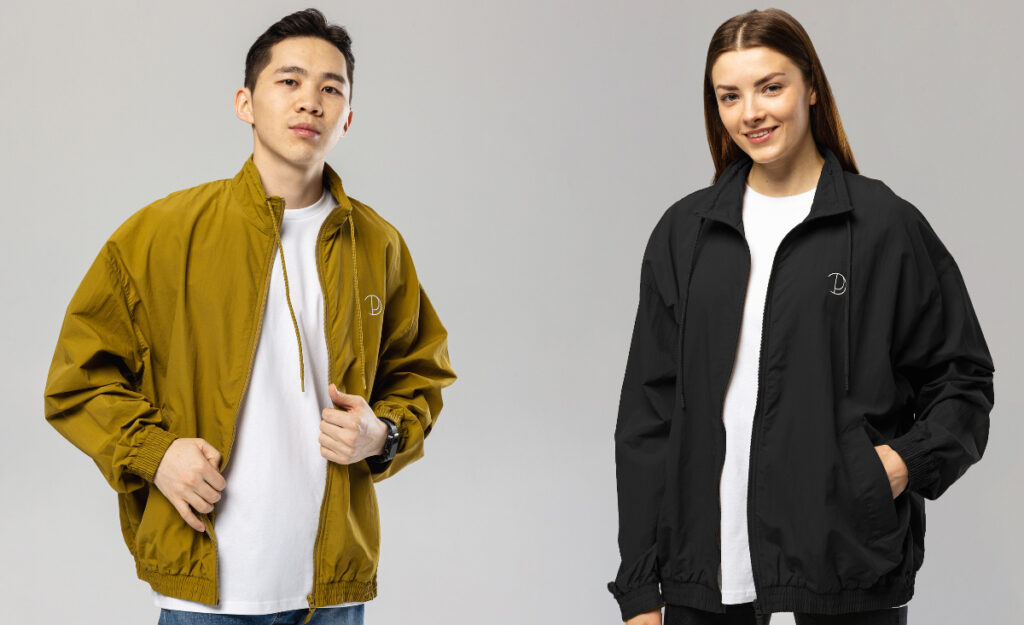 Embroidered P Jacket
This versatile Recycled Tracksuit Jacket from Pitod is a stylish and sustainable addition to your sporty wardrobe.
Made from 100% recycled nylon and with a zipper made from 100% recycled polyester, this jacket is the perfect lightweight, durable and water-repellent layer. It features a high drawstring collar for extra protection against the elements and has a relaxed unisex fit, so you're ready for anything.
It is available in three colours (Black, Navy and Olive) and has Pitod's signature P logo embroidered on the front.
£105 | SHOP NOW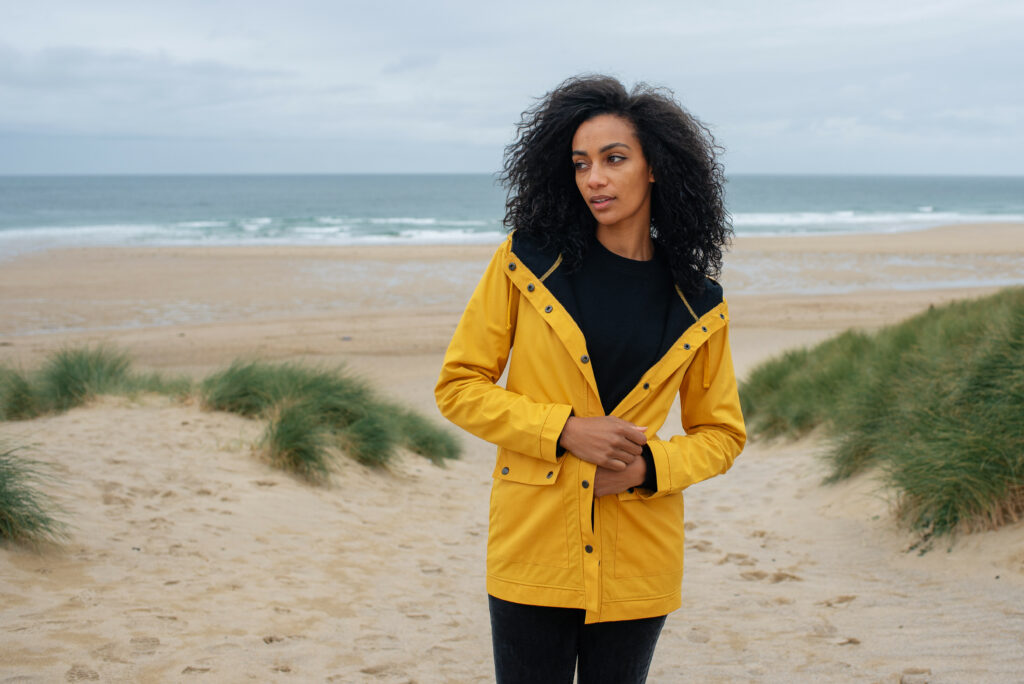 Women's Raincoat
This high-quality raincoat from Rapanui is simple, stylish and amazingly not just a big ol' lump of plastic.
Inspired by maritime style, this rain jacket is built for the elements, but built differently: it is sustainably made from certified organic cotton canvas with a water-resistant coating that is PFC-free. It even has metal YKK poppers – no plastic nasties here. And it's made in a renewable energy powered factory.
It features handy pockets, a big hood and a super-soft organic cotton lining for added cosiness and warmth.
Choose between three colours: vibrant yellow to brighten up dull days, khaki if you like earthy muted tones or black for something more versatile.
£125 | SHOP NOW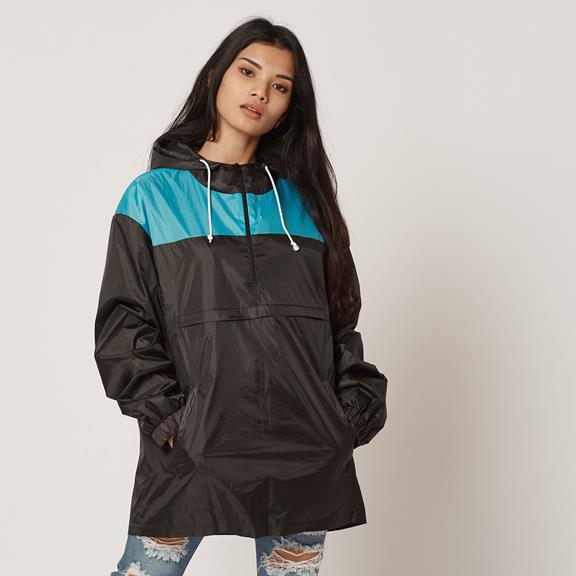 Cariki Windbreaker
The Cariki windbreaker is not just any old windbreaker. It's stylish, sustainable and unique, made from recycled tents left over from festivals – pretty cool, right?
It has a regular fit, features a soft and breathable bamboo inner liner, and is both waterproof and windproof making it an easy versatile layer to throw on before you head outdoors.
It has a drawstring hood as well as a large centre pocket and two front hand pockets to keep small valuables safe.
To reduce waste, these jackets are made to order so take into account the (up to) 5 week wait time when you order.
£200.38 | SHOP NOW
Women's Sustainable Activewear: Bottoms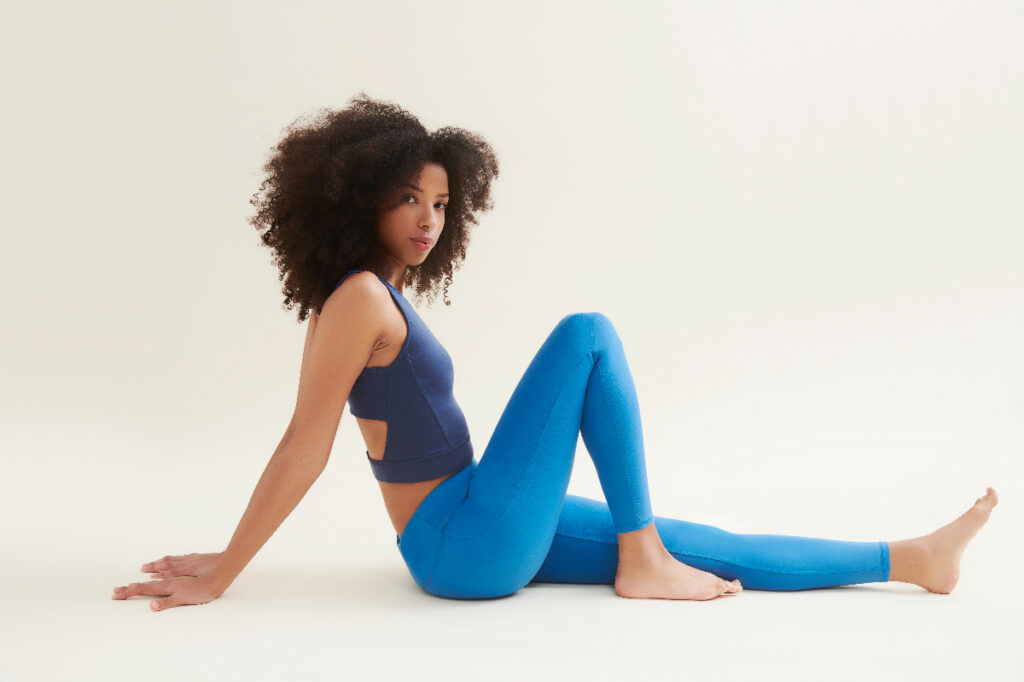 Easy Pocket Leggings in Shoreline Blue
These eco leggings from Wellicious in shoreline blue are a stylish staple for your yoga wardrobe.
They have a wide, high-waisted design and flattering, supportive fit, helping you feel confident through every pose.
They also feature a nifty hidden pocket to help you to keep valuables like money safe.
Woven and produced in Europe, they are made from organic cotton which is soft and luxurious on your skin, while maintaining high absorbency and a structured, durable feel.
Brilliantly, they are also a circular product and Cradle to Cradle™ Certified.
A matching 3/4 crop top is also available.
£119 | SHOP NOW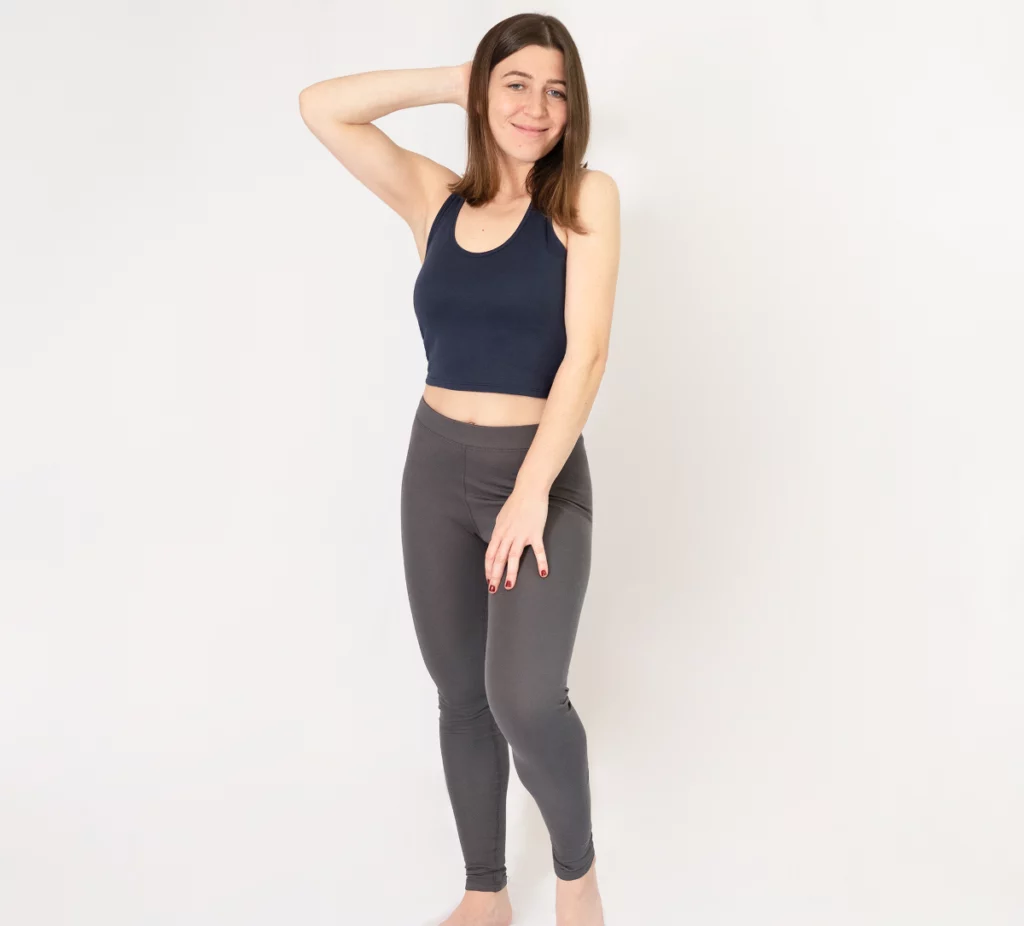 Women's Organic Pima Cotton Leggings
A pair of good quality leggings are the key to any athleisure wardrobe, but finding a pair that are comfortable, durable AND sustainable isn't easy. Look no further than AYA's Organic Pima Cotton Leggings.
Made from the finest Pima fibers, they are high-quality, silky soft, resistant to wrinkling and pilling, naturally hypoallergenic and more durable than your average pair of leggings.
They are carefully and consciously constructed in AYA's studio in Peru.
Choose from seven different colours, including three 100% plant dyed colours: Natural Gray, Natural Blue and Natural White.
£41 | SHOP NOW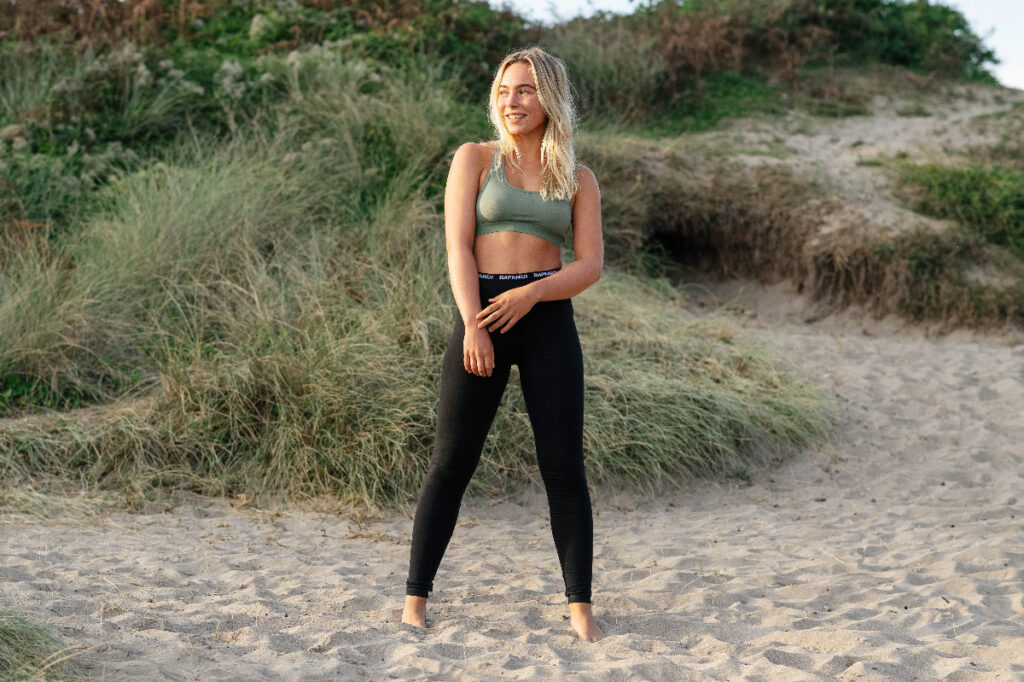 Organic Cotton Leggings – 2 pack
Everyone loves a pair of basic go-to leggings, so why not grab yourself a sweet deal with this best-selling two-pack from Rapanui.
These black sustainable women's leggings are made from soft and breathable natural organic cotton and feature a Rapanui band for extra support. Their simple design makes these sustainable leggings super versatile. They are breathable for a workout, flexible for yoga, and comfy for everyday relaxing.
£40, on sale for £35 | SHOP NOW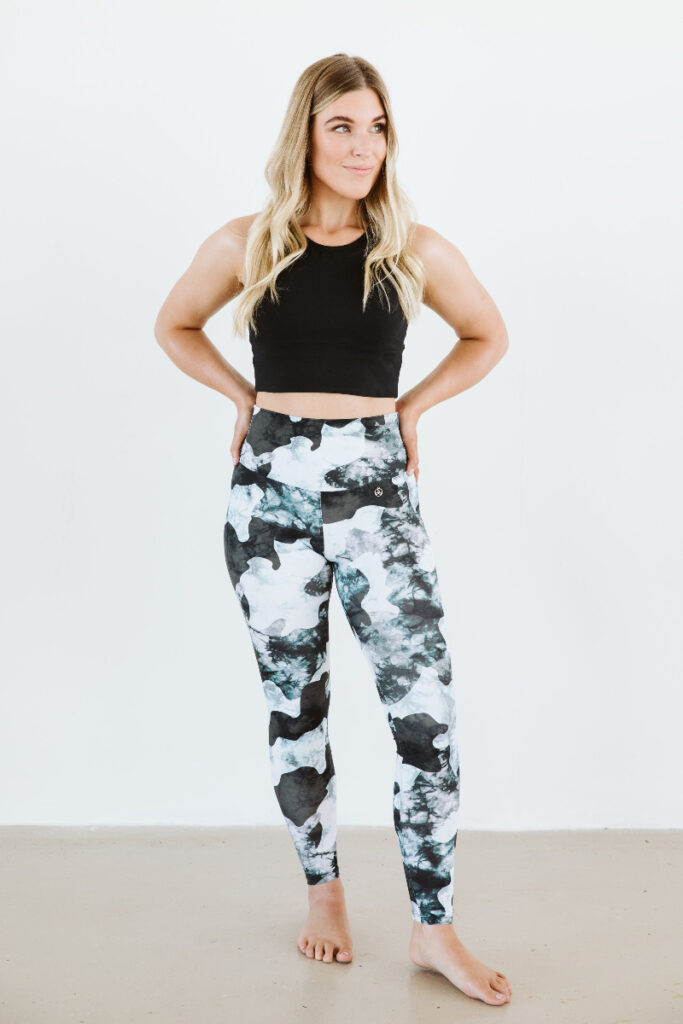 Legging in Camouflage
Who doesn't love a funky patterned pair of leggings to spice up their workout look.
These gorgeous high-rise leggings from Audella Athleisure are made from synthetic fabrics. They use Emana technology: Polyamide smart yarn that is said to allow natural body energy to be used to promote benefits such as improved skin elasticity, increased skin firmness, reduced cellulite appearance, UV protection and muscle recovery.
But brilliantly, Audella Athleisure's mission is to empower South African women by supporting them with fair work. Their clothing is produced in a small factory in South Africa that employs 16 women. They are paid far above minimum wage, and work in good conditions.
£75.65 | SHOP NOW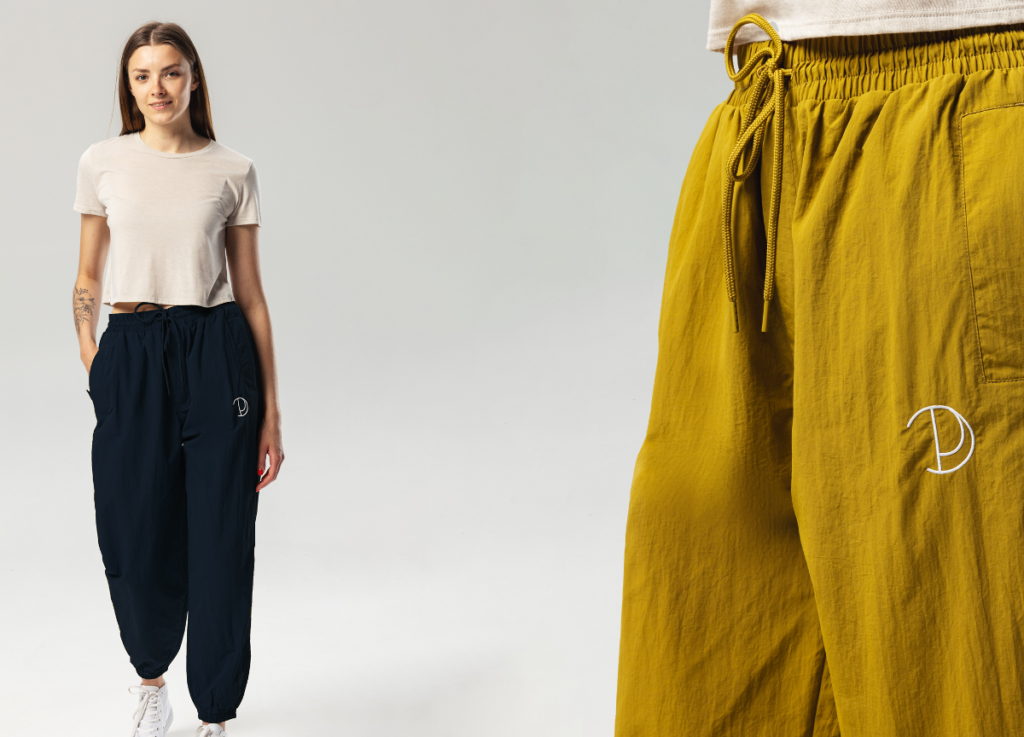 Recycled Tracksuit Trousers
Looking for versatile and stylish tracksuit bottoms that can keep up with your busy lifestyle? We have just the bottoms for you!
These recycled nylon Tracksuit Trousers from Pitod are lightweight, breathable and even water repellent. With a comfortable and adjustable elastic waist and drawstring, these unisex trousers are designed for all-day comfort, for everyone. They also have a zipper which is made from 100% recycled polyester and fluorine-free materials.
These pants are embroidered with Pitod's signature logo and are available in Black, Navy and Olive.
£99 | SHOP NOW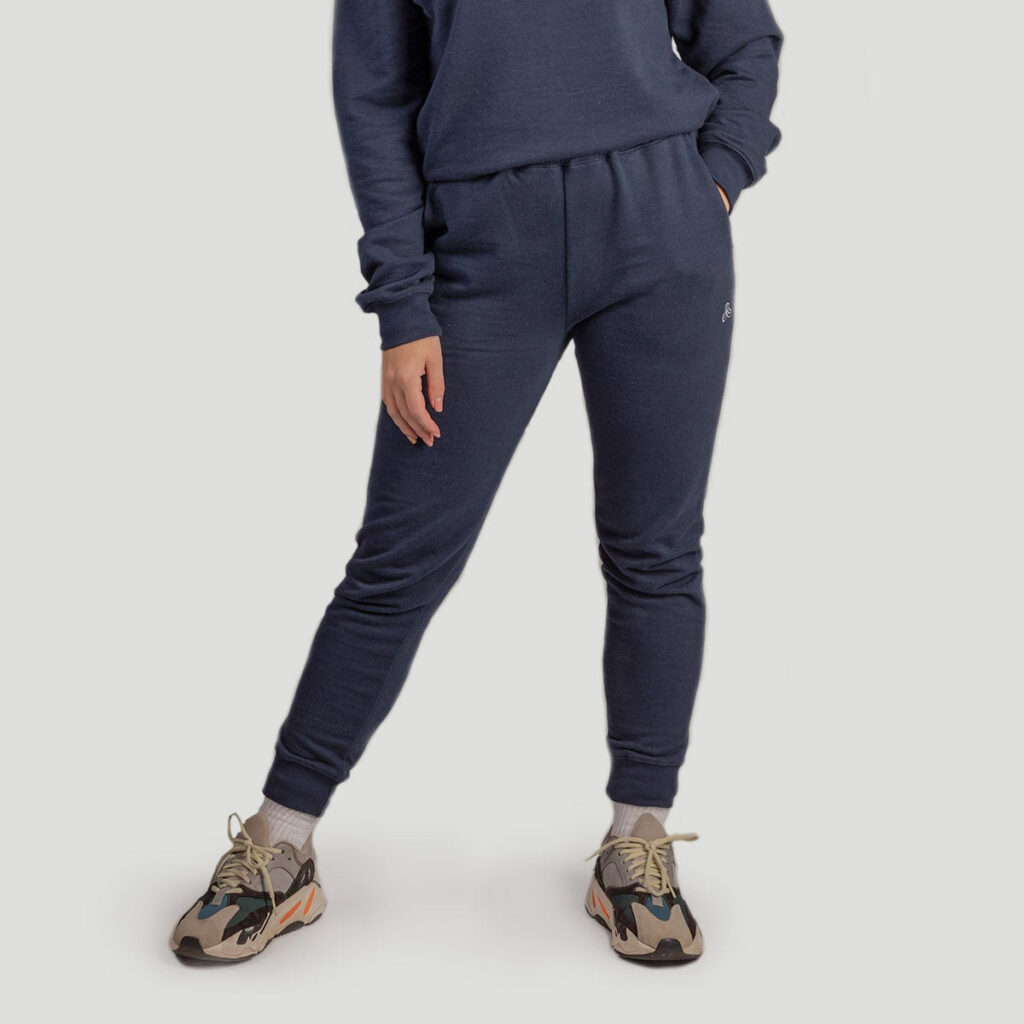 Unisex Hemp Athleisure Jogger
These Deepsea Blue Unisex Hemp Athleisure joggers from Iron Roots are made to be worn either during your daily workout or while you're enjoying some much needed downtime.
Iron Roots is a sportswear brand founded by three friends who were frustrated by the large amount of plastic used in the production of sportswear. Unable to find an alternative on the market, they decided to take matters into their own hands and create Iron Roots: sustainable, plastic-free sportswear, made under fair working conditions.
Their garments are produced in Europe in GOTS certified factories which ensure fair and environmentally-friendly production.
These comfy, relaxed-fit joggers are made from a durable mix of 30% hemp with 70% organic cotton, and they are vegan.
A matching sweatshirt is available.
£70.40 | SHOP NOW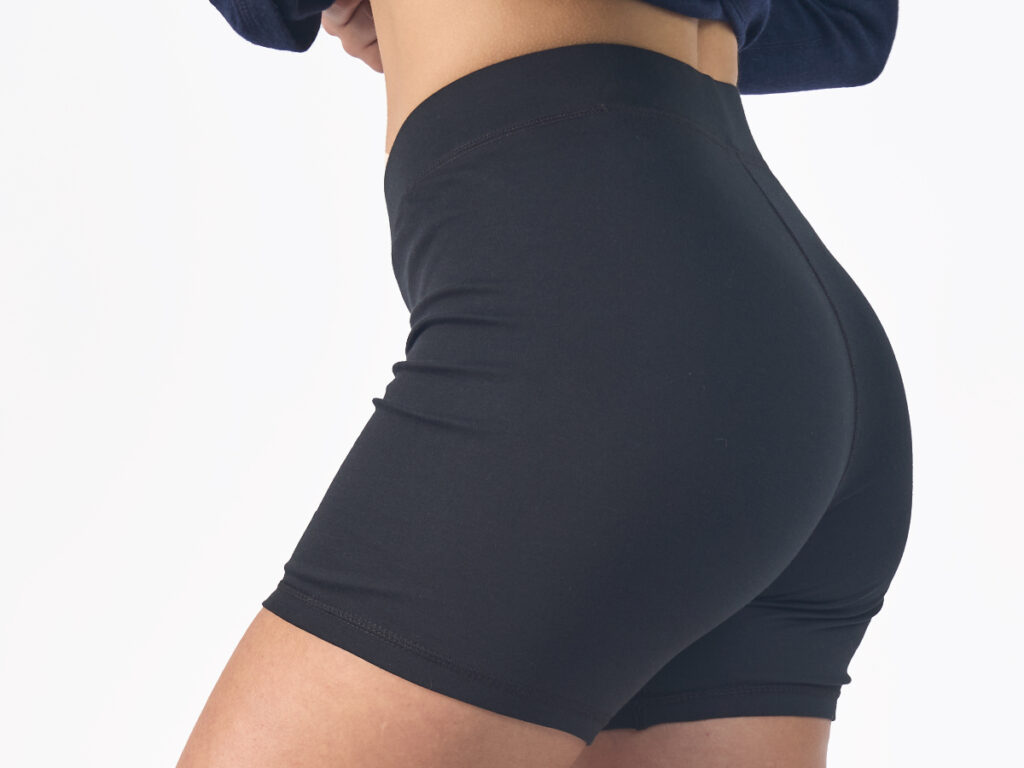 Women's Organic Pima Cotton Biker Shorts
Nowadays, biker shorts are all the rage – and its no surprise why, when they're as good as this pair from AYA.
AYA's classic style biker shorts are super comfy, stylish and versatile for all occasions. They are made from extremely fine Organic Pima Cotton in AYA's studio in Peru.
Available in seven colours, including three 100% plant dyed colours: Natural Gray, Natural Blue and Natural White.
£29 | SHOP NOW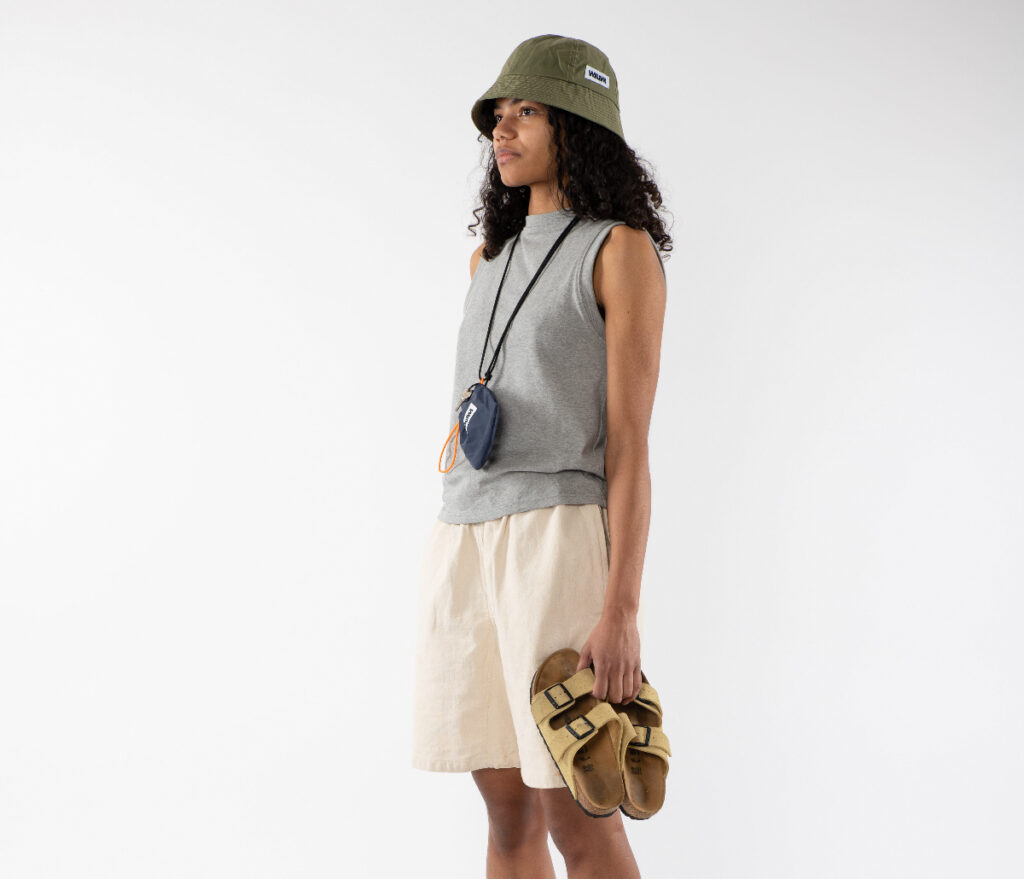 WAWWA Zama Organic Shorts
WAWWA's Unisex Zama Organic Shorts are great go-to chuck on shorts for summer – whether you're off for a walk, hike or just chilling in a park.
They are made in House in Manchester from GOTS certified Organic Cotton Canvas material. They are light, breathable and durable. Their practical yet relaxed design includes a reinforced gusset, elasticated drawstring and toggle waist and a single back pocket.
They sit loose, so WAWWA recommend sizing down if you want a regular fit. Available in Black or Natural.
£65 | SHOP NOW
Women's Sustainable Activewear: Accessories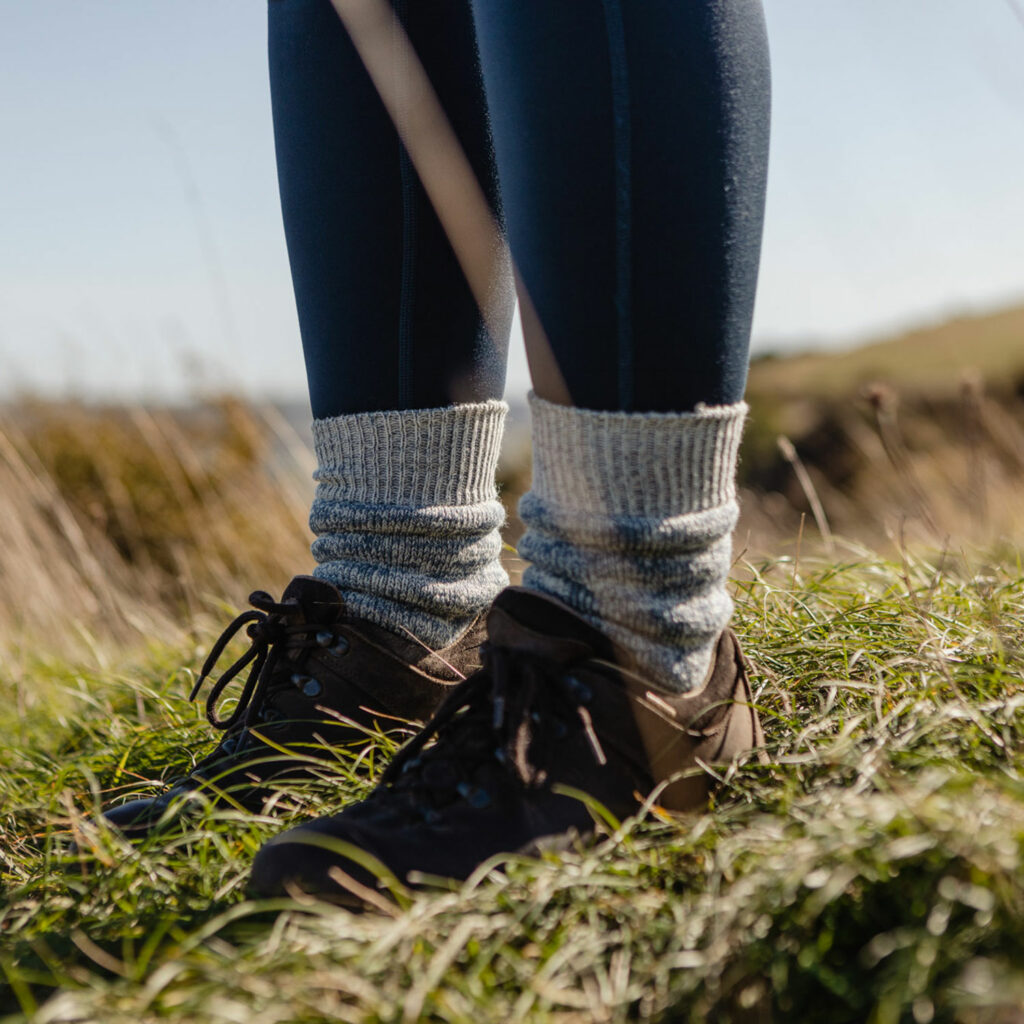 Happy Hiking Wool Sock
These Silverstick hiking socks are made in Britain on a traditional knitting machine. The soft terry loop natural wool will keep your feet warm and comfortable all day long. Plus, they have been specially designed to create an all-round cushioned fit.
Two explorers, Harry Green and Sam Varney, founded the Silverstick brand in 2010. They say:
"The Silverstick represents the roving spirit of adventure, urging us to spread our wings. We're outdoor people making sustainable clothes purpose-built for the natural habitats we love to play in."
£15 | SHOP NOW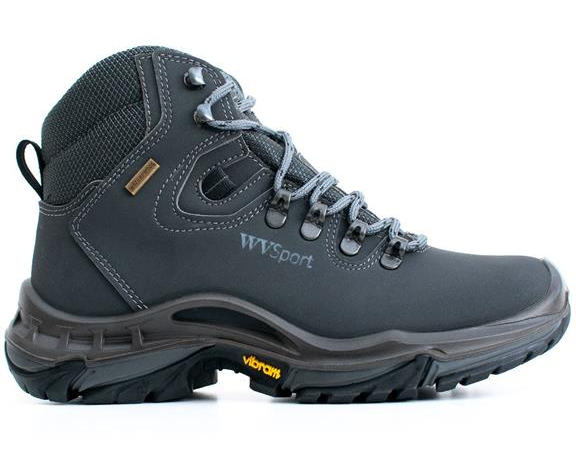 Will's Vegan Store Hiking Boots
Every avid explorer needs their own trusty pair of hiking boots. Carefully and expertly made in Italy to the highest standards, these Will's Vegan Store sleek vegan hiking boots are the real deal.
They are technically designed for traction, stability, comfort and durability on the most demanding terrains. Crucially, they have a waterproof construction, with waterproof seams, a sealed tongue and a special breathable waterproof membrane.
They are produced in an Italian factory with 70% solar energy. In addition to complying with EU employment, discrimination and health and safety legislation, the factory also has its own Charter of Human Responsibilities (or code of ethics) which ensures that the company is committed to respecting the rights of its employees.
£130.29 | SHOP NOW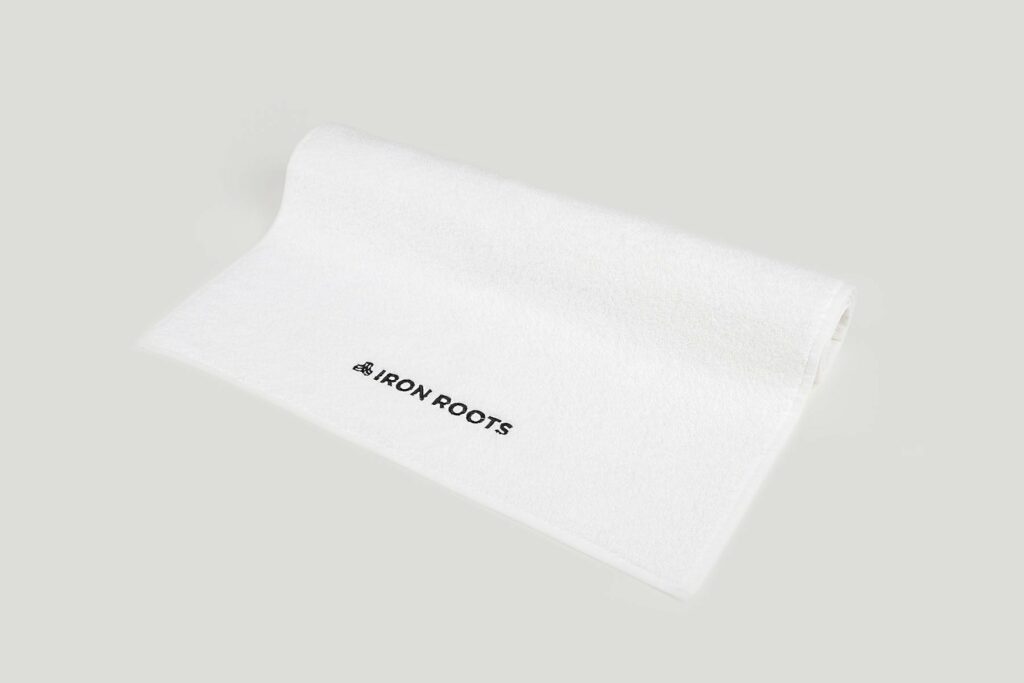 Hemp Sport Towel
This Iron Roots Hemp Sport Towel is a staple addition to your sports wardrobe.
Perfect for any sweaty workout, its made from a soft, yet durable mix of European hemp and organic cotton. The towel is made from a thick fabric, which makes it comfortable, with excellent sweat absorption.
Bonus: the antibacterial properties of hemp make sure that the sweat that is absorbed smells less than a regular towel.
£30.80 | SHOP NOW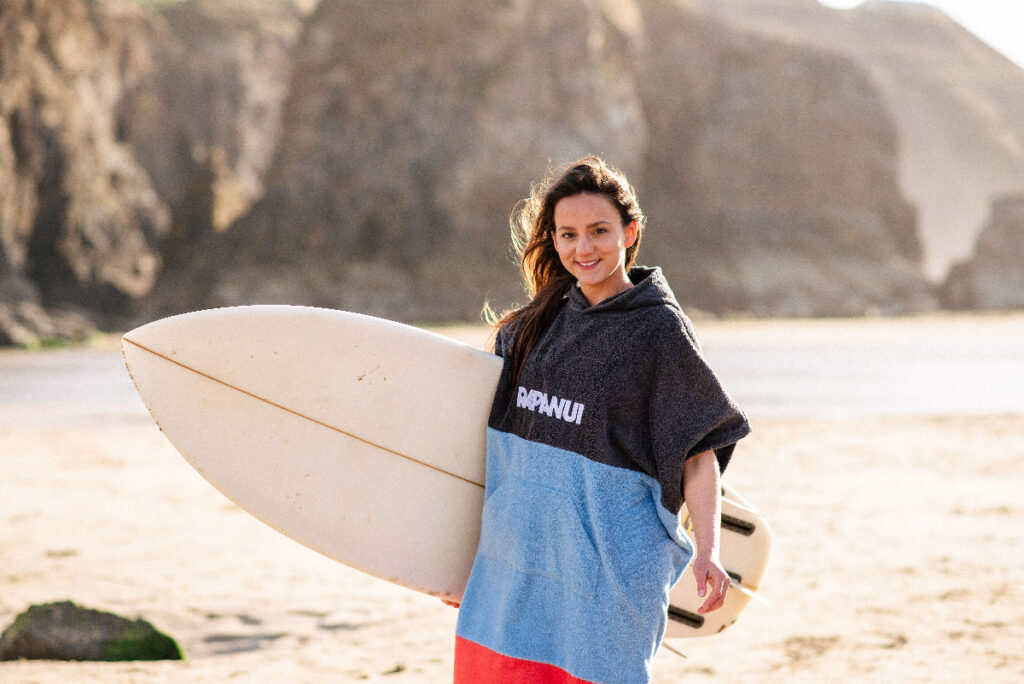 Women's Organic Cotton Surf Towel
Whether you're warming up after a sea swim or changing out of your surfing wetsuit, Rapanui's Surf Towel changing robe is sure to keep you cosy by the coast.
With super thick and absorbent terry loop towelling made from soft organic cotton, it's the perfect poncho-sized shape for sea-side changes. It's also hooded and has a super-sized warm pocket to keep your hands toasty.
Plus, it's made using renewable energy.
£50 | SHOP NOW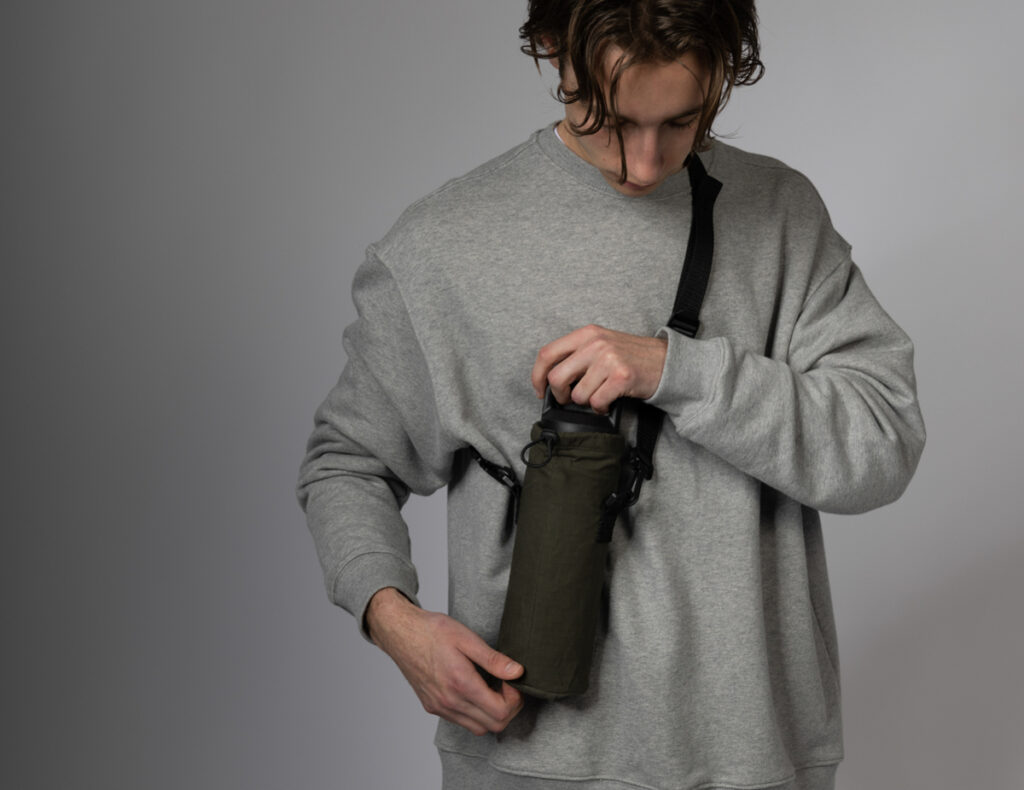 WAWWA Water Bottle Holder
If you plan to hit the trails this summer, check of this nifty Water Bottle Holder from WAWWA.
The sustainable and stylish way to carry your hydration on-the-go, it features a handy shoulder strap design for easy hands-free carrying.
Made from 100% organic ripstop cotton, this holder is secure, durable and eco-friendly.
It is available in four colours (Dark Olive, Biscuit Orange, Stone Grey and Black) and can hold a variety of bottle sizes and shapes, making it a versatile addition to your outdoor gear.
£30 | SHOP NOW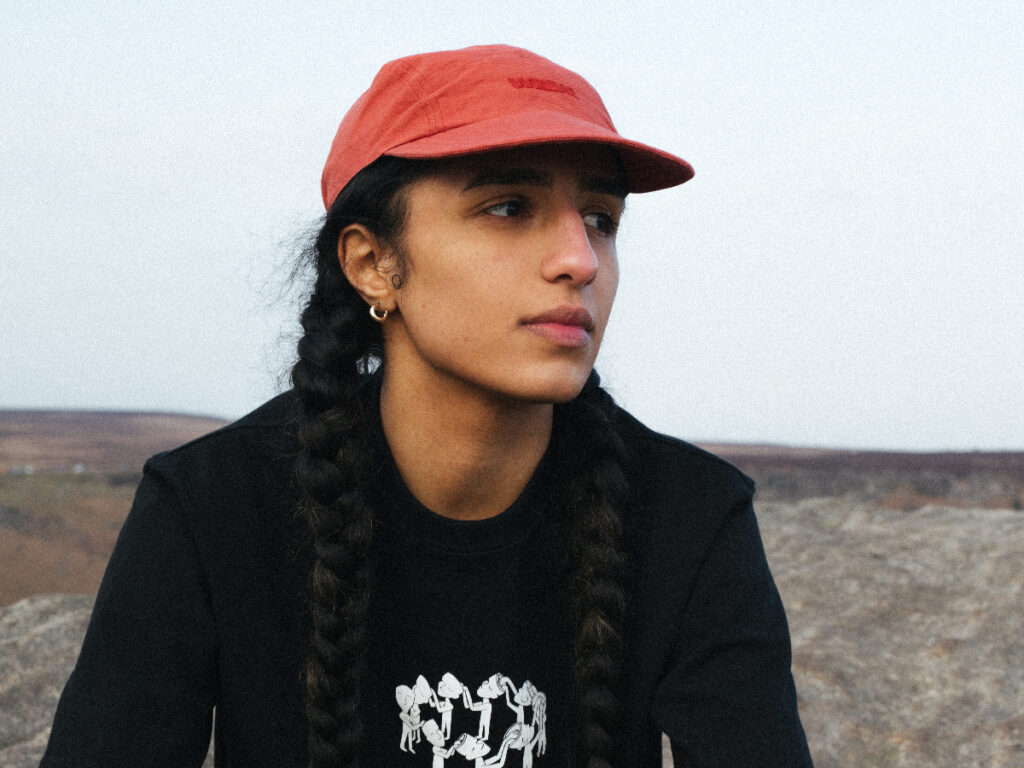 WAWWA Jay Cap
When you're out in the sun, a cap is a must.
The WAWWA Jay Cap is both stylish and functional. Its made from Organic Ripstop Cotton so that it's durable enough to protect your head from the elements, while still being packable and nimble enough to take on any adventure.
It comes in eight colours and features an elastic drawstring and toggle for an adjustable fit. Of course, it's embroidered with the classic WAWWA logo.
£55 | SHOP NOW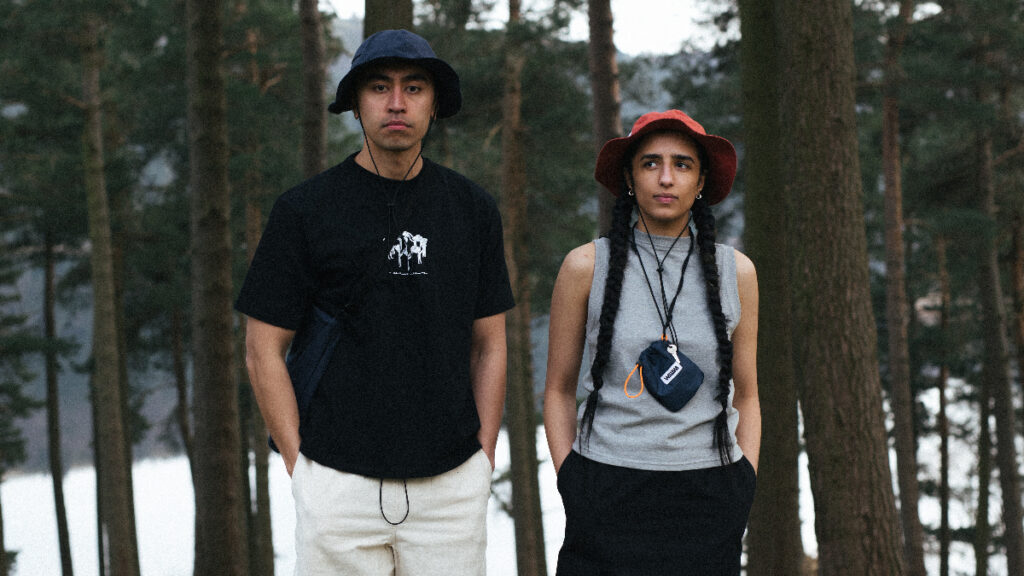 WAWWA Waxed Ripstop Boonie Hat
Another cool piece of headgear from WAWWA is this Waxed Ripstop Boonie Hat.
Whether you're out in the summer sun or facing a sudden downpour, this hipster hat has you covered.
It's made from durable 100% Organic Ripstop Cotton and has a wax finish to help protect you from the elements. The material is designed to resist tears and punctures, ensuring that it lasts for years to come.
What's even cooler, it has a concealed pocket that allows you to carry small items like cash or keys with ease.
It's available in seven colours, so you're bound to find one to suit you. Its has an adjustable elastic drawstring and toggle and features WAWWA logo embroidery.
£55 | SHOP NOW
Main image: Wellicious