First things first: what is jackfruit?
Large, green, spiky and oval-shaped, the fruit grows so abundantly on the Indian subcontinent it's considered a pest – and is only eaten if there's nothing better around. So when you think about it, the idea of jackfruit being one of the 'hottest trends' in London for 2020 is a bit weird.
And it's not the first time the modern vegan movement has taken something usually considered unsavoury and turned it into a good-looking, good-tasting dish.
There's ackee, the Jamaican fruit that tastes not too dissimilar to scrambled egg (yes, really); and more commonly seitan, which is made of washed wheat and was originally a staple of the Buddhist monk diet in Asia.
These ingredients are mostly chosen as a meat replacement for their textures rather than their flavours – and this includes jackfruit, which only has a mildly sweet taste.
What's jackfruit meat?
While many people would argue it doesn't make sense to be vegan and want to eat something that reminds you of meat, we believe that just because you choose not to eat meat doesn't mean you don't like it.
And even if you do eat meat, one thing's for sure: eating less meat is better for people and the planet. And if that means you have to eat something that reminds you of meat, well, that's OK.*
We're not convinced that jackfruit can really claim to be the vegan version of pulled pork, but we will say that, done right, jackfruit makes for a brilliant vehicle for flavour, whether that's bbq sauce, jerk spice, or in a Sri Lankan curry.
Not to mention jackfruit has heaps of health benefits because it's lower in fat (95g per 100g) and rich in protein, fibre and antioxidants.
Before you pass judgement, make sure you eat it at its very best – which is why we've rounded up the best jackfruit dishes in London.
Where to eat jackfruit in London: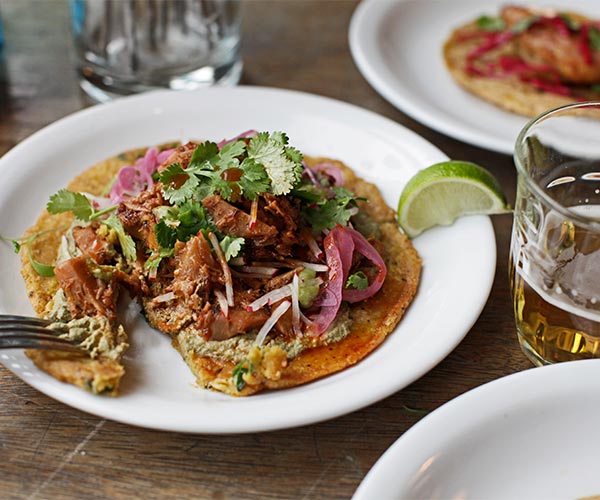 Jackfruit tacos at Club Mexicana at
The Spread Eagle
224 Homerton High St, Homerton, London E9 6AS
We've got a lot to thank Club Mexicana and founder Meriel Armitage for. They were one of the first proponents of vegan junk fruit; aka vegan dishes that are delicious in their own right, regardless of health benefits. You could and should go wild with the menu, but the dish we're talking about are the pulled jackfruit carnitas tacos with pico de gallo (a fresh salsa made with diced tomatoes, onion, peppers, salt and lime juice), pink pickled onions and tangy salsa verde. What's more, the team is opening its first stand-alone restaurant in early 2020, so watch this space.
clubmexicana.com
The Jerk Burger at Mooshies London Vegan burger bar
104 Brick Ln, Spitalfields, London, E1 6RL
One of the reasons why jackfruit is so often used as a substitute for pulled pork is because it carries flavour well, and cooks down to a soft, shredded texture. That's probably where the similarities end, but try the Jerk burger at Mooshies and you'll see exactly what we mean. Here, the jackfruit gets marinated in spicy jerk sauce, before being served with a brioche bun and coleslaw. Order anything else on Mooshies' menu and you can add an extra helping of jerk or bbq jackfruit.
veganburger.org
Polos Pattis at Kolamba
21 Kingly St, Soho, London, W1B 5QA
Sri Lankan cuisine is absolutely brilliant for vegans, its bright, fresh flavours evident in an array of jewel-colours vegetable curries that are best eaten alongside hoppers (not too dissimilar to a bowl-shaped pancake with or without an egg and served with a spicy sambal).
What's more, jackfruit is native to Sri Lankan, so you'll find it cooked a bit differently to the usual jerk burgers and wings: at Kolamba in Carnaby Street, it's not a meat substitute at all, it's an ingredient in its own right.
You'll find polos pattis, pieces of savoury spiced jackfruit wrapped in flaky pastry and then fried till golden and delicious. Elsewhere there's a young jackfruit curry, with cinnamon and fried onion.
kolamba.co.uk
Jackfruit bellinis at Paradise
61 Rupert St, Soho, London, W1D 7PW
You definitely don't want jackfruit to resemble anything like meat in this creative cocktail at new Soho haunt Paradise. This is another restaurant inspired by the incredible tastes of Sri Lankan, so you'll find jackfruit on the food menu too, in the form of a flavour-packed jackfruit and cardamom biryani.
paradisesoho.com
Jack wings at Leon
Various locations
OK, so these don't resemble any sort of wing, let along a chicken wing, but there's no doubting that the bites of vegan cheesy spiced goo are pretty damn delicious. We predict they'll ease munchies, beat hangovers and warm the cockles of even our frozen hearts.
leon.co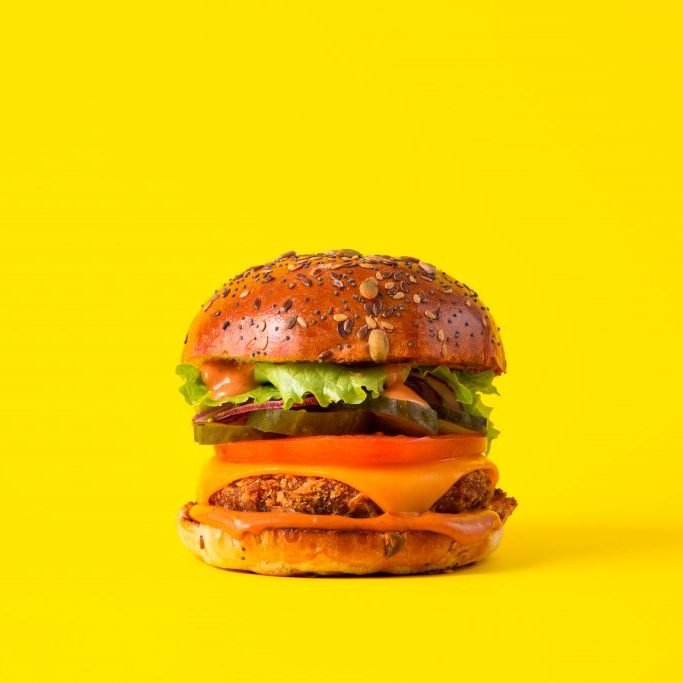 A burger from Biff's Jack Shack
BrewDog
33-35 Stoke Newington Rd, London, N16 8BJ
Anything at Biff's Jack Shack Biff's Jack Shack is a temple to all things jackfruit. It's got two sites: one is a collaboration with Eat 17 in Walthamstow; the other is a shack at BrewDog's first vegan site in on Stoke Newington Road. Everything revolves around the magic ingredient: there are 'wingz' with everything from buffalo hot sauce to 'bacon' bits; burgers (the spicy Samuel Hell Jackson with 7.5 hot sauce and jalapenos is a favourite); and jackfruit chilli brisket bowls, with brown rice and dairy-free yoghurt.
biffsjackshack.com
Jackfruit jalfrezi at SpiceBox curry house
58 Hoe St, Walthamstow, London, E17 4PG
The entire menu at this cult curry house is vegan, but the dish we've got our eye on is the jackfruit jalfrezi. It's a mouth-melting, eye watering take on the classic curry, made with green peppers and onion. Not one for dates – you have been warned.
eatspicebox.co.uk
Crispy jackfruit bao at Yuu Kitchen, Heddon Street
31-33 Heddon St, Mayfair, London, W1B 4BN
We've seen pulled pork bao, we've seen ice cream bao, we've seen deep-fried bao… and now there's a jackfrut bao. Go figure. At Yuu Kitchen on Heddon Street in Mayfair, you can get your chops around a hunk of panko-crumbed jackfruit, served with zesty goma ponzu dressing, pickled red cabbage and sesame seeds. We challenge you to make it last more than two bites.
yuukitchen.com
Main image: A burger from Biff's Jack Shack
*In this spirit, these restaurants have been included in this for their jackfruit credentials only. But we can tell you about London's best sustainable restaurants, too.