Are you hopelessly hunting for the perfect sustainable Christmas gift for a special woman in your life? Whether you are looking for a gifts for environmentally conscious friends, luxury eco-friendly gifts to spoil a loved-one, or a unique gift of appreciation, we've compiled a list to to help you choose something truly meaningful.
From beauty products to timeless fashion and fun accessories, this list features items that embody great quality, style and ethics.
How we curate our gift-guides and test
Live Frankly is a place for exclusively ethical and sustainable brands. All the brands we feature go above-and-beyond in the work they do because they recognise the climate crisis, the environmental crisis, the injustices in their industries and they know there's a better way. They're proving business can be done differently.
Every brand fills out a form answering questions about the materials they use, the people in their supply chains and their governance structures. We speak with the owners and decision makers before adding them to the Live Frankly Directory and we test the quality of their products.
We do the hard work in the background, so you can focus on buying gifts with meaning for your loved-ones from smaller, independent brands with values at their core.
Sustainable gifts for her at a glance:
Best sustainable Christmas gifts for her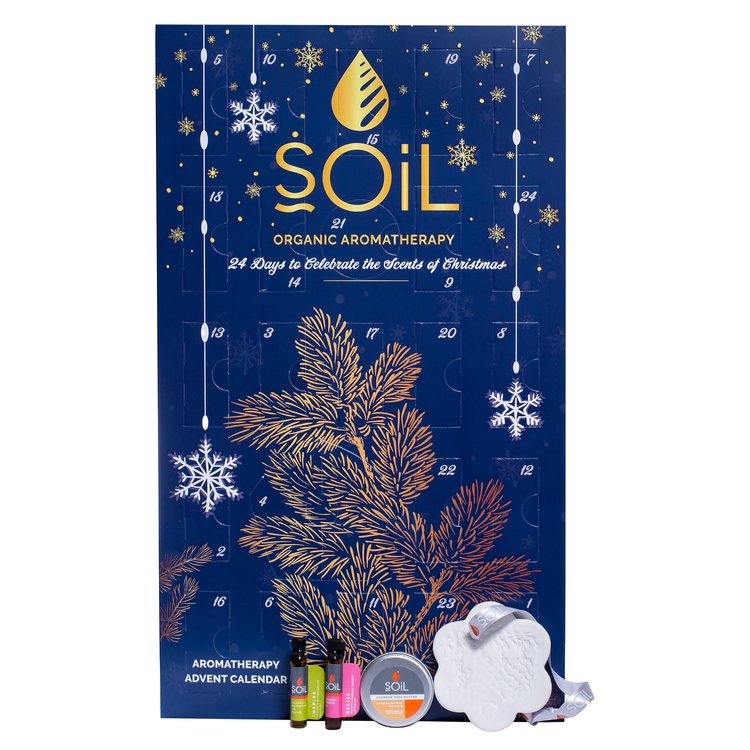 Key specifications
24 doors
Organic certified oils
journey exploring natural and organic wellness products. The SOIL Organic Aromatherapy Advent Calendar shares mini vials to sample pure organic essential oils and pure organic essential oil blends; organic massage and body oil blends; remedy roller blends; carrier oils and even an aroma charm for your Christmas tree. The countdown starts on the 1st December up to the 24th December.
Over the Christmas break, it's a time to wind down, be in the moment, relax, spend time with family and most importantly, look after yourself. So this advent calendar makes the perfect gift for yourself – as a gift for yourself is just an important as buying for everyone else.
Soil Organics' oils are 100% certified organic (the first from South Africa to be certified) and its festive countdown to the big day is all about discovering new aromatherapy scents behind the 24 doors. We won't give away all the surprises, but the range includes essential oils, massage and body oils and even an aroma charm for your Christmas tree.
£35 | SHOP NOW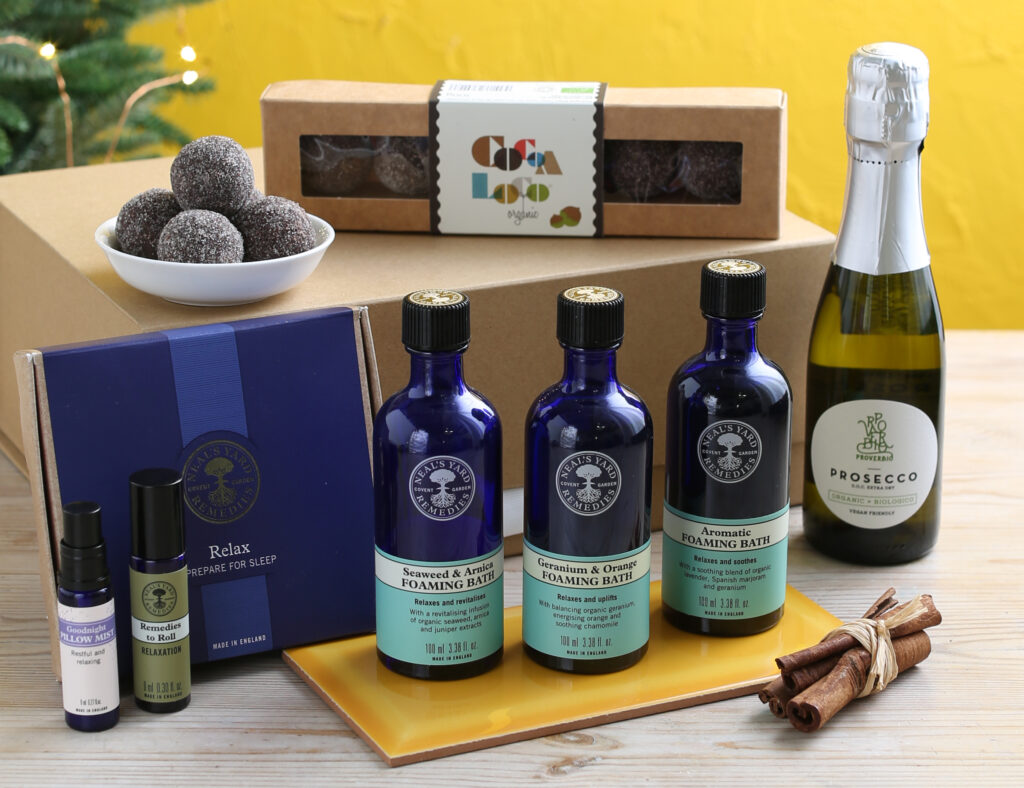 Key specifications
7 products
Organic
Available from 23rd October
Who doesn't need TLC at Christmas time? This sustainable gift box promises a night of luxurious rest and relaxation – and a much needed pamper. It contains gorgeous Neal's yard Remedies products including a collection of natural and organic foaming baths crafted with pure essential oils and a duo of pure essential oils to prepare you for sleep. Plus bubbles in the form of organic Prosecco and dark praline truffles that pop in your mouth. Honestly? We're tempted to gift this box to ourselves, too…
£48 | Shop Now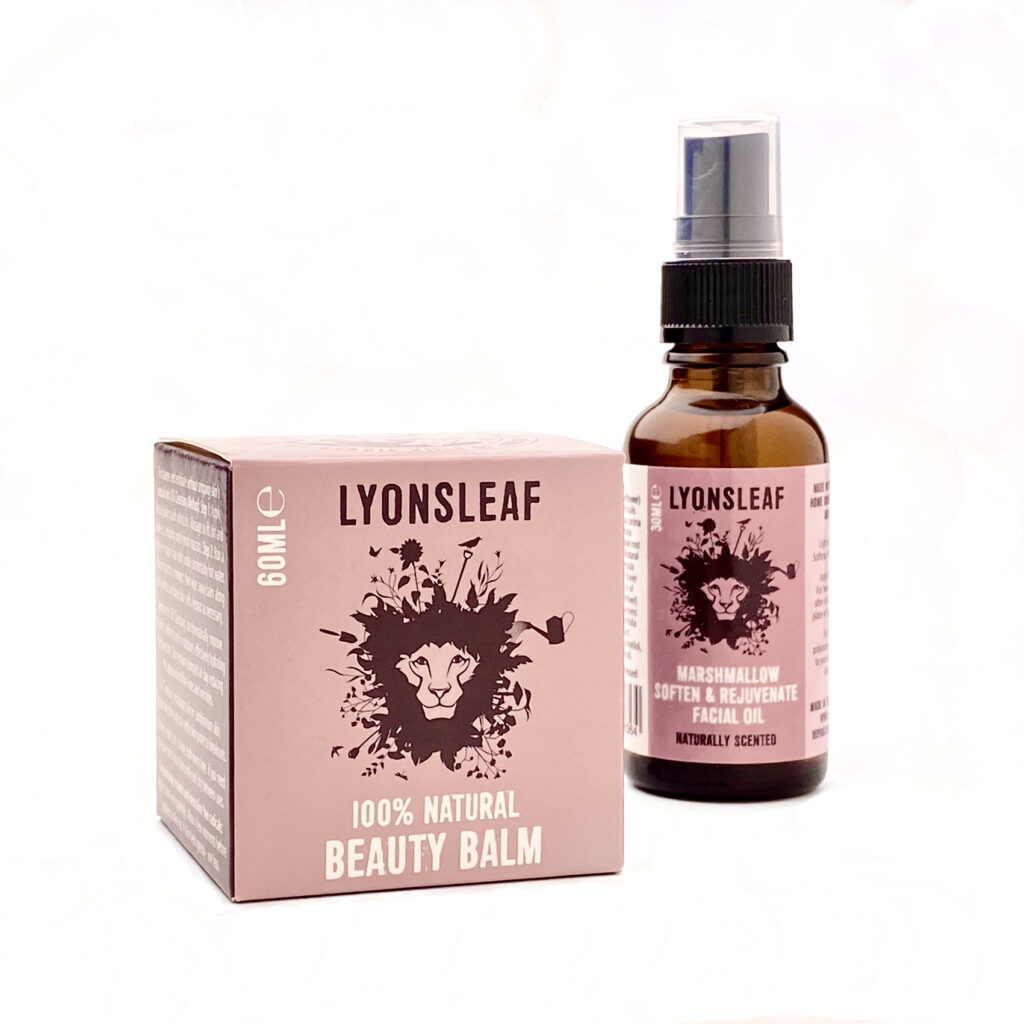 Key Specifications
1 x Beauty Balm 60ml
1x Marshmallow Soften and Rejuvenate Facial Oil 30ml
100% Natural
Concentrated formula
Fragranced or unfragranced
This facial skincare set is designed to be a complete care system for your face. The brilliant Beauty Balm can be used to cleanse and remove make-up, including waterproof mascara, and also doubles up as a nourishing moisturiser for the day. Adding the marshmallow facial oil to your night-time regime completes the care system. It includes many polyunsaturated fatty acids (essential to maintaining a good skin barrier which keeps moisture in and pathogens out). Plus, marshmallow root extract is incredibly hydrating and softening. It's known as an anti-aging herb, but we think we should all delight in growing older and, hopefully, wiser.
At Lyonsleaf they call their philosophy 'The Republic of Natural Skincare', crafting their blends with homegrown herbs, nourishing plant oils, organic beeswax, minerals, and… nothing else! Lyonsleaf products are hand-made in the UK by workers earning a living wage.
£32.50 | SHOP NOW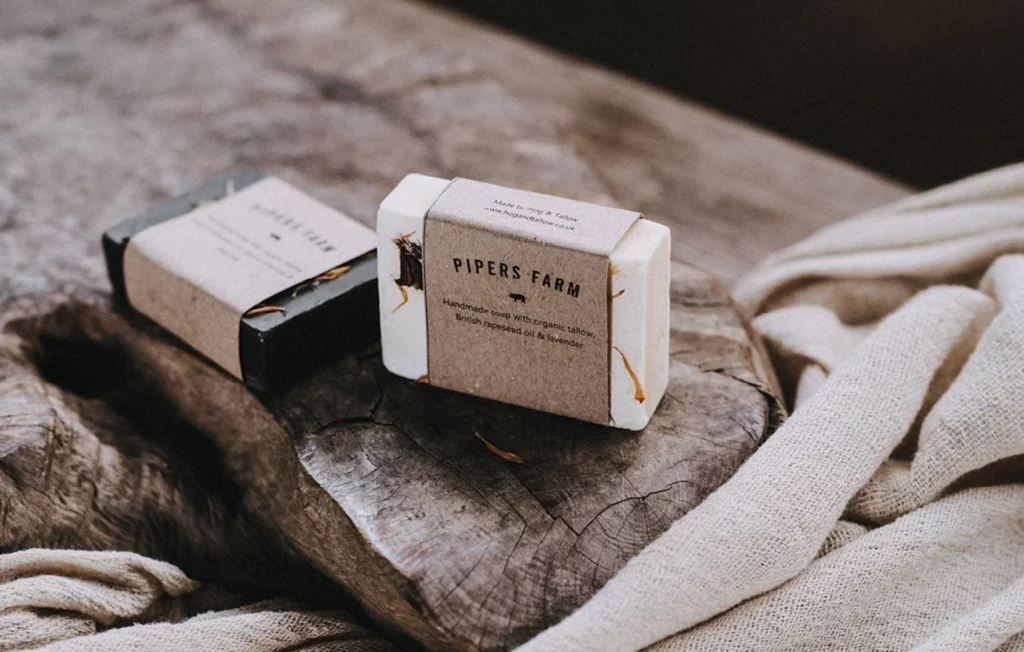 Key specifications
Only contains natural ingredients, inclusing grass fed tallow and botanicals
Free of palm oil
Low carbon footprint
Three scents to choose from
Available in floral lavender, cleansing charcoal, or malted milk topped with a selection of beautiful, organic dried petals, these soaps are entirely natural and palm oil free.
These soaps are infused with British rapeseed oil and waste ingredients such as ale, milk, and cider. All the ingredients are either foraged or collected from small cottage industries that are willing to give Pipers Farm their waste. Tallow itself is a by-product of the meat industry and a traditional ingredient in soap. The result is a gorgeous smelling soap that is rich in vitamin E and helps to improve the protective barrier, prevent moisture loss and contribute to the appearance of healthy-looking skin.
£4.95 each | Shop Now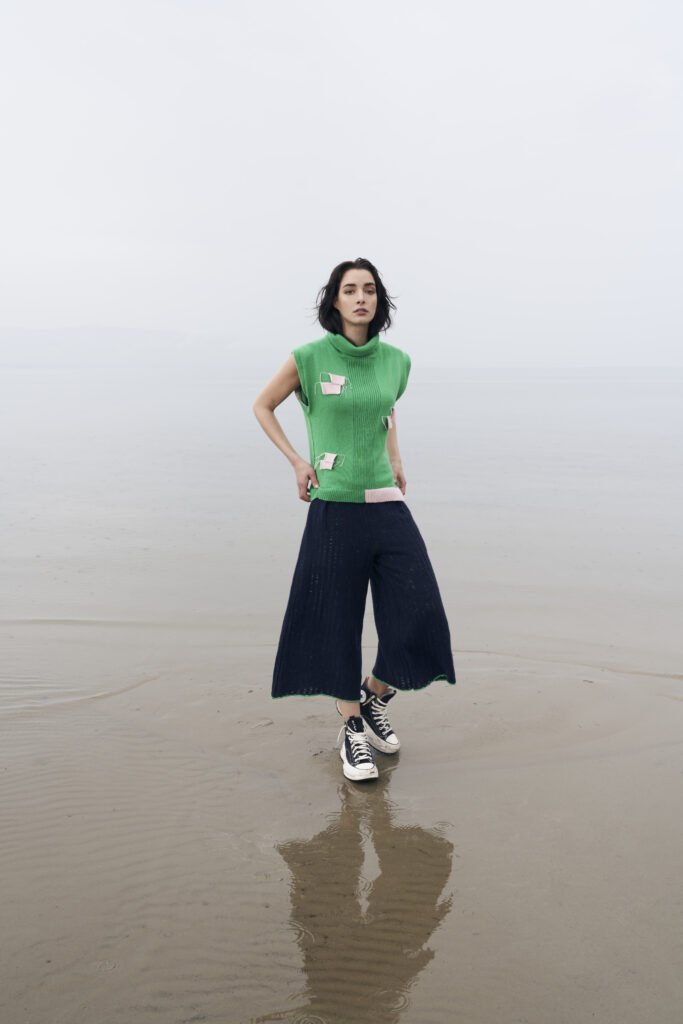 Key specifications
100% ethically sourced Mongolian cashmere
Zero waste ethos
Each item is made to order
Made from left over yarn that would otherwise have gone to waste
Made using hand powered vintage knitting machine
Distressed texture
Unisex
Available in two colours
Cashmere is such a luxurious gift, especially at Christmas, but it can be hard to know if it's from a sustainable source. That's where Valentina Karellas' collection comes in, as not only is every item excellent quality, she follows a zero waste ethos by using premium materials that would otherwise have gone to waste. Her signature look is to leave the loose strands of yarn on her pieces, instead of cutting them off, which showcases the zero waste idea and the rawness of her knits.
The cashmere is ethically sourced in Mongolia, and Valentina uses hand powered vintage knitting machines, meaning every piece uses zero energy. The brand champions gender fluid designs, too.
This sleeveless roll neck comes in one size, is made from 100% cashmere and features 3D patches in a contrasting pink.
£290 | SHOP NOW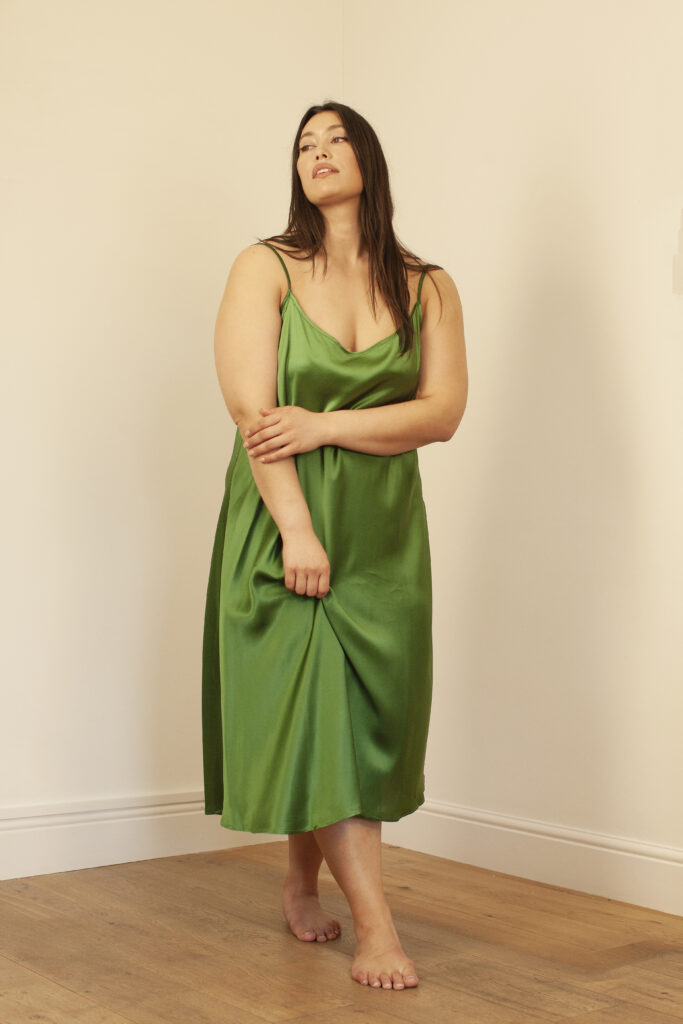 Key specifications
100% Mulberry silk
Made to order
Sizes 6-28
Available in 10 colours
Designed in the UK and made in Bulgaria, which is known for its top quality skills in making clothes and outerwear, founder Lora Nikolaeva also hails from the country and is an expert in all things textile design and manufacturing. Her chic and timeless designs aren't about what's in fashion, but what will transcend fashion trends and always look good.
The slip dress is made from 100% Mulberry satin silk, and is one of the collection's key pieces, which can be dressed up or down to take you from festive parties to winter walks. Although it's not made to measure, it is made to order, so each item can be created to suit different body types. The brand also really champions size inclusivity, running from sizes 6 to 28, across 10 colours.
£170 | SHOP NOW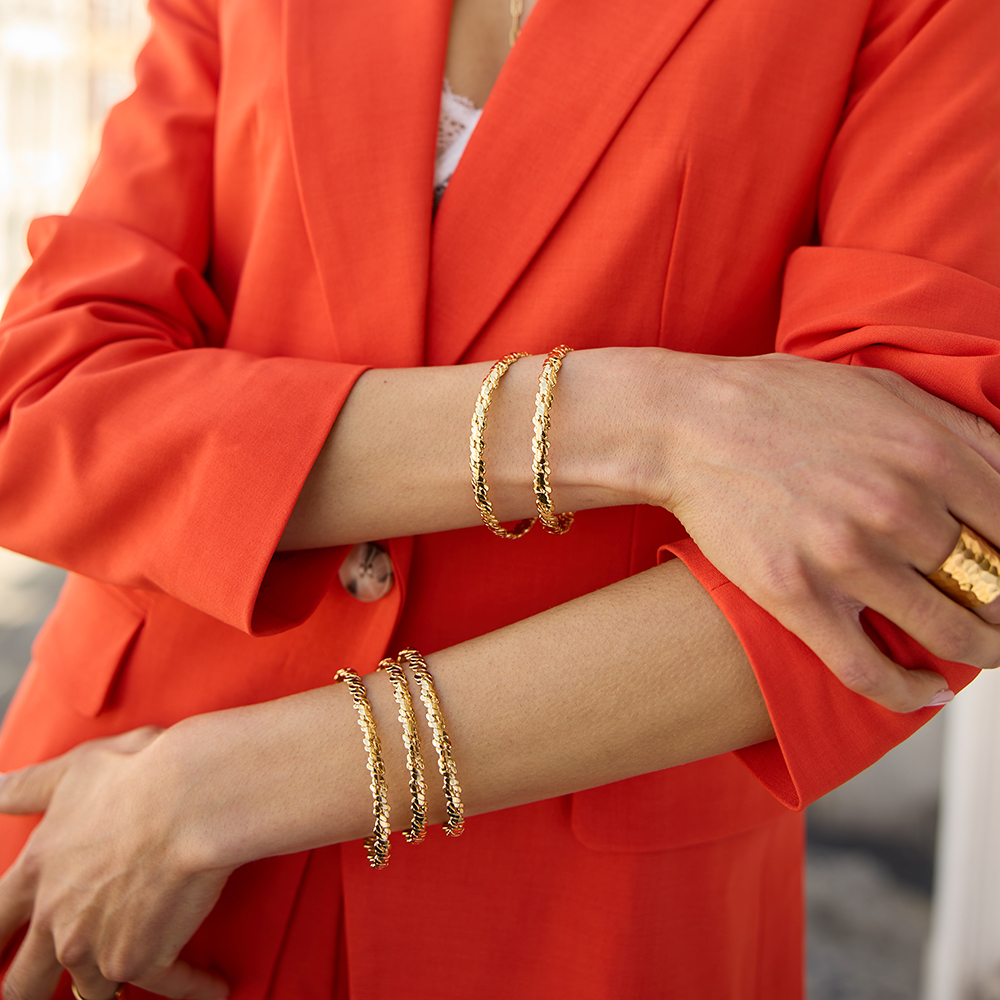 Key specifications:
Recycled brass dipped in several thick layers of recycled 14 Carat Gold.
Handmade in London
Dimensions: 0.4 cm x 6.5 cm
The Otto Twisted Gold Bangle is purposely designed to fit any wrist size. The delicate design looks beautiful on its own, or you can wear several together for a more statement look.
Amadeus' philosophy is "look good, feel good, and do good". They offer their customers more conscious jewellery choices by using recycled gold and silver and purchasing pre-loved stones second-hand. They are dedicated to in-house production in London.
£90 | SHOP NOW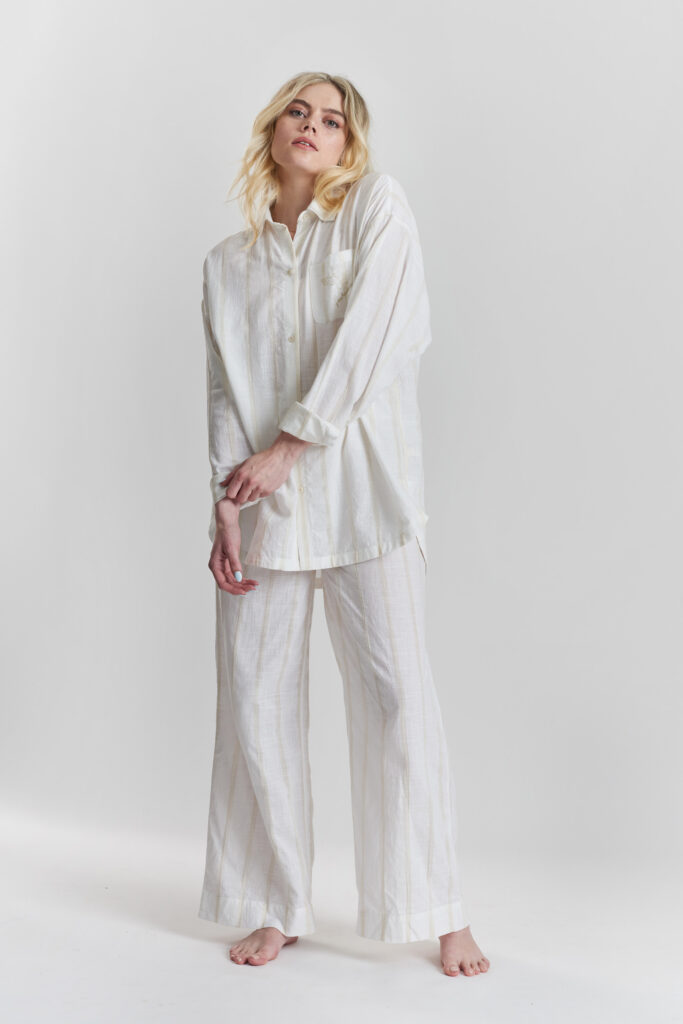 Key specifications
100% ethically sourced cotton
Made in India
Sizes XS-XL
Receiving a pair of PJ's for Christmas feels like a rite of passage. And, if you're looking to step up your PJ game this year with a pair that is cute, comfy and kind to the planet, look to Peachaus. It's an all-round fab women's lifestyle brand that sells contemporary feminine sleepwear, underwear and leisurewear in an array of understated soft colours.
Their chic range of matching pyjama sets, which feature pastel stripes, gingham checks and beautiful embroidered designs, are consciously crafted from responsibly sourced fabrics.
These are the kind of pyjamas you'll want to lounge in on the sofa with a coffee in hand, all winter long.
Prices vary | SHOP NOW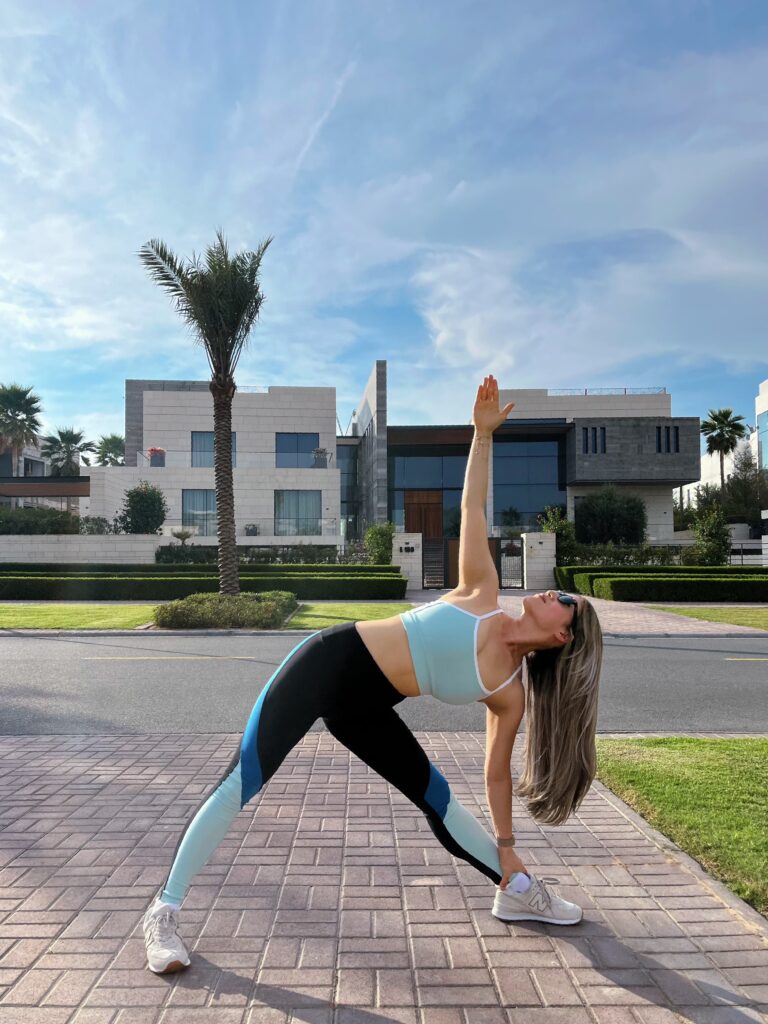 Key specifications
Certified Cradle to Cradle Product
Made from organic cotton
Made in Europe inline with Social & Fair Work Conditions
When it comes to sportswear, the elastane which gives leggings and sports bras their stretchiness can take between a staggering 20 and 200 years to decompose, depending on how much elastane is in the product.
Wellicious is Cradle to Cradle certified, meaning its entire lifespan – from manufacturing through to composting – is fully taken care of. When the products do come to the end of their lives, Wellicious will take them back and properly compost them.
£79 | SHOP NOW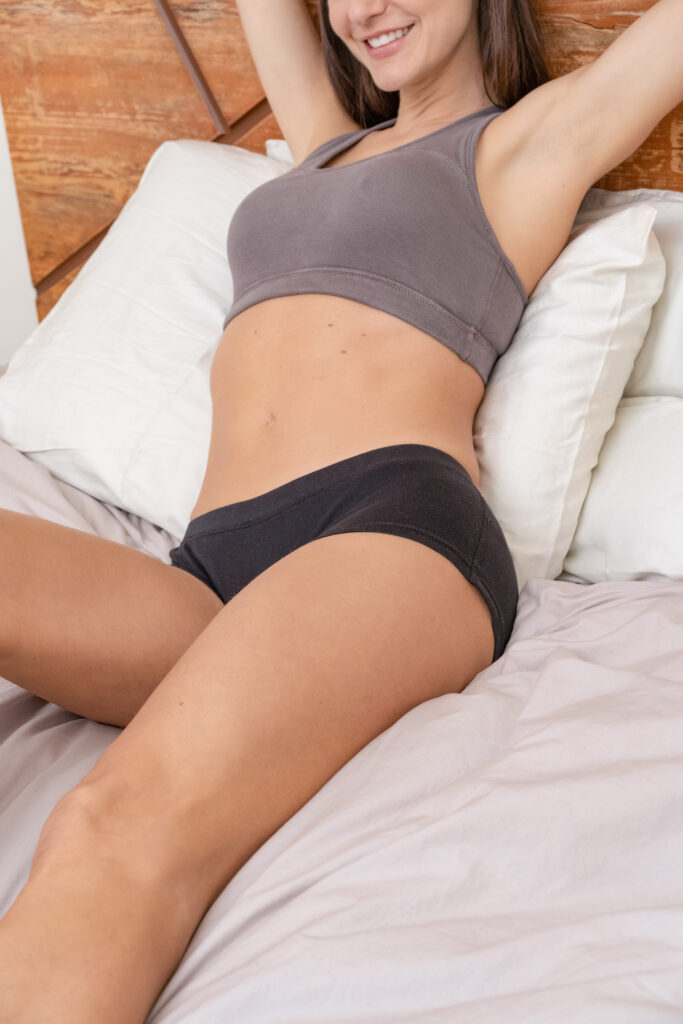 Key specifications:
Plastic-Free materials
100% Organic Pima Cotton
Low impact or natural dyes
Sizes XS – XXL
Seven colours available
This underwear is silky soft and designed to last. AYA's organic panties are breathable, hypoallergenic and also plastic-free. The fabric is 100% Organic Pima Cotton. Pima is luxuriously soft on the skin and high quality. Great for everyday wear as well as for yoga and other exercise.
$20 (£15.90) | Or three for £42.05 | SHOP NOW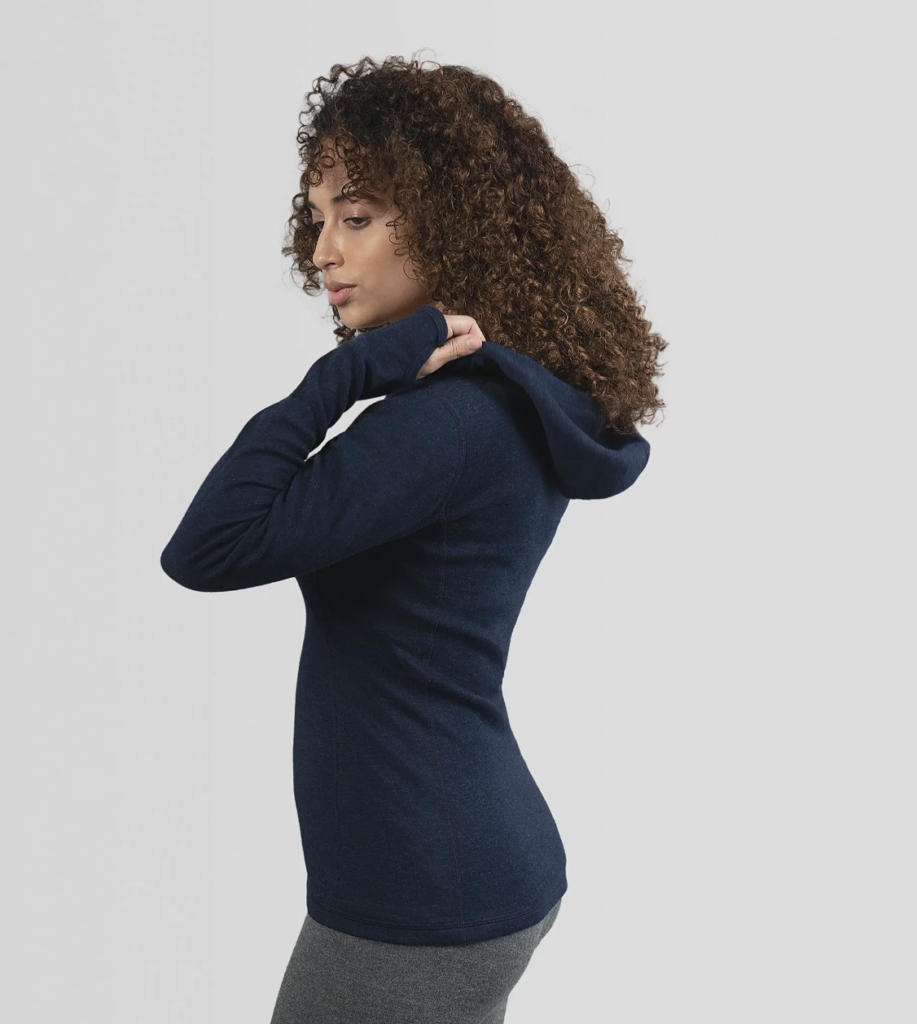 Key specifications
Made from Royal Alpaca wool, the best quality
High-performance apparel
Developed in the Andes Mountains
100% plant dyes
Available in Navy, Black and Grey
Size XS-XXL
Developed in the Andes Mountains, this form-fitting, high-performance 100% Alpaca Wool Hoodie is lightweight, soft and breathable – the perfect gear for outdoor sports, travelling, and everyday use.
Alpaca Wool is moisture-wicking and naturally odour resistant helping to keep you protected, clean, and comfortable on your adventures. Another bonus, it requires less washing.
It is available in a variety of colours, using low-impact or natural dyes.
From £70 | SHOP NOW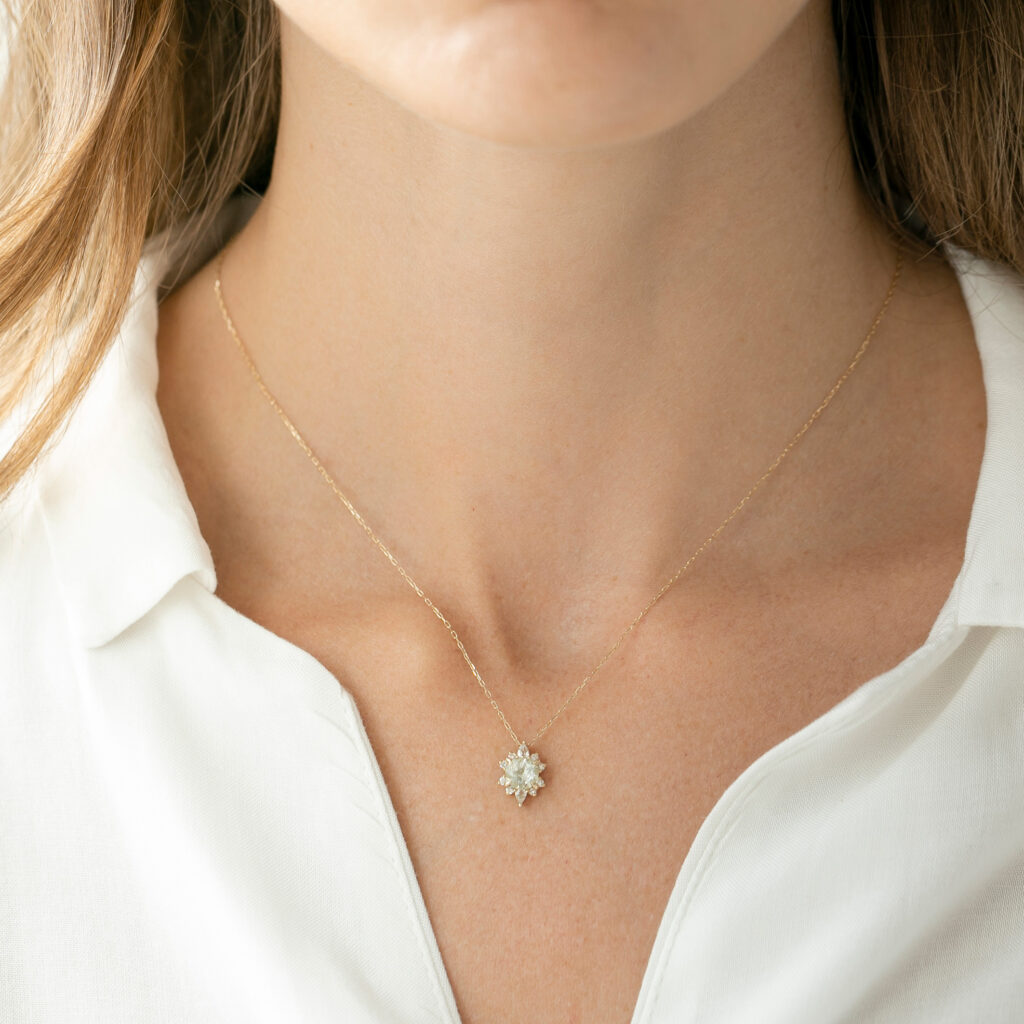 Key specifications:
Pear cut green amethyst at the centre
Round cut lab grown diamond petals
Yellow gold chain
Cornwall-based Ethica Diamonds mantra is "kind, not mined." This sparkling lotus flower choker necklace has a pear cut green amethyst at its centre, encircled by round-cut lab grown diamond petals.
Lotus flowers bloom beautifully each morning from murky waters so this necklace represents purity and resilience.
Karensa, of Cornish origin, means "love".
£504.43 | Ethica Diamonds | SHOP NOW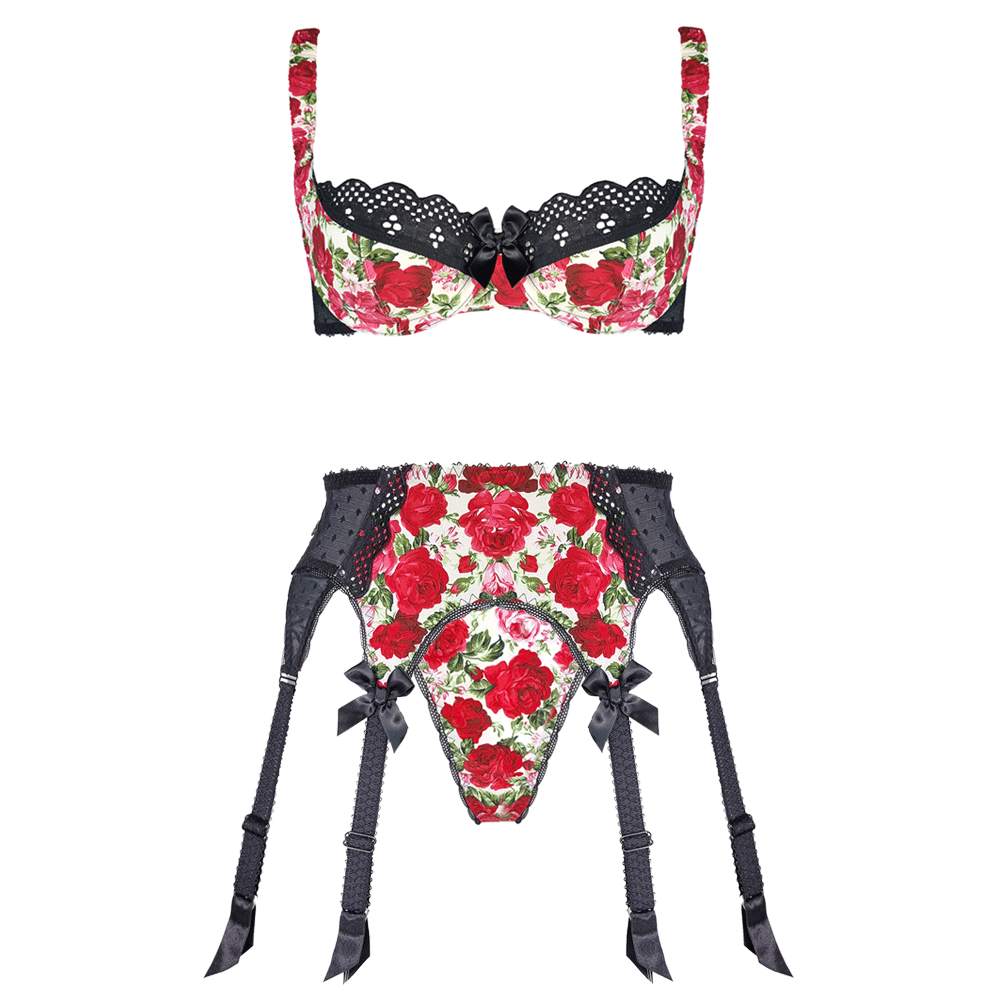 Key specifications
Made from upcycled materials
Wide range of sizes available in ready-made designs
Option for individually custom made orders
Not all underwear is made equal, and proving this is Buttress & Snatch founder Rachel Kenyon. Rachel makes her creations from vintage materials she's spent the past 20 years of her career collecting, which have mostly come from dead stock and are ready to be upcycled. But one of her most unique offerings goes beyond the usual realms of lingerie, which makes a really unique gift. It's more art than just underwear, as she makes new lingerie out of an old (but much-loved) item of clothing like an old shirt or dress, resulting in a totally individual and personalised gift.
Though there are ready made designs you can buy in a wide range of sizes, like this pretty and quintessentially Old English rose print bra. Make it a matching set with the knickers and suspenders in the same print.
£112 | SHOP NOW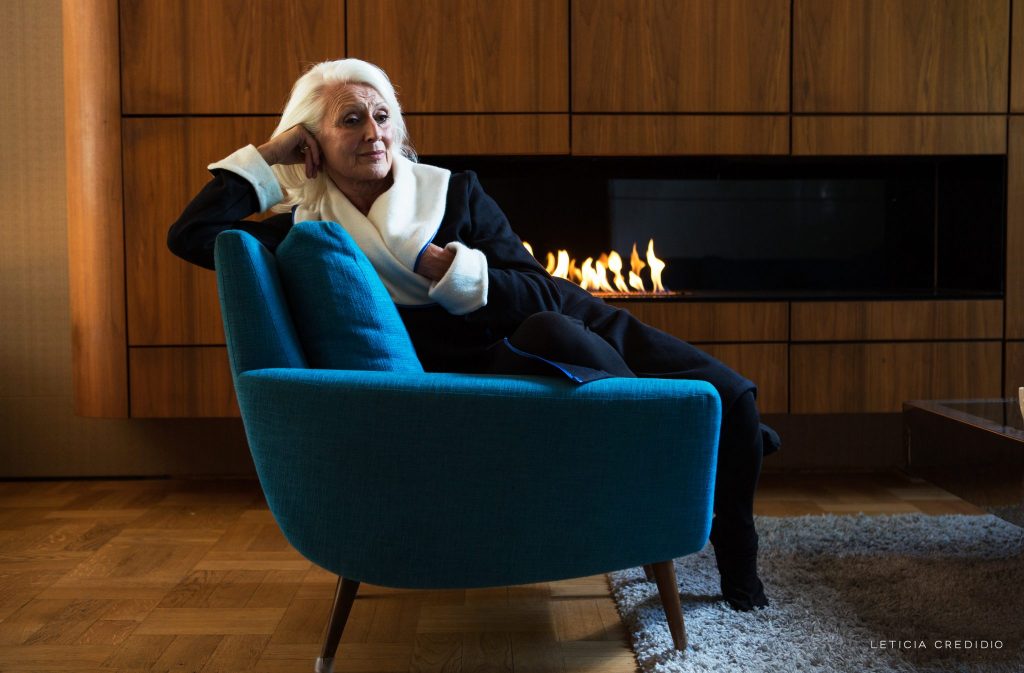 Key specifications
Made in Italy
Uses organic sweatshirt fabric (flannel/brushed cotton) from Spain and Portugal
Seams covered with soft Italian ribbon
Organically dyed
Vegan
Sizes 8-10, 12-14
Luxury sleepwear and loungewear brand Leticia Credidio is made by an Italian-Japanese-Brazilian designer of the same name, who is based in East London.
The designs are heavily inspired by the natural world, from the ocean to birds and are designed to be worn as loungewear as well as sleepwear – although they're so comfortable you just might want to wear them all the time…
The Magpie Housecoat is a super cosy nightgown made from quality materials, including organic sweatshirt fabric from Spain and Portugal, which is finished to a very high standard and uses organic dyes.
£175 | SHOP NOW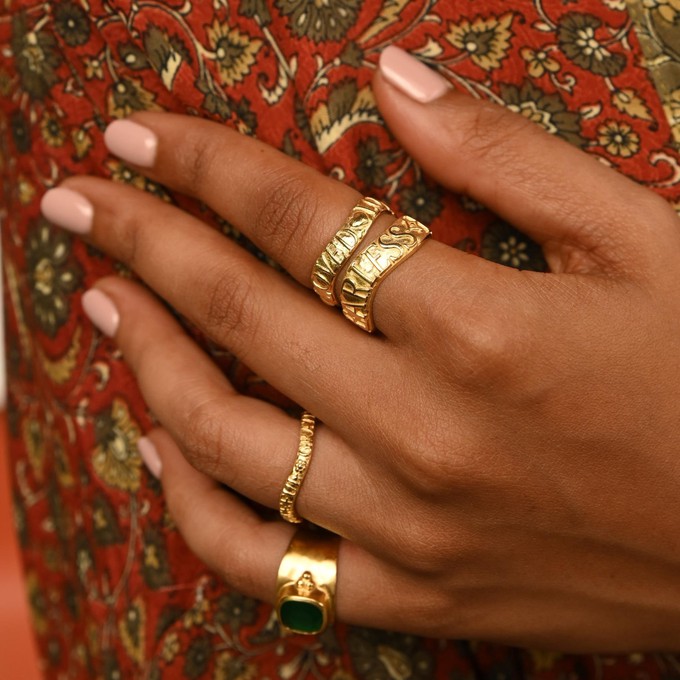 Key specifications
Fairly made in Jaipur, India
WFTO (Fair Trade) certified and provides training and employment opportunities to vulnerable or displaced artisans
Made in a workshop run on solar energy
Handmade using slow, traditional craft techniques
Engraved with the words 'I am' on the inner band, and 'Fearless' on the outer. They say: "Wear it, believe it, trust it and smile every time you look down and reaffirm it".

This ring has been crafted by a small team of marginalised artisans displaced from West Bengal, who have found sustainable livelihoods through their skill in making beautiful pieces like these. They are certified by the World Fair Trade Organization.
Packaging: each piece comes packaged in a soft organic pouch, which has been lovingly made by some of Jaipur's most vulnerable women, who are bettering their lives through the income from the block printing, tassel making and stitching of these very pouches. No two are the same, each one beautiful in its imperfections.
£89 | SHOP NOW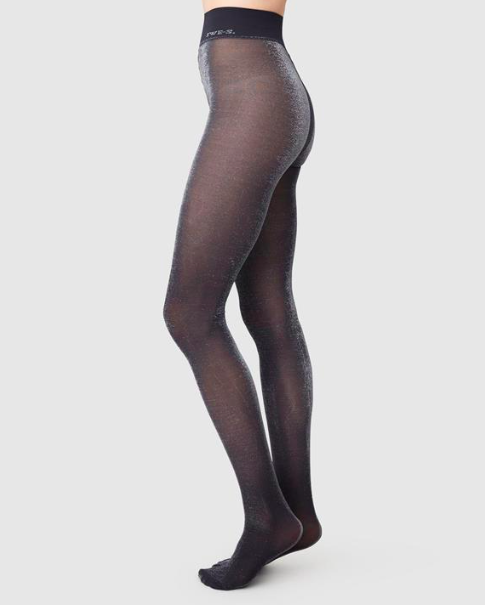 Key specifications
Soft and broad waistband
Flat seams
Toe reinforcement
Cotton gusset
Knitted from recycled yarn
As soon as the clocks go back and nights quickly draw in, it's license to don a pair of festive party tights, like this sparkly pair. They'll instantly lift any outfit and we all know a party-lover who these would be the perfect gift for. Made from recycled yarn in Italy, plenty of care and good design thought has gone into them with flat seams, reinforced toes and a wide waistband that will fit seamlessly under clothes.
£26.97 | SHOP NOW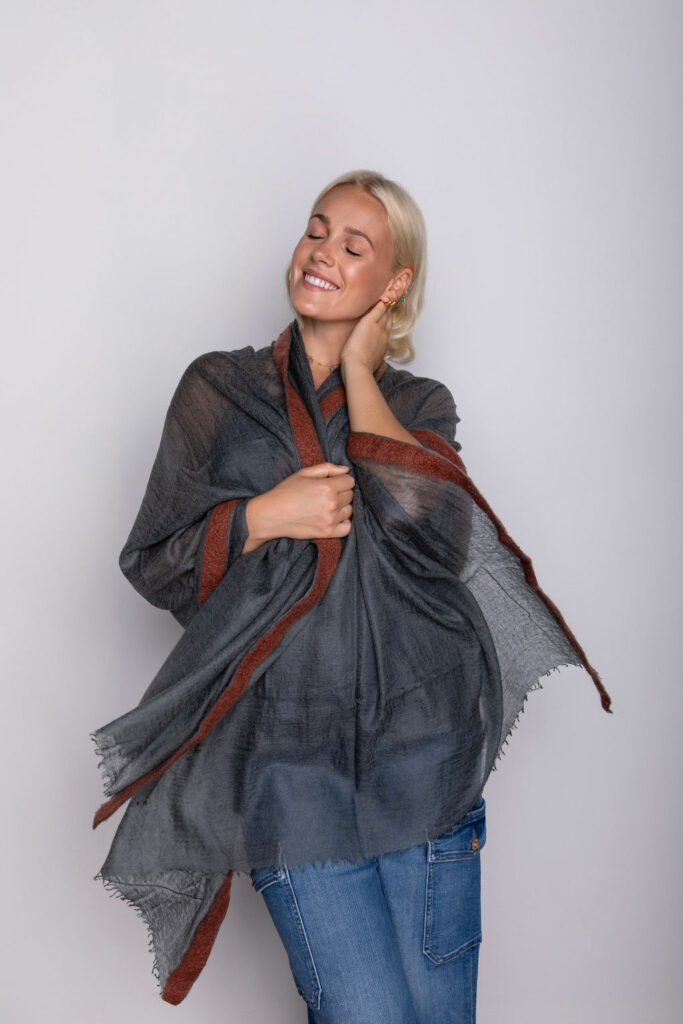 Key specifications
Upcycled 100% cashmere
Made in Nepal
Size 100×200
Made to order in 2-4 weeks
Handmade in Nepal, this 100% cashmere shawl is available in four colours. It's hand-knitted to order and features a needle-felted raw cashmere border, which adds texture and charm. Cozy and stylish, this shawl is warm, durable, and incredibly lightweight. It is the ultimate in luxury from a company that specialises in new, recycled, and up-cycled cashmere garments.
*CAZ Studio are offering a 15% discount for new customers with code: FIRSTORDER*
£285 | SHOP NOW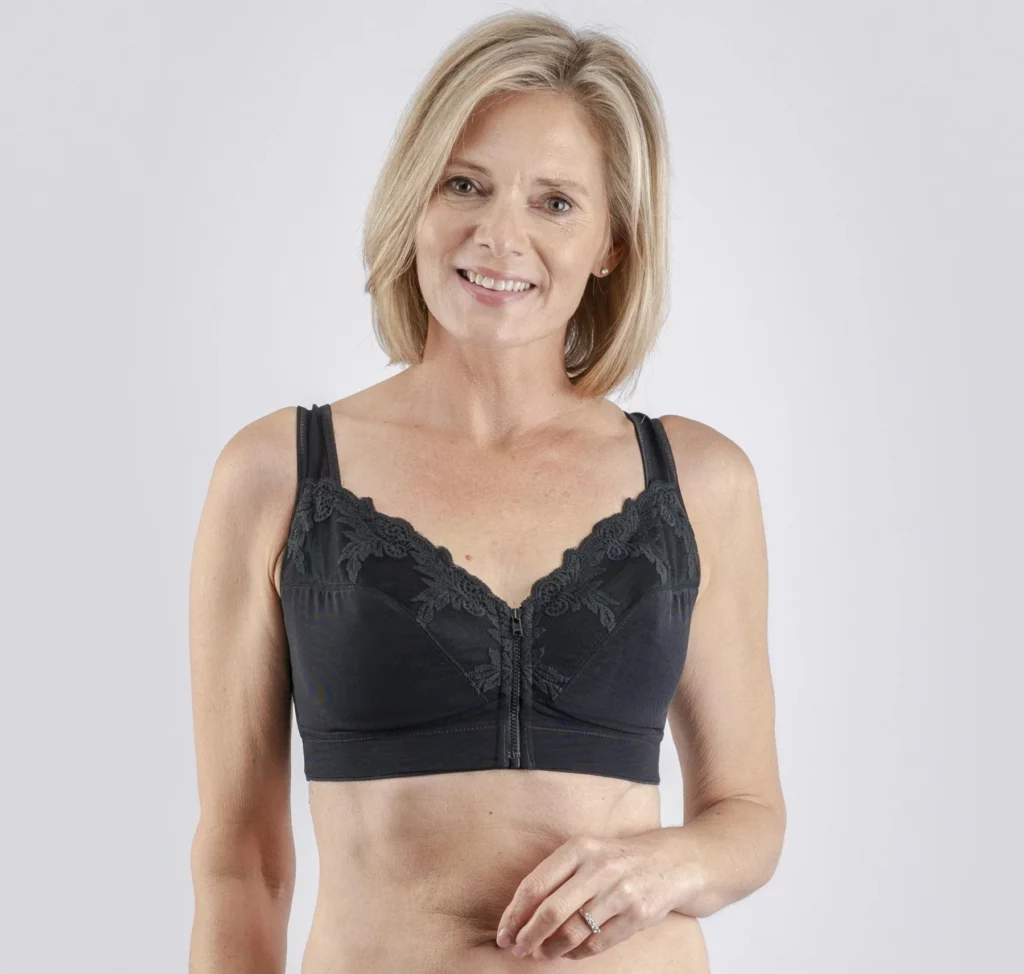 Key Specifications
Made with hypoallergenic fabric
Flattering lace overlay
Body Fabric: 78% Organic Pima Cotton, 22% Silk
Available in Red and Black
Sizes 8 – 18
Wireless
Non-padded
Adjustable
This bra is perfect for a workout as well as everyday wear. It offers a feminine, sporty look without compromising support. The criss-cross bands on the back panel help to pull the shoulders back and align body posture, which can relieve back and shoulder pain.
Juliemay is a brilliant brand that specialises in making ultra-soft, super breathable, naturally hypoallergenic bras and briefs. The brand is accredited by AllergyUK.
This supportive set is made from sustainably sourced Organic Pima Cotton and silk with delicate lace and floral detailing.
Discount code JULIEMAY for 10% off first order.
£47.50 | SHOP NOW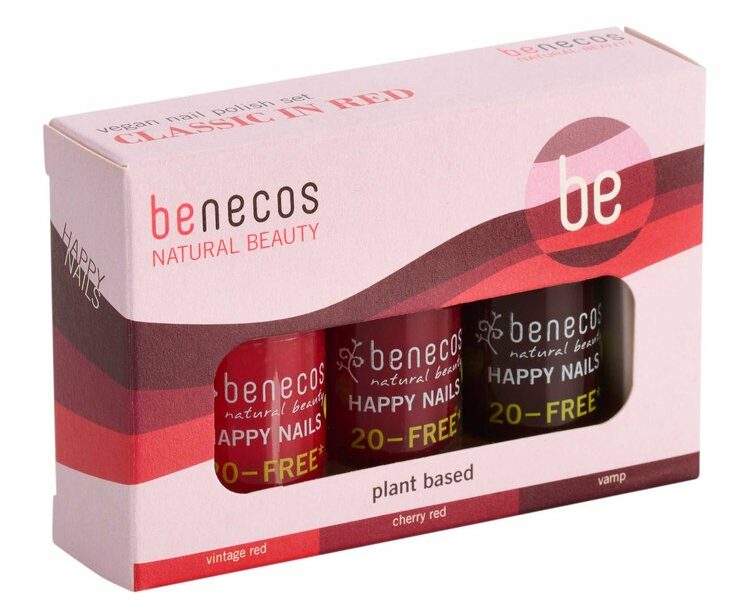 Key specifications
Plant based formulations are free from 20 harmful ingredients
Contain atleast 80% of ingredients from natural origin
Ingredients obtained from naturally renewable raw materials
Enriched with nourishing apple seed oil and biotin
Certified Vegan
Certified Cruelty Free
You can't go wrong with a classic ruby red colour when it comes to festive-appropriate nails – it's a failsafe look. Although it's always harder than said to find the perfect shade. Offering a helping hand, benecos' set includes three shades creating the perfect winter colour palette: vintage red, cherry red and vamp.
They're vegan and plant based, with around 80% of ingredients coming from natural origins. The formulas also include nourishing ingredients such as apple seed oil and biotin that help to keep nails happy and healthy, making it a win win all around.
£11.50 | SHOP NOW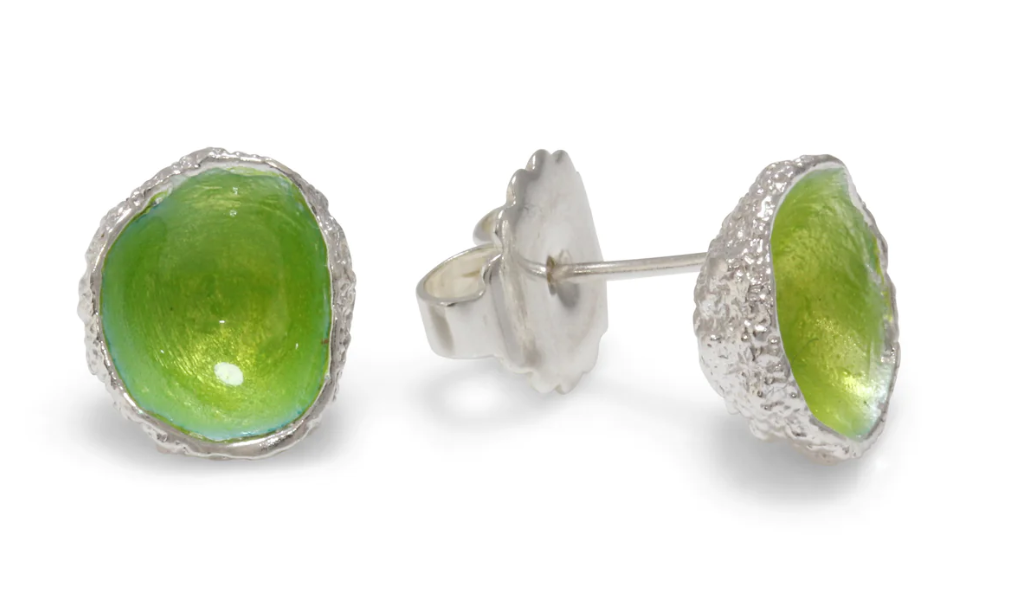 Key specifications
Made in Bristol
Enamelled acorn studs
Hand painted
Crafted in solid silver
Extra large silver earring backs
Looking for a truly unique and special gift? These mesmerising enamelled stud earrings by Eily O Connell are just that.
Designer and goldsmith Eily O Connell is heavily inspired by the natural world, and the studs feature a quirky acorn style cup shape.
They are created in an array of tones, including the pictured glowworms-inspired lime green.
Handmade, and enamelled by Eily in her Bristol based studio, these hand-painted earrings are crafted in recycled solid silver and then the enamel has been carefully fired inside the acorn.
What makes Eily O Connell jewellery even more special is that it is made with sustainability in mind. O Connell prides herself on crafting her pieces using high-quality, ethical and well sourced materials.
£105 | SHOP NOW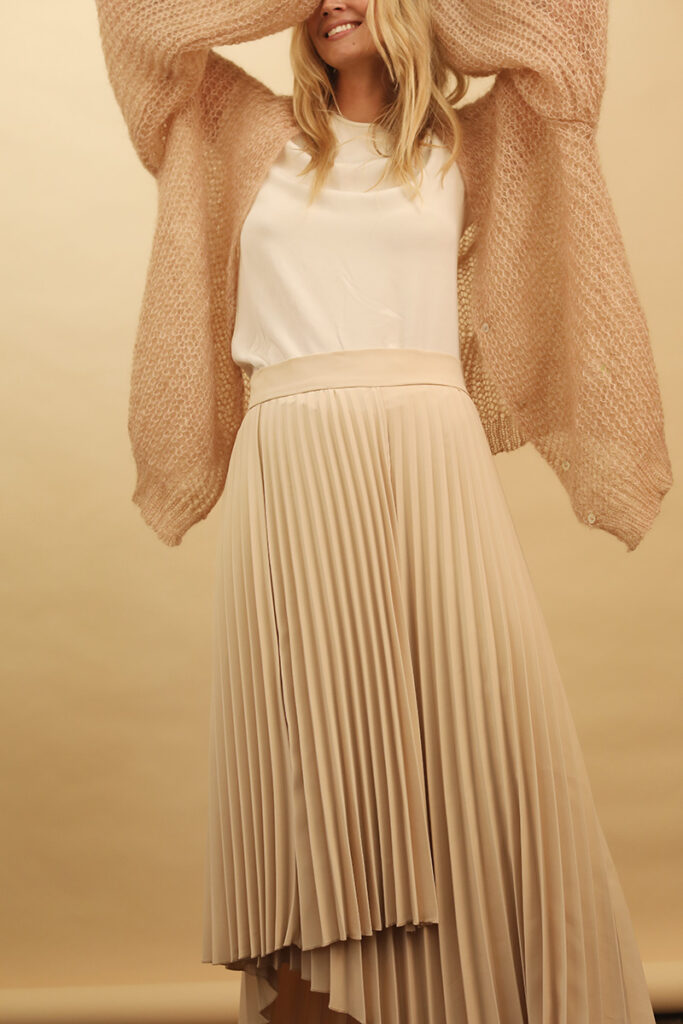 Key Specifications:
Available in ivory and beige
Sizes 8 – 28
Made from 69%Mohair, 10%Wool, 21%PA
Made bespoke: 3-4 weeks delivery time
This fluffy, cloud-like cardigan is made from mohair, making especially warm and cosy to wear. Puff sleeves are designed to fall like colourful clouds, complementing the loose silhouette and romantically finished by mother of pearl buttons at the front. This cardigan is the epitome of perfect knitwear – comfortable, elegant, cool, easy, superb quality.
Female-owned and led, Lora GENE respects the craft of garment-making and understands the intricacies of the female form. The result: clean, minimalistic, feminine wardrobe staples that boast intelligent tailoring.
£155 | SHOP NOW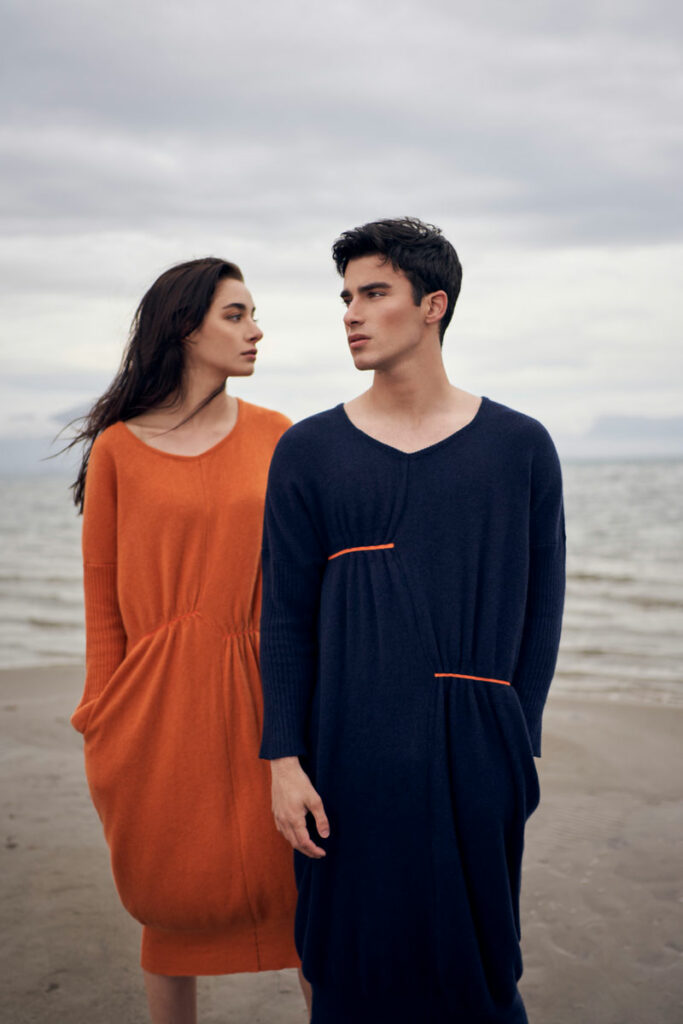 Key specifications
99% Cashmere 1% Elastane
Zero waste ethos
Each item is made to order
Made from left over yarn that would otherwise have gone to waste
Made using hand powered vintage knitting machine
Distressed texture
Unisex
Available in two colours
The Clenston Cashmere dress is super soft and comfortable, both loungewear and going out. Valentina uses hand-powered vintage knitting machines to make her designs to order, from surplus yarns making them truly zero-waste. Allow 1-2 weeks for item to be made then dispatched.
£460 | SHOP NOW
Best for Netflix and Chill: Pitod Hoodie: £89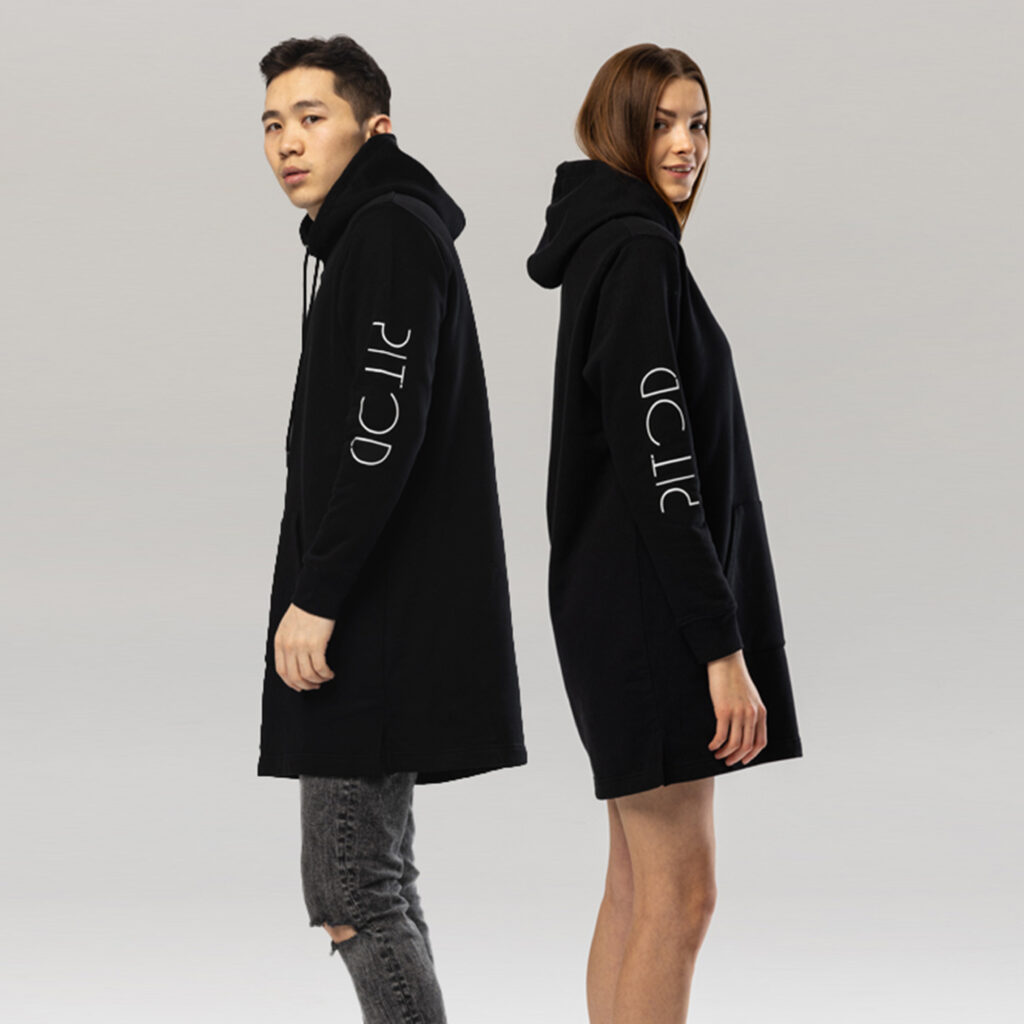 Key specifications
Made from organic cotton and recycled polyester
Double layered hood and drawstring cords
Branded sleeves
Front pouch
Available in desert dust, canyon pink, white
Sizes S-XXL
The ultimate loungewear item is a hoodie, perfect for keeping you cosy whether it's relaxing on the sofa, or for keeping warm while heading out to an early morning gym class.
The hoodie is made with organic cotton and recycled polyester, it's super soft and features the Pitod logo down both of the sleeves.
Pitod's streetwear styles are genderless and the brand as a whole focuses on sustainability and social responsibility as a member of 1% for The Planet, as well as being certified B Corp and a Living Wage Employer.
£89 | SHOP NOW
Best for comfortable underwear: Pantee Crop Bra: £30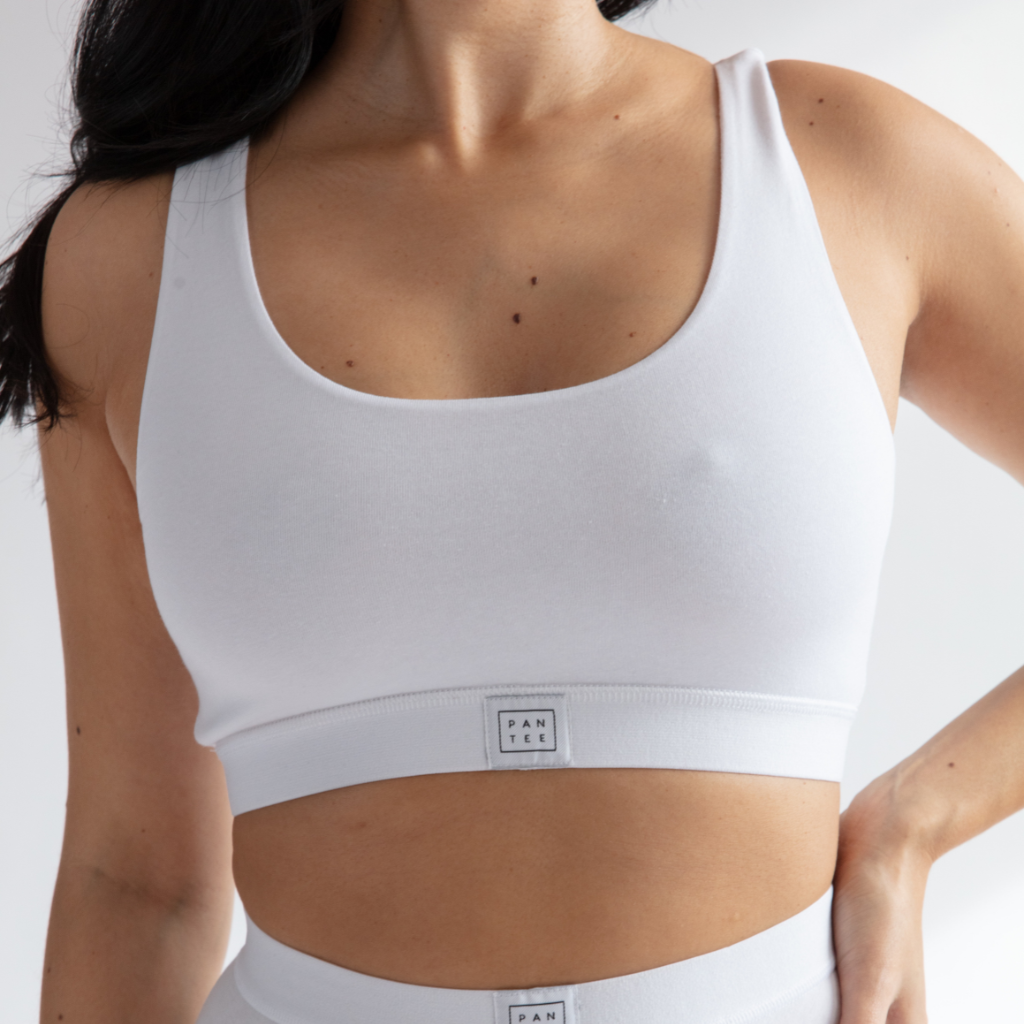 Key specifications
Free of wires
Made using deadstock, high-quality, double layered cotton
Longline fit and scoop back
Manufacturers paid above living wage with bi-annual bonuses
Sent in recycled and recyclable plastic-free packaging
This modern sporty style double layered crop bra from Pantee is perfect for getting comfy and cosy this winter.
Pantee tackles clothing waste head on, and since launching in November 2021 they have upcycled more than 1,500kg of deadstock T-shirts and fabrics into bras and knickers.
So not only is this bra super soft, breathable and buttery, but it's brilliantly made from reworked deadstock cotton, too. Pantee's underwear is cut and sewn in a small-scale sample room in Bangladesh where workers are guaranteed safe working conditions and fair pay.
The crop bra is available in black, white and limited edition colours. You can mix and match it with Pantee's range of brief styles, so we recommend having a browse. There's also the option to treat someone to a Pantee gift card, starting from £10.
£30 | SHOP NOW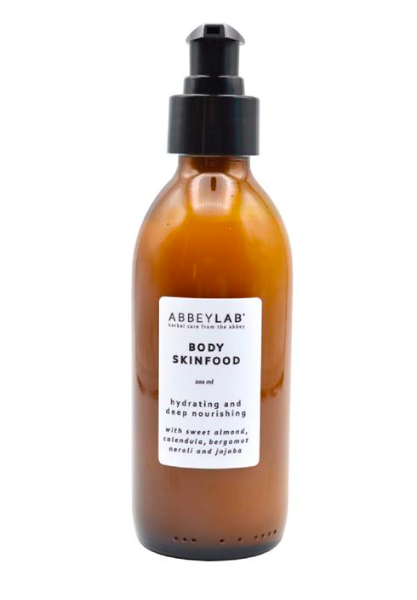 Key specifications
Made from 100% natural materials
Cruelty free
Doesn't contain ithout chemicals
No artificial odour
Forget all other body moisturisers that have come before, as this will be your new go-to. Not only is it super moisturising thanks to the jojoba and sweet almond oil extracts that help nourish the skin, but it also gives your skin an instant glow.
There's a hint of neroli, rose, vanilla and patchouli too, which gives it a subtle mood-boosting scent too.
£20.45 | SHOP NOW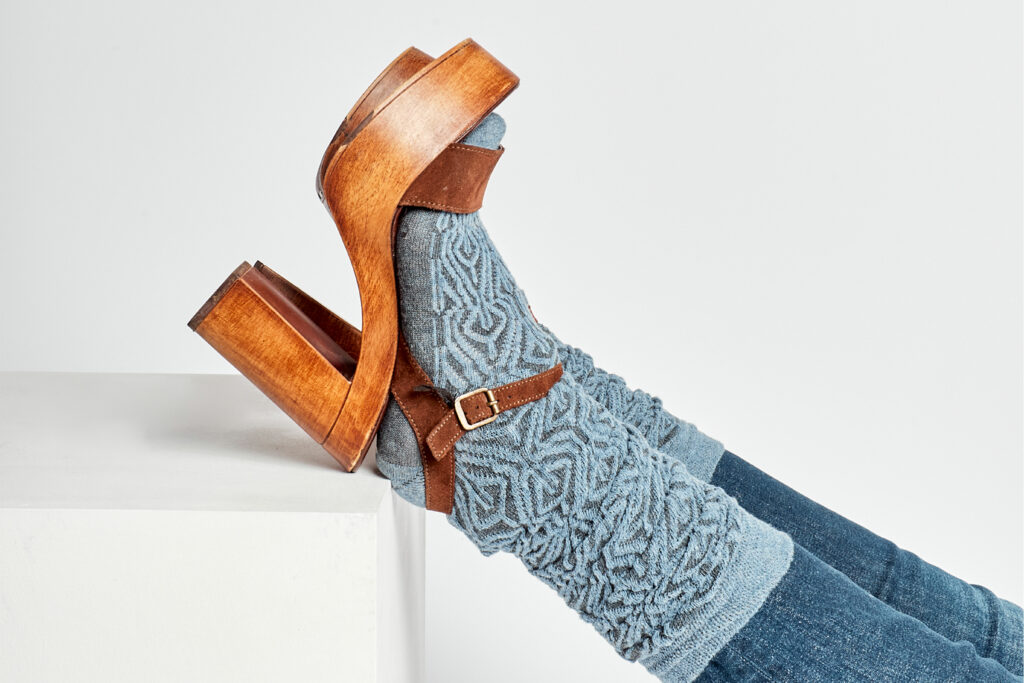 Key specifications
Made in Italy
80% Organic Cotton 17% Nylon 3% Elastane
Sizes: UK 4-8, US 6-10, EURO 37-41/42
Forget novelty socks, instead fashionistas will love unwrapping a pair of sustainable organic cotton socks that really jazz up and accentuate your favourite pair of denim jeans. Throughout founder Emma Brown's fashion career, she's noticed that although denim styles change, our favourite colours don't.
So she's created socks to match them, in varying lengths, from beautiful ankle socks to over the knee, like this feather patterned pair, which add a little bit of individuality to your denim. Think of them more as accessories for jazzing up an outfit, rather than only seeing them for their functional use. The Indigo sock range is perfect for styling with indigo and mid-wash coloured denims and the Stone Wash sock range is designed to complement mid-wash, stone wash, and white coloured denims.
20% off whole order enter code: LIVEFRANKLYSOCKS20 ends midnight 17th December 2024
£30 | SHOP NOW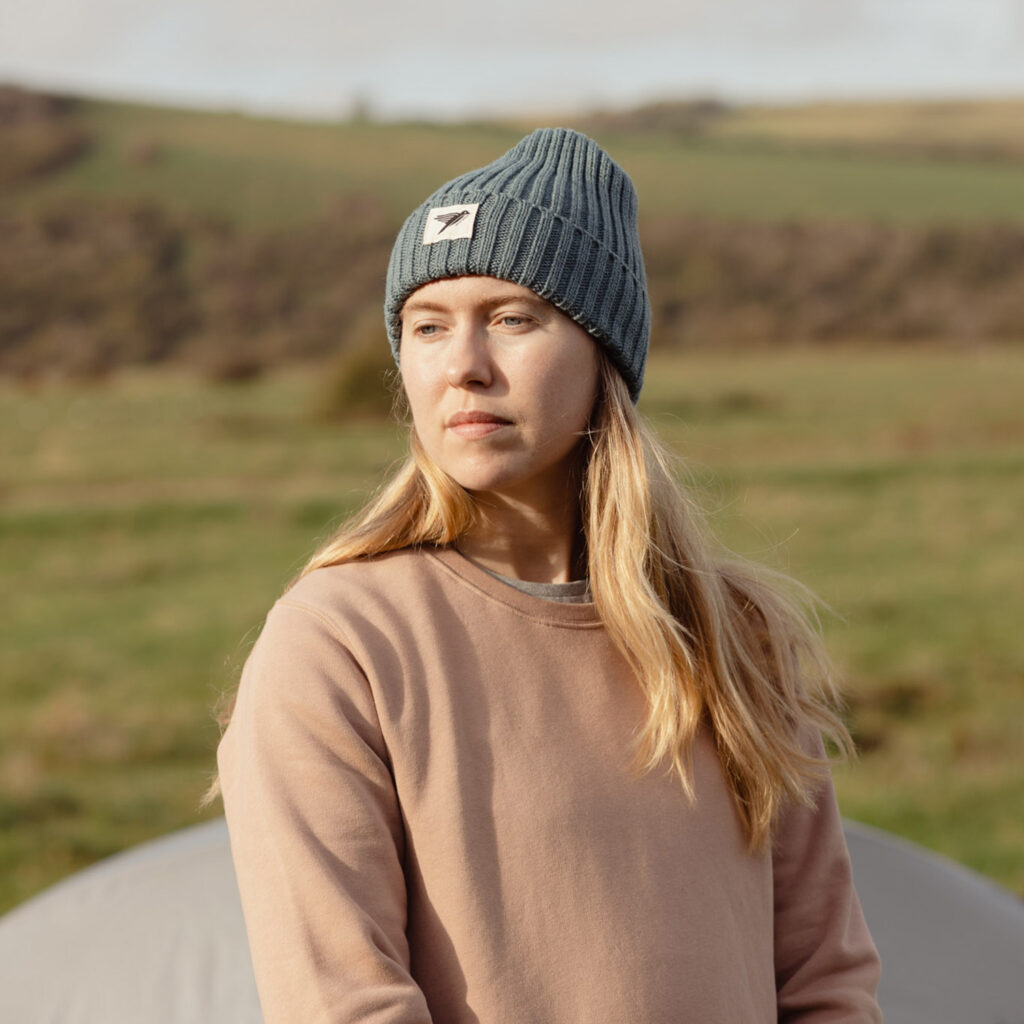 Key specifications
Made in Britain
100% merino wool
Tight rib knit
Organic cotton printed label
Available in 9 colours
Everyone needs a cosy beanie hat for the colder months. This chunky ribbed beanie has been made in Britain following traditional knitting methods and uses super soft fine grade merino wool that's been dyed with chlorine-free textile dye. The material is also temperature regulating, so you won't overheat while wearing it, even if you're out on a rigorous stomp.
It was made with adventurers in mind, and this blue tone was inspired by the ocean, but there's eight other colours to choose from too, including citron, rosa, red, grey and navy.
£30 SHOP NOW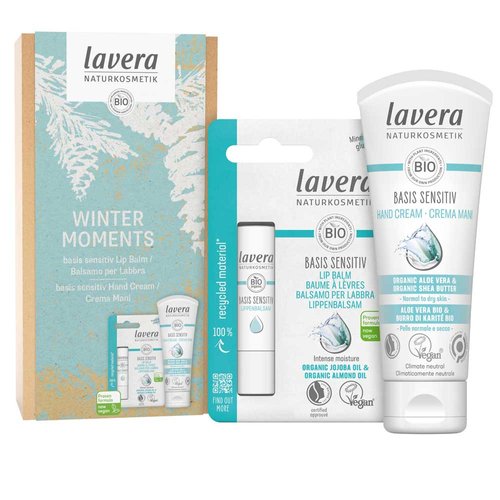 Key specifications
Made with organic ingredients
Certified PETA
Certified Vegan
Plastic free packaging
The cold winter weather can be harsh on skin, especially lips and hands, so this gift set could be just the ticket to help hydrate and protect skin. Containing two little life-savers, a lip balm and a hand cream, it's a stocking-worthy gift that comes in well under £10 and helps prevent and rejuvenate chapped skin, leaving it soft and nourished.
Not only do these skincare products smell good, but they are enriched with natural, organic ingredients, such as organic Aloe Vera and Shea Butter in the hand cream and organic Jojoba and Almond Oil in the lip balm, which all help to care for the skin when the mercury drops.
It's no coincidence the name lavera is derived from the Latin for 'truth'. lavera's vision is about making truly good natural skincare for everybody. They are certified by NATRUE, PETA and The Vegan Society.
£6.90 | SHOP NOW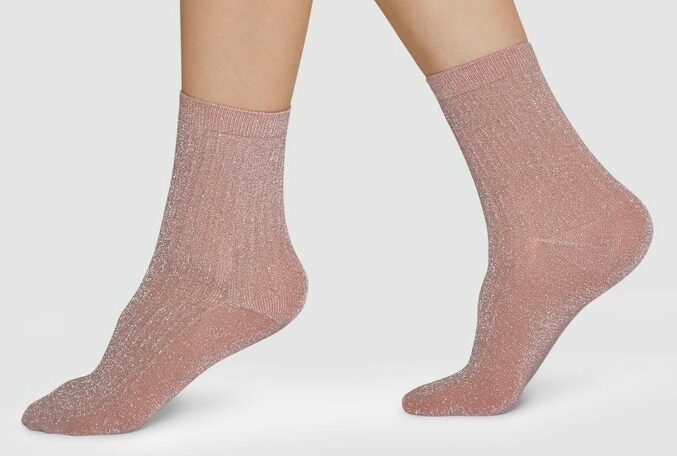 Key specifications
40 denier shimmery socks
Semi-sheer
Made from recycled yarn
Made in Italy
One size
Where there are slippers, there's socks (at least, we hope there are…)
The Stella Glitter Socks made by Swedish Stockings – a pantihose brand that makes sustainable tights using recycled yarn – perfectly encapsulates the fun spirit of Christmas and New Year.
They're a great stocking filler, and are available in grey, purple and mustard, these semi opaque sparkly ribbed socks are knitted from recycled yarn in a zero-waste, emission free facility in Italy.
£16.34 | SHOP NOW