Things can get a little bit confusing when it comes to sustainable Christmas gifts. Really, we know we shouldn't be buying each other extra stuff. But, we have become accustomed to showing people we care by giving presents. And, after the past couple of Christmases we've had, spreading love and joy this festive season is more important than ever!
Whether you're trying to be more sustainable yourself or you have friends who are trying to be more conscious, the wonderful fact is that ideas that are socially and environmentally responsible can be the gifts that keep on giving. Here's our pick of some of the best ethical and sustainable Christmas gift ideas…
SUSTAINABLE CHRISTMAS GIFTS FOR FRIENDS AND FAMILY
The Tea Box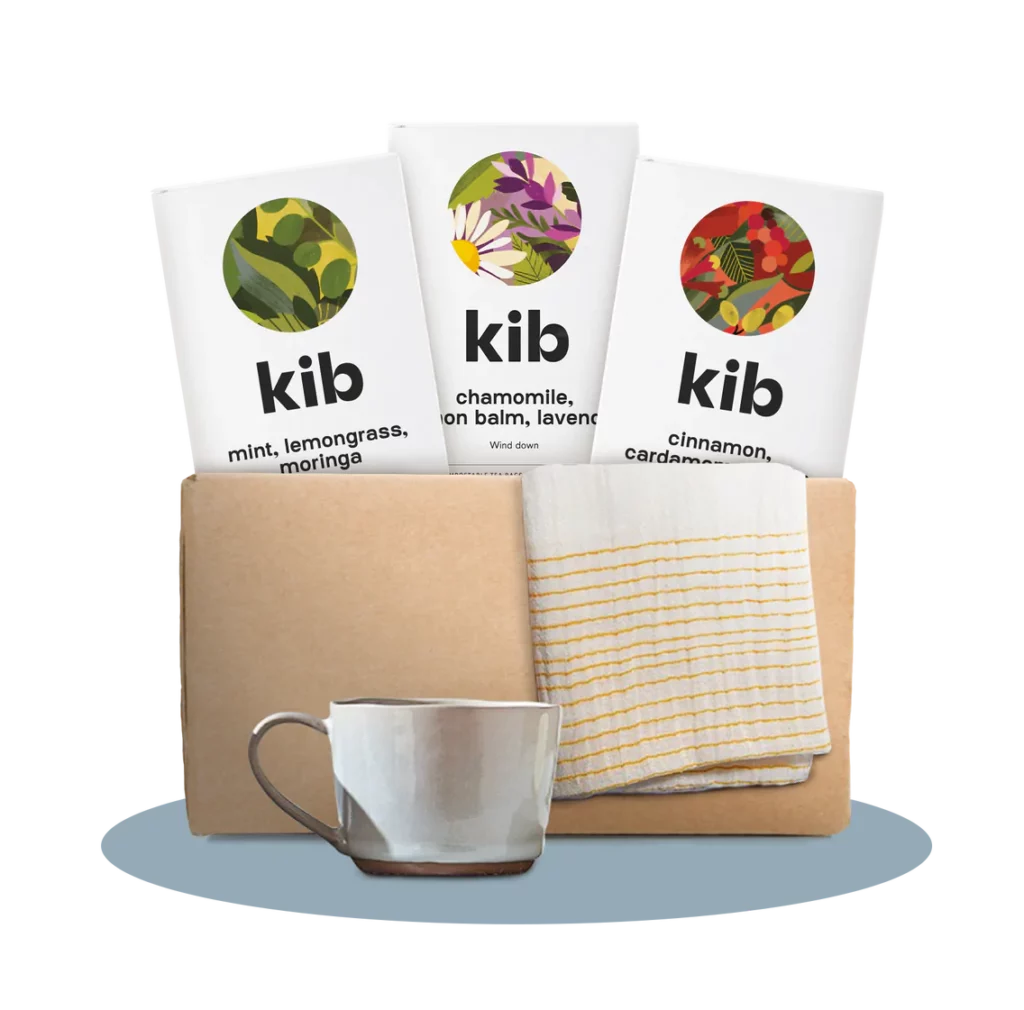 Kib Teas are all about making deliciously fragrant and flavourful teas, from regeneratively grown ingredients from Ethiopia, Sri Lanka, and Tanzania. This means the farming methods give more than they take from the soil and the environment. It also means they work with small farms, including many that are female-led and pay more than the minimum wage. Oh, and all the packaging is recyclable and compostable, too.
Kib Tea's The Tea Box, featuring a Sabahar tea towel, a Nkuku tea cup, and a season's worth of Kib tea Tea, is the perfect winter survival kit.
£30 | SHOP NOW
Gift Voucher for Migrateful's Refugee & Migrant-led Cookery Classes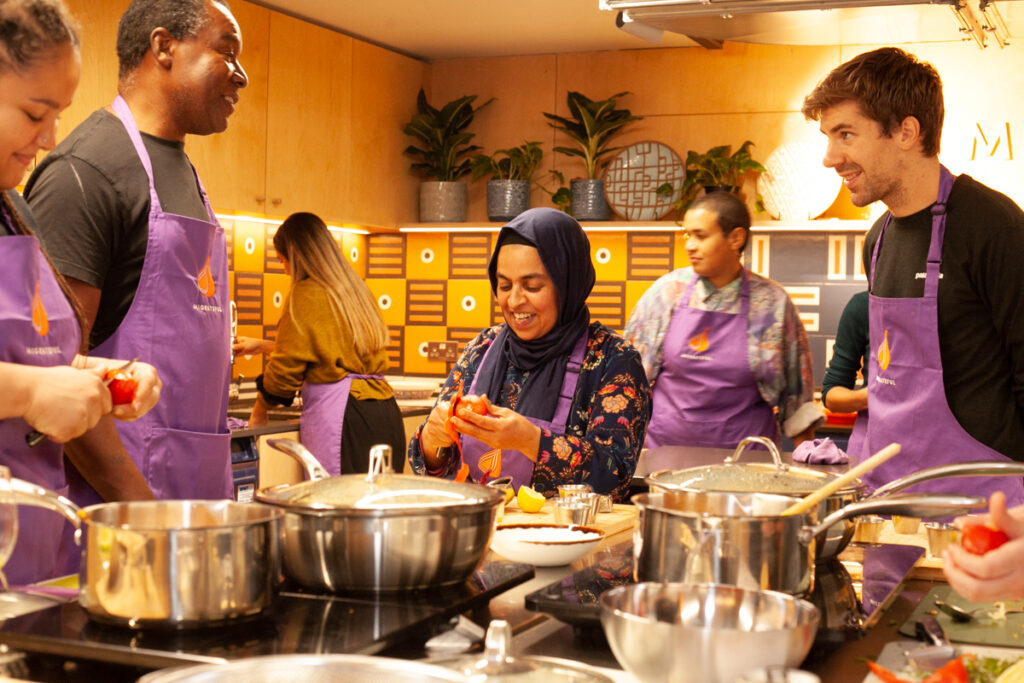 This Christmas, treat someone to a truly rewarding experience!
Migrateful is an incredible award-winning charity supporting refugees and asylum seekers on their journey to integration by preparing them to run cookery classes.
Over the past 5 years, they have supported over 97 Migrateful chefs through more than 2000 classes. Its no wonder they have high profile supporters in Meghan Markle, Yotam Ottolenghi, Aisling Bea, and Jamie Oliver.
It goes without saying, a voucher for a Migrateful Refugee & Migrant-led Cookery Class is a wonderful, unique gift that keeps on giving.
Online voucher, £25 | London, £45 – £70 | Brighton, Bristol, Canterbury & Margate, £35 | SHOP NOW
Choose Love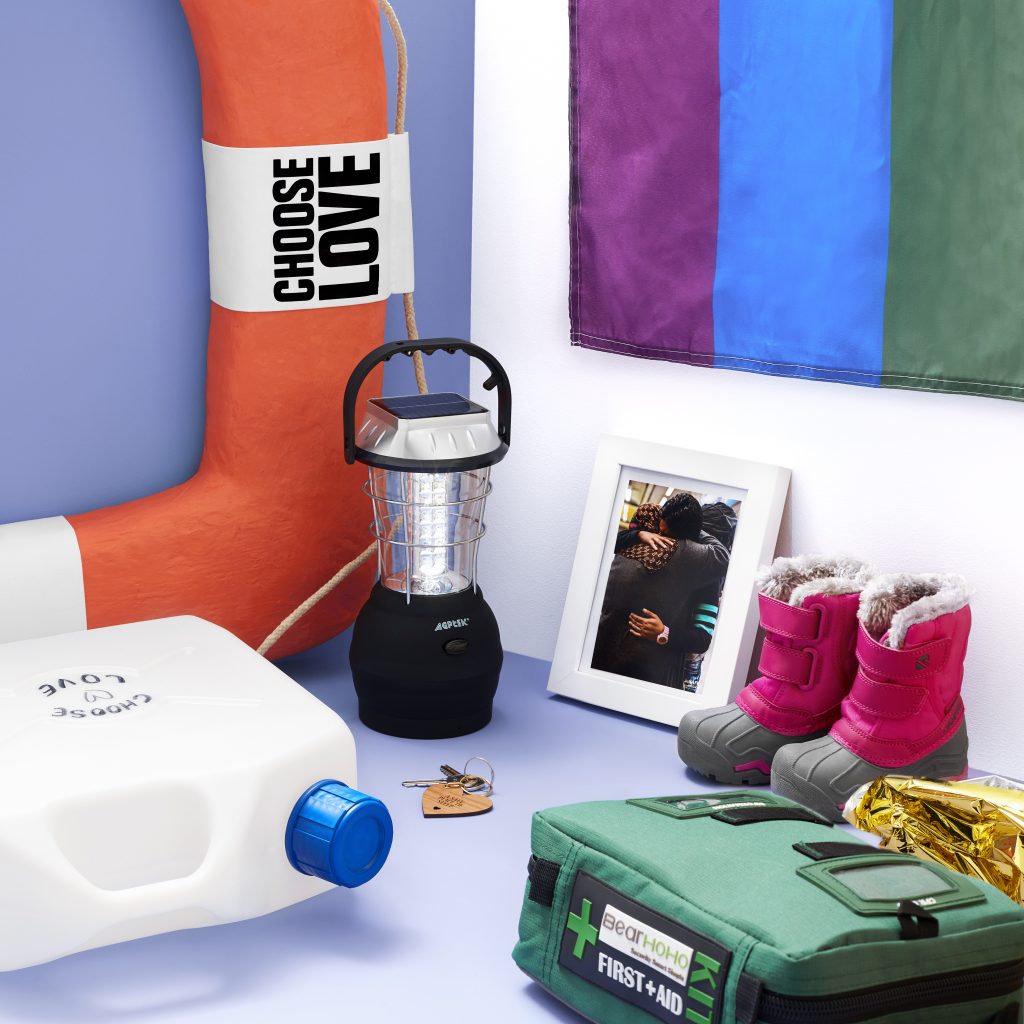 We've got a secret. We've found a one-stop shop where you can get all your Christmas shopping done all in one place. You'll find something to suit everyone, at all budgets, and you don't even have to wrap it!

That's because at online shop Choose Love, you buy what you want and receive nothing. Zilch. Nada. This is a business does things a little bit differently: it sells gifts for refugees around the world.

Splash your cash on warm winter clothing (£15), a hot meal (£15), mental health support (£25) and more, and your gift gets sent directly to those who need it most. You can buy from yourself, or in the name of someone you love.
Items from £10 | SHOP NOW
Three month gift coffee subscription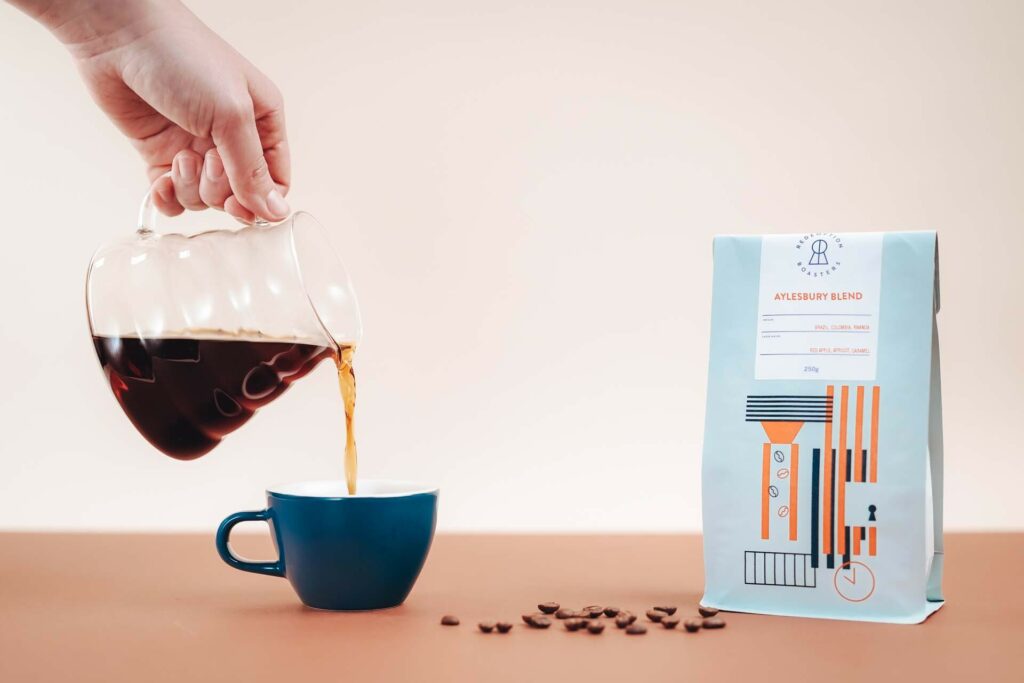 For the discerning coffee aficionado in your life, does waking up to fresh speciality coffee delivered directly to their door get any better?
Well, yes, if it's coffee from Redemption Roasters.
Redemption Roasters is a prison based roastery. It exists to provide alternative employment routes for people who are too frequently overlooked for work. Having a job is the single biggest factor that can prevent someone from re-offending, but prejudice, stigma and fear make it hard for prison-leavers to find work.
Their coffee is sourced from all over the world, including the Galapagos, with a preference for smallholder farmers. Redemption Roasters prioritise empowering people who are otherwise disadvantaged or disenfranchised through their supply chain. They do this by sourcing their coffee according to three main principles: rehabilitation, decolonisation and gender equality. Everyone in the supply chain is paid a living wage.
From £38.70 | SHOP NOW
Silly Greens subscription box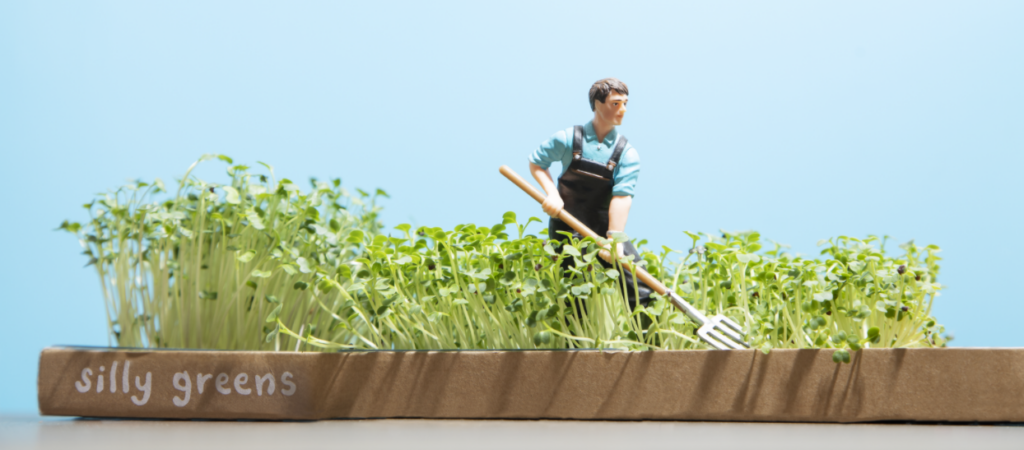 For any aspiring gardeners or foodie friends, a subscription to Silly Greens is a cute and clever gift idea.
Silly Greens makes it easier and more fun than ever to grow greens at home. Their "grow it yourself" subscription box arrives through the letterbox as often (each week) or as infrequently (every six weeks) as you like. Each one contains three microgreens: seedlings of herbs and veg – from coriander to wasabi – that add that final touch, and punch of flavour, to any dish.
Silly Greens pre-sow the box of microgreens on their farm and then post the live seeds directly to you. These little leaves just need a window and some water, and they'll be good to grow (get it?) straight from the box.
Your giftee will never have to go without fresh herbs or veggies – an aspiring chefs dream!
£5.50 per box | SHOP NOW
Organic Gin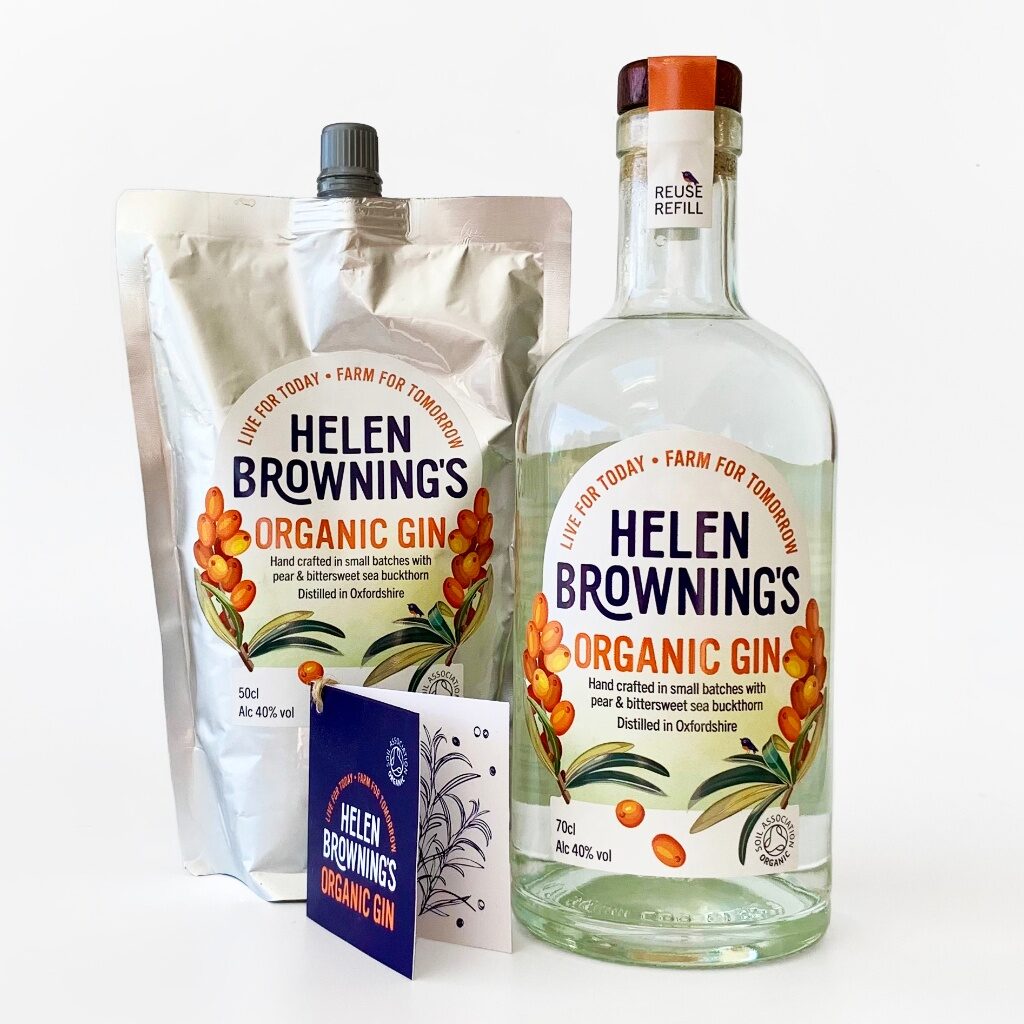 For any gin lovers, this organic gin is perfect. In fact, it's so good you won't want to give it away.
Helen Browning's certified organic London Dry Gin is hand distilled in copper stills in the heart of rural Oxfordshire.
Inspired by the botanicals and flora found on Helen Browning's organic farm, the gin has the delicate aroma of British wild flower meadows and orchards. Its distinct flavour profile is made up of Sea buckthorn, pear, fresh honey with herbal notes.
As if we weren't already sold, the bottle itself is made from recycled glass. Refillable pouches are then available for your giftee to top up their gin bottle when they are running low. The refill pouches can be sent back to Helen Browning's Organic to be recycled.
£45 | SHOP NOW
Artysan organic panettone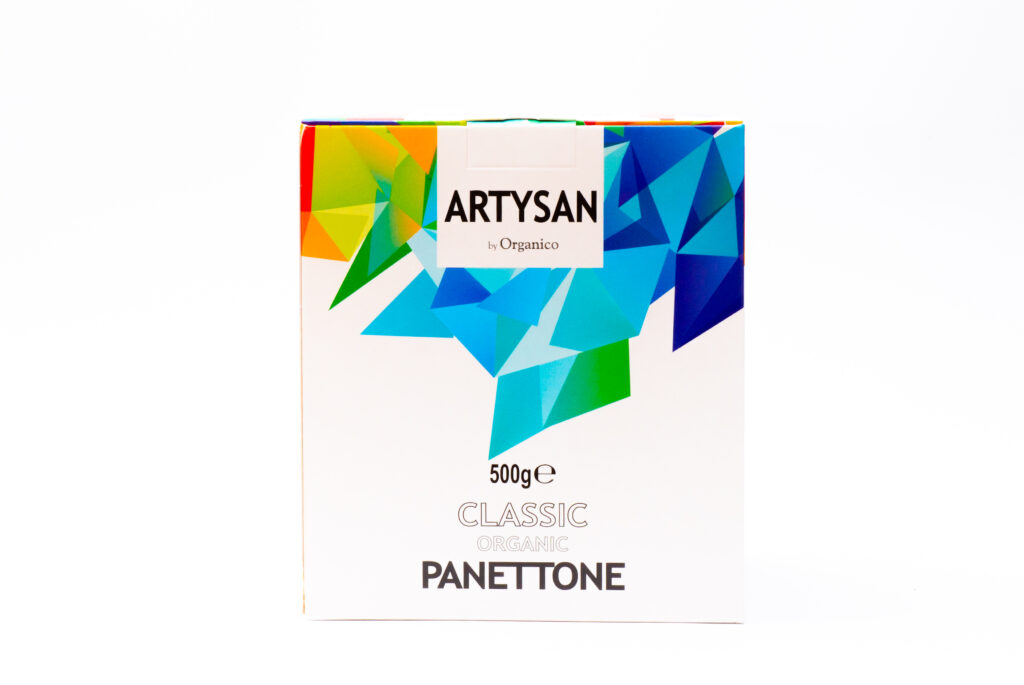 The way to anyone's heart is through their belly and when it comes to Christmas presents, a panettone is always a real crowd-pleaser. Because, who doesn't want to add to their mounting supply of chocolate, biscuits and mince pies?
Organico's Artysan range of festive goodies are the perfect go-to gift for family and friends.
Their selection of Panettones made in a family bakery in Venice are a must-have festive dessert. And, you can be sure they've been baked using the best quality all-organic ingredients, and taste as delicious as they look.
From £14.95 | SHOP NOW
Family Farm Safari day out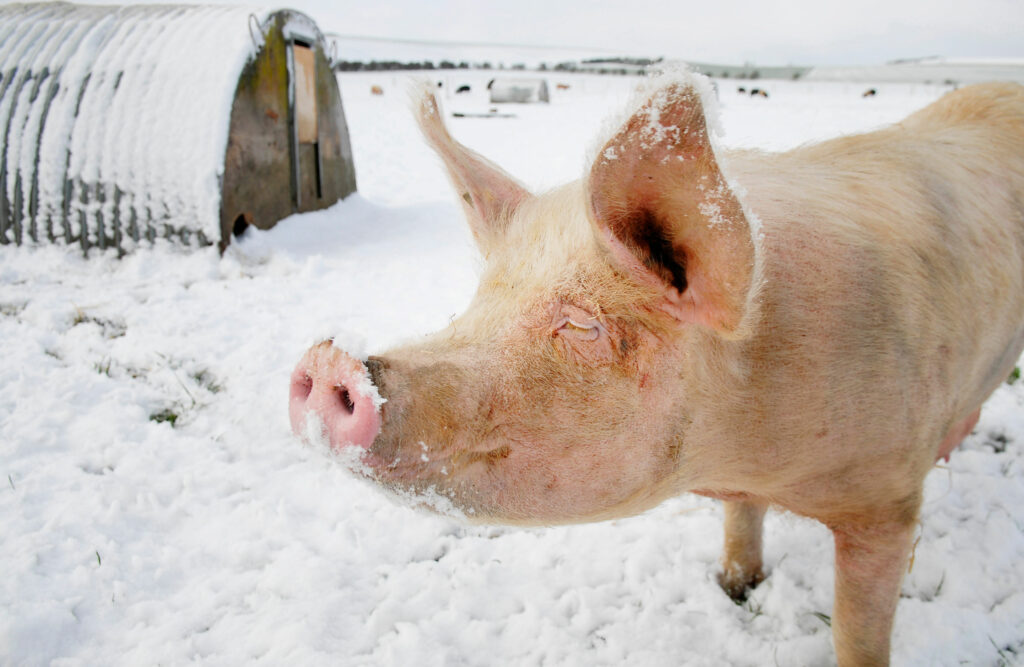 What better gift than quality time to spend with loved ones? Eastbrook Experiences offers the chance to enjoy some downtime with the family while exploring Helen Browning's beautiful Eastbrook Farm – an organic farmland set on the historic Ridgeway in Wiltshire.
Or, if you know of a couple deserving of some alone time, they also offer a Farm Safari Overnight bundle for 2, which, in addition to the safari tour, includes a one night stay in their lovely Royal Oak Hotel.
From £95 | SHOP NOW
Farm Safari and overnight stay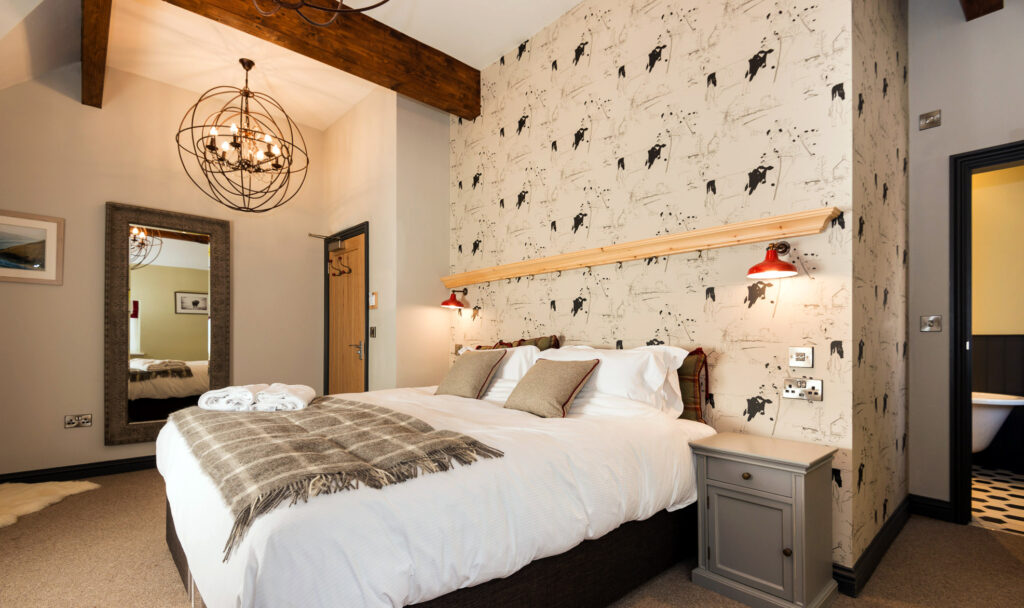 Or, if you know of a couple deserving of some alone time, Helen Browning's also offer a Farm Safari Overnight bundle for 2, which, in addition to the safari tour, includes a one night stay in their lovely Royal Oak Hotel.
Helen Browning's Farm Safari and Overnight Bundle for two includes a one night stay in their Royal Oak Hotel, complimentary breakfast and a two-hour farm safari around 1,500 acres of organic farmland. A quiet getaway, indulging in great organic food and long wildlife walks in the Wiltshire countryside… Don't mind if we do.
Your giftee can book their stay online at their convenience – their safaris run all year round.
£200 | SHOP NOW
Re-jiggulous Puzzle
When we stumbled across this bad boy, we just couldn't resist including it in our list. This jigsaw from Rapanui is impossibly ridiculous, hence the name 're-jiggulous'.
It is made to puzzle even the most hard-core of puzzling pros. Know anyone who loves a challenge?
It is sustainably designed from recycled cardboard and printed with a cool marine-inspired doodle.
£30 | SHOP NOW
Hand Me Down Book Club book bundles subscription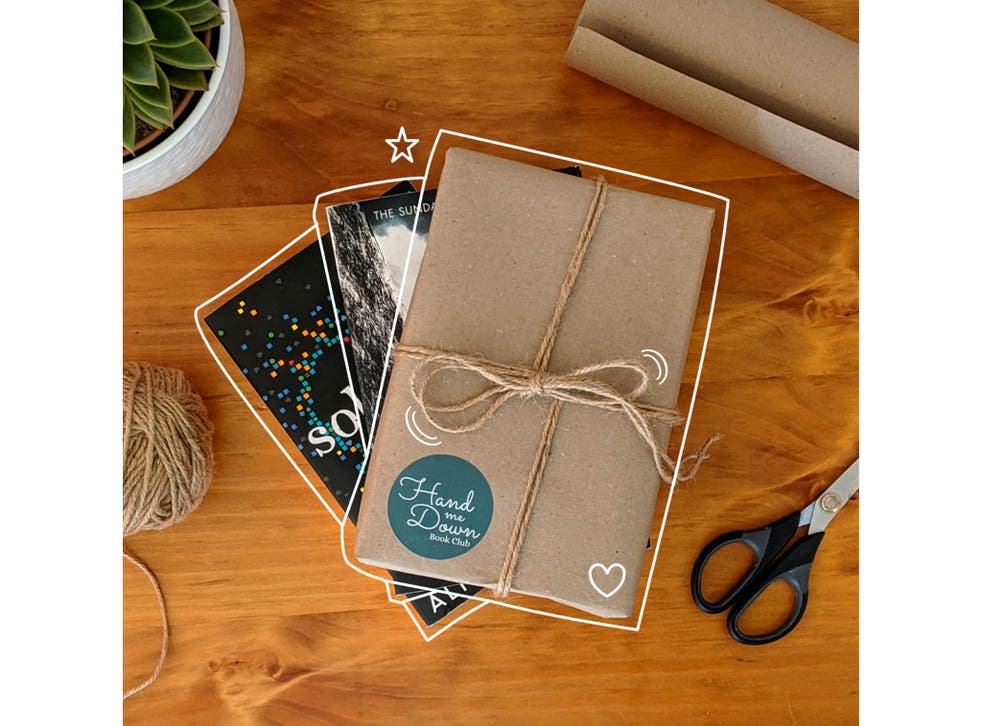 As book lovers, we couldn't think of a more beautiful gift. Hand Me Down Book Club was founded "to prevent books being sent to landfill while they still have great stories to tell". Essentially, this means you select your favourite genres and are sent a selection of second hand books, tied with string and, the lovely added touch of a Clipper tea bag.
£9.99 | SHOP NOW
Before Sleeping Candle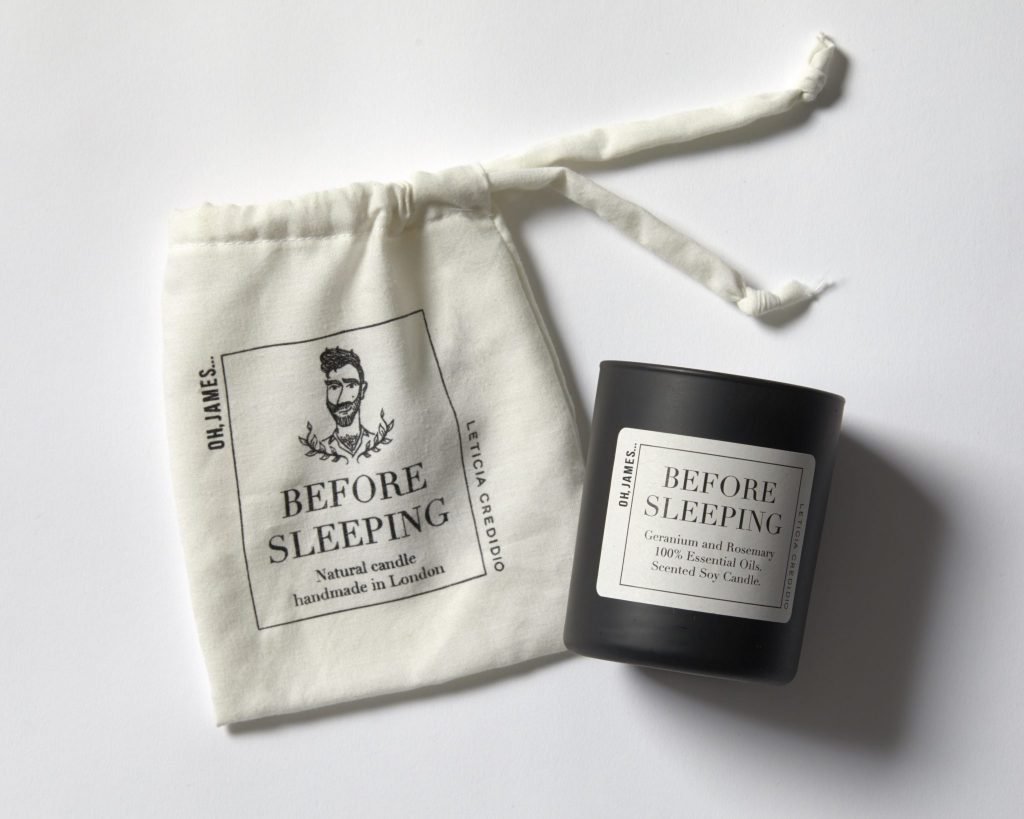 This gorgeous Before Sleeping Candle, a limited-edition blend of geranium and rosemary, is the ideal way to unwind before sleeping, and is the product of a collaboration between Oh, James – an East London brand that produces unique handmade candles – and sleepwear brand Leticia Credidio.
Each candle is made from soy wax and 100% essential oils, handsomely packaged in a hand-sewn, up-cycled fabric bag. Burn time is up to 40 hours. This candle is so good you'll want to keep it for yourself…
£25 | SHOP NOW
Toiletries gift box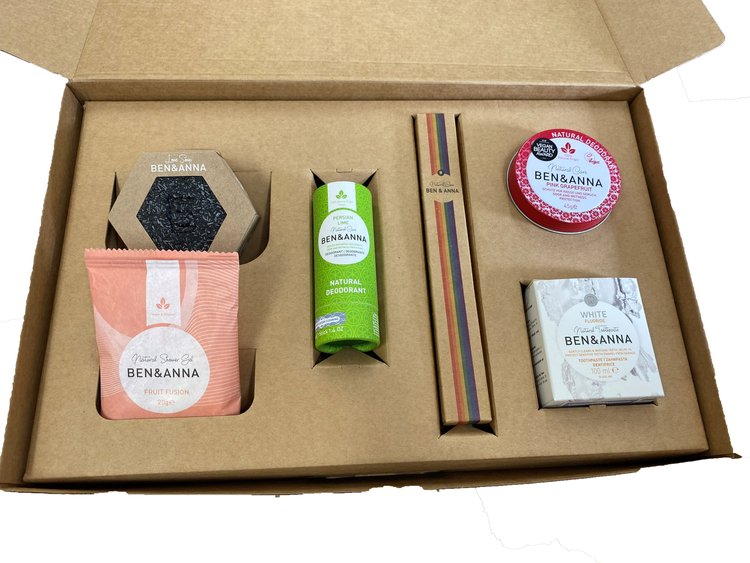 The Ben & Anna gift box is a sure-to-please great smelling pack, with a difference. For just £29.95, this sustainable goodie box includes six of Ben & Anna's best-selling all-natural vegan toiletries, including Elmswood Love Soap Bar, deodorants, toothpaste and even a bamboo toothbrush. The items are perfect for travel in the new year.
There's also the option to curate your own bespoke gift box, picking and choosing your favourite bits.
£29.95 | SHOP NOW
Good Night gift set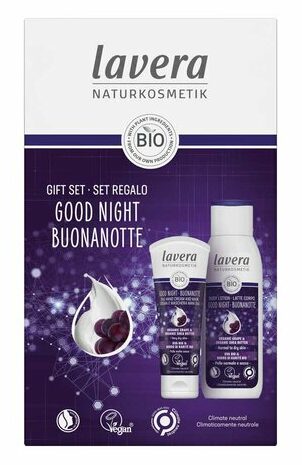 Give the gift of some good old beauty sleep.
The lavera Good Night Gift Set, featuring their Good Night Body Lotion and Good Night 2in1 Hand Cream & Mask, is the perfect pick-me-up for your body.
Not only do these skincare products smell good, but they are enriched with natural, organic ingredients, such as organic Grape combined with Vitamin E and organic shea butter. These moisturisers are intensely nourishing, helping to regenerate and care for the skin overnight.
It's no coincidence the name lavera is derived from the Latin for 'truth'. lavera's vision is about making truly good natural skincare for everybody. They are certified by NATRUE, PETA and The Vegan Society.
£15.95 | SHOP NOW
Massage Candle
A natural, fairtrade shea massage candle? Don't mind if we do.
FAIR SQUARED is the ultimate go-to shop for truly good natural and ethical intimate body care. Their whole collection of products is made completely vegan, cruelty-free, plastic-free and certified Fairtrade.
Made from fair trade coconut oil and fair trade shea butter, this unique natural and vegan massage candle combines romantic candlelight with sensual massage in one product. The formula is easy to glide over skin and the ingredients leave your skin feeling supple and radiant.
Simply light the wick of the candle and let it burn until the burner plate liquefies. Extinguish the flame, wait a little and then gently massage in the warm massage oil ‒ it's as simple as that!
£15.25 | SHOP NOW
Cashmere Knitwear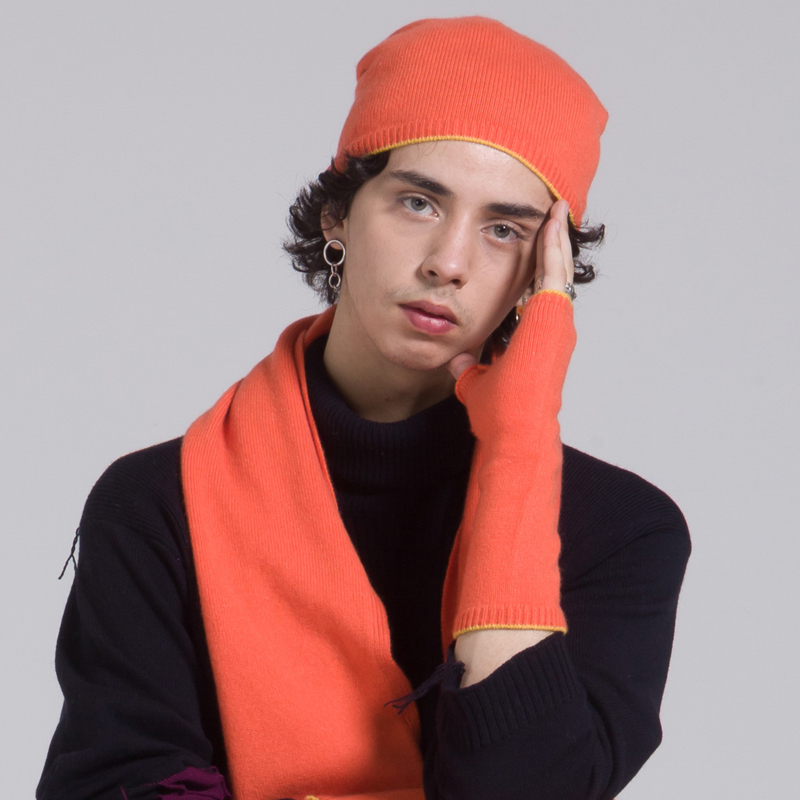 If you want to wrap someone in a bundle of love, then Valentina Karellas' Danvers knitwear are the perfect gift to do just that. The matching beanie, mittens and scarf are available in stunning orange or blue and are made of beautifully soft and bright (surplus) cashmere, which is incredibly limited stock. When this yarn is gone, it's gone…
Each row is accountable and treasured by hand, and made to order on a vintage industrial knitting machine.
Super light and stylish, these pieces are all about quality and attention to detail, featuring a contrast stripe hem detail.
Pieces from £50 | SHOP NOW
Boxer Shorts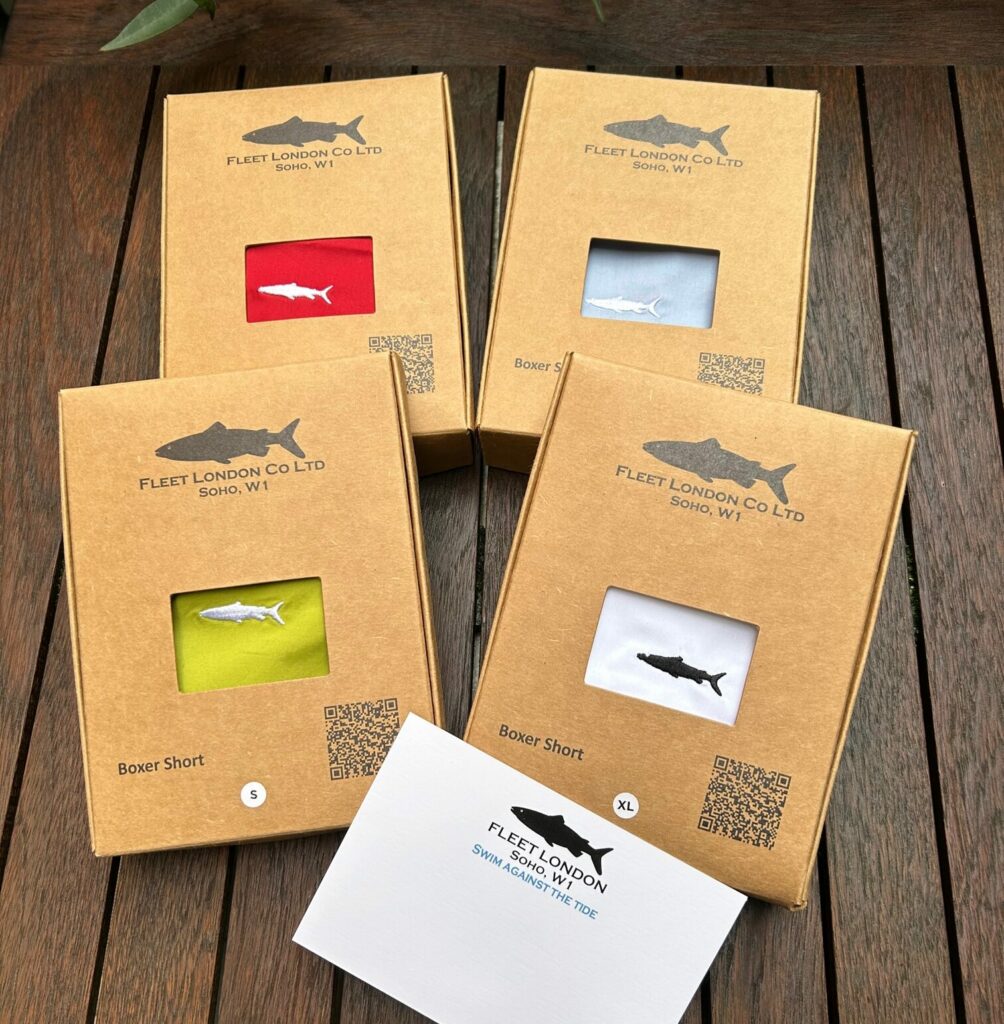 Who doesn't appreciate a new set of boxer shorts for Christmas? Especially when they are as well made as these.
Fleet London boxers, available in seven shades, are slim cut, comfortable and lightweight – none of the bagginess you now see in so many traditional boxer shorts.
Made from sustainably sourced, high-quality raw cotton, they are designed to last. Fleet London's garments are produced in small batches in Portugal under fair and safe working conditions.
For Christmas, Fleet London are offering any two pairs of their boxers for £45 (normally £27 each, full price) with code 'boxingclever2'. Or, a single pair for £23 with code 'boxingclever1'.
Oh, and they'll also deliver your boxers in a lovely plastic-free gift box with free express tracked UK delivery.
£45 for two, £23 for one | SHOP NOW
Modern neck scarf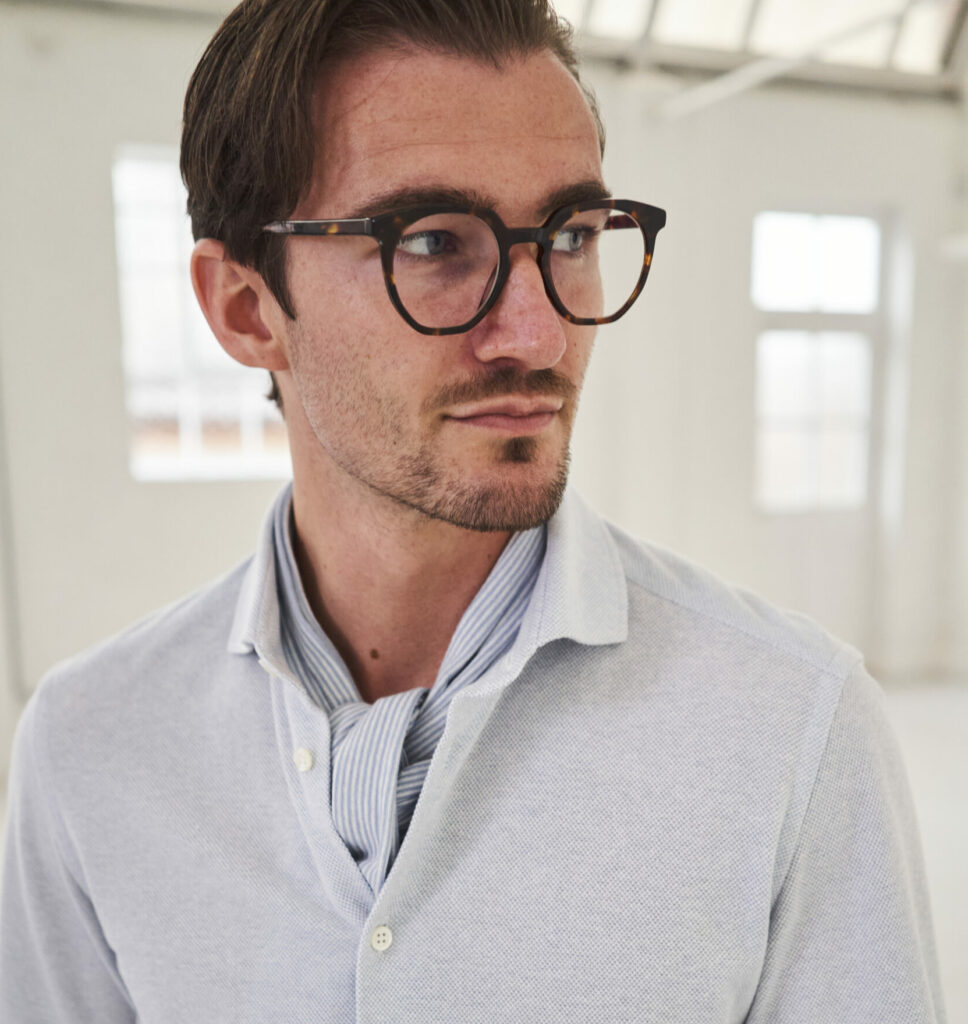 Struggling to find a unique gift with a touch of luxury for a chic, modern man? This recycled cotton Neem London neck scarf might just be what your looking for.
Elevating even the simplest of outfits while helping keep you that extra bit warm during the winter, this scarf is sure to become the signature accessory of any giftee.
£39 | SHOP NOW
Organic Beanie Hat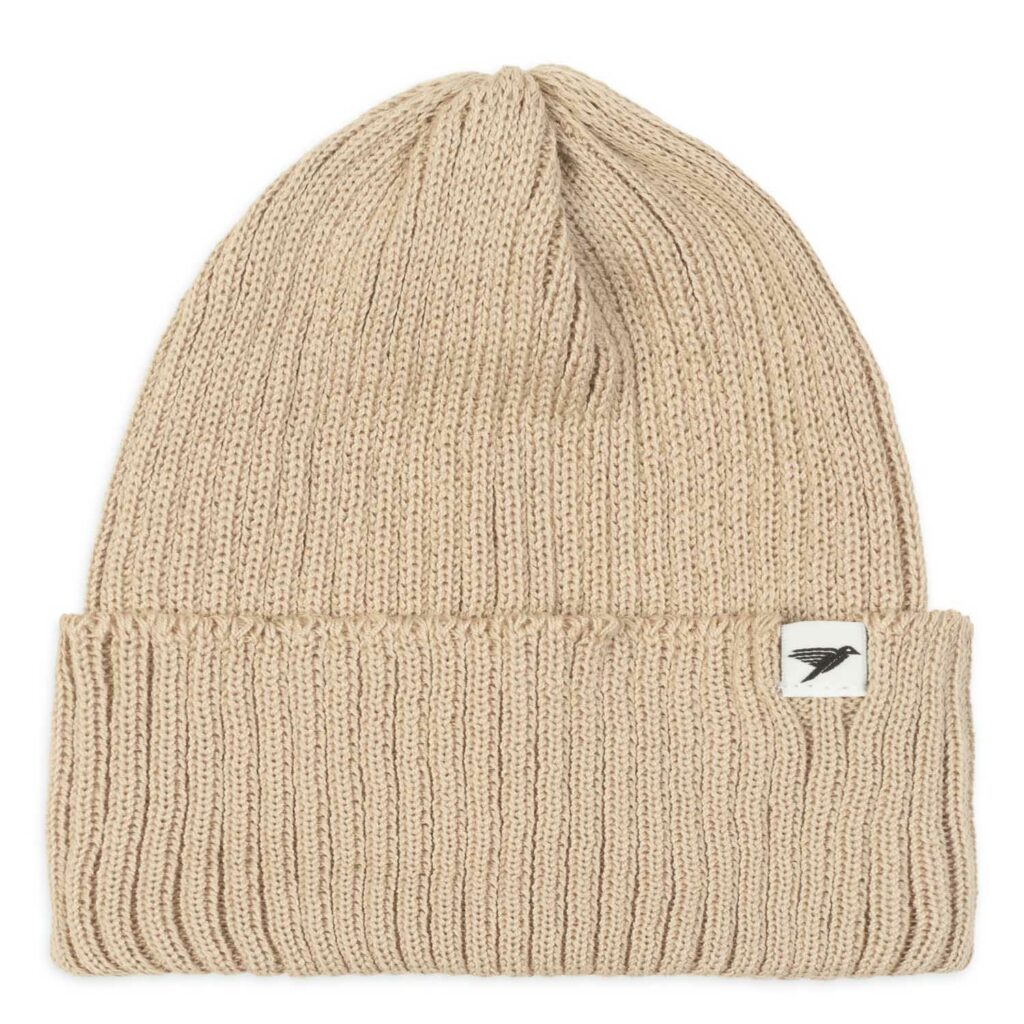 A good beanie is a winter essential.
This simple, stylish and cosy ribbed knit Beanie Hat from Silverstick is made from 100% organic cotton. Available in black or oatmeal, these neutral colours are great for either dressing up for a smarter evening look or down for casual day attire.
£26 | SHOP NOW
Organic Scarf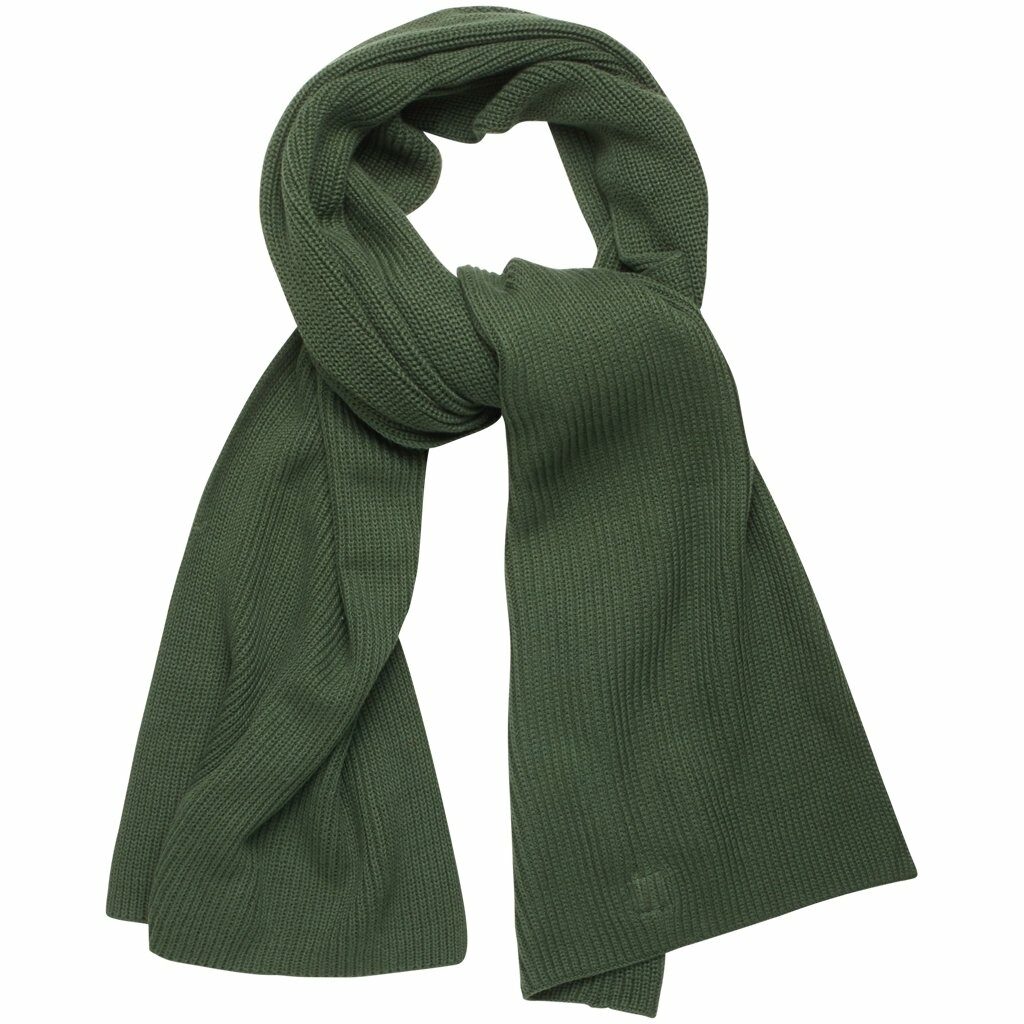 This Organic Ribbing Scarf by Knowledge Cotton Apparel would make a stylish addition to any outfit.
Made from 100% organic cotton, this simple yet smart scarf comes in an array of colours, from a solid Forest Green, an eye-catching orange to a gorgeous royal purple. There's a colour for everyone!
£45 | SHOP NOW
Organic Pima Cotton Crew Neck T-shirt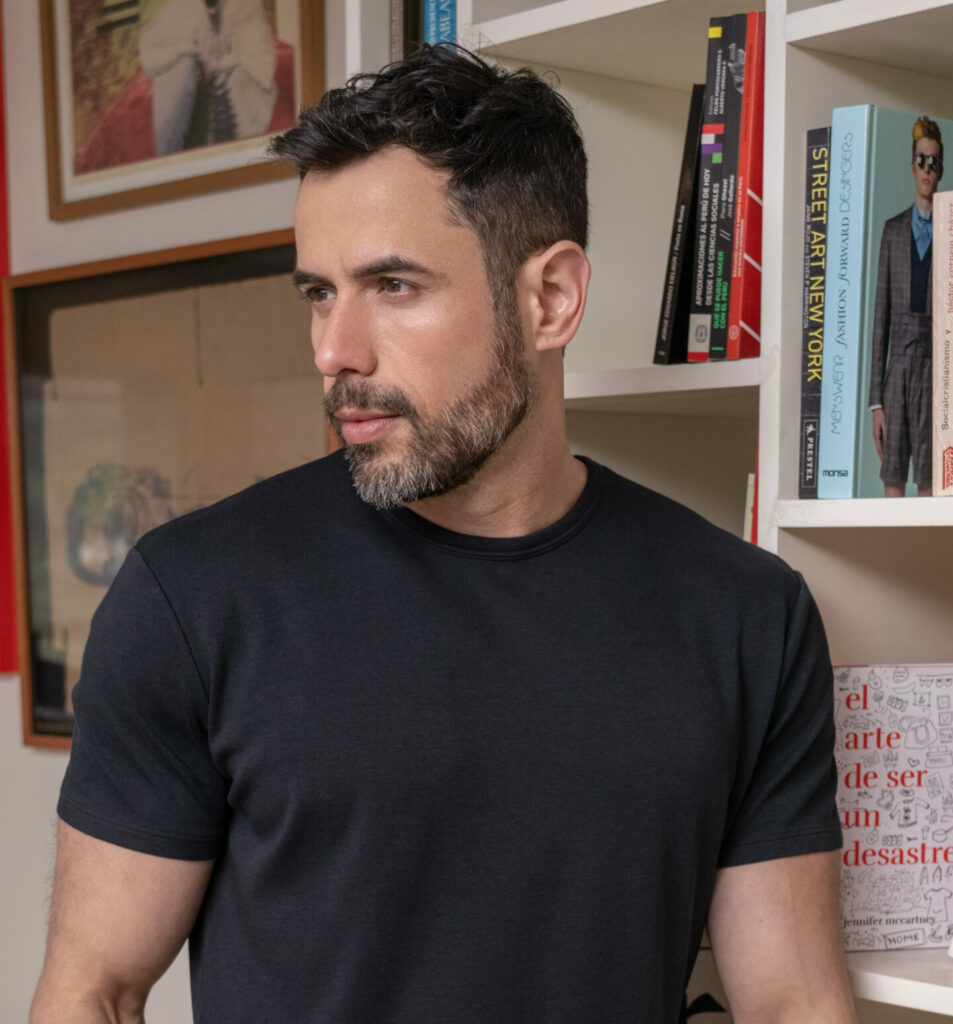 There's nothing like a great-quality classic crew neck t-shirt. This t-shirt from AYA is luxuriously comfy, stylish and perfect for all occasions. Made in Peru from organic pima cotton, it is not only super soft on your skin, but gentle on the planet, too.
This top is available in four different colours.
£29 – $30 | SHOP NOW
Beauty Gift Box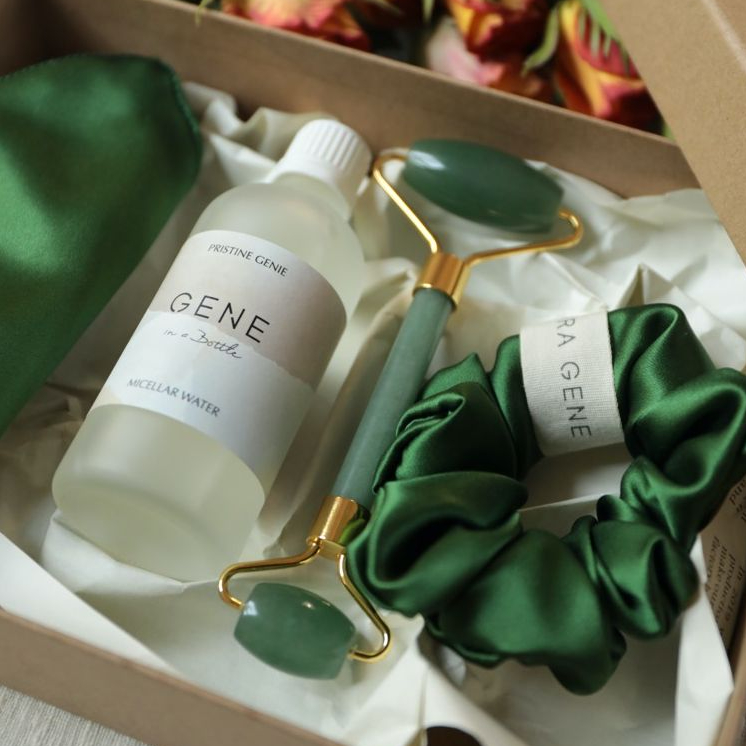 After another wildly hectic year, we all deserve a bit of TLC, and for that, this Beauty Gift Box by Lora GENE is the perfect gift.
Help someone you love start their day in the best way with this luxury morning kit which includes: the Pristine Genie micelar water to hydrate your skin and leave it fresh and glowy; Jade or Rose Quarz face roller to improve blood circulation and blend your beauty products better; a silk scrunchie made with zero waste practises; and a silk protective mask that's good for your skin, can help keep your face warm and offer protection from germs.
All the products featured are sustainably sourced and placed in fully recyclable packaging.
£45 | SHOP NOW
Acorn Enamel Studs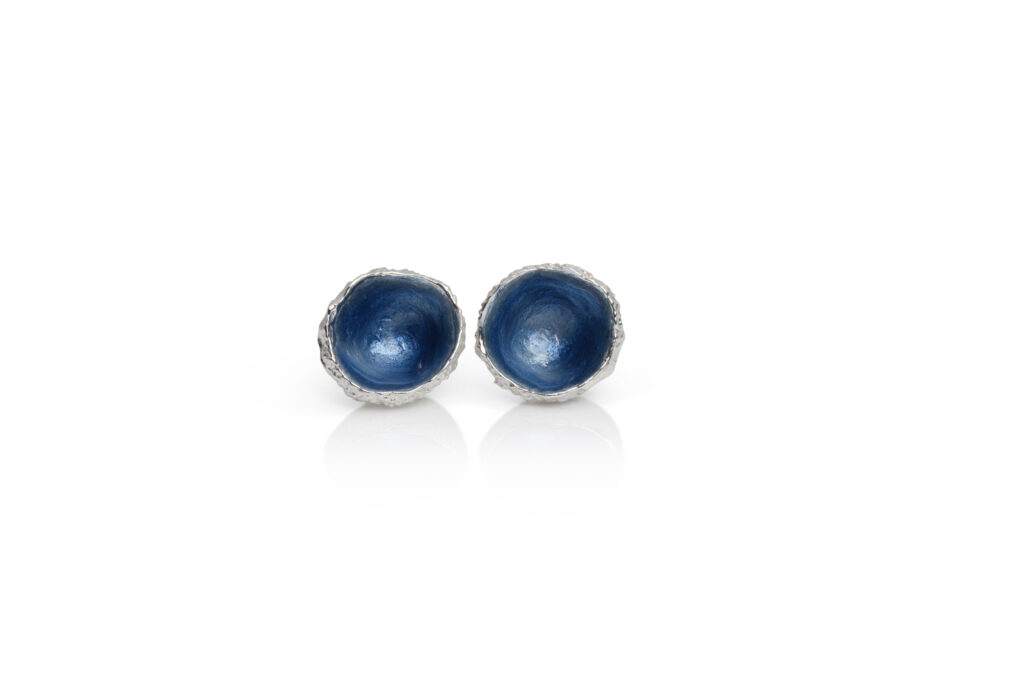 Looking for a truly unique and special gift? These mesmerising enamelled stud earrings by Eily O Connell are just that.
Where designer and goldsmith Eily O Connell is heavily inspired by the natural world, the studs feature a quirky acorn style cup shape.
They are created in an array of stunningly frosty Wintry tones, including the pictured 'misty Sea', making these earrings a wonderful present for this chilly time of year.
Handmade, and enamelled by Eily in her Bristol based studio, these hand painted earrings are crafted in recycled solid silver and then the enamel has been carefully fired inside the acorn.
What makes Eily O Connell jewellery even more special is that it is made with sustainability in mind. O Connell prides herself on crafting her pieces using high quality, ethical and well sourced materials.
£120 | SHOP NOW
Charm Pendant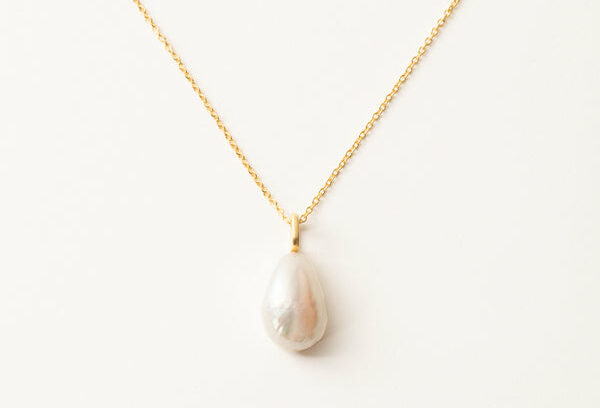 This removable charm, which can be added to either hoop earrings or chain necklaces, is a lovely versatile gift for that special someone. Made from reconstituted Pearl and Gold, this stunning pendant is handmade by Pooja, Praniti, Asha, Vimla and Rekha, at a Living Wage jewellery making co-operative in Jaipur, India. The co-operative receives £10.49 per sale.
£42 | SHOP NOW
Star Necklace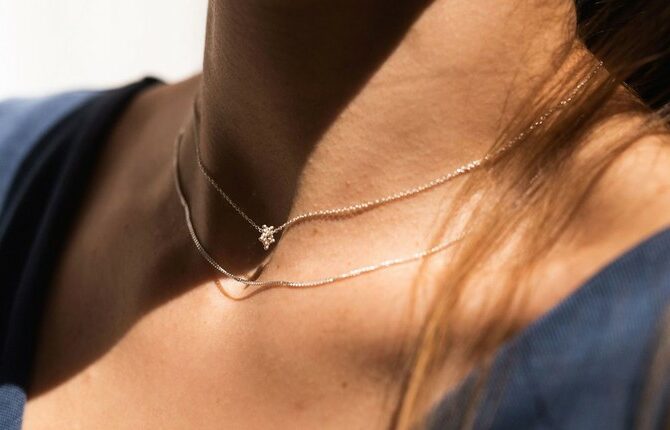 This beautiful and affordable silver Little Star Necklace is made by Solitude the Label, an Amsterdam-based brand founded by two sustainably-minded sisters. What better way is there to show someone you think they're a star?
Made from recycled silver, it's sure to be adored by any recipient who actively cares for the planet.
The necklace is slightly adjustable so can be worn as a choker necklace or a little lower onto the chest, however your giftee likes it best.
£57.85 | SHOP NOW
Refillable makeup palette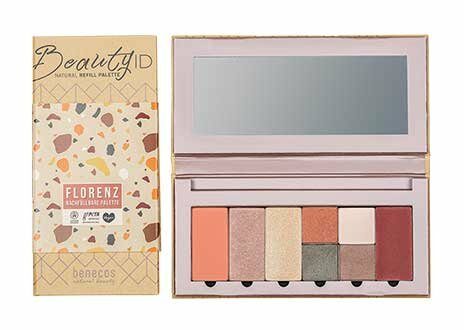 The benecos Beauty ID Florence palette is a fab gift for any makeup lover. This palette includes a rouge, two highlighters, four eye shadows and a lip & cheek balm. These palettes not only come feature an array of beautiful colours to play with. Excitingly, they are also refillable! So, when you've run out of your favourite shade, there's no having to waste money, or packaging, on replacing the entire palette. You can simply replace the individual colour. Or, switch things up and swap it out for an entirely new shade. The options and potential make-up looks are endless…
benecos offers a wide range of organic, plant-based makeup at an affordable price. Their products are packed full of natural ingredients that care for your skin and steer clear of mineral oils, paraffins and silicones. benecos hold certifications from BDIH COSMOS ORGANIC, BDIH COSMOS NATURAL, and PETA Cruelty Free. The Natural Care range is Vegan Society Certified.
£21.95 | SHOP NOW
Organic Pima Cotton Long Sleeve Shirt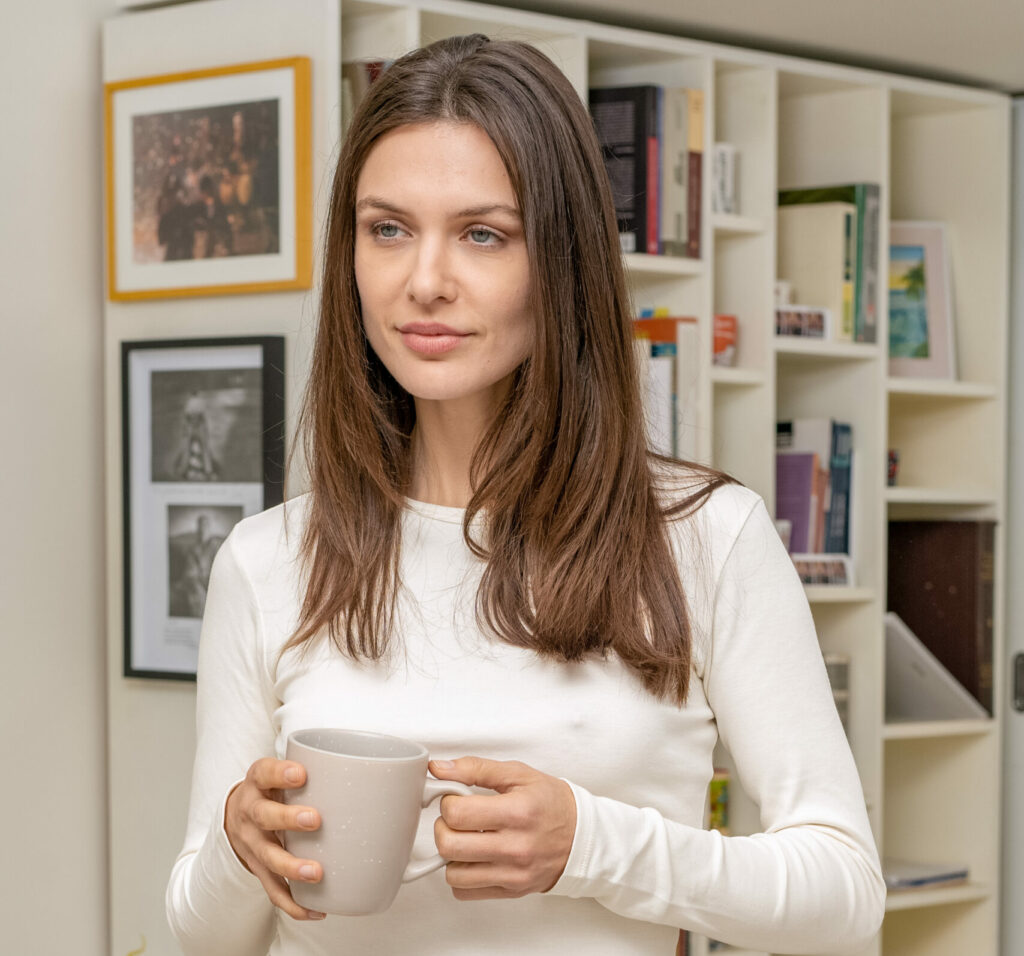 There's nothing like the classic long sleeve shirt to get you through winter. AYA's long sleeve top is luxuriously comfy and stylish – the perfect layer for festive outings or quiet nights in. Made in Peru from organic pima cotton, it is not only super soft on your skin, but gentle on the planet, too.
This top is available in four different colours.
£35 – $36 | SHOP NOW
Glitter Socks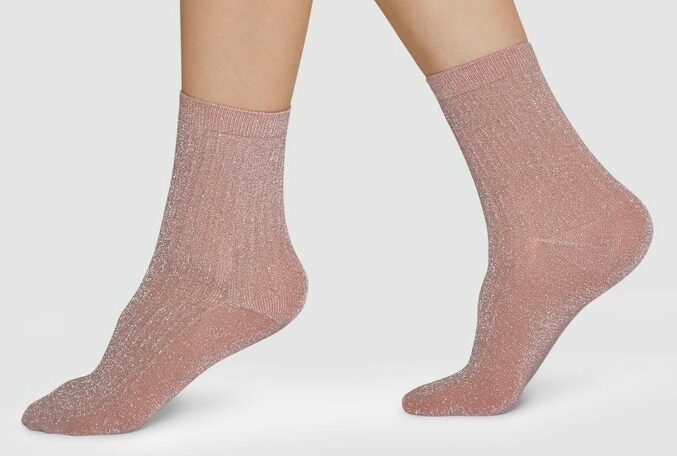 Where there are slippers, there's socks (at least, we hope there are…)
The Stella Glitter Socks made by Swedish Stockings – a pantihose brand that makes sustainable tights using recycled yarn – perfectly encapsulates the fun spirit of Christmas and New Year.
Available in black, grey, pink and blue, these semi opaque sparkly ribbed socks are knitted from recycled yarn in a zero-waste, emission free facility in Italy.
I can't think of a better stocking filler, than a pair of actual stockings.
£15.12 | SHOP NOW
Matching pyjama set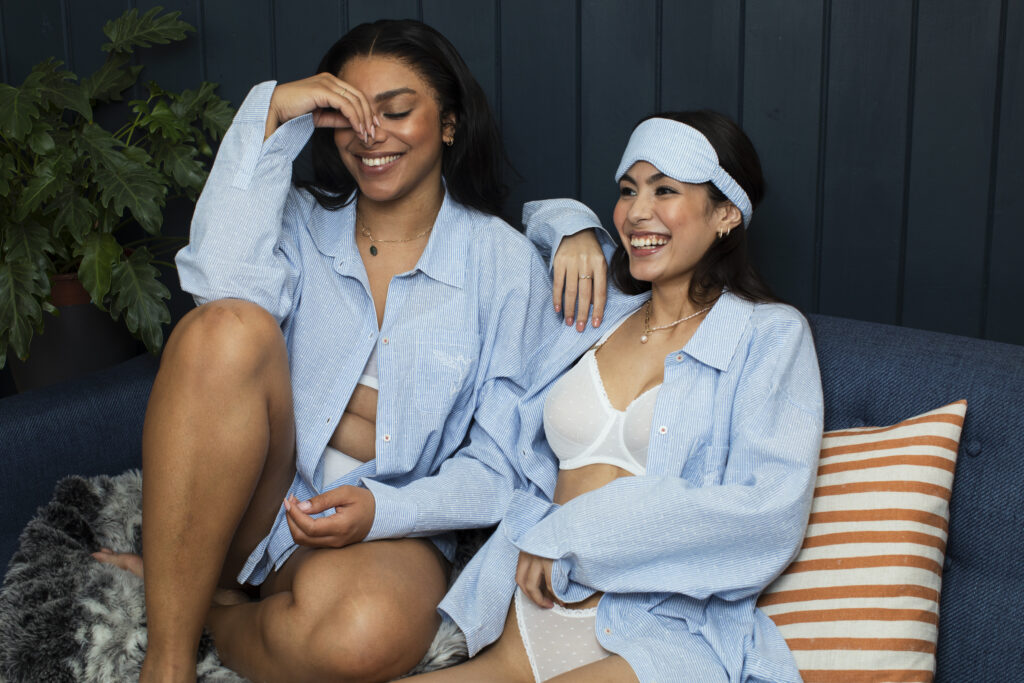 Receiving a pair of PJ's for Christmas feels like a right of passage. And, if you're looking to step up your PJ game this year with a pair that is cute, comfy AND kind to the planet, look no further than Peachaus.
Peachaus is an all-round fab women's lifestyle brand that sells contemporary feminine sleepwear, underwear and leisurewear in an array of understated soft colours.
Their chic range of matching pyjama sets, which feature pastel stripes, gingham checks and beautiful embroidered designs, are consciously crafted from responsibly sourced fabrics.
These are the kind of pyjamas you'll want to lounge in on the sofa with a coffee in hand, all winter long.
Prices vary | SHOP NOW
Passion Red Lace Cotton and Silk Set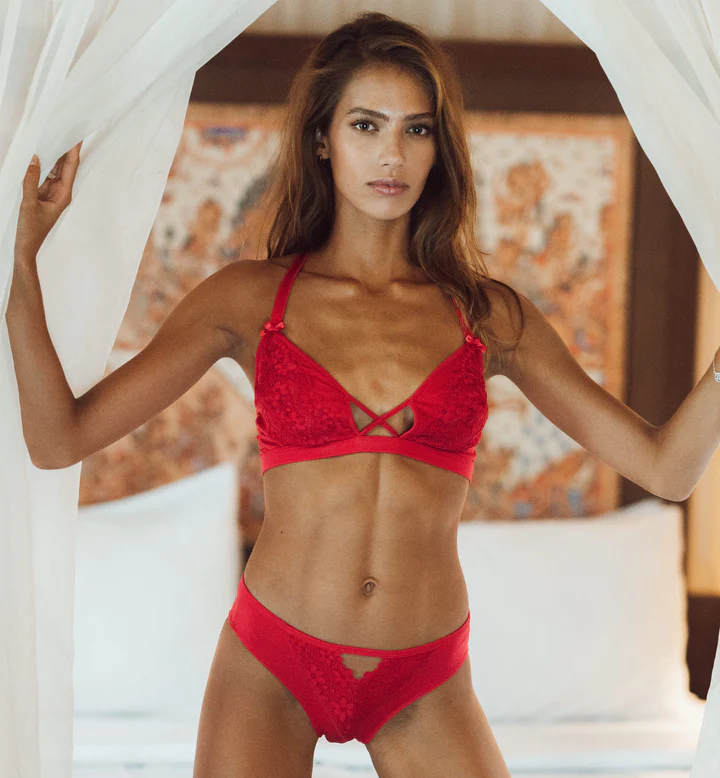 Spice things up this Christmas with this stunning Passion Red Lace Cotton and Silk lingerie set from Juliemay.
Juliemay is a brilliant brand that specialises in making ultra-soft, super breathable, naturally hypoallergenic bras and briefs. The brand is accredited by AllergyUK.
This supportive yet sexy set is made from sustainably sourced Organic Pima Cotton and silk with delicate lace and floral detailing.
Bralette £54 & Knickers £23.50 | SHOP NOW
Mountain blue underwear set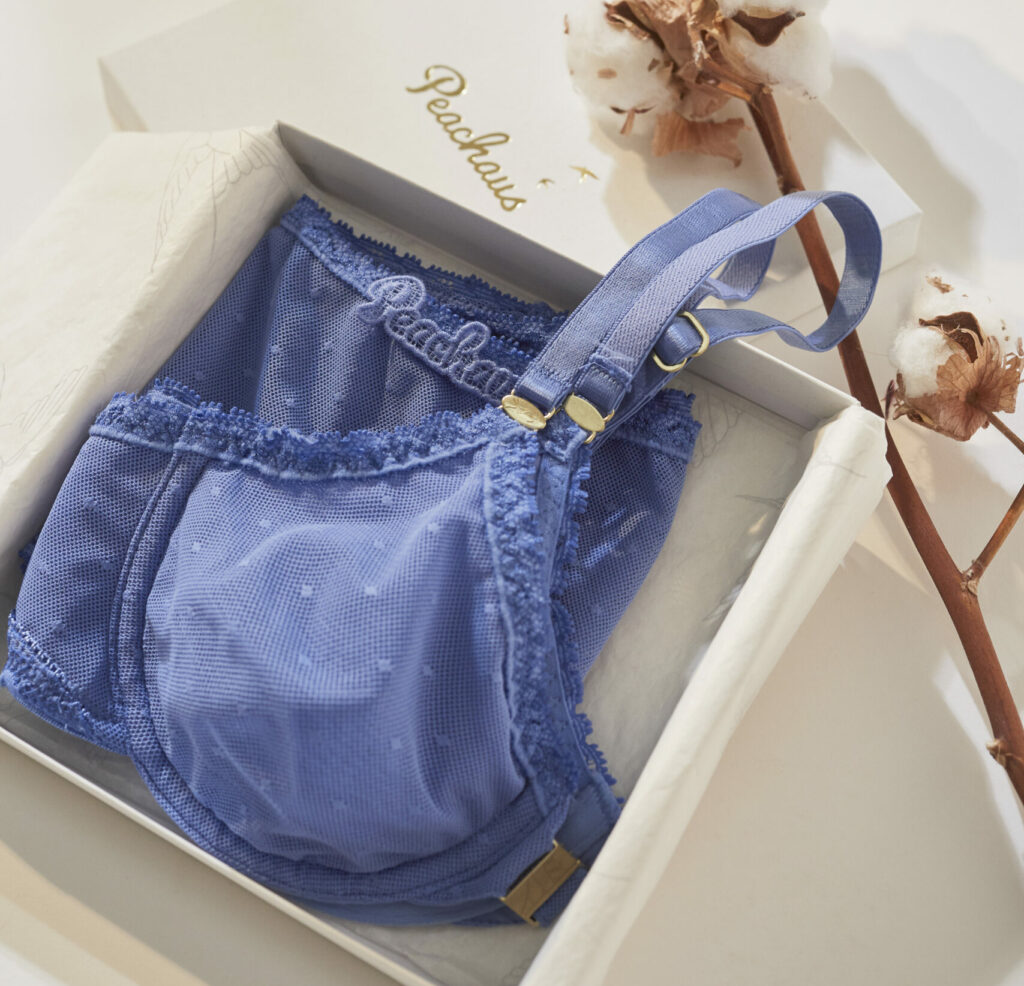 If you're treating yourself or someone you love to undies this Christmas, you can't go wrong with a set from Peachaus.
Peachaus' range of delicate, contemporary underwear are consciously crafted from responsibly sourced fabrics. Their sets come in an array of feminine, pastel and neutral colours, but we especially love this gorgeous mountain blue set pictured.
Peachaus' innovative simple sized system means their garments are designed to have an enhanced, fluid fit – making it easier for women to find their ideal bra size (hooray!).
FYI, they have a seasonal offer on pants: buy three briefs and you'll receive £10 off the total price.
Knickers £15, bra £50 | SHOP NOW
Crop Bra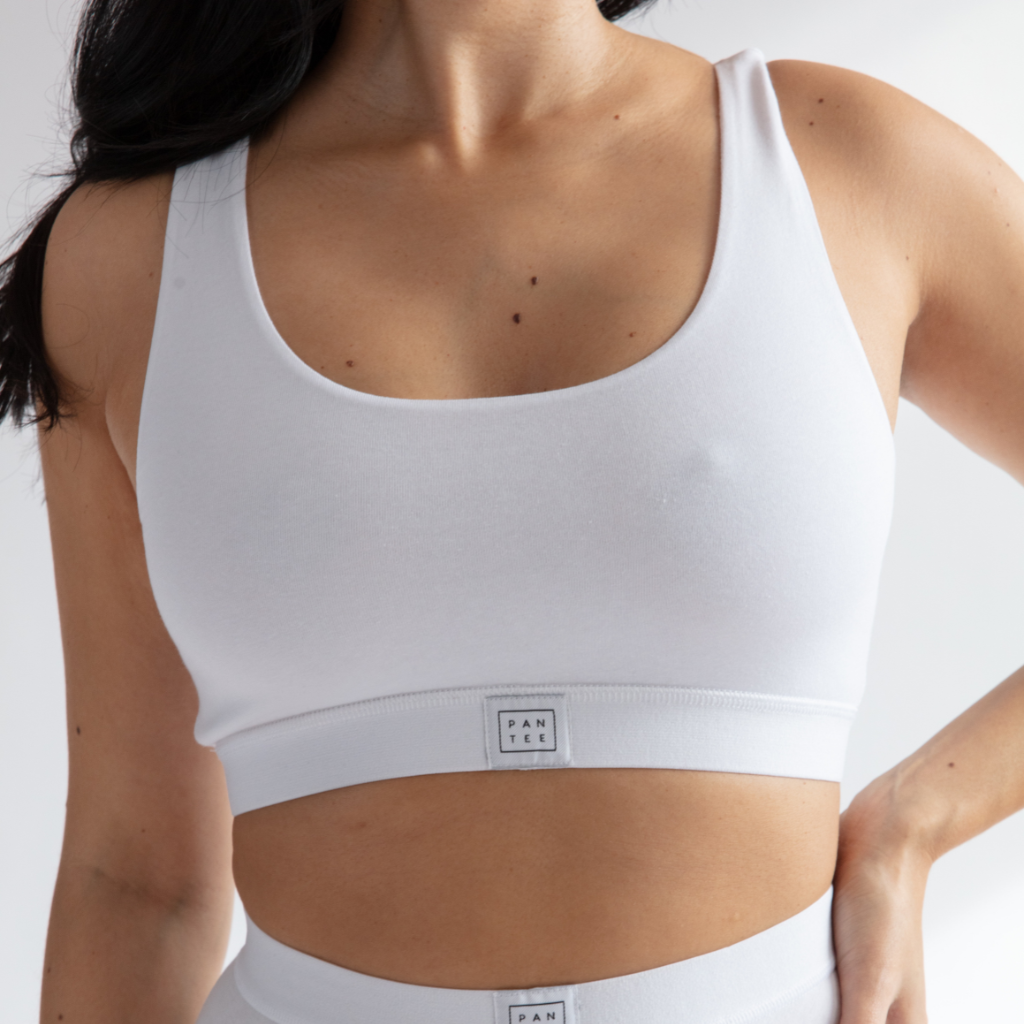 This modern sporty style double layered crop bra from Pantee is perfect for getting comfy and cosy this winter.
Pantee is an amazing new brand who are tackling clothing waste head on. Since launching in November 2021, they have upcycled over 1,500kg of deadstock t-shirts and fabrics into bras and knickers.
So not only is this bra super soft, breathable and buttery, but it's brilliantly made from reworked deadstock cotton, too.
Pantee's underwear is cut and sewn in a small-scale sample room in Bangladesh where workers are guaranteed safe working conditions and fair pay.
The crop bra is available in black, white and limited edition colours. You can mix and match it with Pantee's range of brief styles, so we recommend having a browse.
There's also the option to treat someone to a Pantee gift card, starting from £10.
£38 | SHOP NOW
Baby's First Christmas Gift Box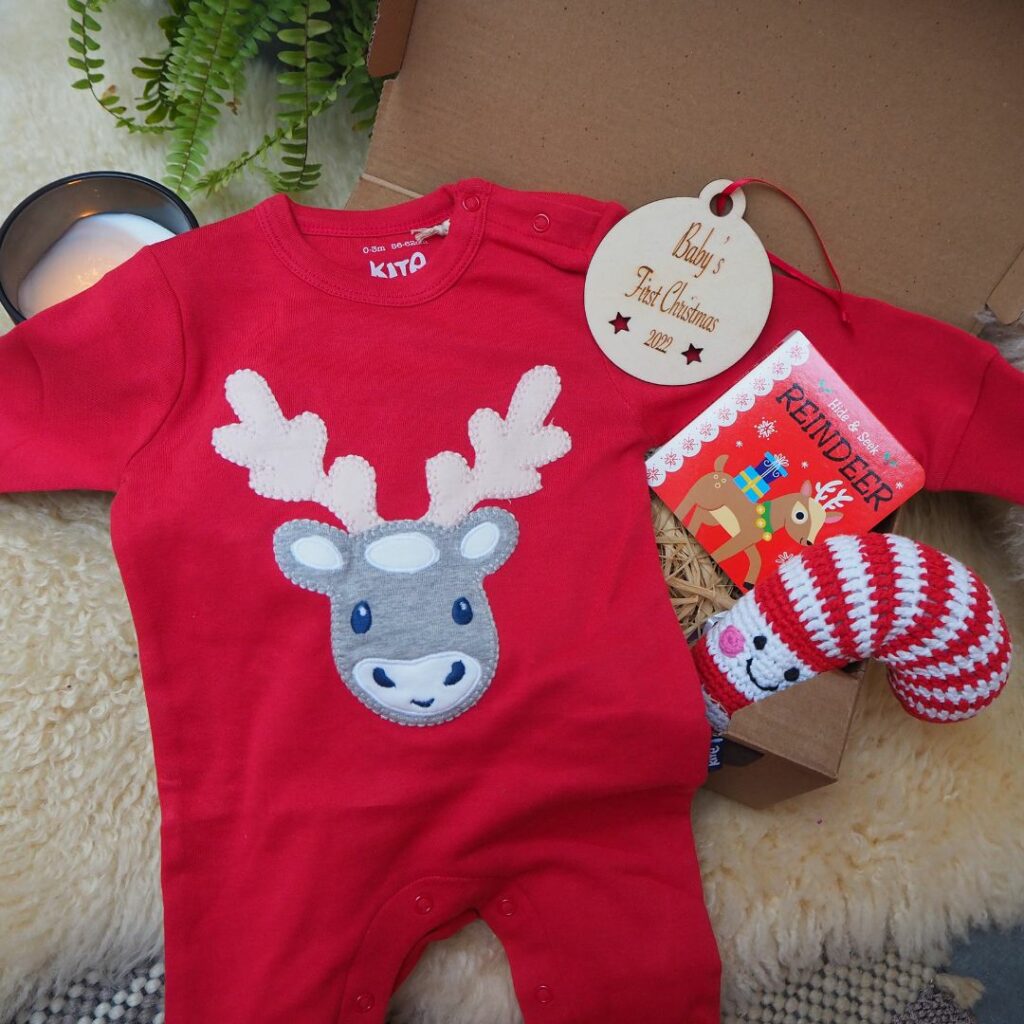 Know any little ones celebrating their first Christmas? This wonderful Baby's First Christmas Gift Box from My Little Green Wardrobe will be cherished by new parents and their babies alike.
This reindeer box set features a selection of festive eco-friendly and organic baby gifts, including a Kite Organic Reindeer Romper, Wooden Christmas Tree Decoration, Candy Cane Rattle Toy, and Reindeer Christmas Baby Board Book.
The set comes lovingly packaged in a plastic free, biodegradable cardboard box with a hand-written note – so no need to worry about gift wrapping!
There are also lots more Baby's First Christmas Gift Sets to choose from. You can browse their full collection, here.
For every one sold, My Little Green Wardrobe will plant a tree with their partners, Ecologi.
£48 | SHOP NOW
kite Squirrel Hat and Mitts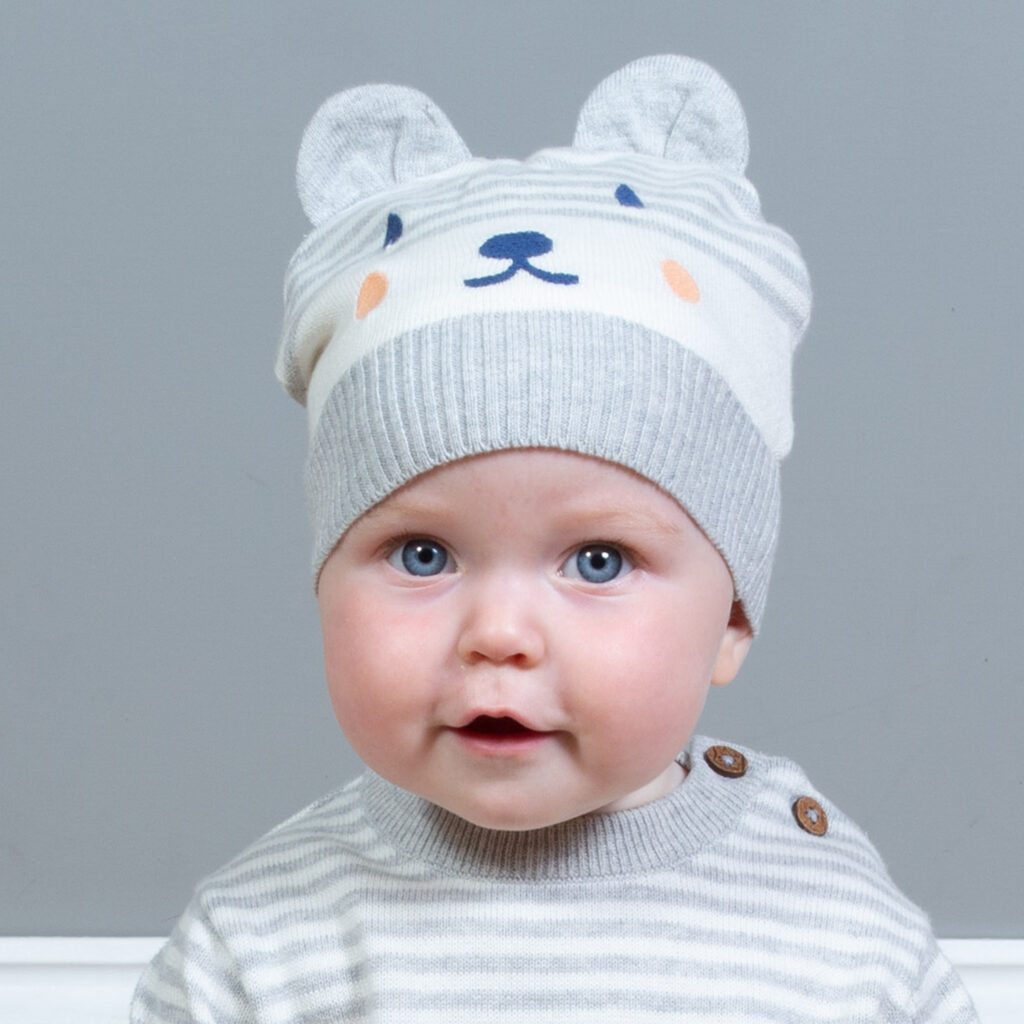 Looking for something to buy a little one for their first Christmas? We're not convinced there's anything cuter than this organic two-piece squirrel hat and glove set.
Made with GOTS organic cotton with a little bit of stretch and knitted with a soft jersey lining, this set will keep any little squirrel trendy and toasty throughout the colder winter months.
Available in sizes 6 – 24 months.
£21.00 | SHOP NOW
Baby skincare bundle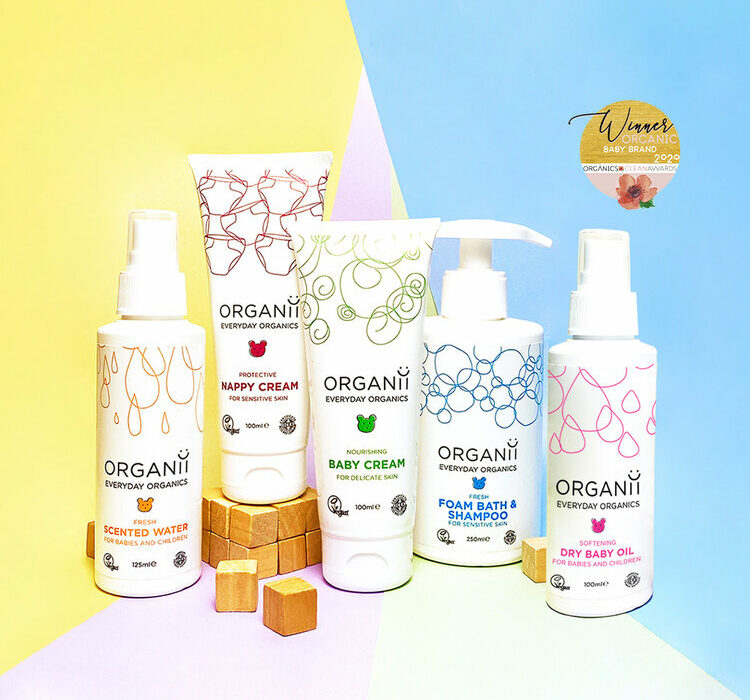 If you're after the perfect gift for new parents this Christmas, this baby care bundle will undoubtedly be a welcome gift.
From cleansing to nourishing, protecting to freshening, this is the ultimate care bundle for lathering a little one in love.
It includes a range of Organii's everyday products for babies: scented Water (125ml), Baby Cream (100ml), Nappy Cream (100ml), Foam Bath and Shampoo (250ml), and Dry Baby Oil (100ml).
Each product is gently formulated for babies and children with delicate and sensitive skin. They are certified organic and natural, registered vegan with the Vegan Society, registered cruelty free with PeTA and have been dermatologically tested. They do not contain synthetic perfumes, synthetic chemical filters, parabens or mineral oils.
£39.95 | SHOP NOW
Rainbow Knit Dress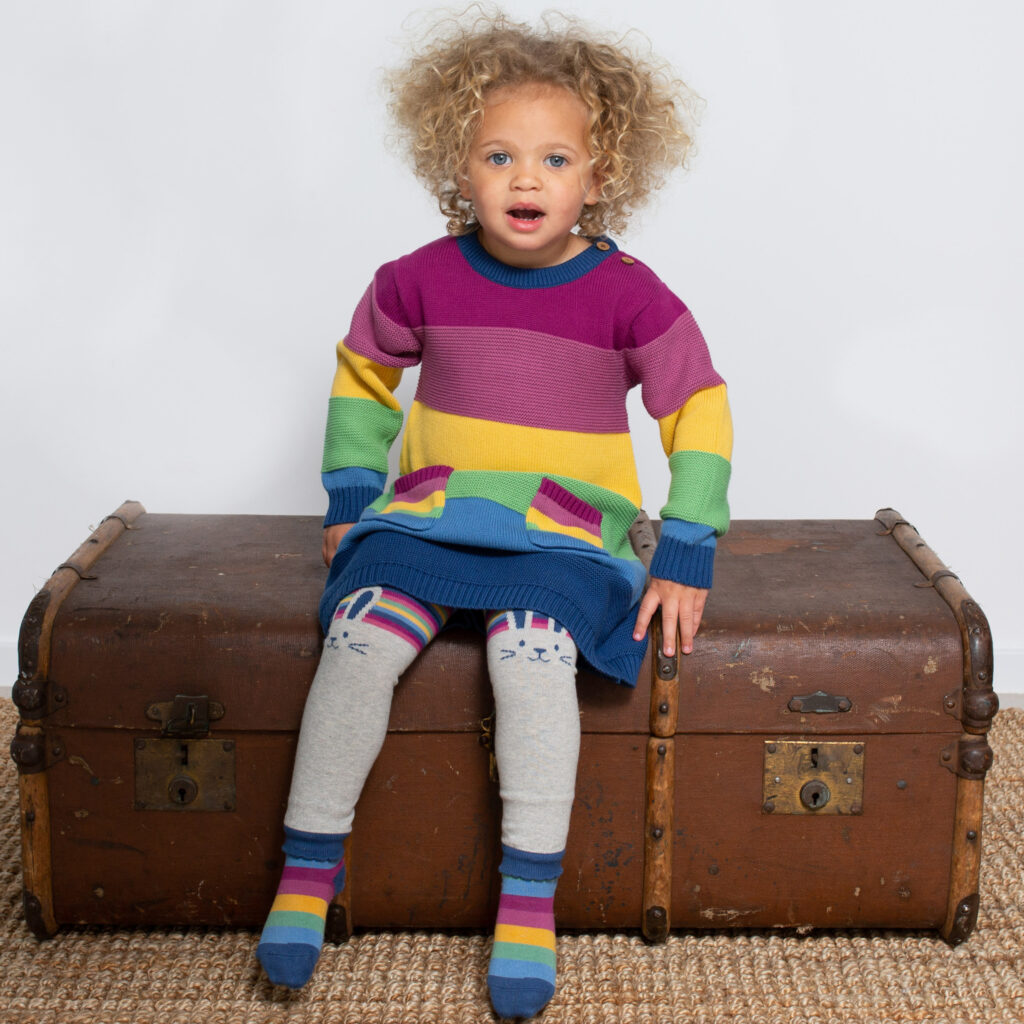 "Party or play, feel cosy all the way!". This colourful midweight organic cotton dress with textured knit rainbow stripes will surely brighten any child's day. It features handy front pockets perfect for carrying any little hidden treasures and is made with an ethically-sourced coconut button shoulder opening for easy dressing and comfort. Made from 100% GOTS organic cotton. Available on My Little Green Wardrobe.
Available in sizes 2-5 years.
£21.00 | SHOP NOW
Lilly + Sid Tartan Check Shirt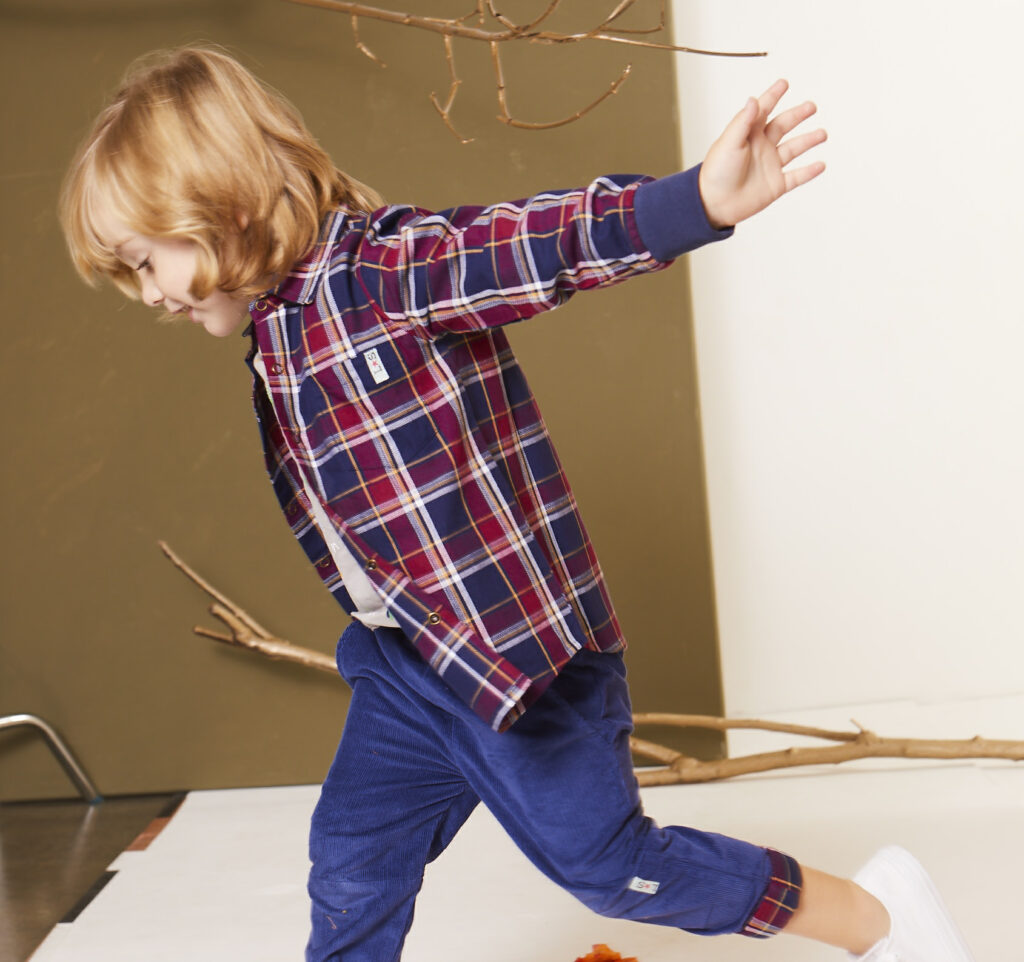 For all the Christmas season festivities, this smart/casual organic cotton tartan check boy's shirt is the perfect style for family parties and endless fun. The nickel-free popper fastenings are great for easy-peasy dressing. Super soft, this shirt is made from 100% GOTS certified organic cotton. It's also printed with eco-friendly azo-free dyestuffs.
Available in sizes 2-6 years.
£24 | SHOP NOW
Children's loungewear set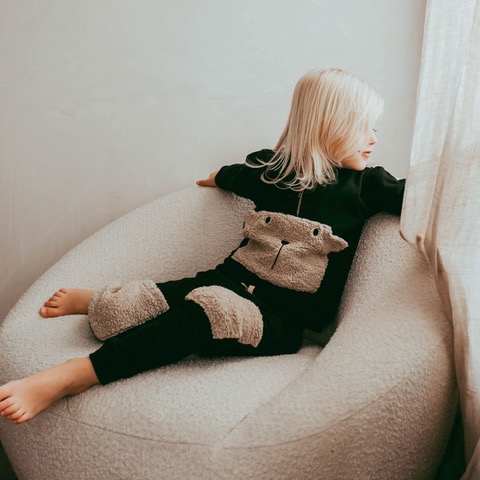 This super adorable matching loungewear set is perfect for when little ones just want to cosy-up and cuddle up on the sofa.
It's made from made from soft and gentle 100% GOTS certified organic cotton jersey fabric. It's available for ages from 0-6 months to 4-5 years.
Hoody £32, Joggers £24 | SHOP NOW
Small & Bright – the baby Christmas box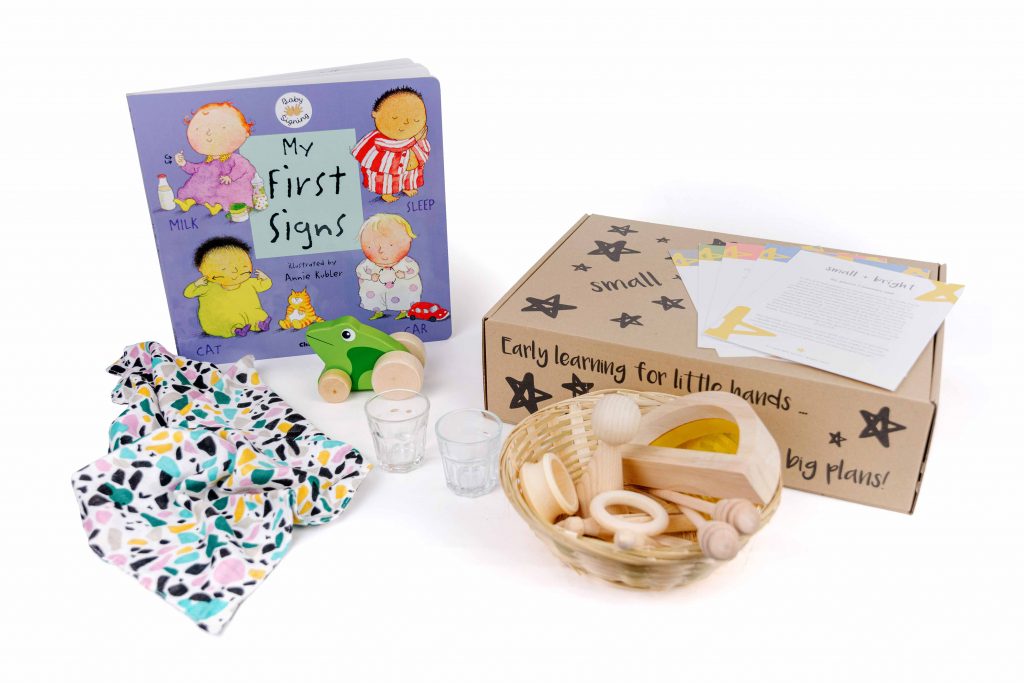 When it comes to toys, try the Small & Bright boxes of learning, for children aged 0-2. These boxes enable little ones to explore and discover independently. They are inspired by the Montessori approach to education, which places great emphasis on the notion of "respect", and is designed to inspire self-esteem and self-awareness. Each item is thoughtfully sourced, there is hardly any plastic in sight, and activity cards give ideas on how to use the toys in different ways as the baby develops and grows. Available as single boxes or as a monthly subscription.
£35 | SHOP NOW
'Who do I See in the Mirror?' Picture Book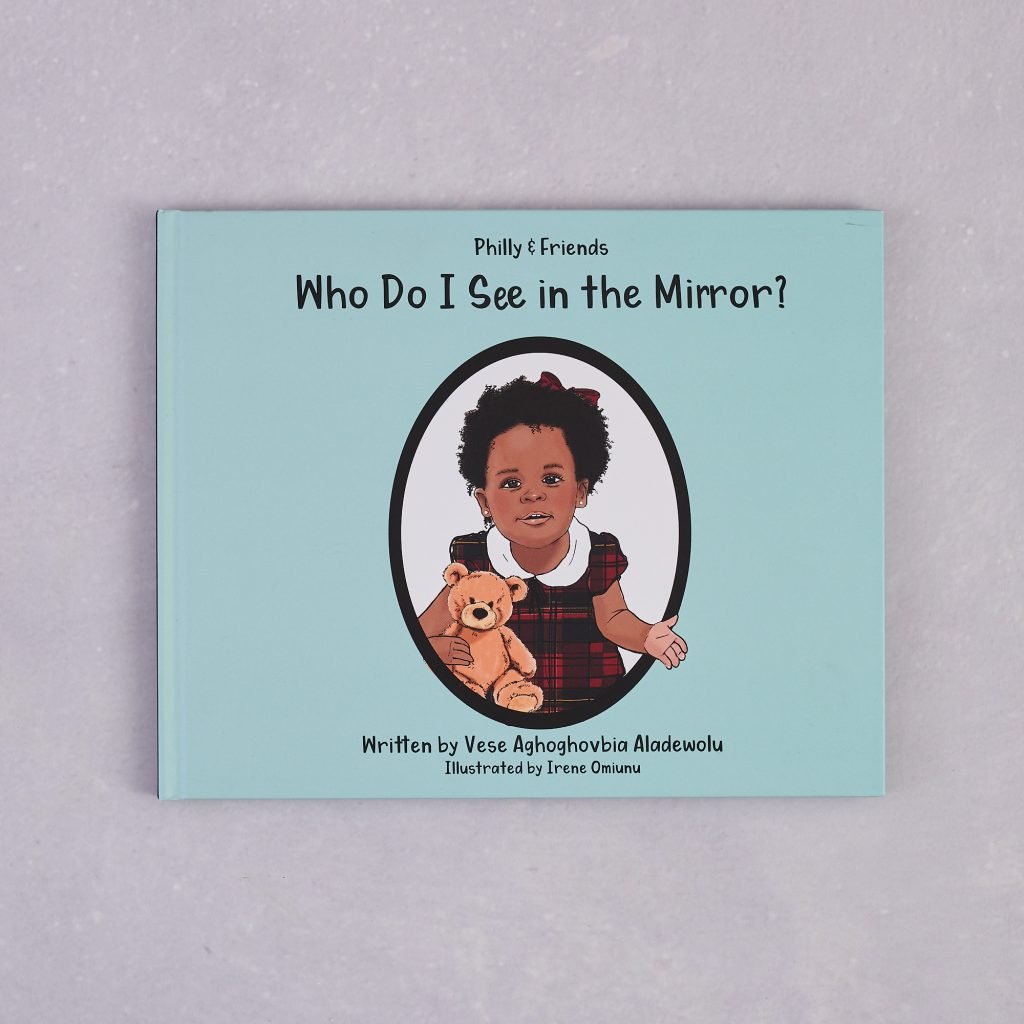 Who Do I See in the Mirror? is a gorgeously illustrated and powerful book that reminds children they are so much more than their physical appearance. "The little girl, Philly, has so much self-love, it's contagious."
£10 | SHOP NOW
Children's gardening and nature crafts subscription box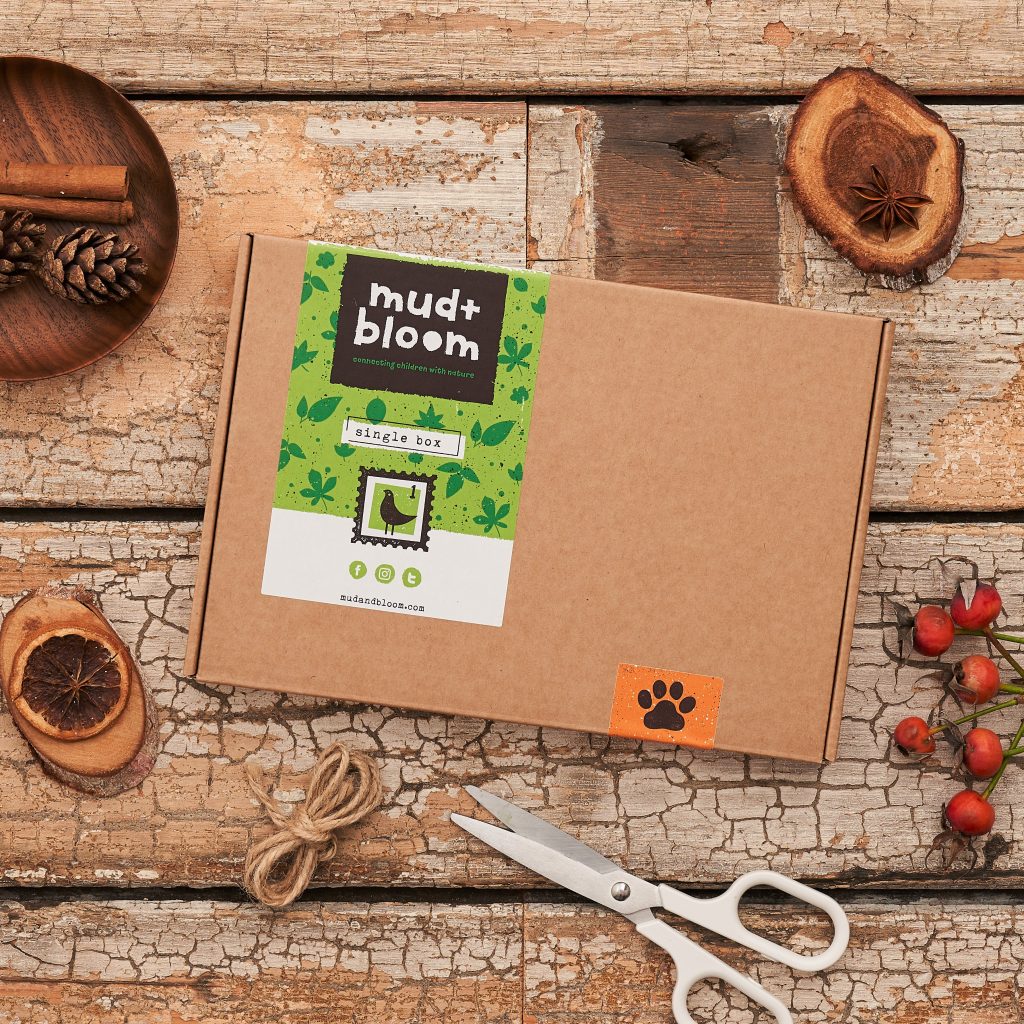 What do you buy kids aged 3 – 8, for Christmas? How about the gift of nature that keeps on giving.
These boxes arrive in your letterbox every month. They come with four seasonal growing and craft activities, plus instructions, nature news and games to teach children about the seasons, plants, insects, birds, soil and rainfall. All boxes come with organic, peat-free compost pellets to enable anyone to grow the seeds regardless of whether they have access to a garden. If you can't complete all the activities in term-time, they make for great ideas come the holidays.
£41.85 | SHOP NOW
P.S. Did you know each household's waste increases by 30 per cent over the Christmas period, across the UK. And among all this rubbish, gift wrap and cards are some of the biggest contributors. We throw out around 300,000 tonnes of card packaging each year, enough rolls of wrapping paper to circle the globe a staggering nine times every Christmas and somewhere in the region of one billion cards… So, switching to sustainable gift wrap and eco-friendly cards is another thing you can do to minimise waste this festive season.
Main image: NLWA