Christmas can get a little bit confusing when it comes to sustainable gifts. Really, we know we shouldn't be buying each other extra stuff. But, we have become accustomed to showing people we care by giving presents.
Whether you're trying to be more sustainable yourself or looking for gifts for environmentally conscious friends, the wonderful fact is that ethical gifts can have far-reaching positive impact.
Here's our pick of some of the best ethical and sustainable Christmas gift ideas for everyone.
Also, check out our guides for the best eco-friendly gifts for him and best sustainable gifts for her.
How we curate our gift-guides and test
Live Frankly is a place for exclusively ethical and sustainable brands. All the brands we feature go above-and-beyond in the work they do because they recognise the climate crisis, the environmental crisis, the injustices in their industries, and they know there's a better way. They're proving business can be done differently.
Every brand fills out a form answering questions about the materials they use, the people in their supply chains and their governance structures. We speak with the owners and decision makers before adding them to the Live Frankly Directory, and we test the quality of their products.
We do the hard work in the background, so you can focus on buying gifts with meaning for your loved-ones from smaller, independent brands with values at their core.
Best sustainable Christmas gifts at a glance:
Sustainable Gifts for Environmentally Conscious Friends and Family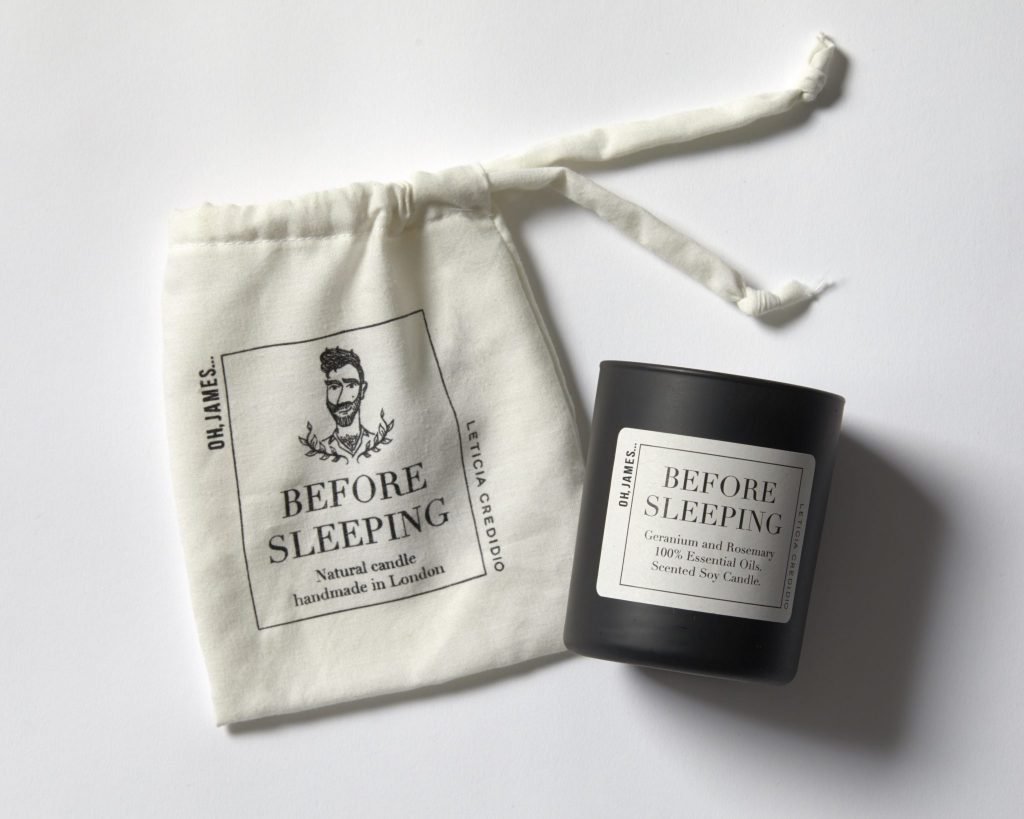 Key specifications
Burn time – 35-40 hours
Vegan soy wax
Made with 100% essential oils
180ml
Made in East London
This gorgeous Before Sleeping Candle, a limited-edition blend of geranium and rosemary, is the ideal way to unwind before sleeping, and is the product of a collaboration between Oh, James – an East London brand that produces unique handmade candles – and sleepwear brand Leticia Credidio.
Each candle is made from soy wax and 100% essential oils, handsomely packaged in a hand-sewn, up-cycled fabric bag. Burn time is up to 40 hours. This candle is so good you'll want to keep it for yourself…
£25 | SHOP NOW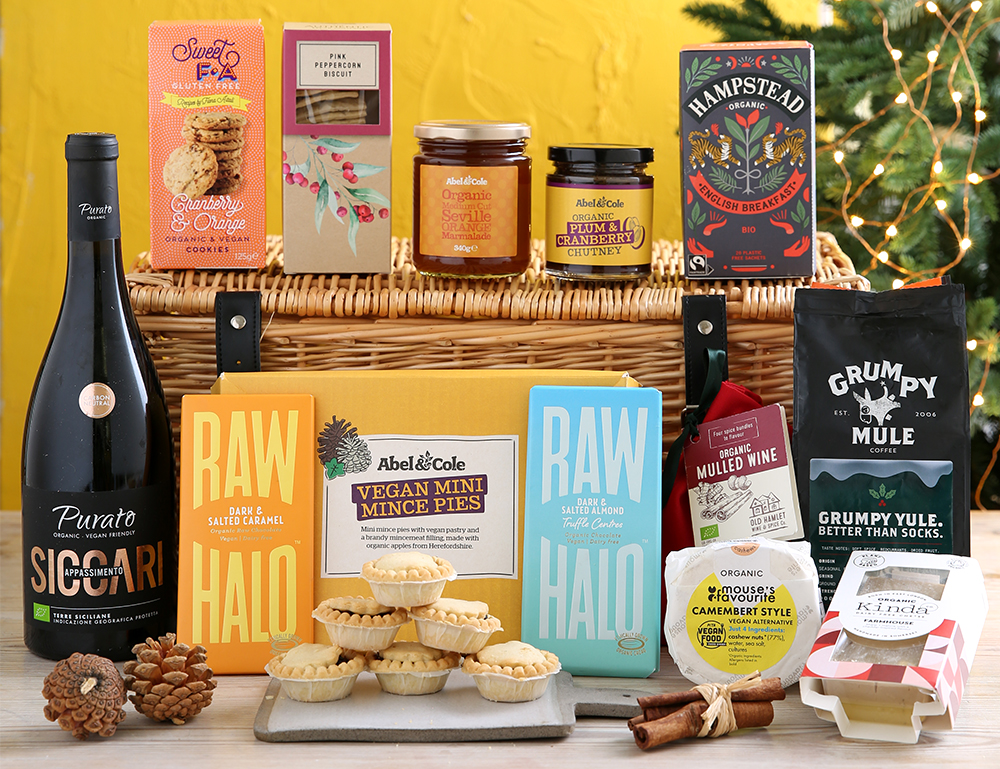 Key specifications
13 products
Vegan and organic produce
Whether your giftee follows a plant-based diet or not is not the point. This is a hamper full of delicious treats – Dark & Salted Almond chocolate, Coffee, mulled wine species, mince pies, a bottle of red… the list goes on. All treats are organic, and it's all beautifully packaged in a planet-friendly hamper.
£90 | SHOP NOW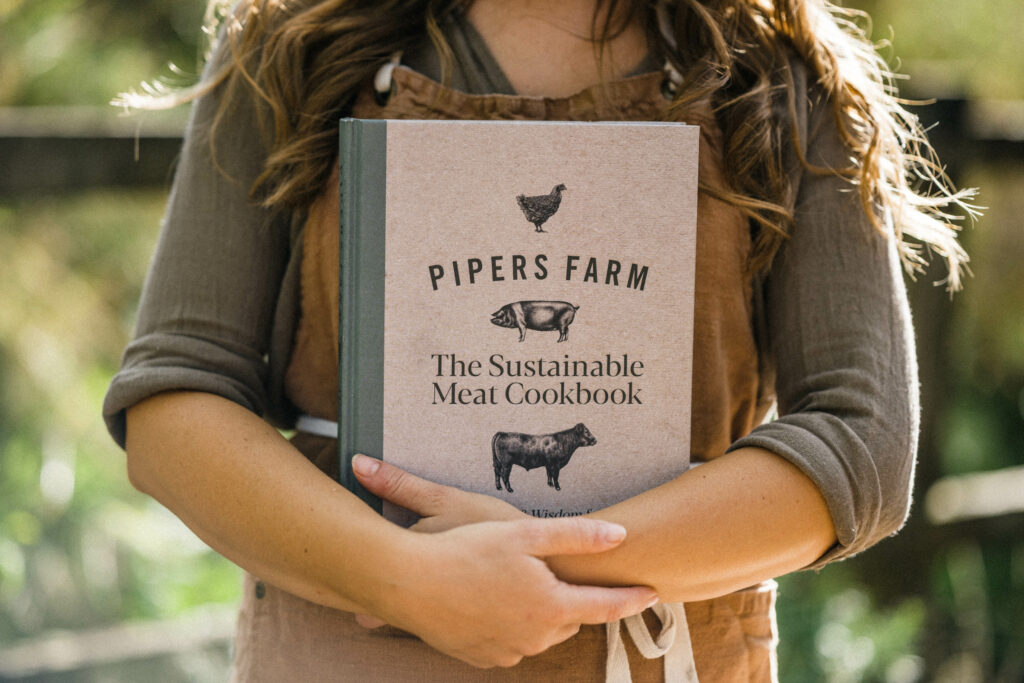 Key specifications
Over 100 seasonal recipes
Delivered in fully recyclable packaging
This cookbook makes the perfect gift for inspiring home cooks who want a reliable guide on how to reconnect with the land, cook consciously with ethically and sustainably reared meat, and how to use the often unusual cut of animals. Celebrating the seasons, it's the debut cookbook from Pipers Farm, which is headed up by Peter Grieg and his wife Henri. They've been running their Devonshire 50-acre family farm for 30 years, working in tune with nature, and have partnered with 25 other family farms in the surrounding areas to create their top quality produce. The book is also intertwined farming tales gathered from their decades in the business, giving a true insight into the real work and passion that goes into farming in this way.
£25 | SHOP NOW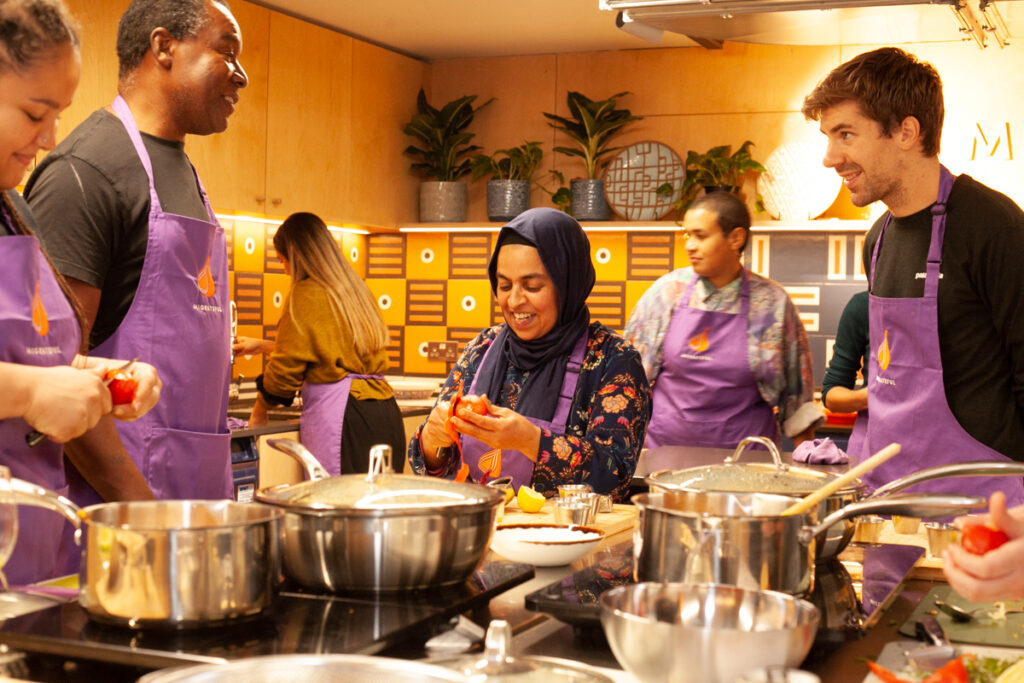 Key specifications
Valid for 12 months
Available online and in London, Bristol and Brighton
This Christmas, treat someone to a truly rewarding experience!
Migrateful is an incredible, award-winning charity supporting refugees and asylum seekers on their journey to integration by preparing them to run cookery classes.
Over the past 5 years, they have supported over 97 Migrateful chefs through more than 2000 classes. It's no wonder they have high profile supporters in Meghan Markle, Yotam Ottolenghi, Aisling Bea, and Jamie Oliver.
It goes without saying, a voucher for a Migrateful Refugee & Migrant-led Cookery Class is a wonderful, unique gift that keeps on giving.
Online voucher, £30 for a household | London, Brighton, Bristol, from £45 – £70 | SHOP NOW
Best for giving back: Choose Love, from £10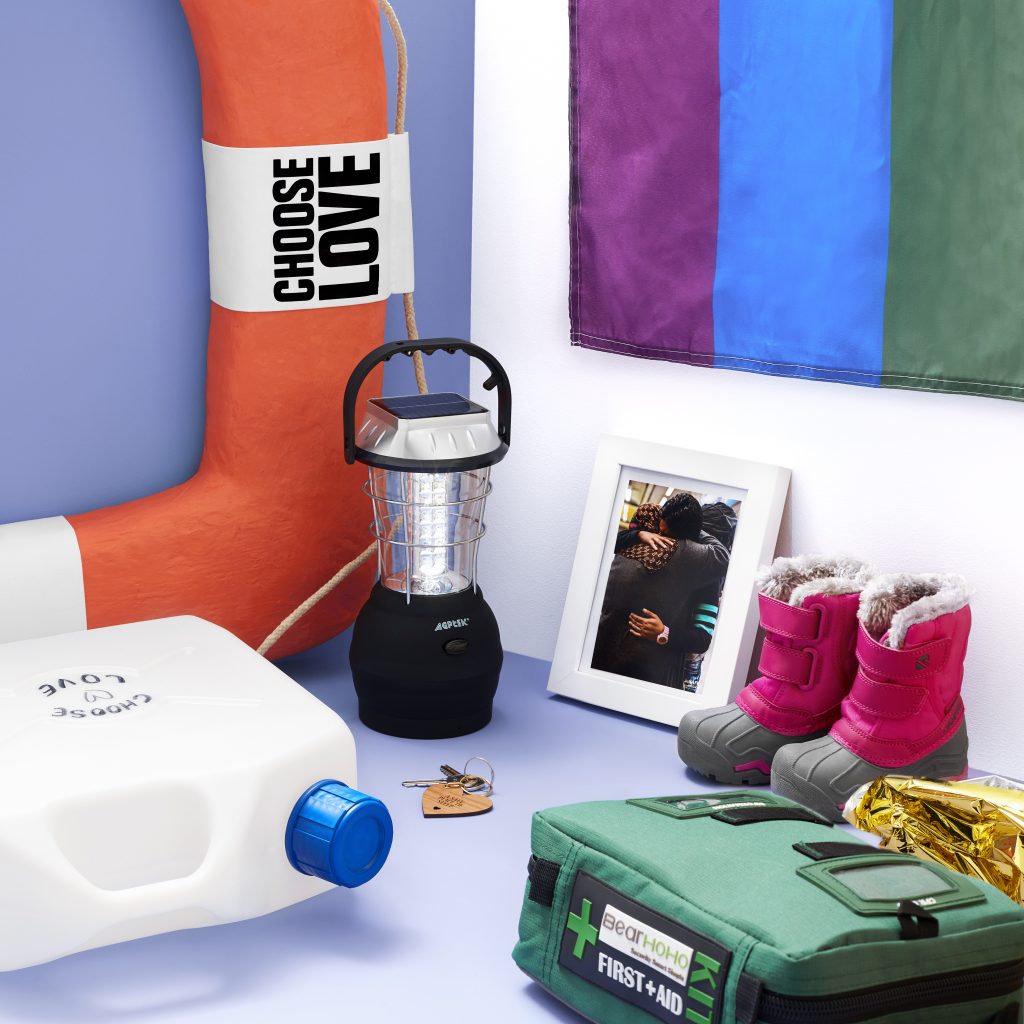 Key specifications
13 packages to choose from
Range includes 'bundle of warmth' to 'life saving medical treatment'
Buy 'one of everything' for £565
We've got a secret. We've found a one-stop shop where you can get all your Christmas shopping done all in one place. You'll find something to suit everyone, at all budgets, and you don't even have to wrap it!

That's because at online shop Choose Love, you buy what you want and receive nothing. Zilch. Nada. This is a business does things a little bit differently: it sells gifts for refugees around the world.

Splash your cash on warm winter clothing (£15), a hot meal (£15), mental health support (£25) and more, and your gift gets sent directly to those who need it most. You can buy from yourself, or in the name of someone you love.
Items from £15 | SHOP NOW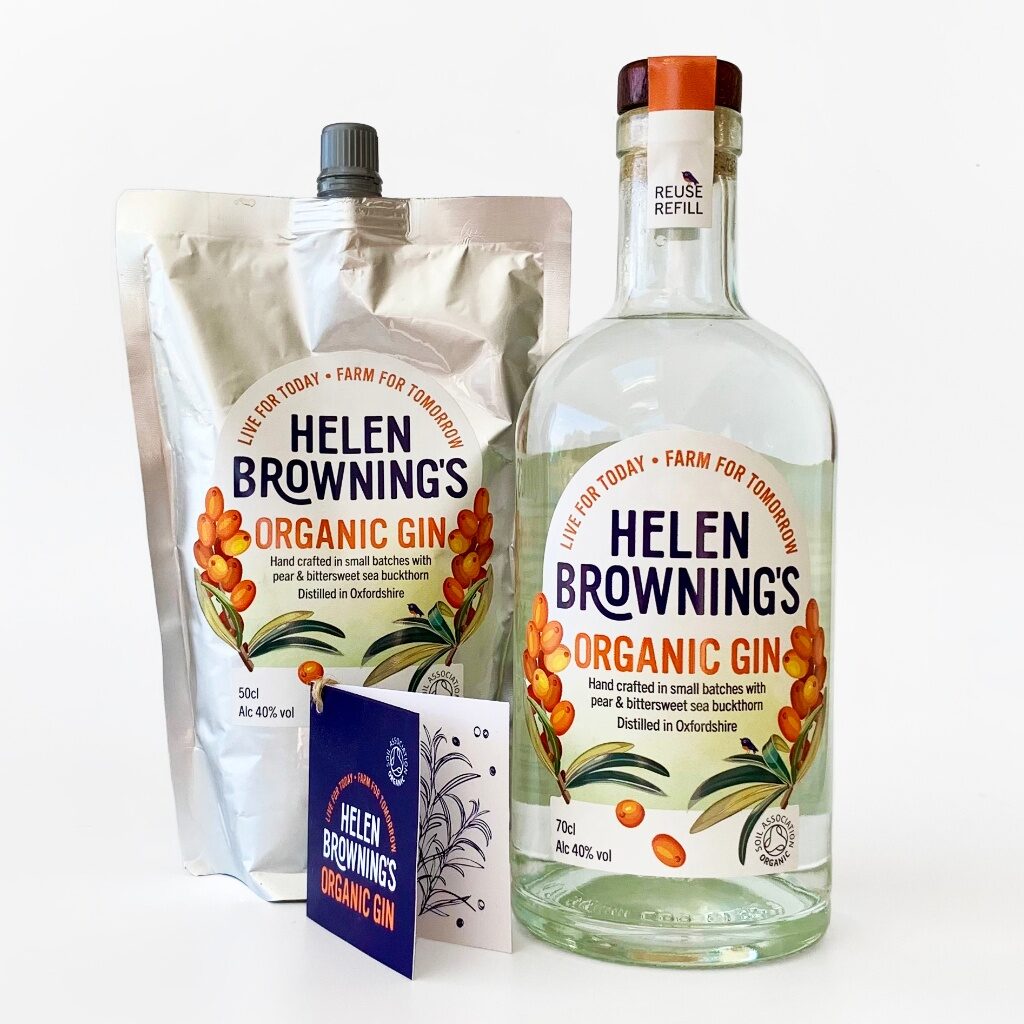 Key specifications
Certified organic by the Soil Association
70cl bottle
ABV 40%
For gin lovers, this organic gin is perfect. In fact, it's so good, you won't want to give it away.
Helen Browning certified organic London Dry Gin is hand-distilled in copper stills in the heart of rural Oxfordshire.
Inspired by the botanicals and flora found on Helen Browning's organic farm, the gin has the delicate aroma of British wildflower meadows and orchards. Its distinct flavour profile is made up of Sea buckthorn, pear, fresh honey with herbal notes.
As if we weren't already sold, the bottle itself is made from recycled glass. Refillable pouches are then available for your giftee to top up their gin bottle when they are running low. The refill pouches can be sent back to Helen Browning to be recycled.
£45 | SHOP NOW
Key specifications
1,000 pieces
Made from 100% recycled cardboard and UV inks
700×510 mm when made
Also available in white
When we stumbled across this bad boy, we just couldn't resist including it in our list. This jigsaw from Rapanui is impossibly ridiculous, hence the name 're-jiggulous'.
It is made to puzzle even the most hard-core of puzzling pros. Know anyone who loves a challenge?
It is sustainably designed from recycled cardboard and printed with a cool marine-inspired doodle.
£30 | SHOP NOW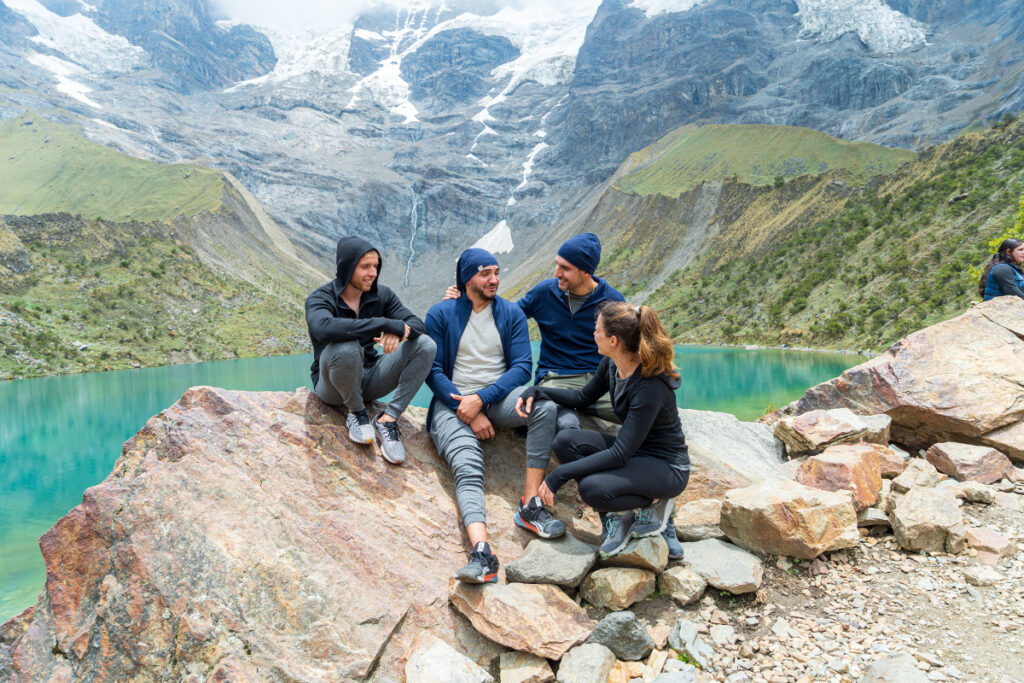 Key specifications
Made from Royal Alpaca wool, the best quality
High-performance apparel
Developed in the Andes Mountains
100% plant dyes
Available in multiple colours
Size XS-XXL
Developed in the Andes Mountains, this high-performance 100% Alpaca Wool apparel is lightweight, soft and breathable – the perfect gear for outdoor sports, travelling, and everyday use.
Alpaca Wool is moisture-wicking and naturally odour resistant, helping to keep you protected, clean, and comfortable on your adventures.
It is available in multiple designs and a variety of colours, using low-impact or natural dyes.
From £70 | Shop Now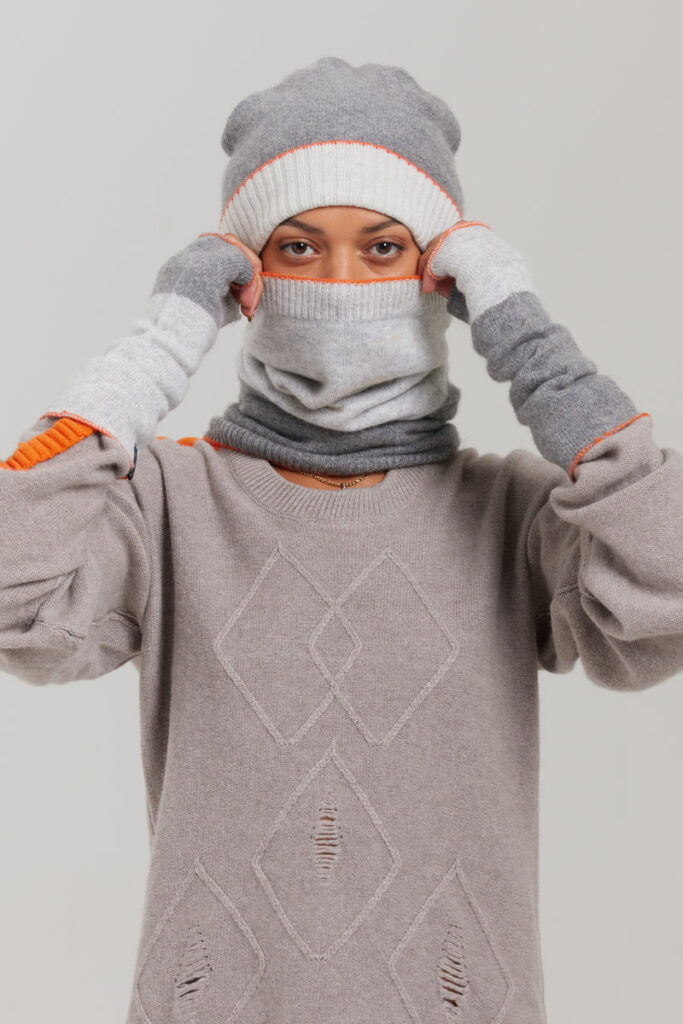 Key specifications
100% ethically sourced Mongolian cashmere
Zero waste ethos
Each item is made to order
Made from left over yarn that would otherwise have gone to waste
Made using hand powered vintage knitting machine
If you want to wrap someone in a bundle of love, then Valentina Karellas' Danvers knitwear is the perfect gift to do just that. The matching beanie, mittens and scarf are available in a range of bright and bold colours, including electric blue and turquoise, forest green with contrasting orange or tones of grey, and are made of beautifully soft and bright (surplus) cashmere, which is incredibly limited stock. When this yarn is gone, it's gone…
Each row is accountable and treasured by hand, and made to order on a vintage industrial knitting machine that doesn't use energy. Super light and stylish, these pieces are all about quality and attention to detail, featuring a contrast stripe hem detail.
Pieces from £55 | SHOP NOW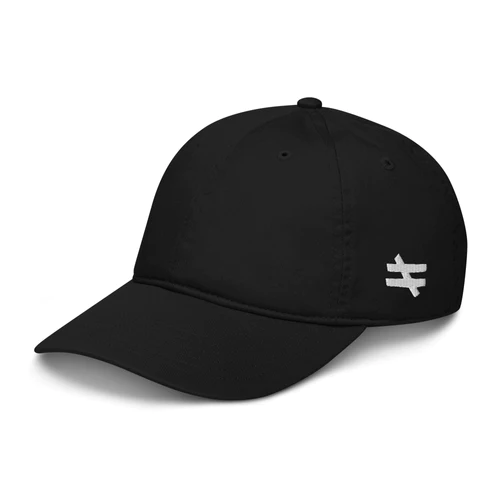 Key specifications
Gender fluid brand
Made to order from 100% organic cotton
Embroidered design on both sides
Unstructured shape
A classic baseball cap is an easy way to make a statement, and makes a timeless gift. This cap has a little difference though, and that's its simple white embroidered symbol on the side, which stands for diversity and unity.
Made with 100% organic cotton, all of Pitod's wardrobe staple designs are inclusive, made to a high-quality, are versatile and are made to last from organic and recycled materials.
£39 | SHOP NOW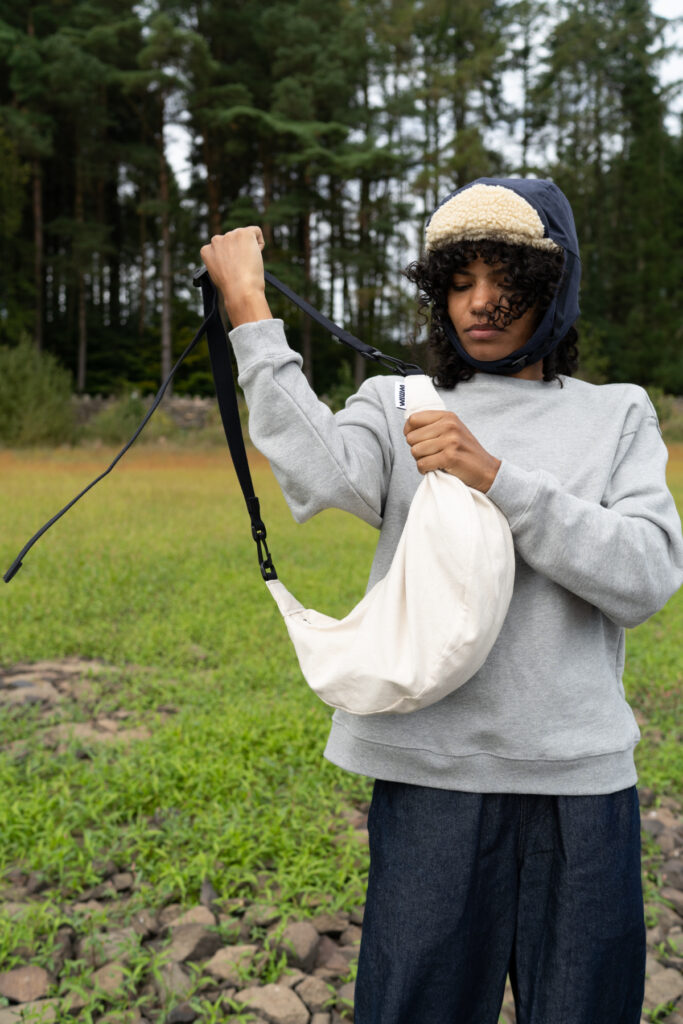 Key specifications
Made in Manchester
100% GOTS Certified organic cotton
Workers paid the real living wage
If your giftee is fed up with using chunky backpacks or forever has a sore shoulder from carrying too much in just a tote bag, this is the bag for them. The universal fits-everything-in bag in a half moon shape is best worn slung across the body (although its adjustable strap means it can also be worn as a shoulder bag) and means everything you're carrying is easily accessible. So, forget struggling to find what you're looking for in a rucksack, or constantly fumbling around looking for your house keys.
Made from 100% organic in Manchester, it's designed to be able to carry your essentials, it's a go-to bag for holidays or the office, as it's spacious enough for a water bottle, notebooks, even some and lunch, and plenty of other essentials.
£59 | SHOP NOW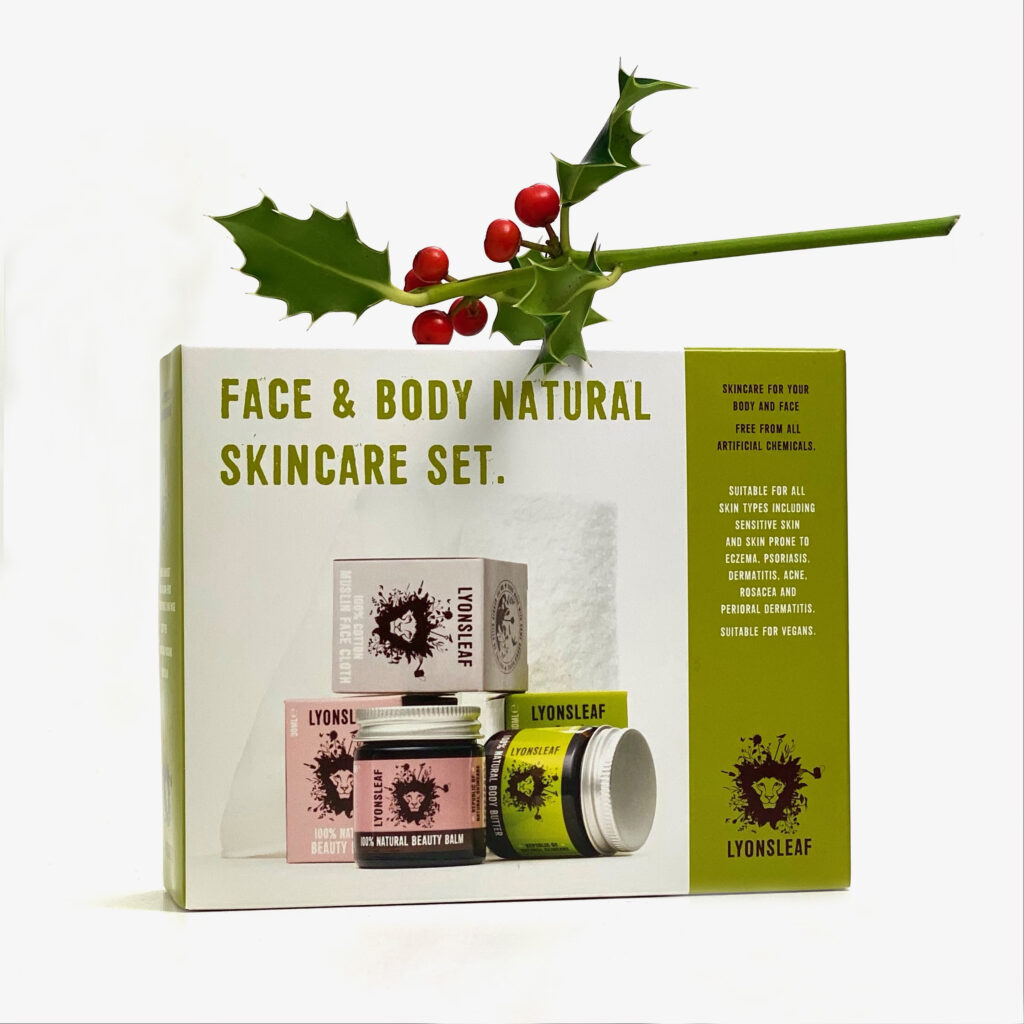 Key specifications
100% Natural
More than 90% organic/wild-harvest
Concentrated formula
Water-free: no preservatives or emulsifiers
Lyonsleaf award-winning Body Butter and Beauty Balm are both intensive moisturisers, that are great for winter skin. They are made from tropical plant oils like shea butter and babassu oil that will not oxidise on the skin and are perfect for daytime use. The multi-tasking Beauty Balm can also be used as a cleanser that won't strip the skin's natural oil and will keep both oily or dry skin in tip-top condition.
At Lyonsleaf they call their philosophy 'The Republic of Natural Skincare', crafting their blends with homegrown herbs, nourishing plant oils, organic beeswax, minerals, and… nothing else! Lyonsleaf products are hand-made in the UK by workers earning a living wage.
£17.50 | SHOP NOW
Best Sustainable Gifts For Her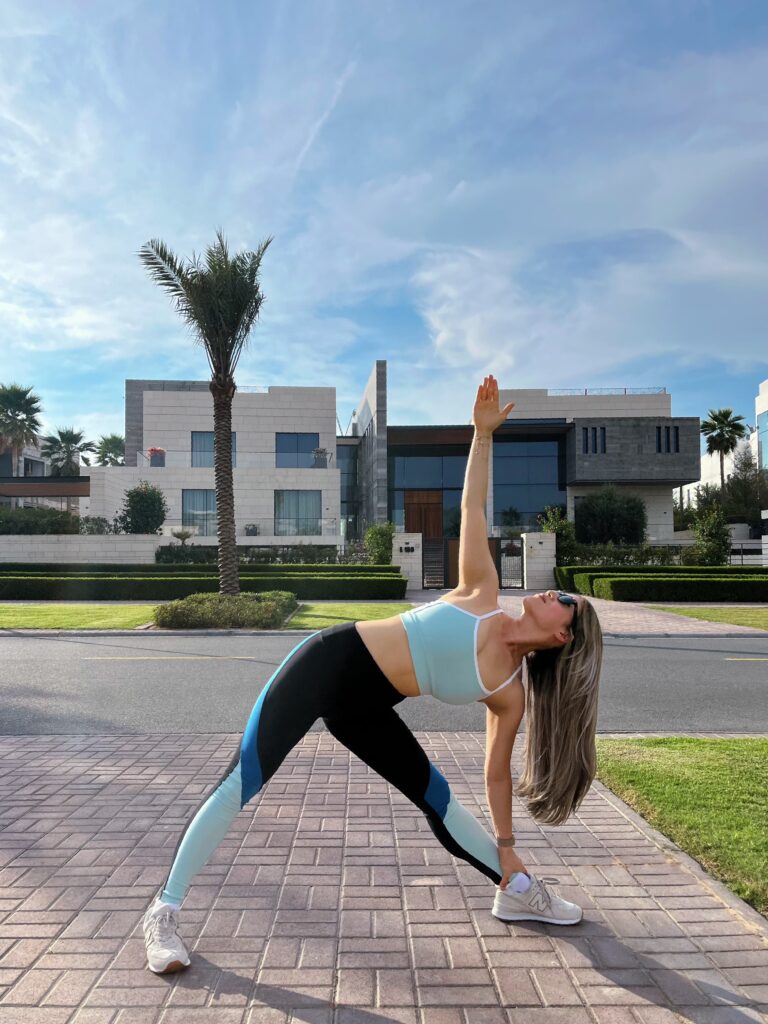 Key specifications
Certified Cradle to Cradle Product
Made from organic cotton
Made in Europe inline with Social & Fair Work Conditions
When it comes to sportswear, the elastane which gives leggings and sports bras their stretchiness can take between a staggering 20 and 200 years to decompose, depending on how much elastane is in the product.
Wellicious is Cradle to Cradle certified, meaning its entire lifespan – from manufacturing through to composting – is fully taken care of. When the products do come to the end of their lives, Wellicious will take them back and properly compost them.
£79 | SHOP NOW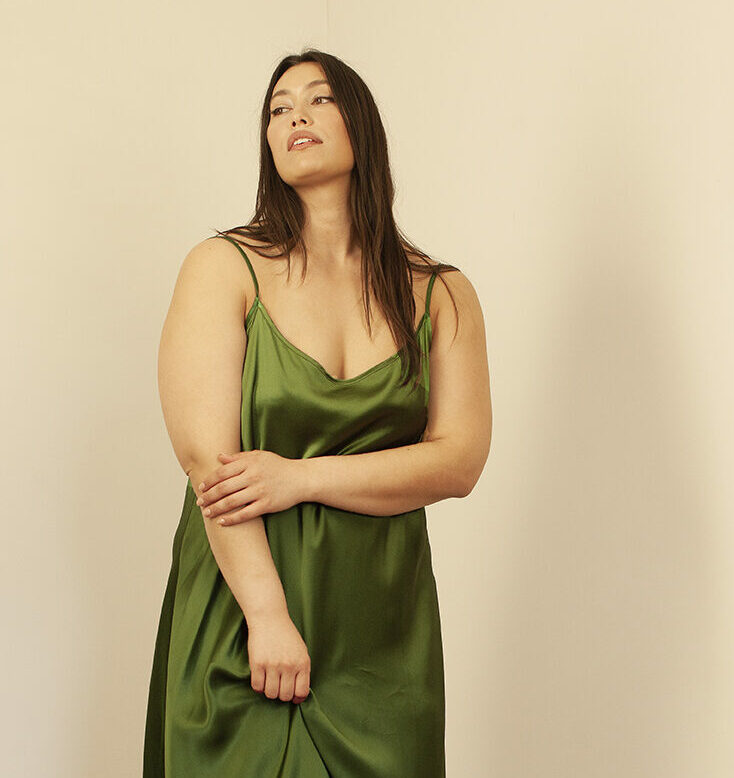 Key specifications
100% Mulberry silk
Made to order
Sizes 6-28
Available in 10 colours
Designed in the UK and made in Bulgaria, which is known for its top quality skills in making clothes and outerwear, founder Lora also hails from the country and is an expert in all things textile design and manufacturing. Her chic and timeless designs aren't about what's in fashion, but what will transcend fashion trends and always look good.
The slip dress is made from 100% Mulberry satin silk, and is one of the collection's key pieces, which can be dressed up or down to take you from festive parties to winter walks. Although it's not made to measure, it is made to order, so each item can be created to suit different body types. The brand also really champions size inclusivity, running from sizes 6 to 28, across 10 colours.

£170 | SHOP NOW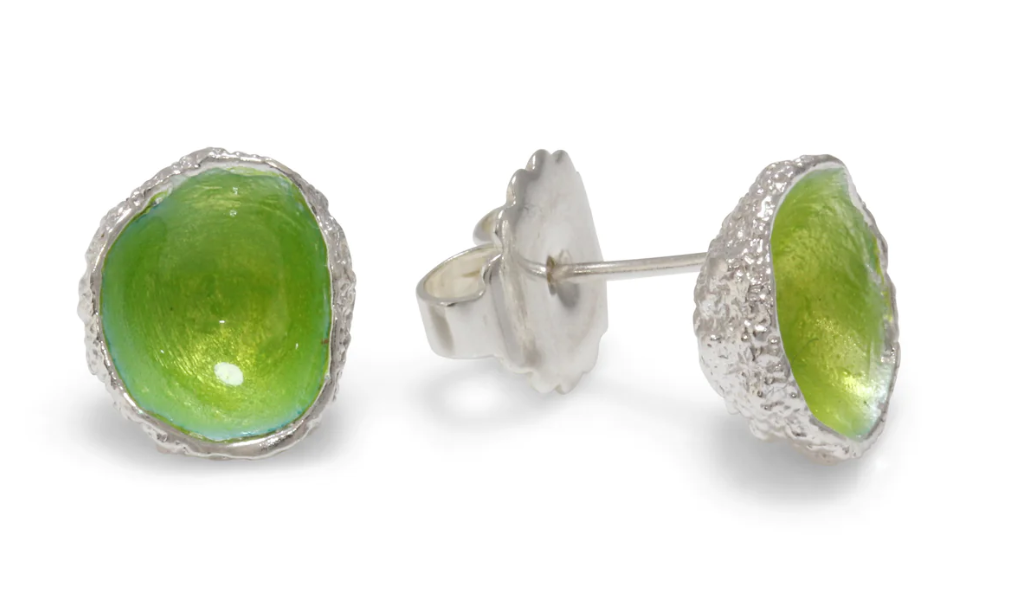 Key specifications
Made in Bristol
Enamelled acorn studs
Hand painted
Crafted in solid silver
Extra large silver earring backs
Looking for a truly unique and special gift? These mesmerising enamelled stud earrings by Eily O Connell are just that.
Designer and goldsmith Eily O Connell is heavily inspired by the natural world, and the studs feature a quirky acorn style cup shape.
They are created in an array of tones, including the pictured glowworms-inspired lime green.
Handmade, and enamelled by Eily in her Bristol based studio, these hand-painted earrings are crafted in recycled solid silver and then the enamel has been carefully fired inside the acorn.
What makes Eily O Connell jewellery even more special is that it is made with sustainability in mind. O Connell prides herself on crafting her pieces using high-quality, ethical and well sourced materials.
£105 | SHOP NOW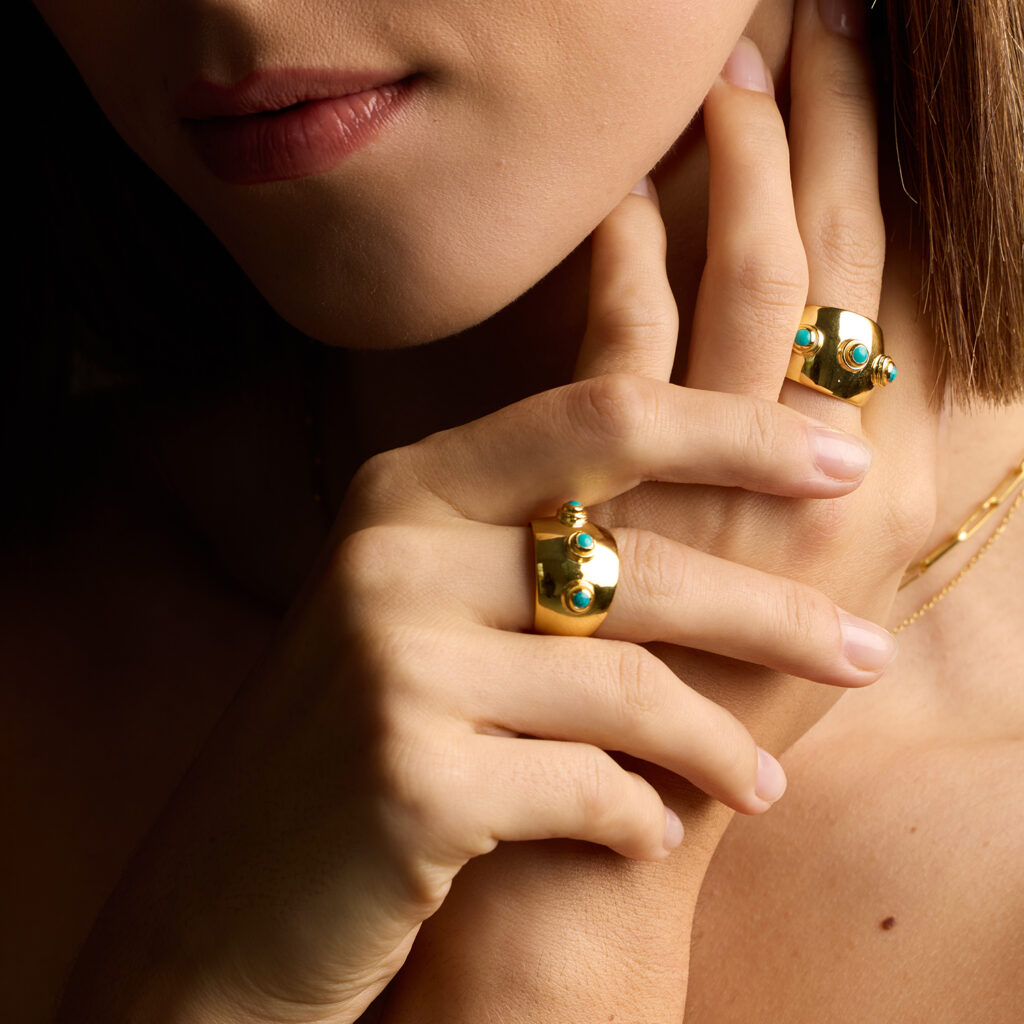 Key specifications:
18k Gold Vermeil (recycled sterling silver soaked in 18k gold bath)
Natural turquoise gemstones sourced from vintage accessories
Ring width: approx two cm
This gold and turquoise ring is a statement item. It is fully size-adjustable and looks great on its own or when layered with contrasting stacking bands.
Amadeus' philosophy is "look good, feel good, and do good". They offer their customers more conscious jewellery choices by using recycled gold and silver and purchasing pre-loved stones secondhand. They are dedicated to in-house production in London. 
£180 | SHOP NOW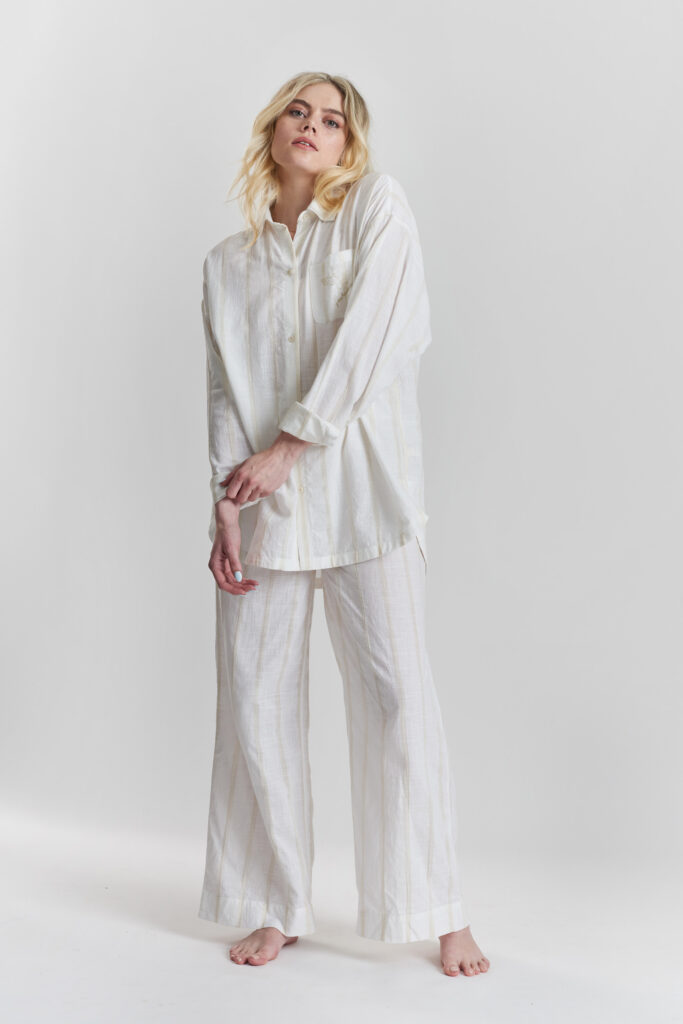 Key specifications
100% ethically sourced cotton
Made in India
Sizes XS-XL
Receiving a pair of PJ's for Christmas feels like a rite of passage. And, if you're looking to step up your PJ game this year with a pair that is cute, comfy and kind to the planet, look to Peachaus. It's an all-round fab women's lifestyle brand that sells contemporary feminine sleepwear, underwear and leisurewear in an array of understated soft colours.
Their chic range of matching pyjama sets, which feature pastel stripes, gingham checks and beautiful embroidered designs, are consciously crafted from responsibly sourced fabrics.
These are the kind of pyjamas you'll want to lounge in on the sofa with a coffee in hand, all winter long.
Prices vary | SHOP NOW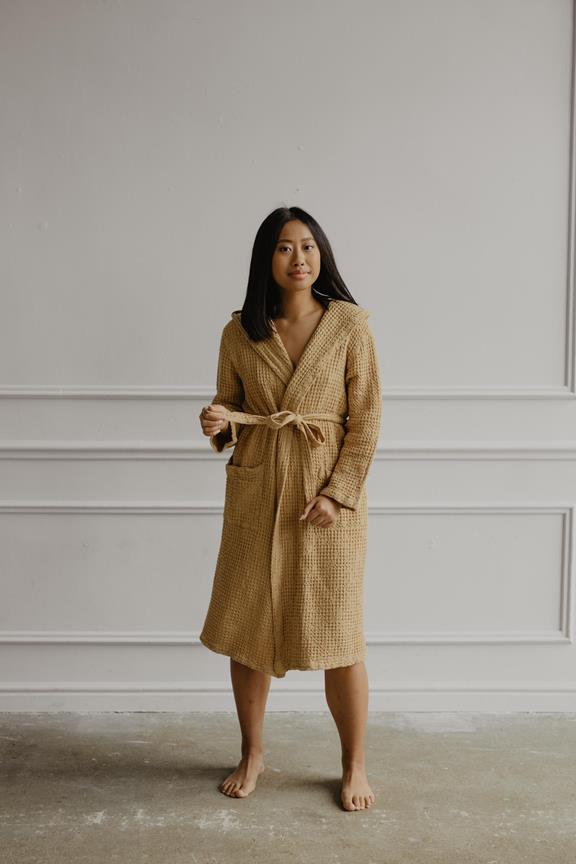 Key specifications
Made to order
Made from 53% linen and 47% cotton blend
Stone washed for maximum softness
Available in two sizes and three colours
Don't want to wear a hoodie, but want something extra cosy to throw on over your comfies, which has the added bonus of a hood? This waffle dressing gown with a hood is just the ticket. Made from a waffle linen and cotton blend, it's soft and is the perfect thing to wear when it gets chilly at home, or post bath or shower.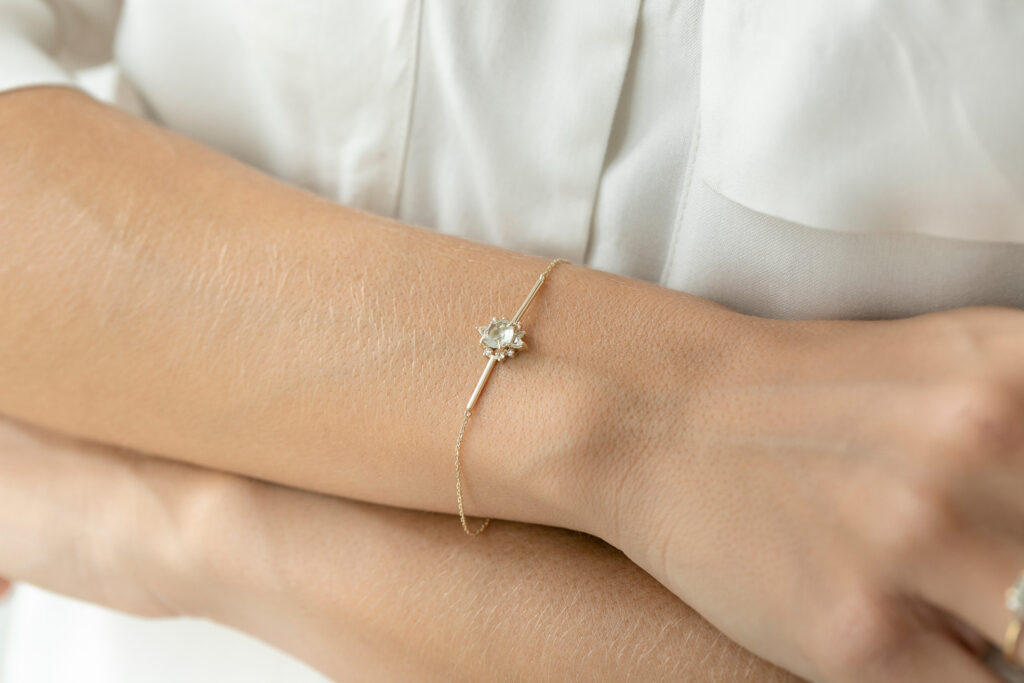 Key Specifications
Round cut green amethyst
Lab grown pear cut diamond petals
Yellow gold bracelet
This beautiful bracelet is inspired by the lotus flower, which bloom which bloom each morning from murky waters, representing purity and resilience. A round cut green amethyst sits at the centre of the flower and is surrounded by lab grown pear cut diamond petals clasped in triangular claw settings. Ethica Diamond's mantra is "kind, not mined". While lab-grown diamonds are both visually and chemically identical to natural diamonds, they bypass the harm caused by mining. Matching necklace and earrings also available.
£514.42 | SHOP NOW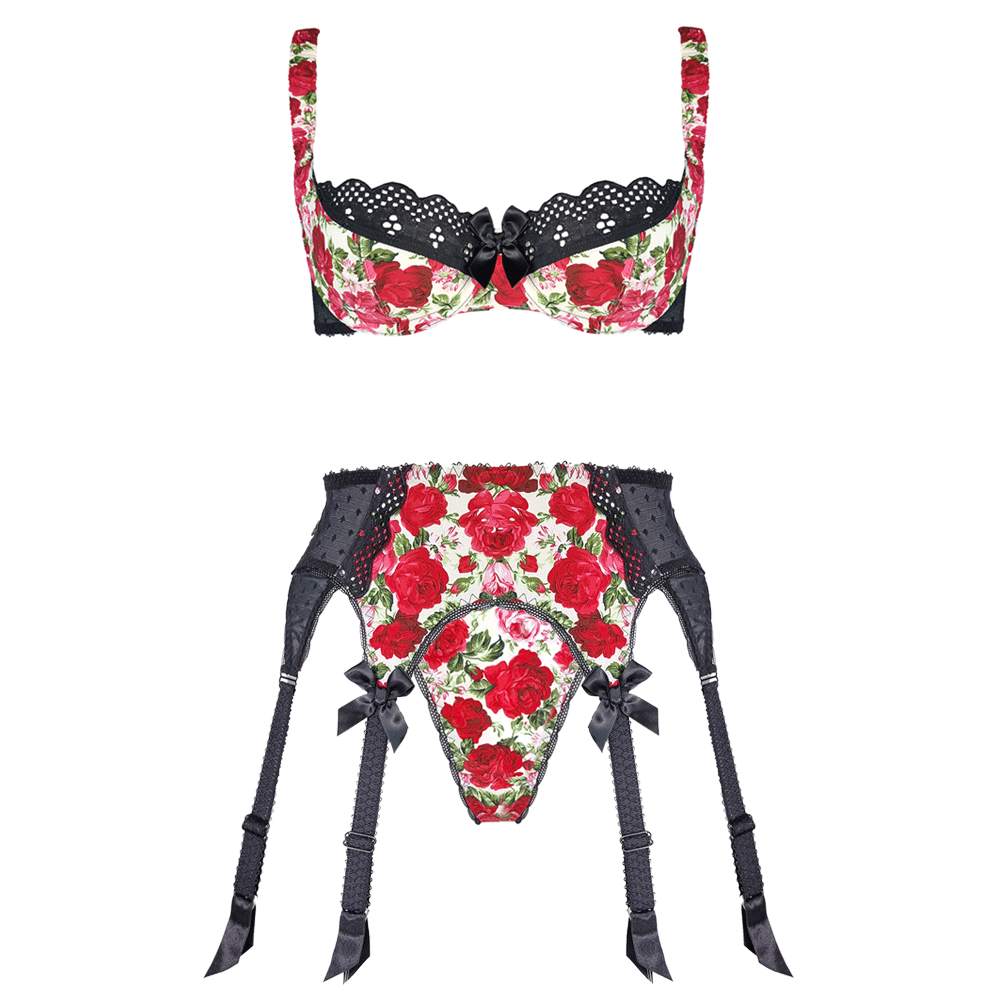 Key specifications
Made from upcycled materials
Wide range of sizes available in ready-made designs
Option for individually custom-made orders
Not all underwear is made equal. The lingerie by Buttress & Snatch founder Rachel Kenyon is made from vintage materials she's spent the past 20 years of her career collecting, which have mostly come from dead stock and are ready to be upcycled. But one of her unique offerings goes beyond the usual realms of lingerie, and makes a unique gift. More art than just underwear, she makes new lingerie out of an old (but much-loved) item of clothing like an old shirt or dress, resulting in a totally individual and personalised gift.

Though, there are ready-made designs you can buy in a wide range of sizes, like this pretty and quintessentially Old English rose print bra. Make it a matching set with the knickers and suspenders in the same print.
£122 | SHOP NOW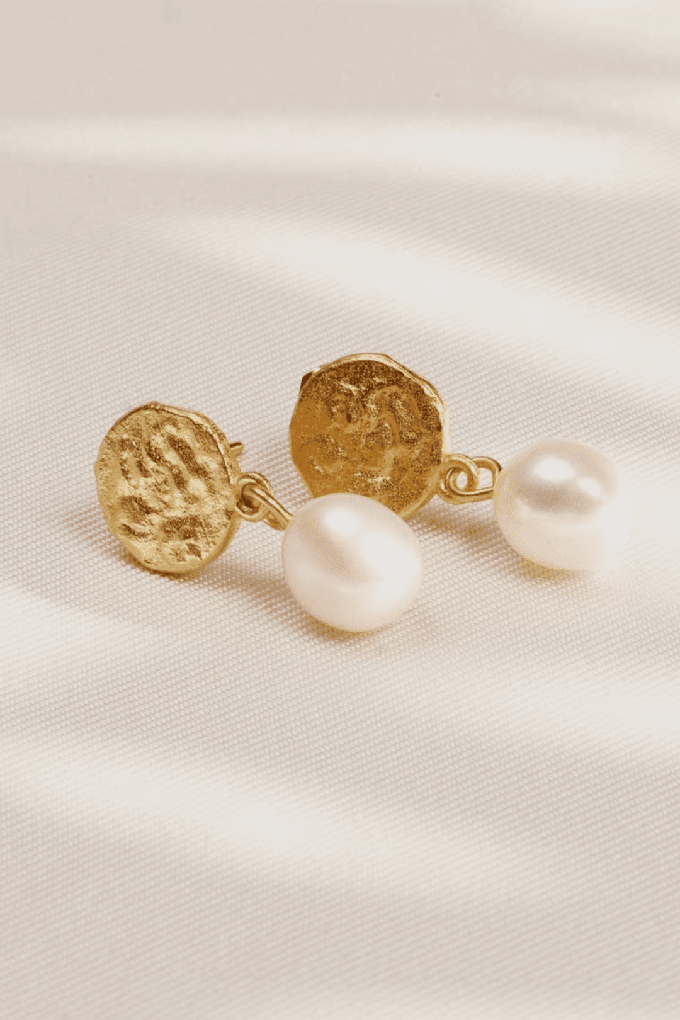 Key specifications
24K sustainable gold-plated
Made in Paris
10m diameter stone
Nickel-free and lead-free
You can never go too far wrong when it comes to jewellery featuring gold or pearls, and if you combine the two, you're set for a winning gift that's totally timeless.
These little dangly earrings are the perfect mix between dainty and chunky thanks to their hammered-effect gold studs, which are finished off with a little pearl drop.
As part of the carefully curated offering from the female-founded online marketplace Project Cece, these earrings are made from 24-carat sustainable gold plate and are ethically handmade in Paris at the Agape Studio, which specialises in timeless pieces.
£39 | SHOP NOW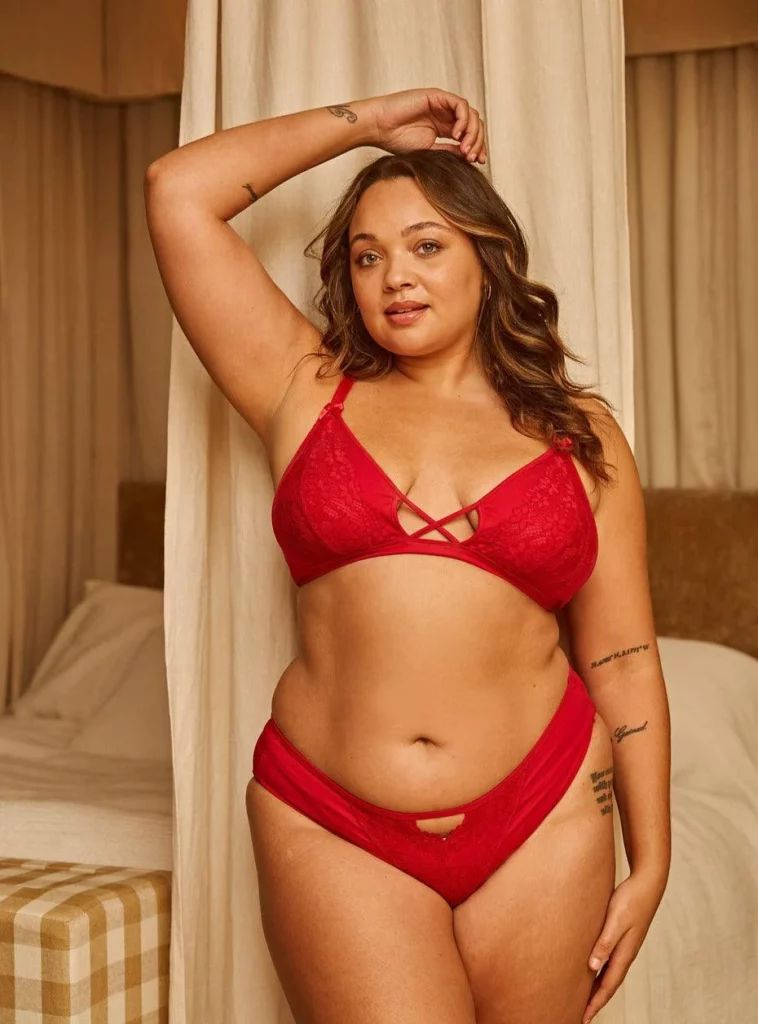 Key Specifications:
Made with hypoallergenic fabric
Flattering lace overlay
Cup / Crotch: 100% Pure Silk
Body Fabric: 78% Organic Pima Cotton, 22% Silk
Available in Red and Black
Sizes 10 – 18
Spice things up this Christmas with this stunning Passion Red Lace Cotton and Silk lingerie set from Juliemay.
Juliemay is a brilliant brand that specialises in making ultra-soft, super breathable, naturally hypoallergenic bras and briefs. The brand is accredited by AllergyUK.
This supportive yet sexy set is made from sustainably sourced Organic Pima Cotton and silk with delicate lace and floral detailing.
Discount code JULIEMAY for 10% off first order.
Bralette & Knickers set £83 | SHOP NOW
Best for comfortable underwear: Pantee Crop Bra: £30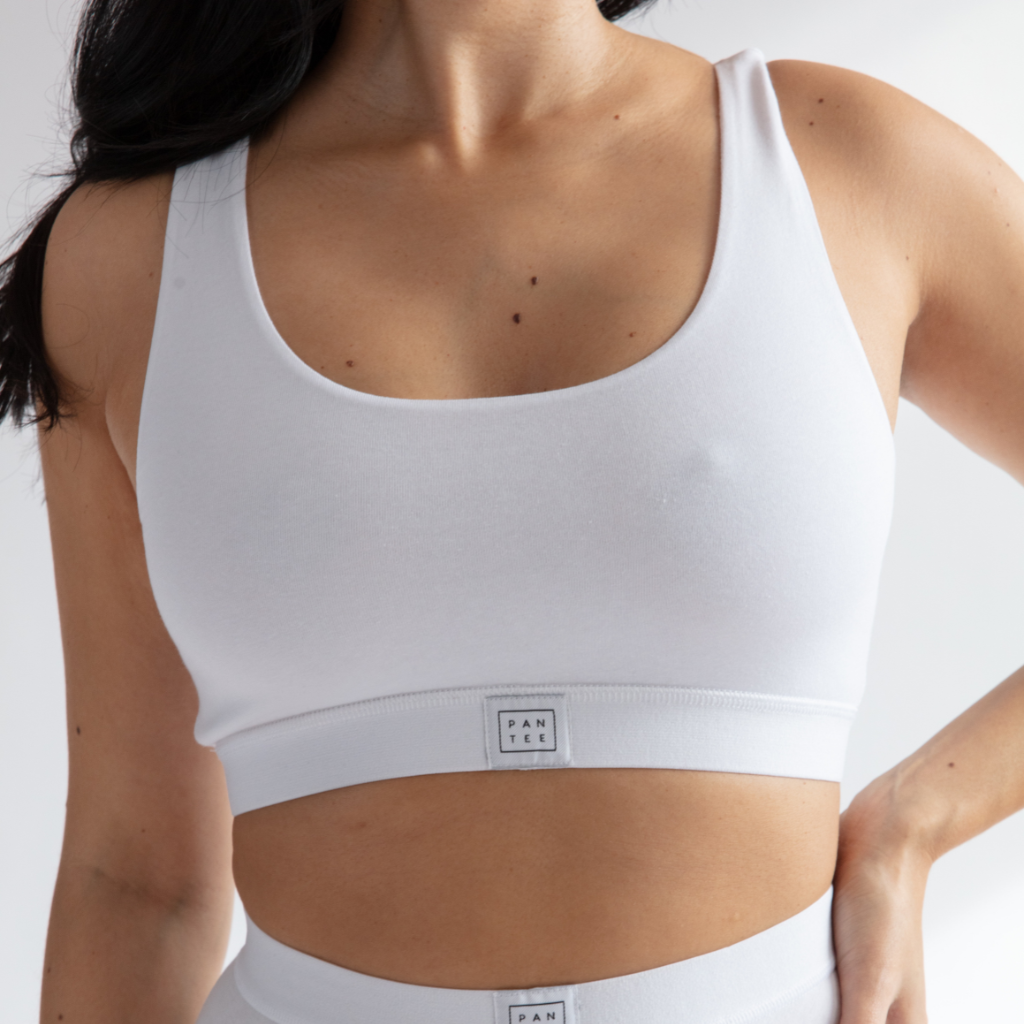 Key specifications
Free of wires
Made using deadstock, high-quality, double layered cotton
Longline fit and scoop back
Manufacturers paid above living wage with bi-annual bonuses
Sent in recycled and recyclable plastic-free packaging
This modern sporty style double layered crop bra from Pantee is perfect for getting comfy and cosy this winter.
Pantee tackles clothing waste head on, and since launching in November 2021 they have upcycled more than 1,500 kg of deadstock T-shirts and fabrics into bras and knickers.
So not only is this bra super soft, breathable and buttery, but it's brilliantly made from reworked deadstock cotton, too. Pantee's underwear is cut and sewn in a small-scale sample room in Bangladesh, where workers are guaranteed safe working conditions and fair pay.
The crop bra is available in black, white and limited edition colours. You can mix and match it with Pantee's range of brief styles, so we recommend having a browse. There's also the option to treat someone to a Pantee gift card, starting from £10.
£30 | SHOP NOW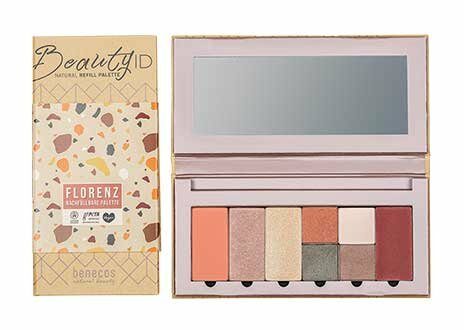 Key specifications
Refillable palette
Plastic free
Cosmos organic
Cruelty-free
Talc free
Vegan
The benecos Beauty ID Florence palette is a fab gift for any makeup lover. This palette includes a rouge, two highlighters, four eye shadows and a lip & cheek balm. These palettes not only come feature an array of beautiful colours to play with. Excitingly, they are also refillable! So, when you've run out of your favourite shade, there's no having to waste money, or packaging, on replacing the entire palette. You can simply replace the individual colour. Or, switch things up and swap it out for an entirely new shade. The options and potential makeup looks are endless…
benecos offers a wide range of organic, plant-based makeup at an affordable price. Their products are packed full of natural ingredients that care for your skin and steer clear of mineral oils, paraffins and silicones. benecos hold certifications from BDIH COSMOS ORGANIC, BDIH COSMOS NATURAL, and PETA Cruelty Free. The Natural Care range is Vegan Society Certified.
£22.95 | SHOP NOW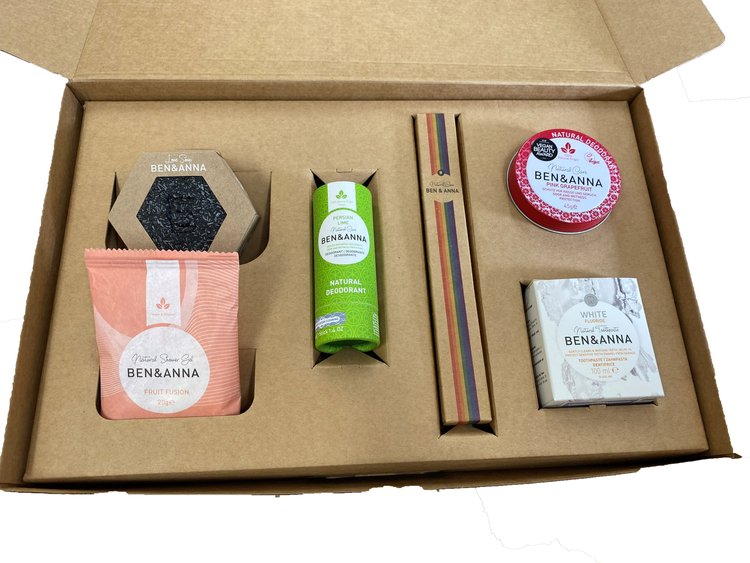 Key specifications
Ingredients are vegan and microplastic-free
Plastic free packaging
Not tested on animals
The Ben & Anna gift box is a sure-to-please great smelling pack, with a difference. For just £29.95, this sustainable goodie box includes six of Ben & Anna's best-selling all-natural vegan toiletries, including Elmswood Love Soap Bar, deodorants, toothpaste and even a bamboo toothbrush. The items are perfect for travel in the new year.
There's also the option to curate your own bespoke gift box, picking and choosing your favourite bits.
£29.95 | SHOP NOW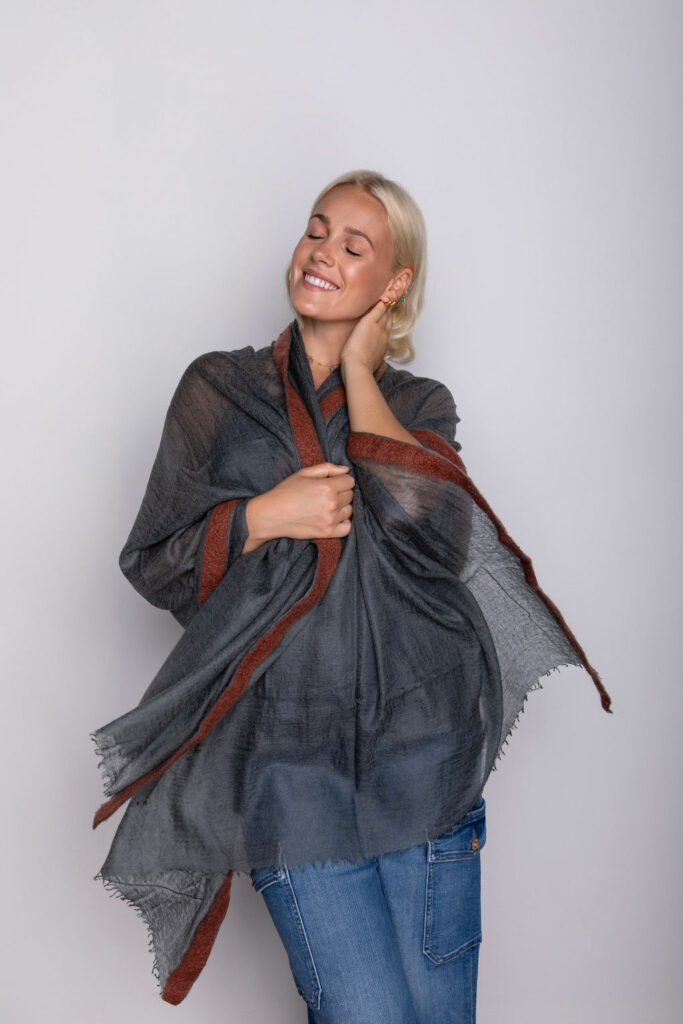 Key specifications
Upcycled 100% cashmere
Made in Nepal
Size 100×200
Made to order in 2-4 weeks
Handmade in Nepal, this 100% cashmere shawl is available in four colours. It's hand-knitted to order and features a needle-felted raw cashmere border, which adds texture and charm. Cozy and stylish, this shawl is warm, durable, and incredibly lightweight. It is the ultimate in luxury from a company that specialises in new, recycled, and up-cycled cashmere garments.
*CAZ Studio are offering a 15% discount for new customers with code: FIRSTORDER*
£285 | SHOP NOW
Best Sustainable Gifts For Him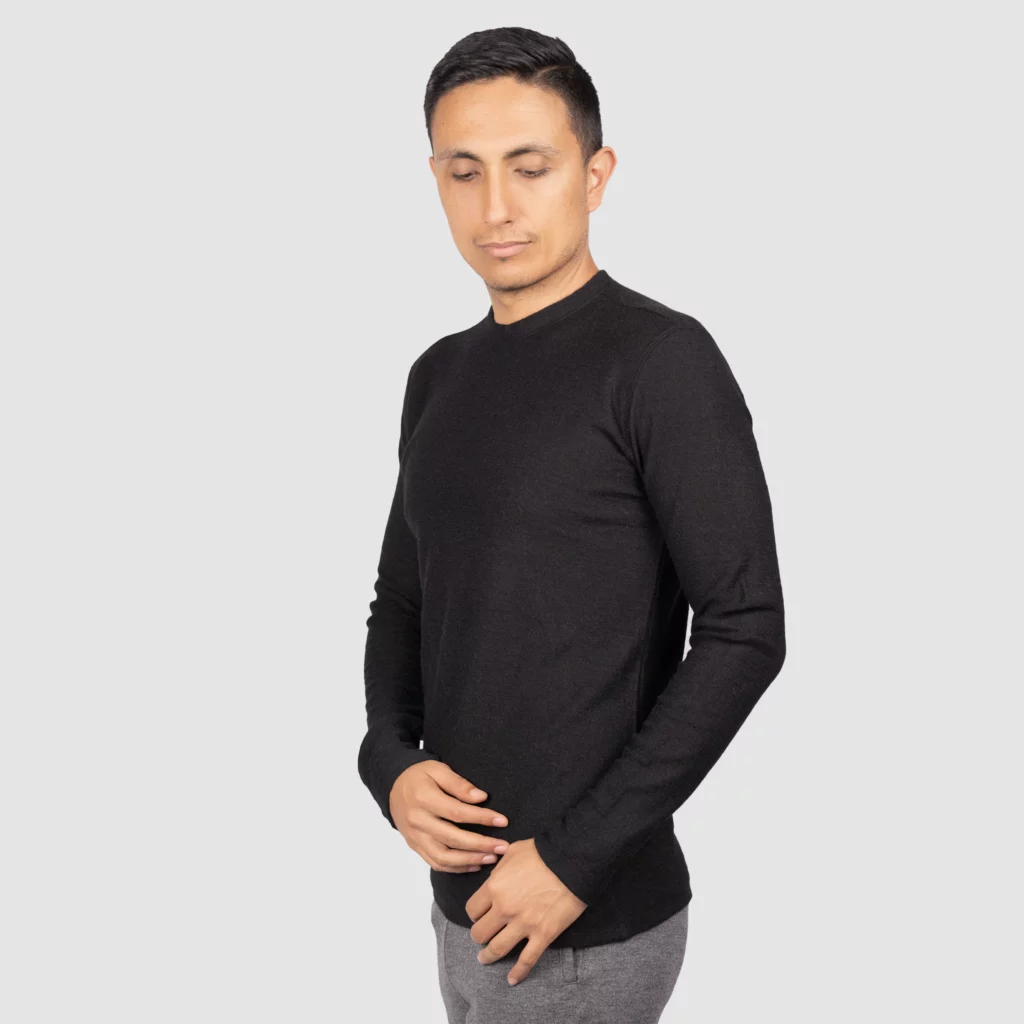 Key specifications
Made from Royal Alpaca wool, the best quality
Made in Peru
100% plant dyes
Available in seven colours
Size S-XL
Putting people and the environment first is Eco Aya, a brand created by siblings Meli and Rensso, who have been inspired by their mother's Peruvian roots and way of making clothes.
This alpaca wool jumper is timeless, but also so versatile and can be dressed up, worn over a shirt or more casually under a flannel jacket. It uses plant dyes, all manufacturing is done within Peur, keeping emissions down, and packaging is plastic-free.
Made from Royal Alpaca wool, which comes from young white alpacas in the Peruvian Andes, it's the rarest of wools and really lets the quality shine. It's defined as being less than 19.5 microns in diameter, and not only is it so soft, but it also helps regulate temperature and is antibacterial. It's also available in six other colours.
£124.50 SHOP NOW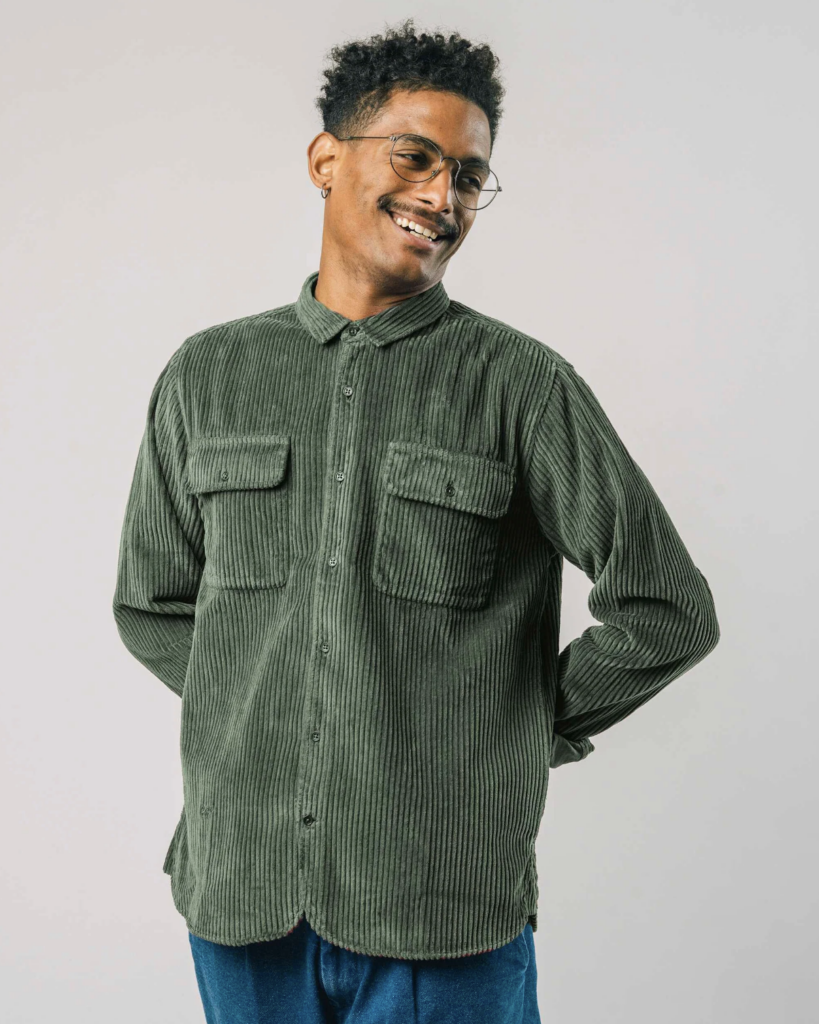 Key specifications
100% organic cotton
Corduroy fabric
Slim collar
Made in Portugal
Sizes S-XXXL
A shirt is a classic Christmas gift – especially if it's one they can pop on straight away after unwrapping, which this dark green cord number certainly is. Made from 100% organic cotton in Portugal, this overshirt keeps things simple with just two front pockets and a slim collar.
Stocked at the Brothers We Stand online marketplace, which specialises in stylish ethical menswear, with plenty of sustainable clothing at an affordable price. Each item featured on the site is given a footprint tab detailing its social and environmental impact.
£85 | SHOP NOW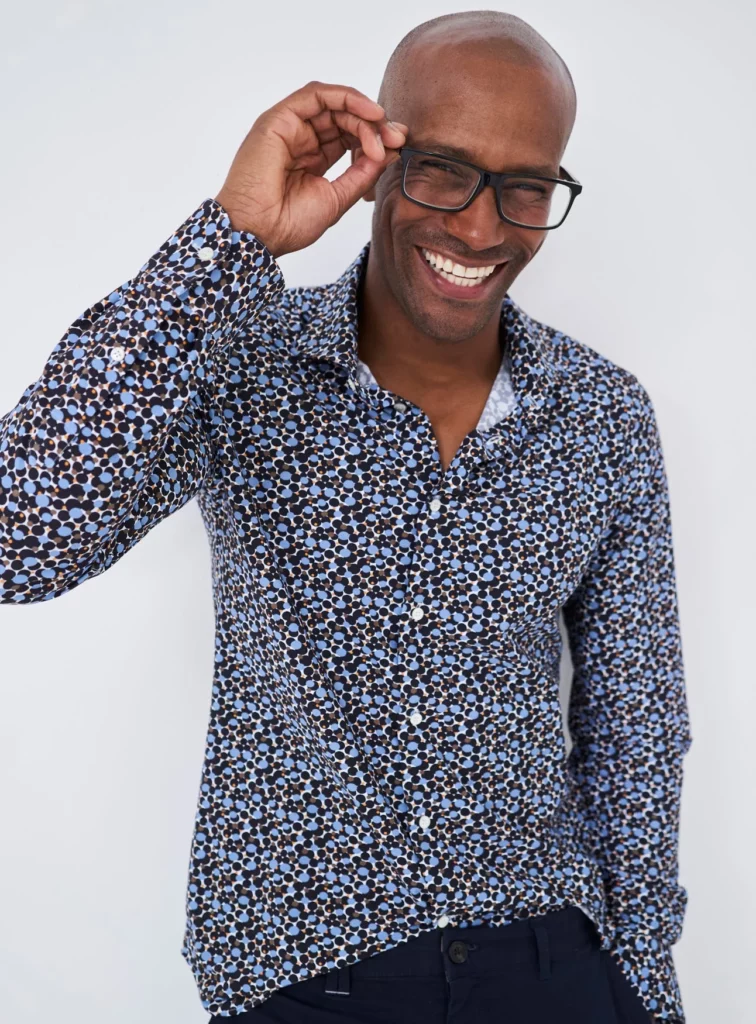 Key specifications
Slim fit
Sizes S- XL
Planet kind and people kind manufacturing
Made from recycled yarn
Made with 70% recycled nylon – certified by Global Recycled Standards
Buttons are 40% recycled mother-of-pearl
Plastic free packaging
Neem London is a luxury menswear brand, Neem London are experts in balancing style, comfort and ethics. This formal shirt offers a sporty stretch and technical properties, such being highly breathable, quick drying and crease-resistant (say goodbye to ironing this one), while still looking like an elegant shirt.
Its multi dot design with blue, black and brown spots is a modern take on a Seventies design, and will take you from party to workwear. It's woven and printed in Como using recycled materials that are certified by the Global Recycled Standard (GRS).
Brilliantly, as part of their commitment to reduce waste, Neem also operates a "wear-well" system. This means you can send any of your unwanted 100% cotton items for them to recycle into new shirts.
£139 | SHOP NOW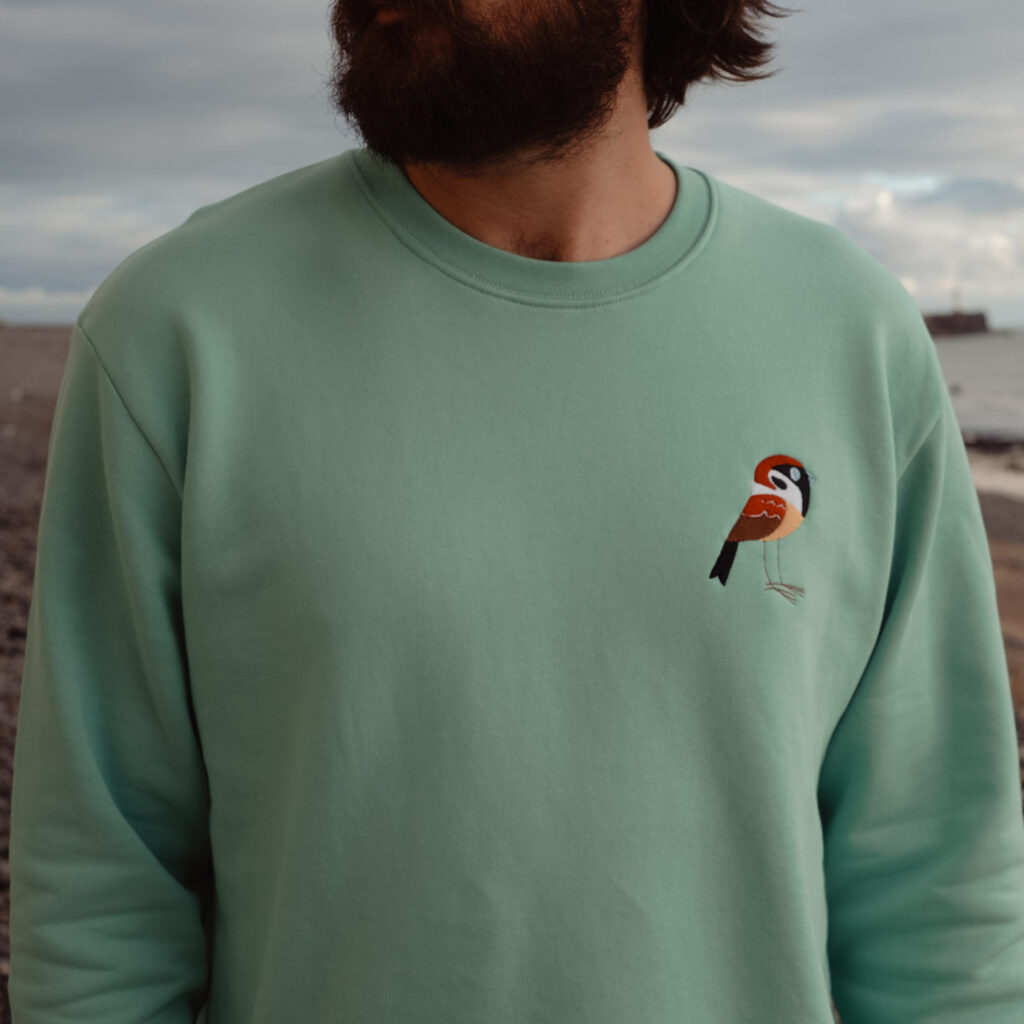 Key specifications
100% organic cotton
Heavyweight fabric 340gms
Brushed back inner face
Left chest embroidery
Woven hem label
Made in Turkey
Sizes S-XXL
Buying for any keen nature-lovers? This is the brand for them. Silverstick was founded by two explorers, Harry Green and Sam Varney, and celebrates and supports endangered birds with its range of long sleeve tops and jumpers that feature embroidered coloured birds such as this Tree Sparrow. Made from 100% organic cotton in a midweight fabric, the birds are created in Matt Sewell's signature slightly cartoony style. Also available in women and children's sizes.
£55 | SHOP NOW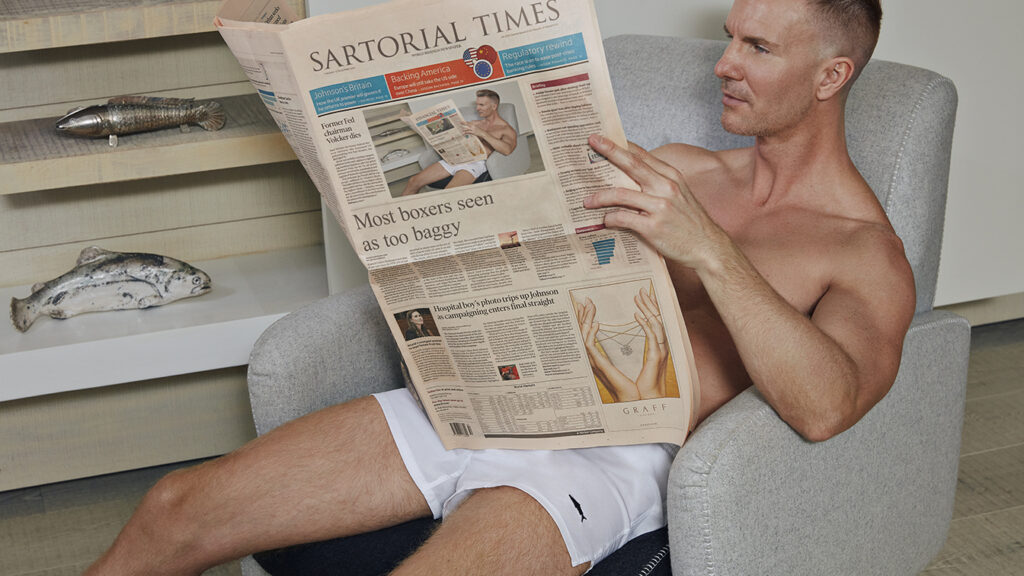 Key specifications
Slimmer fit
Made from 100% lightweight cotton
Embroidered logo
Plastic free packaging
Sizes S-XL
Who doesn't appreciate a new set of boxer shorts for Christmas? Especially when they are as well-made as these.
Fleet London boxers, available in seven shades, are slim cut, comfortable and lightweight – none of the bagginess you now see in so many traditional boxer shorts.
Made from sustainably sourced, high-quality raw cotton, they are designed to last. Fleet London's garments are produced in small batches in Portugal under fair and safe working conditions.
OFFER: For Christmas, Fleet London are offering any two pairs of their boxers for £45 (normally £27 each, full price) with code 'boxingclever2'. Or, a single pair for £23 with code 'boxingclever1'.
Oh, and they'll also deliver your boxers in a lovely plastic-free gift box with free express tracked UK delivery.
£45 for two, £23 for one | SHOP NOW