Finding the perfect gift for guys can feel like quite the challenge. If you ask us, the best gifts are ones that are truly thoughtful. And what's more thoughtful than a gift that is consciously made, with consideration for people and planet? We're talking about genuinely-good, eco-friendly gifts that combine great quality, style and ethics.
But, where do you even start looking for such gifts? Fear not. We've scoured our favourite sustainable brands to bring you a list of the best sustainable gifts for him. This is no run-of-the-mill eco gift guide (if we do say so ourselves). It features exclusively ethically made items from pioneering sustainable brands we truly trust.
1. Silly Greens subscription box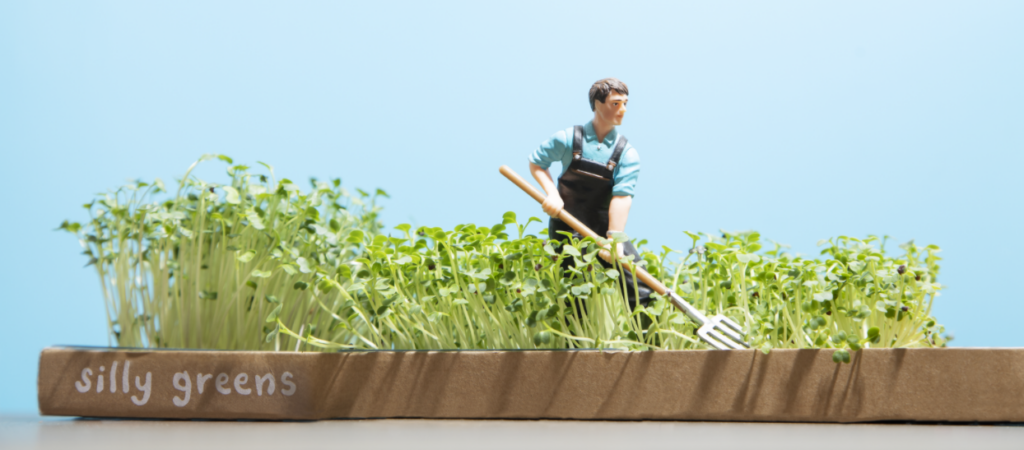 For any aspiring gardeners or foodie friends, a subscription to Silly Greens is a unique and clever gift idea.
Silly Greens makes it easier and more fun than ever to grow home-grown greens. Their "grow it yourself" subscription box arrives through the letterbox as often (each week) or as infrequently (every six weeks) as you like. Each one contains three microgreens: seedlings of herbs and veg – from coriander to wasabi – that add that final touch, and punch of flavour, to any dish.
Silly Greens pre-sow the box of microgreens on their farm and then post the live seeds directly to you. These little leaves just need a window and some water, and they'll be good to grow (get it?) straight from the box.
Your giftee will never have to go without fresh herbs or veggies – an aspiring chefs dream!
£5 per box | Silly Greens | SHOP NOW
2. Hand Me Down Book Club book bundles subscription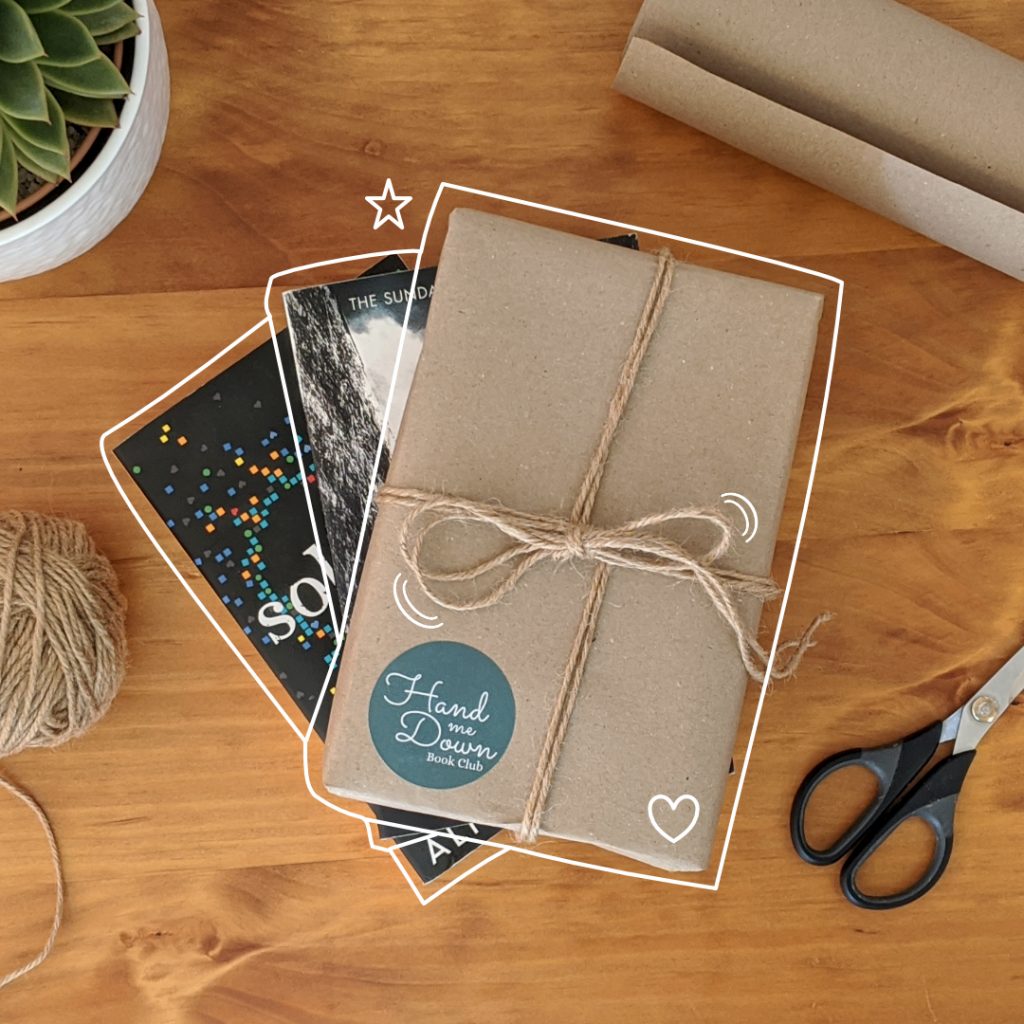 As book lovers, we couldn't think of a more beautiful birthday gift. Hand Me Down Book Club was founded "to prevent books being sent to landfill while they still have great stories to tell". Essentially, this means you select your favourite genres and the Hand Me Down Book Cub send your guy a selection of second-hand books, each month.
£9.99 p/m | Hand Me Down Book Club | SHOP NOW
3. Men's Gift Set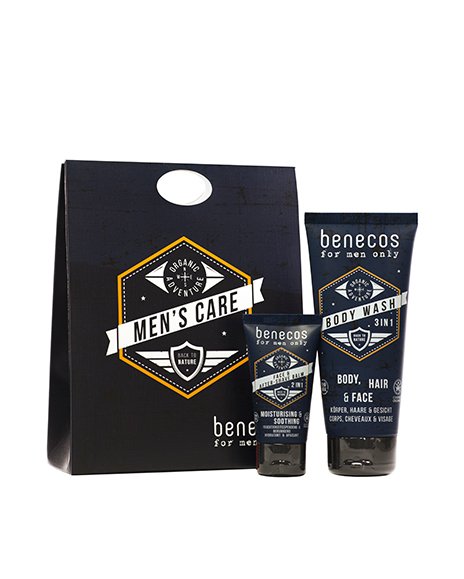 Treat the man in your life with benecos' Men's Gift Care Set.
benecos offers a modern range of organic, plant-based cosmetics at an affordable price. They are certified by BDIH COSMOS ORGANIC, BDIH COSMOS NATURAL, and PETA. 
Included in this gift set is a natural 3 in 1 Body wash for men which cleanses the body, face and hair in one go. It is packed with natural and organic ingredients, which leave the skin feeling smooth and hydrated and hair soft and nourished.
To treat the skin after shaving, the set also comes with their natural Face and Aftershave Balm. Organic aloe vera helps to soothe any irritation while organic sunflower oil adds moisture back into the skin to leave it hydrated and smooth (and smelling great).
£11.90 | Benecos | SHOP NOW
4. Massage Candle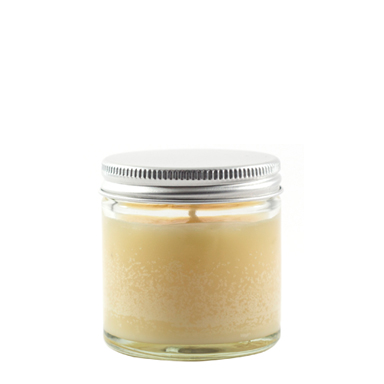 A natural, fairtrade shea massage candle? Don't mind if we do.
Made from fair trade coconut oil and fair trade shea butter, this unique natural and vegan massage candle combines romantic candlelight with sensual massage in one product. The formula is easy to glide over skin and the ingredients leave your skin feeling supple and radiant.
Simply light the wick of the candle and let it burn until the burner plate liquefies. Extinguish the flame, wait a little and then gently massage in the warm massage oil ‒ it's as simple as that!
£15.25 | FAIR SQUARED | SHOP NOW
5. Good Night gift set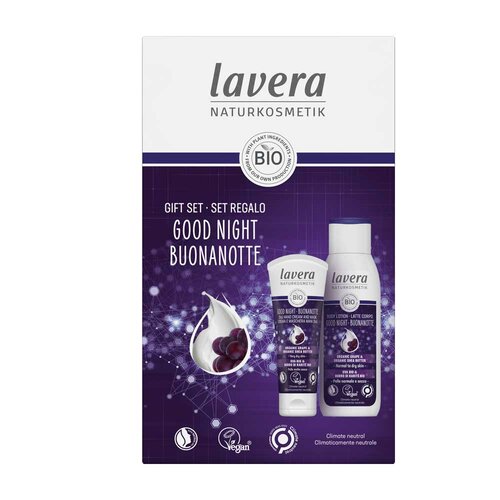 Give the gift of some good old beauty sleep.
The lavera Good Night Gift Set, featuring their Good Night Body Lotion and Good Night 2in1 Hand Cream & Mask, is the perfect pick-me-up for your body. 
Not only do these skincare products smell good, but they are enriched with natural, organic ingredients, such as organic Grape combined with Vitamin E and organic shea butter. These moisturisers are intensely nourishing, helping to regenerate and care for the skin overnight.
It's no coincidence the name lavera is derived from the Latin for 'truth'. lavera's vision is about making truly good natural skincare for everybody. They are certified by NATRUE, PETA and The Vegan Society.
£15.95 | lavera | SHOP NOW
6. Organic CBD oil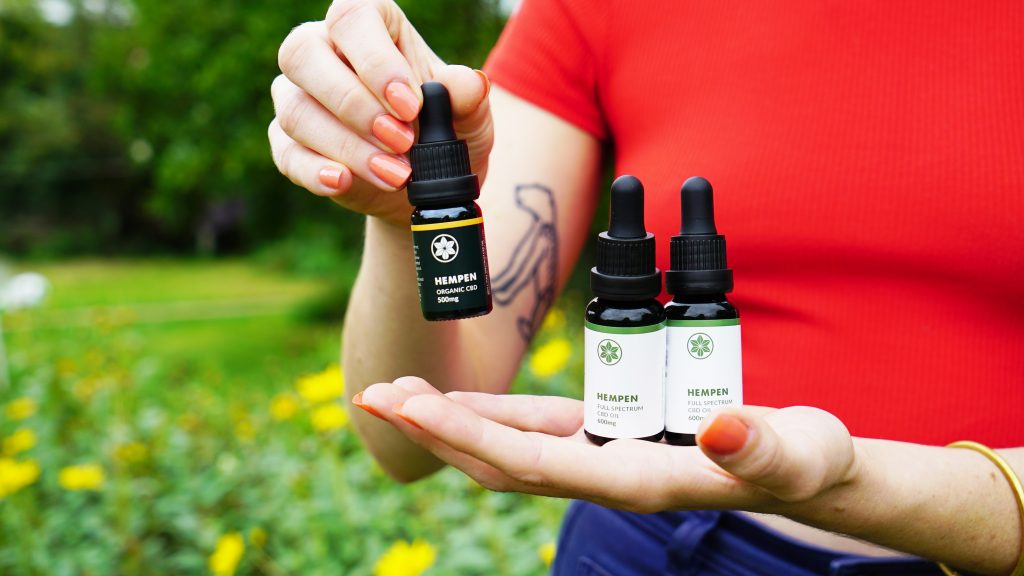 Know someone who has been a little stressed out lately? This Organic CBD Oil could be a much appreciated present.
Full-spectrum CBD oil works with the endocannabinoid system, to balance your body. While its many effects are still being researched, studies have shown CBD can alleviate symptoms of inflammation, pain and anxiety. The CBD in Hempen's Refined CBD Oil is imported from an organic farm in Switzerland and blended with hemp seed oil from the UK, which offers additional benefits from omega fatty acids, antioxidants and phytonutrients.
£18.99 | Hempen | SHOP NOW
7. This T-shirt is Rubbish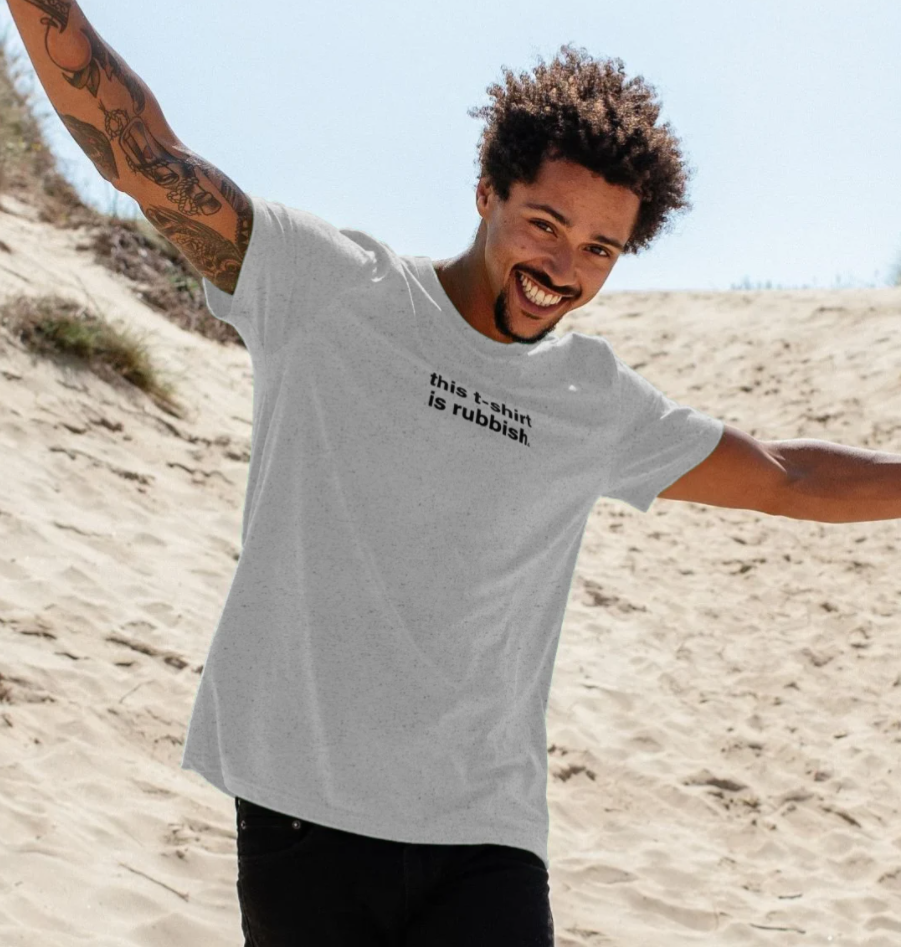 OK, we have one 'rubbish' gift idea in this list. But, this t-shirt from Rapanui is not exactly your usual idea of 'rubbish'…
Did you know that 99% of t-shirts end up in landfill? Well, this t-shirt is the remaining 1%. Everything Rapanui produce is designed to be sent back to them when it's worn out from our non-stop wearing. Ingeniously, they then take the material of your old top and turn it into something brand new.
As the slogan on the t-shirt suggests, they are proud to say this t-shirt is rubbish.
It's made from repurposed organic cotton, without plastic and it means you can comfortably wear this tee with the comfort of knowing it'll never go to landfill. Plus, Rapanui makes their clothing in a renewable energy powered factory.
£20 | Rapanui | SHOP NOW
8. Before Sleeping Candle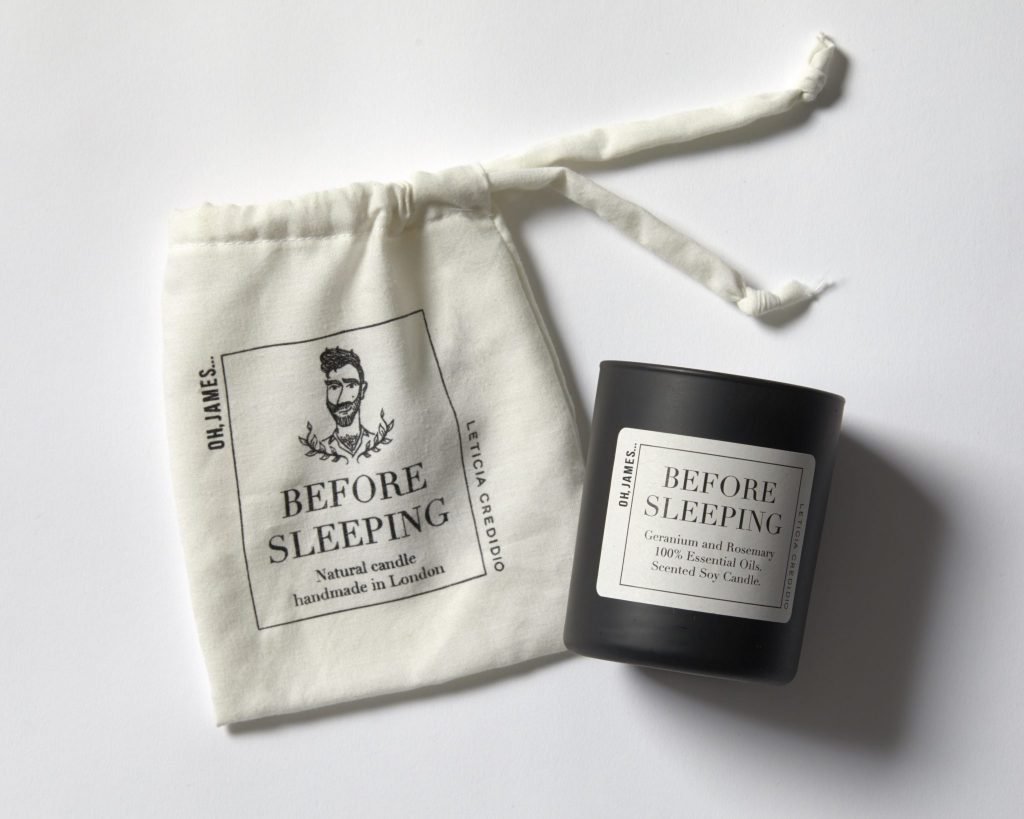 This gorgeous Before Sleeping Candle, a limited-edition blend of geranium and rosemary, is the ideal way to unwind before sleeping. It is the product of a collaboration between Oh, James – an East London brand that produces unique handmade candles – and luxury loungewear brand Leticia Credidio. Founder, Leticia, has worked at the intersection of design and social change for more than 14 years, and her brand champions taking time to rest, embracing comfort and being present in the now.
Each candle is made from soy wax and 100% essential oils, handsomely packaged in a hand-sewn, up-cycled fabric bag. Burn time is up to 40 hours. Warning: this candle smells so good you'll want to keep it for yourself…
£25 | Leticia Credidio | SHOP NOW
9. Beard care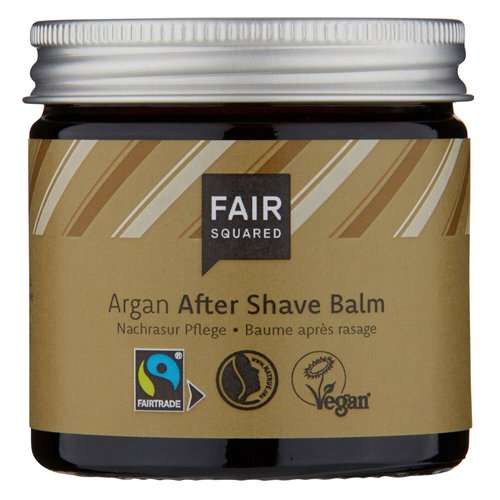 FAIR SQUARED is the ultimate go-to shop for truly good natural and ethical body care. Their whole collection of products is made completely vegan, cruelty-free, plastic-free and certified Fairtrade.
Their soothing Argan After Shave Balm is a real treat for the face. Made from natural Fairtrade ingredients, it helps protect the skin from irritations after shaving and contributes to a healthy and shiny complexion. The applied natural oils are easily absorbed by the skin, offering maximum moisture without feeling greasy and leaving the skin silky smooth.
From £27.25 | FAIR SQUARED | SHOP NOW
10. Socks Gift Box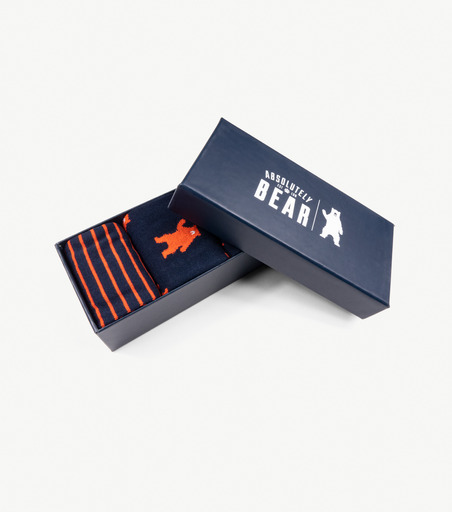 One never has enough socks, right? You can't go wrong with this three-pack of socks Gift Box from Absolutely Bear. A selection of three funky, navy and orange print socks all made from organic cotton; these are not only top-quality, they're also a better choice for the planet, too.
£30 | Absolutely Bear | SHOP NOW
11. Re-jiggulous Puzzle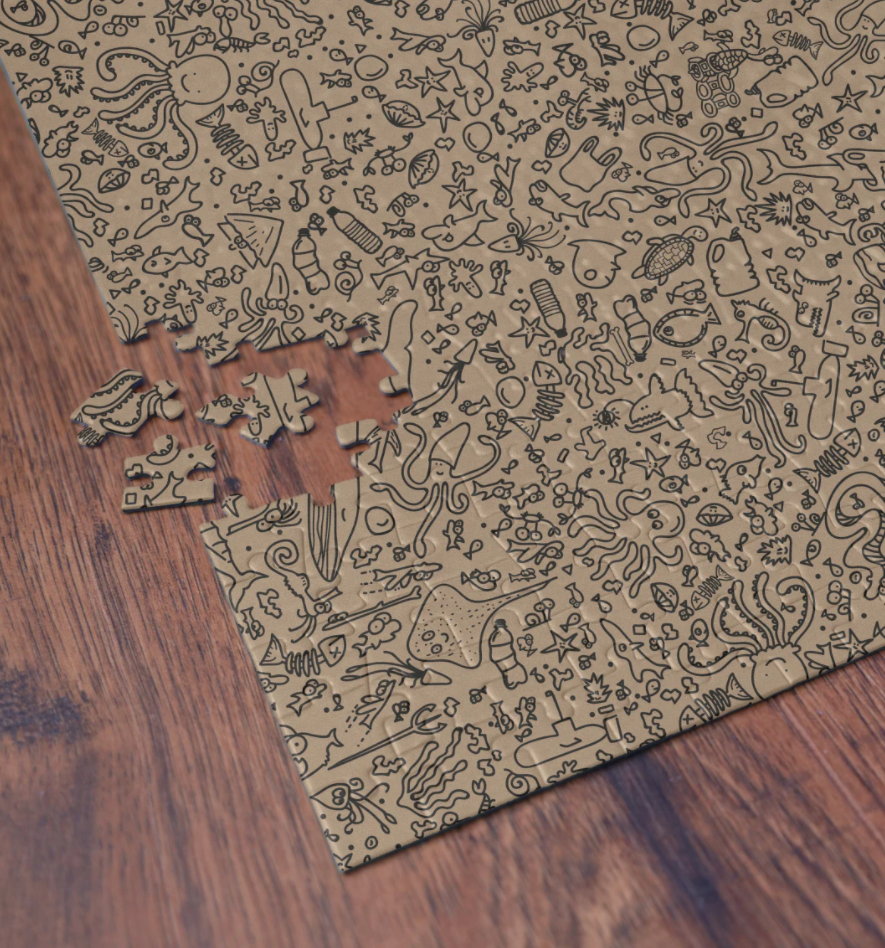 When we stumbled across this bad boy, we just couldn't resist including it in our list. This jigsaw from Rapanui is impossibly ridiculous, hence the name 're-jiggulous'.
It is made to puzzle even the most hard-core of puzzling pros. Know anyone who loves a challenge?
It is sustainably designed from recycled cardboard and printed with a cool marine-inspired doodle.
£30 | Rapanui | SHOP NOW
12. THREE MONTH SEASONAL COFFEE SUBSCRIPTION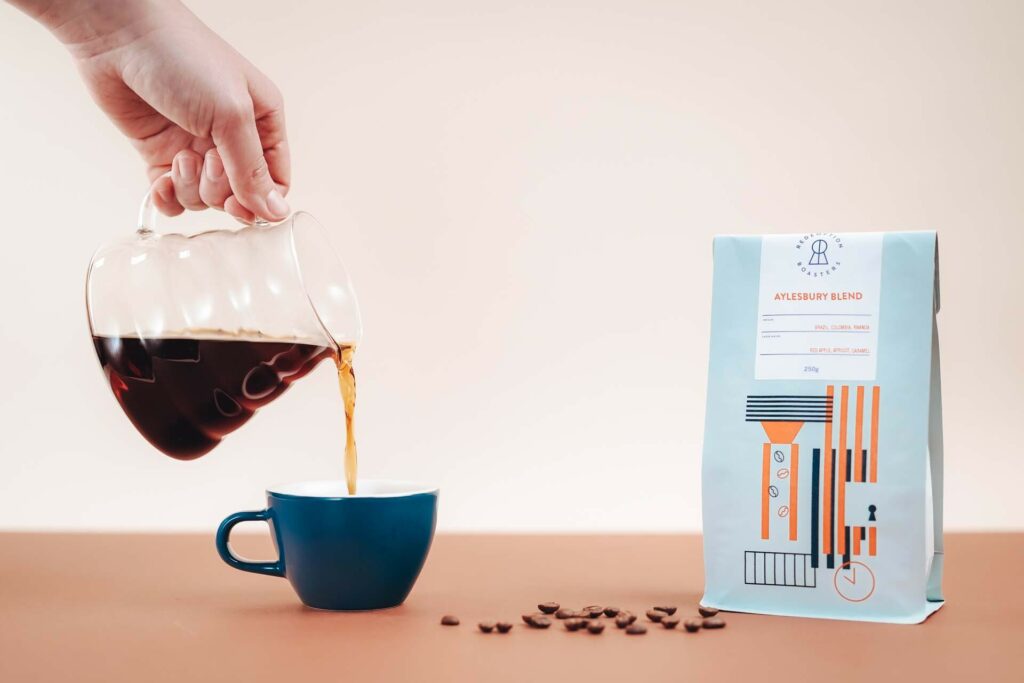 For the discerning coffee aficionado in your life, does waking up to fresh specialty coffee delivered directly to their door get any better?
Well, yes, if it's coffee from Redemption Roasters.
Redemption Roasters is a prison based roastery. It exists to provide alternative employment routes for people who are too frequently overlooked for work. Having a job is the single biggest factor that can prevent someone from reoffending, but prejudice, stigma and fear make it hard for prison-leavers to find work.
Their coffee is sourced from all over the world, including the Galapagos, with a preference for smallholder farmers. Where possible, Redemption Roasters also purchase coffee that aligns with their ethos – for example, a project called "Spirit of Peace" sees Colombian ex-combatants rehabilitated through productive work as smallholder coffee farmers. Everyone in the supply chain is paid a living wage.
From £34.20 | Redemption Roasters | SHOP NOW
13. Kib Tea the regenerative box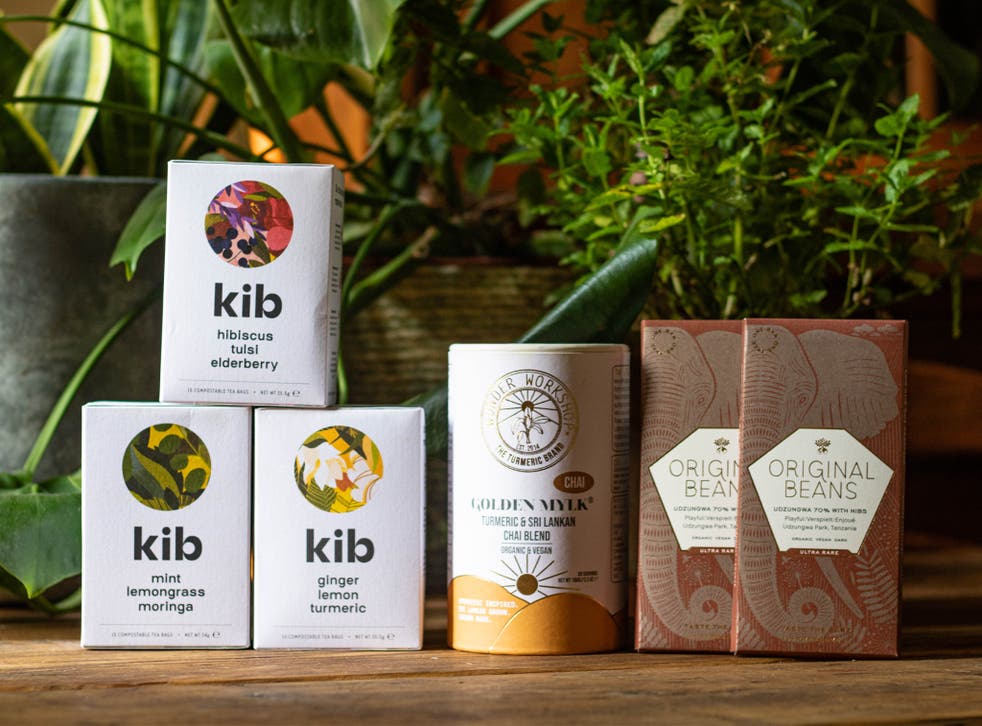 Tea, chocolate, turmeric chai latte blend… could one box contain any more delights for a cosy night (or weekend) in?
Kib Teas are all about making deliciously fragrant and flavourful teas, from regeneratively grown ingredients from Ethiopia, Sri Lanka, and Tanzania. This means the farming methods give more than they take from the soil and the environment. It also means they work with small farms, including many that are female-led and pay more than the minimum wage. Oh, and all the packaging is recyclable and compostable, too.
£35 | Kib Tea | SHOP NOW
14. Wrap-around cufflinks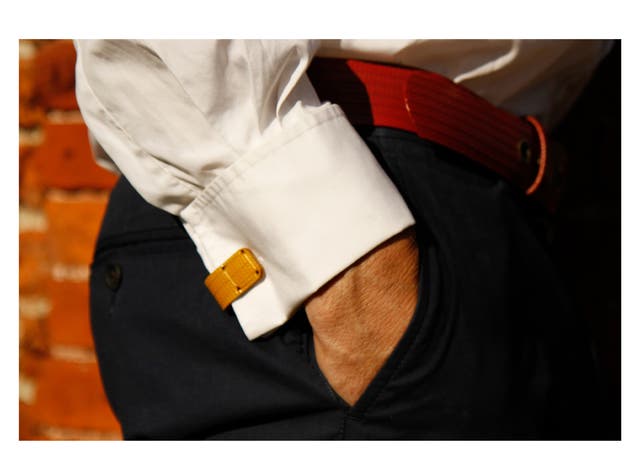 There are your standard cufflinks, and then there are the Elvis & Kresse wrap-around cufflinks, handmade to order from decommissioned fire hoses.
Available in red, or the more rare yellow, they add a stylish pop of colour to any outfit. Plus, they come with the option to be personalised with a delicate laser etching. And 50 per cent of profits from the fire hose collection go to the Fire Fighters Charity.
£40 | Elvis & Kresse | SHOP NOW
15. Ben & Anna Gift Box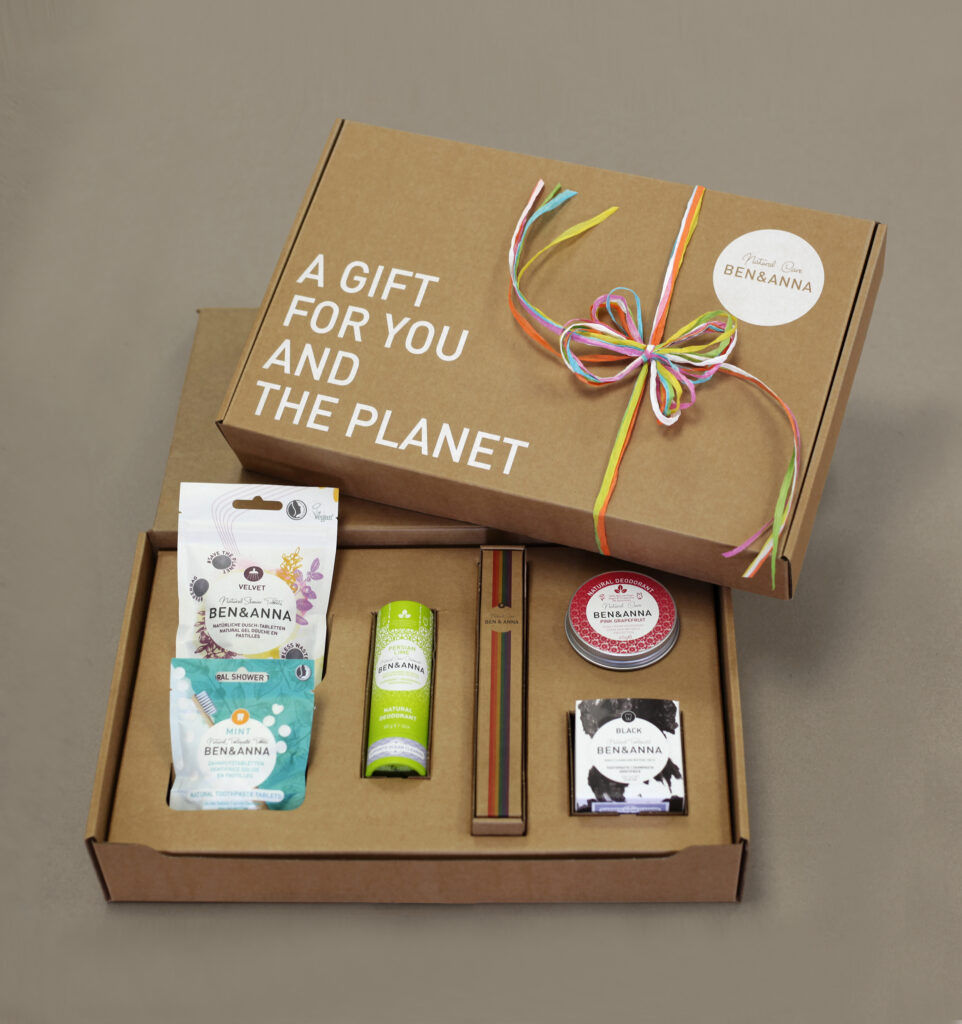 The Ben & Anna gift box is a sure-to-please great smelling pack, with a difference. For just £47, this sustainable goodie box includes six of Ben & Anna's best-selling all-natural vegan toiletries, including shower gel, deodorants, toothpastes and even a bamboo toothbrush. The items are perfect for the travel you plan to do in 2022.
There's also the option to curate your own bespoke gift box, picking and choosing your favourite bits.
£47 | Ben & Anna | SHOP NOW
16. Polo Shirt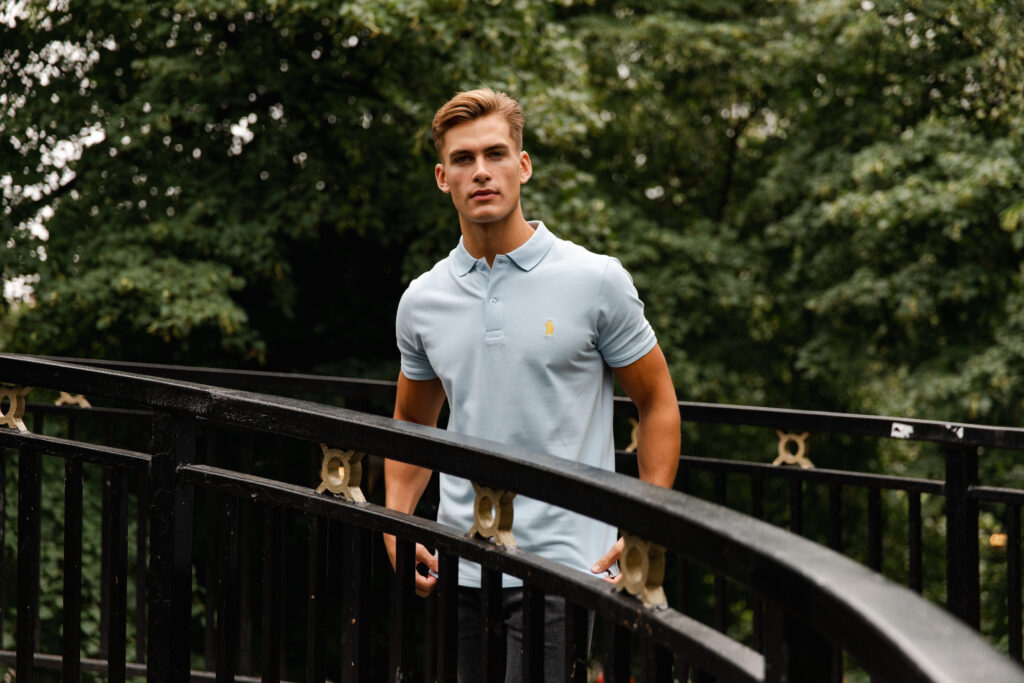 If a collared polo shirt is what you're looking for, check out Absolutely Bear. This flattering Organic Cotton Polo Shirt is made from 100% GOTS certified organic cotton and comes in a lovely oak sky blue.
£55 | Absolutely Bear | SHOP NOW
17. CASHMERE-WOOL SCARF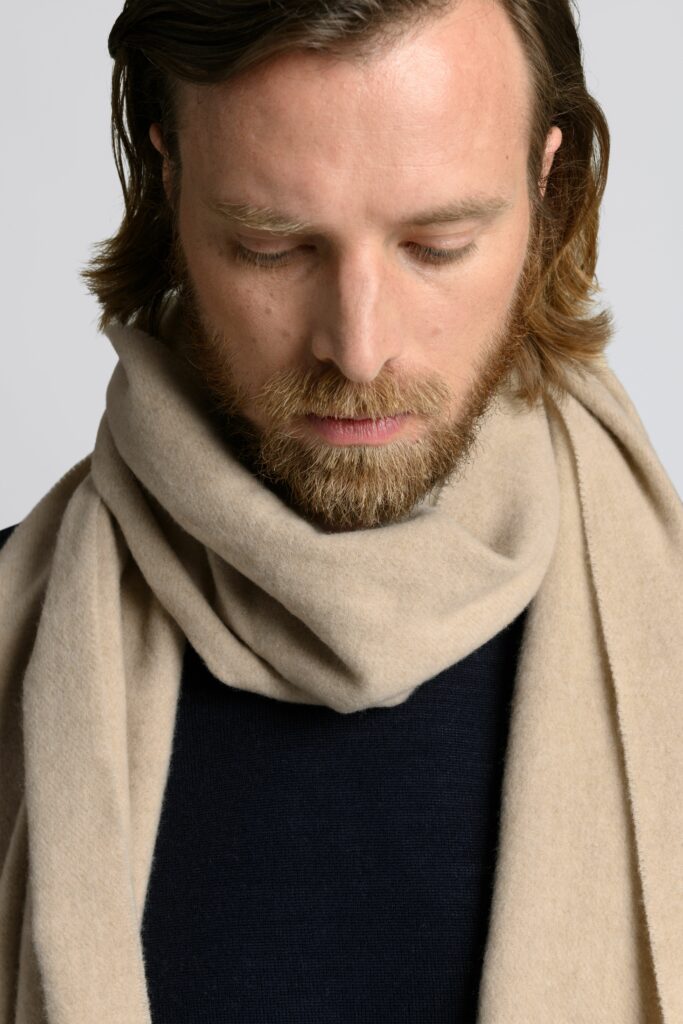 How about a gorgeous unisex Cashmere-Wool Scarf from ASKET? This classic fall-winter accessory is timelessly chic, perfect for staying warm on your way to a dinner out. It's as soft and cosy as it is gentler on the planet: it's woven from 100% recycled wool.
This scarf is available in 2 sizes: Classic size 185 cm x 37 cm for £70 and Oversized 200cm x 50cm for £85. It also comes in a variety of staple neutral colours.
£70 | ASKET | SHOP NOW
18. Overshirt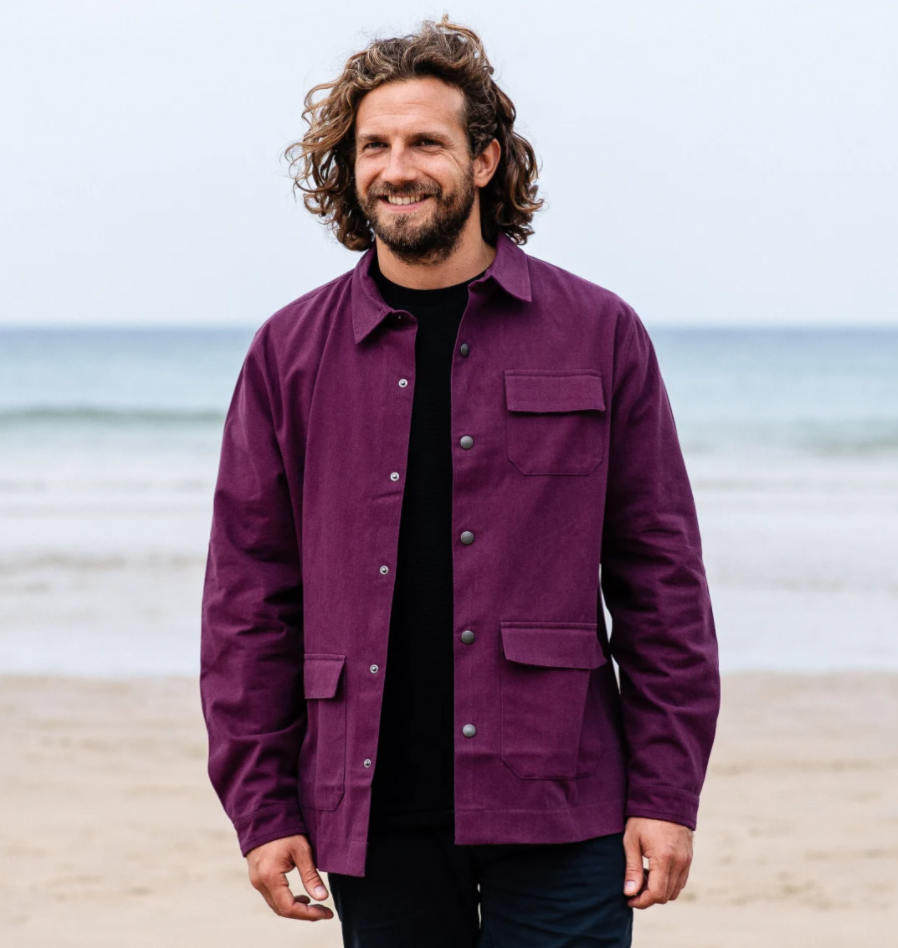 Another goodie from Rapanui is this classic men's overshirt.
Simple, smart and durable, this heavyweight certified organic cotton shirt is great for either dressing up or down.
It features plastic free poppers and handy pockets. There are three colours to choose from, like this gorgeous purple, pictured.
And, our favourite thing about this shirt is that, once it has been worn out (as in worn it to death), you can send it back to Rapanui to be remade instead of going to landfill.
£70 | Rapanui | SHOP NOW
19. Billfold Wallet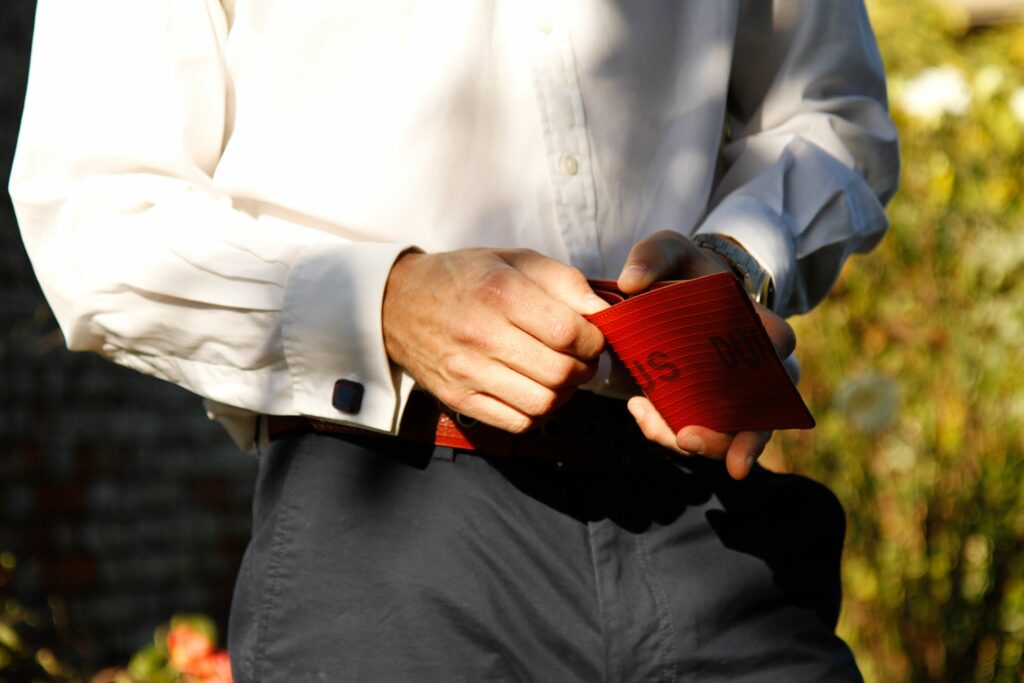 A wallet is a pretty staple gift idea – but how about a wallet made from reclaimed fire-hoses? The Elvis & Kresse Billfold Wallet is made from decommissioned fire-hose that have been previously used in active duty, fighting fires around the UK for up to 25 years. A wallet can't get much cooler than that… Oh, except it can. It's also lined with reclaimed military-grade parachute silk.
Though the material is naturally water resistant and extremely durable, a contactless card will still work right through the hose.
This wallet is available in the red, or rarer yellow, hose. Just to make this gift extra special, you can opt to have your chosen wallet personalised.
£75 | Elvis & Kresse | SHOP NOW
20. CHUMBA SWEAT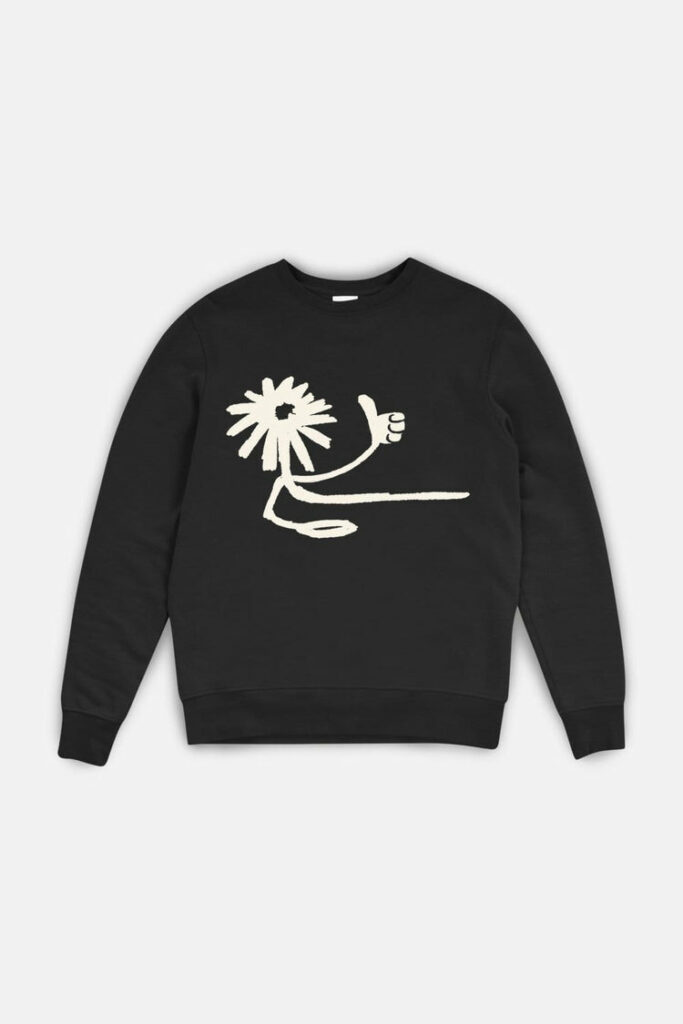 Hunting for something hipster? We're a fan of this Chumba Sweat from WAWWA. Made from 100% GOTS organic cotton and printed using water-based inks, this sweatshirt is as fun-loving as the flower on its front.
£60 | WAWWA | SHOP NOW
21. Silk Shirt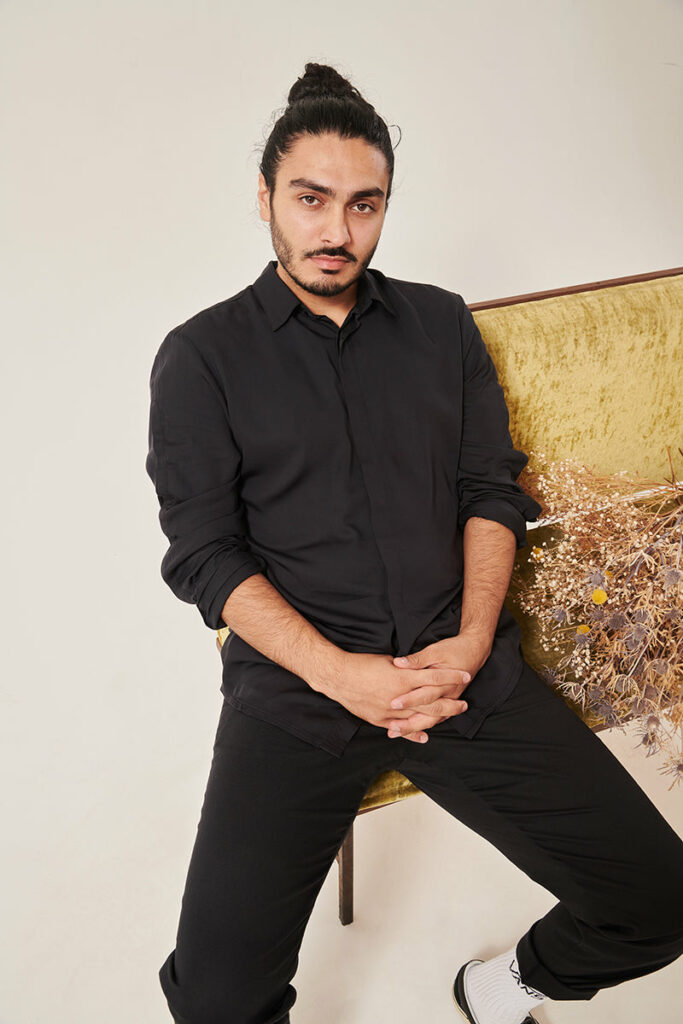 This shirt from Unhidden makes the cut not only because it is simplistically stylish, but because it is inclusively designed, too.
Unhidden makes their clothing accessible for everyone. Their entire collection – from shirts to trousers – is designed to be body inclusive, size inclusive and customisable for people with disabilities.
This shirt, for instance, is designed especially to allow access to arm ports. It is made from surplus bamboo silk with concealed popper tape on the sleeves and centre front. Unhidden make this shirt to order, so you should purchase it as early as possible.
£80 | Unhidden | SHOP NOW
22. Jonah rugby sweatshirt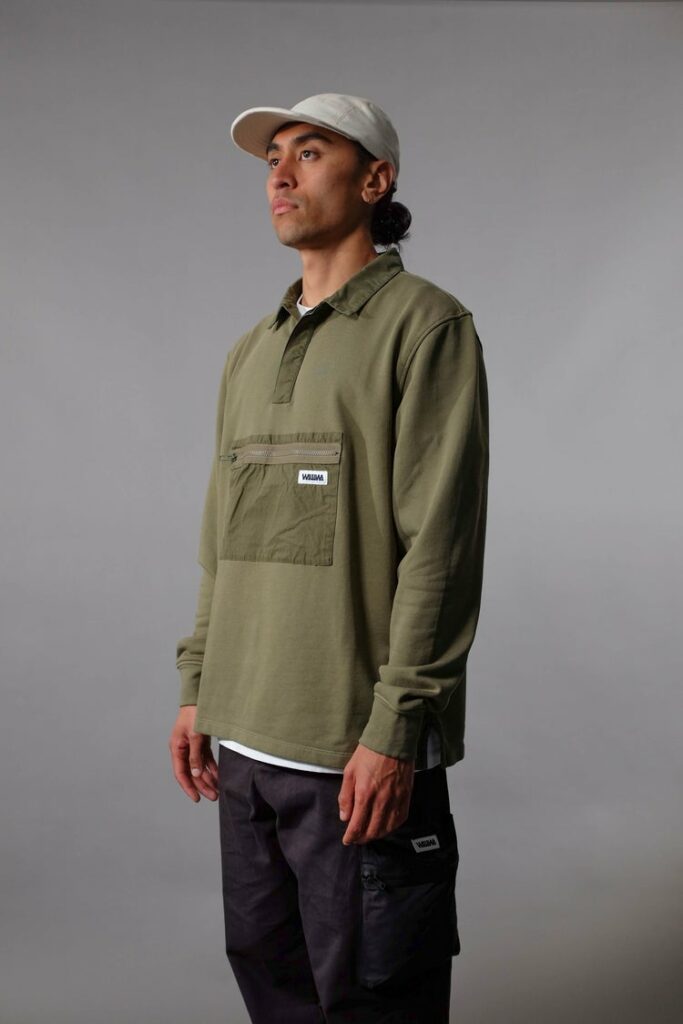 This organic cotton rugby sweatshirt is the perfect trendy piece to layer up with for winter. Practical and cosy for the colder weather, its loose fit and square cut pocket also make it perfect for lounging.
Wawwa is a very cool streetwear/workwear brand with a hippie heart. They set out to make a unisex fashion brand, and upon discovering how messed up the fashion industry was, decided to prove it could be done differently by focusing on using sustainable materials, designing to last, and working with good people.
23. Brava Fabrics lumberjack essential shirt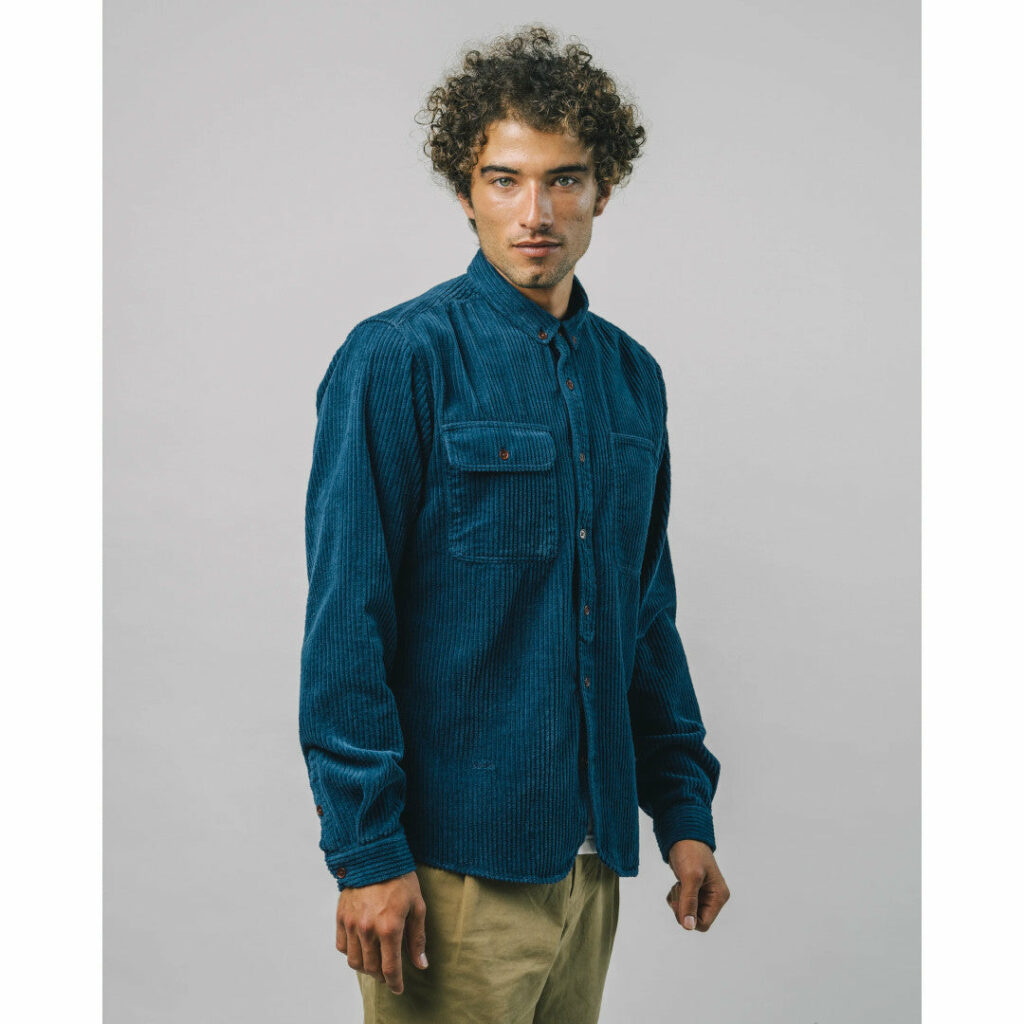 This rich-blue corduroy shirt is a gorgeous colour and has a lovely heaviness to it, as well as being super-soft. A smart-casual, and importantly, comfortable choice that will no doubt become a winter staple.
Inspired by workwear it features two large pockets, and there's even a corner cut out of the left chest pocket for pens and pencils, which is a nice detail.
It is made with organic cotton grown in China and cut and sewn in Fontoli, Portugal. Brava Fabrics focus on timeless designs made from sustainably sourced materials.
£92 | Brothers We Stand | SHOP NOW
24. THE MERINO ZIP CARDIGAN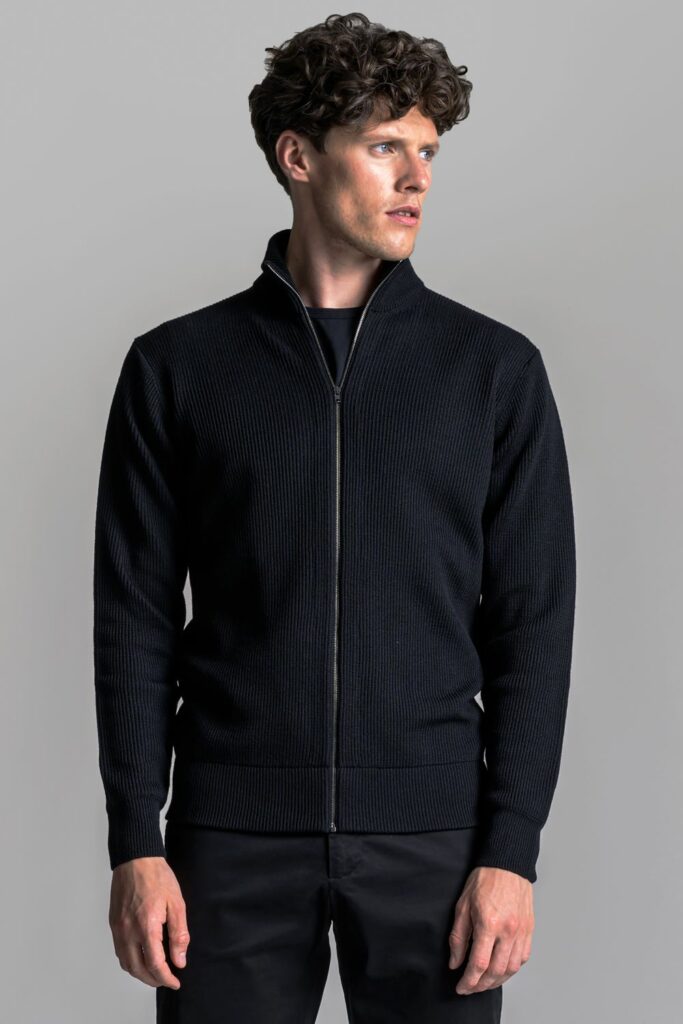 ASKET sure knows how to do smart and sophisticated.
This Zip Cardigan is a modern take on a wardrobe staple.
It's made from high-quality extra-fine Merino in a chunky ribbing style with a tailored fit. So you can look sharp, while staying cosy.
£160 | ASKET | SHOP NOW
25. FARM SAFARI AND OVERNIGHT STAY, HELEN BROWNING'S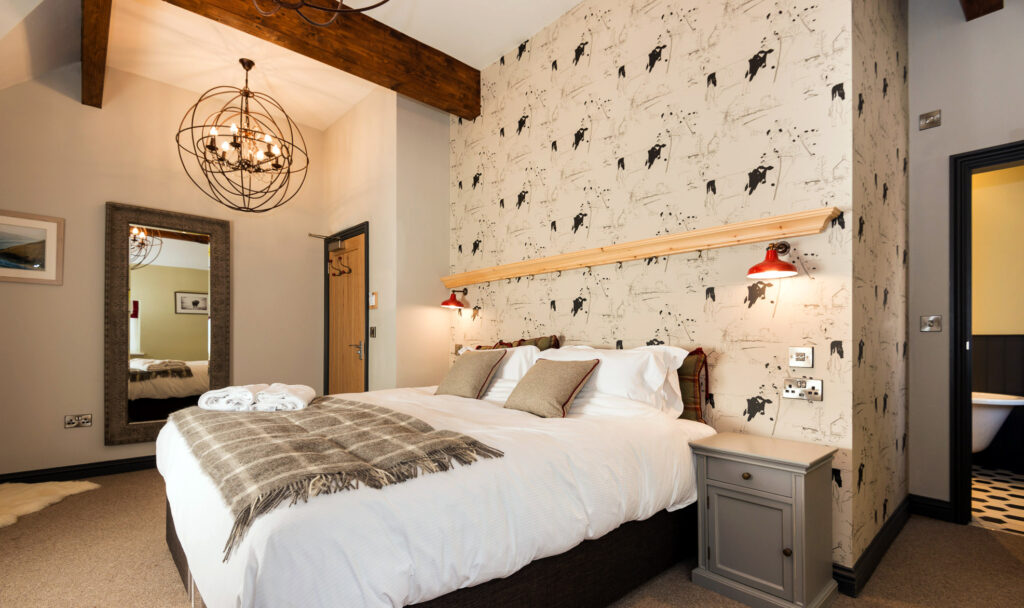 Know someone in need of a relaxing trip away? How about a quiet getaway, indulging in great organic food and long wildlife walks in the Wiltshire countryside?
Helen Browning's Farm Safari and Overnight Bundle for two includes a one night stay in their Royal Oak Hotel, complimentary breakfast and a two-hour farm safari around 1,500 acres of organic farmland.
Your giftee can book their stay online at their convenience – their safaris run all year round.
£180 | Helen Browning | SHOP NOW
26. Solar Powered Watch
There's watches and then there are Solios Watches – a collection of stylishly minimalist watches featuring an innovative solar design.
For the urban, environmentally conscious man, this sleek Solar Black Watch is a perfect gift. You can customise the watch by choosing the colour of the vegan leather wrist strap. You can also select either a black, rose gold or silver watch face casing.
These watches are all powered by clean, renewable energy (solar) and built with components that are eco-friendly. They also use plastic-free packaging. They are the first and only B Corp Certified watch company.
£210 | Solios Watches | SHOP NOW
27. WEEKEND BAG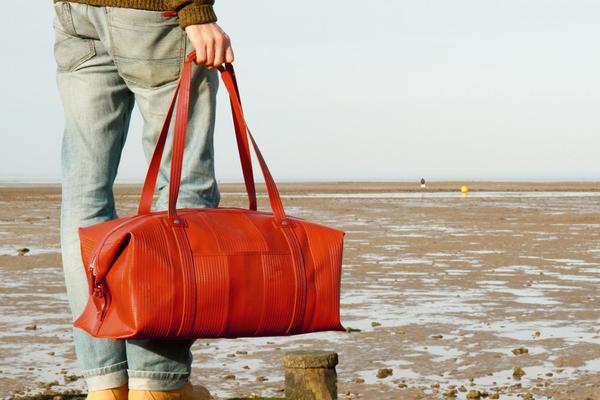 If you like the sound of the Billfold Wallet, but are looking for something a little (or a lot) bigger, the chances are you'll love Elvis & Kresse's Weekend Bag.
Handmade from genuine decommissioned fire-hose with lining made from material rescued from Burberry's Yorkshire workshop and military-grade parachute silk, each bag is totally unique.
Great-quality doesn't do this bag justice. The durable hard-wearing hose is perfectly suited for your travels. The wide mouth opening of the bag makes packing a lot less painful and is handy for when you're searching for a particular item. The best part? It's generous size means you can bring your whole life with you when you go on a weekend away. The bag has an easy access external pocket, an internal zip pocket and three further internal poacher-style pockets. It comes in four variations of classic Elvis & Kresse colours: red, yellow and black.
This bag is nothing short of iconic. It's no wonder it's held as part of the permanent collection at the Victoria and Albert Museum.
£310 | Elvis & Kresse | SHOP NOW
Main image: Solios Watches